As sportsbikes slump and adventure bikes become too big for their boots, are smaller scrambler style bikes and street trackers the next big things?
Ducati certainly must hope so with their Scrambler hitting the showrooms this year.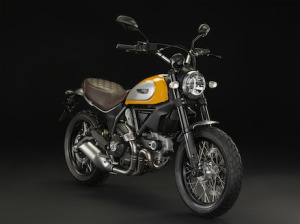 The Italian brand has followed the Triumph Scrambler to the market with a mild dirt explorer and we wonder why there aren't more manufacturers following this trend.
After all, many of the custom bike shops are churning out scramblers and similar street trackers by the score.
The attraction in these bikes are that they are light, fun and fit a number of purposes – from commuting to dirt road adventures.
We've included some scrambler and street designs and customs before, but these design concepts for the popular learner-legal KTM Duke 390 are among our favourites.
They take a very modern Kiska-designed bike and turn it into a couple of retro fun bikes that look capable when the road gets dusty, we encounter roadworks, or we just want to find where that road goes to when it turns to dirt.
These concept drawings come from Parisian motorcycle design house Holographic Hammer whose founder used to work for BMW Motorrad in Munich.
He has rendered two different versions of the Duke 390, one a dirt scrambler and the other more of a street tracker.
While we were in Spain for the recent launch of new Adventure models, we asked KTM about producing more versions off the Duke 390 platform and they hedged their bets a little. We certainly hope they take a look at these concepts.
Which do you prefer; the scrambler or the tracker?