The champagne flowed at Ducati's Borgo Paginale plant in northern Italy this week when the first Scrambler Icon rolled off the assembly line.
It is expected to be the first of a new range of "fun" bikes that put more importance on the riding experience and the feel, rather than pure performance.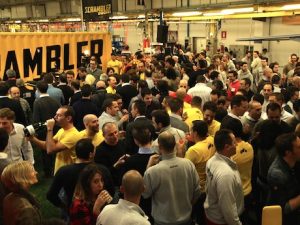 The first shipment of the Ducati Scrambler is due to arrive in Australia at the end of February 2015. Scrambler prices are:
Icon (Ducati Red) $12,990

Icon ('62 Yellow) $13,140

Urban Enduro $14,990

Classic $14,990

Full Throttle $14,990
The first model available will be the Icon. There is no date yet for the other variants.
A yellow Icon was the first Scrambler to roll off the line which is fitting as the final Scrambler built there in the 1970s was also yellow.
It was greeted by Ducati boss Claudio Domenicali who described it as "particularly meaningful".
"With its 'Land of Joy' theme, the Ducati Scrambler brand will be bringing a breath of fresh air and fun to dealerships and will provide a great product that combines modernity with heritage in a way never before seen in the motorcycle industry, a fact that fills us with enormous satisfaction and pride," he says.