"Third time's the charm" was the case last week when I attended RevZilla's GET ON! Adventure Fest Sturgis!
Is it pompous to crow about being an "OG GOAF Sturgis member"?  Yep, I was there at the original 2021 GET ON! Sturgis event and after this the 2023 edition I'm a perfect 3 for 3 for attendance.  I plan on extending my streak indefinitely if I can manage it because this rally gets better each time.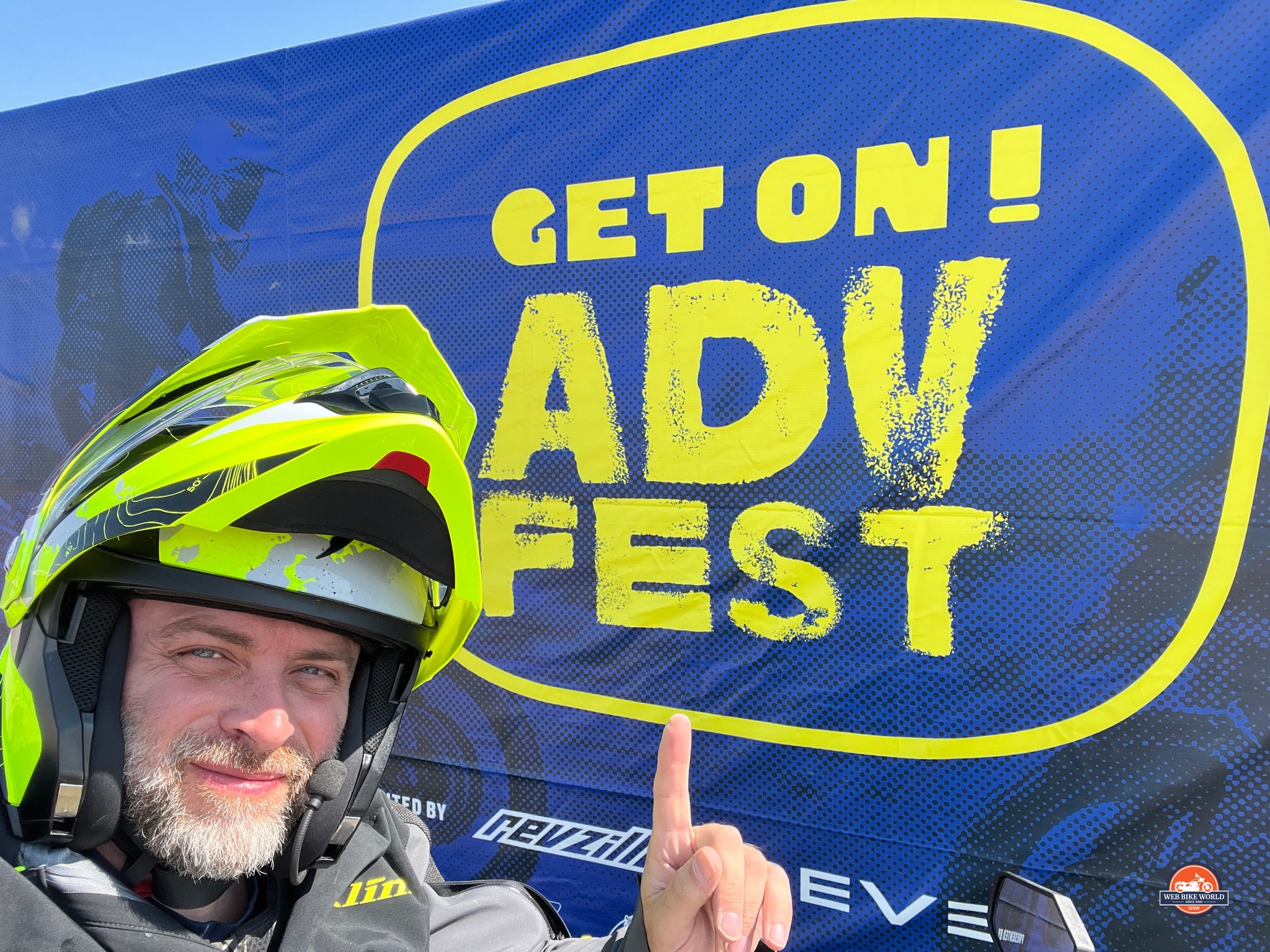 If you've never attended a RevZilla "GOAF" event and you enjoy smaller, more intimate, 4-day gatherings of 460 like-minded adventure riders you'll love this Sturgis one.  The opportunity to camp at the famous Buffalo Chip Campground, exploring the Black Hills and its popular attractions without hundreds of thousands of other tourists in the mix makes GOAF Sturgis very attractive.
I've noticed this Sturgis event (in stark contrast to the usual Sturgis Rally) has progressively evolved each year with an increasing emphasis on riding the best of the surprisingly fun selection of off-road trails in the Black Hills of South Dakota.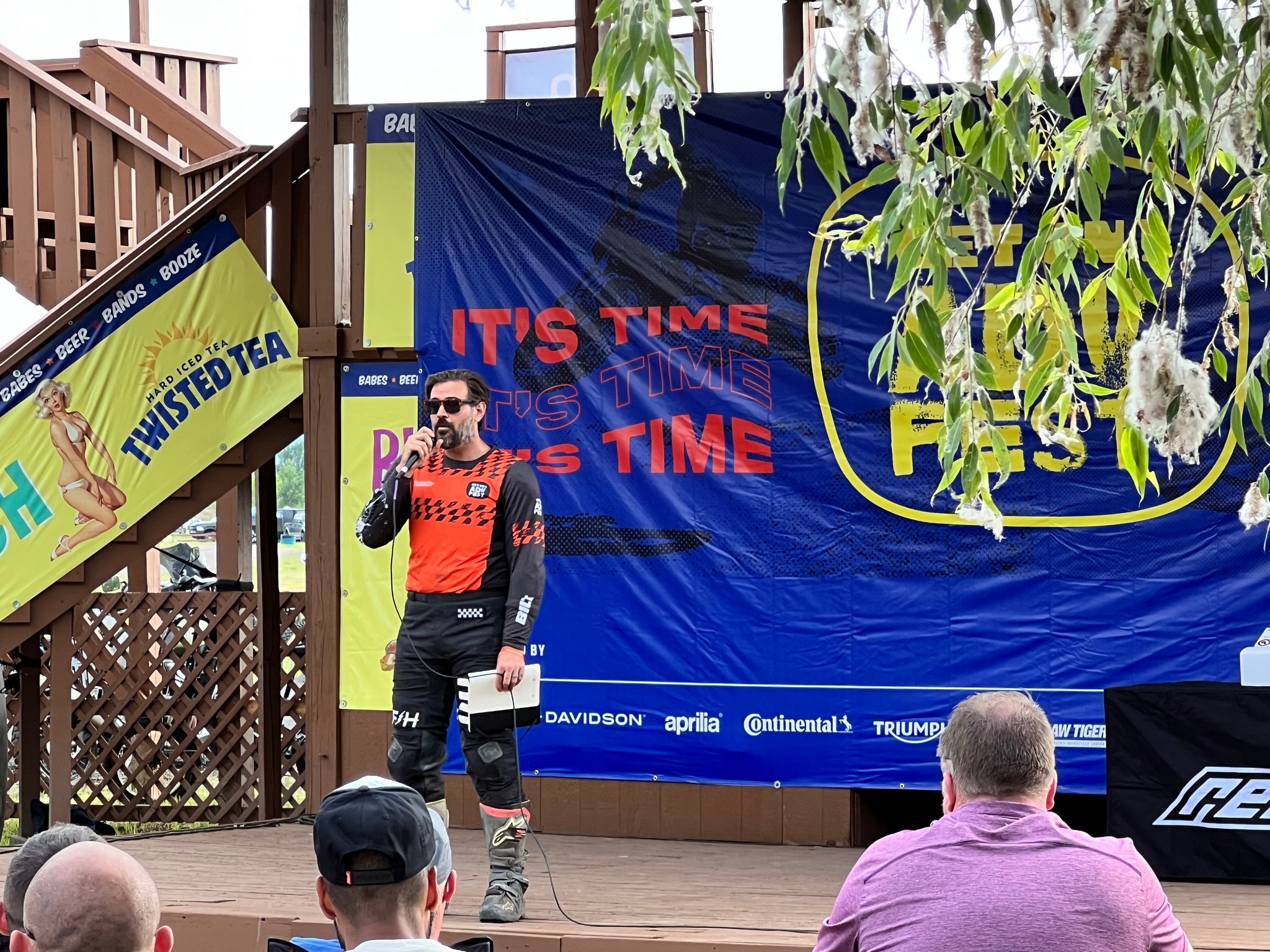 That's a big positive and the main reason I keep going back each year… plus reuniting with friends I've made in previous years.  Greg, Brian, Russ the "Honda Guy", Oscar, Dave, Joe, Doug, Justin, Justin… and Justin, the list grows longer each year!
All the RevZilla and YouTube personalities that I enjoy chatting about motorcycling with  Spurg Dunbar, Jen Dunstan, Zack Courts, Brandon Wise, Ian Schoenleber, Grace Shuessler, Maggie Hicks, Amanda, and Gary Zito, were all present this year.
There's also a GOAF Mojave event if desert riding is more your cup of tea.
What Was Better This Time?
Food was included in the $400 price of admission and it was better quality this year even if the lineup to get it was still pretty long at times.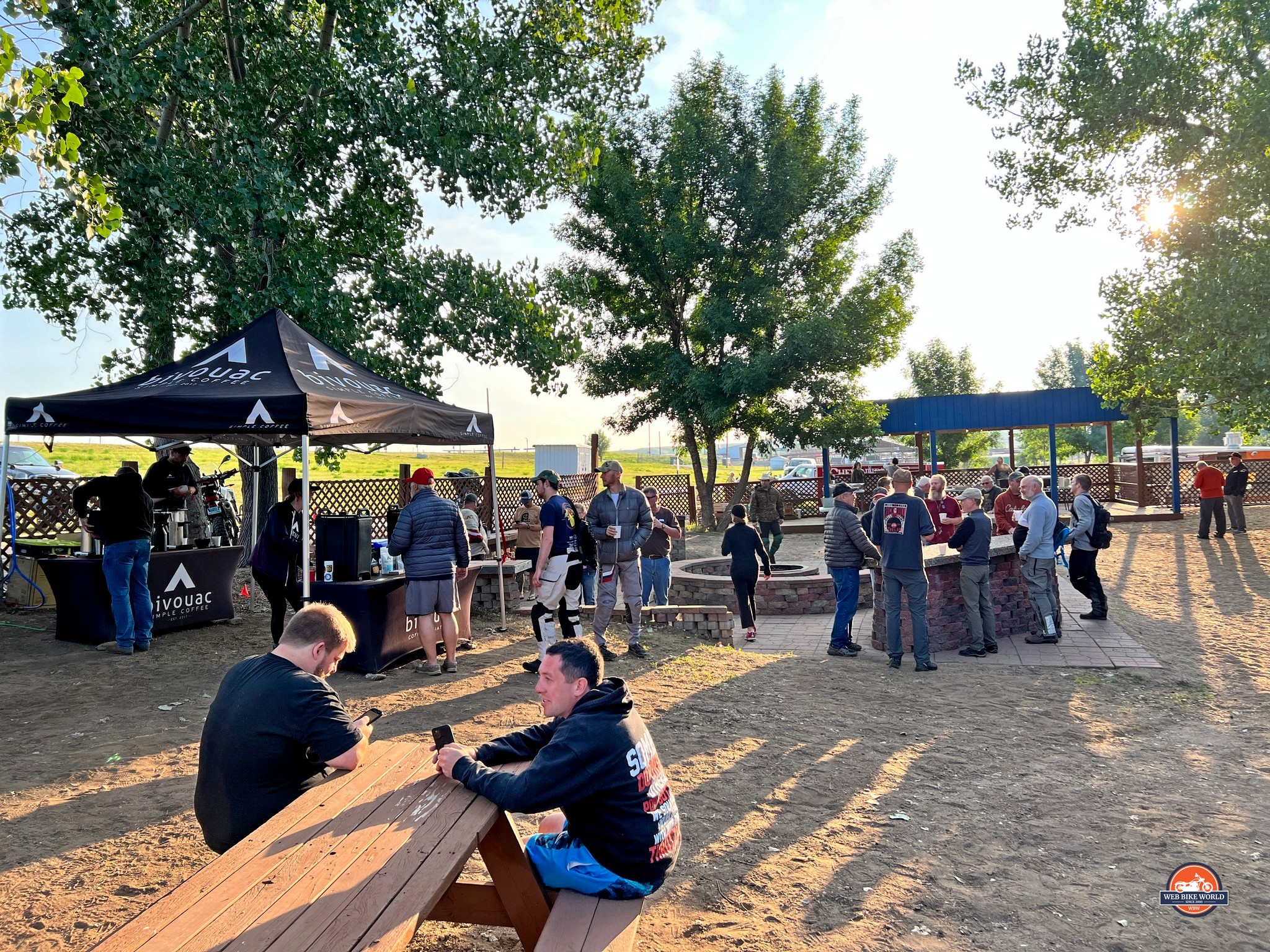 The loud, live music from previous years was absent and the party atmosphere (although still present) was more mature, allowing everyone to be asleep by 10:30 pm and ready to ride early the next day.
Different routes to choose from each day got a little more challenging as the event wore on allowing riders to better measure their progress whether in the Easy, Moderate, or Hard categories.
There were more motorcycle manufacturers present offering on and off-road demo rides!  Harley Davidson, Aprilia, Moto Guzzi, Triumph, CFMoto, and even Zero were there!
The gear vendors shut down their booths from 11 a.m. to 3 p.m. each day so my friends like Kyle Bradshaw from Rigg Gear could go ride along with attendees.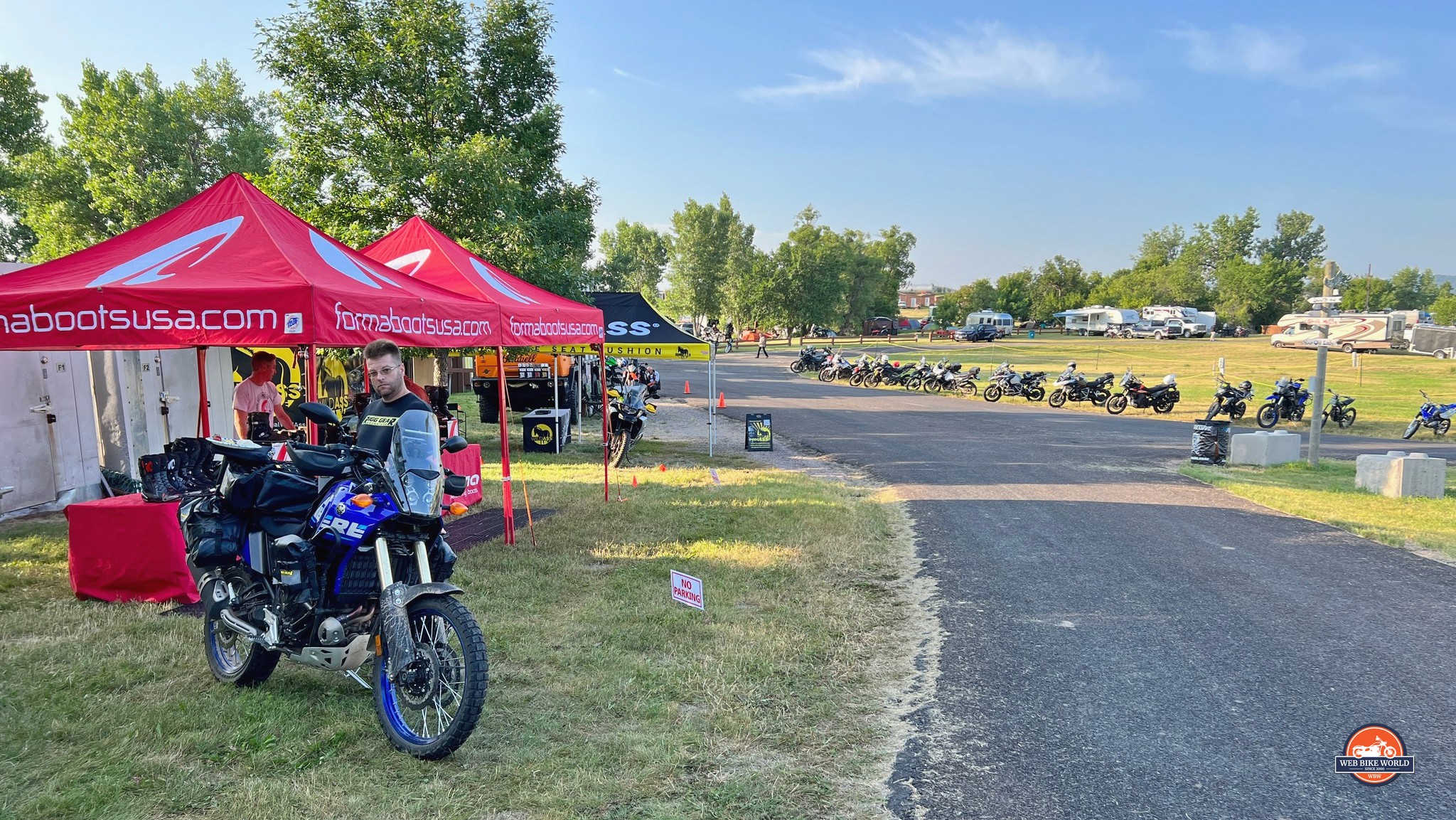 Monster Energy Drinks had a huge bin full of cold drinks available every day, all day to keep us cool and energized
The weather was PERFECT!  Daytime temperatures ranged from 80 to 95 (26 C – 35 C) with no rain or wind while overnight things cooled off into the 60 to 70s (16 C – 21 C).
SLOW RACES!  I think everyone in attendance seriously adored this silly yet skillful competition and I bet you a dollar many will be practicing at home over the next year for a rematch in 2024.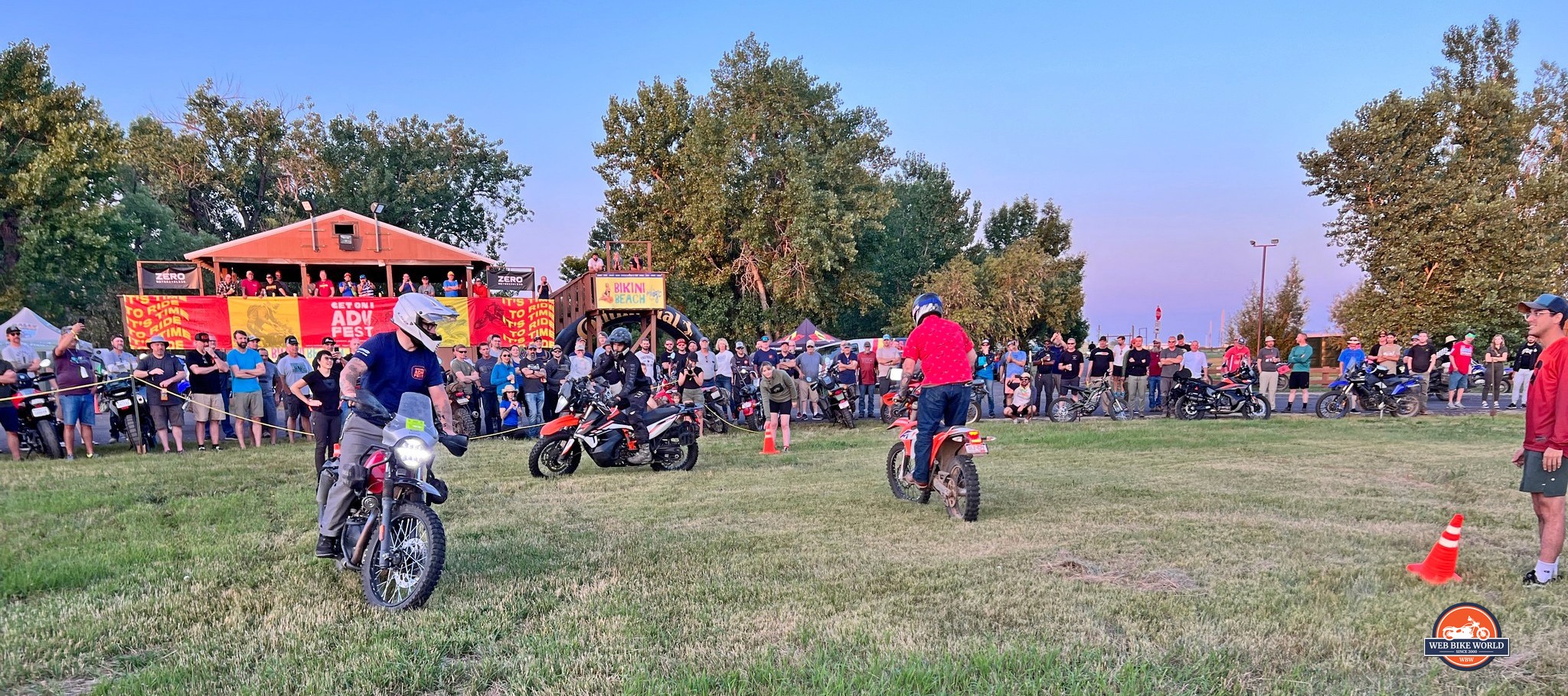 Best Of All, No One Got Seriously Hurt!
At the first GOAF Sturgis, I was riding with a group I met only the day before when one of them named Brian fell and broke his ankle on a rocky hill.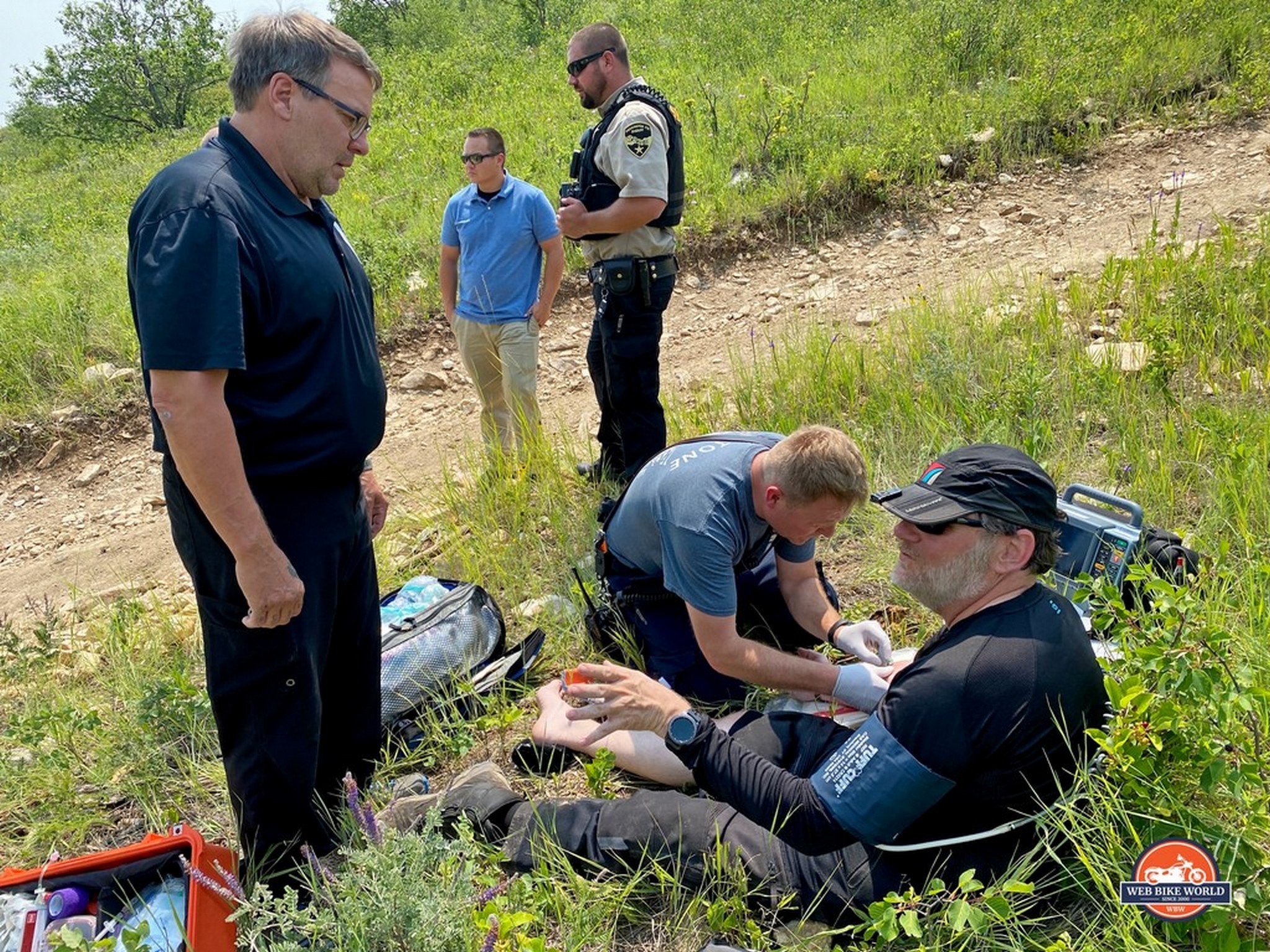 Then at the second GOAF Sturgis last year, my friend Oscar took a spill on a rocky hill and broke his collarbone!  Both of these injuries came about on the very first day of riding too!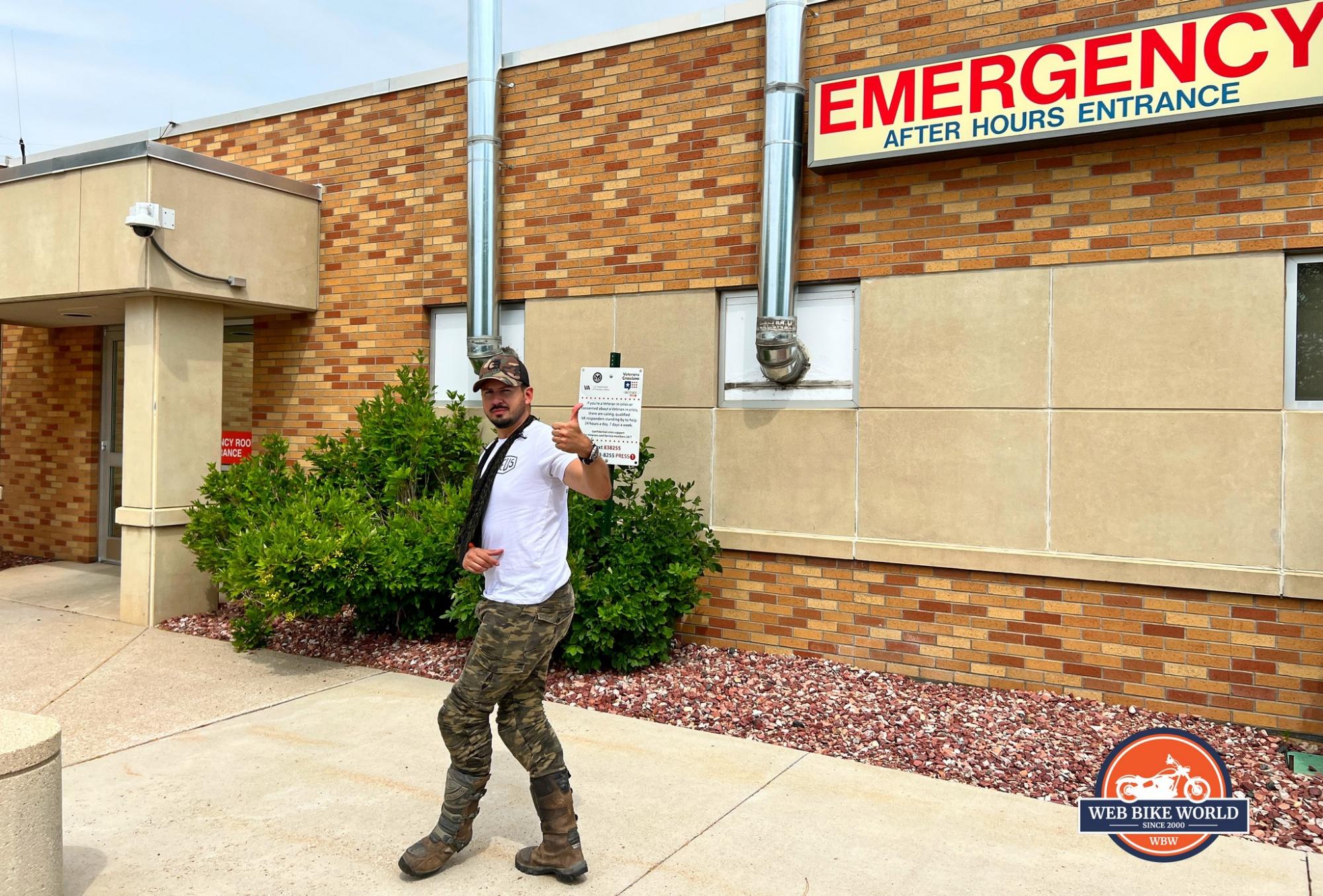 After those incidents, I was irrationally concerned that I was somehow the cause of these injuries.   This year I'm glad to report that I removed the hex or evil eye placed upon me (if there was one) by avoiding any injuries myself or bestowing them upon others.  What a relief!
Norden 901 Down!
Due to mechanical issues, I couldn't ride my 2022 Husqvarna Norden 901 to Sturgis as planned.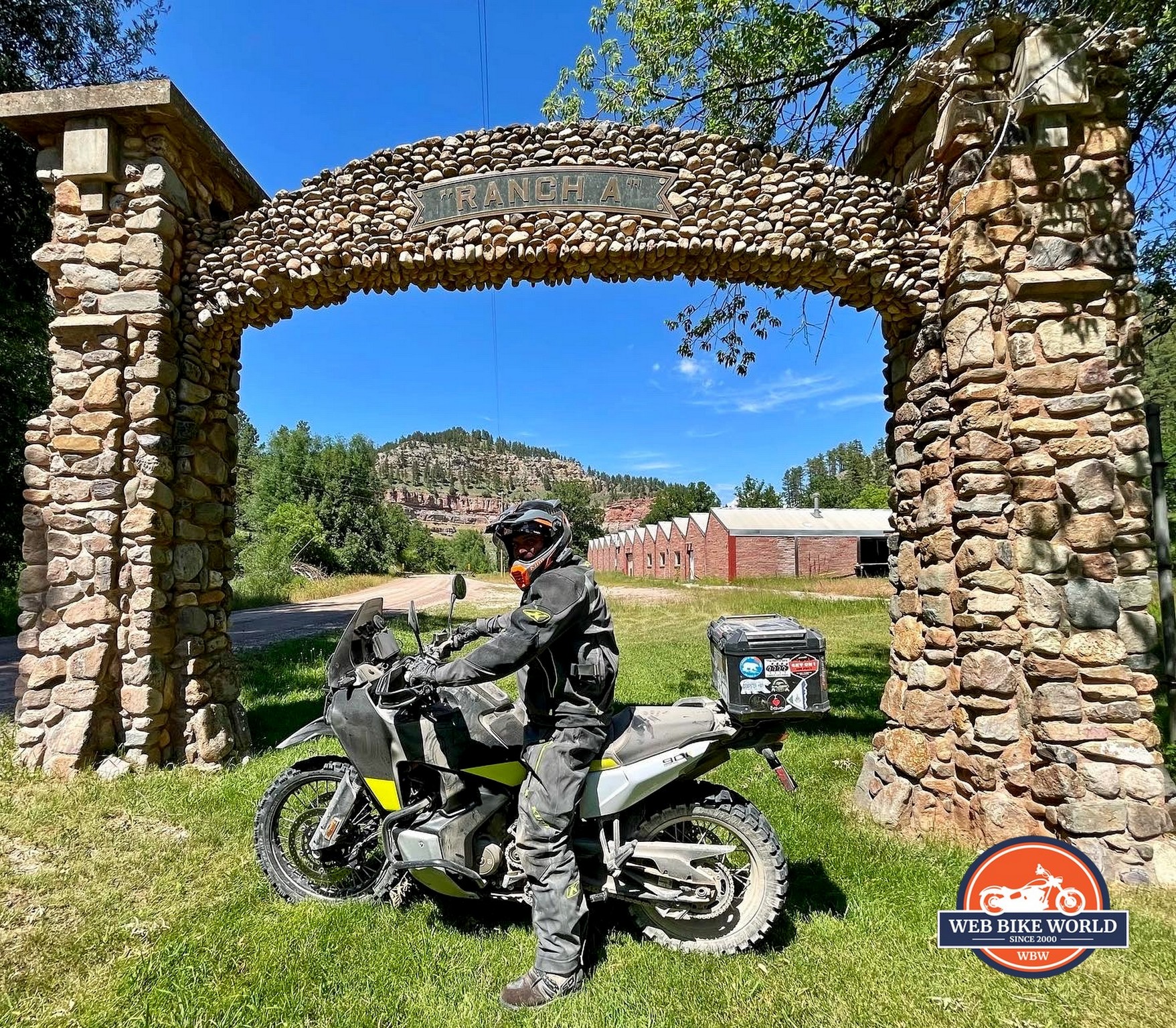 Unbeknownst to me, my then brand-new 901 had a leaking airbox when I attended last year's GOAF Mojave.  After 6 days of riding in the desert, the engine was dusted, though not to immediate destruction.
Over the 2022 riding season, my Norden engine began consuming more and more engine oil until finally this Spring it became unmanageable and I brought it to my dealer for repairs.  As a result, I've been without a proper adventure bike this season since April due to a shortage of engine parts needed to do the fix.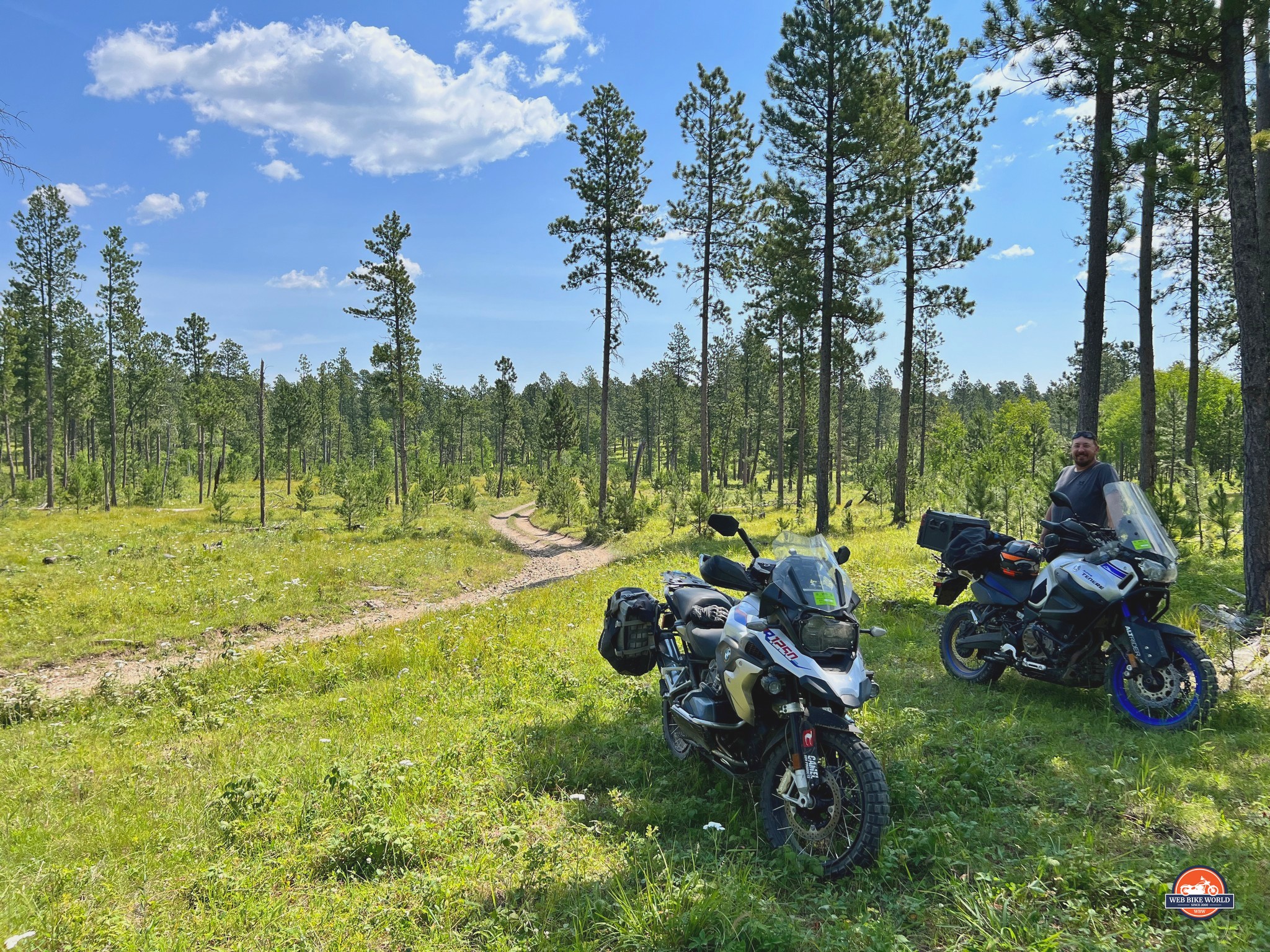 After a couple of months, I realized if I didn't quickly find something else to ride this short Canadian summer would be a complete write-off.  Panicked at that prospect, I did the least sensible thing from a financial perspective by purchasing a lightly used 2021 BMW R1250GS Rallye.  I've always planned to someday buy one of these legendary motorcycles since watching Long Way Round years ago, and the dead Norden accelerated my purchase plan timeline.
Taking the Easy Way Out
As good as the GS is known to be off-road it's still a big, heavy bike that I'm unfamiliar with in that application so I decided to ride easy trails at GOAF Sturgis in the hope of keeping it in one piece for the long ride back home.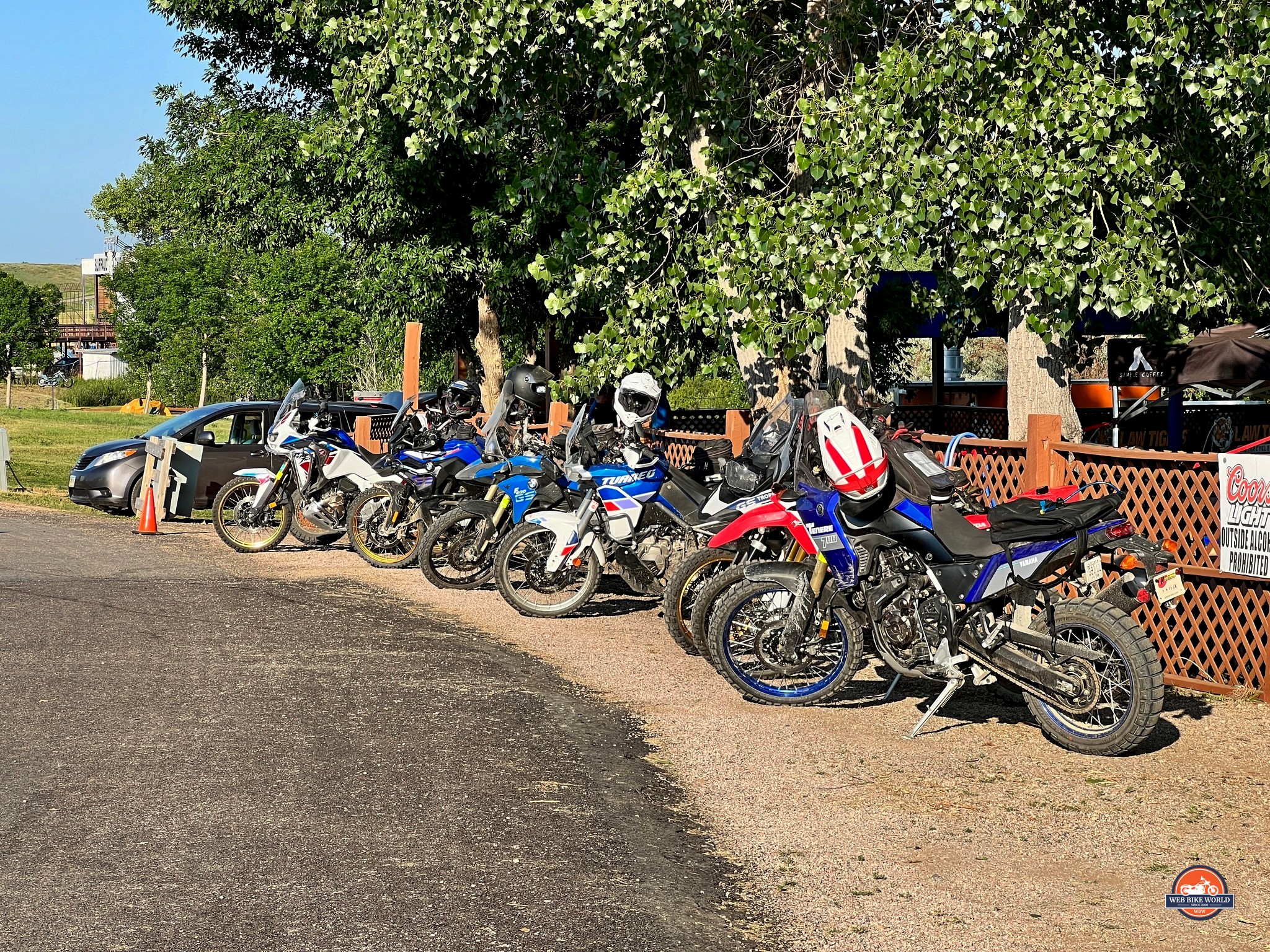 That plan allowed me to ride with a large group of riders who are still developing their off-road skills and I enjoyed seeing their progress during our time together.  After three days of riding the easy trails, I suddenly felt perfectly at ease commanding the big GS off-road.  It's a phenomenal motorcycle no matter where it's operated and legitimately does everything well.  The rumours are true!
The surprising fact about the "easy" trails is that they're fun even for seasoned adventure riders like myself.  They included everything from easy gravel roads to rocky two-tracks with water crossings and mud bogs.  Well done, RevZilla route planners!  Then again, I can have fun riding around my driveway if I have good company with me.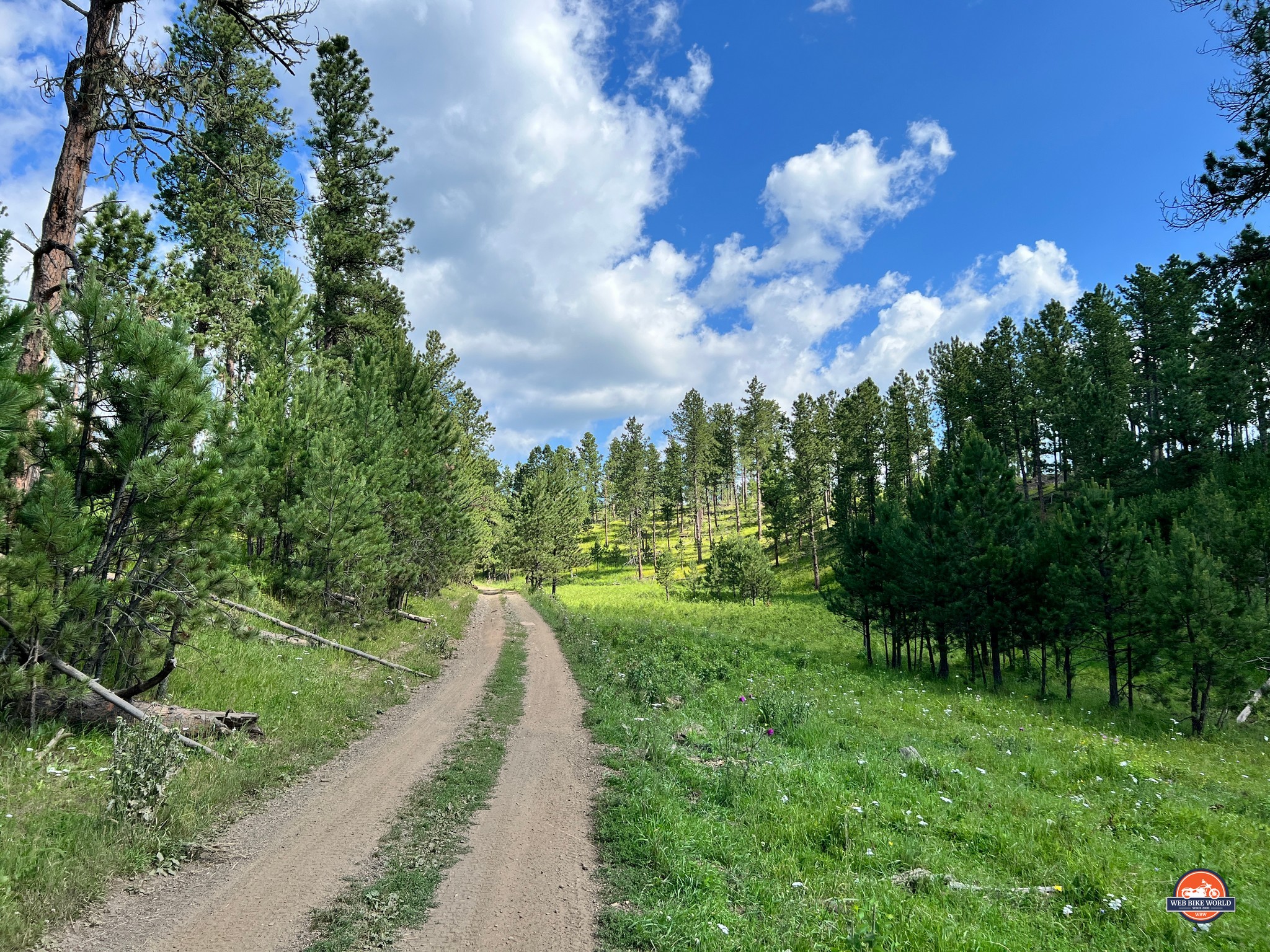 The Demo Rides
Riding trails in the cooler mornings of the Black Hills and taking it easy in the hotter afternoons is my recommended SOP when enjoying a GOAF Sturgis event.
That's exactly what I did, but part of my form of relaxation included new motorcycle test rides this year!
CFMoto Ibex 800 Touring
What a rare opportunity this was for me!  My first exposure to the CFMoto brand in Sturgis of all places.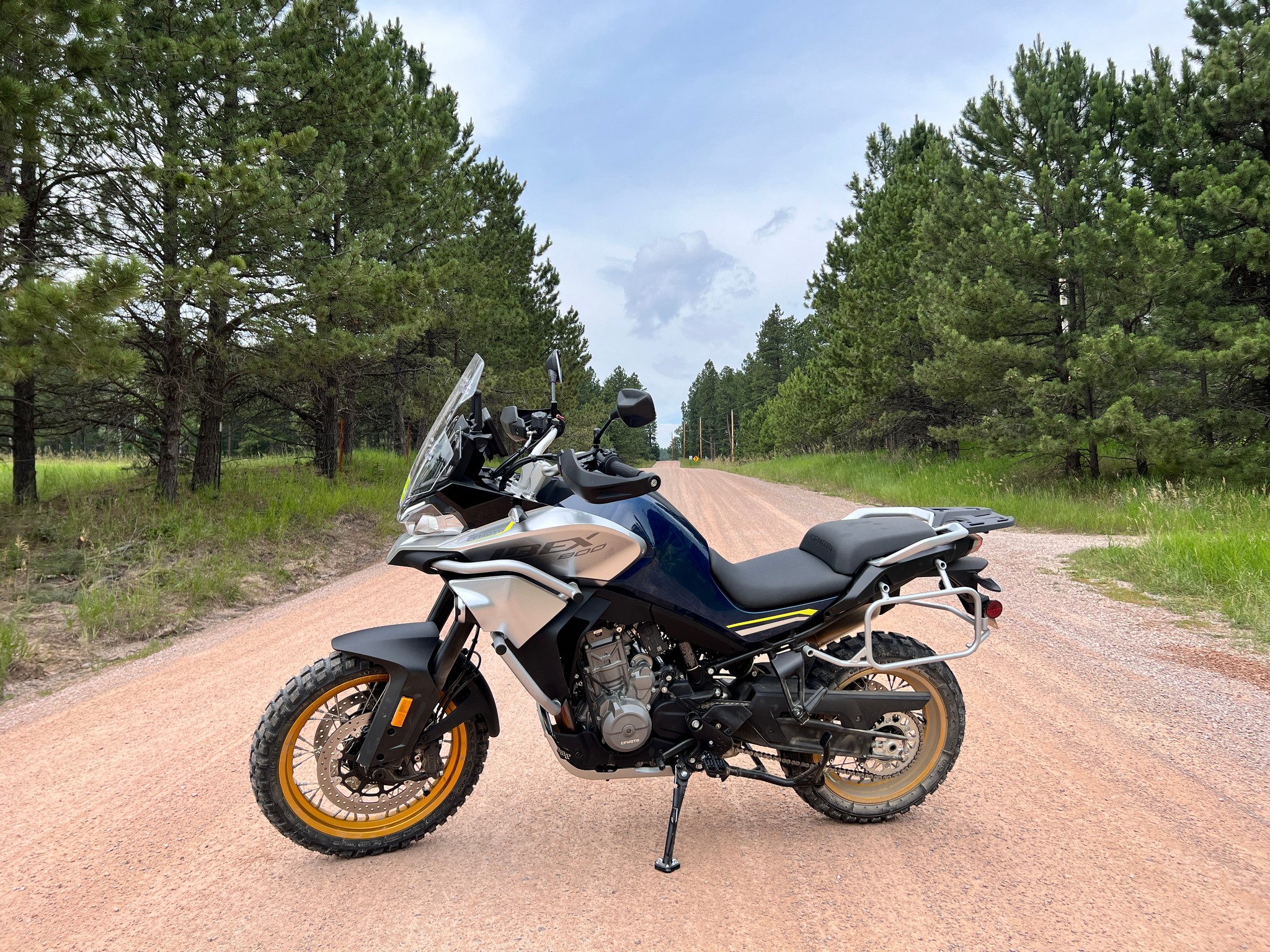 My impressions of this middleweight adventure bike?  Mainly positive once I got it through my head that just because it shares the same 95hp engine as is found in the KTM 790 Adventure it doesn't mean it's going to behave exactly the same way.  The Ibex isn't as nimble feeling off-road as the KTM is, but on the road, it's a great bike to ride.
The power and handling were impressive in all ways except for the throttle control which was far too snatchy for my liking.  After a few hours, I was able to get used to it, but it behaves exactly like the KTM throttle map does when in Rally.
Other cons included the shift lever being positioned way too low for human feet to shift with (easily corrected with an adjustment), and the fact ABS can't be turned off.
The Ibex 800T costs just under $11,000 US ($13k CAD) and is a bargain as such because you get cruise control, a 5-year limited warranty (in Canada but only 2 years in the USA), luggage racks, crash bars, and smart features like two auxiliary power ports on the dash.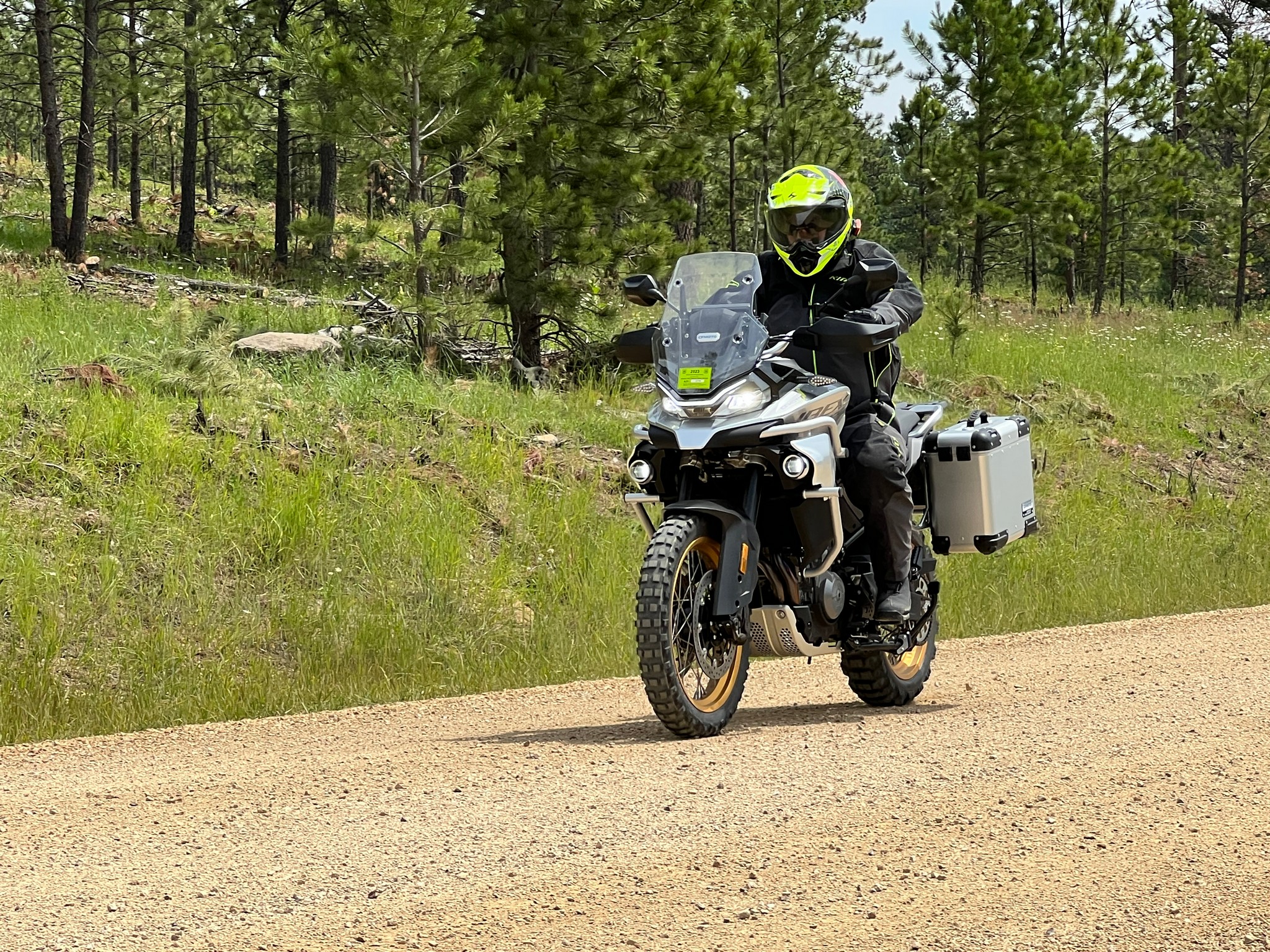 Like it or not, this bike is yet another example of how Chinese brands are coming on strong and could soon begin to dominate the market everywhere.  Give this bike a software update to calm the throttle and make the ABS switchable to build a definite winner.
Harley Davidson Pan America Special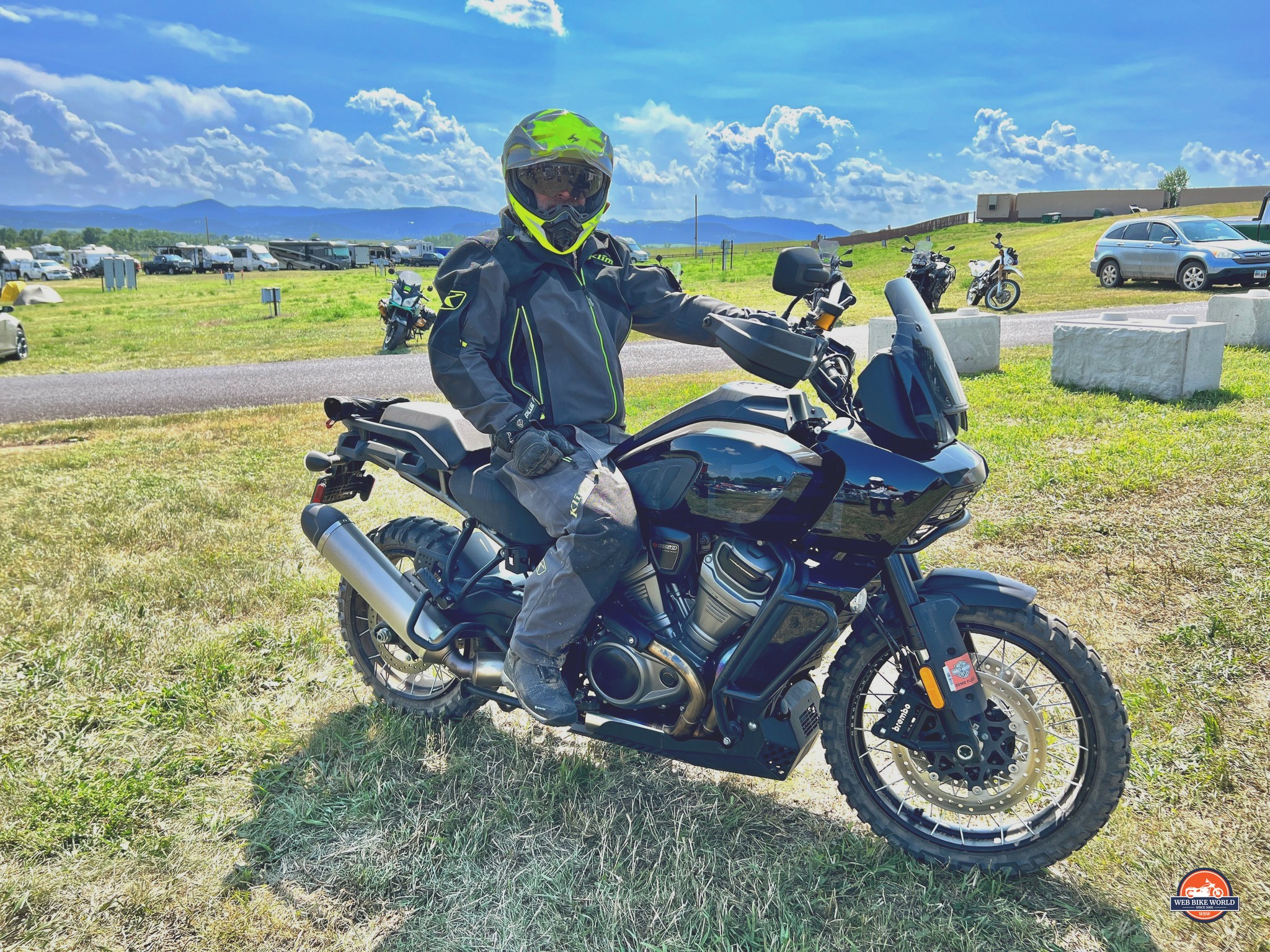 I also got the opportunity to ride the now three-year-old Pan America Special on an off-road course set up on the Buffalo Chip Property and was impressed with this big bike's agility in the dirt.  It's not often a manufacturer will allow testers to get serious in the dirt with their bikes but Harley has been so accommodating with these bikes.
Power slides, a small hill climb, and a weaving, technical course through grass and dirt are what I experienced with the "Dirt Glide", and it didn't disappoint me at all.  If I'm honest, I still prefer my 1250GS Rallye off-road thanks to the lower center of gravity and torquier engine, but wow has Harley ever produced a competitive full-sized adventure bike.
They've been polishing this diamond a little more each year and it's close to challenging for the overall crown now, in my humble opinion.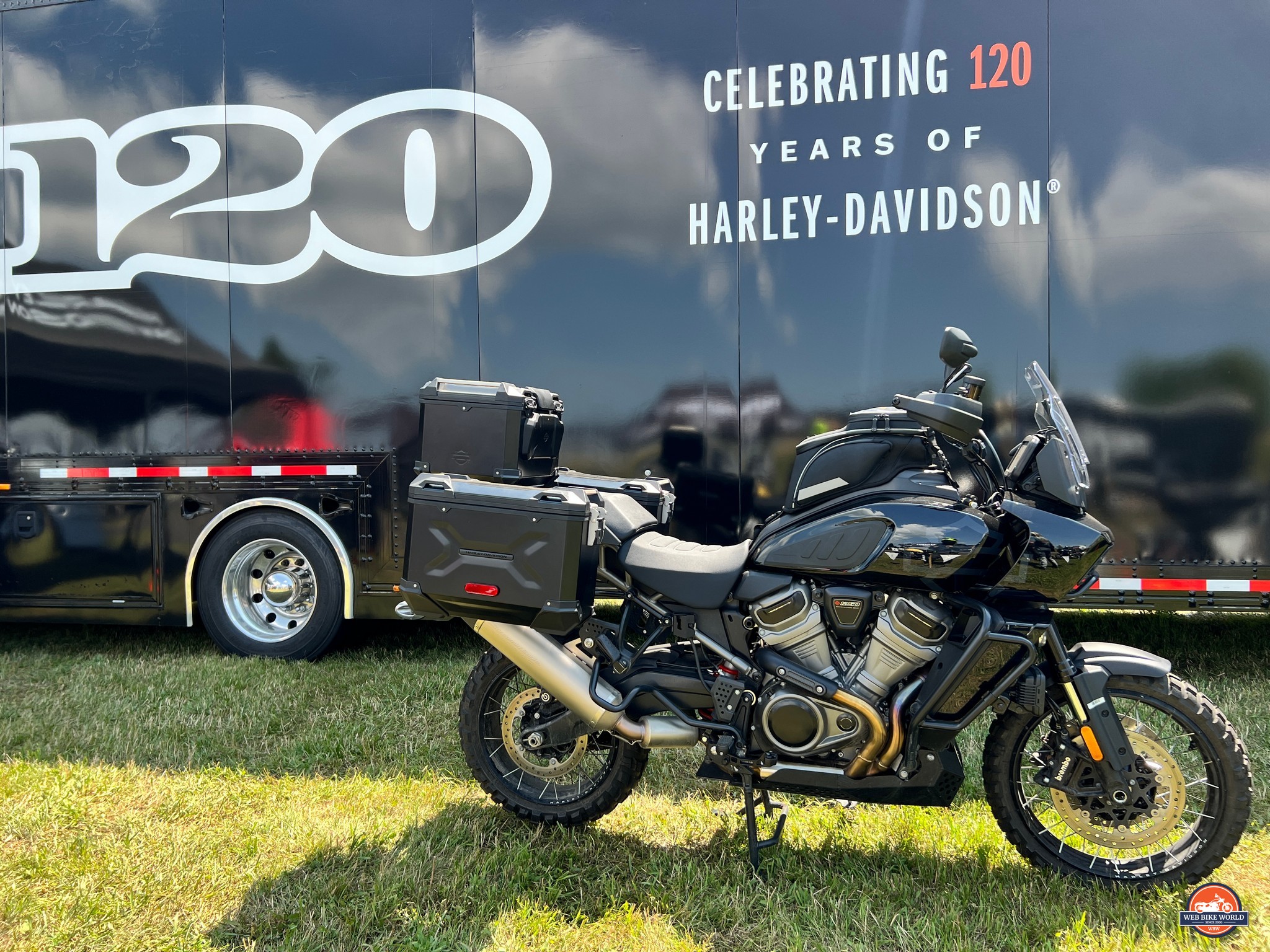 I was hoping Harley would produce a special edition Pan America in this their 120th anniversary year, but it wasn't on the agenda in Milwaukee
Triumph Tiger 900 Rally Pro and 1200 Rally Pro
Do you love the sound of an inline triple engine as I do?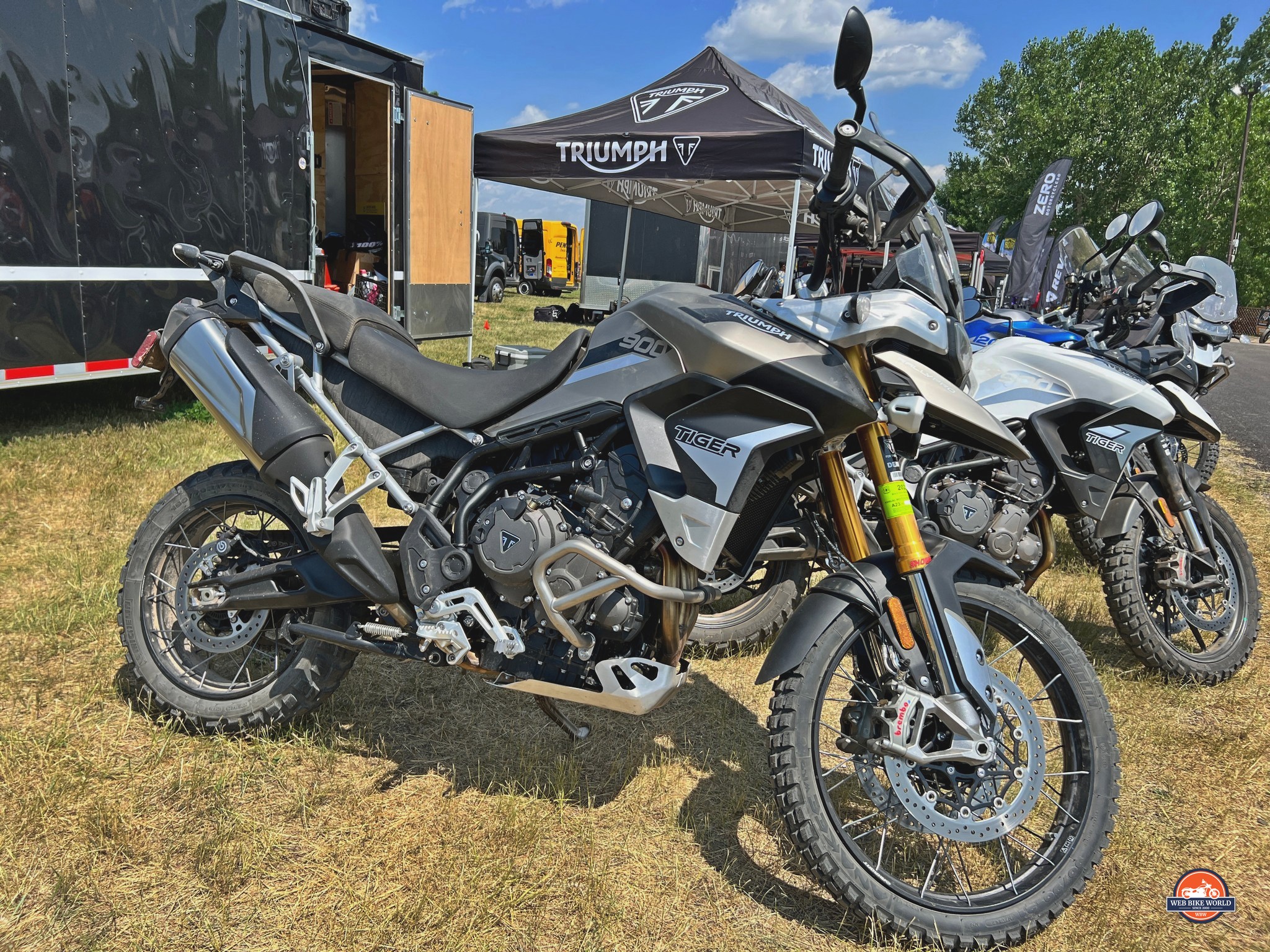 Both of the new Tigers are so sweet on pavement thanks to their roaring 3 cylinder engines!  I didn't get to take them off-road but on-road, these two are as good as anything out there.  What a deliciously fat torque curve on the lower rev range!
Both feel similar to each other on the road but the lighter 900 is more agile feeling, while the 1200 is so smooth it's difficult not to love too.
My only complaint with these two is the tall seat heights.  Even with the seat in the lower position, I wouldn't feel confident riding these giraffes off-road for long with my 28" inseam when loaded up with luggage.
The Black Hills Backcountry Discovery Route-X Announcement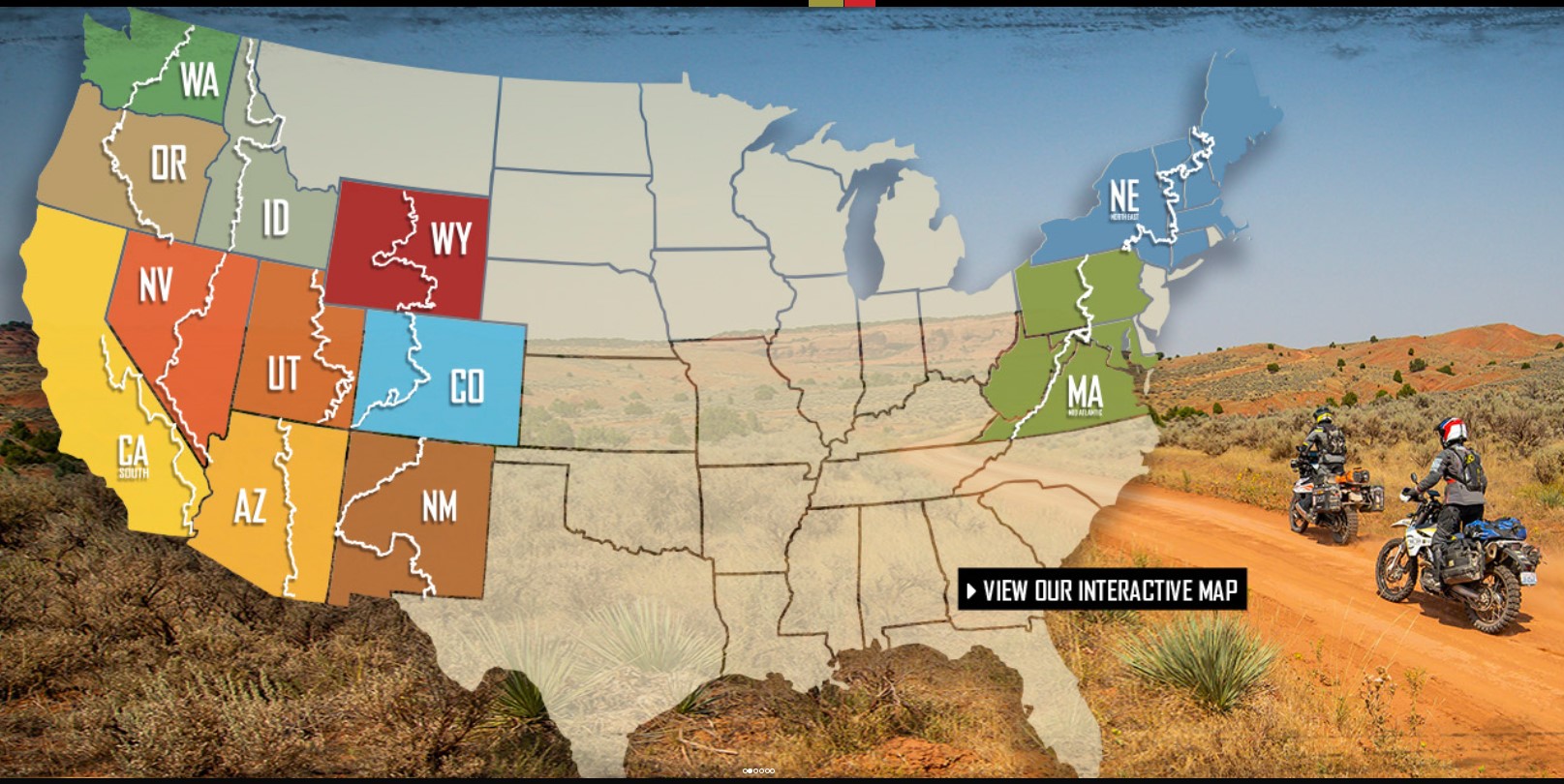 The Backcountry Discovery Route organization is a US-based group committed to raising funds to maintain and map out off-road trails across the United States.  At this writing, there are 12 full-length tracks that span across 12 States and 4 shorter "BDR-X" routes which are more like sightseeing loops.  GPX tracks can be downloaded from the BDR website to guide riders using phone apps like GAIA or actual GPS devices.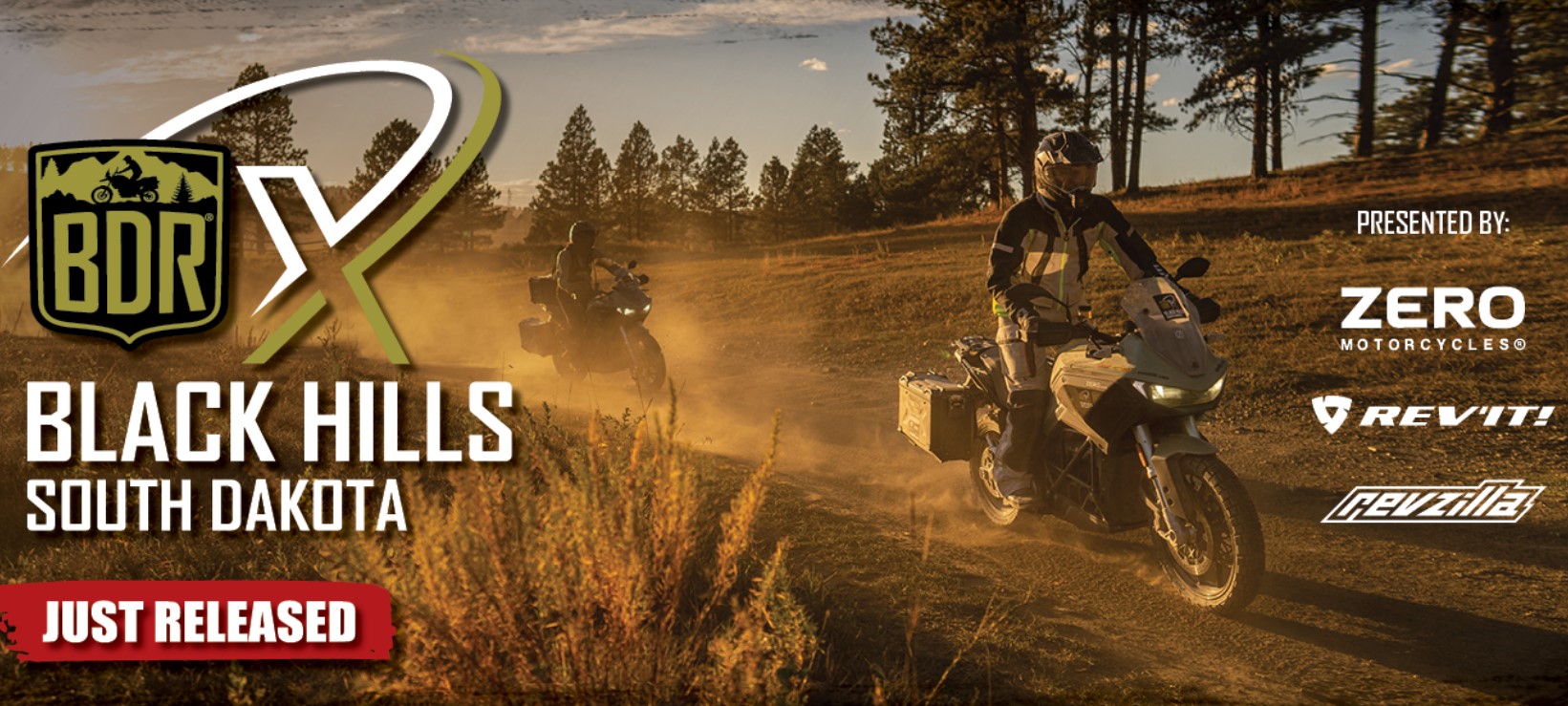 At GOAF Sturgis this year on the final night, four BDR representatives formally unveiled a brand new Black Hills BDR-X route which is the perfect loop to ride if you've never experienced South Dakota's terrific off-road trails.  As a bonus, the BDR-X route also passes through many of the best attractions like Sturgis, Spearfish Canyon, the Pigtail bridges, Deadwood, Mount Rushmore, Hill City, Needles, and Custer State Park.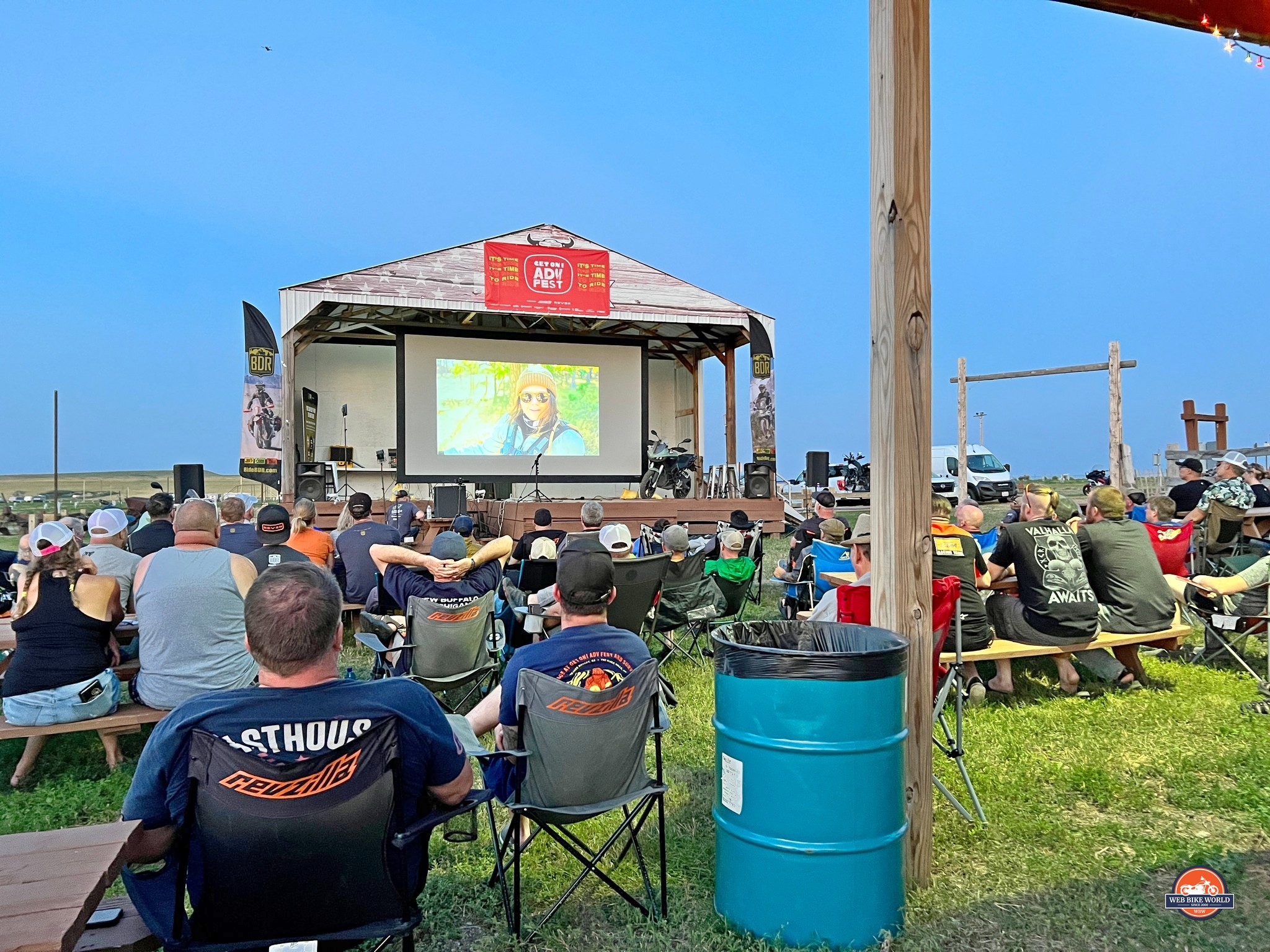 BDR always films YouTube movies to showcase their new routes and we got to watch the new Black Hills BDR-X film at GOAF after the announcement.  You can watch all available movies on the BDR YouTube channel including this one for the Black Hills BDR-X below.
Let's GO Ride the BDR-X!!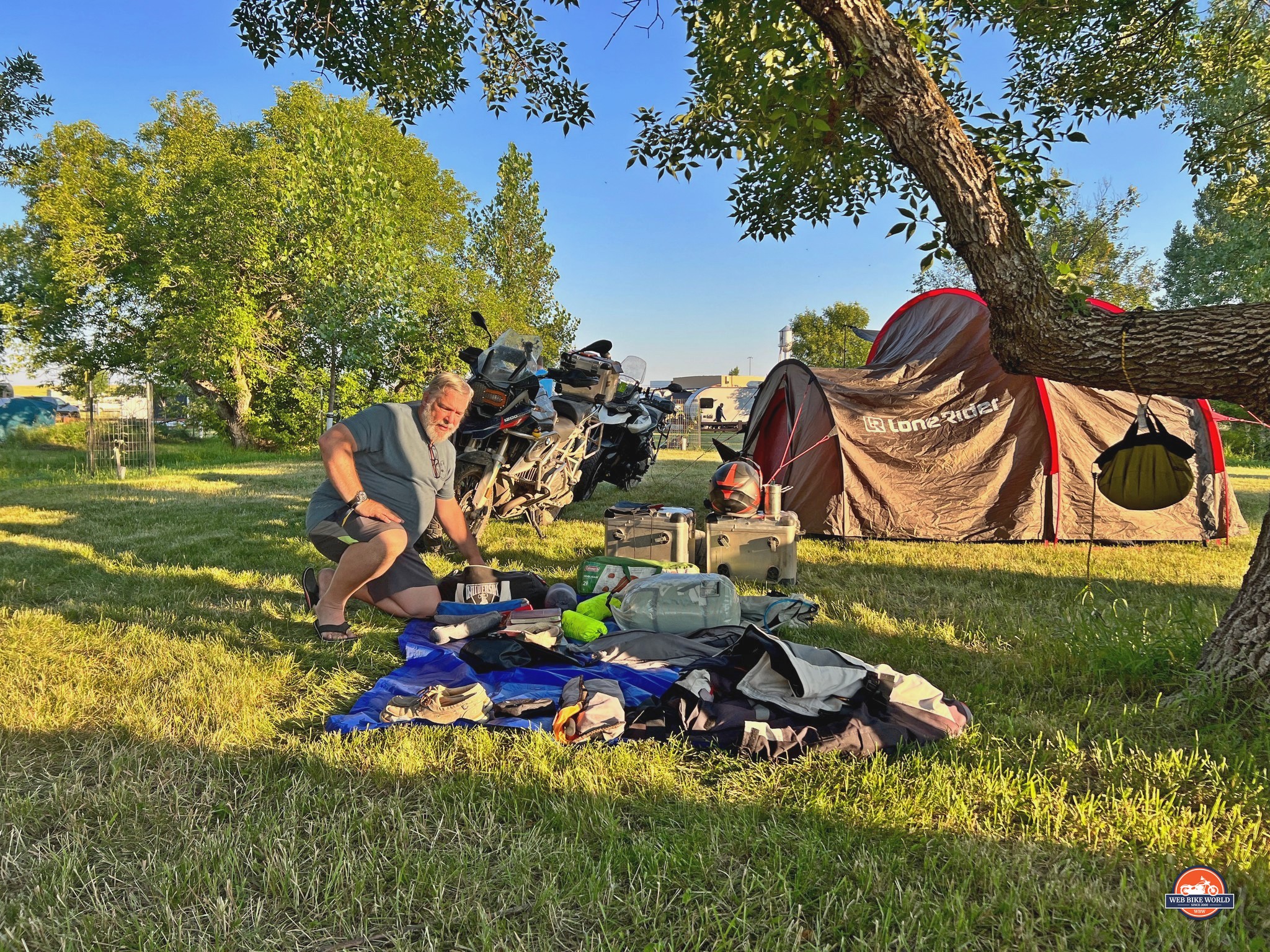 As GOAF Sturgis 2023 came to a close I grudgingly said see-you-later to all the fun people I'd spent time enjoying the festivities with over the previous days and nights.  It's a bummer bidding adieu at the conclusion of the Rally each year for me with only the ride home left… but this year was different.  I had more than riding home on my mind as I stowed my tent in my Mosko Moto luggage.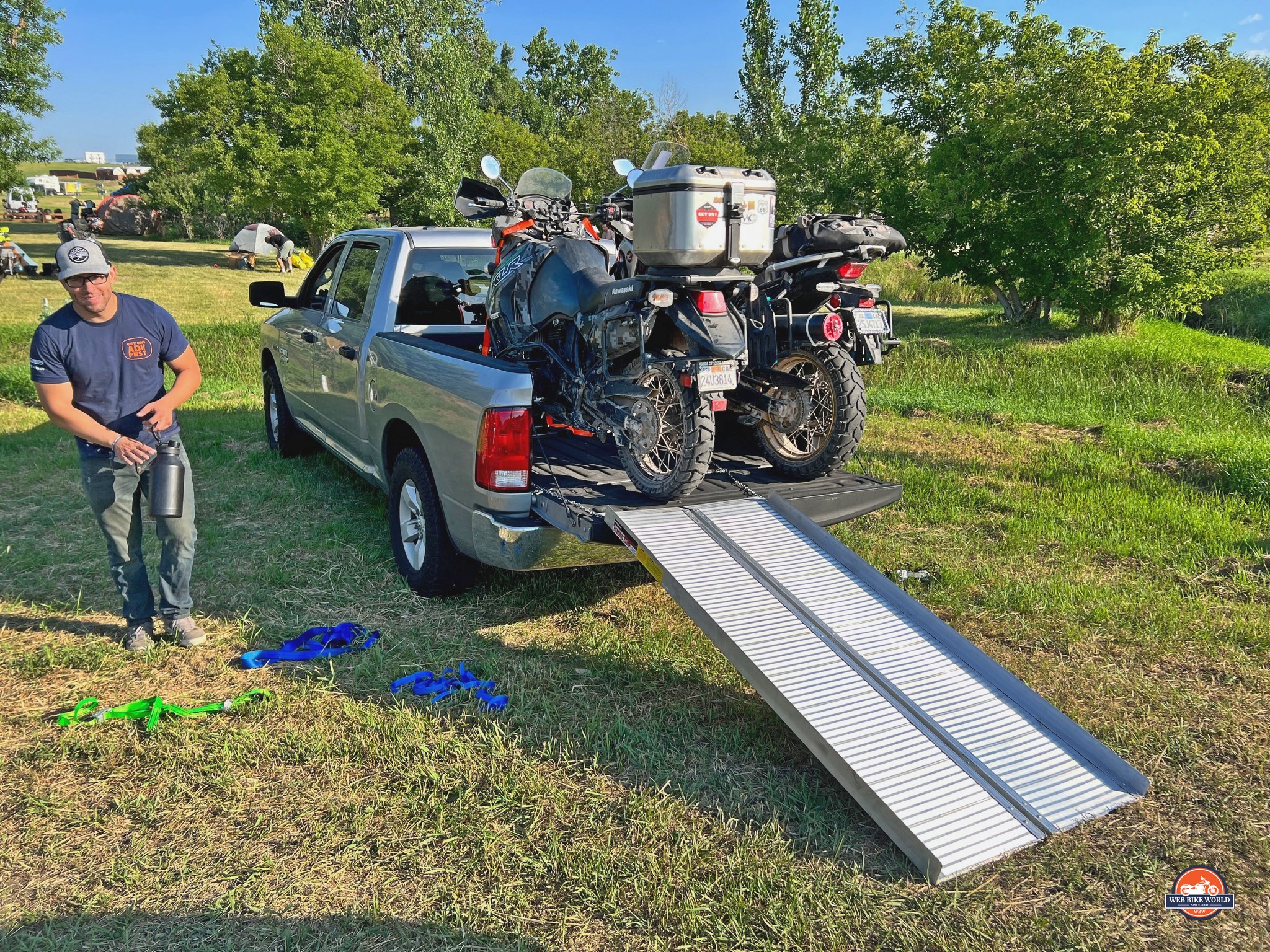 There was no way I could pass up the chance to be one of the first riders to complete the new Black Hills BDR-X.  After all, it was practically right in front of us and I estimated it would only take 2 or 3 days to ride the 355-mile circuit.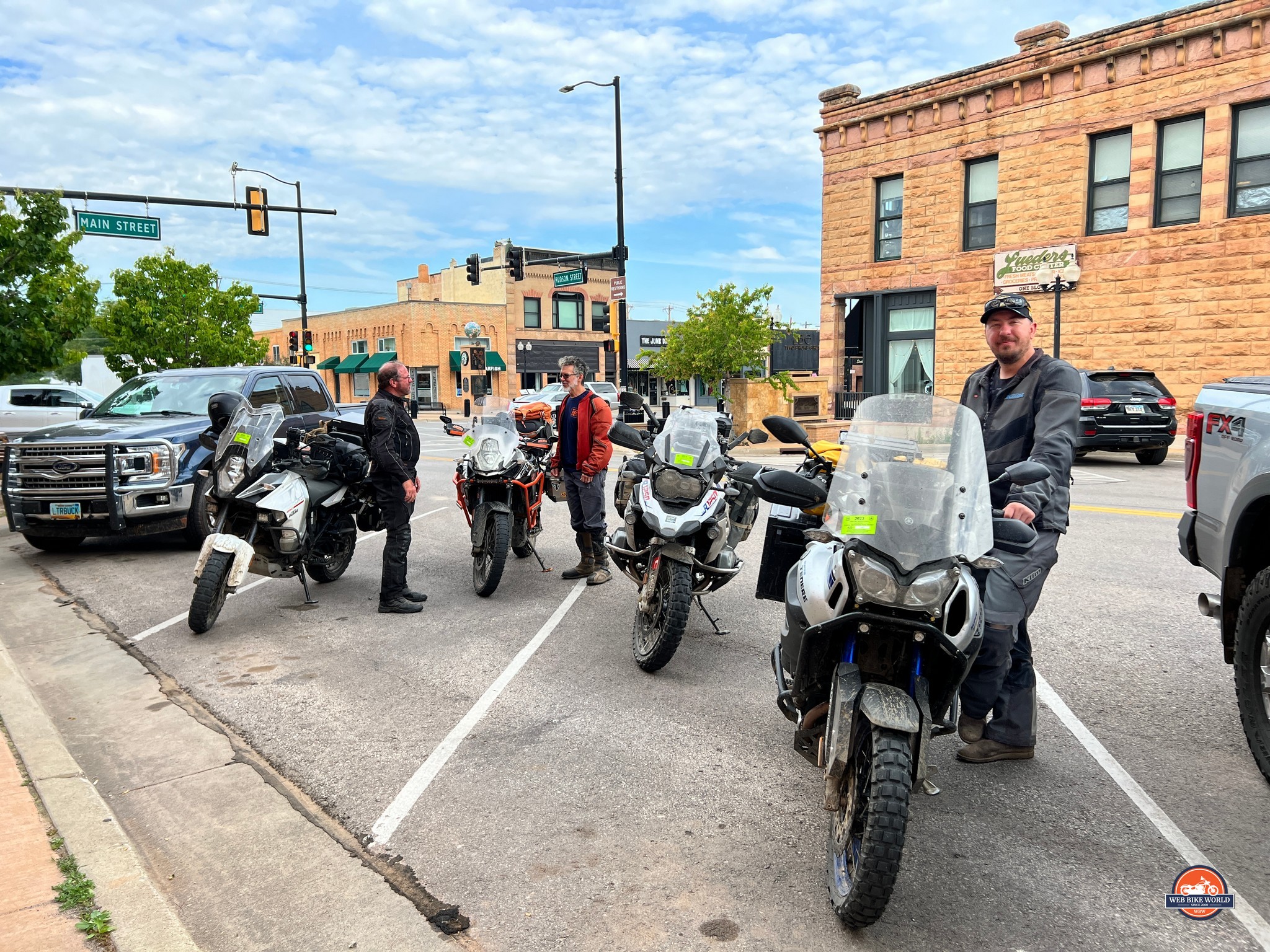 My friend Lorne and I packed up our gear and started on the route before noon on the last day of the rally.  We were joined by two newer adventure riders from Texas named Joe and Doug who also were drawn in by the allure of the new BDR-X.
Day 1: Keystone to Spearfish
The Black Hills BDR-X is a giant loop beginning and ending in Keystone, SD, and right out of the gate we got encountered rocky two-track trails with large mud puddles, and water crossings in them.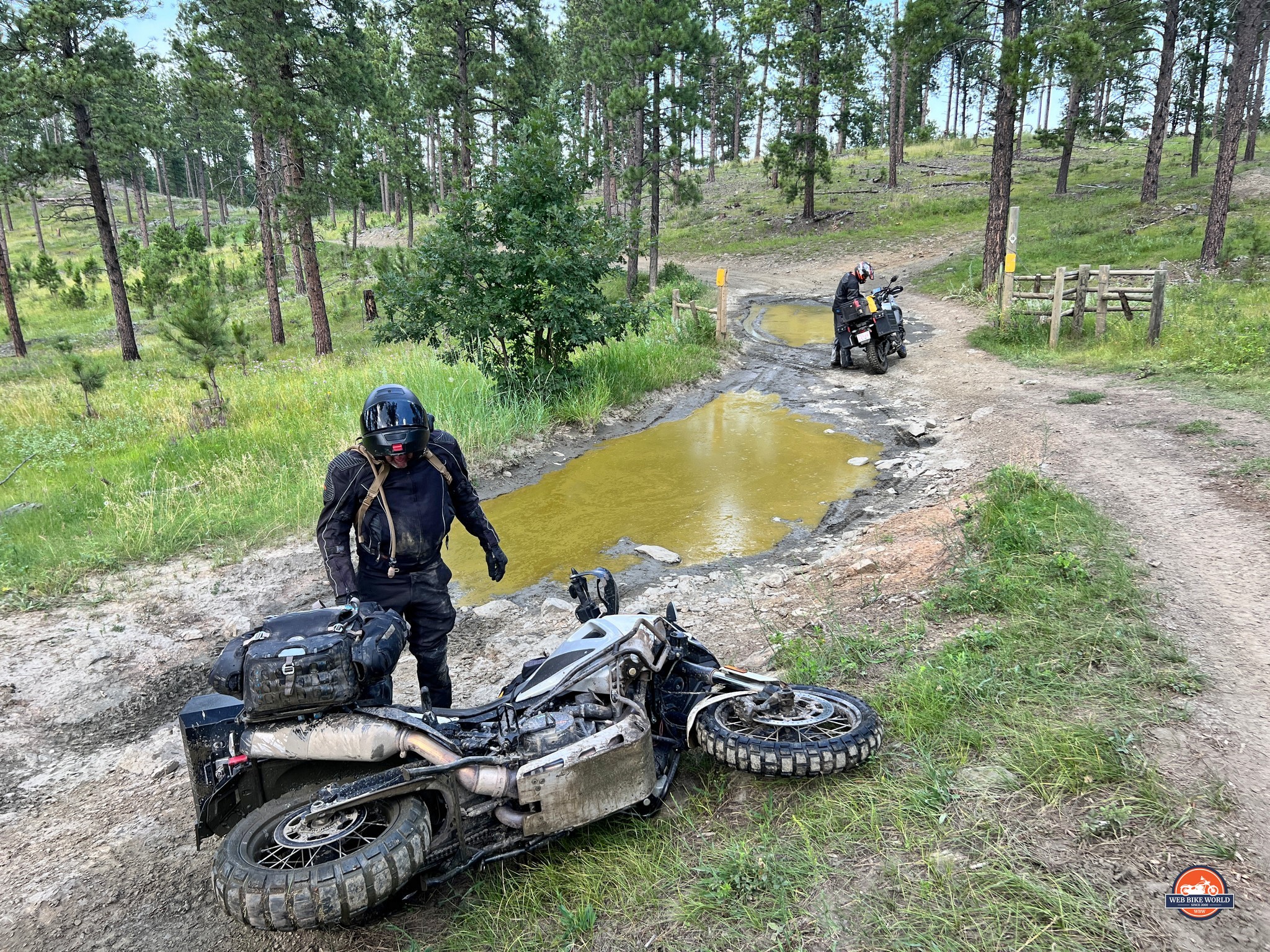 Unfortunately, Doug's KTM 1190 super adventure appeared to have developed a pinhole leak in the radiator but it seemed slow enough to continue riding with some level checks along the way.
Both Joe and Doug dropped their bikes several times in the technical rocky sections and Lorne and I helped get them back rubber side down until the withering 36 Celsius heat and repeated 500lb (plus luggage) deadlifts made the Texans abandon the trail and jump ahead to the tracks near Deadwood which are "less spicy", as Lorne put it.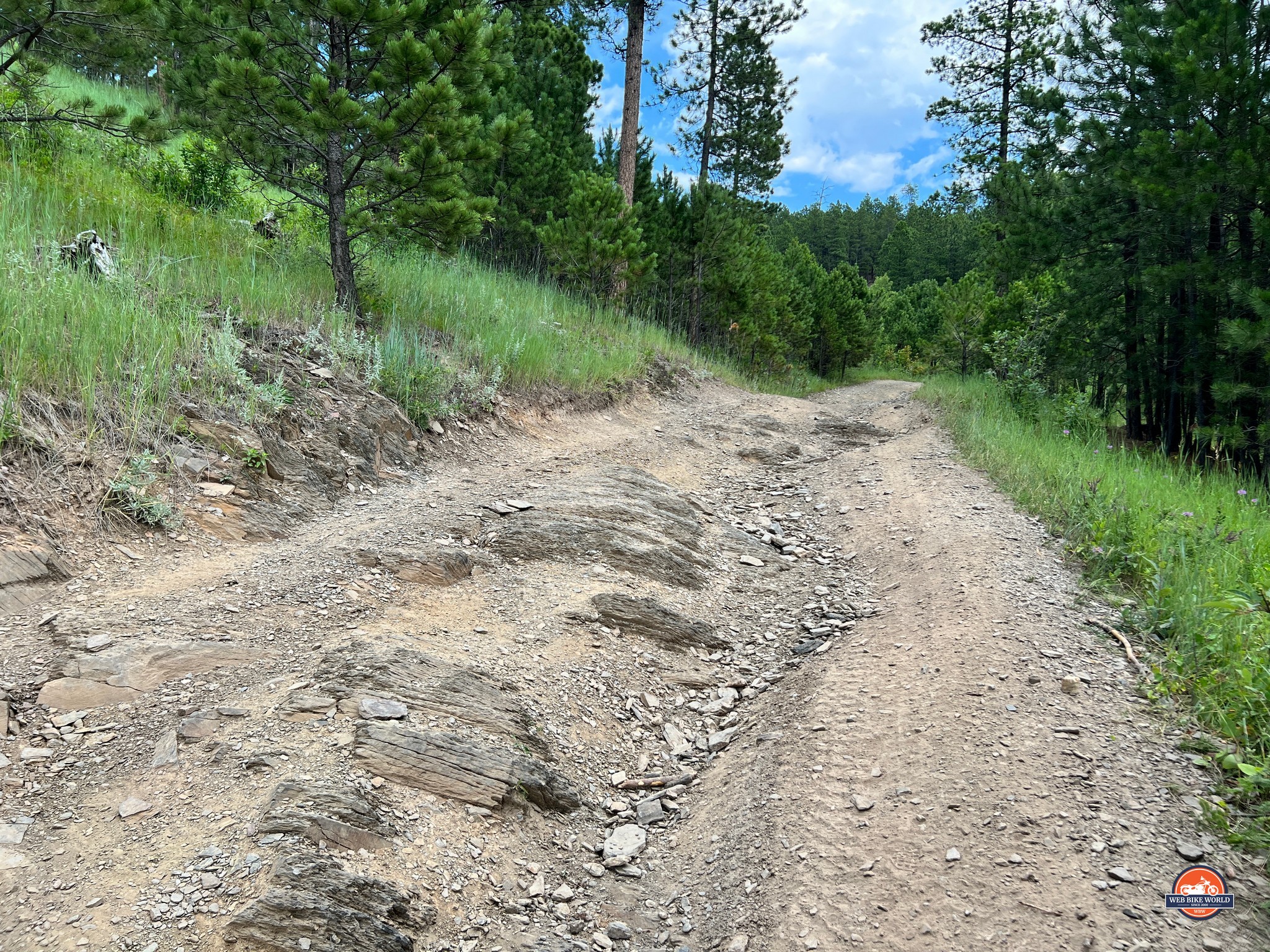 For my part, I found this terrain perfect for my riding style on the big 1250GS, and my playful, zig-zag riding on the trails managed to grab a rock with my front wheel and launched it up into the nearly impenetrable Black Dog Cycle Works skid plate I WISELY installed before this trip.
Thank you, Kurt and Martha Forget for building great armor for expensive motorcycles.
The trails actually flattened out and got easy after Joe and Doug left to reserve a beautiful creekside camping spot for us in the town of Spearfish.
Day 2: Spearfish to Hill City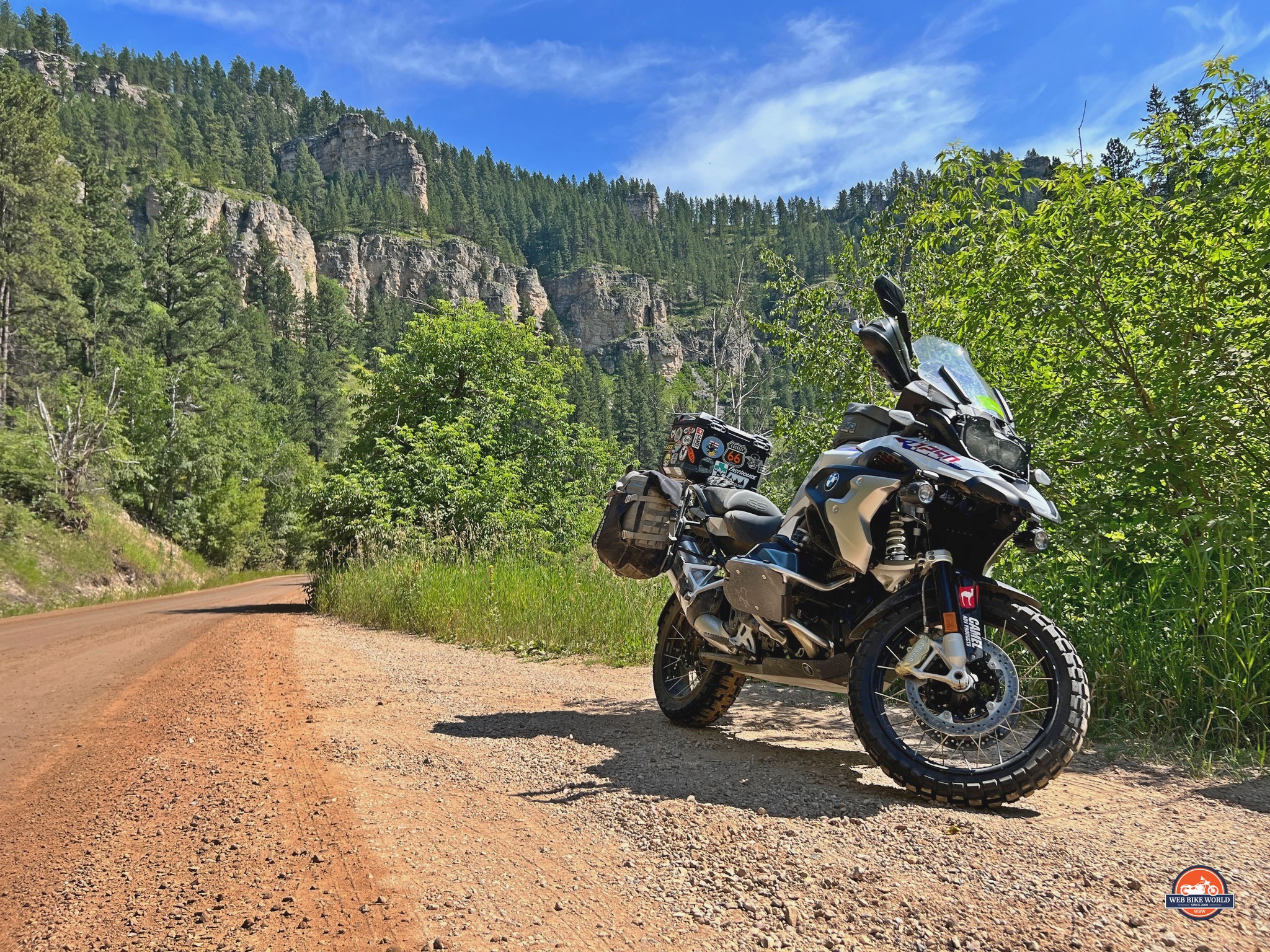 The following morning Joe and Doug decided the trail was beyond their skill level and they wished us good luck before turning their bikes southward.  Lorne and I both felt sad they didn't feel up to the challenge but we later agreed that was the right call after we encountered some technical terrain in the beautiful Black hills that needed our full concentration to navigate.
On one very rocky downhill section, the ABS acted erratically on Lorne's Yamaha Super Tenere causing the rear wheel to skid wildly, leading him to drop his bike.  Lorne is a skilled rider and as such it's easy to realize there are some sections of this BDR-X that can test anyone on big bikes loaded with luggage.
COWS!  We encountered so many cows who stared at us as we passed by them and lush green forests filled with cold flowing streams of water.  The trails offered up such a varied mix of terrain on Day 2 with even some sections of powdery sand coming into play.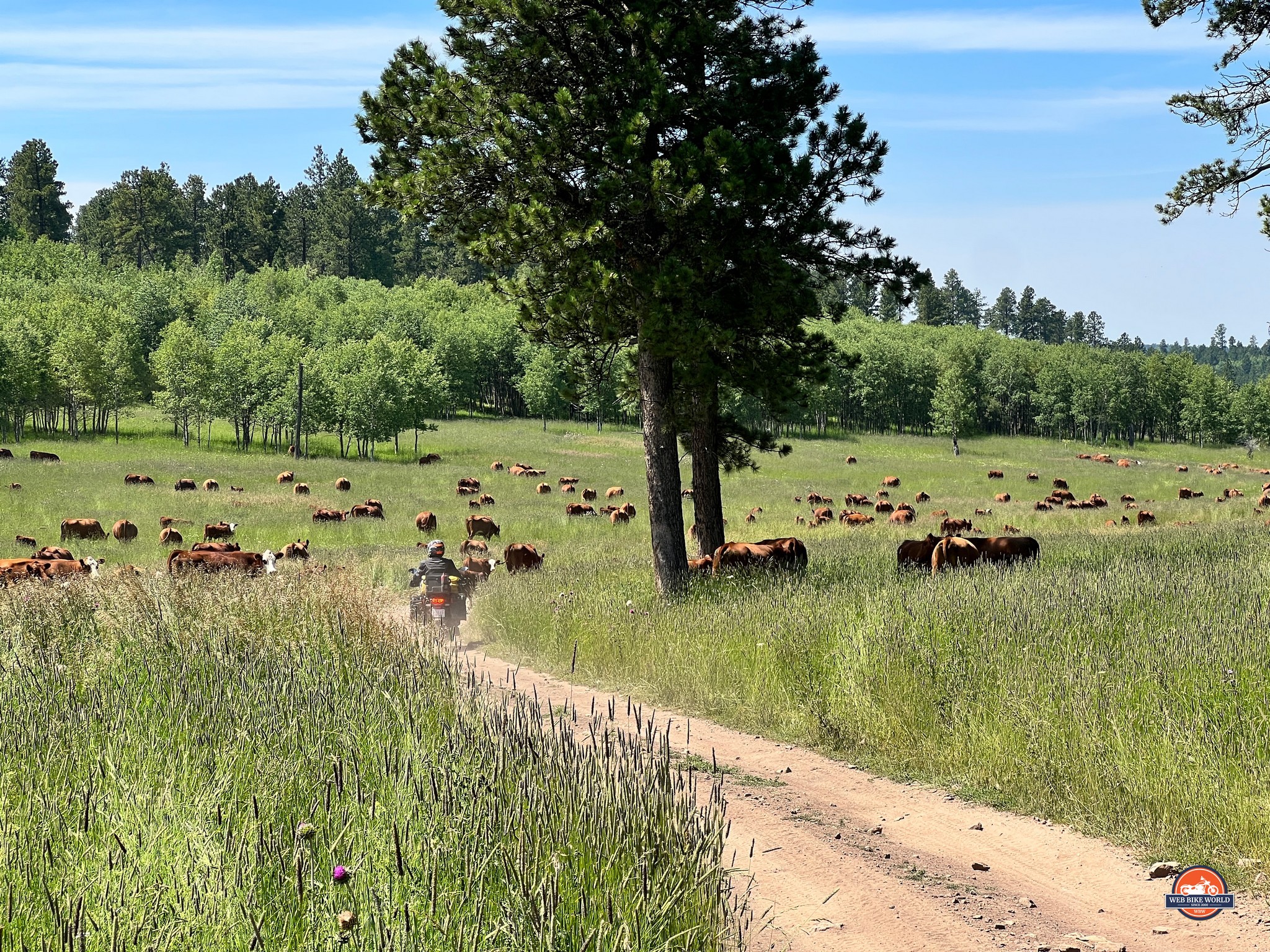 We finished the day in Hill City which sits about 2/3 of the way completed of the BDR-X leaving about 150 miles remaining to ride to the finish line back in Keystone.
We took the opportunity to do some laundry at a gas station that day… a unanimous decision.
Day 3: Hill City to Keystone
Lorne and I woke up early and got riding before 8 am on the last day of the BDR-X.  We realized a large section of the final leg would be pavement, but it also would include potentially congested tourist attractions like Mount Rushmore, the Needles Highway, and Custer State Park.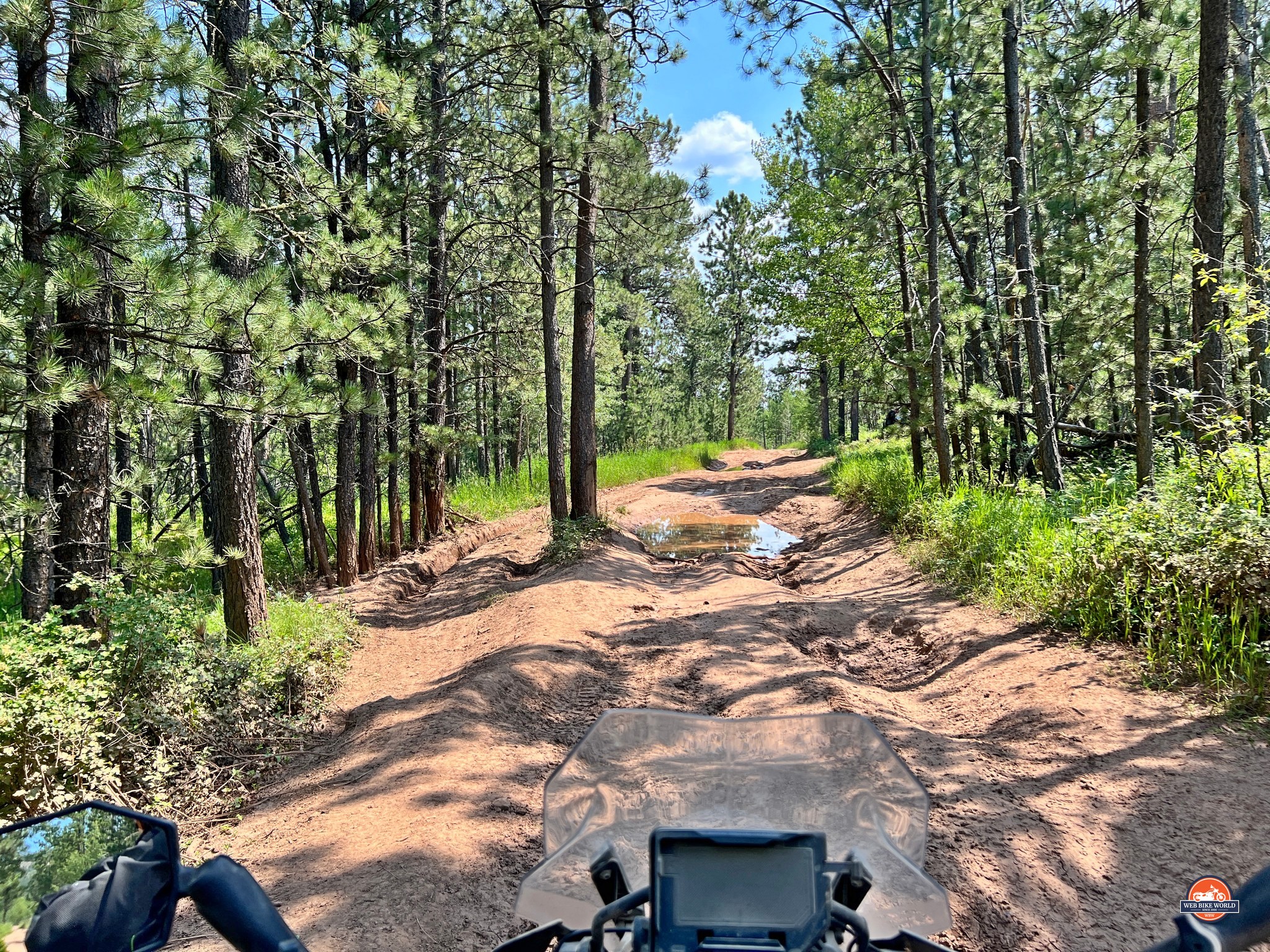 We chose to skip the Bear Mountain optional track because we had a lot of ground to cover but the rest of the route we thoroughly enjoyed.
There were some lovely dirt trails in the woods with soft loam and even grassy sections which I never see anymore due to the spinning wheels of side-by-sides chewing the dirt out of most off-road tracks.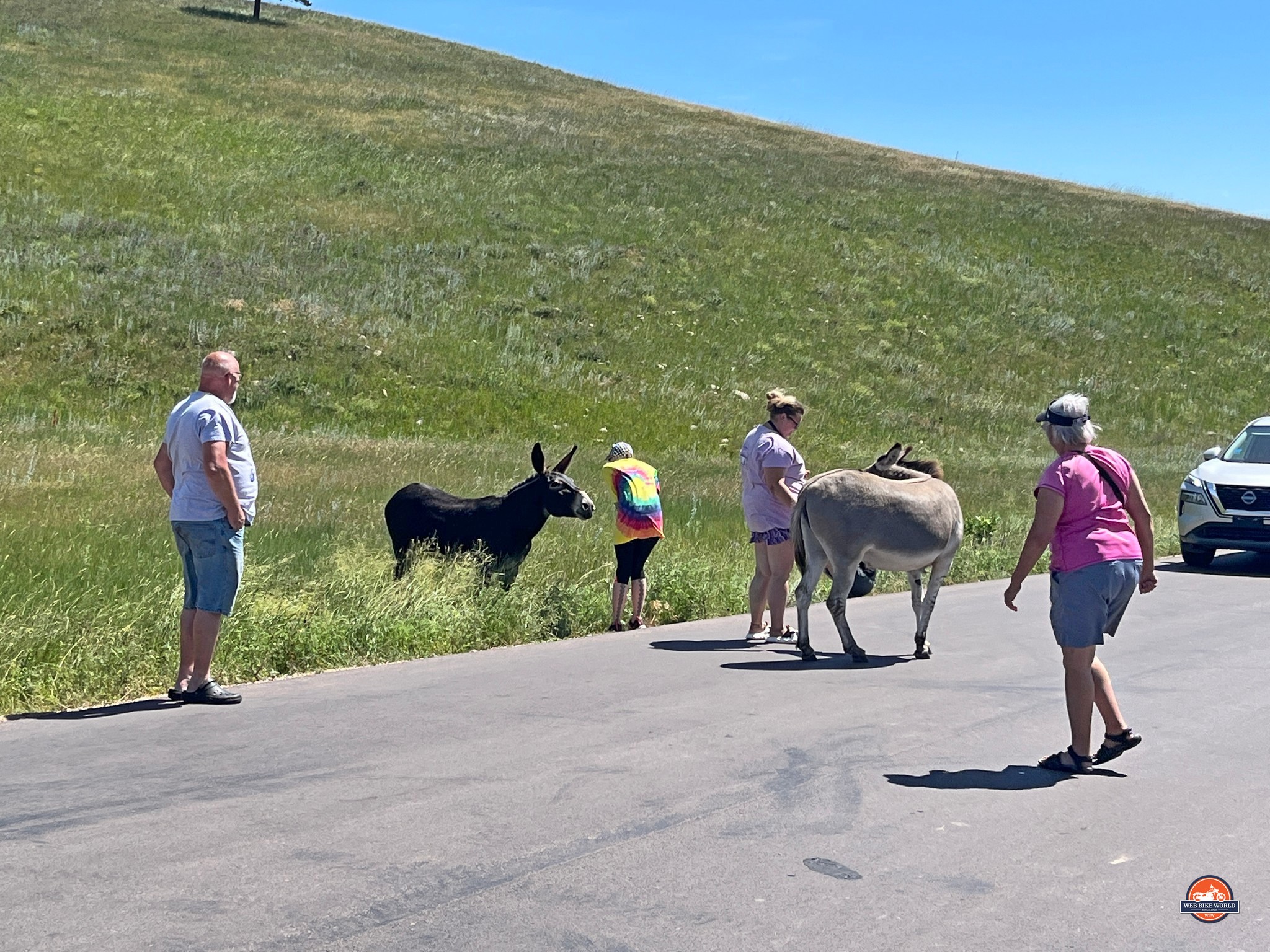 Custer State Park treated us to friendly donkeys and a massive herd of Bison that we got up close and personal with.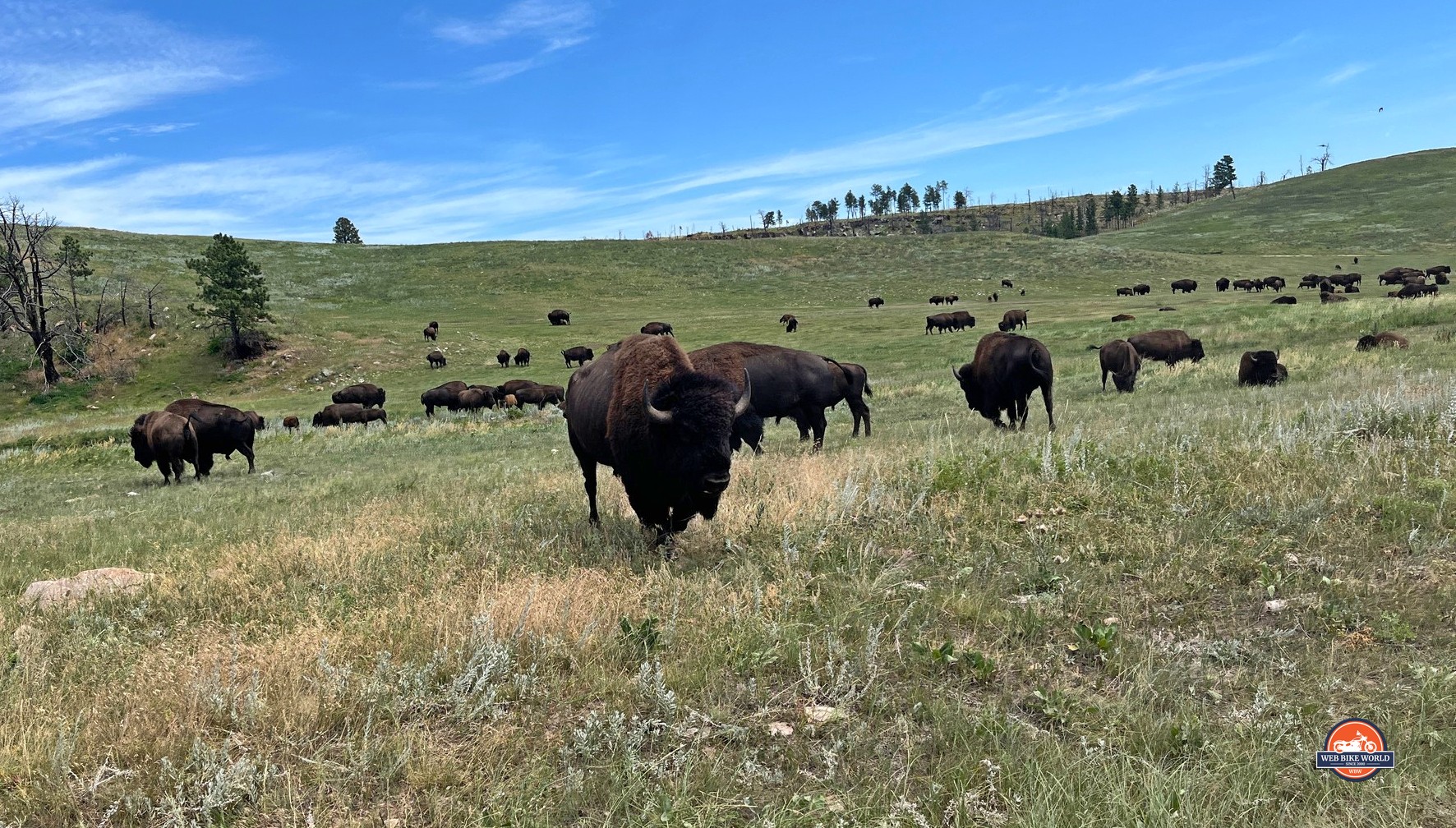 We scaled a couple of challenging rocky climbs and descents that contrasted the wonderful winding twists and turns encountered afterward featuring easy gravel and silky smooth blacktop to end the day.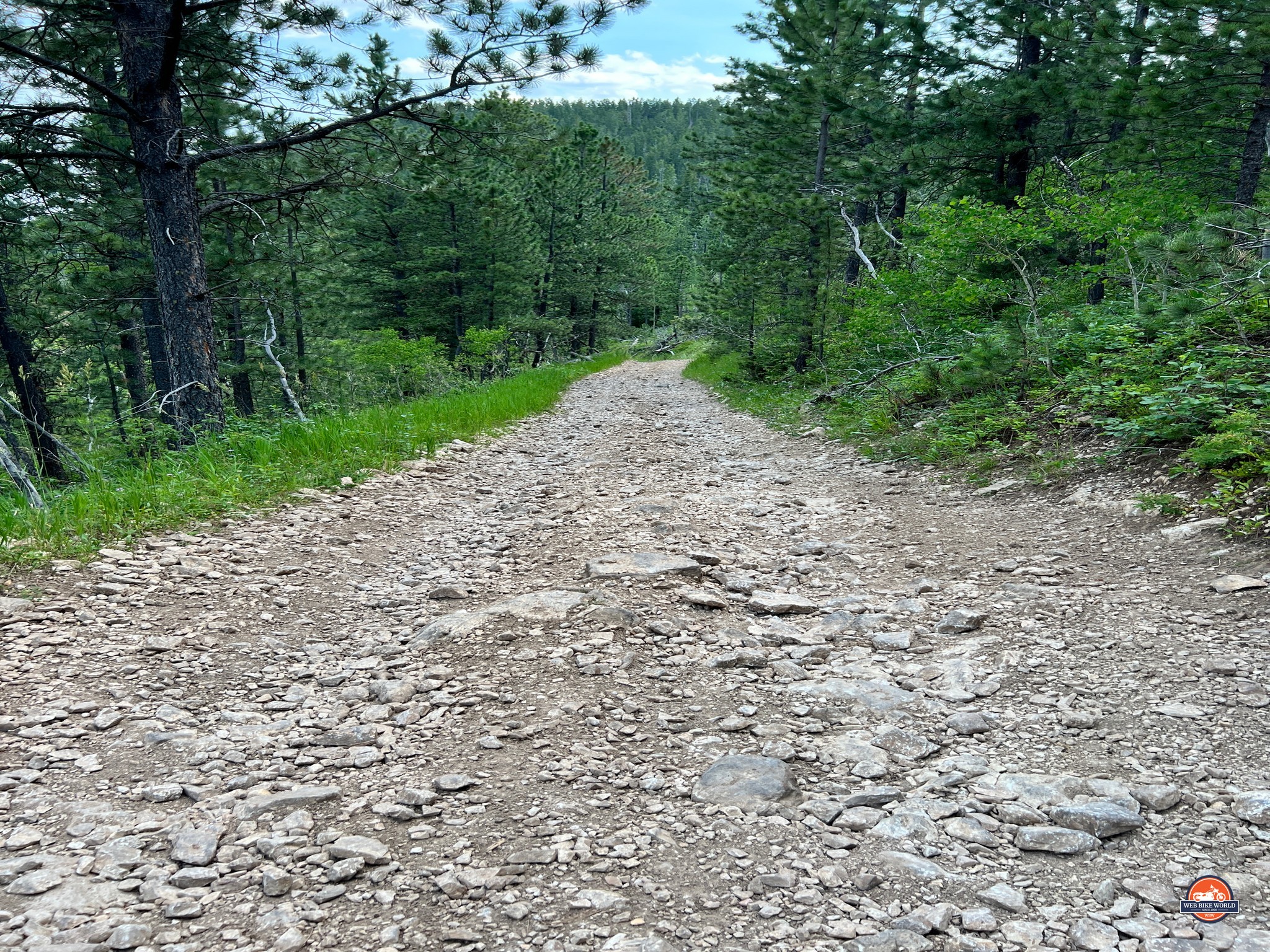 We achieved deep turning angles riding through the pigtail bridges, climbed to the Cement Ridge Lookout, and caught a glimpse of Mount Rushmore at a distance before eventually looping all the way back to Keystone where we began.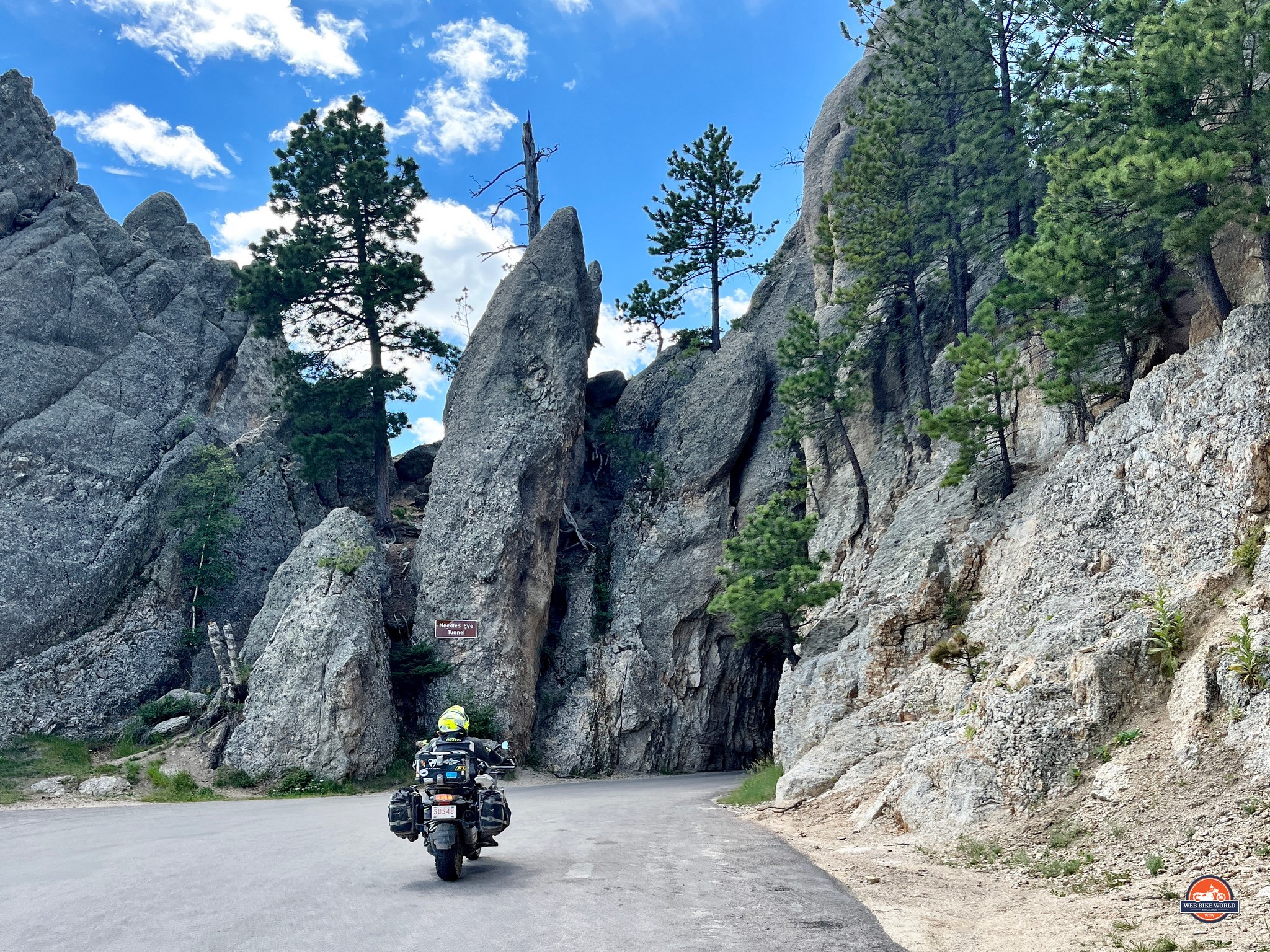 Mission accomplished!  I proudly installed a Black Hills BDR-X sticker on the beak of my GS as a keepsake and remembrance of this great ride!  I also purchased a t-shirt from the BDR booth at GOAF before we left because I know the proceeds of the sales go toward planning more BDR and BDR-X routes.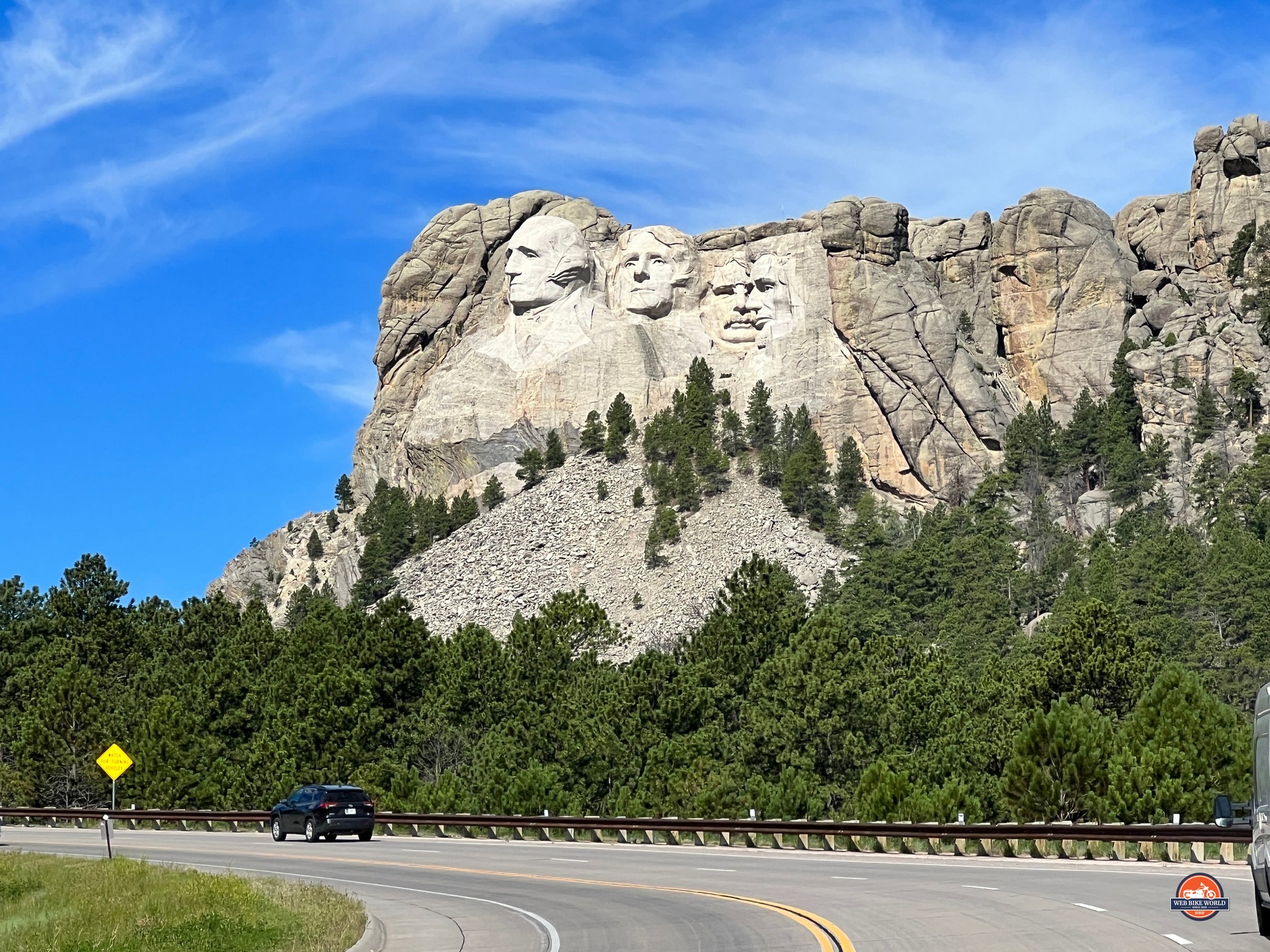 Thank You RevZilla and BDR!
What a fantastic combination the GET ON! Adventure Fest Sturgis and Black Hills BDR-X were for me.  The fact that some of the BDR-X trails were featured in the RevZilla GOAF trails speaks to the insightful planning of the Rally organizers.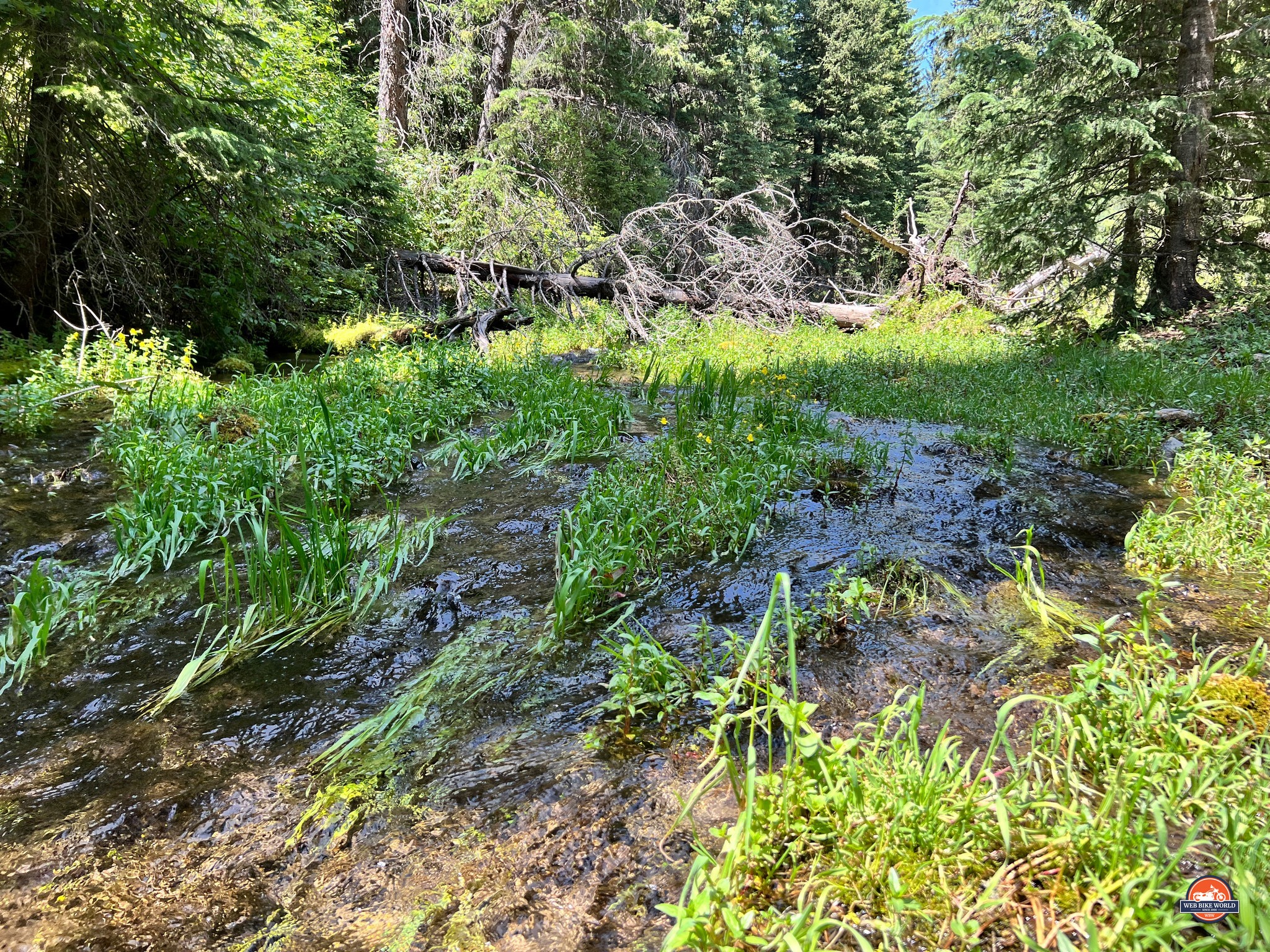 This BDR-X is a great mix of terrain suitable for big adventure bike riders so long as they already have experience riding steep rocky hills both up and down.  Riders who aren't used to that will find the course challenging and perhaps beyond their ability… but that doesn't mean they can't ride some of the big loop and see the beauty of this region.  Either way, I'd recommend packing light to make it easier on yourself.
If you really want to enjoy all the sights and trails of the Black Hills BDR-X I'd recommend spreading it out over 6 days instead of 3.  That way it's possible to stop and visit the attractions along the way which are worth the time.  In my previous two visits to Sturgis, I already did just that so my interest was strictly on the ride instead.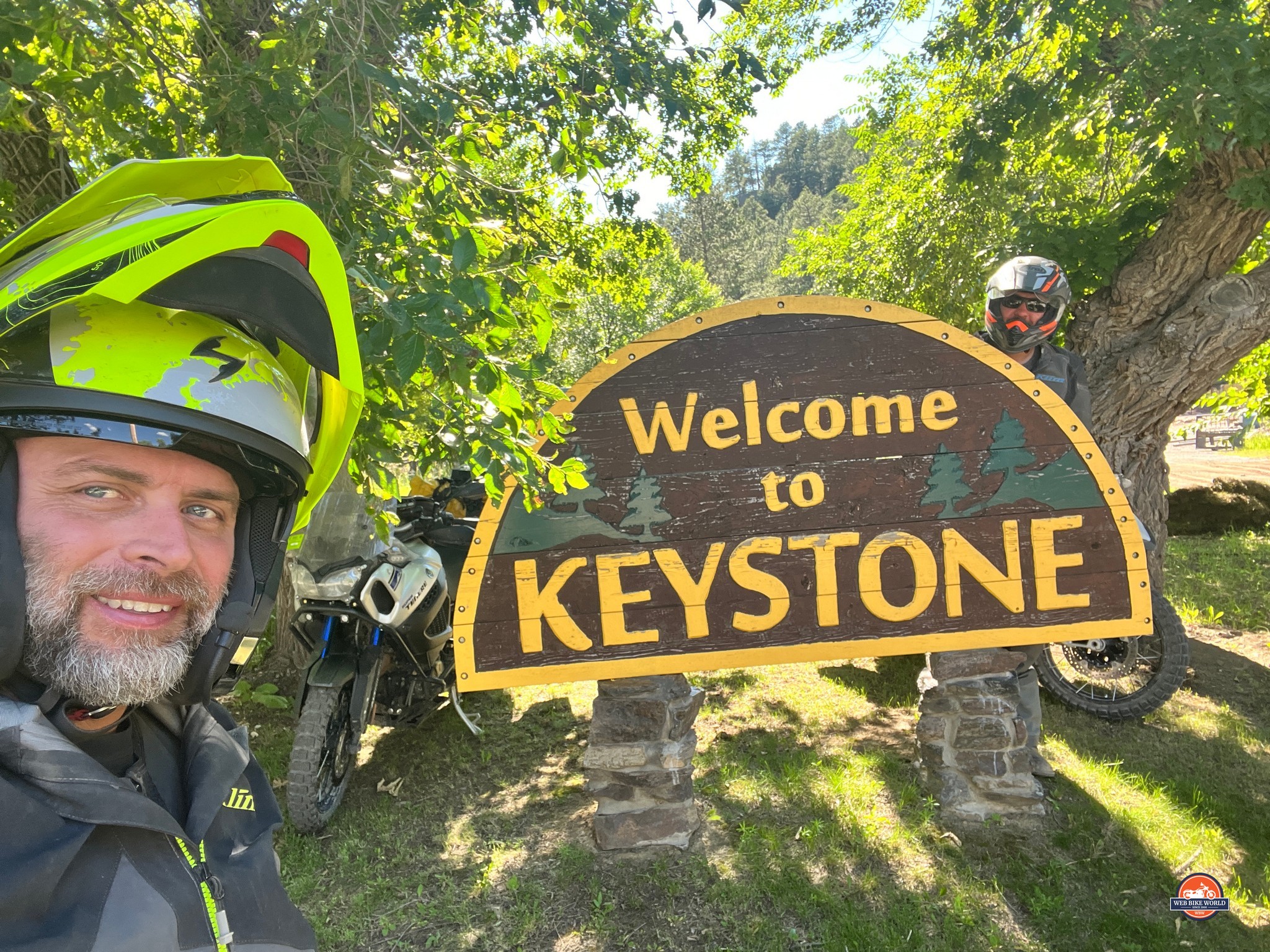 As mentioned, my plan is to be at GOAF Sturgis in 2024 and I hope to see more new faces there.  It was notable to me how many people I chatted with at the event who told me this was their first time coming out, but that it wouldn't be the last.
GET ON! Adventure Fest Sturgis, Black Hills BDRX 2023 Photo Gallery