German company Schuberth helmets have been producing helmets for motorsport and riders for more than 90 years with the top-of-the-range C4 Pro now available.
Their quality helmets have only recently come to Australia through MB Motorcycles since our helmet laws were opened up to European standards.
We asked Australian Motorcycle Council executive John Eacott to review his new C4 Pro helmet after a couple of years riding with a Schuberth C4 and previous years with the C3 Pro and the E1.
John's review of the Schuberth C4 Pro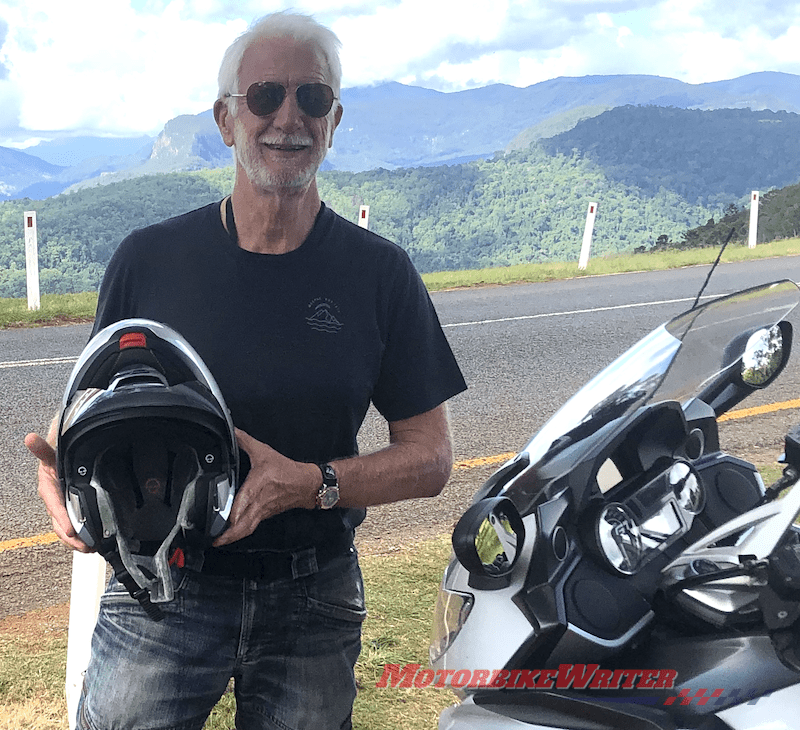 I checked the fit of my regular size 59/60 and ordered online for $A716 plus $56 delivery from European site FC Moto, who I've used routinely for many years and always had excellent service plus competitive prices.
(Schuberth is also available in Australia from $1000 for plain colours and $1100 for multi colours.)
Delivery was prompt with Australia Post equaling the time from Germany.
First look at the helmet confirmed my choice as a good one. 
The C4 Pro is a flip front with a built-in sun visor and relatively light at 1695g which is about 30g heavier than the C4.
A reworked lining is very comfortable although it looks as if a family of koalas donated their fur!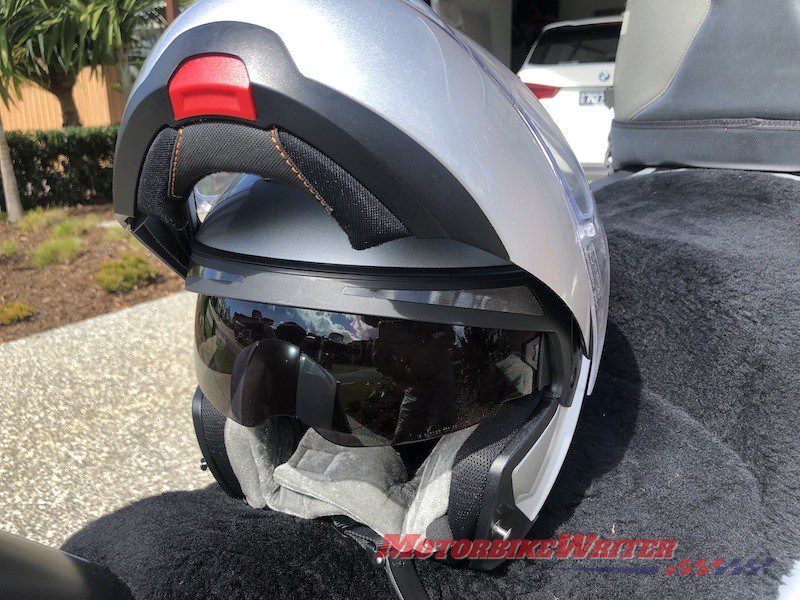 The C4 and C4 Pro are both sold fully wired with adjustable speakers and microphone for a built-in Bluetooth which is sold separately but installs in seconds into the built-in pockets. 
Two variants of Bluetooth, the upmarket has FM radio (antennae for FM and Bluetooth are built into the shell) and a larger group talk capability, all based on Sena SC1.
For spectacle wearers the lining is now perfectly designed to allow glasses to be worn without difficulty; a small point but indicative of the improvements in this helmet.
Pros:
Schuberth build and reputation;

Built-in comms wiring, speakers and microphone;

Comfort;

Quick-release ratchet chinstrap, no double D fiddling to fasten;

Light weight;

Good ventilation, both chin and top mounted adjustable vents;

Pinlock standard fit in the visor, no fogging (almost) guaranteed;

Very wide visor and Pinlock giving excellent lateral vision;

Easy action sun visor; and

Good sound insulation with vents closed.
Cons:
The helmet shell shape has changed. Schuberth flip front helmets have always been made for an oval head, but the C4 Pro is now made with an intermediate oval shape.

 

What was just right for those using the C3 and C4 series may no longer fit with a C4 Pro, which could be an issue. Try before you buy but be aware it may not bed in over time; mine hasn't.

With vents open the external noise can be tiresome.
Should you like the C4 Pro I suggest a spare visor and a spare Pinlock are worth getting at the time of purchase.
If you need one later then waiting for a replacement could be a delay in getting out to ride your bike.
I'm expecting I'll get as much use out of my new C4 Pro (3000km so far) as I have out of previous Schuberth flip-front helmets and that it will be as comfortable and safe as a quality helmet should be.