A few kilometres in sand or bulldust (fesh fesh) is enough to test any rider, but 688km was a true test for the riders in the Dakar Rally today.
Honda rider Joan Barreda Bort passed six riders and clawed back a few minutes from overall leader Marc Coma (KTM) today with his fourth win in the rally.
He was followed by teammate Helder Rodrigues and five-time winner Cyril Despres (Yamaha) who moves up two more positions to sixth overall.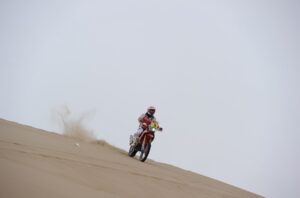 Three-time winner Coma is still 44 minutes ahead of Barreda with his fifth placing today, just 11 minutes off the pace.
While anything can still happen in the last four stages, it appears to be a race between the KTM and Honda with KTM a strong tip to claim its 13th consecutive victory.
The three remaining Aussies continue to have a good "back nine" with Shane Diener (Yamaha) scoring his highest result, finishing in 26th and 46th outright.
Troy O'Connor finished 41st and is the top-ranked Aussie in 37th, while fellow KTM rider Allan Roberts finished 46th and is 41st.
There's more tough riding tomorrow in the dunes of Copiapo.