I've never ridden a big touring motorcycle from the Honda or Indian lineup of bikes. I have ridden and reviewed other bikes from Ducati, KTM, and Harley Davidson.
Lately, the thought of branching out and seeing what I've been missing has germinated and even grown some strong roots. I feel like I might be missing out on something good here.
Is it an impending mid-life crisis or perhaps just acceptance of the fact I'm turning 44 in a few months at the heart of this???
Popping the Question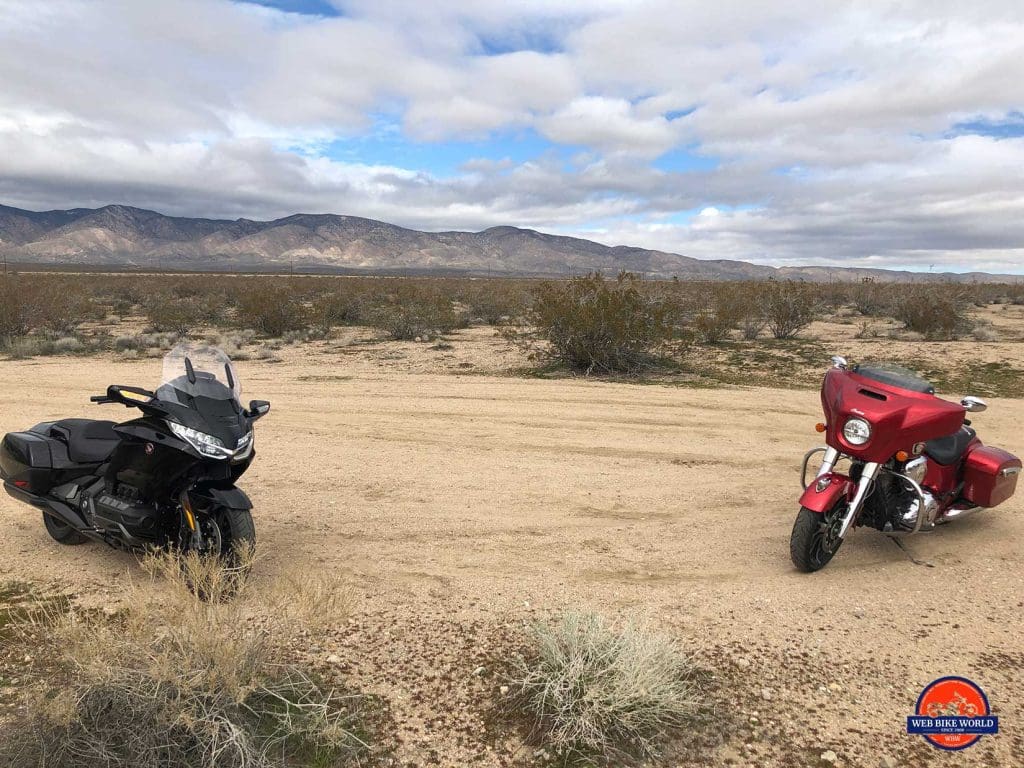 I contacted both companies and asked whether I could take one of their new models for a ride. I even mentioned wanting to do a comparison piece. Both agreed… but what two bikes could I reasonably compare to each other from two such different builders?
I don't feel "mature" enough to be drawn to the full-blown touring Gold Wing or Indian Roadmaster at this point. I still want something sleek to ride, but also want to be comfortable on a long haul and have enough storage to hold items for a weekend trip.
The Indian Chieftain Limited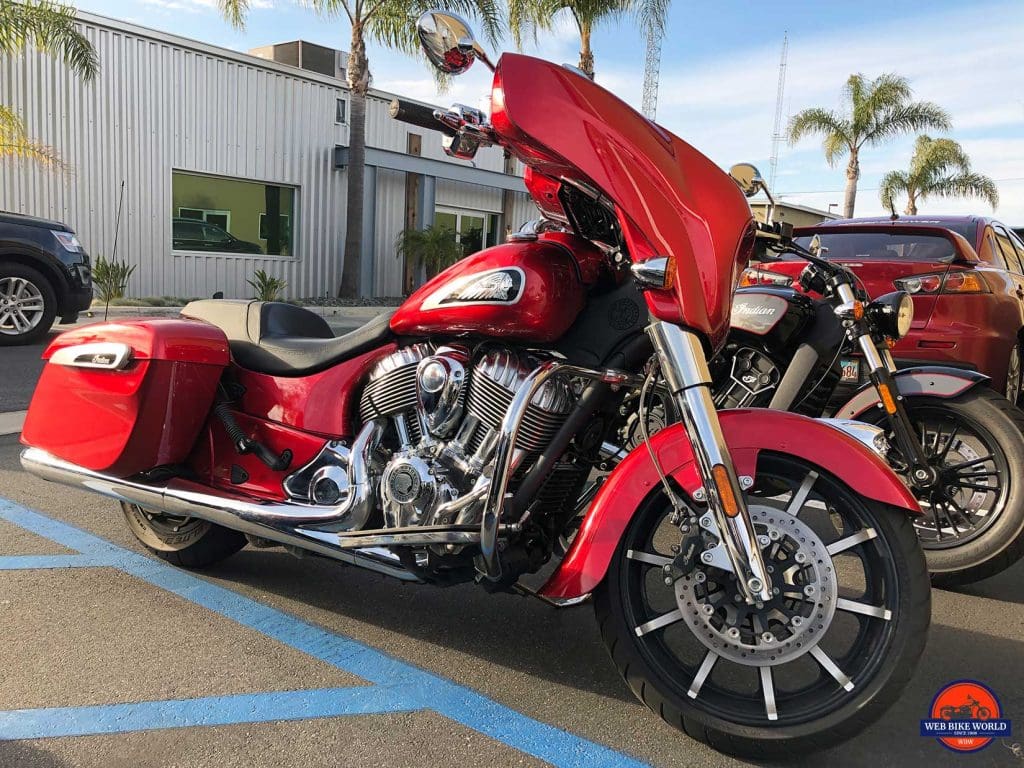 The Indian Chieftain Limited is a head-turning, stunner of a motorcycle built in the image of tradition reaching back to 1901. That classic 111 cubic inch V-twin engine sound and torque, abundant chrome, laid back-outstretched arms and legs riding position is cruiser perfection. The demo unit I got a hold of was "ensconced" in glittering red paint too.
The Chieftain perfectly embodies classic cruiser styling and marries it to touring friendly features like a medium sized batwing style fairing, an electronically adjustable windshield, 100 Watt premium stereo, and navigation tech package along with ample storage from two huge hard bags.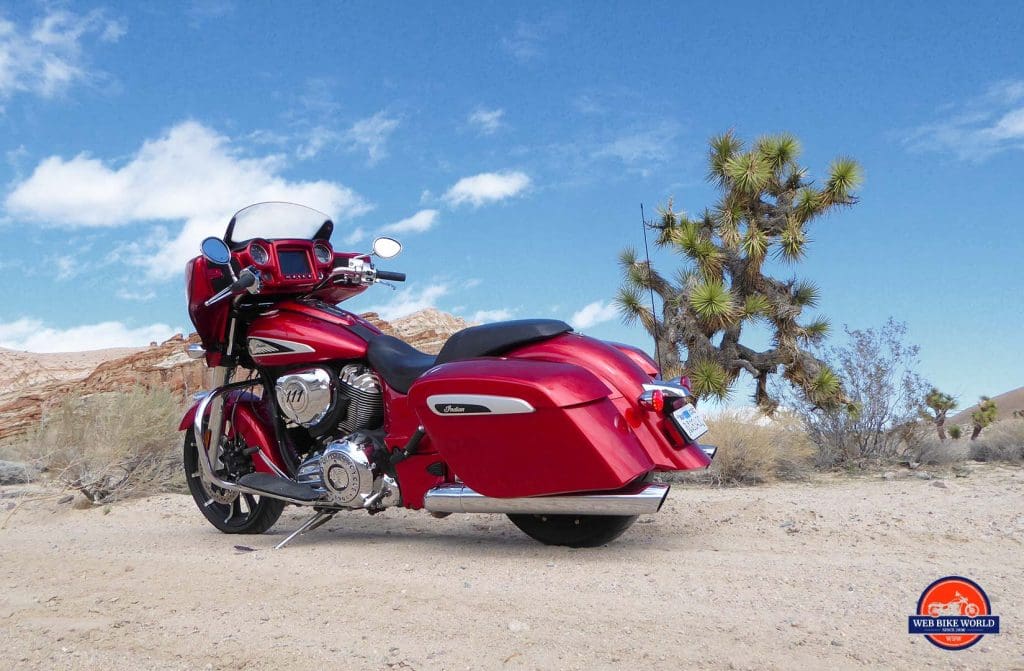 Indian omitted the top luggage tour pack and lower fairings to keep things looking uncluttered and tight. It's a touring motorcycle, but the "lite" version. It's exactly what I'm looking for.
The Honda Gold Wing DCT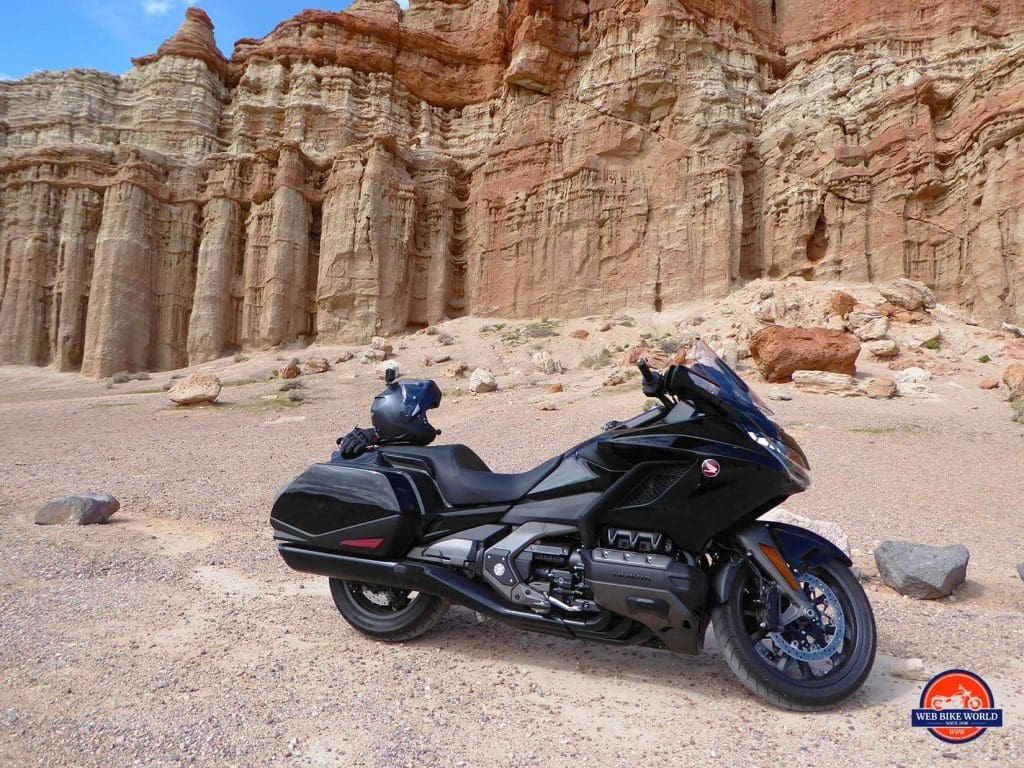 The 2019 Honda Gold Wing DCT is a huge departure from the other TOUR package Gold Wing and barely recognizable from pre-2018 models. It cast aside 90lbs after 2017 and this one also lacks the top tour pack luggage compartment. The electronically adjustable windshield is noticeably shorter than other Gold Wings too.
A Bold Design Move
Honda stepped out of their comfort zone on this one and flirted with sacrilege by changing what isn't broken on a proven top seller. The completely blacked out body panels of this bike give it a stealth bomber or maybe Batman appropriate guise. We've seen Indian do similar things with its Dark Horse motorcycles and Harley with their "night" versions of V-Rods.
Honda must have thought: Why can't we do that with our bikes too?
This one still comes with 99% of the premium convenience features one would expect in a touring bike. This demo I had is surprisingly just a base model. I can't picture what it's missing, to be frank. Maybe a heated seat? It has everything the Indian does and a few things it doesn't (heated grips, Sirius Satellite Radio ready, three times the cylinders and a Dual Clutch Transmission). Having said that the Honda only has about 1/2 the luggage capacity of the Chieftain.
No doubt this still is a touring bike first, not a cruiser as the Chieftain is. That's made apparent by the bolt upright standard seating position and voluminous fairing. It's scaled back a lot and has a "chopped" feel to it. Again it looks exactly like what I'm looking for, just with a modern or new age bend to it.
Contradiction?
Some of you are likely laughing after reading how I've described both bikes now as being "exactly what I want"…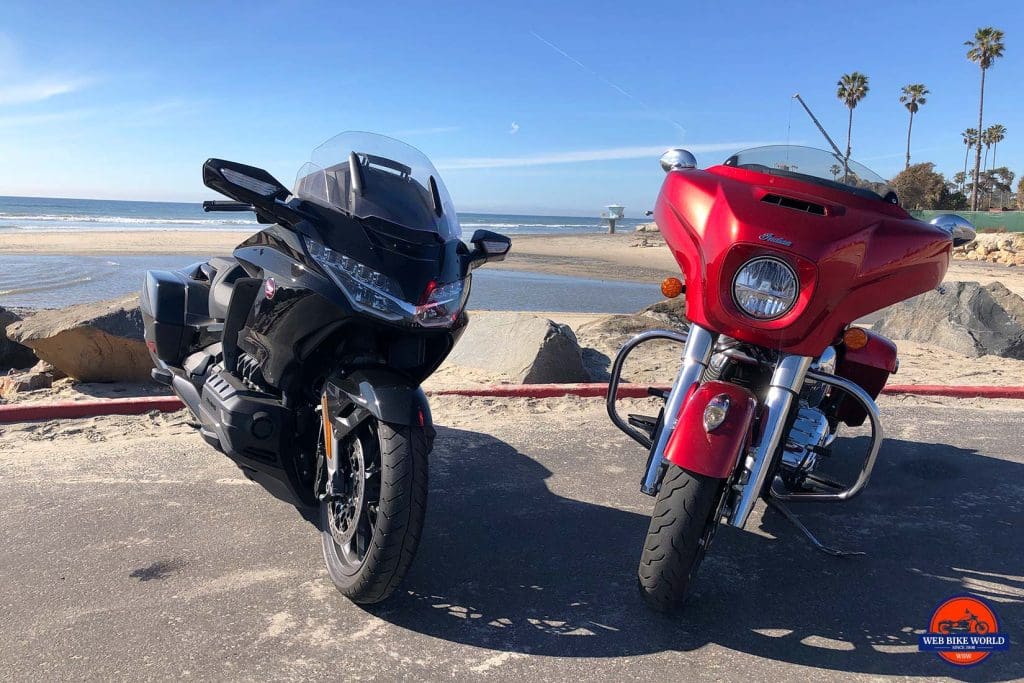 That's still the truth and I'll explain why. I love new age technology, but I also love traditional styling, V twin sound, and simplicity. If I were in the market for a touring bike today both these models would make the list of possible candidates. I'm not completely out to lunch!
Despite the stark contrast, there are some traits these two motorcycles share. Engine displacement, weight, and how they're both strategically positioned to crossover into each other's niche market.
The Chieftain
The Indian can be used as a long range touring bike (anything can if you're determined), but just how effective will this "cool guy" be on a really long ride?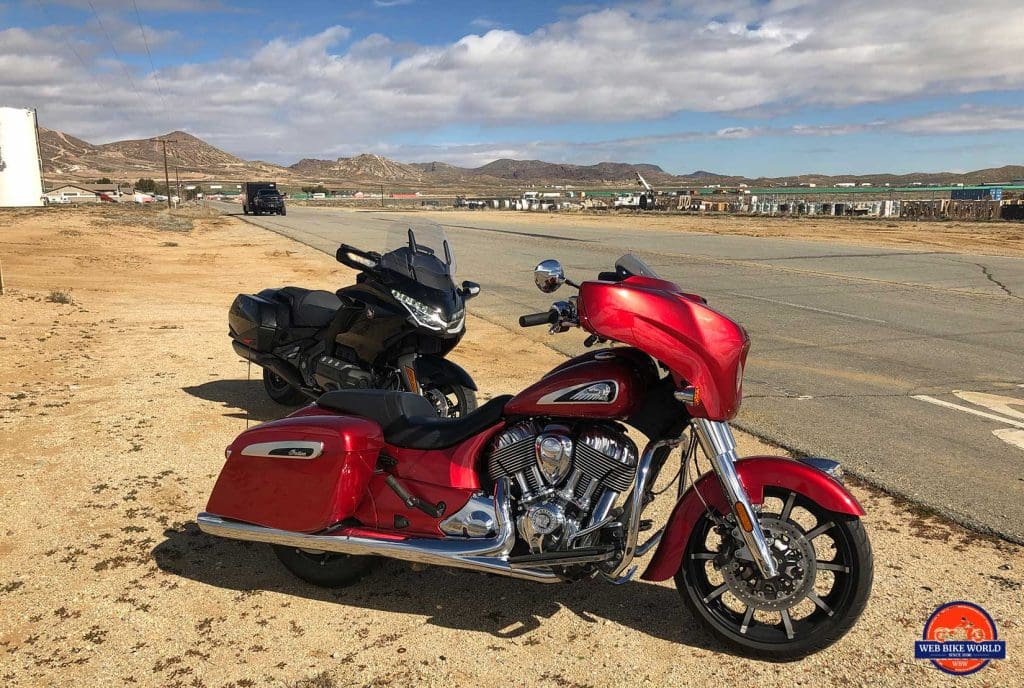 Will it be "all show and no go" or will it stun us with solid power, performance, reliability, and handling? Will it be a little bit "Gold Wing" without losing its edgy attitude?
It's kind of like asking a born and raised on the range cowboy to learn the Tango then compete on Dancing With the Stars. He might find a way to translate his Texas Two Step skills into Tango mastery and pull it off, right?
The Gold Wing DCT
Similarly, will the blacked out and slimmed down Gold Wing be able to convince anyone that's it's badass enough thanks to its new look and style to hang with the Indian Chieftain crowd?
Can you take it on a ride with your Harley buddies then park in the lineup at a local rider hangout and not stick out like a sore thumb?
Will it retain enough storage and touring comfort features after shedding so much weight to retain its status as a long distance tour de force to be reckoned with?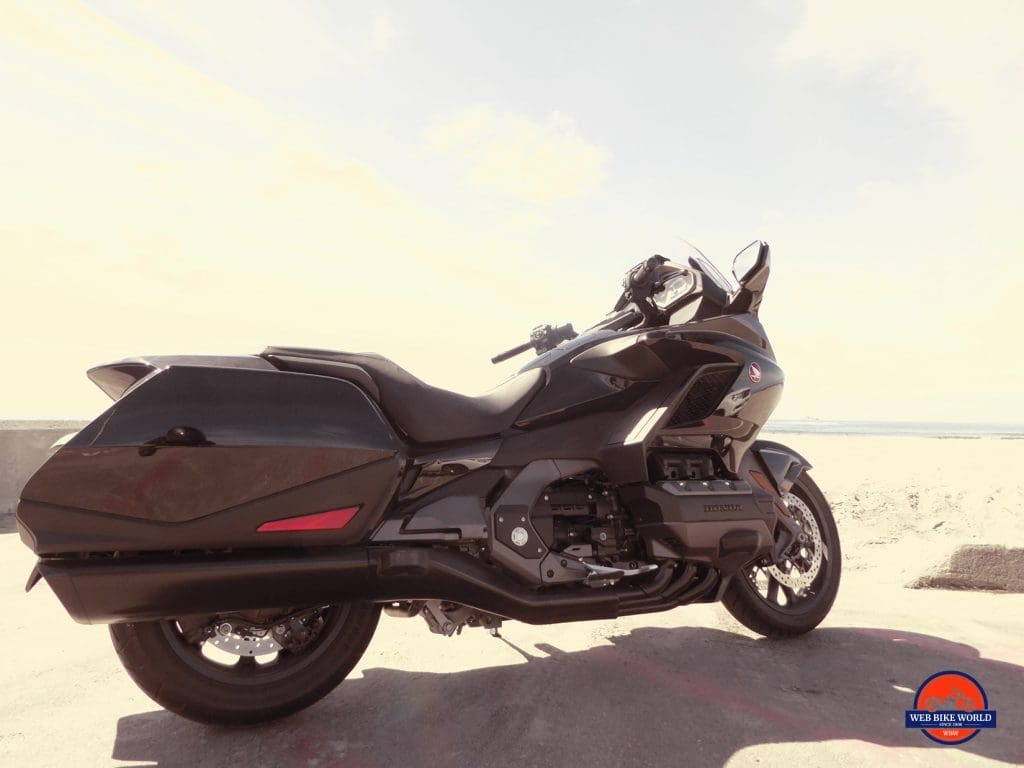 This reminds me of that movie from 1987 called Can't Buy Me Love where a high school geek pays the Captain of his High School cheerleader team $1000 to pretend she's dating him in order to see if he can become popular.
Will the Dual Clutch Transmission and other high tech gadgetry be too much distraction and ruin the ride? Will I miss the manual shifting in favor of the "automatic" shifting DCT?
The Plan
I'm going to ride both of them thoroughly over 5 days with my friend Greg Phillips. We'll explore Southern California while deciding which one has more appeal in the city, on backroads, and on the highway. We'll aim to push these bikes to their limits and beyond a little bit if I get my wish.
The Rider Profiles
In keeping with the spirit of the dichotomy found between these two motorcycles, I'm thrilled to have my friend Greg join me on this expedition for a few good reasons. The most important one to you reading this is the fact we're on opposite ends of the physique spectrum, if you will.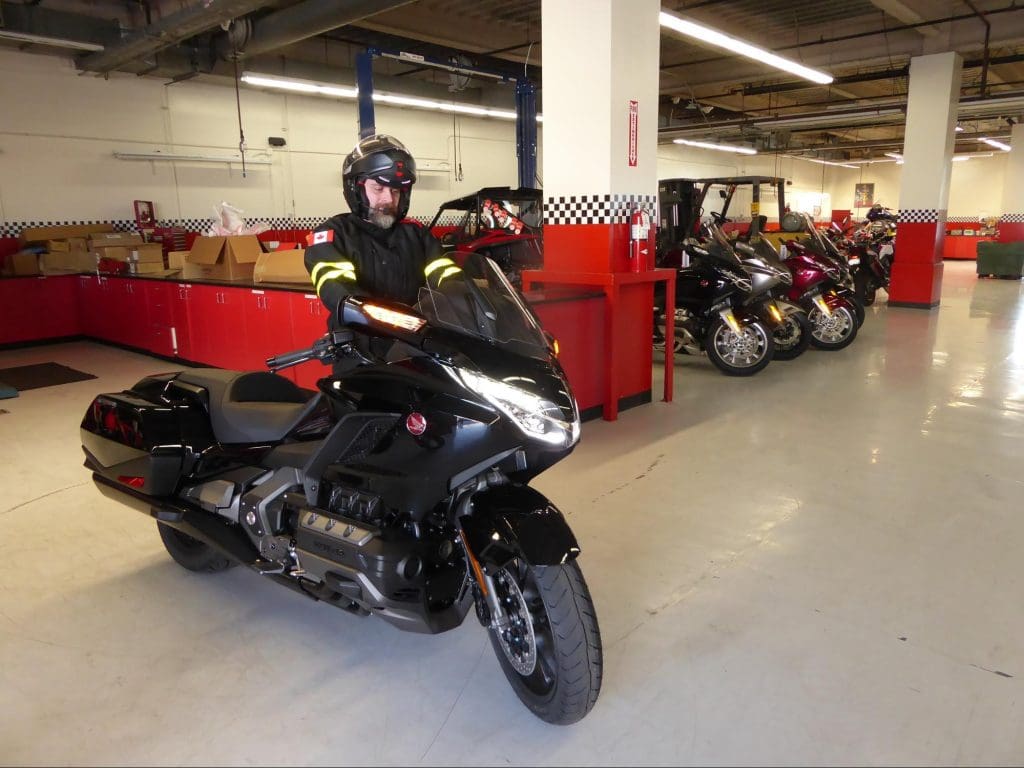 I'm 5'7" tall and weigh 175 lbs. Greg is 6'2 and as he puts it "a few Big Macs short of 300 lbs". Greg is also a former motorcycle racer and has a much higher level of skill than my average riding ability.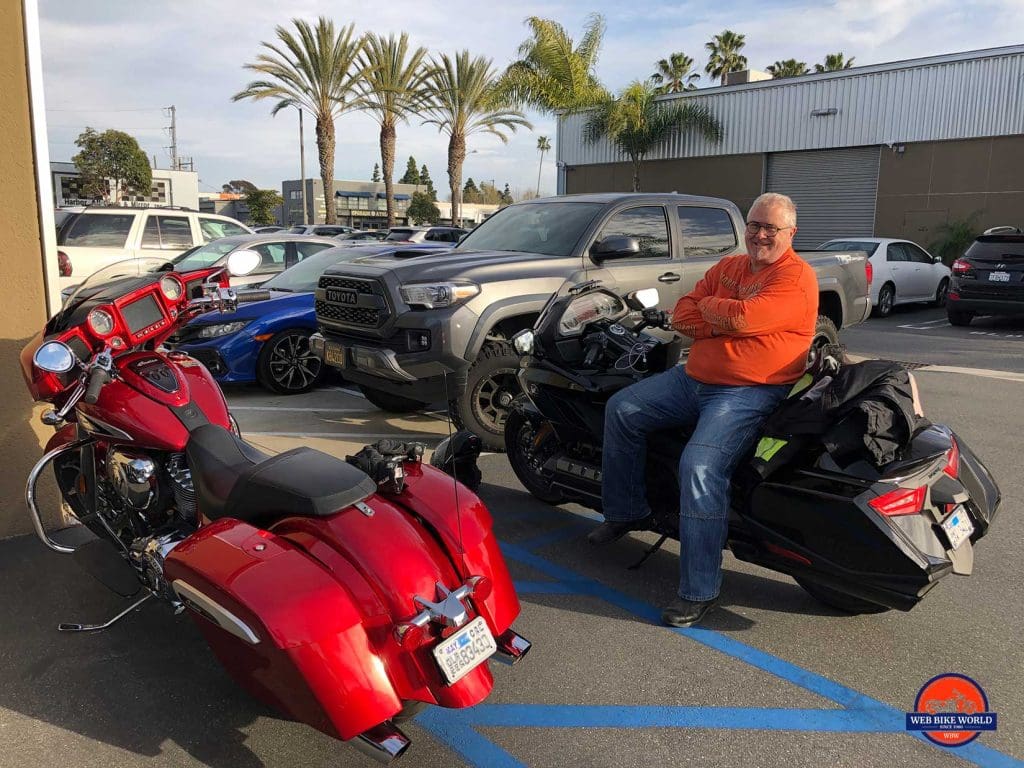 His point of view is bound to be different compared to mine due to our physical differences and thus this review invaluable to almost anyone considering either of these two bikes.
Honda Gold Wing DCT First Impressions
Jim: The Gold Wing doesn't at all feel like an 800 lb bike when I sit on it and tip it up off the kickstand. The center of gravity is beautifully low set thanks to the flat 6 engine.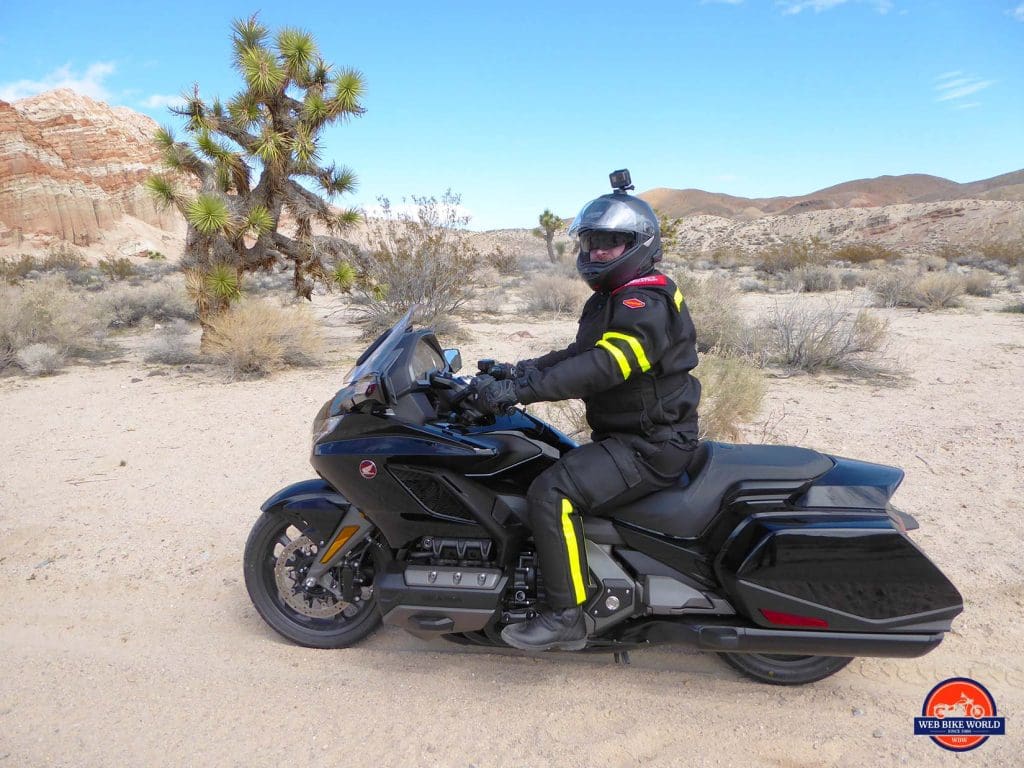 The seat feels very wide at the back and there's substantial bulk to be straddled with my legs down. I have no issue reaching the ground comfortably though I'm not flat footed thanks to my 28" inseam.
The controls appear well organized if not a little overwhelming due to the sheer number of buttons adorning the "cockpit". The display catches my eye right away with how clear it is to read.
The blacked out paint scheme appeals to me, but it definitely has a strong "plastic presence". That's not to say it feels cheap. The opposite is true, it feels very grand, but there's no metal to be easily found anywhere. The seat is immediately comfortable and I feel confident this bike will chew up lots of miles effortlessly.
The uber bright headlights are striking and resemble a large grinning mouth full of teeth. The Gold Wing appears amused at this unusual comparison too it seems.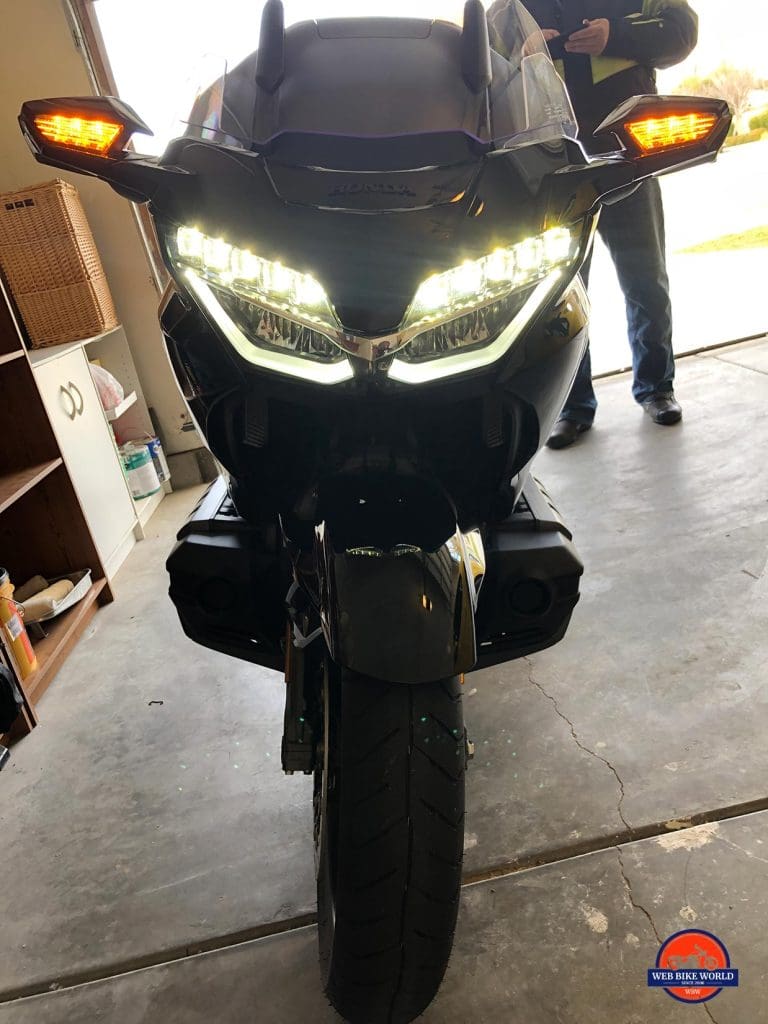 Greg: I like the look of the Gold Wing, especially the cockpit. In addition to a 'mouse', it has a multitude of buttons that appear to be fairly clear and easy to use. Although there's a lot of them, they seem to make sense. All the usual controls fall right at hand – except there's no clutch lever or shift lever.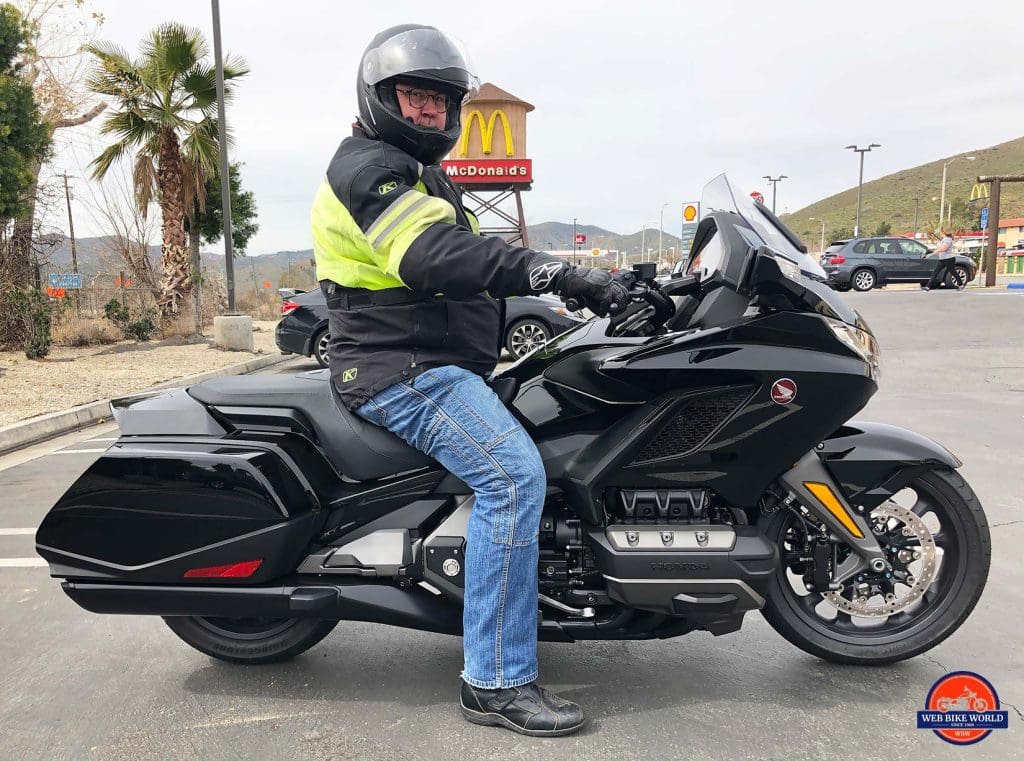 Fit and finish are top level and the taillights appear to be stolen from a late model Acura NSX, which is a good thing. The bike looks surprisingly small from the rear view. The seat is very large and the weight feels easy to manage. I could summarize the look of the Gold Wing by saying that it looks like it's been to the gym. It's fit, tight and ready. This is not your Grandpa's Aspencade.
Vital Statistics
1833cc Liquid-cooled horizontally opposed six-cylinder SOHC engine
PGM-FI electronic fuel injection throttle by wire controlled
Transmission 7-speed Dual Clutch and electric low speed forward/reverse function
Shaft Final drive
Horsepower 97.9 hp @ 5,550 rpm 108.4 lb.-ft. @ 1,210 pm
Front suspension Double wishbone with Showa shock absorber 109 mm (4.3 in) travel.
Rear suspension Pro Arm® single-sided swingarm and Pro-Link® system including a Showa Shock absorber with manually controlled spring preload adjustment; 105 mm (4.1 in.) travel
Front dual 320 mm discs with radially mounted six-piston Nissin calipers
Rear single 316 mm disc with three-piston Nissin caliper and electronically controlled Dual combined brake system (CBS) with ABS
Tires 130/70R – 18 radial front and 200/55R – 16 radial rear
29" seat height
805 lbs wet weight
Suspension Showa SFF BP Front shocks with 4.7" travel and rear Showa monoshock 5.2" travel
5.5 gallon (21 L) gas tank yielding approximately 40 mpg on average city/hwy combined with a range of approx 250 miles
Price for the base model $23,500 USD
3 year, unlimited mileage, freely transferable warranty; extended coverage available with Honda Plus
Notable Features & Options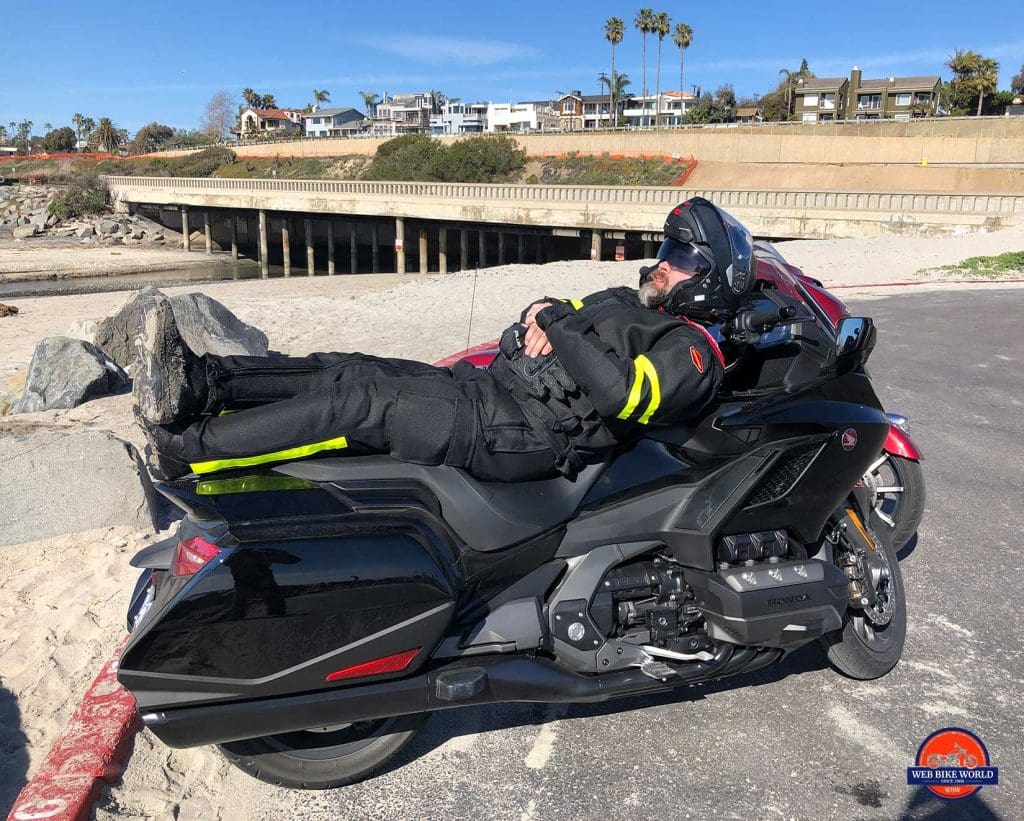 Sophisticated Technology package featuring; Apple Carplay, Sirius XM radio, BlueTooth connectivity for driver and passenger headsets/phones/etc all shown on a 7 inch LCD monitor controlled by knobs and buttons on the center console and handlebars.
Electronically adjustable height windshield with pop up buffeting dampener
Heated grips
Cruise Control
Advanced LED lighting front and rear
Frame sliders built in seamlessly on both sides
Fold away passenger footboards
Smart key fob with an emergency key built in for dead battery situations
Automatically locking/unlocking luggage compartments and ignition
4 easily selectable power modes (Tour, Sport, Economy, and Rain)
Available in red or black
2019 Indian Chieftain Limited: First Impressions
Jim:
Eye candy! The afternoon California sunlight on the beautiful red paint is dazzling and captivating.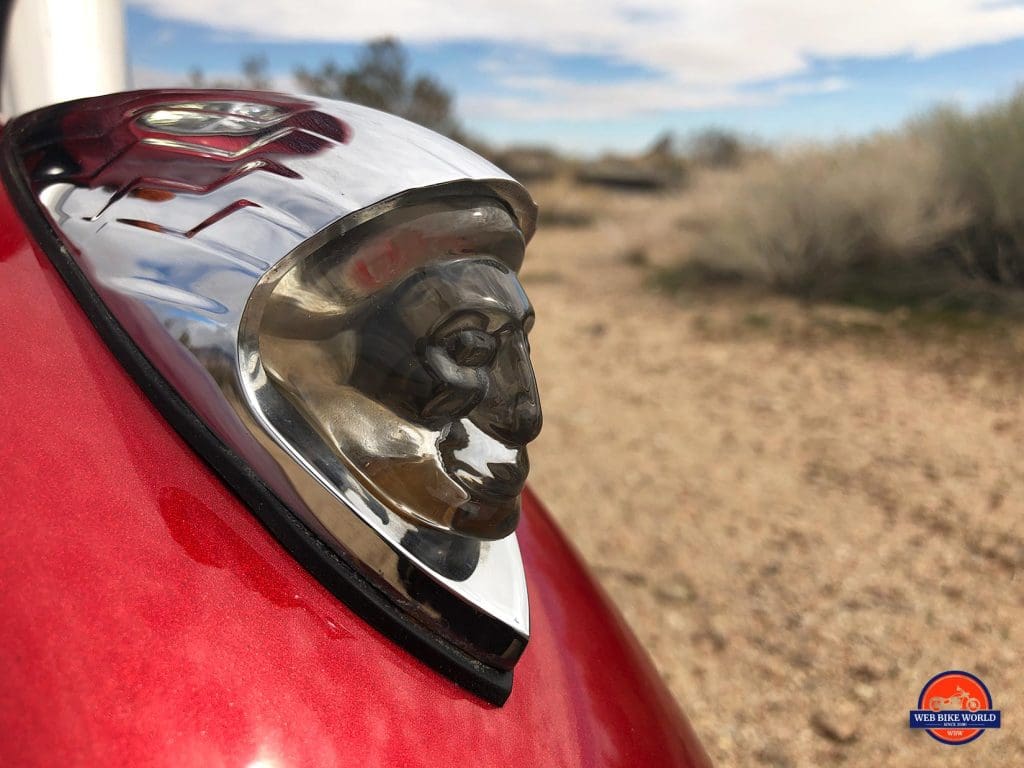 The touch screen display pops as does the animated graphic of swirling flames surrounding the Indian logo that appears when you push the start button on the right side of the dash.
It has a beautifully satisfying exhaust snarl despite the fact it's still wearing the stock set of twin cans on it. I can easily touch flat foot on each side thanks to the low seat height, but the bike does feel heavier to move around than the Honda surprisingly.
I can't wait to get this one on the road.
Greg:
There's no getting around how good looking this bike is. The paint is deep and rich, the chrome sparkles and the engine itself is a work of art. The heads are adorned with vestigial cooling fins that appear to mimic the Indian logo headdress. The pushrod tubes are big, beefy and chrome.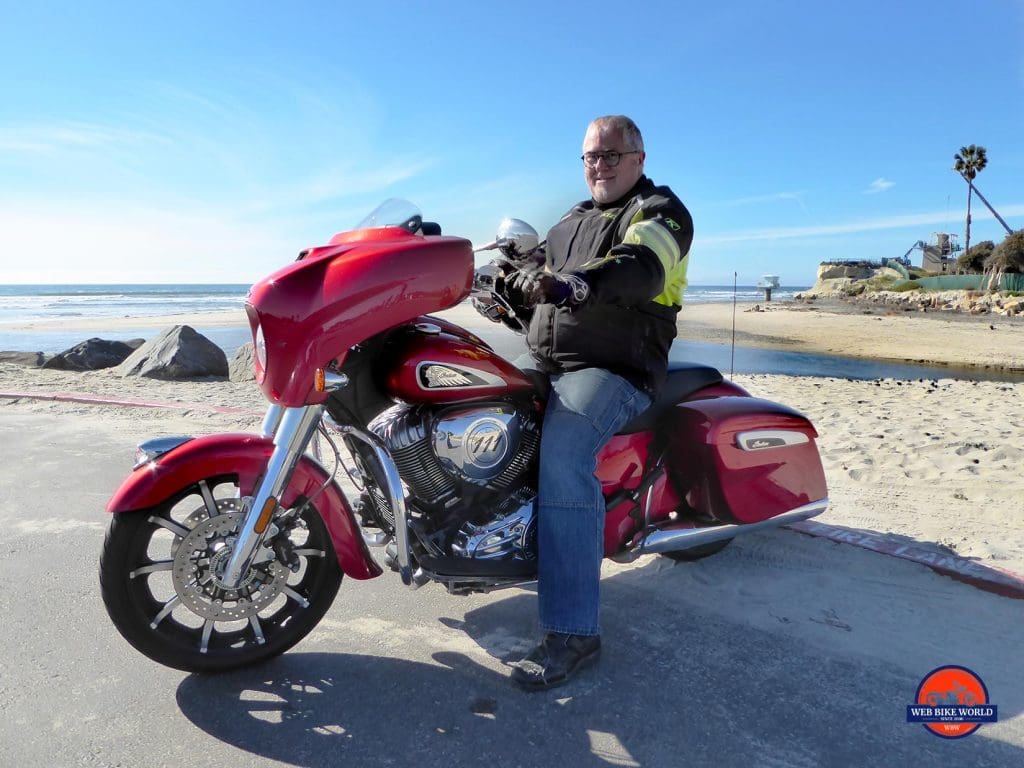 The package gives an impression of mass and presence. The seat feels low and, in contrast to the sensible position of the Gold Wing, your feet stretch way forward. It's a pleasing reach to the handlebars but the clutch and brake levers feel very thick and a little bit clumsy to the hand. The navigation system has an excellent touch screen that's easily reachable and the buttons and controls all seem nicely located.
Vital Statistics
111 cu in (1,811 ccs) Thunder Stroke V Twin oil cooled engine
Closed loop fuel injection / 54mm Bore
74.19 hp at 4,360 rpm and 119 ft-lbs of torque at 3000 rpm
Rear cylinder deactivation technology when sitting in traffic
6 Speed manual transmission with wet clutch
Front Brakes Dual / 300 mm Floating Rotor / 4 Piston Caliper
Rear Brakes Single / 300 mm Floating Rotor / 2 Piston Caliper
Front Suspension 46mm Telescopic Fork – Cartridge Type 4.7 in travel
Rear Suspension Fox Single Shock w/ Air adjust 4.5 in travel
Front Tire Dunlop® American Elite 130/60B19 61H
Rear Tire Dunlop® Elite 3 Multi-Compound 180/60R16 80H
Seat Height (Laden) 25.6 in (650 mm)
Weight 827 lb (375 kg)
Fuel Capacity 5.5 gal (21 L) averaging about 40 mpg range of approx 250 miles
Black Pearl from $25,999 MSRP. Ruby Metallic, Dark Walnut from $26,749
Factory Warranty 2 Years, Unlimited Miles
Notable Features & Options
Lights LED front and rear
7″ Ride Command® Touchscreen Display with Navigation
Power Windshield
Highway Bars
Tire Pressure Monitoring
Remote-locking Hard Saddlebags
3 Selectable Ride Modes
Rear Cylinder Deactivation
ABS braking
Cruise Control
Keyless Ignition
100 Watt Audio System with AM/FM, Bluetooth, USB, Smartphone Compatible Input, and Weatherband
Appearance, Styling, & Personality
Jim:
I pick the Indian Chieftain as the winner in this category, though it's highly subjective.
I love the raw and edgy attitude this bike exudes so much. As already mentioned the appearance and sound is what you notice first on the Chieftain. Some people would rather the more demure and civilized Gold Wing I'm sure, but not I. There's zero vibration in the Honda at any speed while the Indian throbs, shakes and growls constantly, but not in a bad way.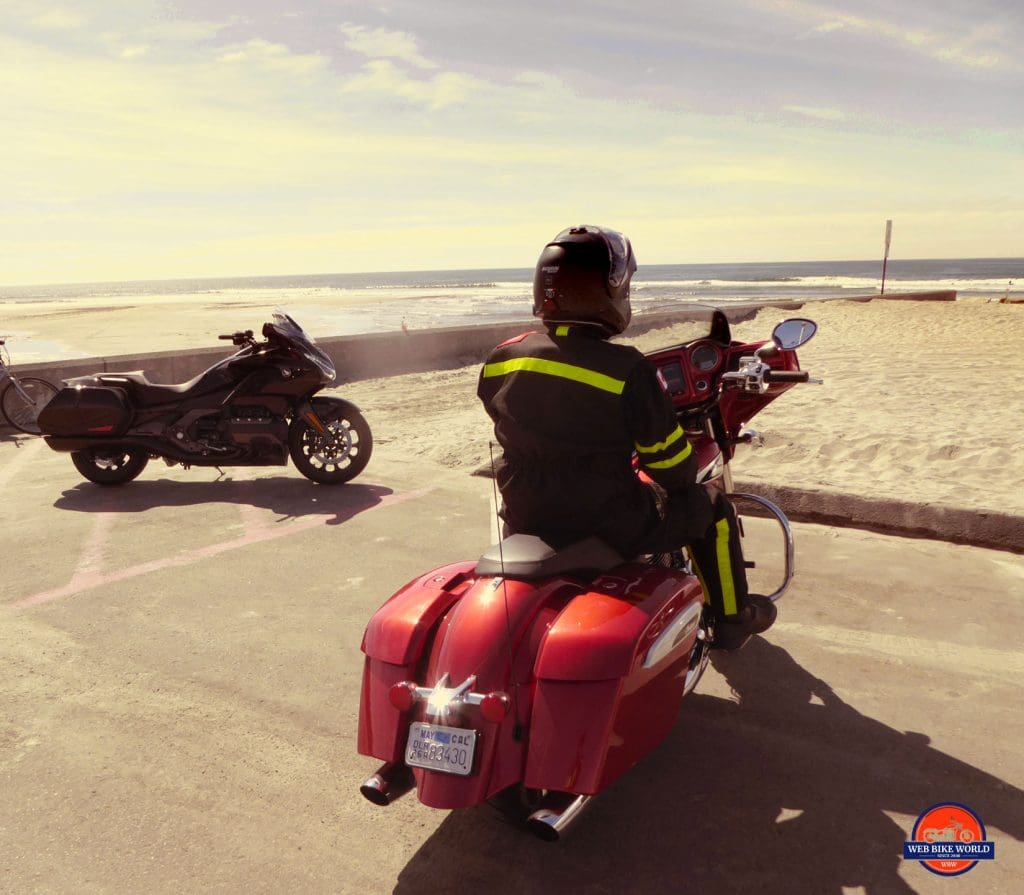 We happened to bump into a Ducati riding group parked outside a Pizzeria in Solana Beach while out testing the bikes. Of course, we stopped to visit with them and discuss theirs and our bikes.
These Ducati owners (whom I would gauge to be fairly neutral judges) were all but ignoring the Honda Gold Wing DCT in favor of getting a look at the Indian up close. Perhaps it's just the V Twin engine connection, but I doubt it.
Having said that when the Gold Wing was parked by itself we had more than one person comment on how great it looked. We even got comments from strangers while stopped at red lights along the same lines. In the end, I think it's like comparing an attractive woman or man to a supermodel. The Honda can hold its own, but only to a certain point where it tends to fade into the background.
Greg:
This is no contest. The Indian is badass. It has the presence of Dwayne 'The Rock' Johnson at a bridal party, it's big, brawny and ready to dance. The Gold Wing is not a bad looking bike, but next to the Indian it just vanishes. People almost trip over the Honda to get a look at the Indian.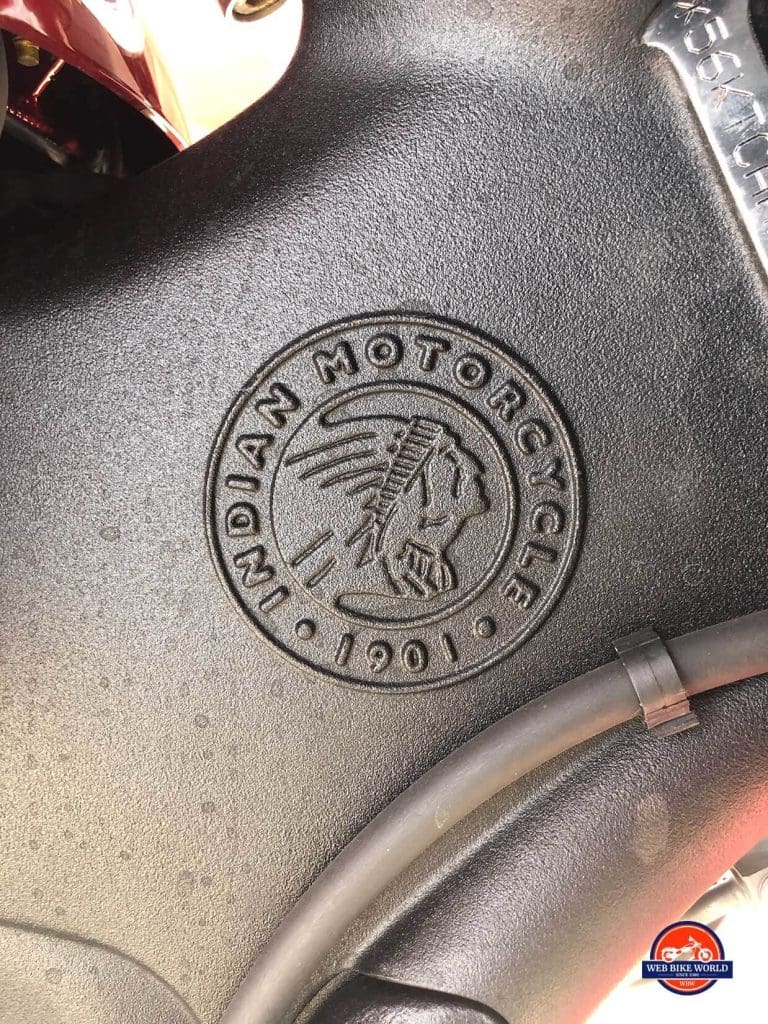 I could summarize the look of the Honda as Wall Street conservative with Saville Row attention to detail. There's not a loose thread anywhere on the Honda's suit. The Honda really looks like a lot of time was spent analyzing and fitting where the Indian was just splashed with artistic flair and beauty.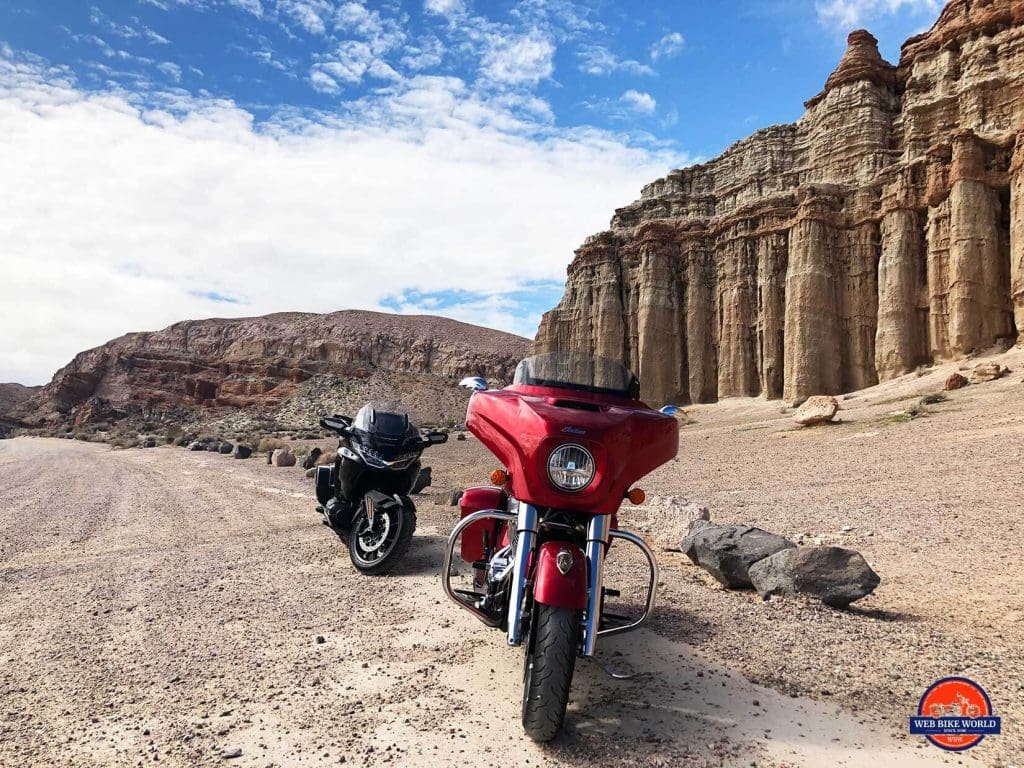 When you look at the Honda you can easily see the flat 6 cylinder engine poking its heads out from the sides of the bike, but they really have no presence. To my eye, the engine looks more like a sturdy mount for fog lights than the actual engine. In contrast, the big V-twin defines the look of the Indian. The heads are large and beautiful, the push rod tubes are stout and beefy and the entire engine glistens in the sun.
Where the Indian looks like it's dressed and ready for a bar fight, the Honda looks like it doesn't have time for a bar fight – it has a business meeting to get to.
Of course, your opinion may differ, but if you have more than 5 tattoos, the Indian is probably the bike for you. However, if you have more than 5 employees, be sure to check out the Honda.
Performance, Handling, & Power
Jim:
The Gold Wing is the easy winner in this category.
It makes maximum torque just over 1200 rpm, has 20 more horsepower and three times the number of cylinders than the Indian. To say it's faster and more agile is a gross understatement. It was a beatdown of epic proportions.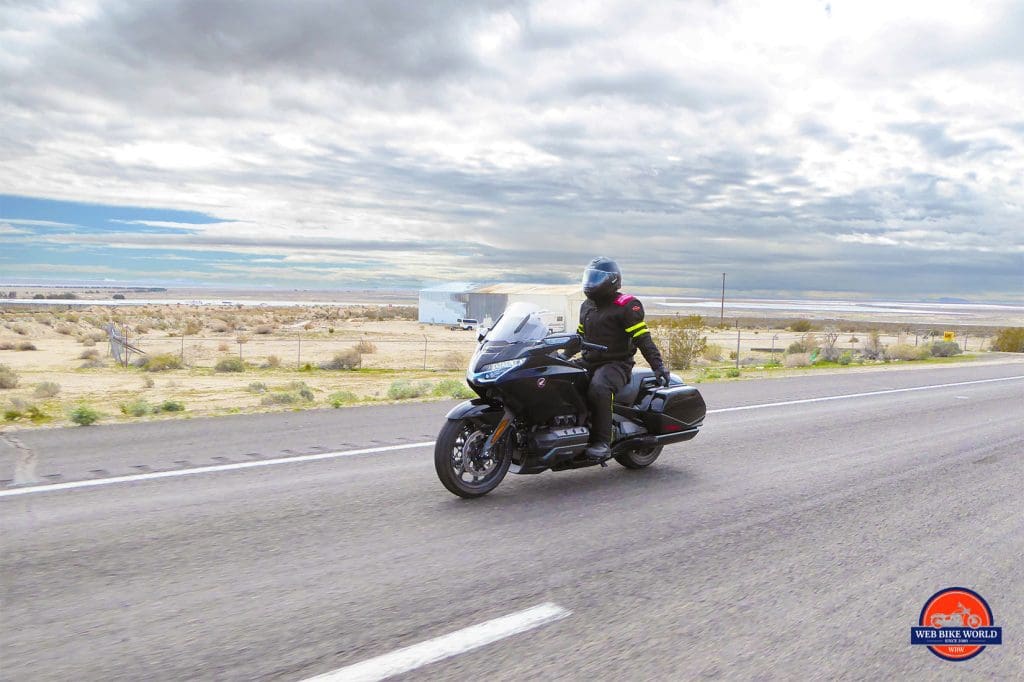 The funny thing is that the Indian FEELS fast, but isn't while the Honda IS faster but doesn't overstate it… unless it's in Sport Mode. That's a different story.
The Honda will slightly lift its front wheel when launched hard in Sport Mode. It surprised me and my usual ride is a 200 hp Ninja H2SX SE. We did several races to 60 mph from a stop or rolling to compare the two bikes and the Indian didn't even stand a chance when the Honda was in Rain mode!
Have a look at this video showing the Gold Wing splitting lanes of traffic on the Pacific Coast Highway to see how this heavyweight bike can bob and weave like Muhammad Ali.
The Indian certainly isn't all show, no go. It will happily cruise at 85 mph on the highway and launches hard off the line thanks to its 119 ft lbs of torque @ 3000 rpm, but once the revs pass higher than about 4000 rpm I really noticed how flat it went. Even sport mode only served to make throttle response jerky instead of the bike faster. Wow!
The Honda showed impressive athleticism in cornering and especially braking. One finger was plenty to stop that bike from any speed. I'm on the verge of declaring it a sport touring bike, to be frank. I'd heard reports about how new Gold Wings were "sleepers" and I'm a believer now.
The Indian brakes were very average comparatively which made it feel like what it is: an 800 lb motorcycle.
Greg:
The Indian took a beating on this one. The Honda flat out wins every measurable performance category. Handling – Honda. Power – Honda. Braking – Honda. It's not even close.
Turning the throttle grip on the Honda is simply adjusting your speed setting. No fuss, no drama – you just go the speed you choose. Hell, with the DCT you don't even need to select a gear. If you really want to go on the Honda, just twist further.
And if you really want to tear it up, set the bike to 'Sport Mode' to really stir the pot. It makes a notable difference. It's important to note that changing modes on the Honda is incredibly simple, just pull a finger switch on the throttle hand to toggle through the 4 modes (Tour, Sport, Econ, and Rain). After fussing with mode settings on other bikes, the Honda design is easily the best I've seen.
A throttle twist on the Indian is an event. You can feel every power stroke in the big V-twin – and they feel good. Very good. So although the Honda wins the engineering award for efficiency and power output, the Chieftain wins on emotion. When you can feel every individual explosion from that big twin engine, it gets your attention.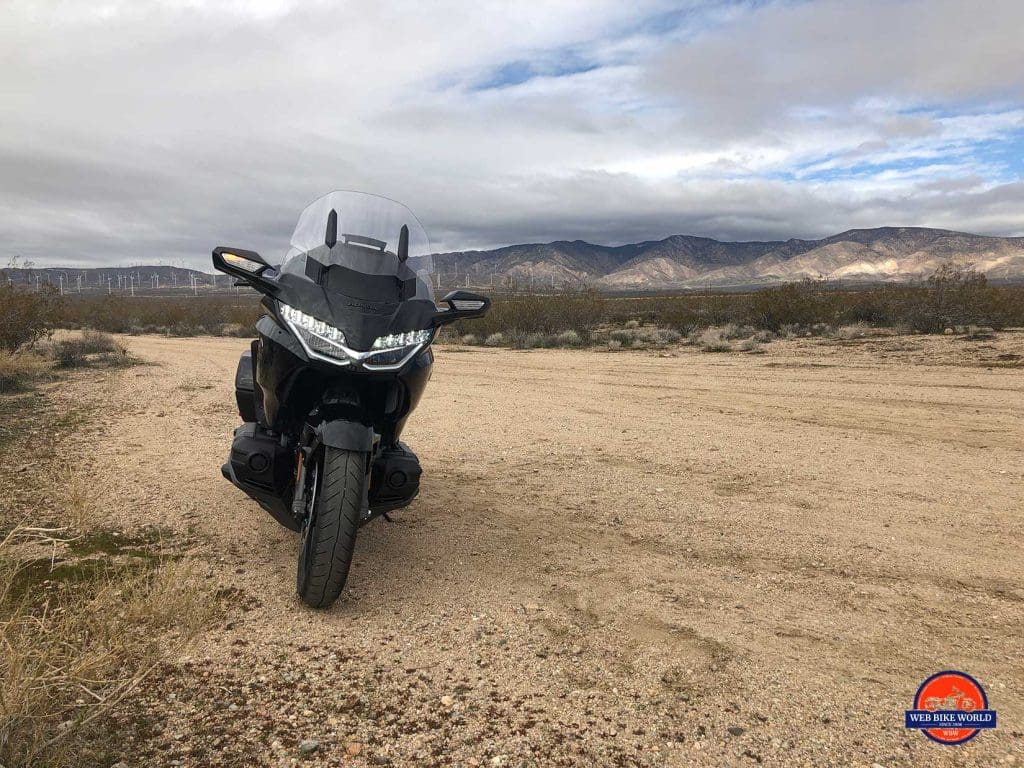 Like power, the Gold Wing easily wins the braking and handling category. The Gold Wing feels nimble and capable – and the brakes are amazing. Need to stop in a hurry? Just grab a handful of brakes and the bike comes to a surprisingly drama-free stop. The ABS takes care of you, leaned over or not. The controls are light and work very well.
The Indian has braking and handling, but you might not notice it. Truth said – it's fine. It's just not up to the standard set by the Honda. If you're a knee dragger, just pass on the Indian, it's probably not for you. But if you like nice lazy country rides, step right up. There's a sense of peace about the Chieftain that you just don't find in the Honda.
The Chieftain is easy chair relaxed and it's in no hurry to get up and rush around. It's comfortable doing what it does, and there's something nice about that.
Suspension & Comfort
Jim:
The Honda wins, but only because I like the seat on it better...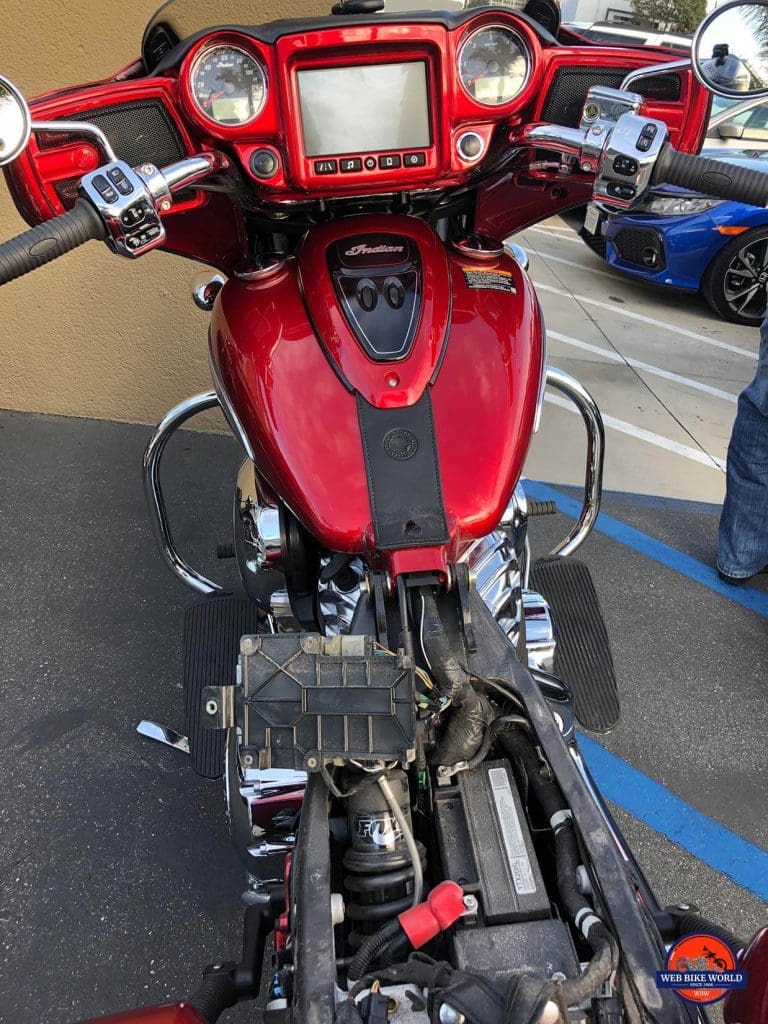 We found out by chance (more on that later) the Indian is equipped with a Fox Shock on the rear! You can see it in the photo above peeking out. Why doesn't Indian crow about this I wonder? It provided a very positive experience whether riding over small or large bumps and held a solid line through corners.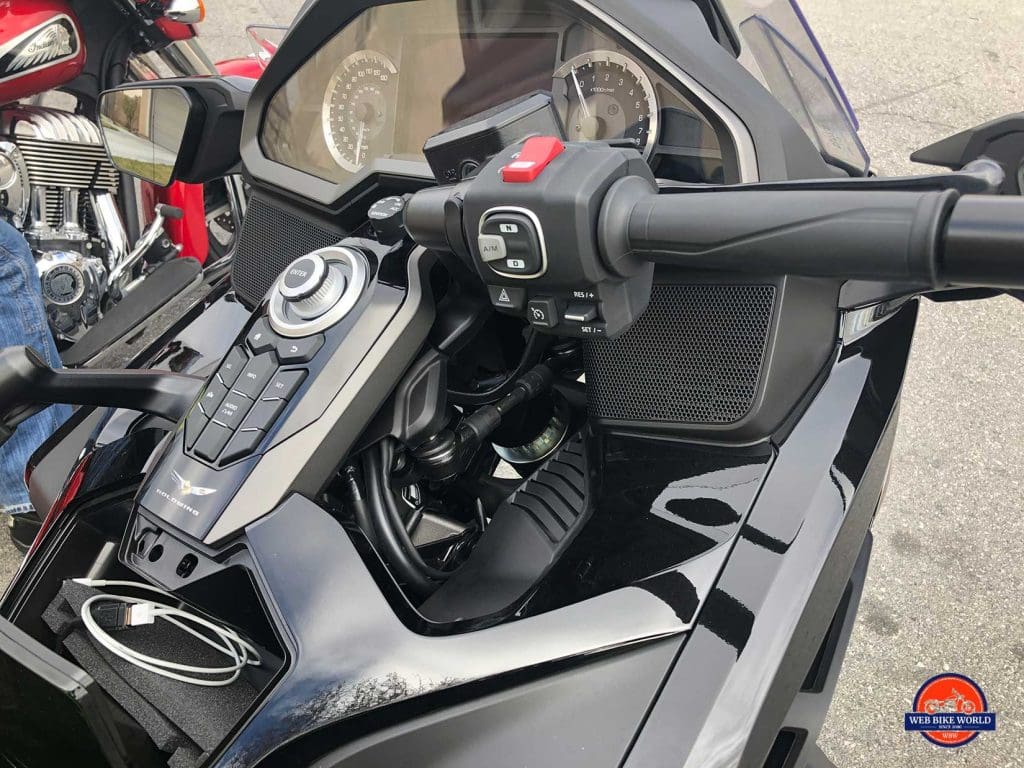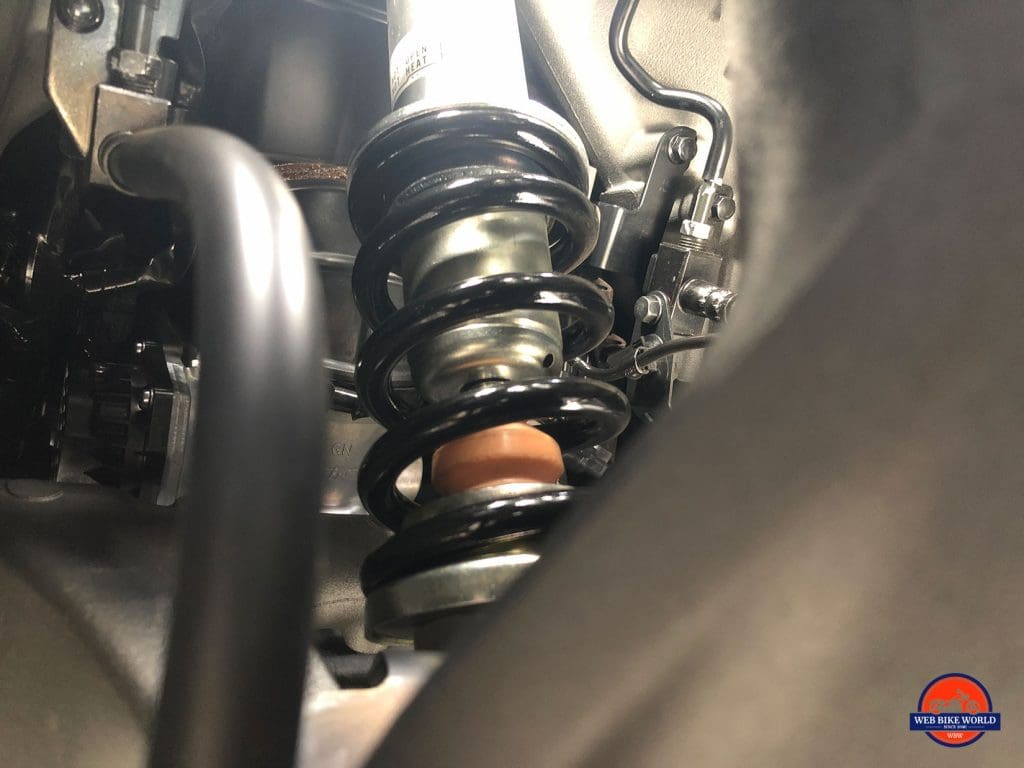 The Honda has an unusual A-Frame type front suspension system that is fascinating to watch while riding over bumps. The dual tie rod ends bob in synchronicity while on the road and is mesmerizing until you get used to it.
I found it left me feeling slightly disconnected from the asphalt compared to the traditional telescopic forks on the Indian.
Here's the rub though: you'll never have leaky seals on the Honda to worry about and that's a huge positive. If I just rate the bikes on suspension I'll lean the Chieftain's way, but because I didn't enjoy the stock seat on the Indian I'll pick the Gold Wing as the winner.
Let me clarify that the Indian seat got more uncomfortable the longer I was on it. At first, it felt quite plush and I thought for a minute it would challenge the perfection of the Gold Wing perch, but that feeling went away fast. After a couple of hours, I was squirming around on the Chieftain like I had ants in my pants looking for some way to take the weight off my tailbone.
It was Mission Impossible for me. At one point I had half my backside resting on the ledge leading up to the passenger seat in a desperate attempt to find some solace for my gluteus maximus.
The Honda seat doesn't look cool nor does the seating position of the rider, but I'll take it any day.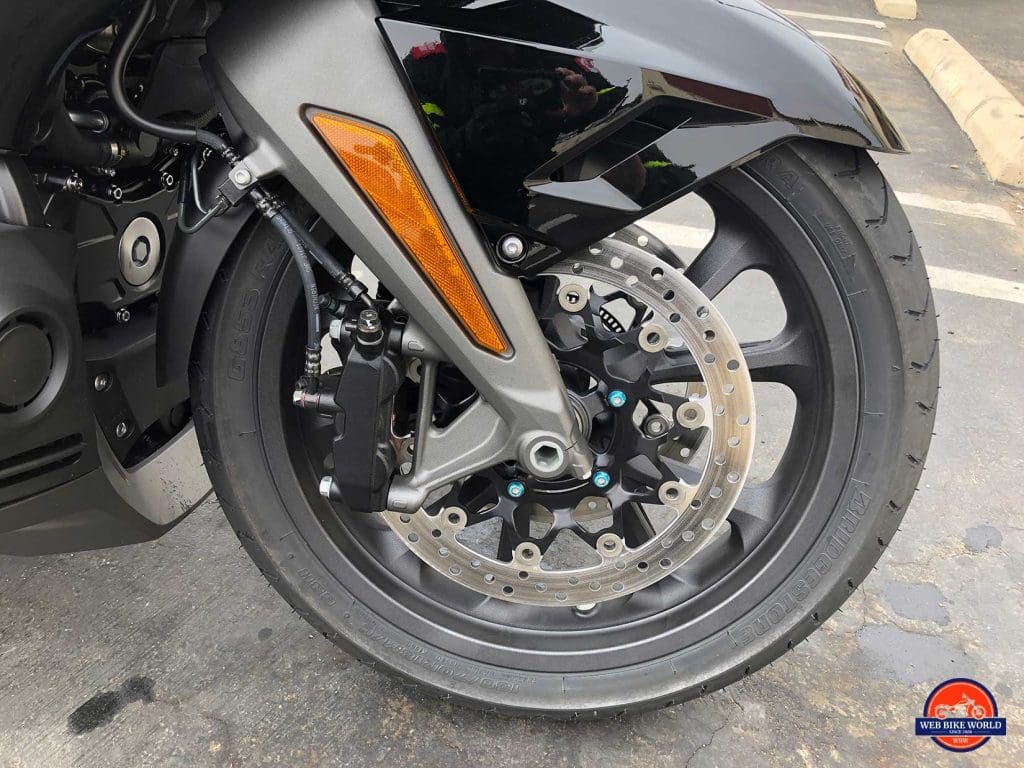 Greg:
The Gold Wings front suspension is a double wishbone design that replaces traditional forks, and it works. The design helps separate braking forces (brake dive) from the actual functions of the suspension. Honda's not the first to use this design but they've done a good job implementing it.
Combined with the compliant rear suspension the Gold Wing cannot only tackle a twisty back road like no Wing before – it'll easily soak up miles of Interstate drone. The seating position on the Honda is perfect. All the controls fall easily at hand and the pegs, seat, and handlebars have a very comfortable relationship to each other.
The Chieftain has a solid well-sorted suspension. It rides nice and performs perfectly. The seating position is boulevard cool but interstate cruel. I like the seating position, but the peg location puts your feet well forward. This puts a lot of pressure on your tailbone because none of your weight can be supported with your feet. Standing up on the pegs for a break is almost impossible. Having said that, I easily rode a 600 plus mile day in the saddle of the Chieftain without too much difficulty.
If you park the bike's side by side it looks like you could take the Gold Wing's seat, take it apart and make two seats for the Chieftain. The difference in seat size is that noticeable.
For me, the Honda wins when it comes to suspension and comfort.
Efficiency & Reliability
Jim:
The Honda wins easily here.
I hate stereotypes, but there is often some truth to them.
The Indian suffered from some reliability problems on the test ride while the Honda was flawless as perhaps expected. Doesn't that irk you just a little bit to hear? I wanted the Indian to compete and surprise everyone, but the hard truth is maybe it's just not as polished as it could be.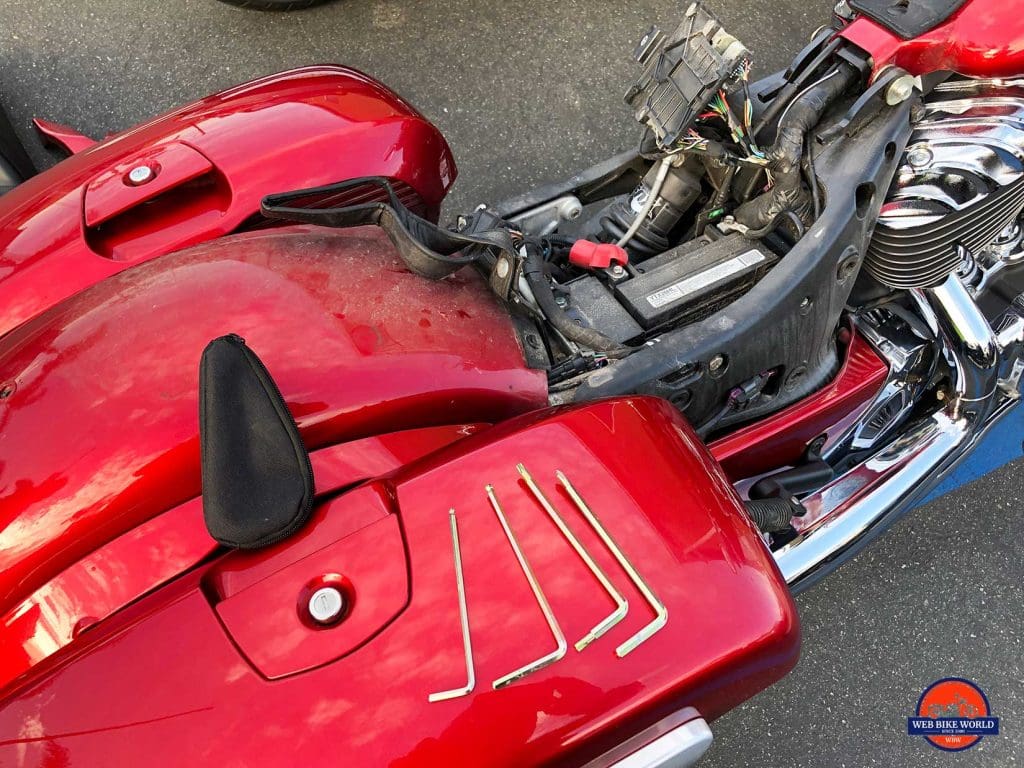 When we first went to collect the Chieftain I discovered a dead battery and Greg pointed out the right rear blinker/tail light didn't work. The battery problem turned out to be caused by a loose positive cable connection. I was able to repair it using just the factory tool kit that came with the bike and a boost which is a pleasant surprise.
The LED tail light/blinder had a good connection, but wouldn't come to life. We took it to a nearby Indian dealership, but they didn't have a replacement light in stock so we spent the next three days and 1100 miles using hand signals for right turns.
(Sigh)… I wish that was the end of the problems, but it wasn't.
The rear cylinder deactivation feature while excellent at keeping the engine cooler in traffic and providing fuel savings caused some throttle hesitation occasionally. I even stalled the bike once when I went to take off from a stop sign/red light.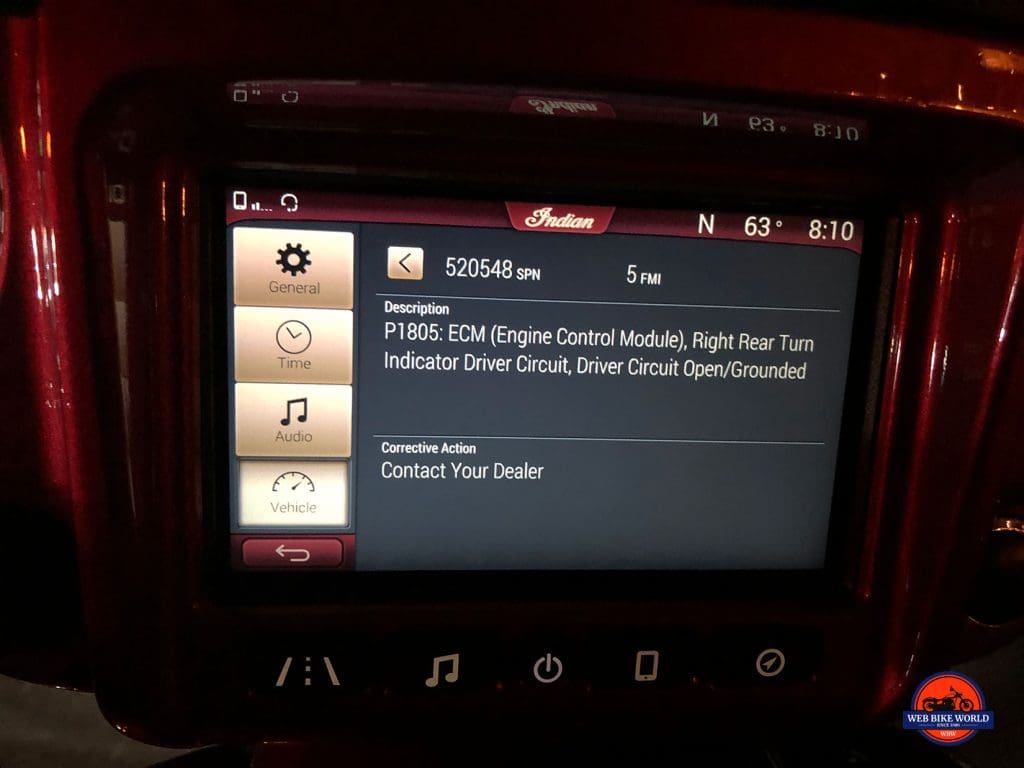 The display screen didn't register a fault code for the dead tail light until a full day after it stopped working much to my surprise. I also noticed a new fault code appeared the last day we had the bike indicating ABS system voltage issues.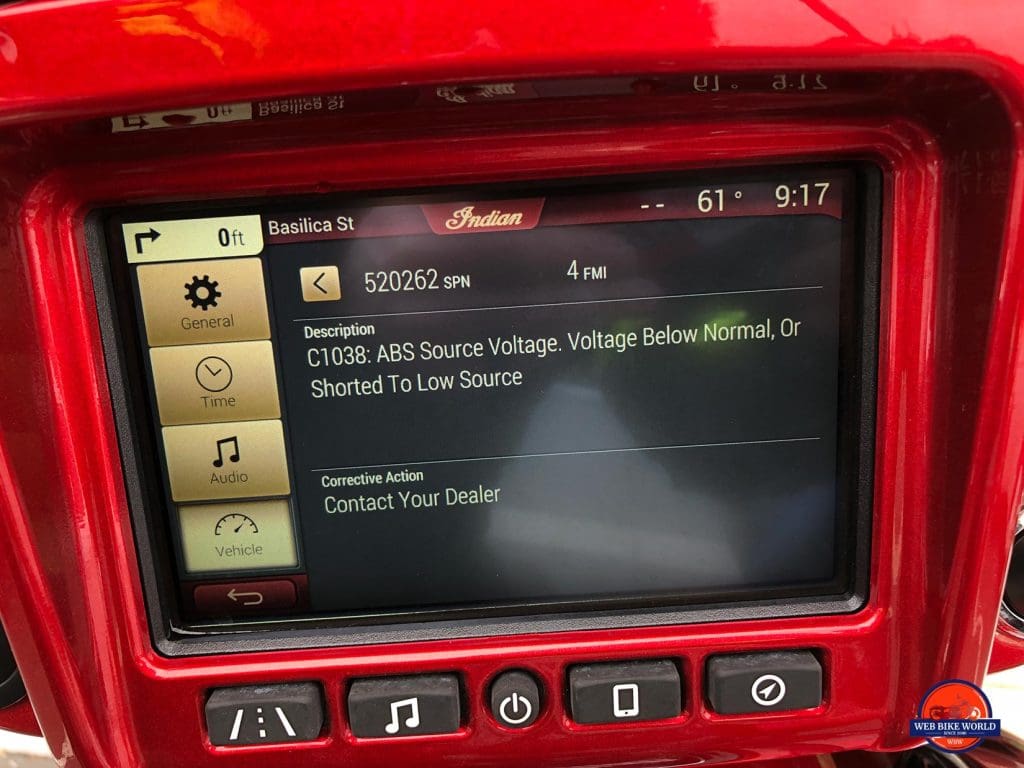 We did ride the bikes through some heavy winds laced with tons of blowing sand in Death Valley the day before and I wonder if perhaps that may have been a factor.
To top it off the Chieftain hesitated on startup the last morning I went to flash it up, leaving me wondering what else would happen if we went another 3 days riding it.
Through all of this, the Honda headlights grinned wide its "cat that ate the canary" smile as if it knew this was coming. Predictably flawless from a mechanical standpoint and on top of that the 7 speed DCT gave it the same range as the Indian even when the Gold Wing has ridden aggressively in Sport Mode. Wow.
Greg:
This was disappointing to me. I really wanted the Indian to hold its own against the engineering juggernaut that is Honda – but it didn't.
As Jim outlines above, the Indian had issues that it just shouldn't have had. In addition to what Jim mentioned there was at least one fastener (front signal light) that had vibrated out and another that was incredibly rusty, this on a bike with only a few hundred miles on it. I also noticed a couple of fits and finish issued with the Chieftain. Meanwhile, the Honda was perfect. No issues.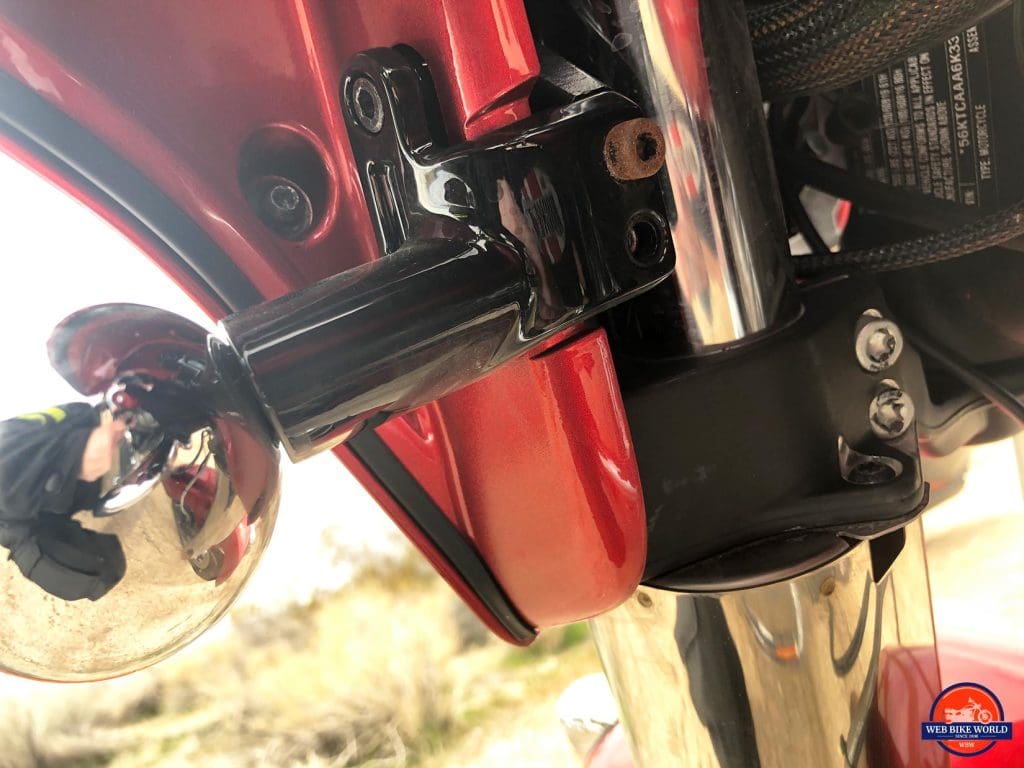 Full credit to Honda, they sweated the details and it shows.
Cost of Ownership & Dealer Network
Jim:
Honda wins.
First and foremost the Gold Wing runs on 86 octane fuel without any complaint according to the owner's manual. The Indian demands 90+ octane. That's a significant cost differential to swallow.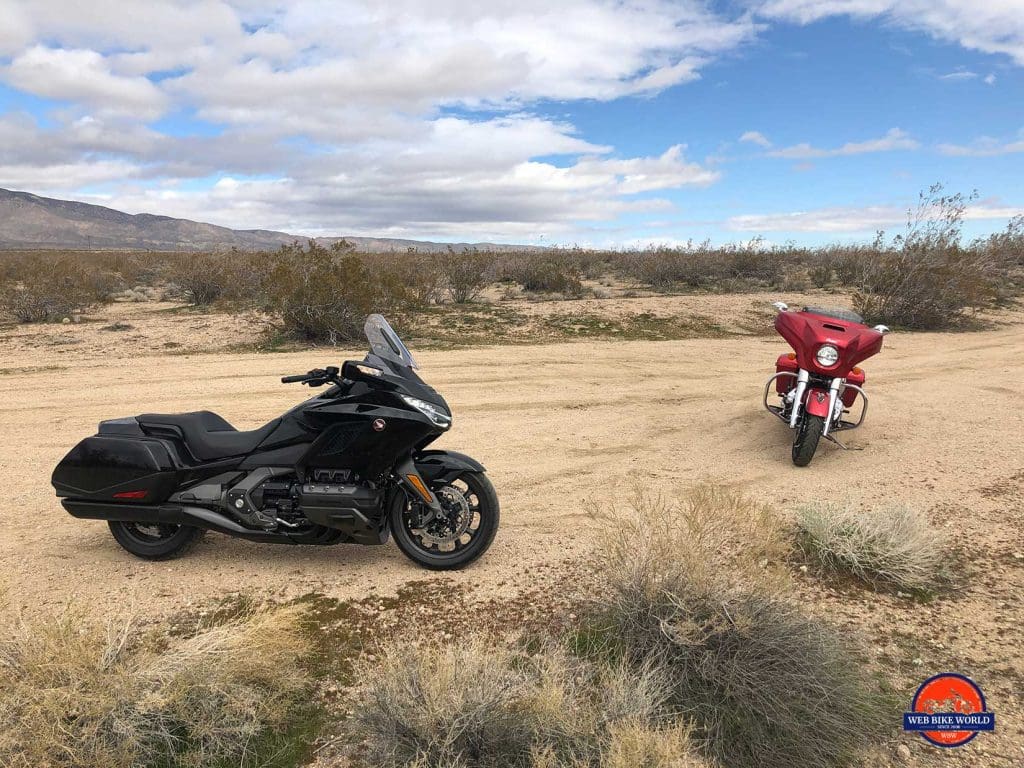 The Gold Wing's 6 cylinder count (vs the Chieftain's two) does mean spending more money on spark plugs/wires to replace down the road admittedly. The sheer volume of body panel plastic covering the majority of the engine and bike will likely result in you paying more labor to have the Honda serviced too.
The Indian is mainly chrome and steel conversely. When I was troubleshooting the battery and blinker I found it easy to access and work on the bike. A good thing too, because it appears the Chieftain might need attention fairly often unless my experience with it was the exception rather than the rule. For the record, I have friends who own Indian motorcycles that have no complaints.
The dealer support network is what really tips this the Honda's way. As much as Indian has made inroads with market share there just aren't near as many dealerships or aftermarket parts to choose from comparatively from what I can tell.
Greg:
Honda wins again. Probably.
The Indian seems like a primitive machine but it's loaded with technology from its navigation system to its cylinder deactivation – the potential for issues is there (and a few were realized during our test).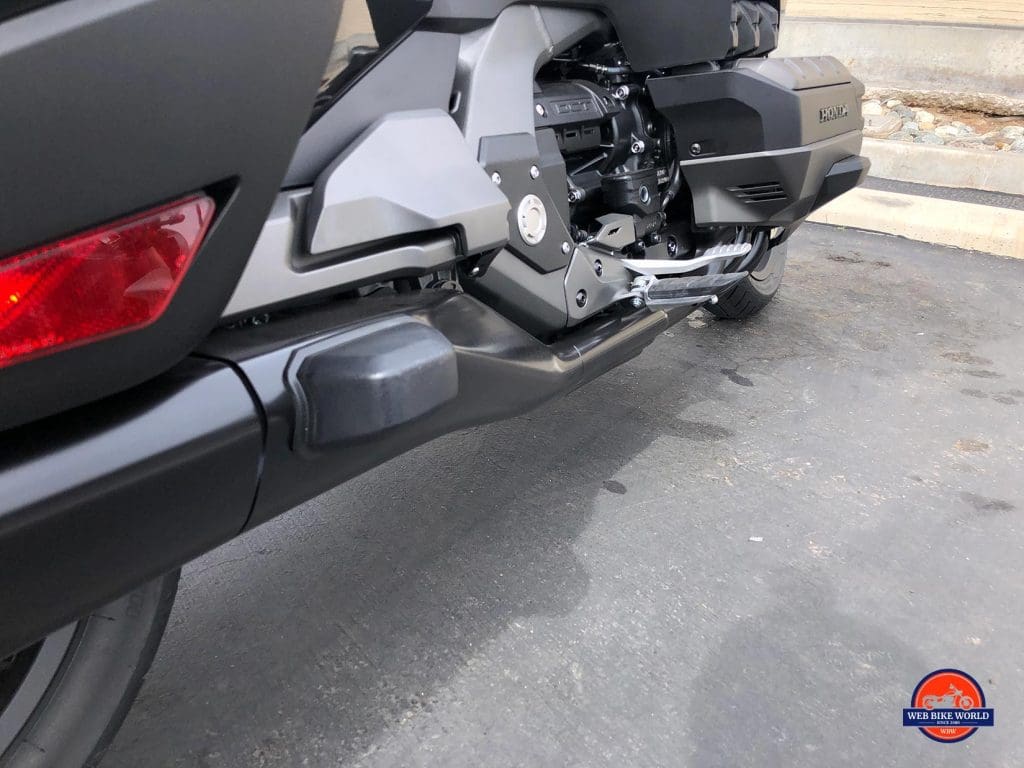 The Gold Wing is a bit unknown to me, because of the DCT. I found it surprisingly noisy and clunky at lower speeds. Every time it engaged a gear I felt part A bumping into part B with some level of force.
Surely this can't last, can it? I have a fair bit of experience with computer controlled dual clutch transmissions in cars, and for the most part, they've been pretty reliable so, despite the clunky nature, I expect that Honda will have this figured out. Additionally, there's really nothing on the Wing that Honda hasn't been putting into cars for years, so everything should go well there.
Based on our mechanical issues with the Chieftain I'm not confident in its reliability. It might be because we rode an early production unit, but for me, the doubt is still there.
Indian has a strong dealer network, but it's not Honda strong so this category must go to Honda.
Technology & Ease of Use
Jim:
The Indian Chieftain Ltd is my surprise choice here.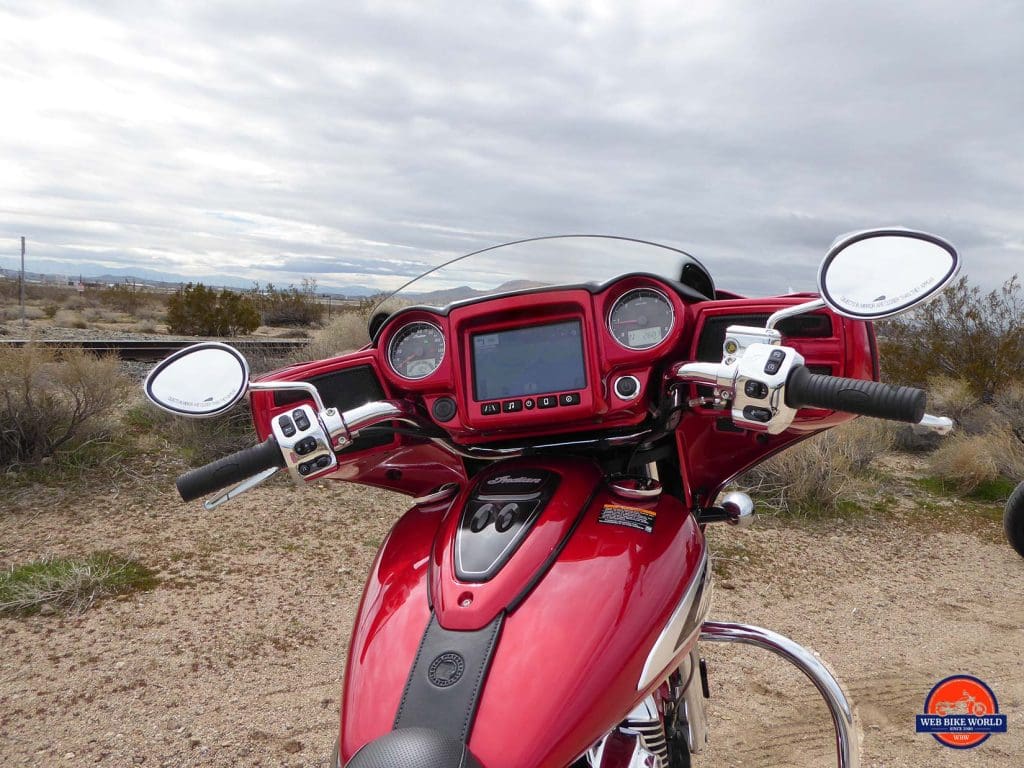 How is it possible the "old school" motorcycle with the classic appearance and tough guy attitude beats out the technology-rich Gold Wing? It comes down to being user-friendly.
I didn't read the manual for either motorcycle until the last day of testing on purpose. I think I should be able to figure out how to navigate most all of the features using only the demonstration given by the dealership coupled with trial and error.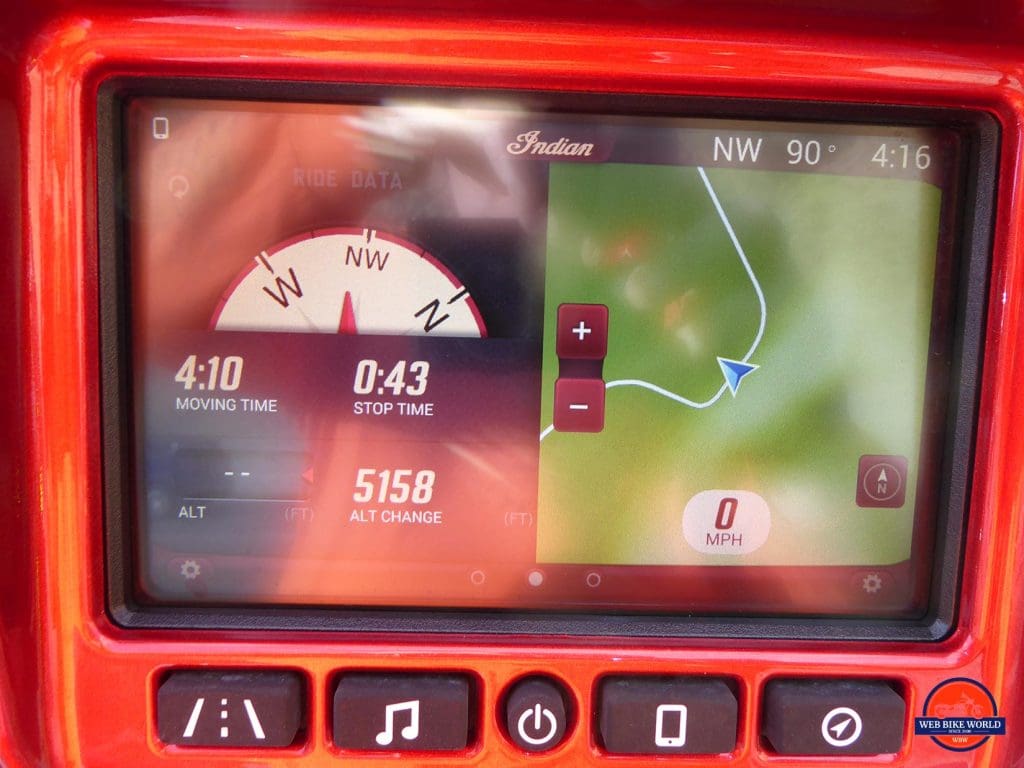 (Is that an altimeter on the Indian display you might wonder? Yes it actually is and it works too!)
The Indian touch screen wins the day hands down. Anyone who knows how to use a smartphone can quickly adapt to the Indian intuitively. This interface is simple and natural to use compared to the myriad of buttons needed to manage the admittedly more feature rich Honda one. Add to that my frustration at some of the buttons on the center console locking out once the bike went into motion on the Gold Wing. This has to be safety related to encourage the rider to leave their hands on the bars and use the buttons there instead.
It made me cranky at times because it also seemed to change up the center console "mouse wheel" functions without explanation. One minute the round knob in the middle of the center console would control volume, the next it would be moving a cursor around the display screen or zooming in on the integrated GPS map.
Summed up in just three letters this amounts to… WTF???.
One thing the Honda really did right with their controls was to ensure every button lit up in the dark to make identifying them easier. The Chieftain buttons on the handlebars didn't light up at all to my disappointment.
It's challenging to push the turn signal button instead of the horn on an unfamiliar bike at the best of times, let alone when it's dark out and they don't light up.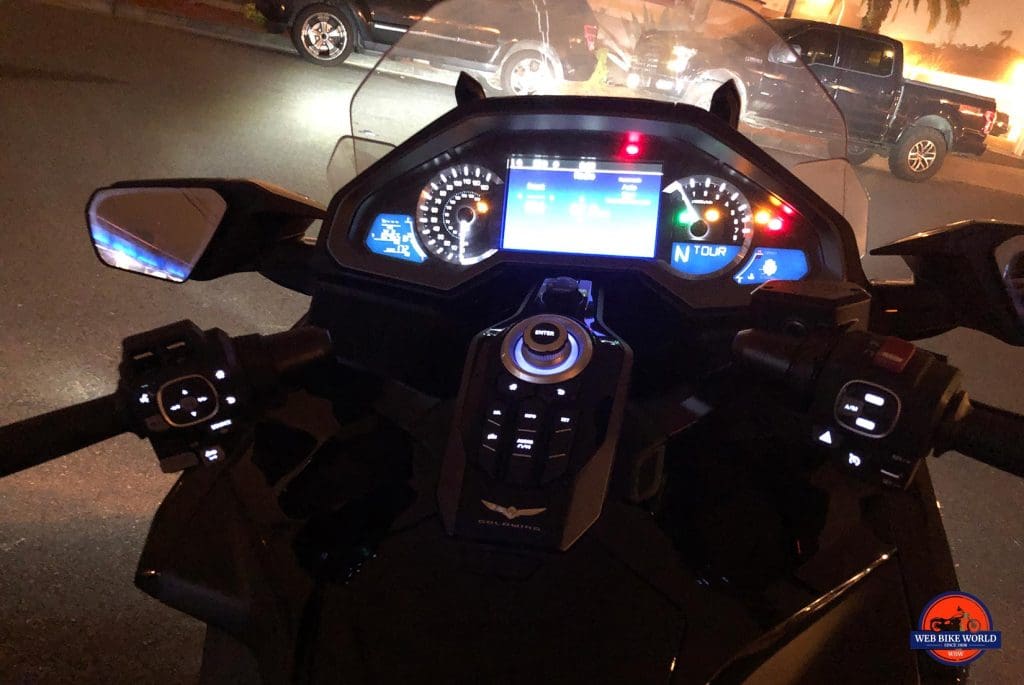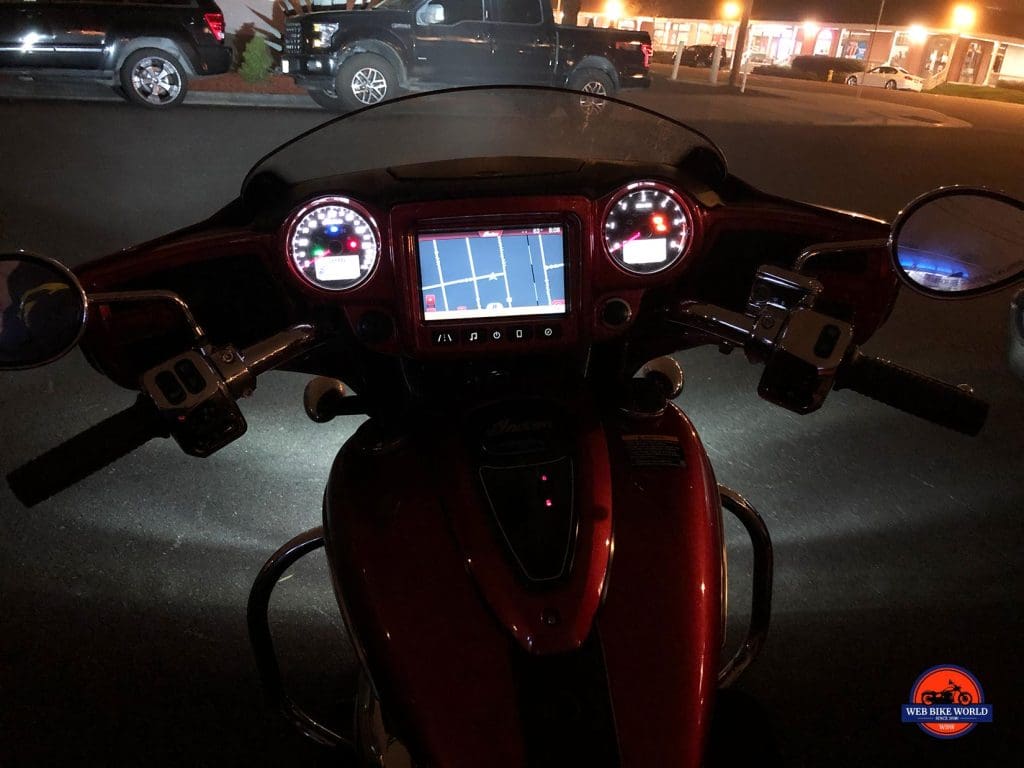 I tend to listen to GPS directions rather than look at the screen and I found the built-in systems on both bikes didn't accommodate me very well in that regard. Neither gave clear or early enough warnings for my liking. The Honda having been equipped with Apple Carplay made my life WAY easier because it allowed me to use Google Maps as my GPS which I find has better audio cues.
One fly in the Chieftain instrument panel ointment for me is the fuel gauge readout located to the left of the center display under the speedo and the odometer below the tach on the right. They cheaped out using the worst looking LCD digits I've seen since Grade school when I had a Casio calculator watch.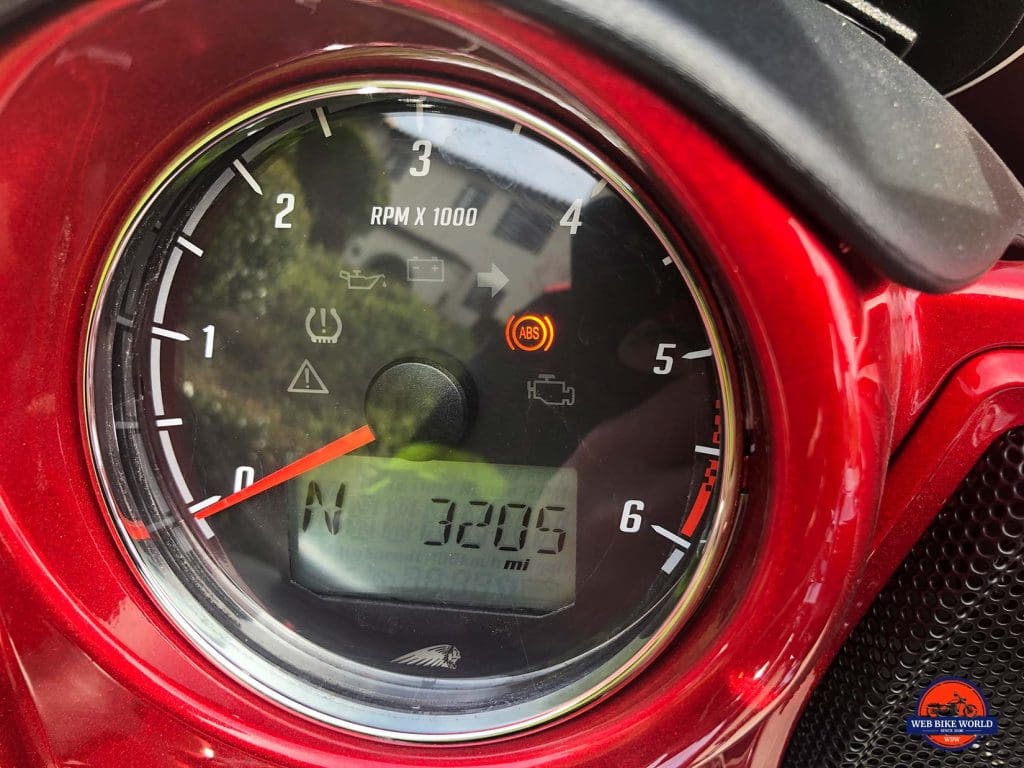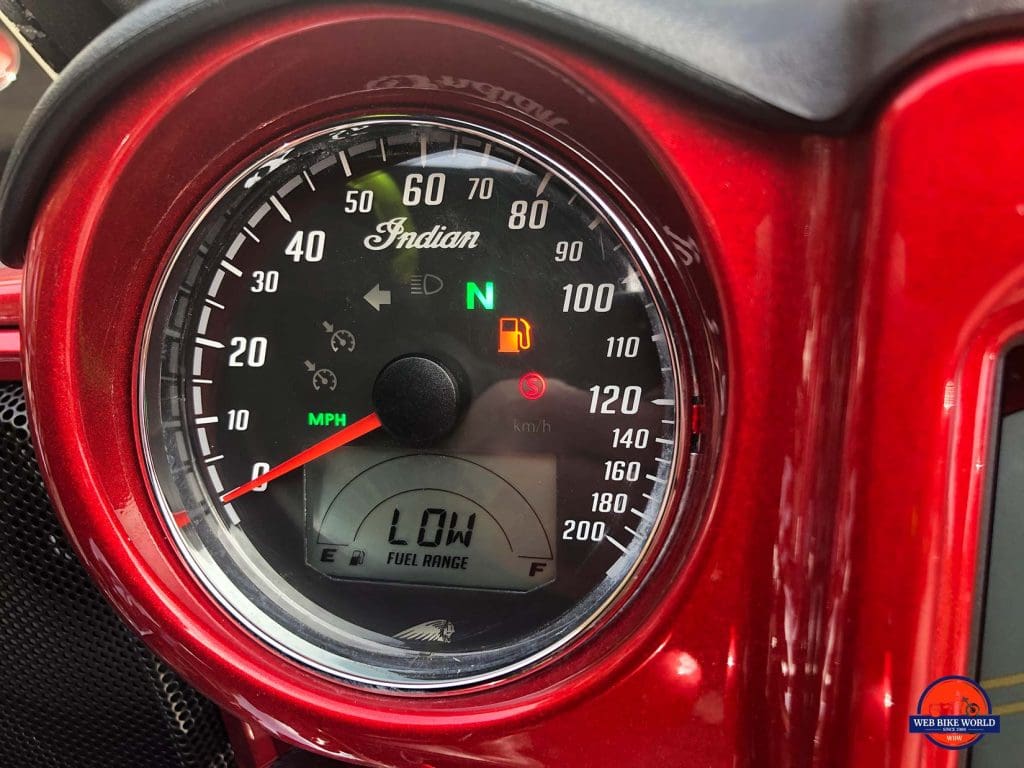 The DCT Factor
I rode a DCT Africa Twin last year on a demo and fell in love with the seamless and lightning fast shifting is provided. I was hoping for the same experience on this Gold Wing but came away disappointed. Not having to clutch and grab gears was heavenly in the city and on the highway. I didn't miss it one bit. Despite protests from motorcycle purists, I think DCT is terrific on a bike, but not so convincingly on this Gold Wing.
At low speed, the transmission shifts harshly and was very noisy. Once it got into third gear things did smooth out and quiet down thankfully. The only way of explaining this is perhaps that the Gold Wing weighs twice as much as the Africa Twin and is shaft driven instead of chain driven. I suspect greatly the shaft drive is the guilty party in this.
***Edit*** We found out later there's a simple calibration or DCT initialization procedure that would have completely solved this rough shifting as outlined in this YouTube Video from FredH37 https://www.youtube.com/watch?v=mRkTBTdAAAg
DCT Park Brake Needs
With a DCT a vehicle needs to have a park brake on it in order to avoid seeing it roll away once parked on an incline.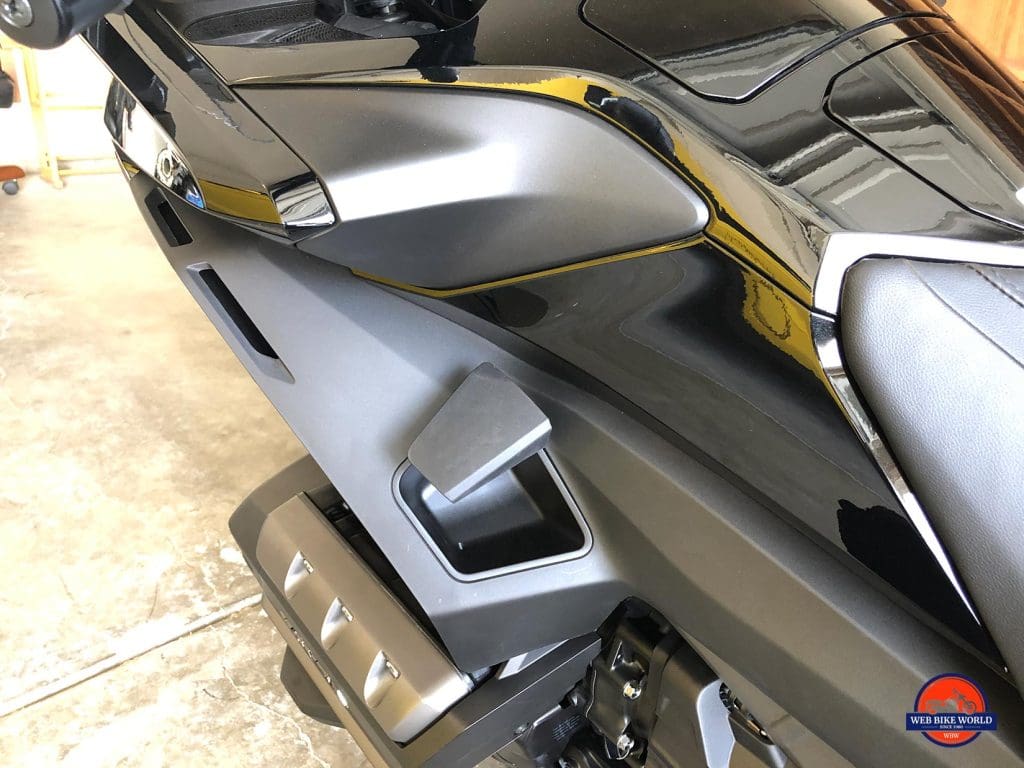 Park brake in the on position
I found it challenging to remember to activate it when parking the Gold Wing.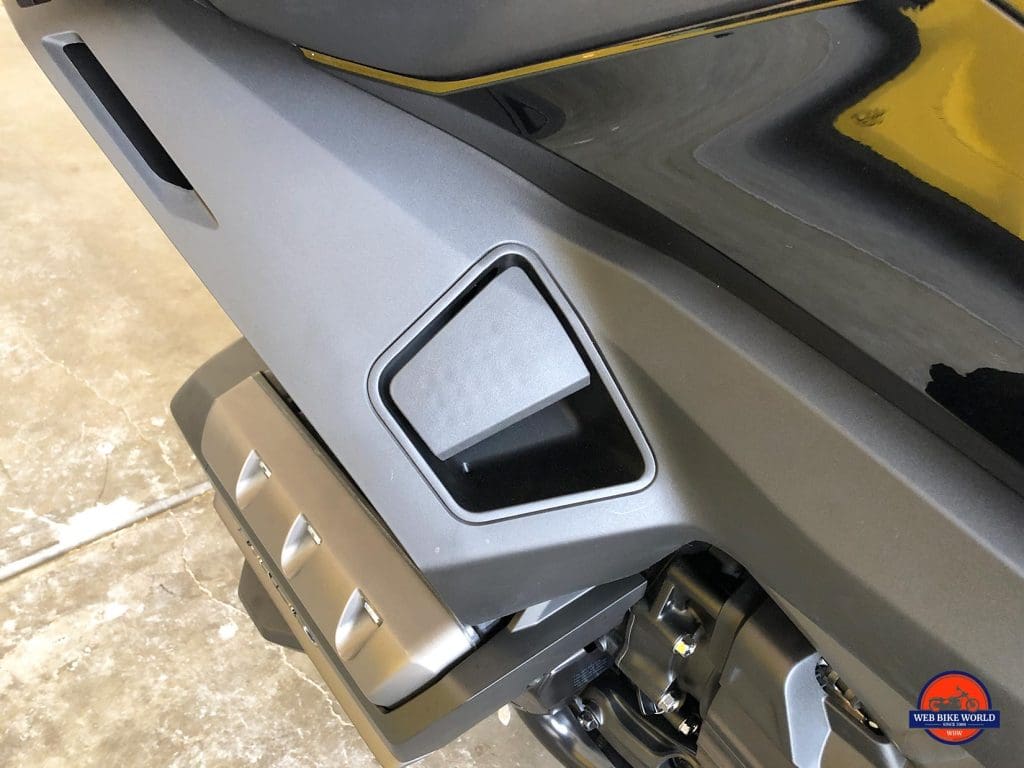 Park brake in the off position
I made more than a few urgent trips outside to pull the lever pictured above throughout this demo. Twice I suddenly realized the brake wasn't on after going to bed for the night and once after sitting down for a meal. The ensuing panic at the thought of going outside to find it tipped over halfway down the street was hard on my heart. I doubt our Honda representatives would have found their bike going AWOL very amusing.
Happily, it never happened, but it's worthy of mention on this comparison because obviously, the Indian didn't have any park brake to worry about.
Greg:
The Gold Wing is loaded with technology. Irritating, frustrating technology. Using it is awkward, difficult and crushes your will to live. If you like reading and studying the manual, the Gold Wing just might be for you. I'm certain that you could own this bike for a year and still end up discovering something new somewhere in the plethora of buttons and menu options.
I do like that the Gold Wing has Apple CarPlay. Nice touch. I actually managed to respond to a few texts while riding the Gold Wing, using just my voice.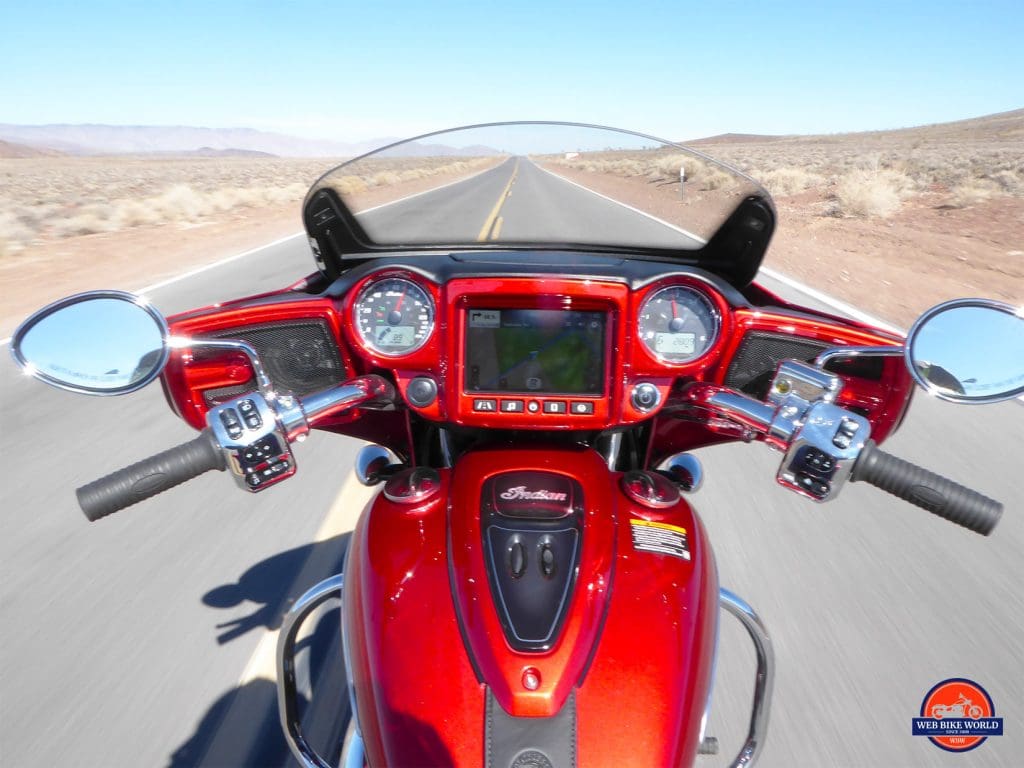 The Chieftain is surprisingly the winner here. The electronics package is intuitive, clear and concise. I'm sure you'll still find the occasional Easter egg in the menus and touch screen but everything just makes sense.
Both bikes use a smart key system that's common on cars and trucks. You just carry the key in your pocket and the motorcycle recognizes your presence so it only takes a press of the start button to get either party started. Both are convenient and easy to use.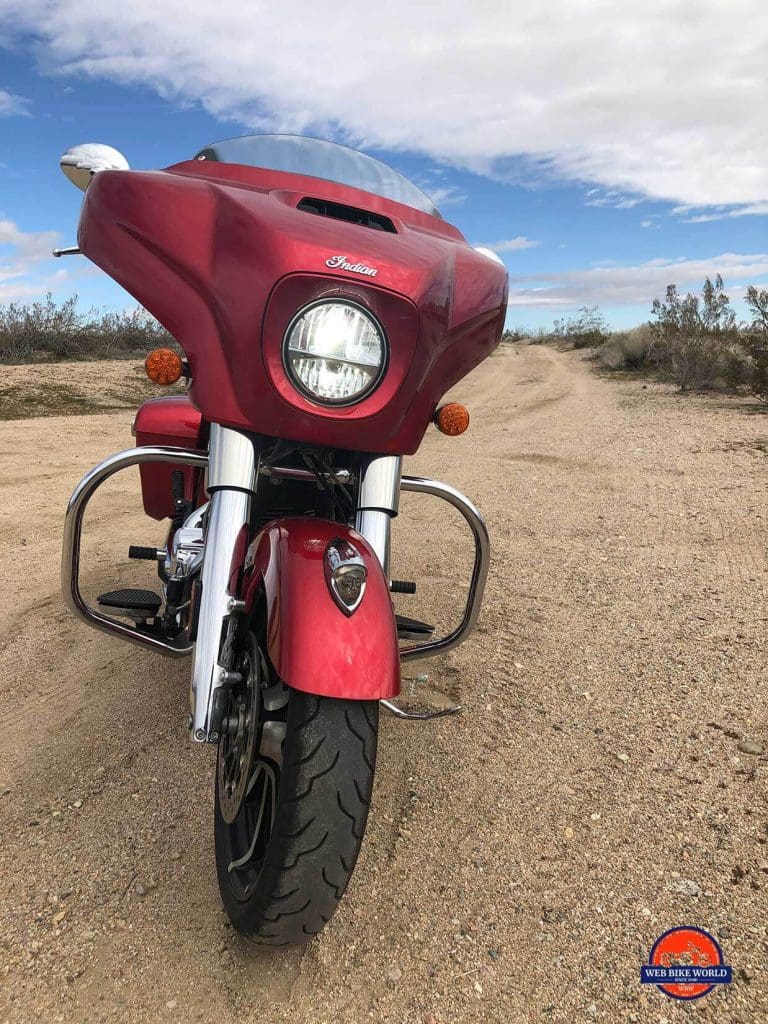 Now's the time for me to throw Jim under the bus. We picked up the Indian in the greater Los Angeles area, then headed north on the freeway towards Malibu. Unfortunately, Jim put the Indian key fob in his pocket but didn't zip the pocket closed. Right now the key is probably languishing in a gutter somewhere along the 405 Freeway.
Lonely, cold, and homeless. The key just lays there, hoping that maybe one day it's long lost motorcycle will unwittingly ride by, and for a nanosecond, they'll say hi to each other before it's master continues speeding down the road. Jim broke this family up. And it's sad.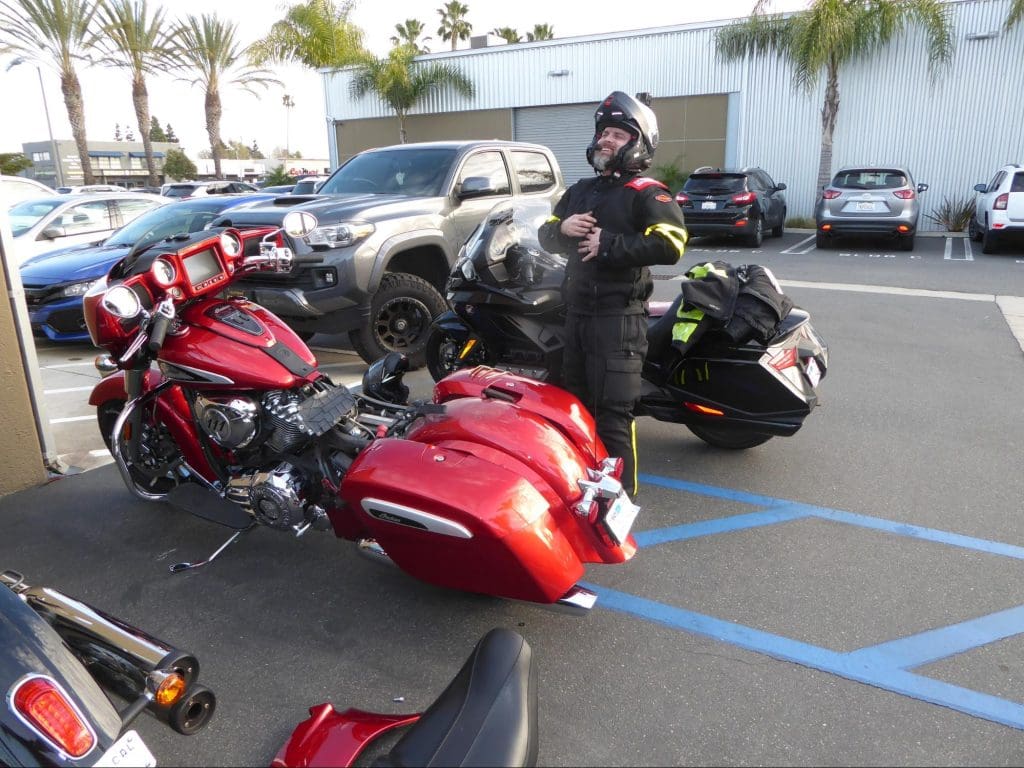 We noticed the missing key when we stopped at a chicken shack along the Pacific Coast Highway in Malibu. Jim turned off the Chieftain and that was the end of it. At that moment Jim taught me a few new words before calling our Indian representative.
There's a silver lining in this cloud – and that's that once you know the 4 digit code to start the bike you might not even bring the key with you when you travel. Fortunately our rep. knew the code so we were quickly and easily on our way.
As all the controls on the Chieftain, using the code is simple and easy. I have a Harley that has a smart key and it's a pain. It's never with me when I just want to move it around in my garage. With the Chieftain you would just punch in the code – no key required. Well done Indian!
When you talk about ease of use, you need to consider the DCT. It just doesn't get easier. It works very well (although as mentioned earlier – it's a little 'clunky' at low speed) and despite the occasional phantom reach for the shifter or clutch lever, you get used to it very quickly. The Gold Wing also has a Walk Mode at low-speed that crawls the bike at 1.8 kph forward or 1.2 kph in reverse. This is a win for the Gold Wing.
For me, this is a split decision. The Chieftain wins because of it's very intuitive electronics package. The Gold Wing wins because of the DCT and the walk modes that it provides.
Jim:
Thanks for bringing up the lost key fob, Greg! With friends like these who needs enemies, eh? Hahaha.
He's right though, we didn't miss the key fob one iota. The 4 digit code is the way to go on the Chieftain.
By sheer coincidence, our Honda rep had just shown us the same feature on the Gold Wing earlier that day. Maybe I just look irresponsible and he was trying to do some preemptive damage control???
The Honda method involved a 9 or 10 digit code that had to be entered a la Morse code using the start button combined with the button to open the gas tank filler cap. Again the Indian wins this one by virtue of keeping things simple.
Hopefully, they'll forgive me for my carelessness and let me demo another bike in the future. It was devastatingly embarrassing for me and irritating for the Indian reps I'm sure.
Missing Options & Desired Aftermarket Farkles?
Jim:
It's hard to pick a winner here but I think it's the Honda.
The Gold Wing doesn't need an aftermarket seat at all, but a passenger backrest would be nice. Have a look at this Corbin offering I came across recently.
It's not stylish enough for the Indian, but given some tweaking, it could be exactly what the Chieftain needs. I just couldn't get comfortable on it if the ride went longer than 45 minutes. The Chieftain "rump stump" is not the worst seat I've ever been on but it's far from good in my books.
Both bikes could also benefit greatly from a quick detach tour pack or cargo rack. The Honda suffers the most with its smaller luggage capacity. All that weight loss left it with compartments that open outwards (making it more difficult to pack or remove items in them) and have about ½ the volume of the Indian top opening saddlebags.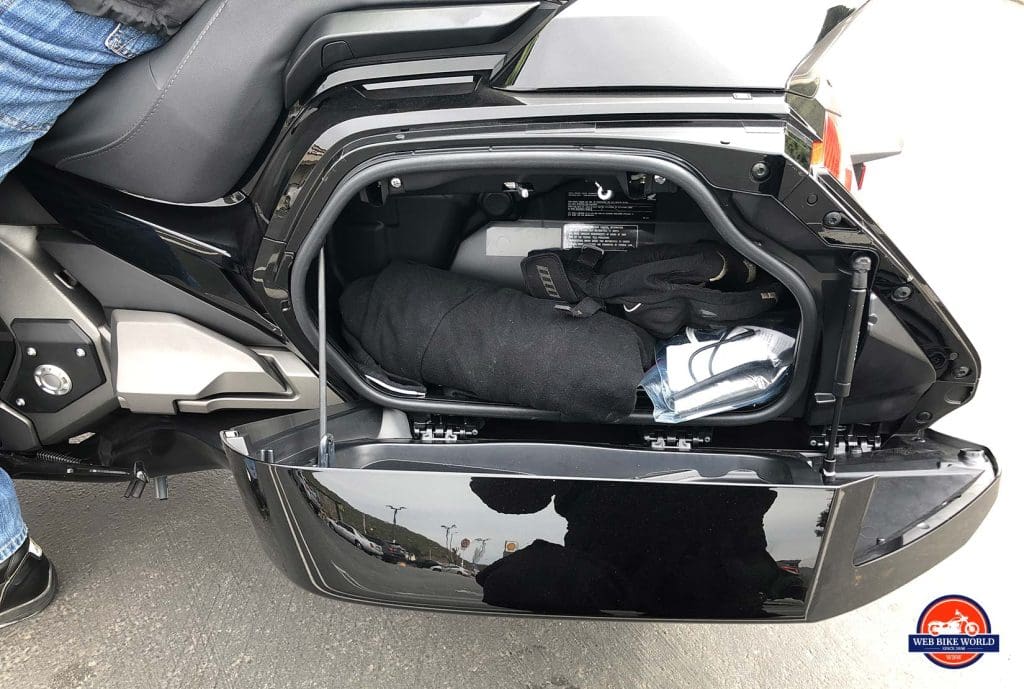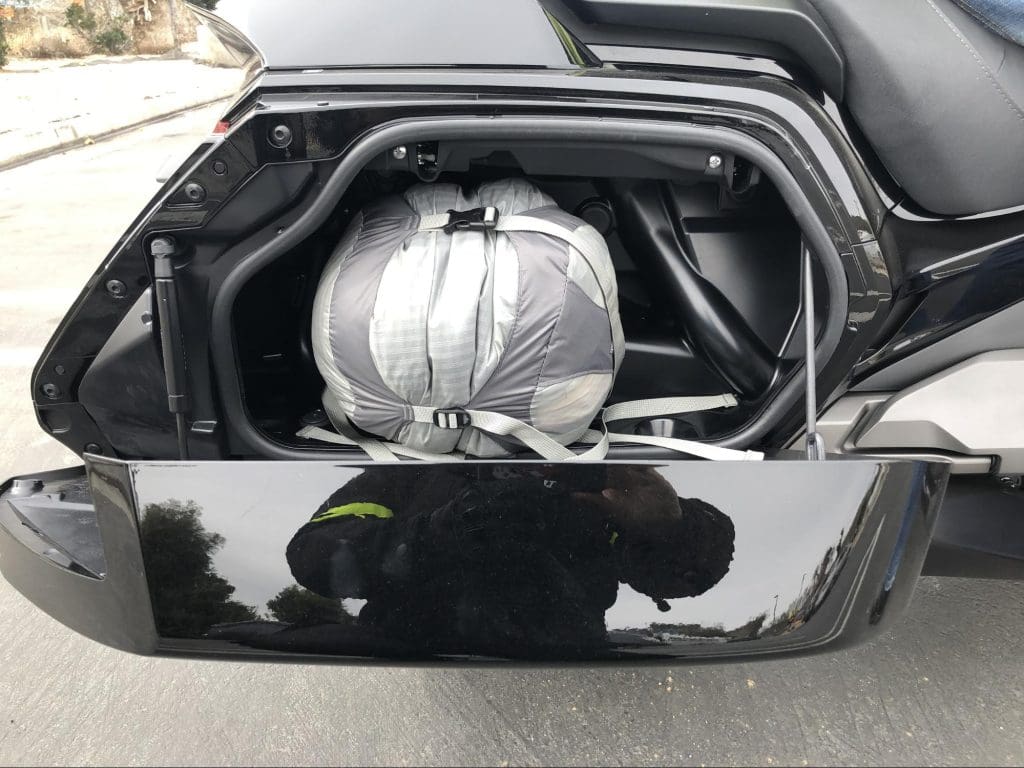 On the other hand, the Gold Wing comes standard with heated grips that work very well, while you have to pay extra for the same feature on the Chieftain Ltd. It puzzles me how a Limited edition motorcycle is missing this fairly standard feature on any touring bike.
The Chieftain also needs some lower fairing add ons to quiet the wind buffeting I experienced while riding it and an aftermarket seat. I'm confident I could source parts to satisfy both needs, but the fact is these things are already there on the Gold Wing gives the nod to the Honda. It's just got better engineering built into the design overall in my opinion
The Honda has integrated frame sliders on it that works really well. We discovered that the bike could be laid over on either side without damage thanks to these pads. Have a look at these pics to see what I mean.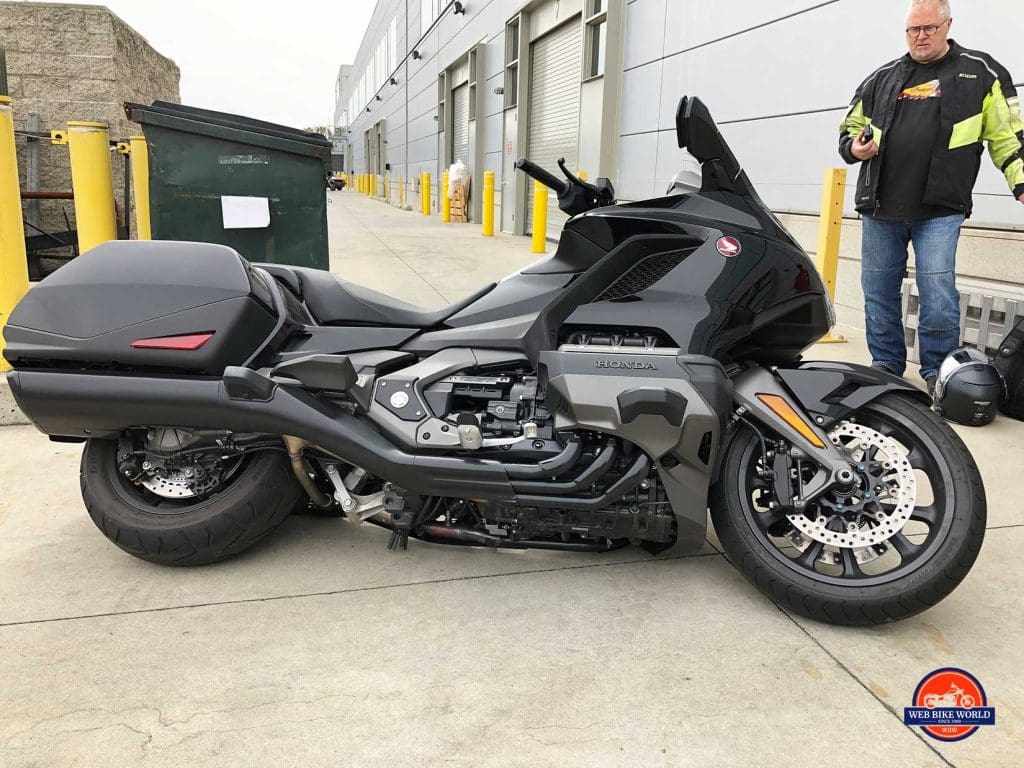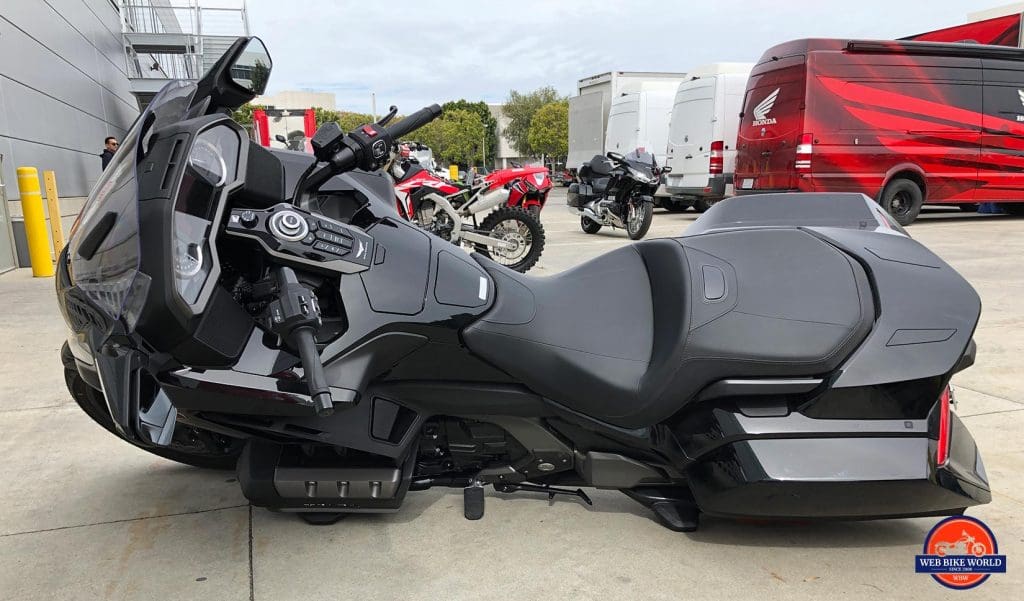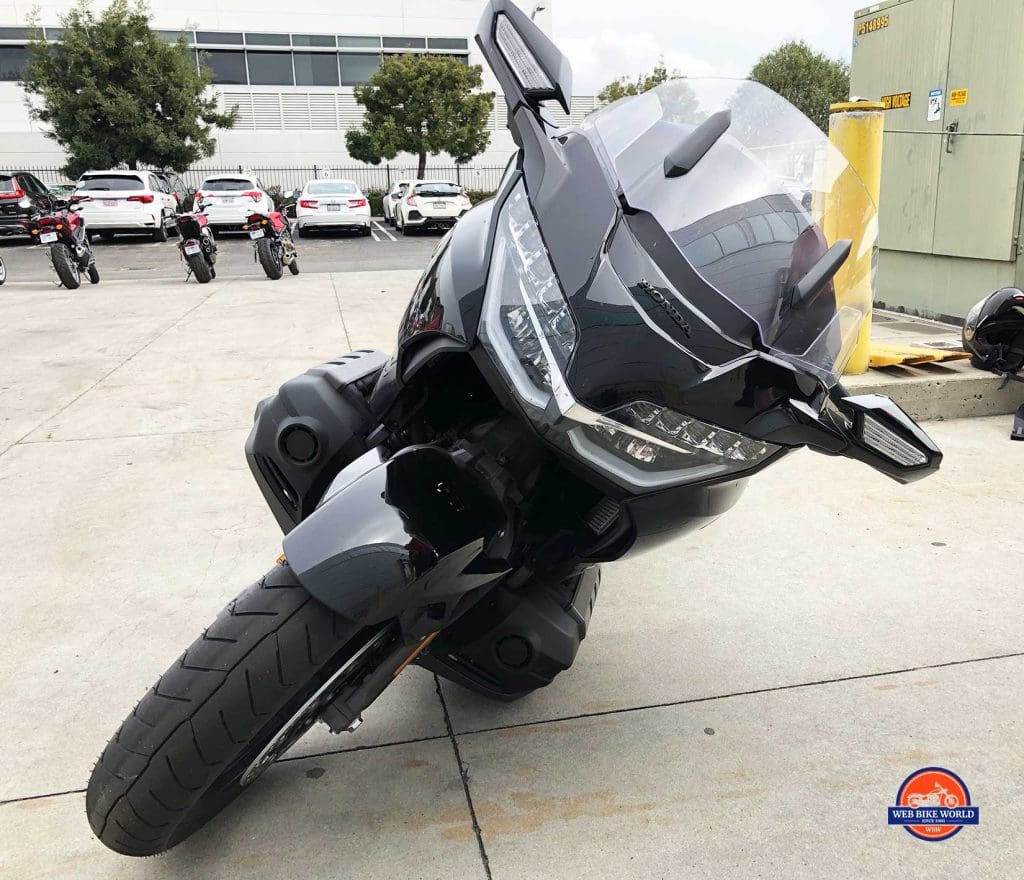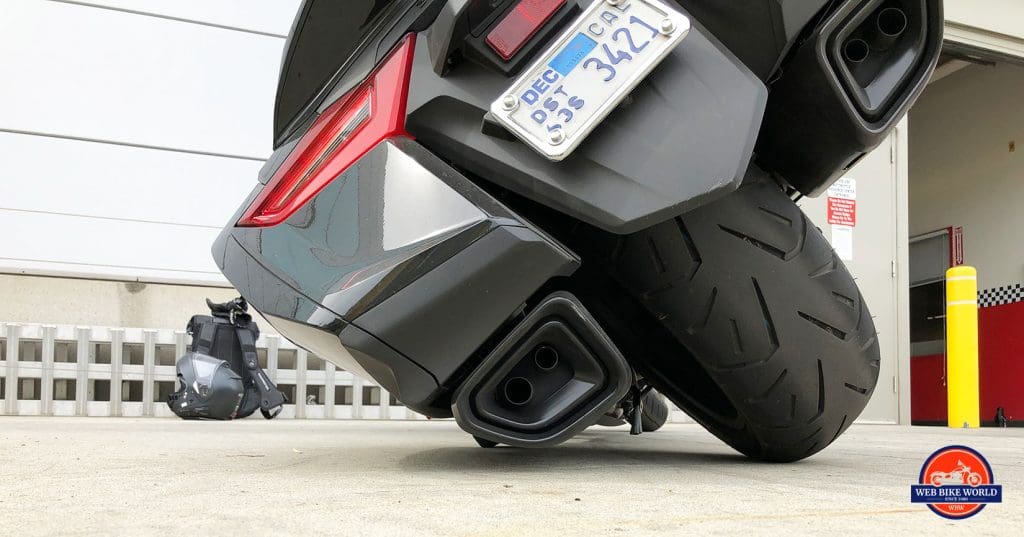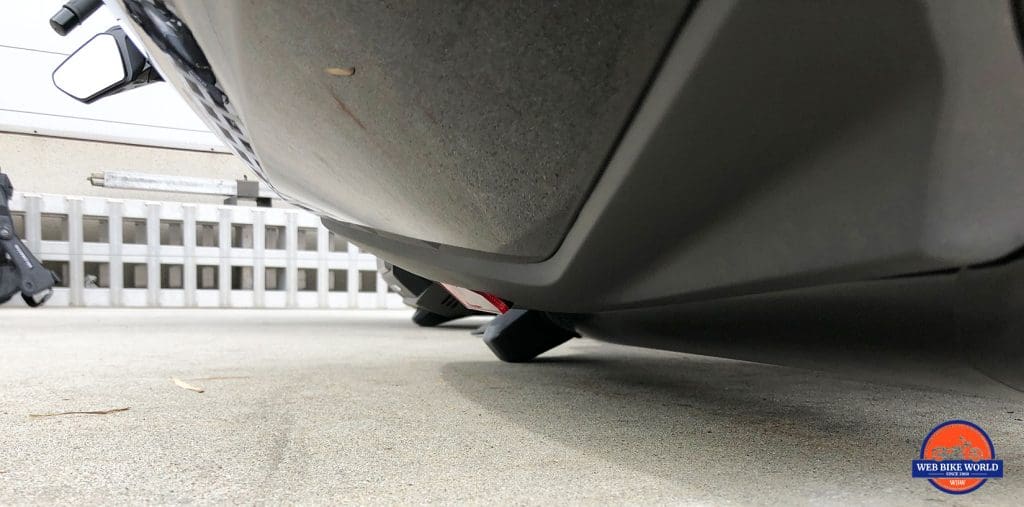 We didn't entertain the thought of doing this party trick with the Chieftain.
Greg:
I found it interesting that there's no easy place to hook a bungee or tie down for a dry bag or day pack on either motorcycle. As Jim mentioned, a quick detach trunk would be a great addition as would be fairing lowers and heated grips for the Chieftain. Both bikes could use cloth saddle bag liners.
Now, about the sound. The Indian thunders its way down the road. You can hear every pulse and it reaches to the depths of your soul. It just begs you to twist the throttle so you get to hear the engine make its music just one more time. At stop lights, you just can't stop yourself from blipping the throttle just to hear the commotion. It sounds wonderful. The Gold Wing is the verbal antithesis to the Indian. It's generic, bland and just plain ordinary.
And anyway, if it did sound nice, and it did motivate you to blip the throttle, be prepared – the DCT takes a throttle twist as a command to go, so make damn sure you want to meet the person in the car ahead of you before you give that throttle grip a little tug. If you just must hear the Honda, just take it out of 'D' and put it into 'N' – but don't forget to undo your work or you'll be left for dead when the light goes green.
All this is a long way to say that I wouldn't bother with an aftermarket exhaust on the Gold Wing, it's just out of character. As for the Indian, I'm pretty sure a fairly large number of owners will add an aftermarket exhaust, and there will be many to choose from but know this, it sounds great just the way it is. An aftermarket exhaust may be desired, but it's certainly not required.
Cell Phone Containment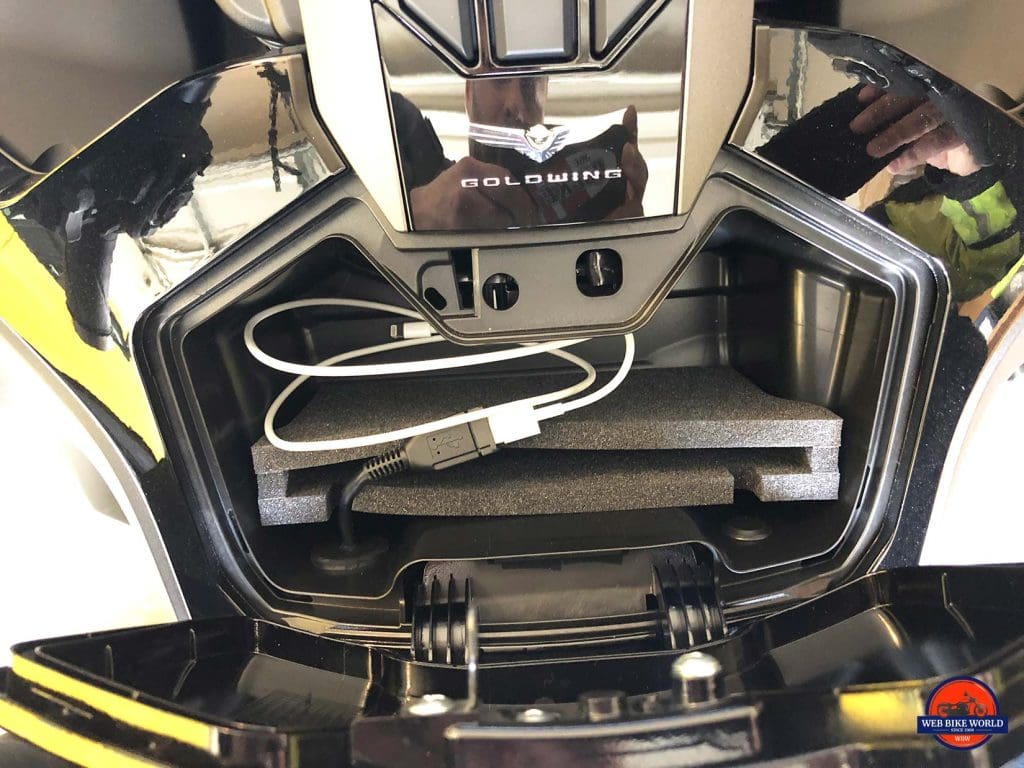 Jim:
Both bikes have a dedicated compartment for holding phones securely without damaging them. My iPhone X fit in them without issue leaving enough room to plug in the USB cable to keep it charged.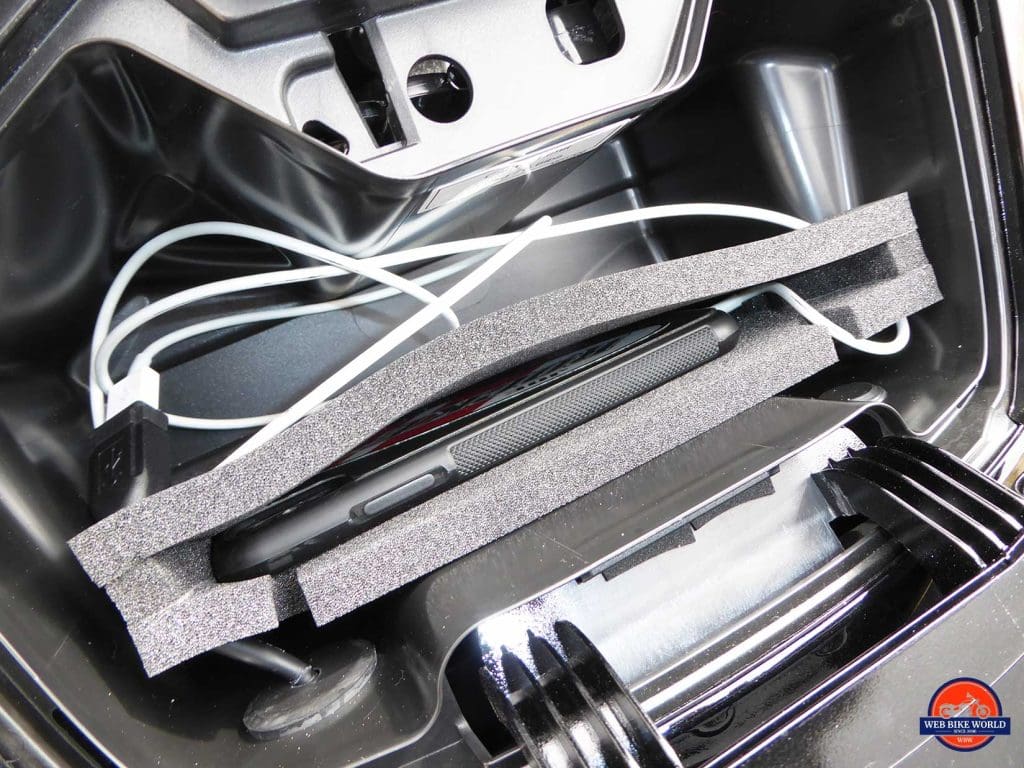 Greg's iPhone 8 was nearly too long to fit in and as you can see from the photo below. This caused the cable end to bend weirdly and threaten to cause damage over the long haul.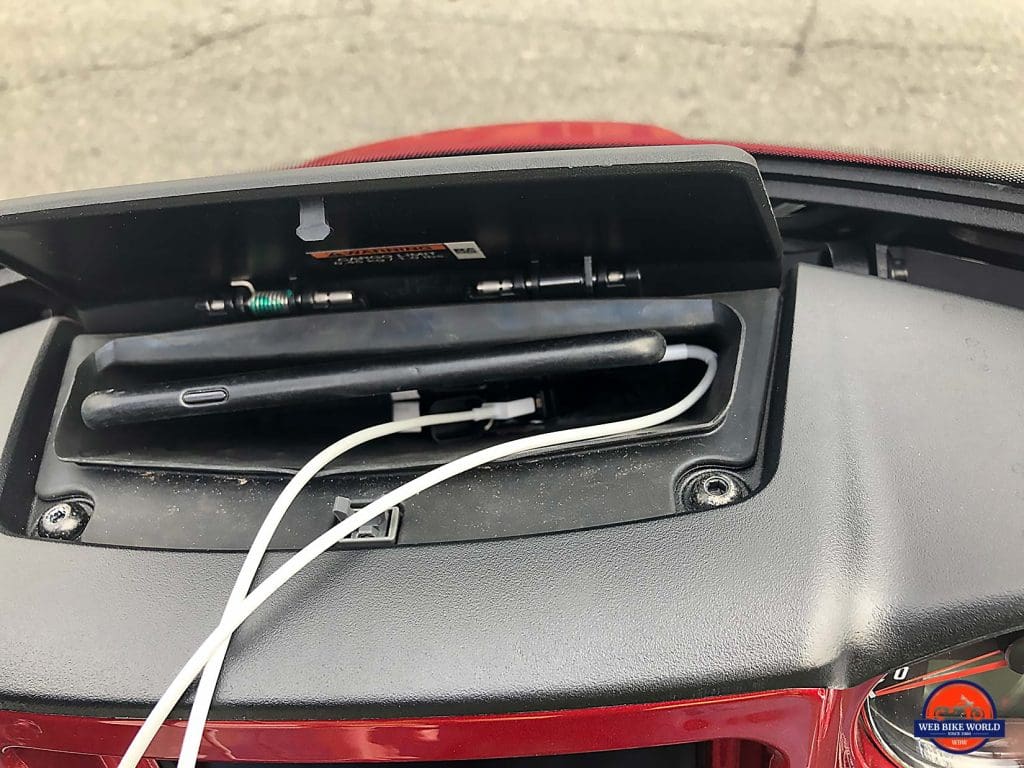 Neither bike has a lock on the lid of these compartments which is good or bad depending on your level of consciousness. If you always remember to take your phone with you it's no worry, but I found myself turning around a few times after I realized my phone was left behind in the bike.
The "sand storm" we rode through also played havoc with the latches on both compartments. Some granules of sand seized up the latches and it was like playing a game of operation getting them to open ever after that.
More About Luggage & Storage
Jim:
The Indian wins the storage war.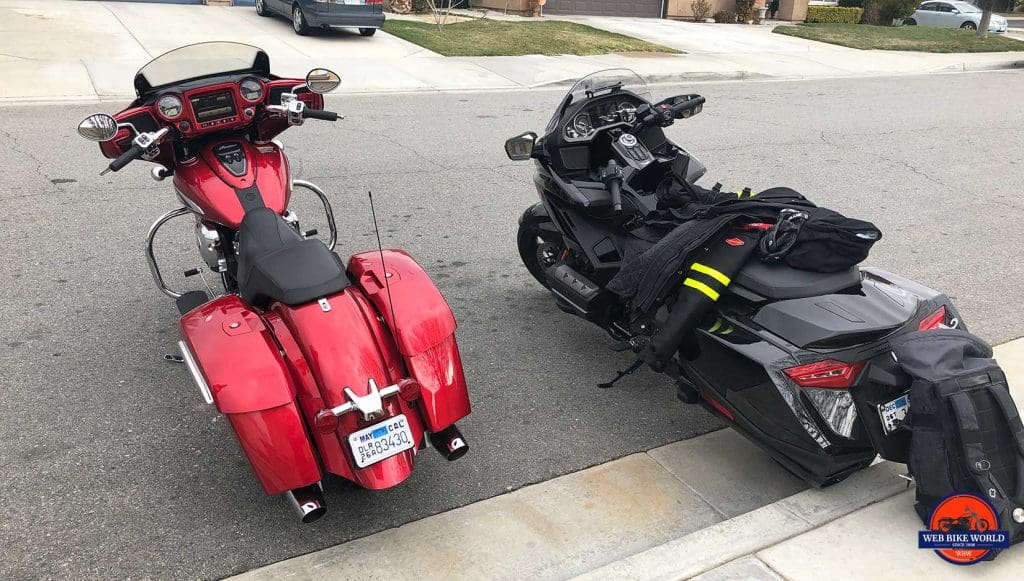 The Gold Wing has storage compartments flanking the rear wheel that can hold a fair bit of cargo. They're dust and waterproof as you can see from the dust outline in the photos below.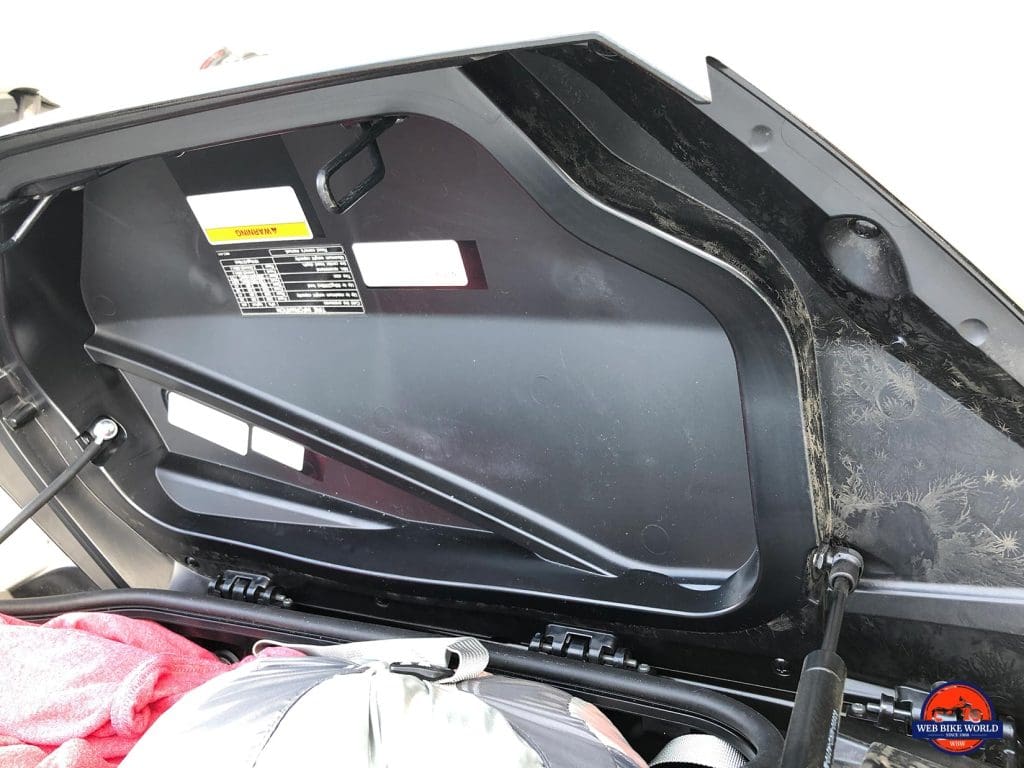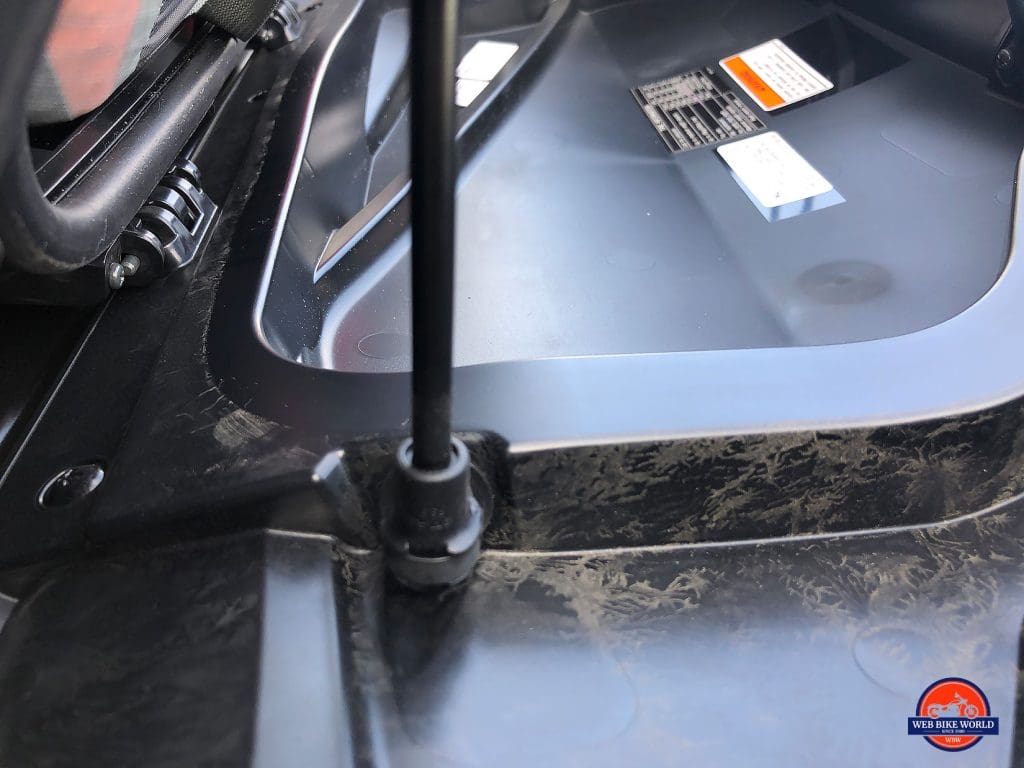 These compartments automatically lock and unlock based on the proximity of the Honda key fob. It's actually very slick to use, except for one irritating thing being the way they open outwards. It makes it difficult to close them at times without getting contents stuck in the seams.
Compare this to the much larger capacity Indian bags that have top opening lids on them. So easy to load or unload without watching your items fall out and roll around a parking lot. Having said that I found it irritating to have to use the key fob to unlock the Indian bags or a button on the gas tank with the ignition turned on. If they worked the way the Honda bags auto lock/unlock it would be way better.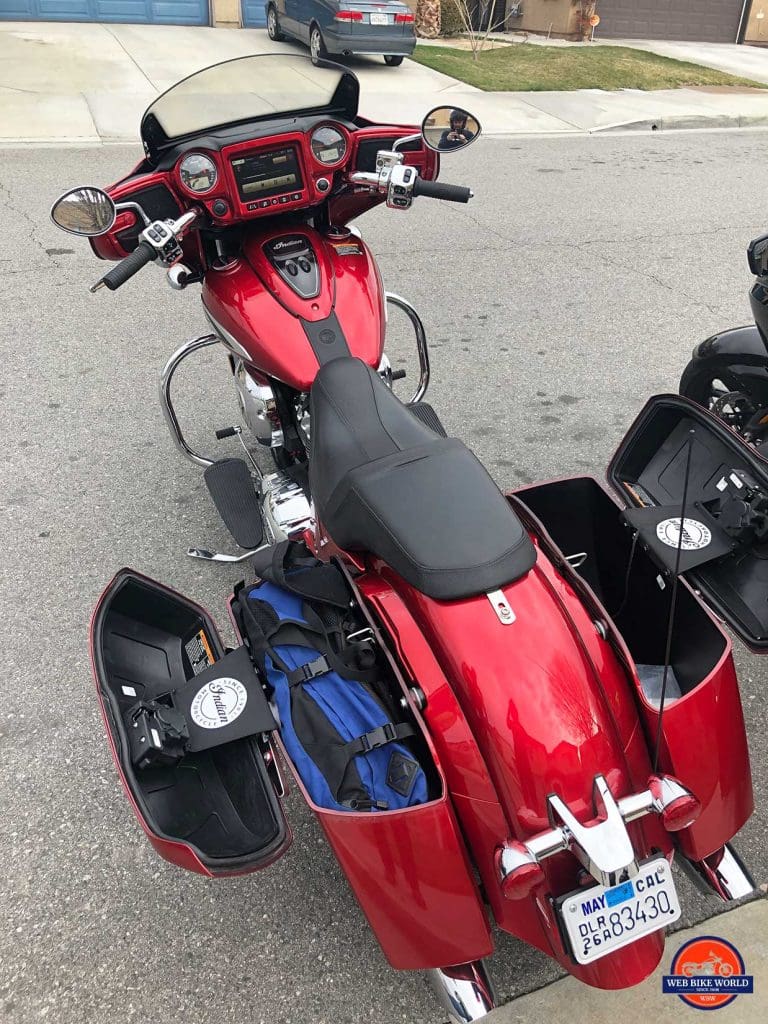 In the end, it's still a win for the Chieftain for me.
Greg:
The locking mechanisms on both bikes are easy to use but the top opening Chieftain bags are way easier to pack into than the side opening Honda bags. With the Honda it's almost a game – hold your stuff in with your hand then close the door faster than gravity can steal away your socks. Both systems will work better with a bag liner but the Chieftain is simply a better system.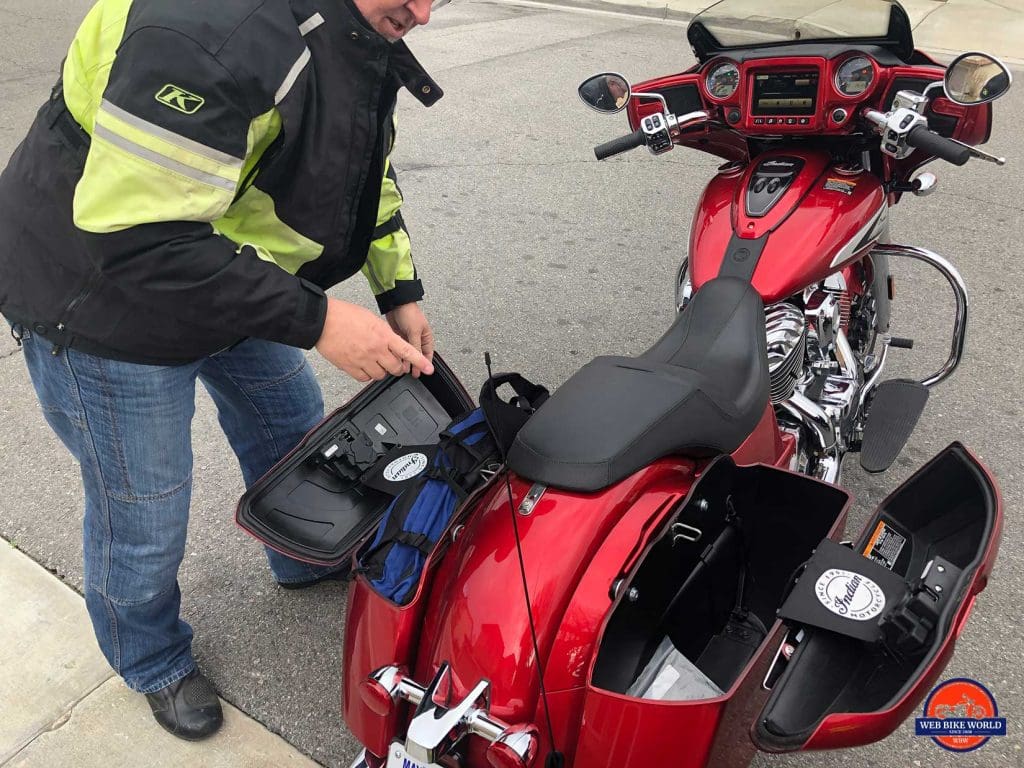 Out On The Road (Or Off It?) Our California Ride Report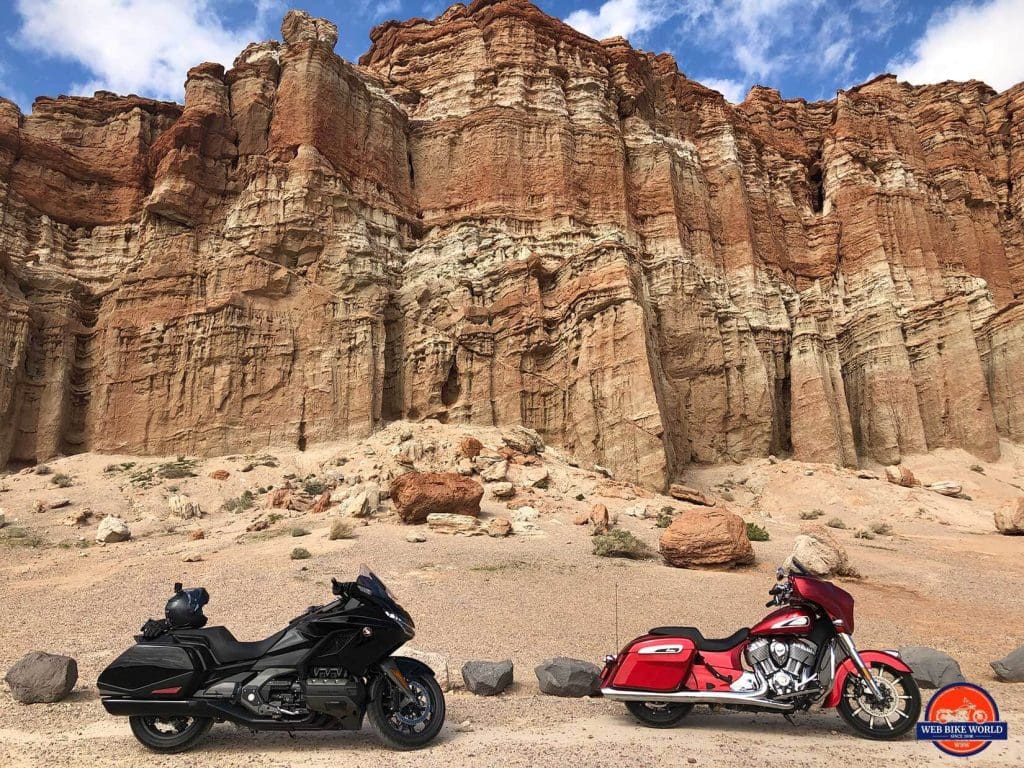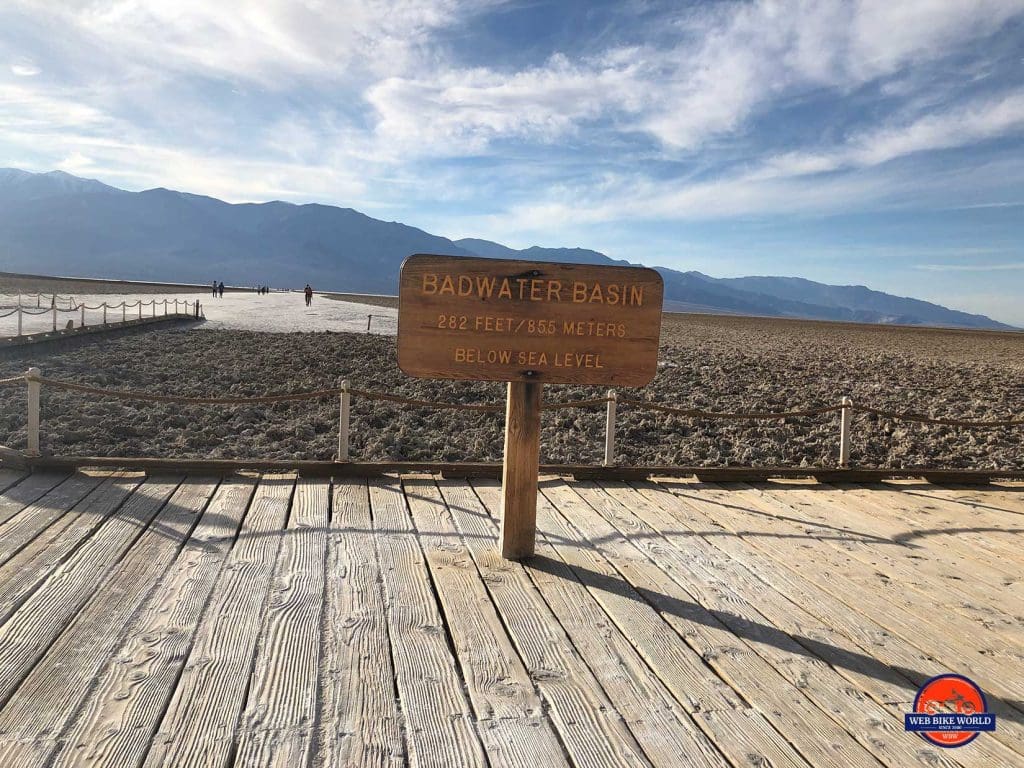 Our test ride spanned temperatures ranging from a low of 50 F (10C) to 90 F (32C). We braved lane splitting in heavy Los Angeles traffic, low level flying on open freeways out in Death Valley, Badwater Basin and as I mentioned a little off-road action. Testing conditions were just about optimal overall to measure these bikes.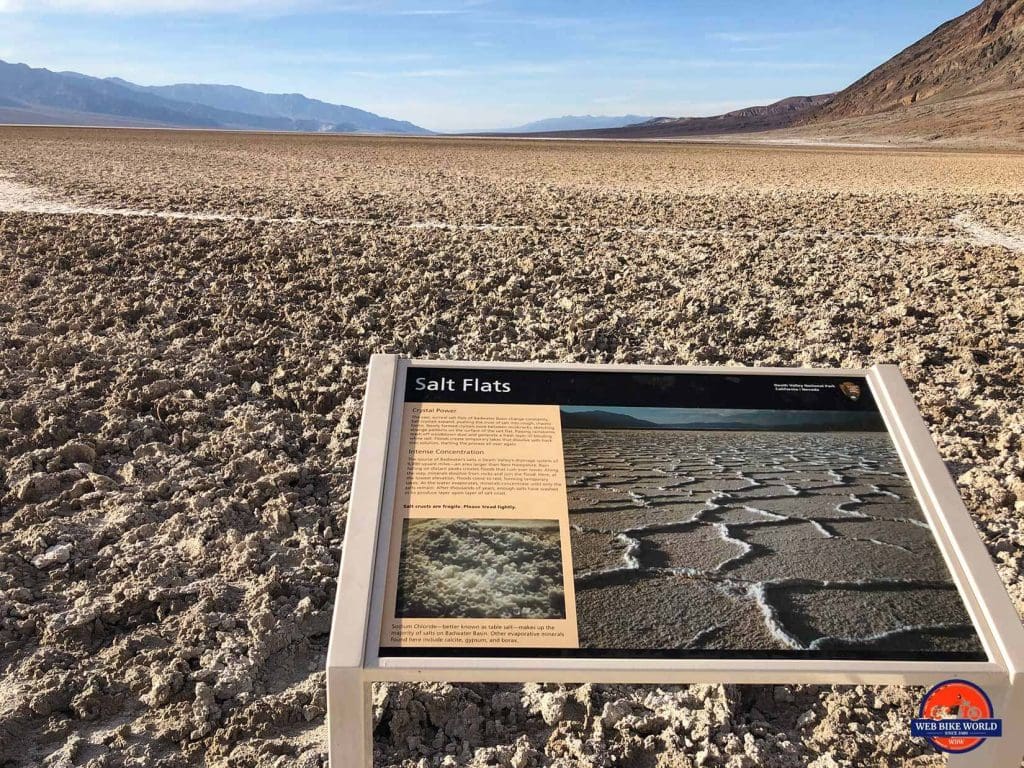 The majority of the time it was sunny and dry, but we did ride in heavy mist and light rain at one point too.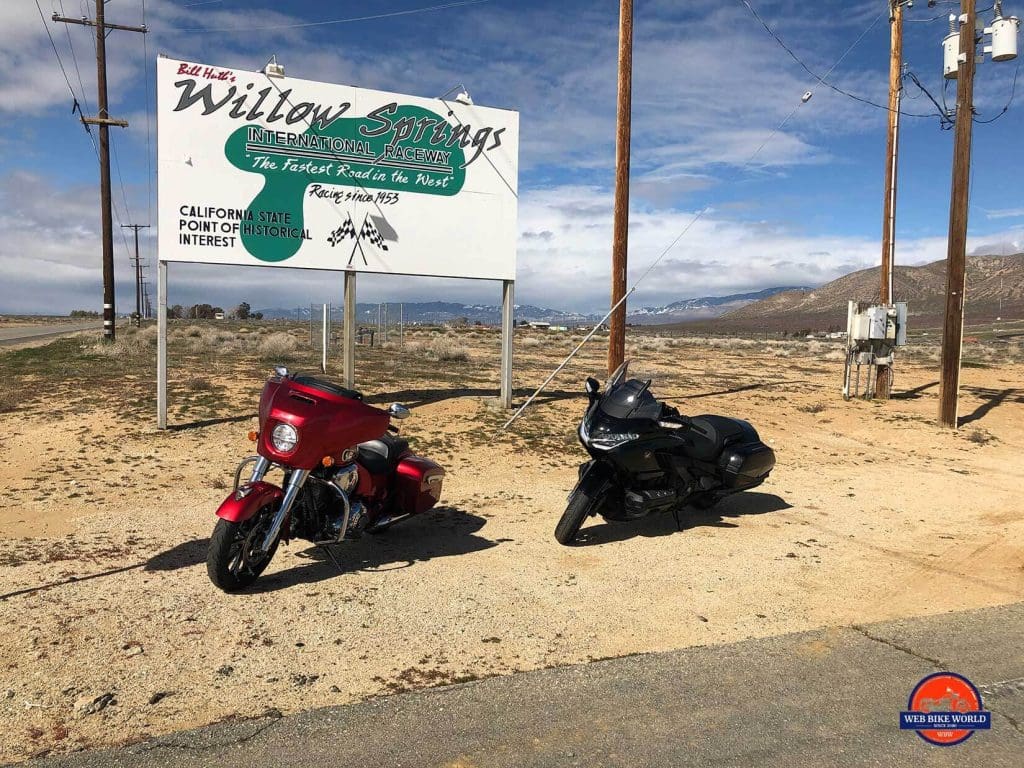 Traction Control?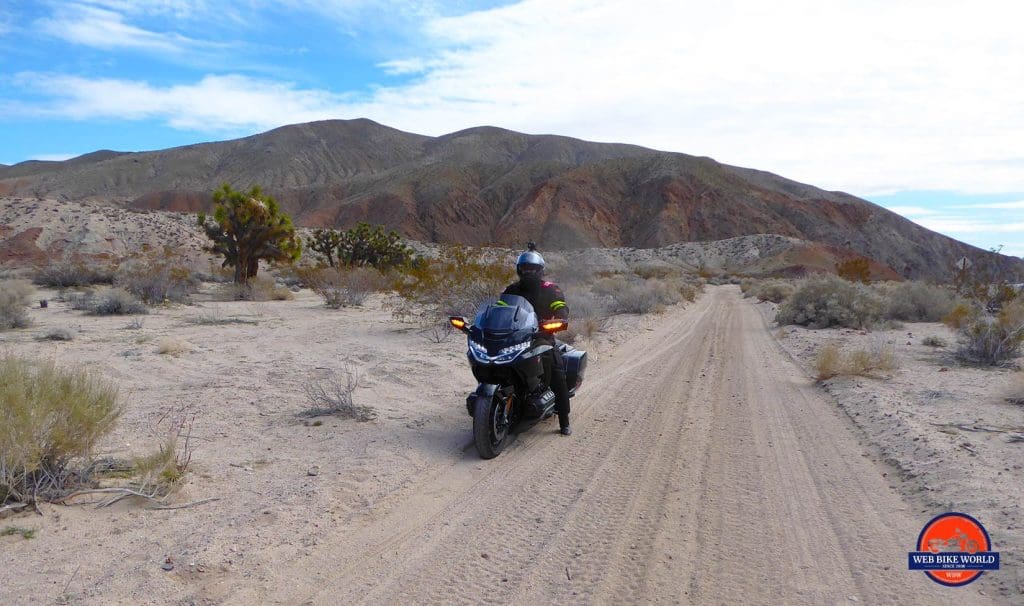 One interesting discovery that came out of playing around in the sand and rain was that the traction control on the Honda allowed me to spin the rear wheel much more than other TC systems I've experienced on motorcycles.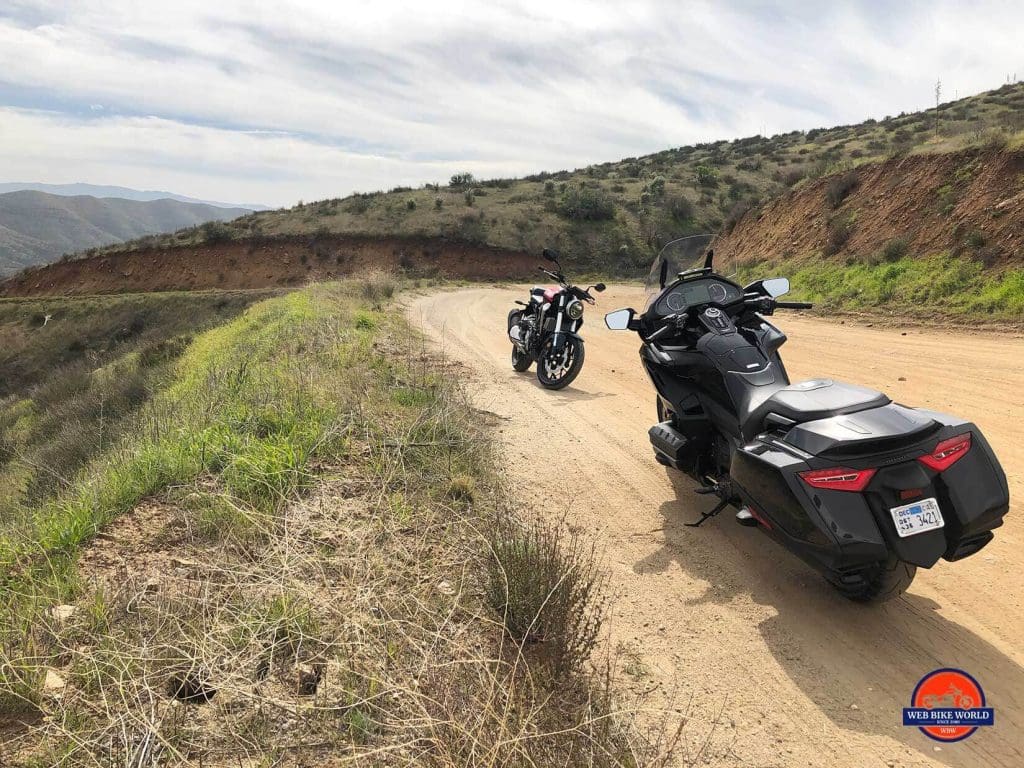 When I rode a manual transmission Africa Twin on the gravel and dirt covered Dempster Highway last year I was constantly having to adjust the TC setting in order to avoid having it rob power from me. Not so with the Gold Wing. The owner's manual indicates this is done on purpose to allow some spin. I didn't experience any problems with the TC while we rode on slick, rain covered roads and I was wondering if the bike had the feature at all. That's a positive in my book. If you don't notice a safety feature working then it's either broken or tuned in perfectly.
The Indian doesn't concern itself with traction control and will kick out the rear tire at will in the sand, but I didn't notice any problems on wet roads despite the massive torque available on the bike.
The Final Verdict?
Jim:
At the end of this review, I think we answered many questions about these two fine motorcycles but the two most interesting ones are;
Is the new "Batman" Gold Wing DCT finally cool enough to hang out with Harleys and Indians after such a major revamping? Has it become more than a one-dimensional touring juggernaut?"
For me, the answer is almost.
It's a fine effort by the Honda design team, but you may still get beat up if you park this bike in a lineup outside a biker bar. No, it's not par with the really cool bikes out there yet, but Honda has at the very least cracked open the door to being stylish.
I'm positive no one will call you Grandpa out riding it around town. I think this design is a major step forward for them and I see recently that this same bike was customized by Kevin Dunn, Duy Nguyen, Jimmy Chen, and Ray Tong, of Southern California's Steady Garage to produce this "Cool Wing". That version of this bike (pictured below) would fit in with the other custom cruisers outside the bar, in my opinion.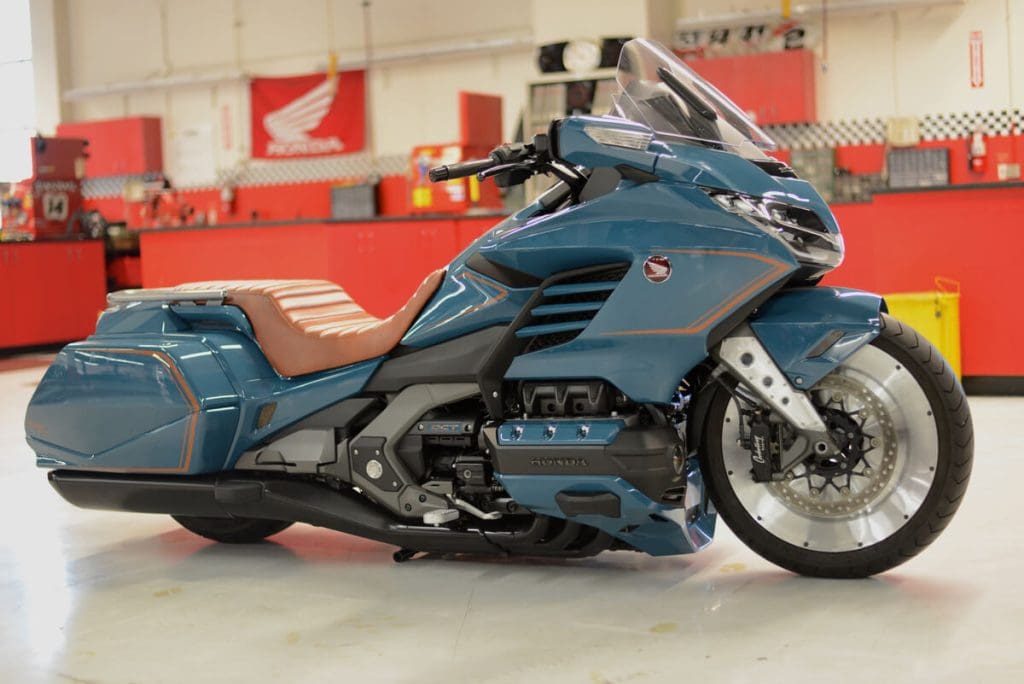 Photo from Honda Media
Let that sink in for a moment. The Gold Wing is actually kinda cool now.
Even more surprising to me is the fact that given the choice today which of these two bikes I'd personally buy, my money would go to Honda.
I had no idea I was a Gold Wing guy…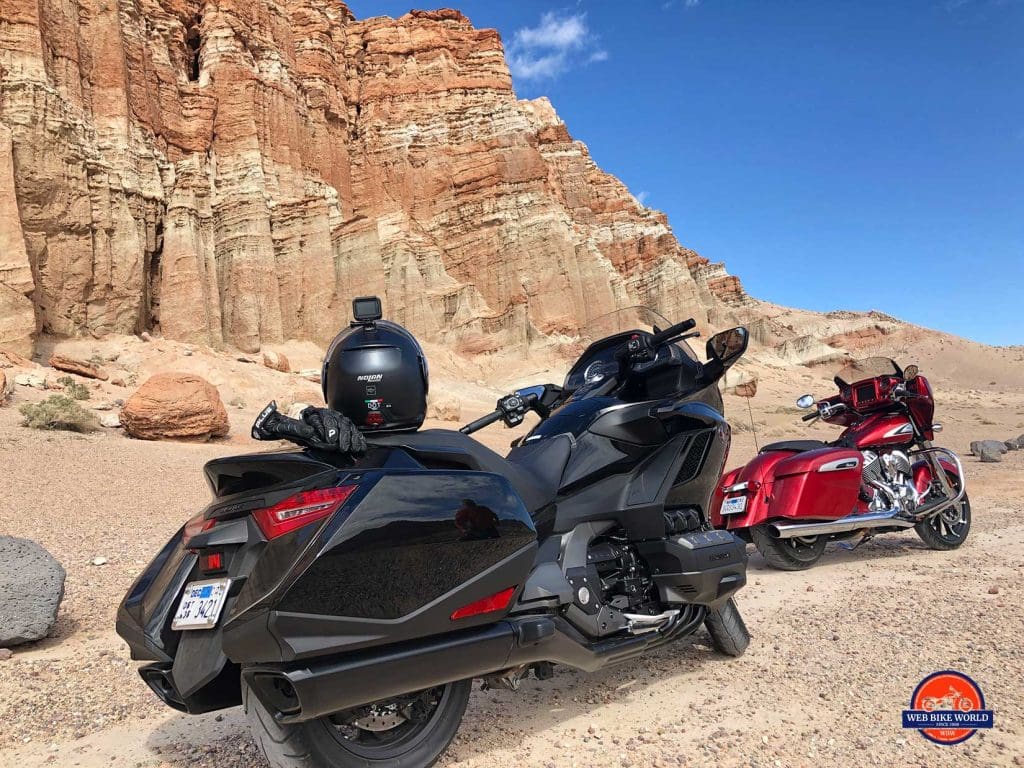 Ok, maybe a slight inkling lay deep in the back of my subconscious and riding this machine brought it to the surface. I think if more people took the opportunity to try one they would become a fan too.
Given a month I'm confident the technology controls would become easier to use for me on the bike and the noisy DCT would be forgotten if not simply tolerated. This bike is too damn good, period.
I can't bring myself to place great looks and personality ahead of the performance. Motorcycles to me are primarily about the power to weight ratios, mind-numbing acceleration, and carving corners. If you're in the opposite camp then I'm sure the Chieftain will definitely be your cup of tea.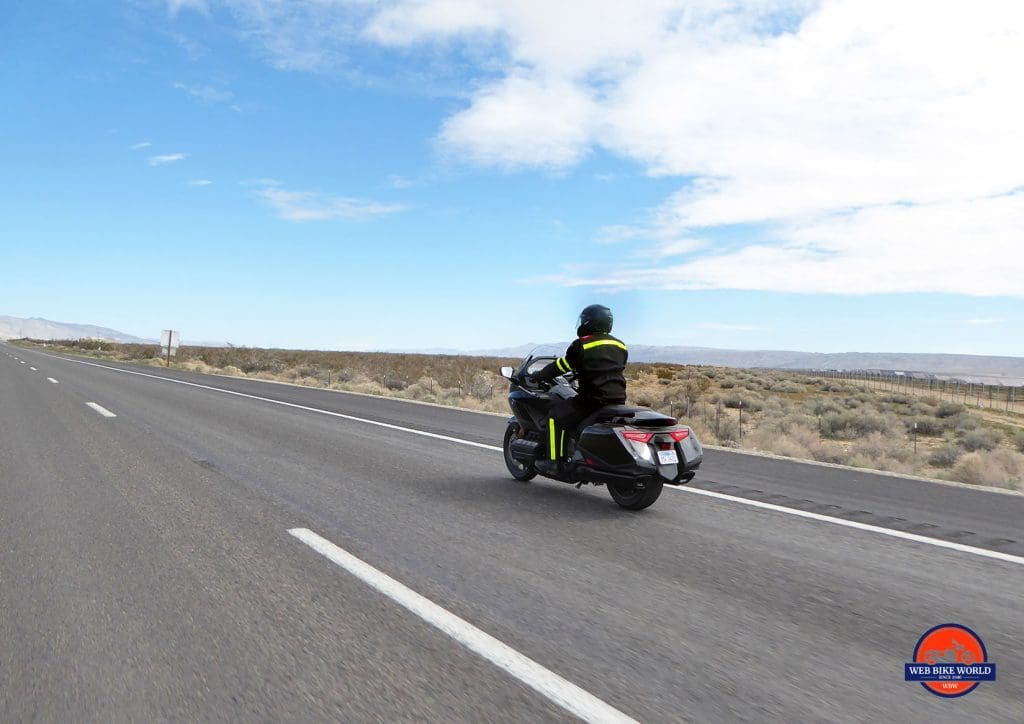 "Is the new Indian Chieftain Limited refined, comfortable, powerful and technology-rich enough to compete with the "touring elite" machines on the market like the Gold Wing, BMW K1600 and company?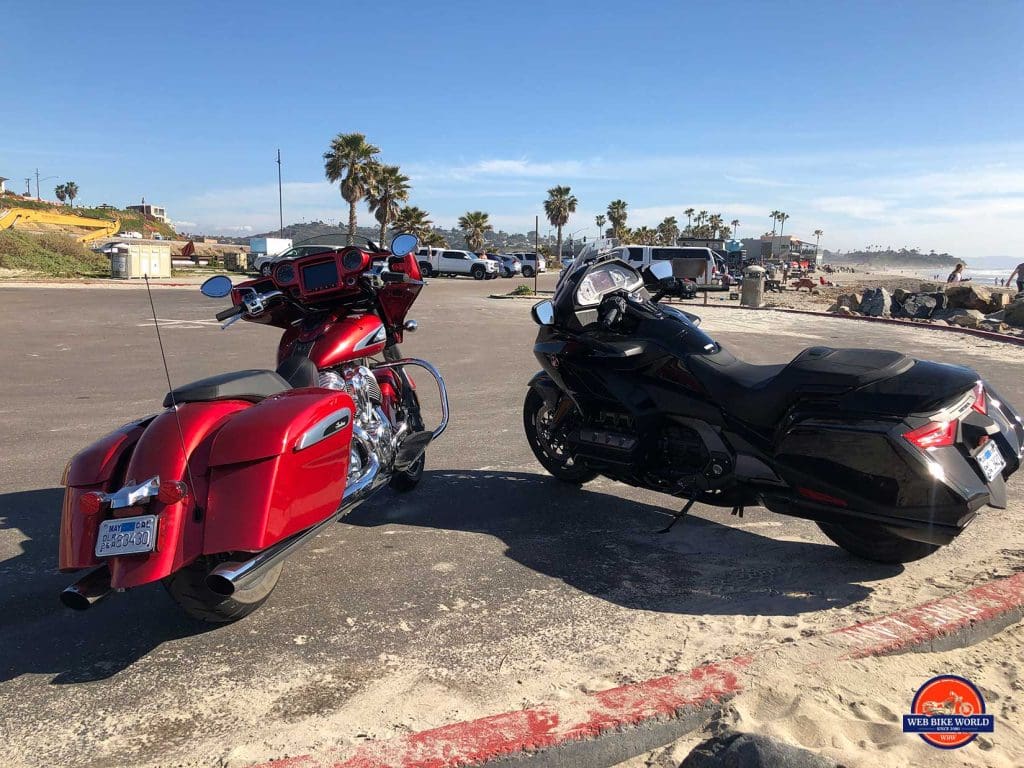 Much the same as with the Honda the answer for me on this one is close but no cigar.
I feel the mechanical issues we encountered with the Chieftain Ltd weren't the norm for this motorcycle based on other owners' experience. I think the one we got hold of hadn't been checked over thoroughly beforehand the way it should have which led to some unusual issues.
It's important to note the bike never did quit (initial battery issue notwithstanding) and got us everywhere we wanted to go despite our concerns.
The Chieftain Limited is legitimately in the discussion when compared to any competitor product so long as you don't need to seriously compete with the much more powerful Gold Wing or BMW bikes etc out on the highway. Speed isn't everything to everyone after all. Having said that, I bet there are Trask turbo kits that could be fitted to the Indian if someone was so inclined to keep the contest from being the blow out it currently is.
I'd need to put a better seat on it and manage the wind buffeting better with add ons, but the technology package is there already and Indian has built a great machine in the Chieftain Ltd. I would say Indian is closer to being an elite touring machine that can double as a "cool guy bike" than the Honda is at being a touring bike that is also "cool".
There is still a significant price difference to consider but the Indian will retain its value like a Harley Davidson does even over 10 years or better than most Japanese bikes do.
It's like art or sculpture you can ride around on and people will willingly pay more for beauty.
So, in the end, Honda won the battle on overall merit (as expected) for my nod of approval, but I'm not above casting a wayward glance the Indian's way again someday.
Greg:
I loved the Indian. I just loved it. It was stunning to look at, it sounded better than an ice cream truck on a hot August day and the motor moved me in a way that the Honda mill never could. And to me, that's what it's all about. Motorcycles are not about efficiency or convenience, they're about emotion. Motorcycles touch you in a way that other forms of transportation can't, they reach in and take you away – even before you've started moving. The Indian does that in ways the Honda never can.
The Honda is a wonderful machine. It works perfectly, looks nice, goes like hell and is incredibly comfortable doing anything you ask it to do. It's simply excellent.
People frequently ask me what motorcycle they should buy. I tell them to go to the motorcycle shop, they'll know when they see it. You really don't get to pick a motorcycle with any measure of empirical information, your heart picks it, not your brain. It's certainly wise to be informed but your heart gets the final say. We all know that.
So, for me, the Indian wins.
Except it doesn't.
Although the Chieftain knows exactly where to grab you, for me, there's no happy ending. These motorcycles are meant for the open road, chasing sunsets and languishing outside roadside diners. Unfortunately, I just couldn't surrender the thought that the Chieftain was going to let me down somewhere far away from, well, everything.
The issues we had were substantial enough that they gave me pause on its ability to return me back to the routines of daily life. When you're cruising down the open road your mind has time, time to think, time to ponder. Even time to wonder if that check engine light is critical or not, and that just chews away at the fun.
So, the Honda Gold Wing DCT wins. And it wins because it's excellent. It's wonderful to ride, it'll bring you places you just need to go and see – and you can be as sure about this as you are about anything, that it'll bring you home. Now that's a happy ending.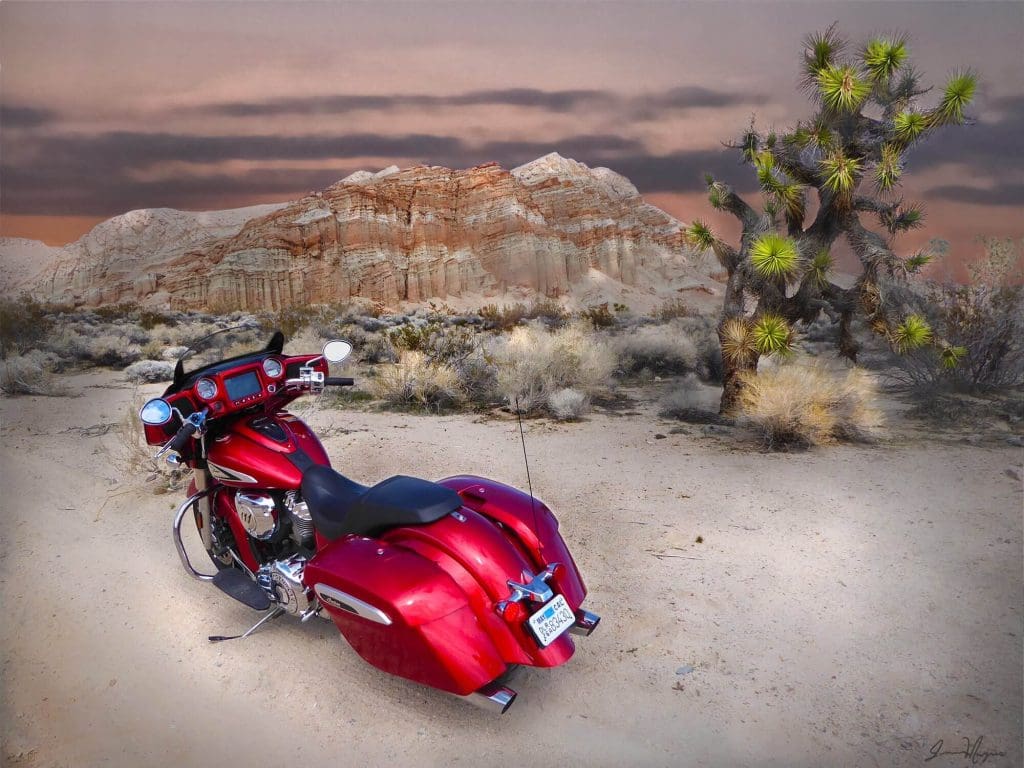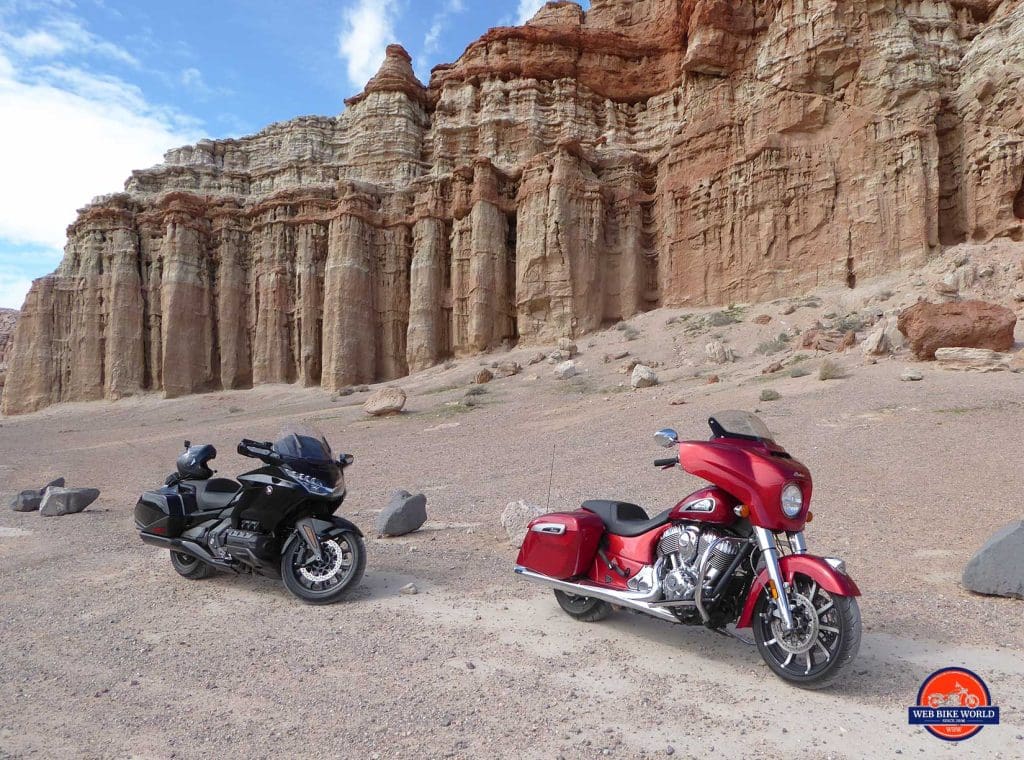 2019 Honda Gold Wing DCT vs. Indian Chieftain Limited Matchup Gallery