I remember reading a financial self-help book a long time ago (when I was quite young) and one of the nuggets of advice the guru imparted was this very catchy phrase: "Trend is your friend".
I didn't quite fully understand how this could help improve my finances, but ten years later and in the current down economy, with premium priced transport and soaring fuel prices, one look at the new Momos (Sachs) MadAss 125 made me remember those words…and another look at the MPG figures got me understanding that trend CAN be your friend!
And now for something completely different!  An interesting review of the wild 'n' wacky Momos Sachs MadAss 125…scooter/motorcycle/two-wheeled conveyance.
What is it? A category-buster for sure!
And just for good measure, a tour of the Mofaz factoryin Kuala Lumpur, with a gaggle of photos of more two-wheelers that defy convention.
Thanks to Yahaya Abdullah and the Mofaz staff for this report!
First Impressions
When I first saw photos of the MadAss 125 in a magazine a few years back, I was stunned. Collecting myself for a few seconds, I then thought "Naaah, this is just a prototype or DIY project that someone with a lot of time on their hands built in their garage!"
But after more research, I discovered that it was a real production bike and it was already for sale in Europe!  Never would I imagine that such an outrageous looking machine will arrive on Malaysian shores. Well, thanks to Mofaz Motosikal Sdn Bhd , it has — and as the factory is located just down the road from where I live, I took the opportunity to ride one the moment I discovered that they hung up the bike's advertising banner! 
Mofaz Factory Tour
a tour of the Mofaz factory, and here's his report.
Closer Inspection
I was expecting to find a mini bike, styled for small teenagers or vertically challenged people, closer to the famous Honda Monkey or Kawasaki KSR with small wheels and hidden-between-traffic-seat height.
Upon entering the Mofaz Factory, I was greeted by Mr. Nizam Selamat, the Sales Coordinator and Race Team Manager,  and Mr. Ahmad Rizal, the Assistant Sales Manager. They wheeled out the bike and BOOM!  I was completely caught by surprise at my first live view!  Definitely not a mini bike at all!
The MadAss 125 is full sized and climbing aboard, I confirmed that it's actually sized for normal people. I am 5 feet 11 and a half inches and sitting on it was quite on the tall side, with my feet stretched to the ground from the very plush padded wide seat.
Mr. Nizam realized my surprise and to assure me of the well engineered sizing, he jumped behind to sit on the rear seat and looking in the wall glass reflection, was quite all right!
Details and Style
The first thing that jumped out to me, or rather not jumping at all, was the instrumentation. I was searching for the speedo/tacho/fuel meter but couldn't find any!
There was an LCD dash — much like a bicycle cyclo computer — and that's it!  The usual blinking and lights indicators were there but nothing else.
Sparse is the word here and later on while riding I got to understand the reason, maybe even intended by the designers. Standard switchgear for the turn signals and lighting were there, and the LCD dash was showing all the necessary info; speed, clock and trip, so I guess it was quite enough.
The front end of the bike is unique, due to the stacked ellipsoidal headlight. The lower light is for normal use, while the upper light is the high beam. Both are projector-type lights.
They are really bright and sharp, even in broad daylight, making the bike very visible. The rear brake lights, with LED bulbs, are not only trendy, but bright and safe to look at — beautiful even, when the brakes were pressed.
Wheels are also trendy-looking, with three wide spokes in their 16 inch diameter. Before I go on, I would like to contain my excitement first, because the next few details really blew me away!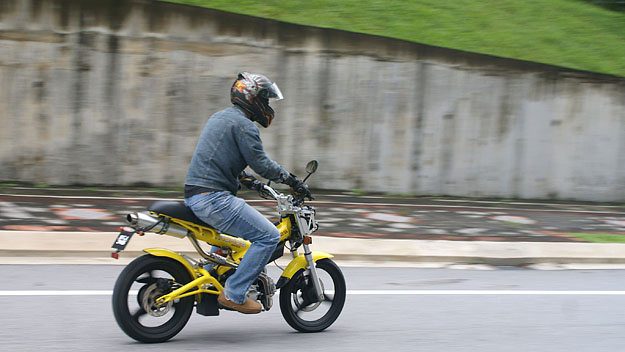 Revolutionary Design and Concept
First let me describe the fuel tank. There is none! The frame main tube acts as the fuel holder and can hold 5.1 litres of petrol.
There have been other bikes with this concept (namely Buell) but it seems so seamless and neat on the MadAss, you may see it as mind-blowing or wonderfully bizarre, almost understated.
The seat tube is connected straight from the frame (like a beam frame bicycle) with bolted on brackets holding the plush and comfortable seat. Really weird looking, but eccentric and eye catching at the same time.
The rear triangle is made of double bent tube banana swingarm on both sides that looks just like the real fruit!  A monoshock is bolted to a mounting between the spars of the frame and seat tube sans linkage.
With an exposed single cylinder air cooled engine, the air filter snouts cling to the bottom of the fuel tank, looking like a wild predatory animal's nose. The most prominent feature though, is the stainless steel under seat exhaust with conical muffler and large swept cut silencer tip!  Can you say Ducati?
All in all, the build is very solid, with all fasteners, screws and pieces held together very neatly, and fit and finish is very high quality. I could say that this bike gave me a good feeling about it, even whimsical in fact!
Riding Impressions
"Hmmmm, where do you insert the ignition key?" I mumbled to myself, trying to locate the switch. Mr Nizam, sporting a polite smile, directed my hand towards the left side of the bike, in between the stacked front lights.
Luckily I was looking the other way, as the red on my face was as evident as a tomato. Thumbed the starter, made my self comfortable on the saddle, I reached for the bars.
Now I am going to tell you of another flashback to yesteryear. If you have ever ridden a "Chopper' style bicycle, you will know exactly what I mean. The ergonomics of the MadAss is almost as eccentric as the styling. The seat slopes forward gently, just enough to make you want to grip something with your knees, but there isn't any tank!
And something else that's weird about the riding position — the bars are swept back gently, almost like a cruiser, making you push your body backwards on the seat. Kind of a Ying and Yang situation here, where both ends are trying to compact you in the middle.
Smaller/shorter riders might have some issues, but coupled with the plush seat and wide bars, it felt quite comfortable. While on the move (more on this later) the fairly forward feet placement and soft rear suspension, turned the seating position very ideal for comfort and control. This bike gets weirder by the minute!
Here We Go!
I live in a very hilly area, so testing the power characteristics is ideal. Prior to our proposed ride destination, I rode the bike in the factory compound. Leaving the showroom in a rather gentlemanly manner so as to not upset Mr. Nizam, I took to the ascending and tight left right lanes heading towards the storage compound.
It was raining lightly at that time and I have to say at normal speeds the bike felt good and planted even in the wet, with enough torque to push forward up the ascends without any sudden dips or jerks in power to make me lose confidence.
That was the initial feeling that I had, and it felt good that the MadAss behaved very well in the wet. I revved up the throttle, expecting an over-revving, shrieking sound to wail on me, but on the contrary, the engine was very smooth and sounded muted. Too smooth for a small displacement single cylinder engine.
Dropping the shifter down a gear and revving the throttle resulted in smooth and jerk free acceleration. At the higher end of the rev range, the power never felt like winding down; it just stayed there, both in sound and thrust. I repeated this sequence in all gears and the sensation as the same, no urgency yet no lost steam too.
It almost felt electric powered and doesn't distract when gliding along the road. My first impressions (which were confirmed later on) were that the bare nakedness and sparseness of the bike was intended by the designers for the rider to enjoy the road ahead.
Getting back to the factory area I decided to let Mr. Nizam take the controls, while I evaluated the passenger capability of the bike.
The showers had stopped and luckily most of the roads we were travelling on were not so damp due to the many trees shielding them from the rain. If you look at the photos, both of us aren't exactly the slimmest guys in the world but I was quite comfy on the thickly padded rear seat with good feet clearance and stretch to the rear foot peg.
On the way to our ride spot I noticed heads were turning at us. The drivers, riders and by-standers were displaying amazed faces not at our size, but clearly ogling at the alien looking machine we were on.
Being quite compact but with wide bars made slashing through traffic a breeze and the light cable actuated clutch never grabbed so as to disrupt the comfort of the ride. Mr. Nizam took us to a scenic and hilly back road where there were fewer cars, and winding up and down the lightly wet road produced no drama at all.
The mechanical grip and tyres were surprisingly good at riding at a brisk pace. Cornering two up at 40 mph speeds (I was glancing all the while at the speedo) on the ascending-descending and winding road didn't faze the 16 inch CST tyres and the suspension were in their optimal stroke range.
Sudden braking while avoiding pot holes, water patches and cars didn't bottom out either end of the suspension, evidence of good spring rates and well thought out design. We finally reached our destination, where I can say that engine performance is fine for a 125 cc bike, with minimal vibration and plenty of torque, moving up the hill at a comfortable and enjoyable pace.
Momos Factory Tour
Yahaya also took a tour of the Mofaz factory, and here's his report.
Handling and Cornering Prowess
Upon arriving at our intended spot, I rode solo while Mr. Nizam took a breather at the road side — a beautiful strip of road, secluded with even more winding sections to test the handling.
I left Mr. Nizam with a promise to be back soon, in one piece, and away I zoomed!  Going through several "S" section corners, downshifting a gear to get into the ideal power range, the chassis was very composed.
Riding solo proved the bike was very flickable through the fast flowing left-right-left, with the suspension never wallowing or bottoming under hard braking for corner entry. I stress again the spring rates for both front and rear shocks is surprisingly spot-on with rebound just nice enough for feel and control.
For adjustability, only the rear shock is adjustable for preload, and — get this — with air compression. You can actually fill the rear shock with air at your local gas station with the standard air inflator!
The front right-way-up forks (in Indonesia they a have an upside down equipped MadAss!), although not adjustable, was behaving extremely well, compressing and rebounding very comfortably and firmly. In my opinion they didn't need any adjustment.
I know the MadAss wasn't made for racing or sport riding, but the suspension and chassis took my racer boy antics in stride, with a quality usually missing in cheap small displacement bikes.
Foot pegs, although a bit forward and low for comfort, had plenty of ground clearance and I don't think they'll ground even with hard cornering manoeuvres. Again, the MadAss had really good grip and charging the corners at 55+mph speeds felt good and stable. Two thumbs up for such a good set-up, providing good feel and mechanical grip, resulting in sure footed cornering.
Engine Power and Characteristics
Riding two-up on ascending and descending winding roads quickly shows the power and character of any bike's engine.
The MadAss performed really well with minimal amount of vibration and buzz going up the hill at the upper rev range and hard gear changing through the corners. Exploiting the 6 KW power at 8400 RPM and 9 Nm of torque at an early 5400 RPM gave some gusto to conquering the hills with not so much as a wheeze.
Charging harder on the throttle always managed to keep the engine in the sweet spot, with enough thrust to keep the rider out of trouble. Downshifting gave a just nice amount of engine braking for extra grip, without the usual shrieking and wailing and the rear wheel didn't snake and fish tailed much even with my racer boy's shenanigans.
Riding solo showed that although the engine was willing to be revved, keeping it at peak horsepower and torque made for a seamless and light feeling engine that felt sporty and fun, never intrusive in sound and vibration.
The cable actuated clutch was ultra light with good feeling, shifting through the 4 speed tranny (1 down, 3 up) proved very precise and light. I never missed a shift and neutral was very easy to find.
The exhaust note is very quiet, really contrasting to the bare mean look, and in the higher revs just gave a muffled thumping sound that you'd be hard pressed to keep your ears on. All in all, a sedate engine that is definitely rider friendly, but spritely and brisk enough to keep you entertained.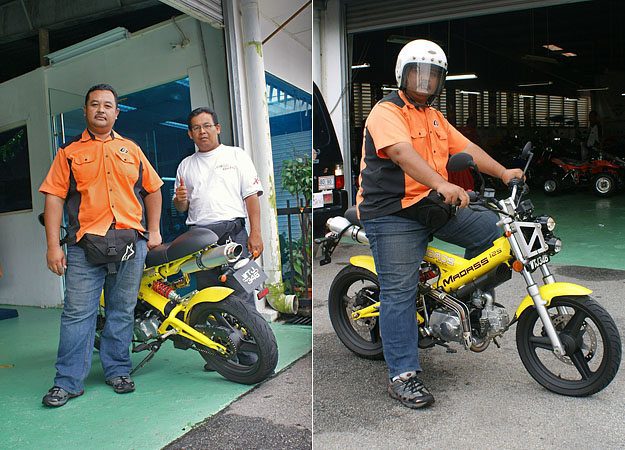 Braking Performance
One area which took me by surprise is the power of the front brake. A single disk gripped by a twin-piston caliper stopped very abruptly even with a little touch to the levers.
My complaint is that the feeling is good but initial bite came almost immediately as soon as the lever is squeezed. It took me quite a few tries to come to grips with the ferocity of the bite, so safely braking the MadAss takes some practice.
The rear brake, a single disk with single piston caliper, was a little soft and coupled with a low feel brake pedal it made a squeamish combination, where I needed to stamp my feet hard on the pedal, while also trying to be gentle as possible so as to not lock the front. But for what its worth, the brakes will stop the bike, only that maybe you'll need a racer's braking finesse to stop the bike safely and controllably.
Freeway Frantics
Finishing up on the performance evaluation of the bike, I decided to bring the MadAss to a rider's real world situation and environment: the freeway.
With me at the controls and Mr. Nizam now pillion, we zoomed through the remaining twisties and turned into the freeway. It was rush hour traffic and we were caught right smack in the middle.
Entering the freeway we had a bit of a distance of less traffic, and chugging along at an indicated 75 KM/H (46MP/H), the MadAss was comfortable. The lack of fairing and bodywork gives a sense of nakedness, yet it wasn't a feeling of invulnerability, just an uncaged feeling of freedom since there's no restricting view of the whole road and other vehicles.
At these speeds it stayed with traffic very well and the tallness of the bike made for a high visibility ride for both the ride and traffic. There was no mini-bike feel to make the rider seem hidden and engulfed, and I saw several drivers trying to make out what was zipping alongside them, bright yellow and all!
The wide and slightly swept back bars were comfortable, and upon reaching the thicker and denser traffic helped sift through cars and other four wheelers safely as my hands were tucked in more, with a high level of leverage. The mirrors, which were slightly buzzy while I was corner carving at high revs earlier were perfect in this situation, being wide enough to see rear conditions, while tucked in enough to not get caught on car's side mirrors.
Let me tell you that even with both of us heavyweights on board, the bike's low weight of 100 kg, coupled with midsized 16 inch wheels and high leverage handling, the MadAss easily carved up traffic with nary a twitch. It is very composed at tight and sudden low speed turns and lane switching, as it was earlier shooting through the twisties at barely legal speeds.
The meter was showing the speed in very clear, easy-to-see-at-a-glance look and now I understand the sparseness of the design is intended so as to not intrude with the naked uncaged feeling of the barebones for the rider to enjoy the road and ride!
w

BW

 Video: Sachs MadAss 125
That's a Wrap!
We turned out of the freeway and U-turned at a traffic light heading back to the factory. One thing that was obvious is that the bike is definitely a head turner. Everywhere there was traffic, I could make out drivers and passengers eye-balling us, and riders and pedestrians were literally turning their heads with trying-to-control-myself expressions and smiles of amazement.
The bright banana yellow colour really helped and in case, but in case you'd like your MadAss in a different eye-catching colour, red, silver and black are also available.
We reached the factory and I quizzed Mr. Nizam on the top speed, fuel consumption and basic maintenance. The figures are 65 MP/H, 180 KM for 5.1 litres of fuel (!), and minimal costs for service such as engine oil and chain lubrication and adjustment.
Another thing to take note here is that there is absolutely no storage space whatsoever, maybe in keeping up with the barebones concept and feel, so you might have to bolt on a storage box if you are always carrying things.
Mr. Nizam told me that he has been long term endurance testing this bike since October last year prior to its market release and is happy to report that there has been no failure on any of the parts yet.
Special Thanks to Mr. Nizam Selamat and Mr. Ahmad Rizal!
Coming back to the advice of that financial guru, "Trend is your friend", it really made a lot of sense to me now to get something that:
Makes me look like latest trendy celebrity;

With its outrageous design, gives me a big grin every time I ride it;

Is also economically trendy because the fuel consumption is a planet-saving 180 km for 5.1litres (+-140MPG!!);

Is maintenance trendy as this is following even MotoGP and F1 rules, where the engine has to be long-lasting and requiring less maintenance, resulting in less wear and tear of both machine and rider (pocket/wallet);

And the most important trend to follow, this bike made me feel like a college kid again, deducting at least 15 years of my age!  Now I can throw out all those vitamins supplements and anti aging cream and hair colourings!
MOMOS Sachs MadAss 125 – Specifications
Engine
Engine: Air-cooled, 4-stroke
Displacement: 119.7 cc
Bore/Stroke: 52.4 mm x 55.5 mm
Max Horsepower : 6.0 kW @ 8400 RPM
Max Torque : 9.0 Nm @ 5400 RPM
Compression Ratio: 9.3:1
Fueling: 1 x T.K. Carburettor Slider
Ignition : DC-CDI
Engine starter : Electric and kick start
Transmission
Transmission : 4 speed manual
Wheels and Tires
Front Tyre Size: 90/90-16
Rear Tyre Size: 120/70-16
Front/Rear Brakes: Hydraulic disc
Dimensions, Weights and Capacities
Dry Weight: 100 kg
Dimensions (LxWxH) : 1840 mm x 760 mm x 1035 mm
Wheelbase: 1235 mm
Seat Height: 835 mm
Fuel Capacity: 5.1 litres
Colors
Silver, Black, Red, Yellow
Price
Price: RM 5,800.63 ($2,699.00 in U.S.A.)
Warranty: 1 year or 10,000 km (2 year in U.S.A.)
Design: Germany
Assembled: Malaysia
Manufactured: China
U.S. Distributor:  Peirspeed (Georgia)
More wBW: Motorcycle Reviews  |  Mofaz Factory Tour
Note:
 For informational use only. All material and photographs are Copyright © webWorld International, LLC since 2000. All rights reserved. See the webBikeWorld® 
Site Info page
. Product specifications, features and details may change or differ from our descriptions. Always check before purchasing. Read the
Terms and Conditions
!
Owner Comments and Feedback
---
From "J.C." (7/10):  "I've always thought the Sachs XTC was one of the most beautiful bikes made. If they put this engine in the XTC frame and bodywork, I'd buy it in a heartbeat."
---
From "K.M." (7/10):  "I just saw your review of the MadAss 125. Here in the USA they are imported by Peirspeed and sold through local dealers.
The seating position is indeed unique and I also found myself looking for a tank to grip. The seat height is quite high for me at 5′ 7″, but there are two bolt holes for the shock to mount and the bike in the pictures is currently on the upper. Moving the shock and adjusting the preload lowers the seat about 1.5″.
The bike is fun to ride around town (86+ mpg) and got a lot of looks when I took it to the local bike night. It is limited to about 55 mph, so no freeway driving, but at 290 lbs I can easily load it in the back of my shortbed pickup and take it anywhere.
There are a variety of aftermarket parts for the bike from rear sprockets to complete engine swaps. Thanks for reviewing the bike. I have a lot of fun on mine and I hope more people will get out and try one!"
---
From "G.C." (7/10):  "I just read your review of the BasAss125. The bike immediately appealed to me because it reminds me so much of my first bike; a 1970 CT70h. Both bikes share the same engine (the Sachs is a dead-ringer of the Honda design), a similar frame design and a fun-to-ride spirit.
While I have always held a special place in my heart for my CT70h, I've outgrown the design. The BadAss 125 just may up-size the design enough that I'll have to get one.
I wonder if I can get it in candy-apple green?"
Other WebBikeWorld Brands Posts