RUKKA Comforina Ladies' Pants Review Summary
Review Summary
The RUKKA Comforina Ladies' Pants are a flattering fit, waterproof and super comfortable that after some 10,000 miles of riding in them, feel like my second skin.
Pros
Completely waterproof even in the worst of downpours
All-weather protection
CE Level 2 Armor
Included thermal liner for colder rides
Comfortable due to its stretchy fabric
Flattering shape
Cons
Not for very hot weather
The price is steep but it gives great value over time
RUKKA Comforina Ladies' Pants Image Gallery
Review Summary
The Rukka Comforina Ladies' Pants are completely waterproof and held up in a torrential rain.
It boasts a variety of features such as CE level 2 armor protection, stretchy material for comfort, and a thermal liner which makes them well-rounded motorcycle pants for most seasons.
The price is on the expensive side but you get what you pay for. The construction and quality of these pants will last for miles to come.
Rukka Comforina Ladies' Pants
Last summer I rode to Nordkapp in Norway, from the UK, which accumulated some 5,000 miles on a motorcycle and I knew I needed decent gear that will see me through all eventualities the unpredictable weather can throw at me. Of course, when we are talking top quality motorcycling gear, RUKKA is the one brand that springs to mind.
The Rukka Comforina Pants have quickly gained a reputation for their outstanding quality and functionality, specifically tailored to meet the needs of women riders. Designed by the renowned Finnish brand Rukka, these pants are a testament to their commitment to providing top-notch motorcycle gear.
Since returning from the trip I have worn the pants (and the complementary Comforina jacket) on several motorcycles and it is as comfortable on an adventure motorcycle as it is on a sports one.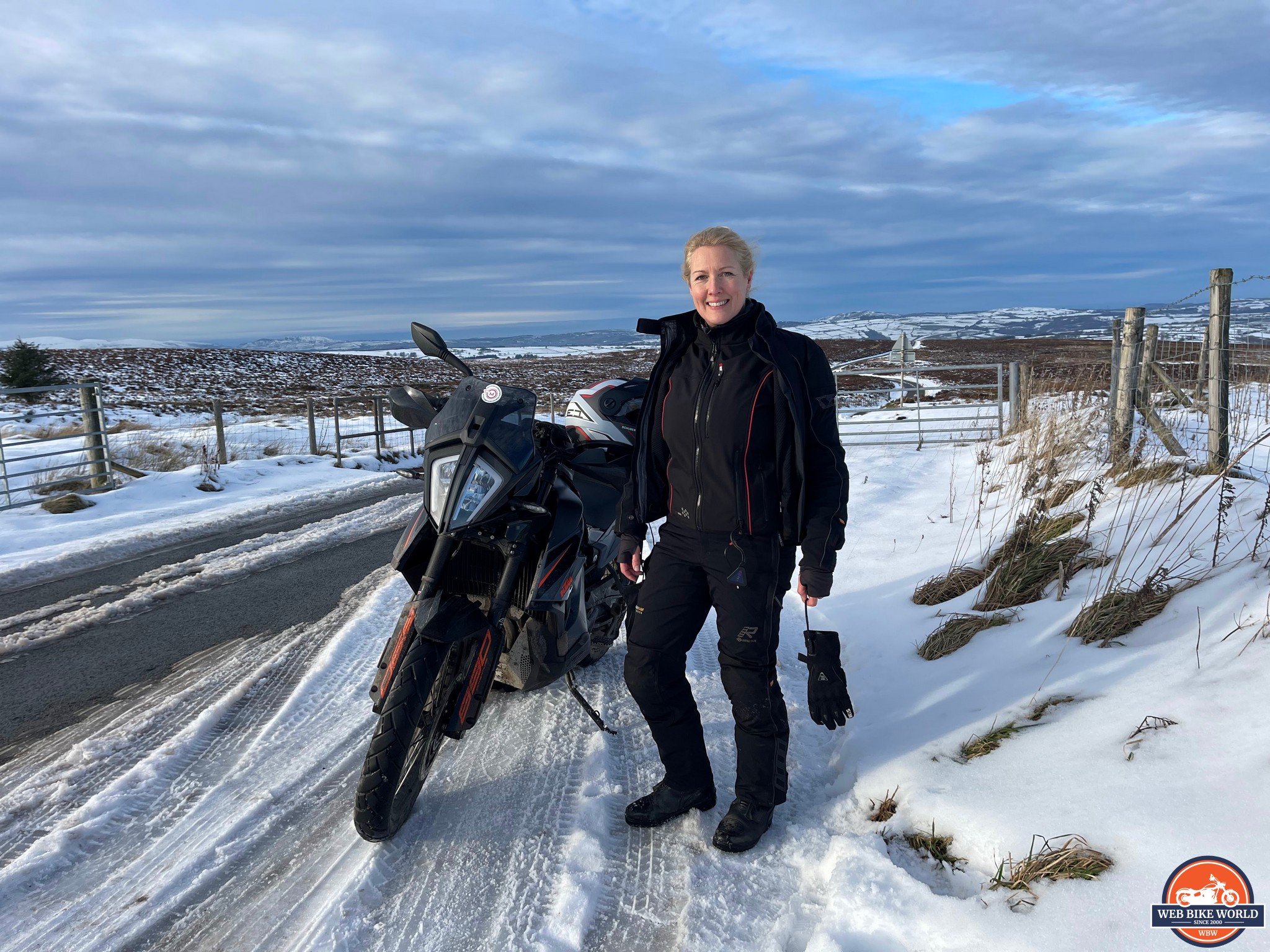 About Rukka
Rukka stands for high quality, sport-specific clothing. Ever since the beginning of its history, Rukka has considered it of utmost importance that all products fulfil the strictest requirements when it comes to their finish, weather resistance and functionality.
Rukka is a Finnish sportswear brand and they consider it an important part of the product development process to corporate with top athletes of various disciplines, both in Finland and abroad.
The company was established in 1950 and the first product made included things like tracksuits. In the 1970s the brand launched products in sailing and motorcycle outfits.
Rukka gear is designed and built to face the challenges of the road day after day, year after year. High-quality motorcycling gear is an investment and Rukka stands behind their products and offers a warranty that covers any manufacturing or material defects.
Having worn mine for over 10,000 miles already, I can see how I will cover many more. The pants still look like new.
Rukka Comforina Ladies' Pants Features
The Rukka Comforina Trouses come with features for both weather and impact protection.
Key features include: 
Detachable thermal lining to layer up on cold days
GORE-TEX Z-Liner membrane to keep you dry
Abrasion-resistant Cordura 500D reinforcements on hips and knees where it's most needed in an impact.
Rukka D30 Air XTR Level 2 hip and knee/shin protection.
Two pockets with zips.
Ventilation opening on thighs for improved airflow.
Adjustable leg bottoms for improved fit.
Full connection zip for attachment of Rukka jackets.
EN 17092 Class A certified.
First Impressions
When I first tried on the pants in a shop I was amazed at how comfortable they were straight away. The textile is stretchy which means it hugs your waist nicely without restrictions, really comfortable when the zip and the buttons are closed. They move with your body when you bend over or squat down and when you throw your leg over the bike. Even after having worn the pants for over 10,000 miles, they still keep their shape.
The armour is soft and you don't notice it, there is no discomfort on your knees even after hours of riding.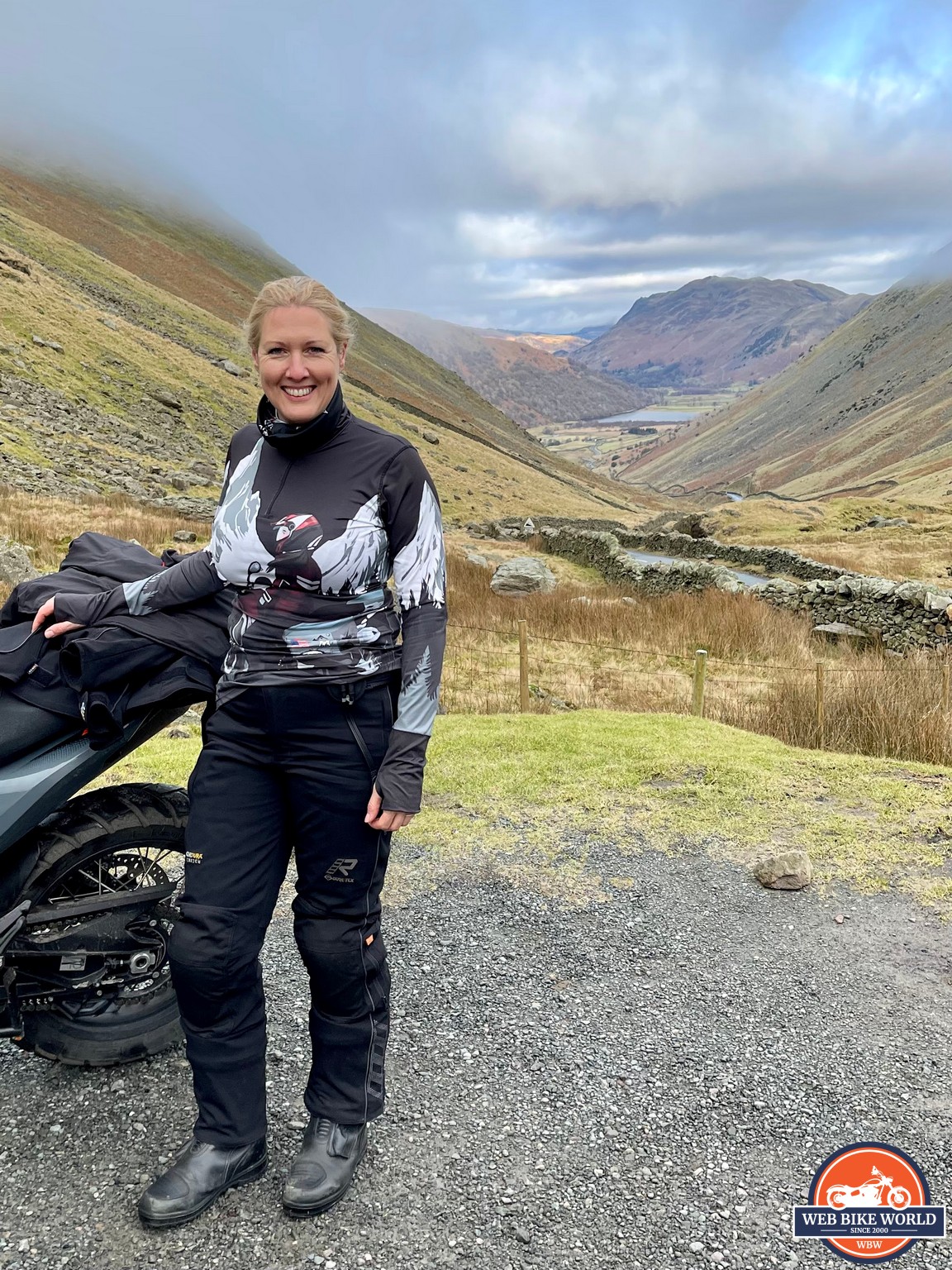 Construction
Outer Shell
The outside shell is made out of 93% Nylon with 7% Elastan and 100% Nylon that includes a layer of Gore-Tex membrane.
Outer Shell – 93% Polyamide with 7% Lycra
Lining – 100% breathable, wind and waterproof Gore-Tex membrane.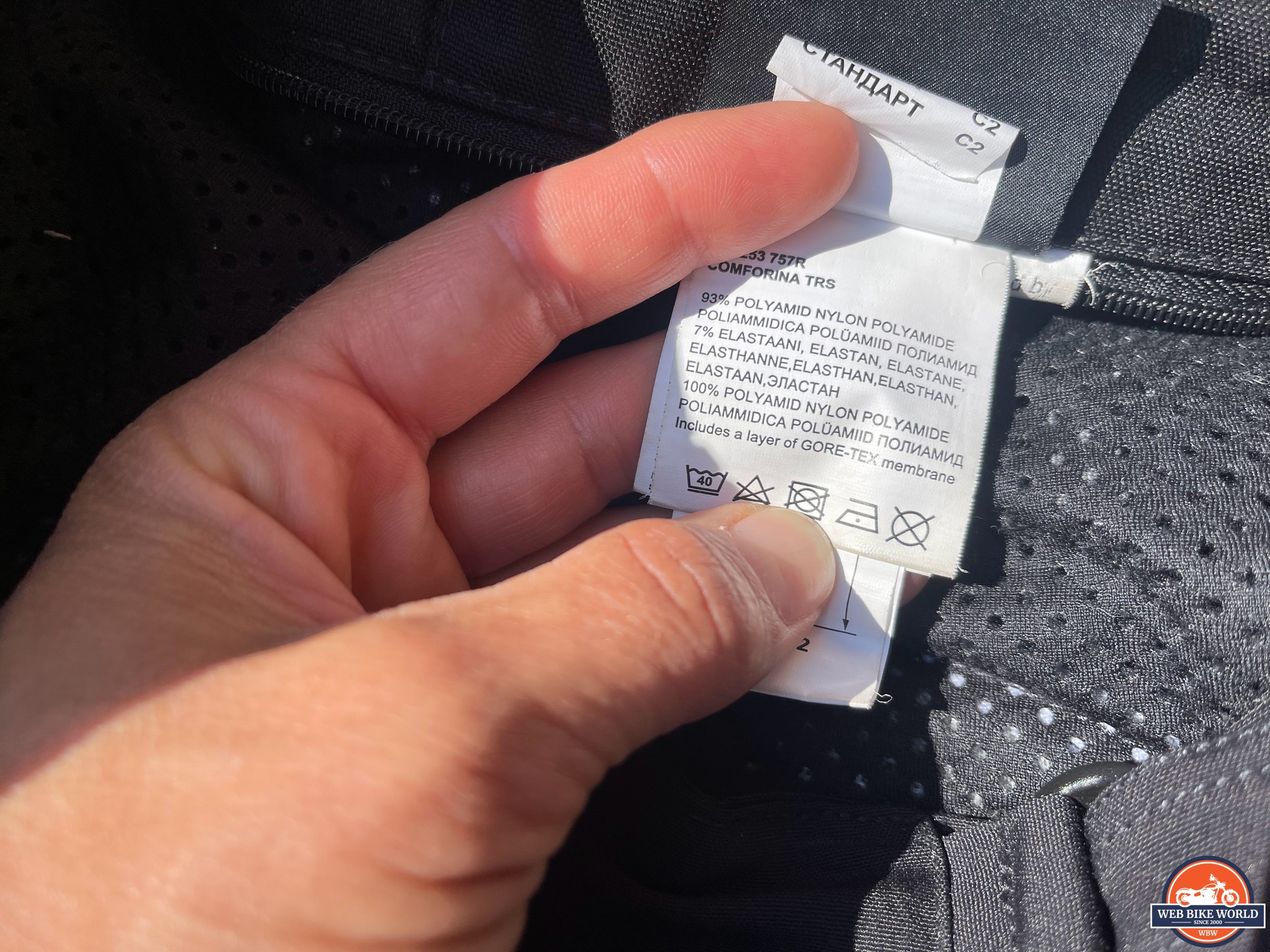 Interior
Nylon mesh lines the interior throughout for increased airflow and comfort.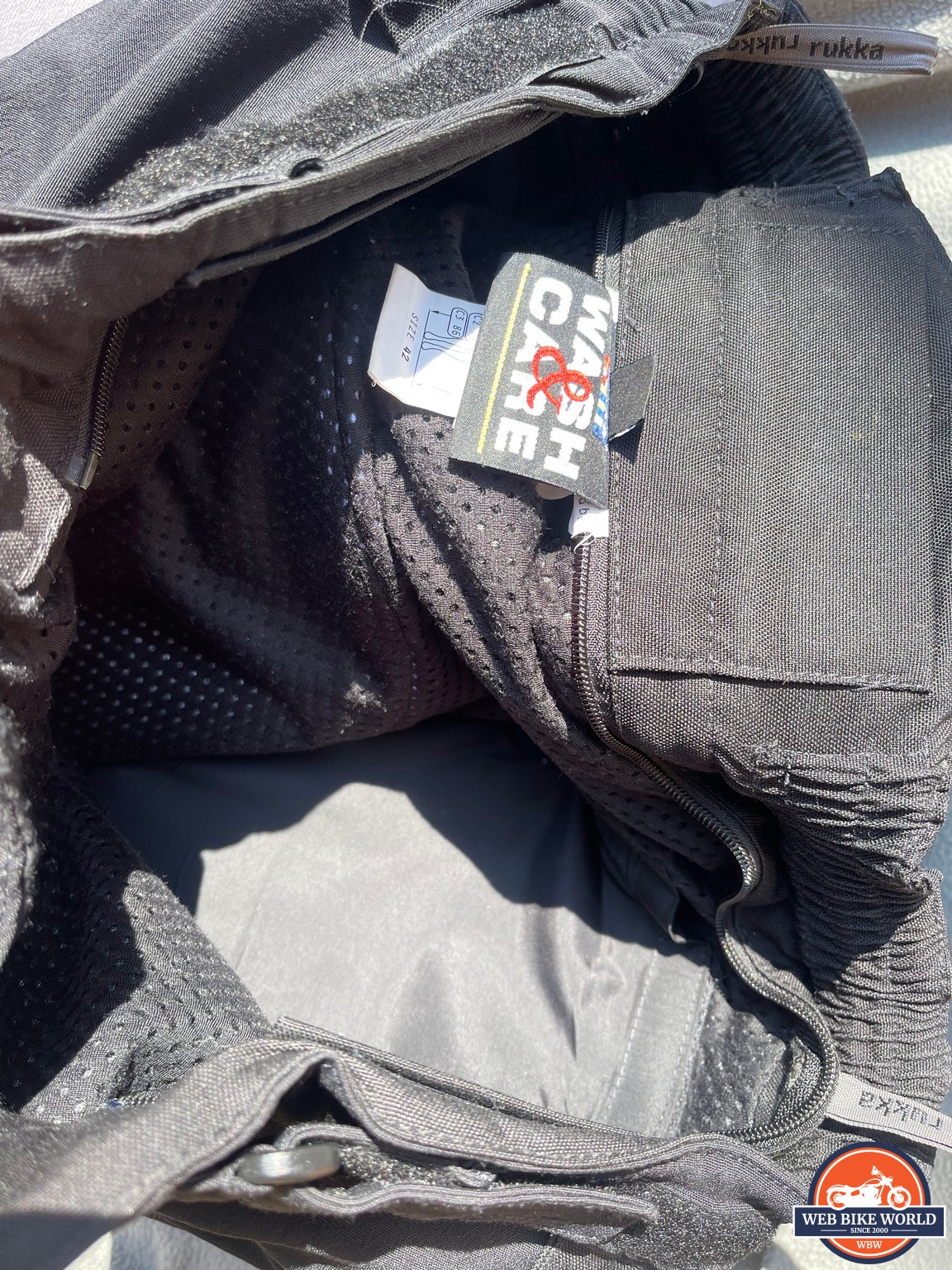 Pockets
There are two pockets in total:
Exterior

Two zippered side pockets.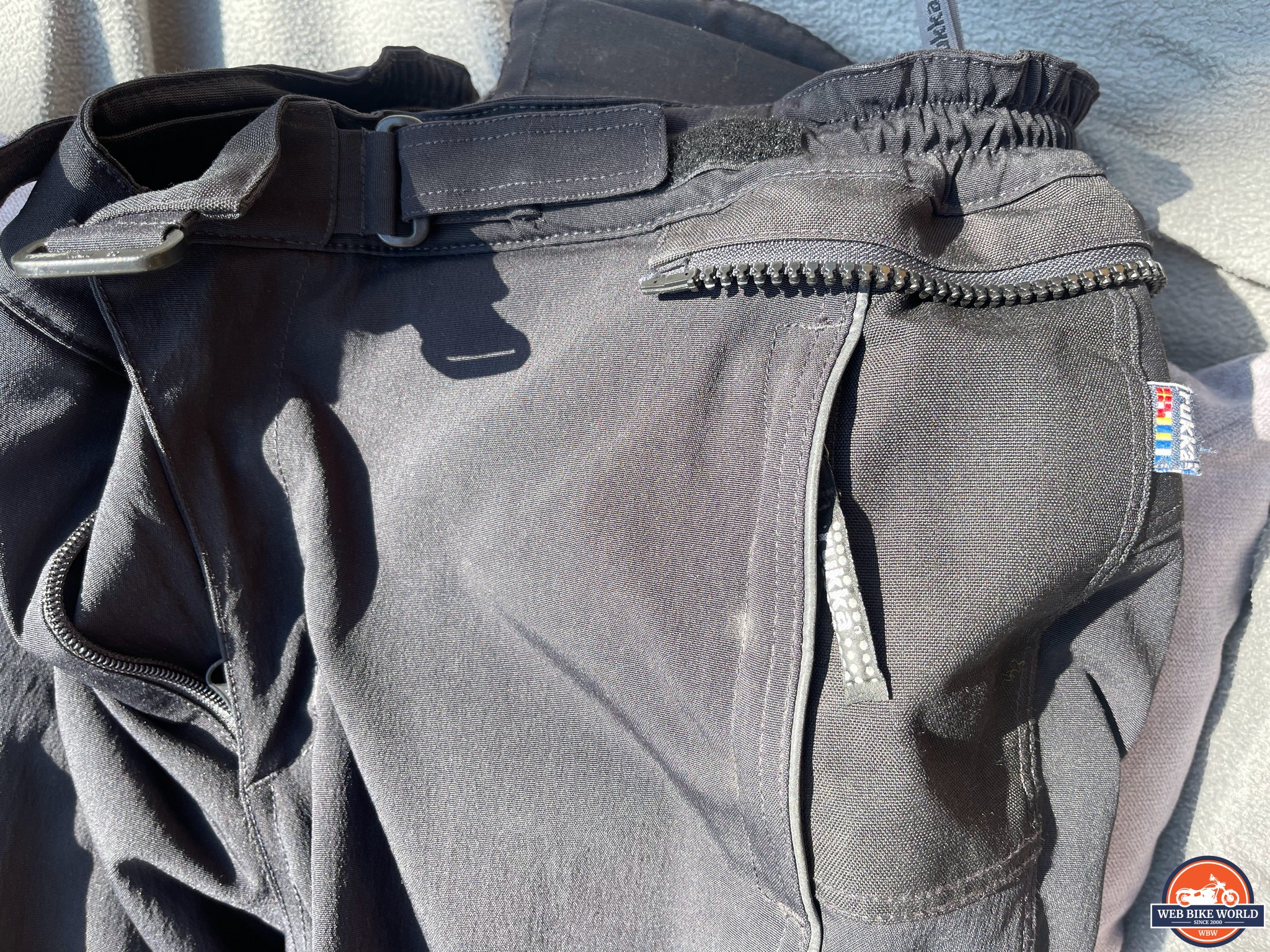 Hi-Viz
There are two pops of reflectivity:
Two reflective Rukka designs on the bottom and side of the leg.
The reflective bands are very subtle in the daylight.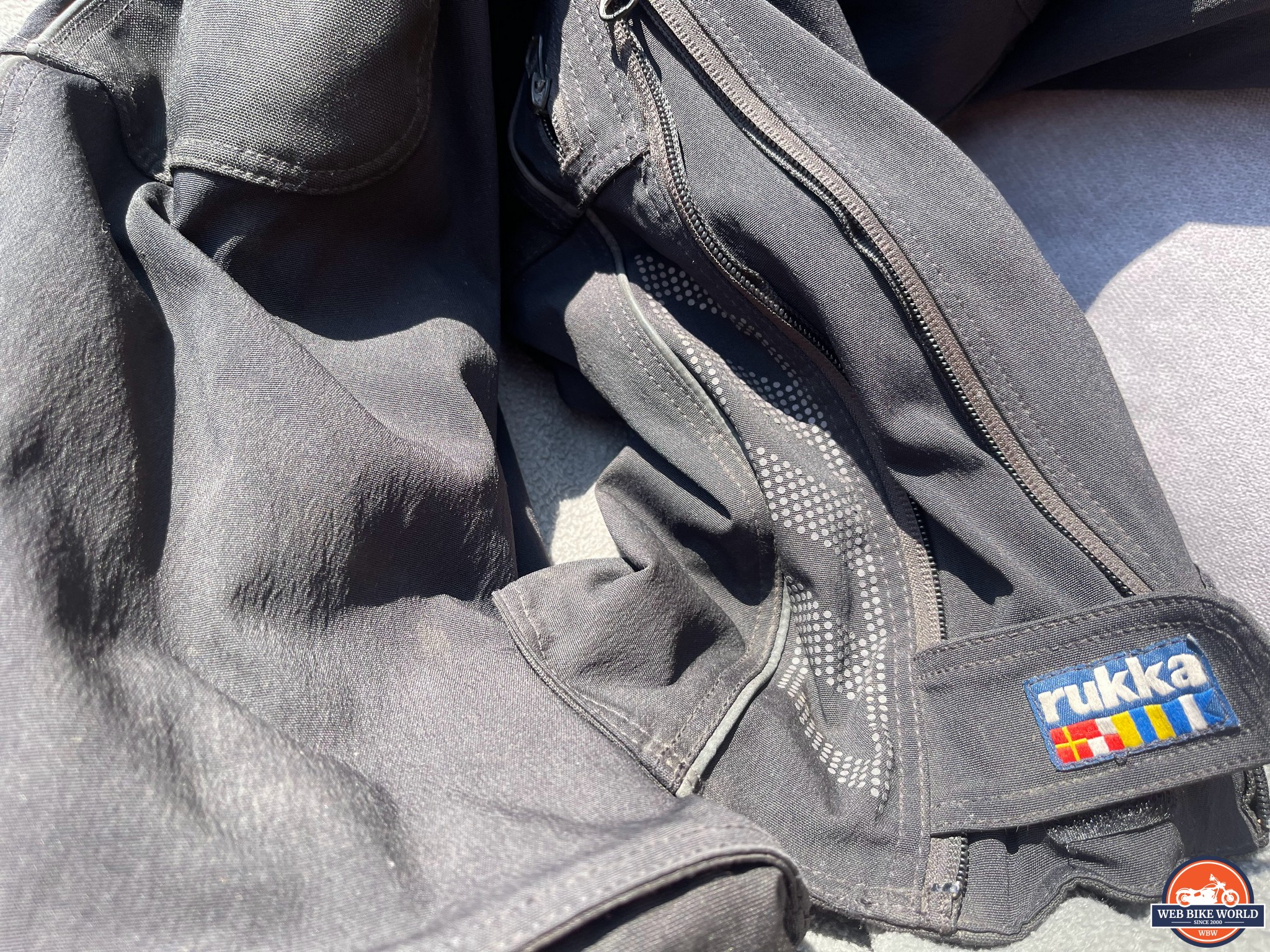 Branding
The branding is dark grey on black which makes it very subtle and I like that. There is the recognisable letter R with Gore-tex branding on the left leg on top of the thigh area.
The Rukka logo appears on the velcro straps at the bottom of the leg. The logo is accompanied with the colourful flags.
The zipper pulls are made out of textile and padded with the branding embroidered across it.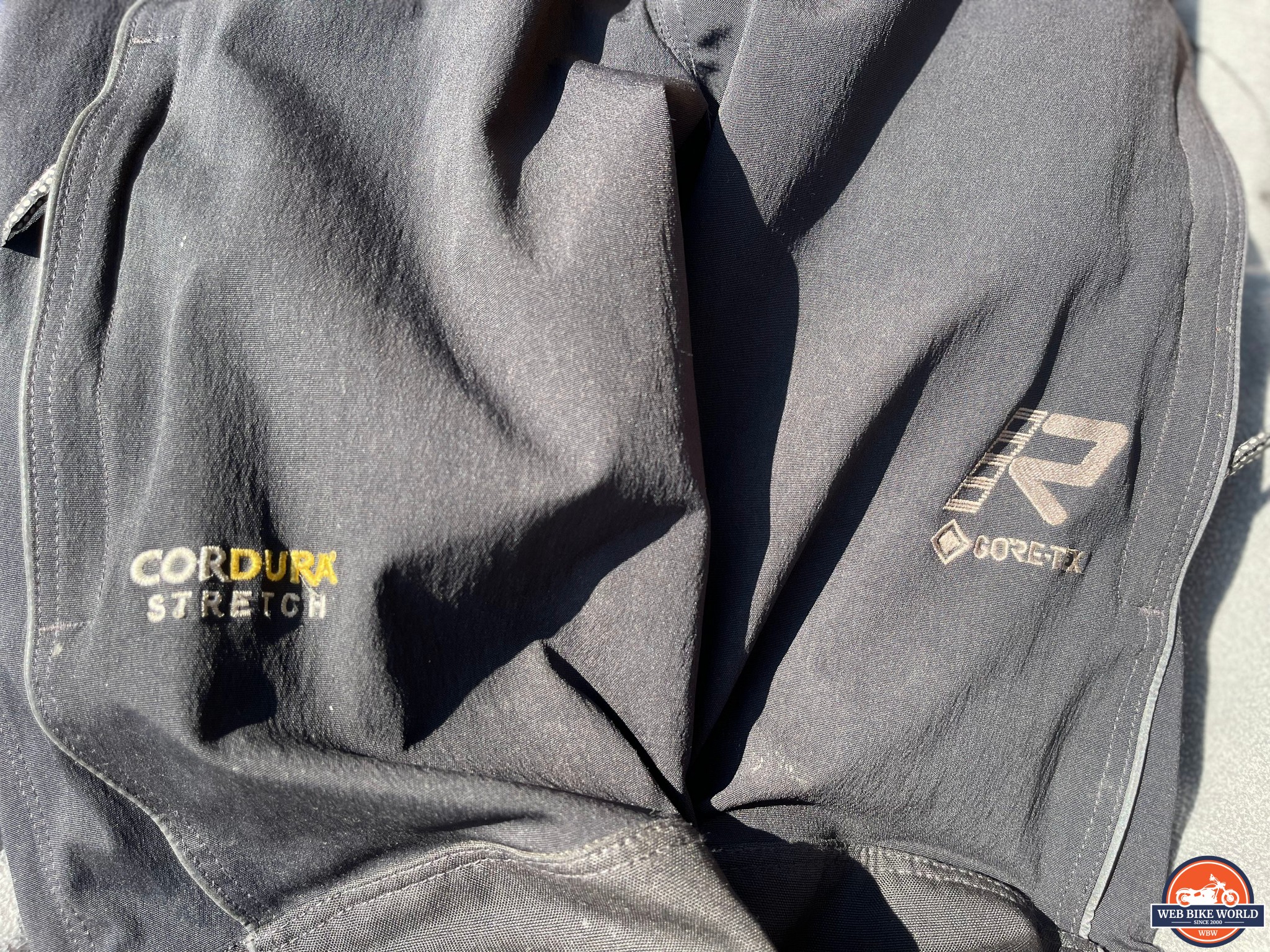 Zippers
All of the zippers are YKK, with the pocket zippers having sizeable glove-friendly pull tabs. Even the ventilation zippers have glove-friendly pull tabs so you can control the flow of the air without having to stop. The main zipper does not have a glove-friendly pull tab but that's not required.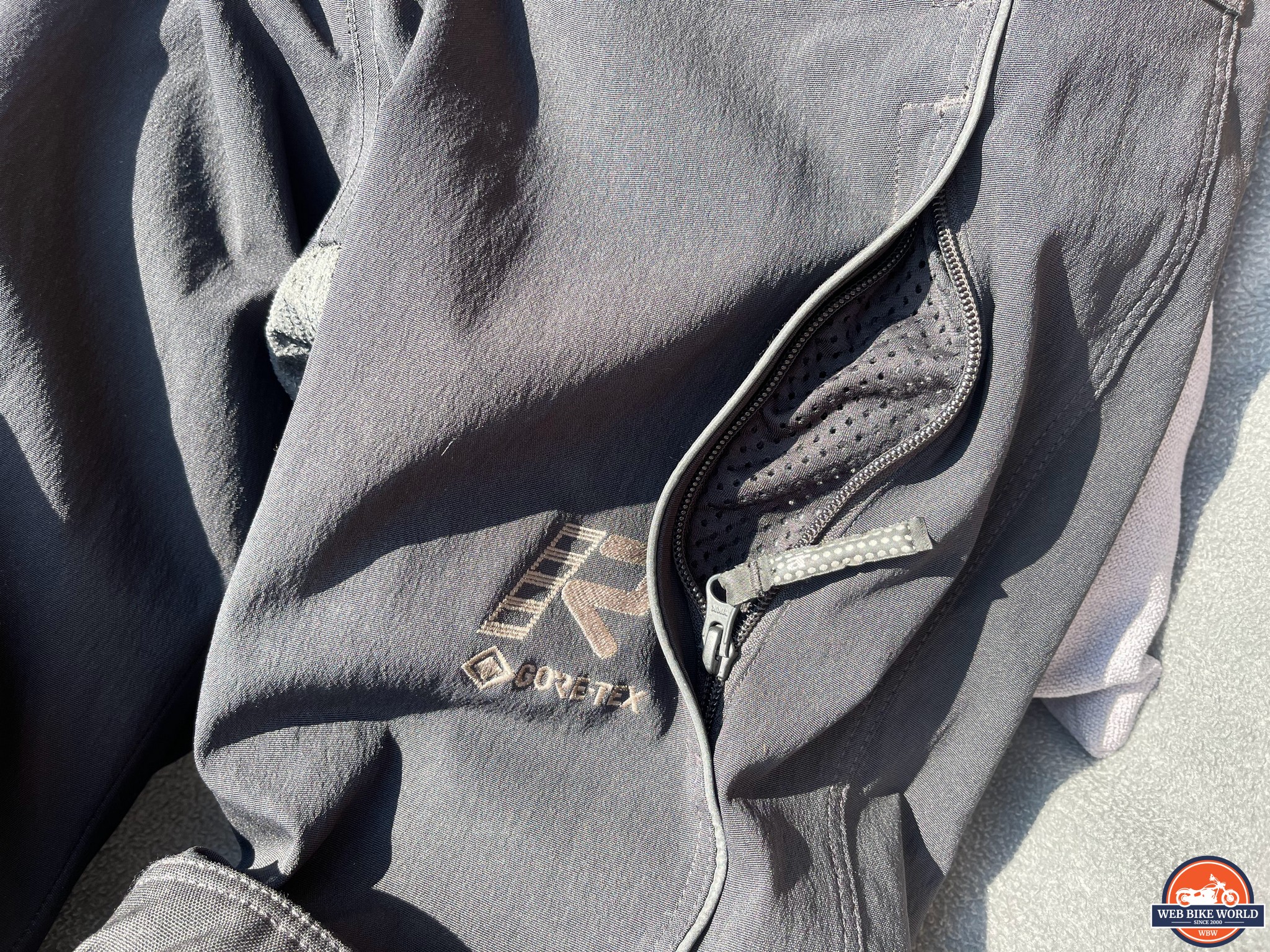 Colorways
The Rukka Comforina pants come in black colour only.
Overall Build Quality
Sizing
The Rukka Comforina Pants come in sizes from EU 34 to EU 48 and they are true to size. The fitting is really good and they tend to match well with the jacket size, too.
Comfort
Rukka have left no stone unturned when it comes to providing optimal comfort for female riders. The Comforina pants feature a women-specific design, taking into account the unique anatomical differences and ensuring an excellent fit.
Hands down, these are the most comfortable pants from the very first outing. The stretch fabric makes such a difference. There is no need to 'break them in' and wait a few wears to make them yours. They fit like your second skin and the way it hugs you makes you feel really safe.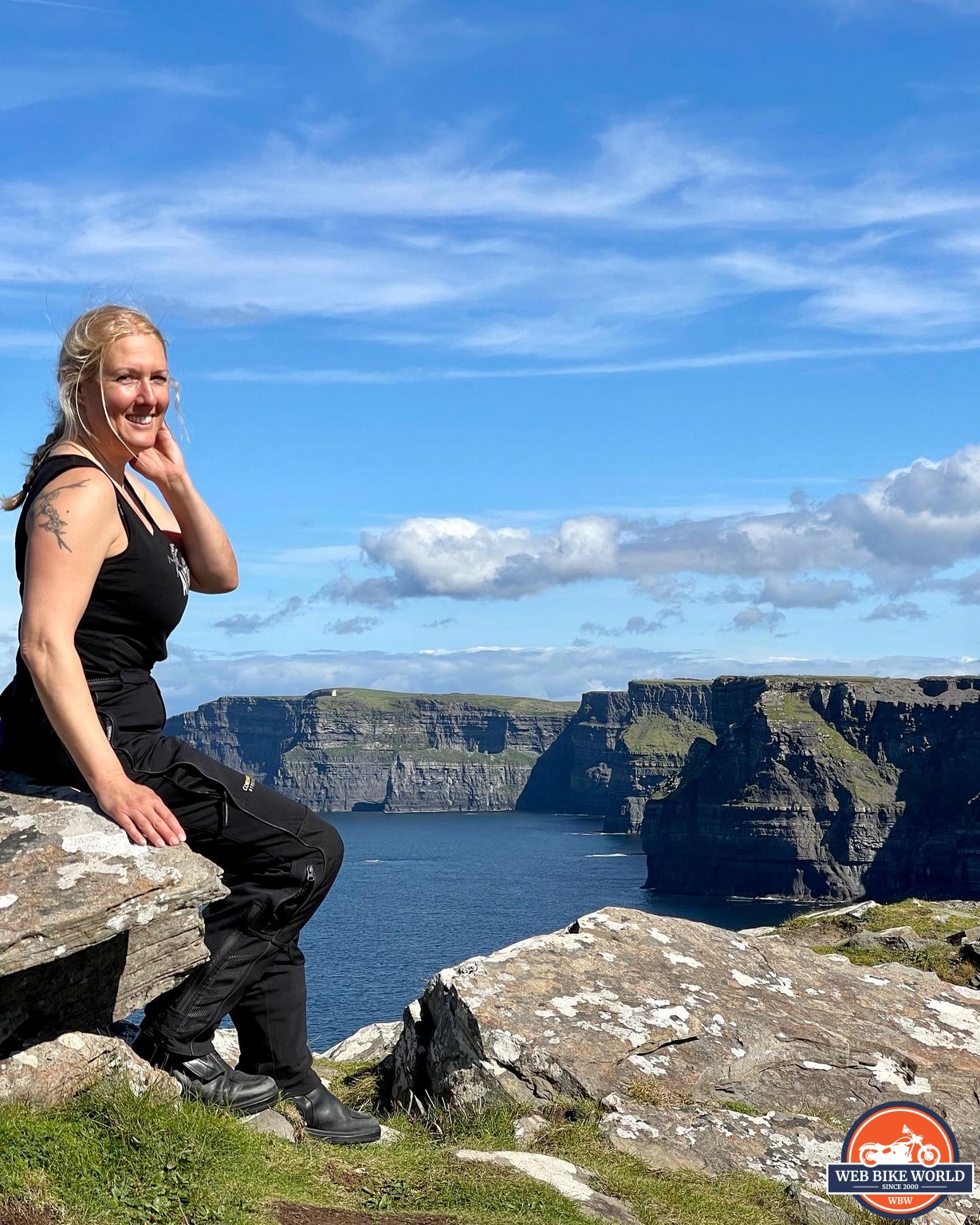 Adjustability
The adjustable waistband and leg cuffs allow you to customize the fit according to your preferences and riding style. This level of adjustability ensures a snug fit without compromising freedom of movement. The pants also have stretch panels in key areas, such as the knees and seat, further enhancing flexibility and comfort.
The Rukka Comforina Pants have a couple of adjustments:
Waistband closure on both sides
Adjustable pant leg end with zipper and Velcro fastener
Removable thermal lining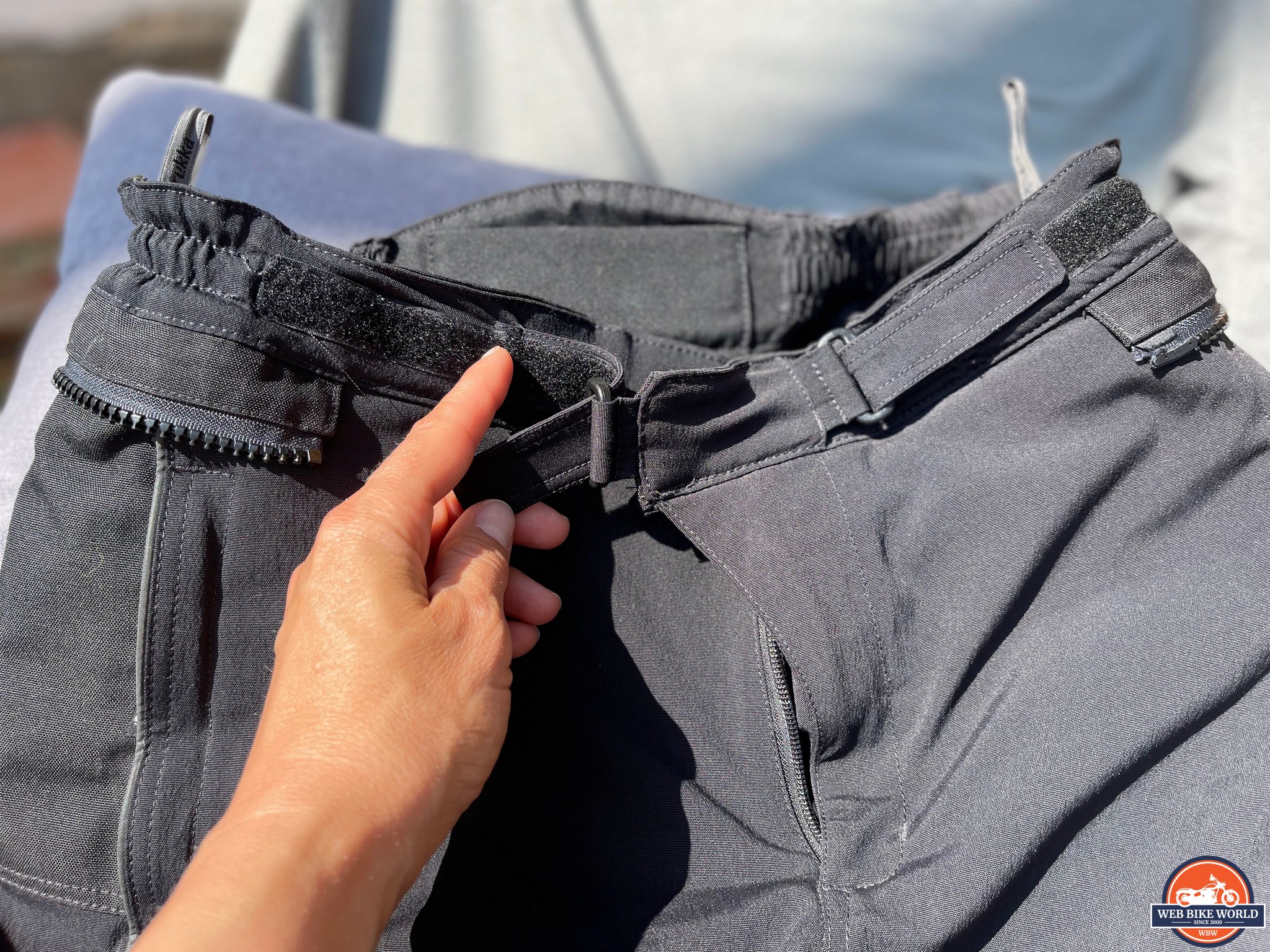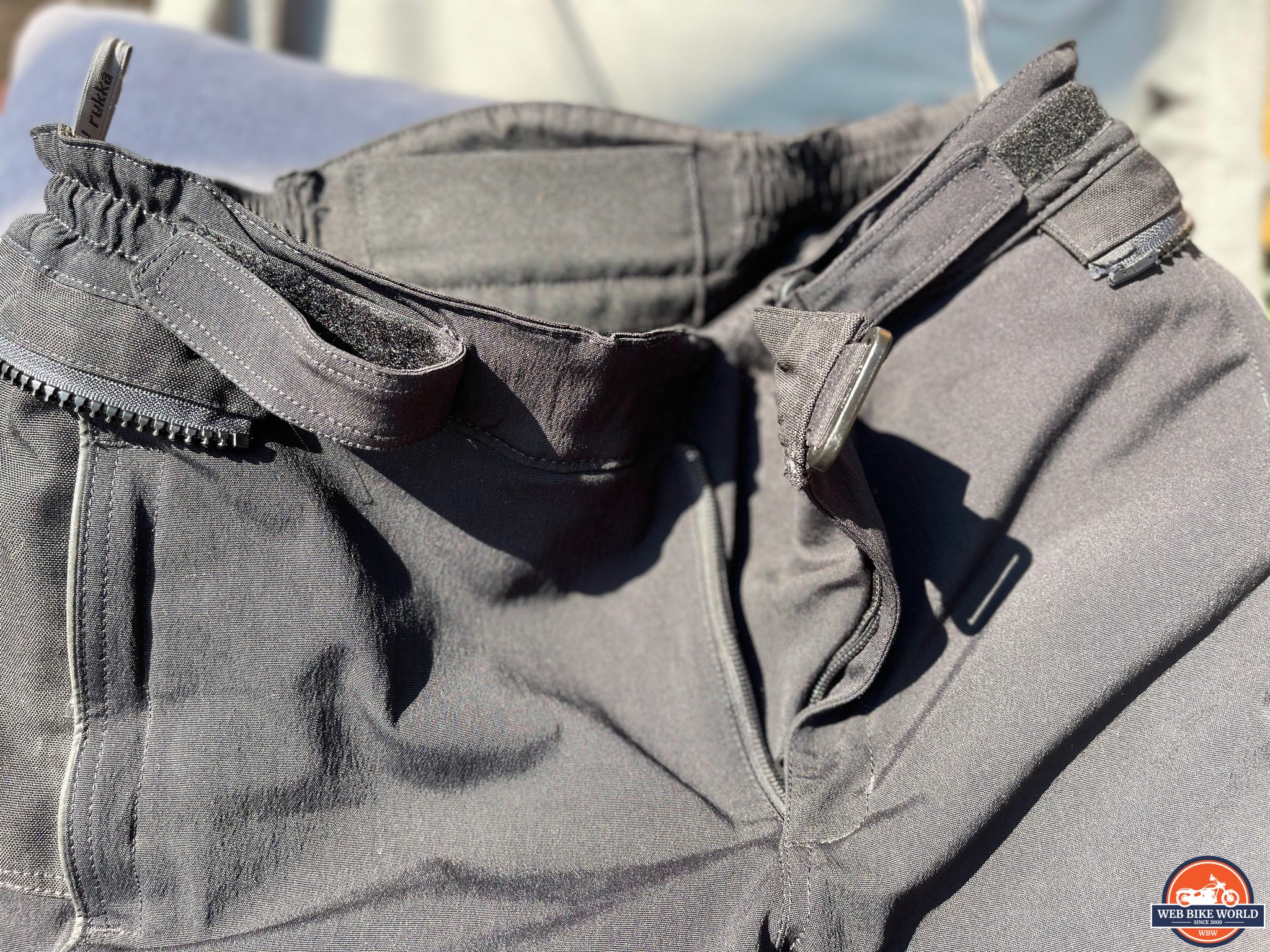 Because of the stretchy textile and the way the pants are shaped, not many adjustments are needed. They really are a great fit.
Functionality
Waterproof
The Rukka Comforina Ladies' Pants are fully waterproof thanks to the Gore-Tex liner throughout. Gore-Tex is the top range waterproof protection whilst it is also breathable so you don't sweat on the inside.
This material is
Guaranteed Waterproof
Optimum Breathability
Windproof
Lightweight
Incredibly durable even in the harshest conditions
In the last eight months, I have ridden in all weather conditions. From hot, sunny days to downpours and even in snow. No matter how bad the rain was, and believe me, in the UK (especially Wales) we know rain, I always arrived at my destination completely dry under the pants (and jacket).
Ventilation
The Rukka Comforina Ladies' Pants have minimal ventilation, mainly two zippers on the thighs. These pants are not ideal for riding in very hot conditions.
These are perfect pants to ride in for ¾ of the year – autumn, winter and spring and even cool summer days. The pants come with a thermal liner for really cold days but don't have much flexibility for really hot days.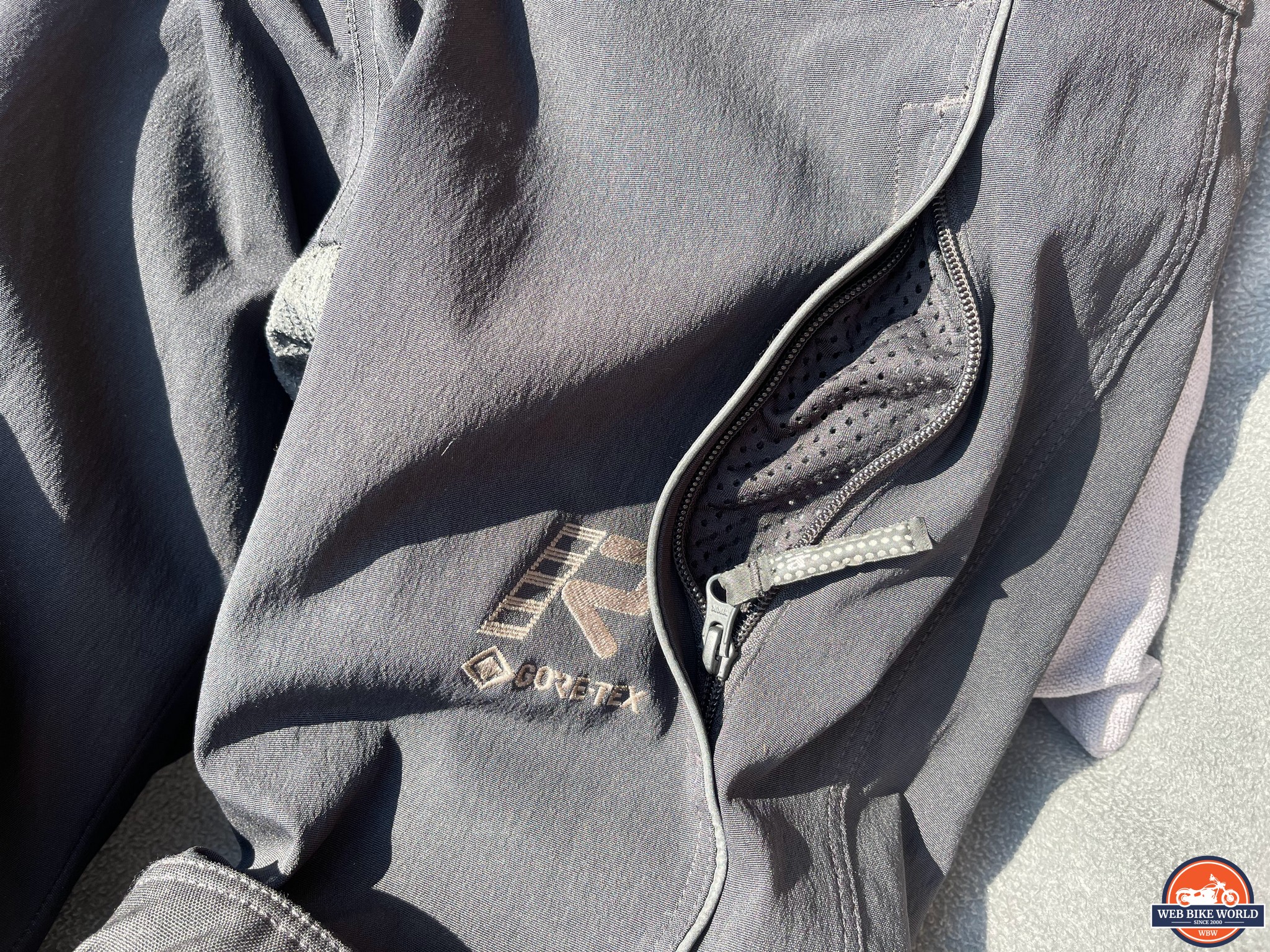 Protection
The Rukka Comforina ladies' pants offer several layers of protection.
The pants come with D30 LP1 knee and hip protectors (EN 1621-1 2012 Level 1) and abrasion resistant Cordura 500D reinforcement on hips and knees as well as abrasion resistant elastic Cordura 500D outer fabric. The pants also have Rukka air pad and anti-slip system made of Keprotec in the seat area.
Garments are designed to provide protection for motorcycle riders and tested according to the class of protection they afford. Class A garments generally offer protection against the risk of riding activities attributed to road riding, whilst still providing comfort and weather protection.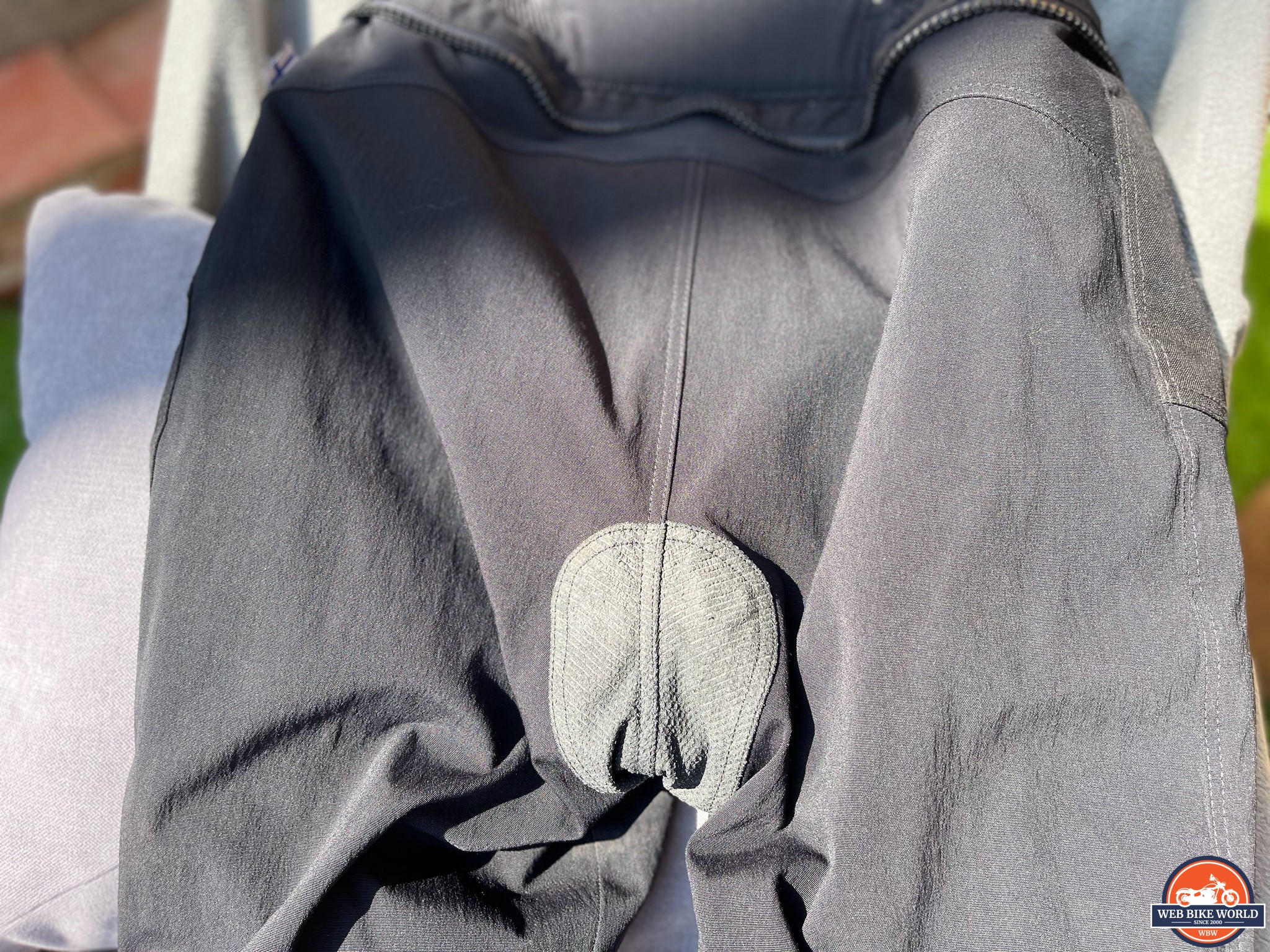 Care Instructions
Always store your pants in a dry, ventilated area away from sources of extreme heat or cold.
Remove all protectors before washing and when you put them back, ensure they are the right way around.
The pants can be machine washed at 40 degree Celsius on a gentle cycle with no spin and drip dry.
Thermal Liner
The Rukka Comforina ladies' pants include a full-length pant thermal liner to keep you warm on those cold days. It attaches to the outer shell with an all-around zipper in the waist area and an all-around zipper at the end of each pant leg. I really like this as it means the usual buttons/loops can sometimes become detached when putting the pants on/off. With the bottom of the liner firmly zipped into the pants this never happens.
The liner has no pockets.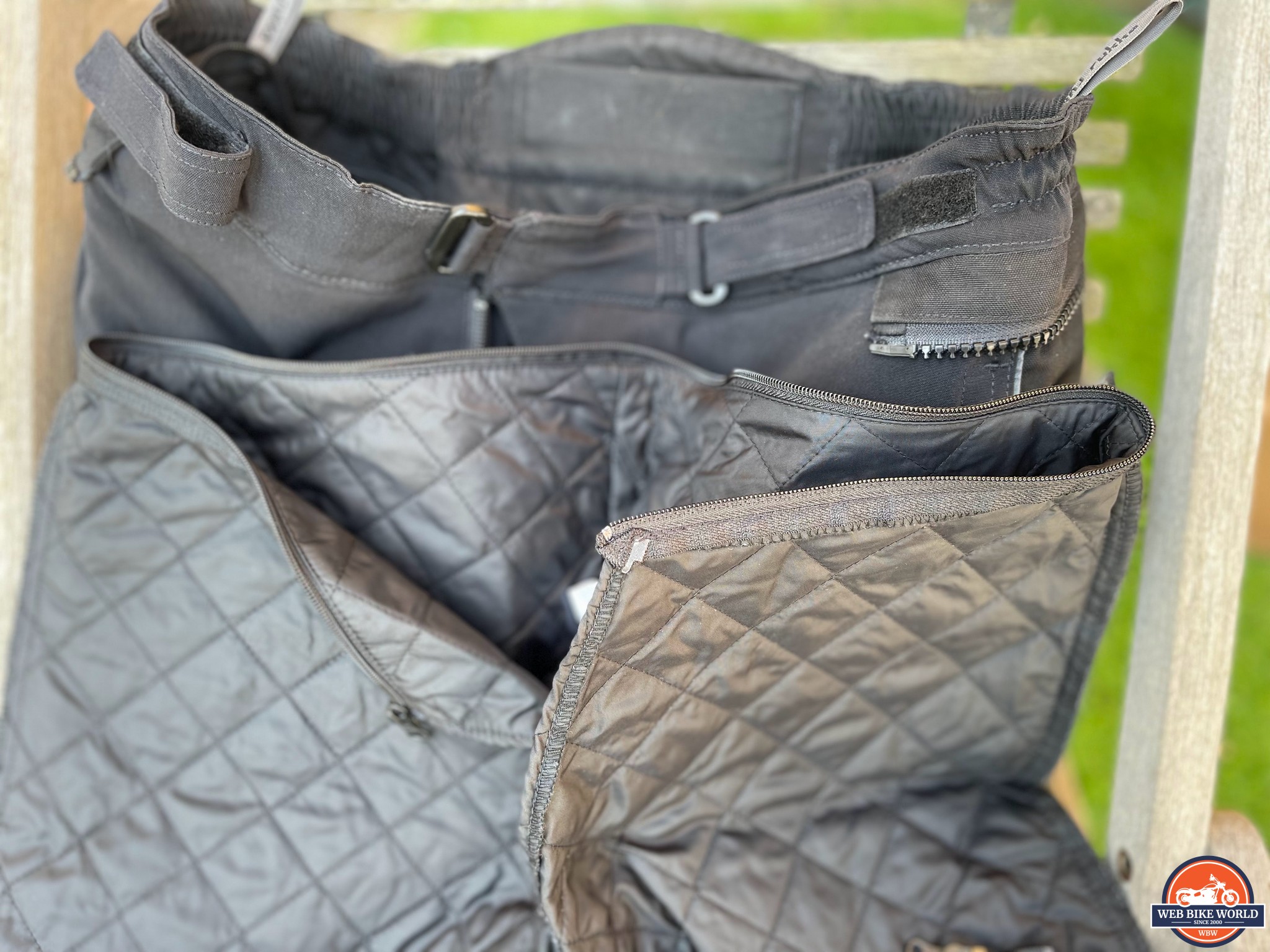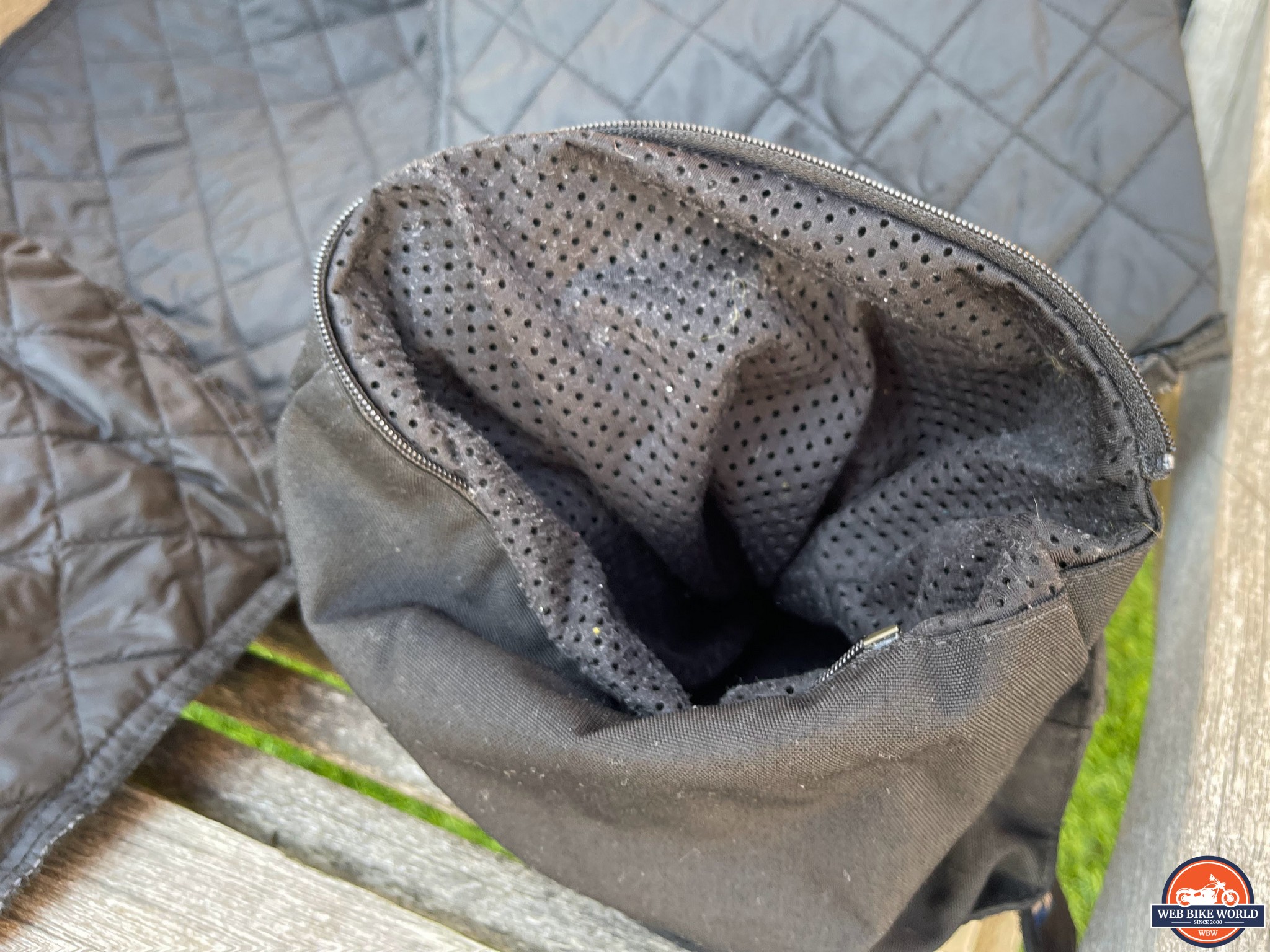 Warranty
Rukka guarantees their clothing for up to 6 years and this Comforina Jacket is no exception.
For details, please visit Rukka Motorcycle Clothing Warranty.
Conclusion
I received my Rukka Comforina pants only a few days before I set off on an epic trip to Nordkapp, for three weeks. I was a little bit concerned as I didn't get much time to get used to the new pants and wear them in but that was an unnecessary worry. As the name suggests, the stretch in the fabric makes these pants super comfortable and they mould around the shape of your body.
For three weeks I wore them nonstop as well as on all of my trips afterwards and I think I have found the holy grail of an all-weather riding kit. The only time I would swap the pants for something else is in the height of hot summer when I'd opt for a lighter and better-ventilated pair of pants.
From August until February, I wore the pants in total for around 10,000 miles of travel and they still look like new. I'd expect some wear and tear after these many miles but the pants still look fresh.
I have ridden many different bikes from adventure to sports bikes and everything in between and the pants look good and are comfortable on all, no matter the riding position. A truly versatile and comfortable pair of pants offering protection that hugs the shape of the body and gives us, ladies, a flattering look.
Pros
Completely waterproof even in the worst of downpours
All-weather protection
CE Level 2 Armor
Included thermal liner for colder rides
Comfortable due to its stretchy fabric
Flattering shape
Cons
Not for very hot weather
The price is steep but it gives great value over time
Specs
Manufacturer: RUKKA
Price: (When Tested):Approx $680 USD /  £535
Made In: China
Colors: Black and silver
Sizes: EU 34 – 48
Review Period: August 2022 – February 2023
Important Links
Manufacturer's website: Rukka Motorsport