Royal Enfield has long had a relationship with the military and even began making rifles, so now they have added the military-styled Classic 500 Pegasus Edition.
It is a limited-edition model with only 1000 available worldwide. It will arrive in Australia in July, but numbers and pricing are not yet available.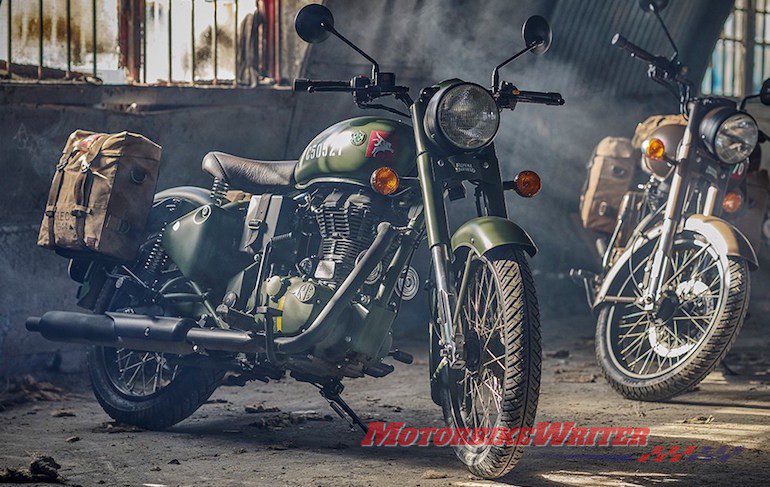 In the UK it sells for £4999 ($A8800) which is £300 ($530) more than the standard model. The Classic 500 costs $8990 in Australia, so the Pegasus will likely cost about $9500.
India will get 250, so that doesn't leave many for the rest of the world.
(Check at the end of this story for the full Royal Enfield Australia price list.)
Pegasus development
This video gives some background on the development of the Pegasus model.
It looks brilliant with a lot of attention to detail in the two paint options (brown and olive), replica Pegasus badging and even the unique army-style serial numbers painted on the tank.

Adding to the period look are the military-style canvas panniers, leather strap with brass buckles on the air box, and blacked-out exhaust muffler, engine, rims, handlebar and headlight bezel.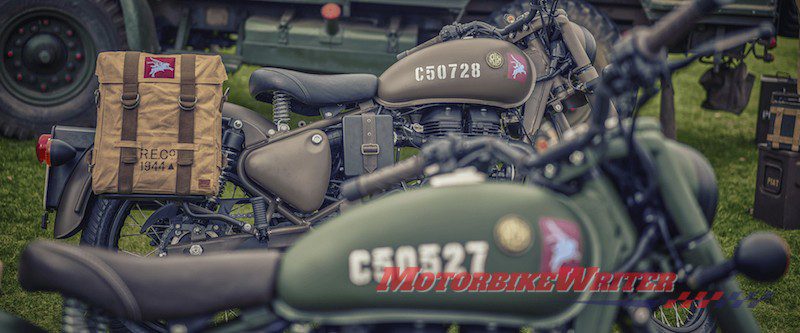 Like the Classic 500, it is powered by a 499cc, air-cooled, single-cylinder engine with 20.5kW of power at 5250rpm and 41.3Nm of peak torque at 4000rpm. The 194kg kerb weight is also the same as the standard Classic 500 which now comes with ABS.
Military heritage
Royal Enfield claims it was produced in collaboration with the British Ministry of Defence and was recently launched at the Imperial War Museum, Duxford, UK.
It is a tribute to the RE/WD 125cc two-stroke motorcycle used by British paratroopers and messengers during World War II.
The bike was so light messengers could lift it on their shoulders when the trenches were too deep to be ridden over.
It was also parachuted into battlefields and behind enemy lines from the Horsa Glider, hence its nickname the Flying Flea.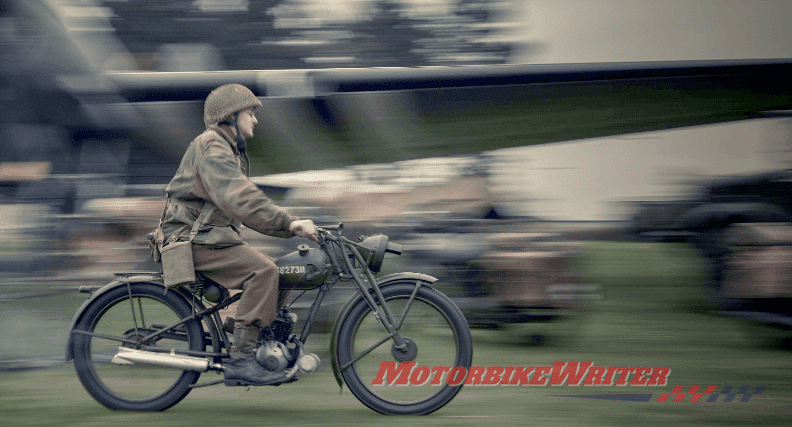 Royal Enfield's military involvement has included making mobile machine gun platforms for World War I, targeting components for anti-aircraft guns in World War II and continual service with the Indian Army since the early 1950s.
Royal Enfield 2018 prices
| | | |
| --- | --- | --- |
| ROYAL ENFIELD | RRP           (inc GST) | Suggested Rideaway |
| BULLET 500 ABS | 7690 | 8690 |
| CLASSIC 350 | 5590 | 6490 |
| CLASSIC 350 REDDITCH | 5590 | 6490 |
| RUMBLER 350 | 5790 | 6790 |
| CLASSIC 500 ABS | 7990 | 8990 |
| CLASSIC STEALTH BLACK ABS | 7990 | 8990 |
| CLASSIC GUNMETAL GREY ABS | 7990 | 8990 |
| CLASSIC DESERT STORM ABS | 7990 | 8990 |
| CLASSIC BATTLE GREEN ABS | 7990 | 8990 |
| CLASSIC SQUADRON BLUE ABS | 7990 | 8990 |
| CLASSIC CHROME ABS | 8190 | 9190 |
| CONTINENTAL GT ABS | 8690 | 9690 |
| HIMALAYAN | 5990 | 6990 |