ROYAL ENFIELD BULLET BACKGROUND
Royal Enfield had been building sturdy, reliable motorcycles since the turn of the century. They produced military motorcycles for the British army in both world wars. They struggled at the edge of insolvency throughout most of the 1930s but managed to hang on until the the second world war boosted their business again. After the war, they quickly settled back into civilian motorcycle production with their 350cc Model G, and 500cc Model J, both singles. The first Bullet arrived in 1931. They used rigid frames and telescopic front forks. A new swing arm frame was adopted in 1948. It took a year for it to appear in the new 1949 Bullet 350, and shortly after, in the Bullet 500.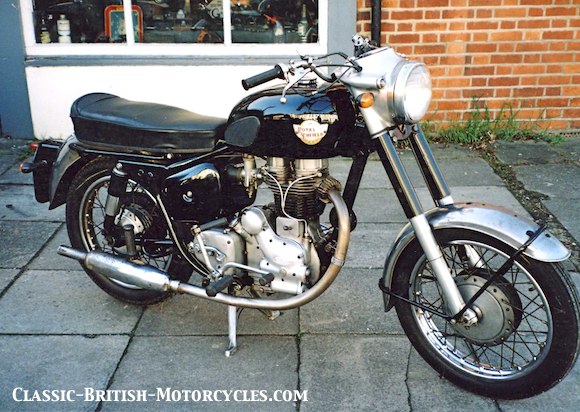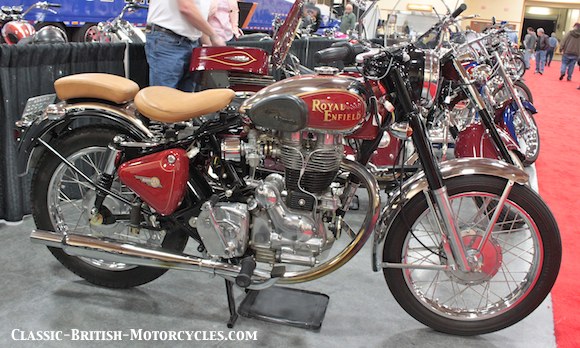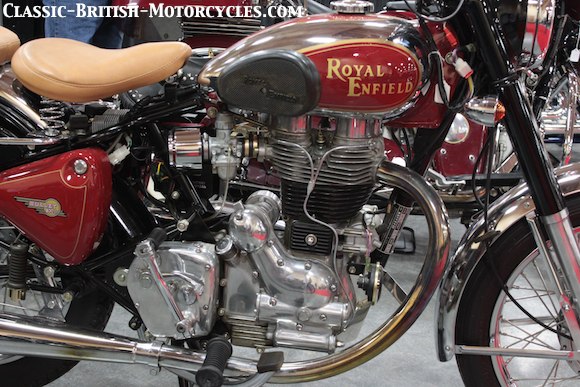 ROYAL ENFIELD – THE INDIAN CONNECTION
After the war, Royal Enfield worked hard to broaden its markets and in 1949 landed a large order from the Indian Army. Continuing orders prompted Royal Enfield to open a factory in Madras, India where they assembled Royal Enfield Bullets that were shipped from the company's Redditch, England factory in knock-down form, starting in 1955. The Madras plant routinely produced 20,000 bikes per year, vastly more than the mother ship back in England. The Indian-made bikes started out nearly identical to their British brethren at first, but the Indians never changed their design, while the Brits continued to evolve the Bullet. However, the Royal Enfield, the company, was in dire financial straights throughout most of the 1960s, and by 1967 had closed its Redditch plant, and by 1970 was completely defunct. This left only the Indian branch of the company producing motorcycles, and just one model: the same Royal Enfield Bullet that they started with in 1955! They began shipping them back to England in 1967 (how's that for irony?) under the "Enfield Bullet" name, and sales have continued worldwide ever since.
BULLET IS A MODERN "OLD" BIKE
India-based Madras Motors still produces Royal Enfield Bullets to this day. They have evolved slowly over the years, very much like the Brits used to do it, in tiny incremental steps over years. While the modern Bullets now have fuel injection and electronic ignition, they have retained their classic looks and design. Modern Bullets use the same antiquated frames that they inherited in 1955, which lays out the entire bike. For riders who don't dare about all-out performance, and want modern, reliable bike that stays true to its historic heritage, the 2002 Bullet made for a good choice.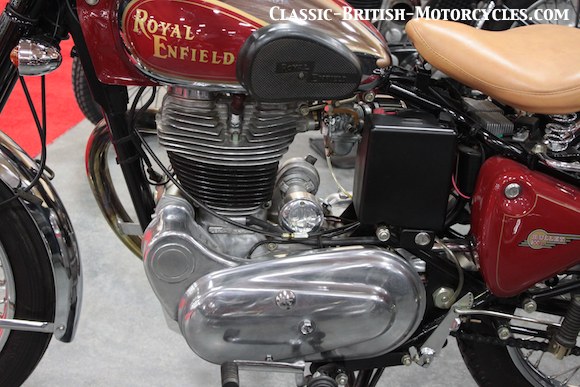 ---
Royal Enfield Bullet YEAR-BY-YEAR
---
The classic postwar Bullet shared the rigid frame with prewar Bullets. Big sale to Indian Army in 1949.
---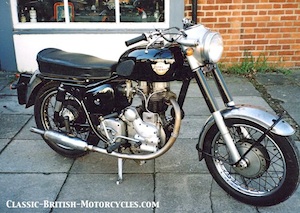 The Bullet switches over to points & coil ignition.
---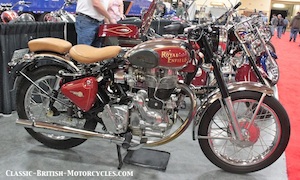 The "Modern" Bullet, built in Madras India, has electronic ignition & fuel injection. Not bad for an old Brit bike.

---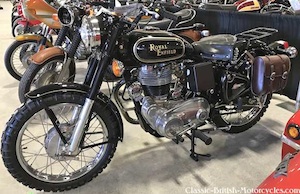 ---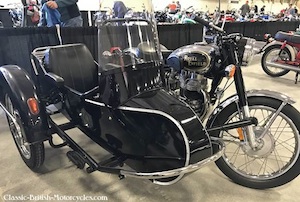 This 500 Bullet sidecar rig sold for $7,000 at Mecum's Vegas auction in 2017.

---
Check out these ROYAL ENFIELD BOOKS
---

Girl on a Bike 2018: Enjoy Boudoir Glamour with a Vintage Royal Enfield Motorbike (Calvendo Hobbies)
---

Royal Enfield Bullet: All Indian 350, 500 & 535 Singles, 1977-2015 (Essential Buyer's Guide)
---

Story of Royal Enfield Motor Cycles
---

BOOK OF THE ROYAL ENFIELD 1946-1962
---

Royal Enfield: The Post-war Models – 125, 150, 250, 350, 500, 700, 750 Singles and Twins
---

Royal Enfield Big Twins Limited Edition Extra 1953-1970
---
---

Royal Enfield: The Complete Story
---

RSA-LP-RE I Would Rather Be Riding My Royal Enfield Motorcycle License Plate
---
For more like this, please visit our
ROYAL ENFIELD MOTORCYCLE BOOKSTORE
---