A ROK Strap is an intelligent solution to thedangers of bungee cords.
Suffice it to say that bungee cords are dangerous — and a leading cause of eye injuries.
If you don't want to believe that, then at least believe that bungee cords just don't work very well to secure a load on a motorcycle.
First, you have the problem of the metal ends that can (and probably will) scratch anything that comes in contact.
Make that a certainty if you double the metal loop over the bungee cord in an attempt to — ironically — prevent damaging a frame member.
Then you have what may be the biggest problem: a bungee cord stretches one way, but not the other.
Murphy's Law is such that you'll never have the correct size bungee, so you'll end up having to improvise, leading to problems 1, 2 and 3 above.
Yes, you can buy a bucket o' bungees for the cost of one set of ROK Straps.
Don't do it. It's not worth it. And the ROK Straps will probably last as long as you own the bike, working perfectly the entire time.
ROK Straps have been around seemingly forever.
So much has been written about them that there isn't much new to add.
And they have been been used by webBikeWorld reviewers for many years, tangentially referenced in many reviews.
So just for the record, here's an official webBikeWorld review!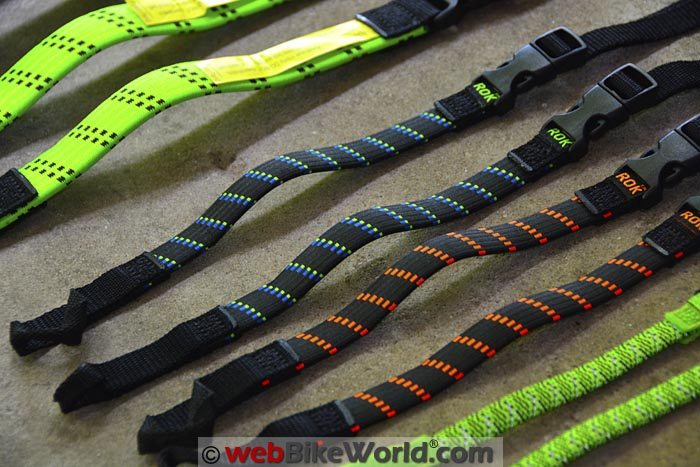 What Is It?
The ROK Strap designed for motorcycle use consists of two halves.
One side is a flat elastic shock-cord type material — yes, like a flat bungee — covered in a colored and/or patterned textile.
It connects to the other half with a quick disconnect fastener. On the quick disconnect side, there's a nylon webbed flat strap with a plastic square toothed D-ring.
This allows the length of the ROK Strap to be adjusted and the short length of stretch material on the other side provides tension.
On each end of the ROK Strap (actually both ends of the webbed strap) are built-in sewn loops.
The ROK Straps come in various types and sizes and they are sold in pairs. They are very well made, with multiple stitch and reinforcement points.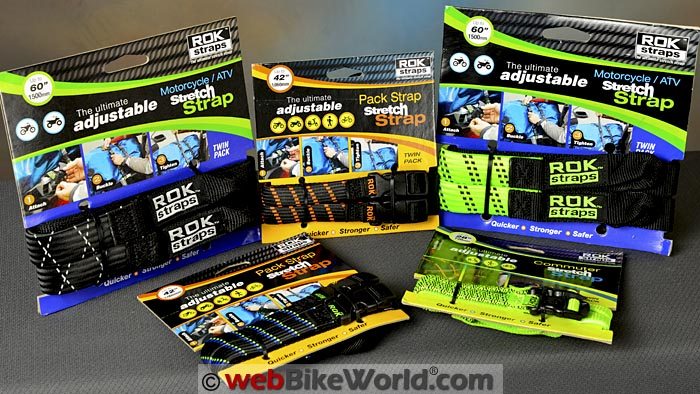 ROK Strap Types
There are several categories of ROK Straps, which can make for some confusion during an online purchase session.
For example, there's the "Motorcycle Stretch Strap", the "Pack Adjustable Strap" and the "Commuter Strap" among others, including specialized dog leashes and commercial style straps.
There's also a "Sport Stretch Strap" that includes metal hooks at either end but for use on motorcycles, it's best to avoid any metal hooks.
It's all a bit of marketing magic (or subterfuge, depending on your outlook), because in the end, you have a two-part ROK Strap with the basic features described in the previous section.
ROK Straps for Motorcycle Use
The ROK Strap types that are most familiar to motorcyclists around the world are the "Motorcycle Stretch Strap", the "Pack Adjustable Strap" and the "Commuter Strap".
Those three types pretty much cover the various lengths, sizes and colors (with and without reflective strands) you'll need for motorcycle use.
Note that if you're not completely familiar with the product, it can be a bit tricky to order ROK Straps online sight unseen, because there are several ROK Strap types and the naming conventions aren't normalized.
For example, some are called "Adjustable" while others are called "Stretch" in the stock item number listings, even though they have the same design and functionality. Yet the packaging material all uses the word "Stretch".
Some have the colors printed on the back of the retail mounting card, while others don't. Even the retail hang cards can be different, depending on the age of the retail stock.
There are multiple item numbers and various color iterations for what appears to be nearly identical straps (e.g. P/N 10050 and P/N 10025, both black "Motorcycle Stretch Strap" two-packs but the former has reflective strips added).
Just remember that for motorcycle use, you want the type that can be adjusted.
Also, there is also a ROK Strap design with metal hooks (the "Sport Stretch Strap") but those aren't really appropriate for motorcycle use either because one of the primary benefits of the ROK Strap is to avoid using metal hooks on a motorcycle.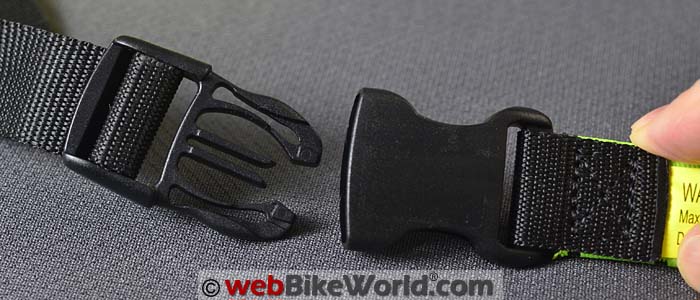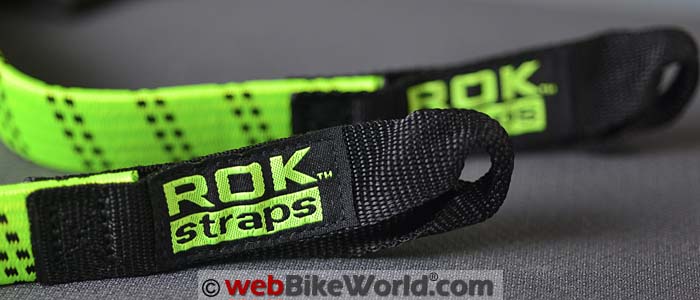 Sizes and Usable Lengths
The main difference in the ROK Strap types are the lengths, widths and adjustment range.
For example, one of the smallest ROK Strap is the "Commuter Stretch Strap" (P/N 10330, lime green with reflectivity). It is 12 mm wide (7/16″) and has a usable length of about 60 cm (~24 inches).
This one is minimal for motorcycle use but can be used to secure a small bag with D rings or similar.
The "usable length" is with the loops on each end secured and with the strap actually in use and with the stretch section at rest, not stretched.
By usable length, we mean the actual usable length of the ROK Strap, which is different from the claimed maximum length of 28″ printed on the package.
The maximum length is the entire ROK Strap length without using the loops or the D ring.
The mid- to long-size ROK Straps are probably most useful for motorcycles.
The "Motorcycle Stretch Strap" (P/N 10050, black with white reflectivity) measures 25 mm wide (1″) and the claimed maximum length of 60″ (1.52 meters) has a usable length of approximately 52″ (1.32 meters), again about a 15% difference.
Another ROK Strap useful for motorcycles is the "Pack Strap" (P/N 10306, black with orange stripes).
This is a mid-sized strap measuring 20 mm wide (5/8″) and with a maximum length of 42″ (1.06 meters) and a usable length of about 91 cm (3 feet).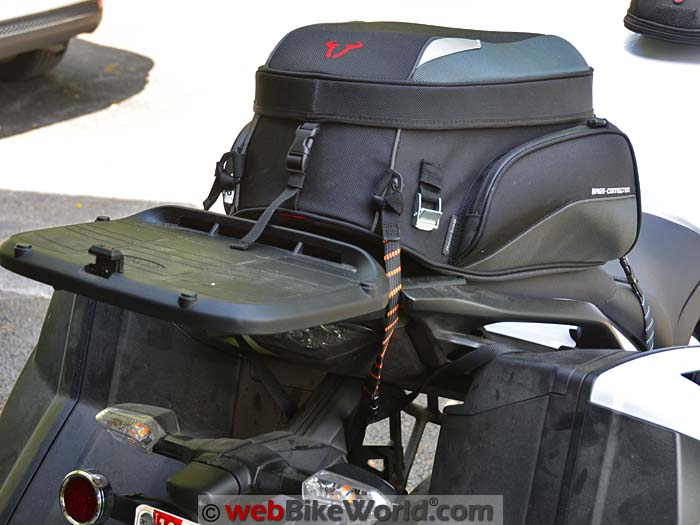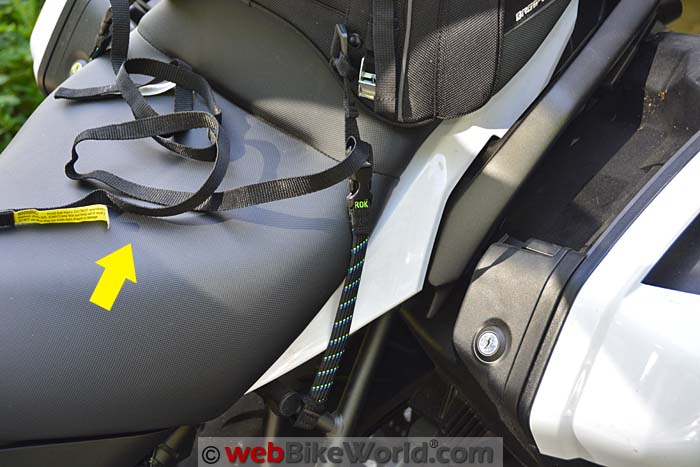 ROK Straps vs. Bungee Cords
Besides the potential danger of a bungee cord hook or strap coming loose and whacking you in the face or eye, the biggest problem with using a bungee cord on a motorcycle is that you never seem to have the correct length.
Too short and the bungee has to be stretched dangerously long; too long and you have to find creative methods to wrap the extra length while still keeping enough tension to hold the load.
If those problems can be solved, there's still the metal hooks vs. painted surfaces issues to deal with.
The ROK Strap was designed to address those problems. There are no metal hooks (at least on the motorcycle versions) and one side of the ROK Strap is adjustable for length.
There is a flat stretch bungee-type cord on the other side of the ROK Strap and these are designed to stretch only a small amount, approximately 25% of the resting length.
This allows some tension to keep the item in place on the motorcycle. If you need to stuff something else underneath, release the adjustable end of the ROK Strap, add the item and re-adjust as necessary.
Each ROK Strap has three loops: one on the end of the stretch side and two on the adjustable non-stretch webbed textile side.
You thread the strap through the loop and that's what holds on to a frame member or other appropriate hold-down point on the bike.
The ROK Strap system works much better than a bungee, however, there's one problem: it's easy to end up with a very long length of extra webbed strap that you have to deal with and store somewhere.
It would be nice if there were a couple of stretch-type donuts or loops added to the ROK Strap so you can fold the extra length, then tuck it under the loops to secure the bundle.
Absent that sort of solution, owners will have to find a way to store the extra length of strap.
It could be folded into a bundle and tucked under the secured ROK Strap but most owners use one of the methods shown in the photo above.
A plain old rubber band works well but rubber bands can easily become degraded and you don't want a long loose end of a ROK Strap to get caught in the works as you're riding down the road.
You can find strips of reusable hook-and-loop in a hardware store (center photo) or a reusable cable tie can be used, but you'd have to cut it to size and be careful of the cut end (file it first to remove the sharp points).
There's another solution if you have a standard sized load that you carry frequently using the same ROK Straps — like the rear seat bag shown in our photos or a waterproof luggage bag or a box or similar.
You can customize the length of a pair of ROK Straps by cutting the extra length and fusing the end with a flame.
We'd like to hear from experienced ROK Strap users on how they deal with this problem.
Conclusion
ROK Straps are a simple and easy-to-use solution to the bungee cord problem.
In fact, a pair of ROK Straps works better than the built-in straps on motorcycle luggage items like soft bags, panniers and seat bags.
Yes, a pair of ROK Straps is more expensive than a bunch of bungees, but the ROK Strap does a much better job at safely securing a load on a motorcycle and your ROK Straps should last a very long time.
So if you're regularly carrying a pack, luggage, rear seat pack or other load on your bike, a few pairs of ROK Straps are a good investment.
List Price (2016): $15.00 and up
Made In: Dominican Republic
Colors: Varied
Sizes: Short to long; narrow to wide.
Review Date: September 2016
Note:
 For informational use only. All material and photographs are Copyright © webWorld International, LLC since 2000. All rights reserved. See the webBikeWorld® 
Site Info page
. Product specifications, features and details may change or differ from our descriptions. Always check before purchasing. Read the
Terms and Conditions
!
Owner Comments and Feedback
---
From "F" (September 2016): "My 2 cents on ROK Straps is they're way better than traditional bungees and easily loop mount to a variety of frame/handle points on you bike.
I have just two basic black elastic ones and they've never failed me after 5000+ miles of adventure riding.
Attached is a photo of my Alpinestars dry-backpack mounted using Rok straps; the bag held ALL my camping gear and stove, so it wasn't light, but when the Rok straps are threaded through the shoulder straps of the backpack, they prevent it from sliding sideways."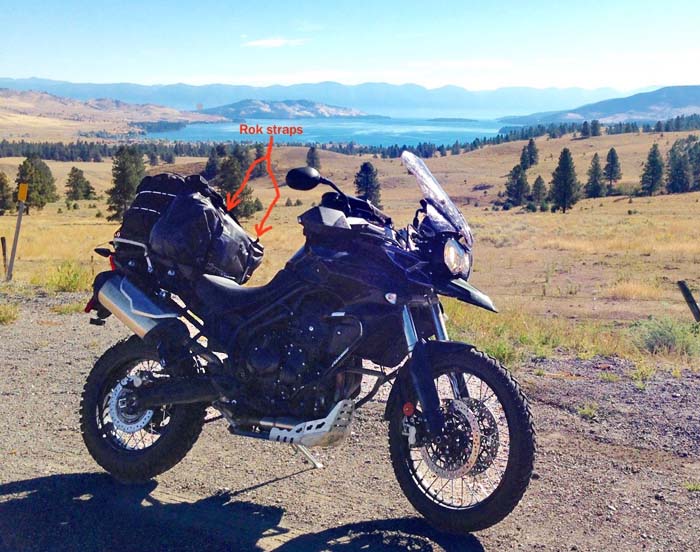 ---
From ROK Straps (September 2016): "We opened a second factory in the Dominican Republic last year, and all US-bound straps are now coming from there.
Right now it's about 50-50 as to whether you get a China or Dominican Republic made strap, but soon they'll all be from the Dominican Republic."
---
From "D.H." (September 2016): "I've never owned a true touring bike, so when I tour it always involves getting creative with waterproof duffles, seat bags, etc. Discovering ROK straps some years ago made that job roughly 1000% easier.
I tie the loose end around the buckle for extra security in case it would come open (not that it has ever happened); difficult to explain but easy to visualize if you're looking at it.
There's usually some extra left over even after doing that, however.
So like mentioned in your article, I like to use double-sided Velcro to tidy it up — gather the tag end in a loop, wrap Velcro around one side of the loop first, then around the entire loop to make a tidy, secure flattened oval with no chance of the strap somehow worming its way out.
ROK straps don't seem to bugger up paintwork like bungees, but just to be safe on a long ride, I always keep some RKA Slip-Nots on hand, which work great (I've also used them for tank bag/seat bag straps).
If you can sew or can sweet-talk someone who can, you could probably fashion something similar from fleece."
---
From "D.S." (September 2016): "The best way to secure loose ends is the Web Dominator and there are some interesting versions of the ROK straps made in collaboration with others that are actually more functional.
I have the Enduristan version which has buckles at the ends so it's actually easier to attach to racks and frames and I'm eyeing the LYNX hooks version that features interlocking plastic hooks for some nice combinations."
---
From "J.R." (September 2016): "I use these "strap keepers" from Kriega to deal with the excess strap. You need 2 of them on each strap and you secure them in the standard way Kriega intends. They are cheap and work perfectly."
Editor's Note: The Kriega strap keepers seem to be out of stock, here's a list of other types ofstrap keepers and gizmos.