Tierra del Fuego Jacket Review Summary
Tierra del Fuego Jacket Image Gallery
The onset of winter has rekindled my interest in 3/4 length motorcycle jackets.
Besides their good looks, they provide the right amount of coverage for cool weather.
And when they're designed correctly, a garment of this length is probably about as close as one can get to that mythical "all season" motorcycle jacket.
A 3/4 length jacket was also the first "real" motorcycle garment I ever purchased, way back in the dark ages of drum brakes and ignition points, so maybe there's also a touch of sentimentality that drives my interest in this style.
I'm not sure about the origins of this particular style for motorcycle riders; perhaps it started with the ultra-classic Barbour International jacket (review) back in the '50's?
But we may be in the midst of a subtle revolution in the length of this style jacket.
You may have noticed a recent design trend that has shortened them to something that looks more like a 5/8 length.
As I'm writing this article, Burn is posting the Teknic Sprint jacket review, which features the shorter 5/8 look.
There are a few others I can think of whose vertical dimensions are a departure from the classic 3/4 length, including the Rev'it Cayenne we reviewed last year.
Not that I'm complaining — there's always room for improvement. Perhaps there's a reason for this? Maybe the slightly shorter length makes it easier to swing a leg over an Adventure Touring bike or something similar?
In any case, the 3/4 length jacket is definitely a "modern classic" and my guess is that it has replaced the much shorter waist-length sportbike jacket as the most popular style.
The Roadgear Tierra del Fuego Jacket
Roadgear says that they received "extensive input from a veritable who's who of the Iron Butt Association's riders" to design the Tierra del Fuego jacket.
And who am I to argue?
Although I'm not sure I'll ever understand a motorcycle event that focuses on long distances in short amounts of time, I am confident that Iron Butt riders aren't going to stand (sit?) for anything other than pure function.
Also, their clothing is designed to perform under a wide variety of conditions, although we all know that it has so far been impossible to design motorcycle apparel that will function brilliantly in everything from the hot and dry to the wet and cold.
I've been wearing the Tierra del Fuego for the last few weeks in weather that has see-sawed back and forth from cool, wet and 50 to warm(ish), dry and 65.
It's performed admirably under those conditions and I've pegged it as one of the best examples of a solid all-around jacket, especially for those whose wallets may limit the number of seasonally dedicated motorcycle clothes hanging in the closet.
I'll admit — we're definitely spoiled around here, because there are always some new and tasty products coming in the front door, so we have plenty to choose from whenever the weather shows another face.
But not every motorcyclist has that luxury and, in fact, many riders own just a single jacket that gets plenty of wear and tear throughout the year.
Sizing and Fit
Another reason I like 3/4 length jackets is that the format usually provides adequate internal wiggle room, making the style much more comfortable for long rides than, for example, a two-piece leather suit.
The Tierra del Fuego jacket in size 44 fits me perfectly, with enough adjustability in the sleeves and waist to keep it snug but with enough room in the body to keep me comfy.
Roadgear must be commended for offering the jacket in real chest sizes, from 40 to 52, in addition to the unisex sizes of S, M and L.
Liner Notes
The jacket does have a few compromises, as any jacket whose goal is to serve its master for 365 days will.
It has a permanently attached Reissa waterproof and breathable membrane sewn inside, which keeps out the water (or at least as much as I went through during a couple of wet days recently).
But the membrane doesn't allow the air that enters the large front and rear zippered vents to pass through to the rider and out the equally large vents in the upper back.
I'm guessing that it would have added much more cost to the jacket to design a waterproof zipper cover and venting system.
But although I'll admit I haven't worn the Tierra del Fuego in anything higher than about 65 degrees, I haven't really noticed any unusual buildup of heat inside.
When the two front and two rear vents are open, the air flows in through the front, circulating around the rider and out the back, which does seem to help.
Each arm also has a vent zipper, located just about at the mid-point.
Heavy rain water can enter through the unprotected zippers, but it seems to stay on the outside of the Reissa membrane, where, if the volume is large enough, it flows downward and weeps out the bottom of the jacket through a full-length mesh "drain".
The mesh is in the hem of the jacket, which is (or should be) located well down over the rider's pant legs. So as long as I'm wearing waterproof pants (I always do when wearing the jacket), I'm fine.
Jacket Simplicity
Another feature that I like to find on a 3/4 length jacket is simplicity.
Some of them are overly complex with so many zippers, flaps and adjustments that getting into and out of the things can literally add several minutes on each end of the ride.
My frustration levels quickly build when I have to spend too much time assembling myself just to go for a quick ride.
I guess it reminds me of when Mom used to dress me up in so many layers of cotton and wool clothing that I looked like a tick when it came time to play out in the snow!
Pockets
The simplicity extends to the pockets; the Tierra del Fuego jacket has two of them located down in front and each one includes a flap cover and with a zipper underneath.
Another vertical pocket is located just inside the left front flap, outside of the main jacket zipper.
I use this one to carry my wallet. There's also an inside zippered pocket that is accessible when the removable insulating liner is removed.
The main jacket zipper is a heavy-duty YKK unit with some type of big plastic teeth and a metal pull. The jacket zips up all the way to the top of the neck, which is just shy of a mock turtleneck length.
A short padded flap is sewn inside the right front section of the top of the neck.
It's lined on the back side with a soft fabric, which helps prevent the zipper from chafing the neck and it also adds a small amount of protection from the wind.
The neck is also lined with a soft micro-fleece, but I wish the lining also extended up and over the edge at the top of the neck, which I think would have made it a bit more comfortable in this sensitive area.
The neck closes with matching sections of "hook and loop" fastener and it's big enough to secure my 17.5″ diameter example. The neck has a decent range of adjustment and I found that it fit three different riders, all with different neck sizes.
Protection
Roadgear provides CE-approved armor at the elbows and shoulders and a thin, non-removable back pad in the Tierra del Fuego jacket. It's enough to offer a modicum of protection without constricting the rider too much.
The elbows and shoulders are covered with a ballistic type fabric on the outside.
For more protection, I occasionally wear something like the Velocity Gear armored shirt (review), the Knox Cross armored shirt (review) or other protective gear underneath.
Color Choices and Reflectivity
The jacket is available in any color you'd like, as long as it's black and gray.
I'm not sure of the reasoning behind the limited color choice, but the good news is that the colors work well together and they do seem to compliment the overall styling.
Roadgear also incorporated plenty of 3M Scotchlite reflective piping on the front, back and sides.
It's nicely done because the reflective fabric blends into the jacket when it's not illuminated but it lights up when it's needed. We took a couple of photos with the flash to illustrate: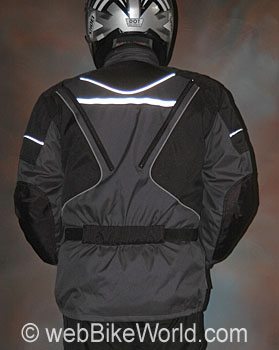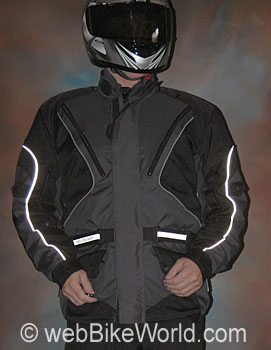 More Details
The mid-weight DuPont "Thermolite" liner is attached with a single zipper and snaps at the wrists.
It works well on cool days, but I found that I needed an additional windproof vest underneath when riding an unfaired bike with the temperatures dropping into the lower 50's.
The size 44 weighs 4.2 pounds (just about 2kg) with the insulating liner attached.
This is relatively light for a 3/4 length jacket, and the lack of mass may reflect a design strategy for the middle range of potential riding temperatures rather than the extremes.
The wrists close with "hook and loop" fastener only; there's no additional zipper at the cuff, but there is an expanding gusset.
There are also two adjustment snaps on the upper and lower arm; each one allows the sleeve to be tightened up by one snap.
Finally, the waist includes a nice, wide adjustable belt that allows a very wide range of adjustment to prevent air from coming up from underneath and to fit over a variety of clothing and body shapes.
Conclusion
The Roadgear Tierra del Fuego jacket is a reasonably priced solution for general "all around" motorcycling.
It should be of interest to touring riders or anyone looking for a single motorcycle jacket that can serve multiple purposes.
w

BW

 Review: Roadgear Tierra del Fuego Jacket
Manufacturer: Roadgear
List Price (2006): $289.90
Colors: Black/gray
Made In: Pakistan
Review Date: November 2006
Note:
 For informational use only. All material and photographs are Copyright © webWorld International, LLC since 2000. All rights reserved. See the webBikeWorld® 
Site Info page
. Product specifications, features and details may change or differ from our descriptions. Always check before purchasing. Read the
Terms and Conditions
!
Owner Comments and Feedback