We covered the original ("millions sold") Roadgear Digital Tire Pressure Gauge (review).
Also, the pencil-thin, newer style Roadgear Digital Tire Pressure Gauge (review) was also described in previous webBikeWorld reviews.
You'd think that a tire pressure gauge is, well, a tire pressure gauge, right?
After using both for several years, our favorite is still the original version.
That's mostly because of it's 90-degree head shape, which makes it very easy to access just about every motorcycle tire valve stem.
So after developing two completely different — and very useful — models of tire pressure gauge, one of which is probably the most popular motorcycle-focused tire pressure gauge in the world, what's next?
The "Talking" Tire Pressure Gauge
How about a "talking" tire pressure gauge? Yes folks, it talks — and get this, it's bilingual!
Roadgear took the original digital tire pressure gauge and filled it with digital gizmos that allow it to provide the same accurate digital readout and read back the tire pressure in both English and Spanish!
[UPDATE: Since this article was published, Roadgear told us that they are not sure whether or not the bilingual chip will be used in the next manufacturing batch, so it's possible that the specifications will change.]
The voice is very clear and recognizable in English, and I'll assume it is in Spanish also, although since I don't speak Spanish, I'm not sure.
A simple flip of the switch on the side of the gauge, which is marked "English" and "Spanish", will change languages.
We recorded a sample of the voice in both English and Spanish and it's available here as an MP3 file.
The last reading is stored in memory and it can be recalled at any time until the next reading is taken.
Now why would anyone want a talking tire pressure gauge? Beats me – but it's a sure way to impress your friends.
Actually, it is helpful with some motorcycle tires where the valve stem is hard to reach. You can check and adjust the tire's air pressure without having to pull out the gauge for a visual check.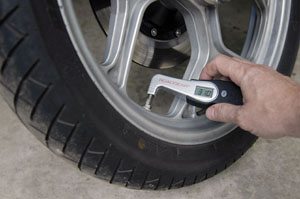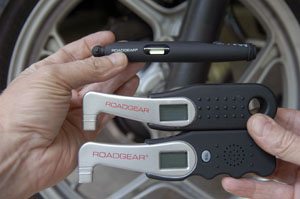 (R) Pencil style Roadgear gauge (top); original (center) and talking gauge (bottom).
Size Comparisons
The original version of the gauge is 155mm (6-3/32″) long, and the handle was 18mm (~11/16″) thick and 37mm (~1-1/2″) wide.
It weighed in at 46 grams, or 1-5/8 oz. The new gauge is nearly identical in all respects, and has the same clear digital readout.
Although these Roadgear designs don't include a pressure relief valve, we've found that it's very easy to adjust the tire's air pressure downwards by lightly pushing on the valve stem with the gauge, just like you're taking a reading, but with lighter pressure.
This lets out a small amount of air from the tire, and the gauge can then be pushed on the valve stem until fully engaged to take the correct reading.
We use this method all the time with the original Roadgear Digital Tire Pressure Gauge and it works fine.
Accuracy
The Roadgear gauge is claimed accurate to within ± 1% and measures from 5.0 to 99.5 psi in half-pound increments.
We've compared all three Roadgear gauges with Accu-Tire and other non-digital tire pressure gauges and have found that the Roadgear gauges are very accurate and consistent.
We have found that it may take two or three readings when the gauge is new to break it in.
We're not sure why, but the first couple of readings vary slightly and then settle down to the correct and consistent reading every time.
This may be due to lubrication or an artifact left over from manufacturing.
Warranty
The Roadgear Talking Digital Tire Pressure Gauge has a lifetime lithium battery and a five year warranty.
The correct motorcycle tire pressure is crucial for best performance and safety, and we have developed a habit of always checking the tire pressure on our motorcycles before each and every ride.
So our advice is to spend a few extra bucks on a nice tire pressure gauge like this one and use it for life while impressing your friends!
w

BW

 Review: Roadgear Talking Digital Tire Pressure Gauge
List Price (2005): $24.90
Made In: China
Colors: Silver with black high-grip coating.
Sizes: N/A
Review Date: July 2005
Note:
 For informational use only. All material and photographs are Copyright © webWorld International, LLC since 2000. All rights reserved. See the webBikeWorld® 
Site Info page
. Product specifications, features and details may change or differ from our descriptions. Always check before purchasing. Read the
Terms and Conditions
!
Owner Comments and Feedback