We went huntin' today for moose, bear, mountain lion, buffalo and cowboy boots. And all we came back with was the latter.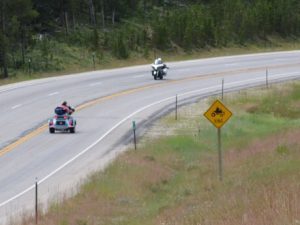 This is day 12 and the penultimate day of our ride to the Sturgis Motorcycle Rally on a Victory Cross Country Tour. We stayed in Buffalo last night and again tonight so we could take in some of the area's beautiful Big Horn National Park, the cowboy and Indian heritage, the plentiful native fauna and the shopping.
Mrs MotorbikeWriter has been very tolerant so far with the "no shopping" rule because we have a full luggage component, but she wants a pair of original cowgirl boots, so we head off on a boot hunt up in Sheridan about 20 miles on the interstate, now filled with riders converging on Sturgis.
Mrs MBW also scored some gifts for friends and now we're pondering just how we'll get it all to Sturgis. But where there's a will, there's a way.
Back at Buffalo, we drop off the new purchases, Mrs MBW changes into her new boots, longhorn jeans and rhinestone belt for a bear hunt over the famous Route 16 west of the town. It's also referred to as the "Cloud Peak Skyway Scenic Byway" and it's everything in that name plus a whole lot more. But unfortunately, no bear, moose, mountain lion, etc is to be seen. Although we do see a few deer.
The road swirls some 6000 feet higher than Buffalo with beautifully smooth asphalt and high-speed sweepers. The over-cautionary signs urge motorists to slow down for the "sharp curves" but there are only two hairpins the entire length and even they can be taken in third gear on the competent-handling Victory.

It's fourth-to-sixth-gear all the way and a real blast with a torquey machine like this. The Cross Country Tour simply chews up the dizzying heights and spits them out again. Overtaking uphill with two on board is done in the blink of an eye.
Meanwhile, the scenery is flashing by like fanning through postcards. It is jaw-dropping around every corner. Then we descend and descend down through the gorgeous granite canyon into sleepy Ten Sleep, so called because the Sioux counted distance by the number of sleeps and it was ten sleeps from any of the major Sioux camps.
The town has about 200 residents, according to the sign on the town limits, but it has three bars. That's my kinda town. We walk into the Ten Sleep Saloon with the deer antler door handle and feel like Clint Eastwood walking into a bar in High Plains Drifter. And there in front of us is a life-size cardboard cut-out of Clint in his Drifter outfit!
This is a real cowboy saloon with a wooden bar inlaid with one cent pieces, patrons wearing cowboy hats and bib caps, a pool table with "check all guns with bartender" hanging overhead and a bartender who says "What are y'all havin'?"
We could stay all day, but we need to beat a thunderhead back to Buffalo to secure a good table at the Occidental Saloon tonight for the bluegrass jam.
My wife's already laid out her cowboy gear for the evening.