We knew we were heading into some rain today, yet we took the hard option rather than the easy one and it seems fortune truly does favour the brave.
Today was day 10 of our 3200km ride from LA to the Sturgis Motorcycle Rally on a Victory Cross Country Tour and we departed the beautiful ski resort city of Steamboat Springs under threatening skies.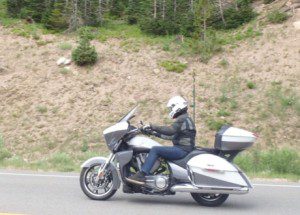 The weather prediction is for thunderstorms and possible hail to the north at Laramie, Wyoming, where we are headed. But we've already booked our hotel and Laramie sounds like a nice cowboy destination, so we risk it.
Climbing several thousand feet out of the Steamboat Springs valley, the Victory's lusty 106 Freedom V-twin hauls our 175kg of rider, pillion and luggage effortlessly. I only need to drop to fifth gear as we pull out to pass cars, trucks and other riders.
The oxygen sensors feeding exhaust information to the computer control module to adjust the fuel/air mixture in the modern fuel-injected engine is doing much better than I. The past few days of riding in 6000-10,000+ feet altitudes has given me a mild case of altitude sickness and I am constantly short of breath, unlike the Victory.
We turn down into a beautiful green valley alive with chipmunks darting across the road as we head for Walden. Our bike is now pointing directly at the Rocky Mountains which are hung heavy with asphalt-coloured brooding clouds.
We fuel up at Walden and ask the gas station attendant which is the best way to Laramie. She points out that we can keep heading north and be in Laramie in an hour, or take route 14 through the Rocky Mountain National Park. She suggests the latter: "You won't regret it."
The road over Cameron Pass twists and winds up and down over 10,000 feet, past peaks that are still snow capped and beside cascading streams. It's a well-used biker road for good reason.
Just after the peak, we pull in to put on our rain jackets when the heavens finally start to give way. We haven't brought rain pants because we figure the full-dresser Victory will shield us.
The rain is so heavy, visibility through the windscreen is almost zero. We are also on the worst stretch of road we've yet encountered, so we stick to the posted speed of 35mph.
Here the road has cracks which are either open or have molten tar in them which causes the front wheel to wobble wildly. We have a few white-knuckle moments, but it is all over in 10 minutes.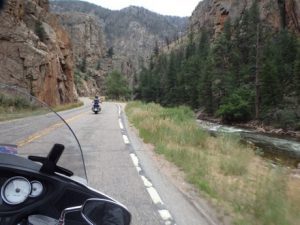 The gorgeous canyon we ride through on the other side is certainly well worth it. We stop at Mishawaka Inn for lunch, along with several other bikers, and wish we had more time to soak up the cascading stream running past the dining balcony or maybe stay for one of the notable rock concerts they feature here.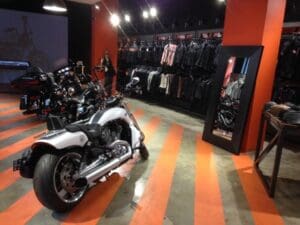 But we need to be in Laramie by 5pm for an interview with American talk radio show The Dawghouse, so we saddle up and press on.
When we hit state route 287 north to Laramie, the heavens truly open up and as we cross the state line into the high plains country of Wyoming, the gale winds start to blow us sideways.
Trucks stream past and spray us as we limp along the 65mph road at 50mph for the next hour. There are no places to pull in and wait it out, except for fireworks stores that seem abandoned.
Finally we arrive very soggy in Laramie in a break in the weather only to find the streets edged in what looks like snow. Apparently they had a massive hail storm a few hours earlier which we would have run headlong into had we not chosen the "tough route" instead of the easy route. Sometimes fortune does favour the brave.