Melbourne has been at the forefront of footpath parking for motorcycles, but now footpaths around St Kilda have been ruled out for a six-month trial ban even though it is the site of a popular annual motorcycle Toy Run.
Rider Darren Carson is organising a protest park in St Kilda for this Sunday, February 21.
He says the protest is to make a stand against the footpath parking ban becoming permanent and spreading across the city.
Riders will meet at the Maccas on the Western Ring Road about 9-9.30am and ride into St Kilda, arriving about 10am.
However, he says other riders are welcome to turn up and take up a car park space each to demonstrate to business and residents how many riders frequent the area and the impact on parking if they couldn't park on the footpaths.
"This is a popular place where riders meet and have something to eat and coffees," he says.
"There will be a big economic impact on the local businesses if they don't take down the no-parking signs as bike patronage will stop."
City of Port Phillip spokeswoman Fiona Blair says the six-month motorcycle parking ban trial was in response to "many complaints" about the large number of bikes parked on footpaths and "excessive noise".
Darren says Victorian law allow riders to park their motorcycles on footpaths for free so long as it doesn't block paths to pedestrians, loading vehicles or emergency services.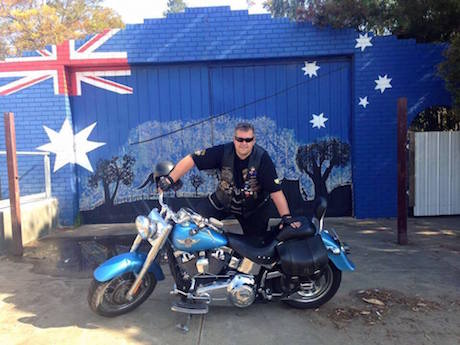 "I've seen up to 30 bikes parked in this spot and there is still plenty of access for pedestrians," Darren says.
"We all have wives and kids so we are not about to compromise the safety of other people just so we can park on the footpath."
Darren says riders like to park their bikes there because of the safety aspect.
"Bikes cost a lot of money and we want to keep them in eyesight and we can't lock them like a car," he says.
"When there are a few bikes parked there, no one will touch them."
The Independent Riders Group and Freedom Riders Australia also plans to bring along bikes and scooters to take part in the parking protest.
IRG spokesman Damien Codognotto says "a lot of people are very angry about the noise issue being linked to parking".
"Some people are taking it as the council and police want riders out of their suburb," he says. 
"The appropriate authorities have the tools to deal with excessive noise. In St Kilda it seems, they don't.
"The current motorcycle parking restrictions were implemented without consultation with stakeholders; not the riders nor the businesses."