A West Australia rider has had his GoPro helmet cam SD card confiscated for evidence by police.
Local motorcycle advocate Dave Wright has defended the police actions and say it is a lesson to all riders.
"I guess that's fair. If people are doing stupid things, they should pay the price," says Dave who is the West Australian delegate for the Motorcycle Riders Association.
"Maybe if people know their SD card could be confiscated it might make a few people slow down when they have the GoPro on."
He also defended a recent Bunbury police crackdown in which every motorcycle was stopped in the wake of three rider fatalities over a two-week period, including one who was unregistered.
Although admitting it was a knee-jerk reaction and a heavy-handed approach, Dave Wright says the operation was restricted to a small area, only lasted a couple of days and yielded several unregistered riders.
He says the crackdown was due to the record number of WA rider deaths this year.
"We've gone from 25 deaths last year to 43 this year. It's the worst year on record ever," he says.
"It seems to me there is a lack of skill by many riders. Most are single-vehicle accidents and even where there has been a car involved, it is often bad road positioning by the motorcycle rider, although not all fatalities are the blame of the rider."
Dave has been working with several government departments on motorcycle issues and says he has a good relationship.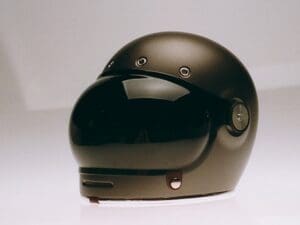 "We have no issues over here with helmet cams," he says. "In fact all cops have cameras on their helmets in an operation to fine drivers using mobile phones.
"Visors also aren't an issue over here," he says in reference to Victorian riders copping fines for a non-compliant helmet based on a tinted visor.
"I've never heard of anyone being fined for an illegal helmet or things on their helmets. The police over here have better things to do."
WHAT DO DO IF PULLED OVER FOR A HELMET OFFENCE
Meanwhile, Transport Minister Dean Nalder announced during Motorcycle Safety Week that a 12-month trial would be conducted of motorcyclists using two peak-period bus lanes from early in 2015.
Motorcycles will be able to travel in the Beaufort St bus lanes between Roe St in Northbridge and Grand Promenade in Inglewood, as well as along South St between Vahland Ave to the Kwinana Freeway.
The trial is being run in response to requests from the Motorcycle Riders Association.
Riders will be restricted to the same signposted speed limits as buses.
Transperth will monitor bus on-time running using GPS data and collate feedback from bus drivers to determine whether the trial can be continued on a long-term basis.