As the Honda Factory team dreams of breaking KTM's 13 consecutive Dakar Rally wins, four Aussie motorcyclists will contest the gruelling event, including expat Simon Pavey and his son, Llewellyn, while legendary rider Cyril Despres will switch to cars.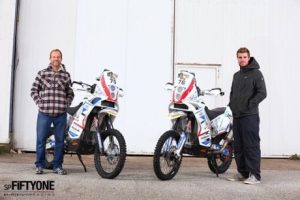 The rally starts on January 4 with daily edited one-hour screenings on SBS One at 5.30pm. (Check your local guide.)
Pavey is well known for his training course now based in Wales as well as in Australia with Compass Expeditions, but also for famously training Charley Boorman and Ewan McGregor before their Long Way Round adventure.
His first rally was in 1998 when he was 40th, his highest finishing position. This will be his 10th attempt.
"It's so much fun riding with my son, watching him improve and gain confidence," Simon says. "On the Dakar we won't be riding together. It's not a healthy way to make it work.
"One will ride for a result the other will support but we don't know who will do what. The ambition of course is for both of us to be on the finish podium. Then, whatever happens, happens.
"I have personal ambitions but I prefer to keep them to myself. The Dakar really is part of my life. I still take the time to enjoy the scenery. It's a massive part of why I'm going."
Llewellyn will sport number 75 and his father 76 on their KTMs.
Other Aussies contesting the Dakar include Toby Price (#26) and Clayton Jacobsen (#134) on KTMs.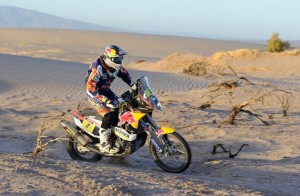 Meanwhile, in the year that Honda is apparently returning its Africa Twin adventure bike to the market, a Honda win would be a big boost.
So the factory team is trowing everything at the rally to try to depose KTM and Spaniard Marc Coma who clinched his fourth Dakar early this year.
The last time Honda won a Dakar Rally was 1989 with Frenchman Gilles Lalay on an NXR800V, ending a four-year run of victories.
This year their assault is being led by Spaniard Joan Barreda Bort who is in his fourth rally after competing on a Husqvarna, Aprilia and Honda. He crashed out in second place this year and has 10 stage victories to his name. He will again be ably supported by Portuguese riders Helder Rodrigues and Paulo Goncalves.
Coma's nemesis and five-time winner, Frenchman Cyril Despres, will not be riding this year. Instead, he is switching to cars like Stephane Peterhansel, the most decorated Dakar winner with five car and six bike victories.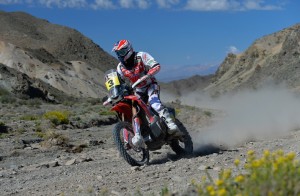 The former African rally has been held in South America since 2009 after terrorist threats cancelled the 2008 rally in northern Africa. This year the 9000km rally with 4500km of special stages extends to Bolivia, starting and ending in Buenos Aires, Argentina, and also taking in Chile.
The Dakar Rally is not just a motorsport event, but the ultimate adventure. MotorbikeWriter usually steers clear of motorsport, but this rally is more than that.
It is a torture test of man and machine across the driest desert in the world, some of the highest and most rugged mountains and temperatures ranging from 50C to freezing.