The future of Black Dog Ride Australia (BDRA) events to raise awareness and funds for mental health issues is assured, despite recent staff, funding and cost problems, the organisation says.
BDRA sent an email to all followers this week admitting the organisation has been "in a state of flux" since the retirement of founder Steve Andrews in February 2017.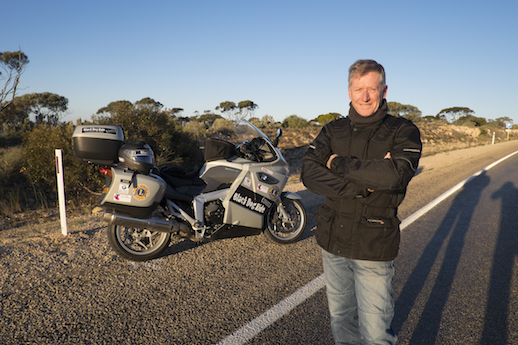 "We have had three CEOs, three acting chairs and several changes to our board members," the email says.
"These changes have meant that BDRA has been a little rudderless, and the organisation has incurred a rapidly growing cost structure that was not sustainable."
However, BDR spokesman Richard Brown says they will still run the same events across the country.
"We are restructuring so that we can come back bigger and better," he says.
"Previously there have been planning issues and communication issues.
"We are taking this as an opportunity to come up with better ways to plan, coordinate, and communicate."
Here is the full text of the BDRA email.
Changes to Black Dog Ride Australia
Firstly, we wanted to acknowledge the range of reactions to the news that Fiona Duffield is no longer a paid employee of Black Dog Ride Australia (BDRA). We also acknowledge that our initial statement gave limited information, though we emphasis the statement was to ensure the community were informed of this change from BDRA and not indirectly through other sources.

We also acknowledge there was no statement on Erin Hope's departure who after a short tenure is also no longer a paid employee of BDRA. Our statement was not meant to give an overview of staff member changes rather it was to let everyone know of the significant change surrounding Fiona as a long-standing member of the team.

As many of you will be all too aware, since the retirement of our founder Steve Andrews, BDRA has been in a state of flux, we have had 3 CEO's, 3 Acting Chairs and several changes to our board members. These changes have meant that BDRA has been a little rudderless, and the organisation has incurred a rapidly growing cost structure that was not sustainable.

In fact, as of the start of May this year we were incurring approximately $22,000 per month in fixed operating costs (approximately $264,000 per annum). Of that, approximately $15,900 per month was going to wages and office rental costs combined (approximately $195,000 per annum).

At that level of expenditure, and assuming the Around Australia Ride and state rides hit their budget, we only had enough funds in the `operating' account to run BDRA for 5 to maybe 7 months.

We do also have an entirely separate `gift' account for the collection of donations and charitable fundraising dollars. As a registered charity organisation we are required to operate this separate fund which is primarily to be used to return funds to the community to support mental health and suicide prevention initiatives. The gift account can and will be used to distribute funds to deserving initiatives through our new community grants funding model. More news on that later in this newsletter.

However, with limited operating funds available, we took the difficult decision to make Fiona Duffield and Erin Hope redundant in line with the provisions of their award. This is never a good situation and this was not a decision we took lightly.

Redundancy arrangements were formulated in consultation with a Perth based Human resources consultancy. It is not appropriate for us to disclose details that are of a private nature (private to Fiona and Erin). But what we can say is that on the day (Tuesday 14th May) we had Richard Brown attend to represent Black Dog Ride together with the Human resources consultant, a Social Worker for employee support, an IT consultant to start working on IT changes, and a security guard to provide access for transport companies quoting on relocating merchandise and equipment.

Beyond the reduction in salaries and rental costs we are also reviewing the ongoing costs around bookkeeping, insurances etc.. We are also looking at the costs within the Around Australia Ride budget and areas this can be reduced/maximised.

Further on in this newsletter we will outline what operational changes we are implementing within BDRA and talk a little about the plan moving forward. Though we want to highlight here that prior to recent years BDRA has run a very lean operation, calling very much on the knowledge, skills and expertise of its volunteer community and we will be looking to get back there, as we should being a charity organisation.

It may not be apparent from the outside, but there has been a lot of work going on over the past 3 to 4 months with the new board in place. We could all start to debate who caused the problems we're now working our way out of, but we have decided that would only take us away from the critical list of jobs we need to complete to get us to where we want to be.

Beyond the AAR, State Rides and 1-dayers we are also working on revenue raising initiatives that if successful will be announced over time. Also, with the strengthening undertaken over the last 3 to 4 months on our Corporate Governance structure we are almost in a place where we can start formally applying to corporate foundations for regular grants.

We stress however, that any business initiative does not happen overnight, and we will need 6 to 12 months to really get things back on track.

Lastly, though definitely not the least, BDRA is you – our community. We hope you will stand by us as we work towards a stable and growing organisation that is really making a difference.
Sincerely, BDRA Acting Chair, Jo-Anne Harrison
Operational Plan – The Next 12 Months
There are many things we could talk about as far as our current list of things to do. It will take some work for us to get where we want to go, and things won't be perfect for a while, but here's a brief overview of what we have planned in the short term.

Staffing

For the next 12 months (or less) Black Dog Ride Australia will operate with a Manager (at .5FTE) and two Administration Officers (both at .6FTE). Richard Brown will act as the business Manager, paid at a rate of $42.50 per hour on a 12 month contract. The two Administration Officers will be paid at a rate of up to (depending on experience) $33.06 per hour on a 12 month contract. A special government wage subsidy will apply to the two administration employees, which will greatly reduce our wage costs. With this arrangement in place the total salary cost to the organisation for the 1.7FTE will be budgeted at $5375 per month, or $64500 per year.

Office location

It is our intention to either sub-let or surrender the Perth office. The current managing real estate agent in Perth is being quite helpful with this process, so we are hopeful that monthly rental costs for the property can be minimised within the next two months.

We do not intend to establish a dedicated Black dog ride office during the coming 12 month period. As an interim measure the 1.7FTE staff will share an office area which has been provided to us for $500 per month, $6000 per year.

Short-term goals

Critical objectives for the next 12 months include, but are not limited to,:

Keeping Black Dog Ride operating – this should go without saying.
Seek opportunities to simplify operations, streamline processes and reduce costs. For example, Black Dog Ride merchandise is costly because it is labour-intensive and it ties up money in slow-moving stock. It will be necessary to reconsider what merchandise items we continue to stock, and the way we handle our merchandise across the country.
Seek opportunities to increase our revenue. We are currently working on obtaining corporate sponsorships and government funding, but these funding avenues generally take a long time to come to fruition, so we may not see a great deal of revenue through these sources within the next 12 months. We are also working on opening a Black Dog Ride membership program which is something we should do anyway, but may also provide the organisation with a little extra revenue.
Develop more effective ways to communicate with our volunteers and Black Dog Ride community. We are working on a few ideas at the moment that we hope to trial over the coming months.
Plan and coordinate long-distance rides and 1 Dayers, allowing long planning lead-times.
Facilitate disbursement of donated funds. A long long awaited community funding model should be released very soon. We'll talk about this a bit more later in the newsletter.
Expand Black Dog Ride. We would like to establish new 1 Dayers across the country, and will consider the viability of adding some new activities to the calendar.
If you'd like to contact Richard he can be reached via email at richard@blackdogride.org.au
Key stakeholders of Black Dog Ride have previously met for strategic planning sessions during 2017 and 2018. The result of those meetings was an initial rough draft three-year strategic plan.

A project specific board sub-committee was formed on 5th February 2019 to review and amend the draft strategic plan for adoption by the board as soon as possible. This committee was made up of Rachel Carter, David Lovell and Richard Brown, and was also tasked with making recommendations on the future structure of BDRA, and the future recruitment of a new CEO/General Manager/Business Manager.

Members of the project specific strategic planning committee have undertaken a significant reformatting and revision of the draft strategic plan over the past three months. The committee has also formed the opinion that this strategic plan should be adopted as a five-year plan, reviewed and adjusted annually.

Please take a good look at our new strategic plan. This plan will be put into a more presentable form with some new graphics and published on our new website which is due to be launched in July – more on our website later.

Please feel free to e-mail board@blackdogride.org.au if you have any questions, concerns or feedback on this plan.
The community Grants funding model was proposed over 18 months ago. Unfortunately, for whatever reason, not a great deal of work had been done on this until early this year. Between January and now Michael Young has put in a lot of work drafting a proposed new community Grants funding model, application form, and decision criteria with some input from Jo-Anne Harrison and Richard Brown.

We know this has been talked about for a long time now, but we really are getting very close to being able to launch this new initiative. Although our operating funds are low, we do have money in our "gift fund" account to provide to local community initiatives. Please stay tuned.
New website
In December 2018 the board commissioned the development of a new website by Perth-based Millstream, a long-time supporter of Black Dog Ride. Millstream have been working on our new website ever since and we are hopeful the new site will be ready to go active in July this year.

This new website will give a fresh new look and work better on handheld devices (phones etc.). We also expect this to be much easier for us to update (as the old one was complicated).