If you've never ridden in a big group of motorcycles, I'd suggest you try a professionally run shop ride like those offered every third Sunday by Heavy Duty Motorcycles of Brisbane.
They have a host of marshals to ensure order and most of the patrons seem to be very experienced at riding in large groups, so you should feel safe.
If you think riding in a big group is boring, Sunday's shop ride proved you can still ride in a big group and have plenty of fun and challenges.
The shop ride headed southwest through Boonah and into the Border Ranges past Queen Mary Falls into Killarney for lunch before heading back down through Cunningham's Gap to home.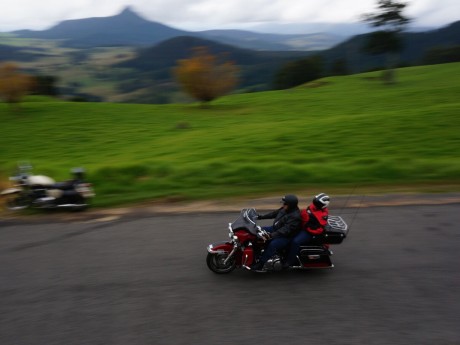 It was a good 400km round trip that included only a short stretch of highway, but mainly interesting and challenging country roads, some tight and narrow sections, plenty of twisties and hairpins, a couple of water crossings, dips, cattle grids, wandering livestock and, on this occasion, a heavy shower just to make things a little more interesting.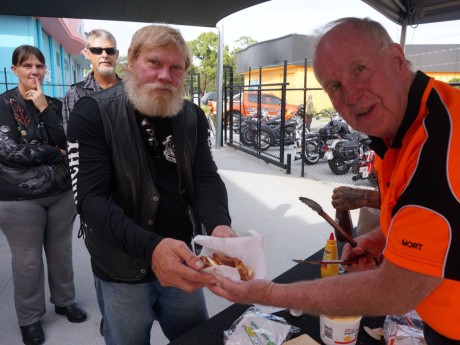 I even found the 20-minute stretch of "boring highway" from Compton Rd to Gleneagle quite interesting as the marshals cleverly regrouped the pack into two lines of riders in one lane.
This sort of close-formation riding can be exhilarating when done at highway speed. The awesome affect of so many bikes so close together is a sensual delight.
Thankfully it was only a short stretch and the rest of the ride was much more challenging through beautiful scenery, made even prettier by recent heavy autumn rain.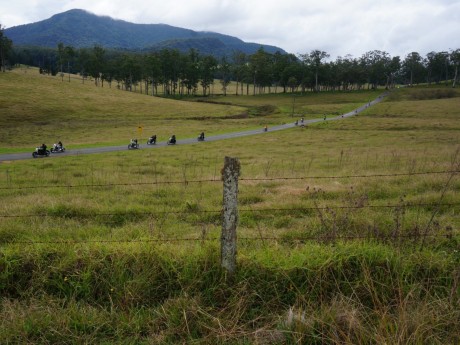 I was skeptical that some of the lowered customs with extended tailfin pipes would make it through the Head Rd that winds up and over the Border Ranges, but these riders are very experienced and their machinery proved more than just showroom objet d'art.
At the top of the range, the heavens opened up just to make things a little more challenging as we descended the other side over slippery cattle grids and down twisty roads.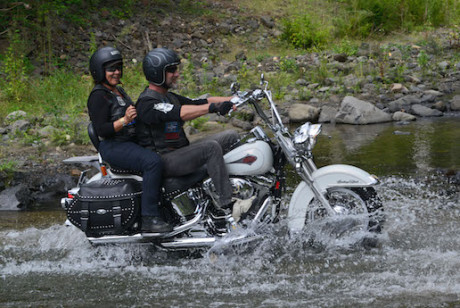 These riders are not only talented but also tough as no one stopped to put on wet-weather gear when it started to rain. After all, we're Queenslanders and it mainly rains in the warmer months, so we just ride on, get a little cooler, then dry out!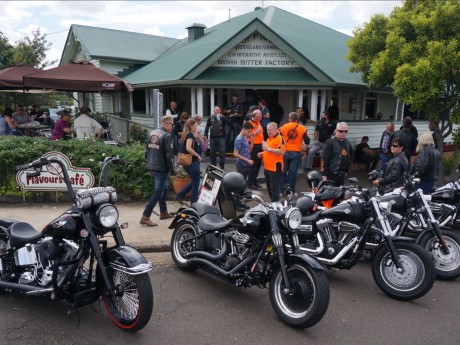 The coffee stop was in Boonah at the renowned biker haunt, Flavours Cafe, while the lunch stop was at the Killarney Hotel, known for its steak lunches from local livestock.
After lunch, the group splintered into those who turned back the way they came for more challenges, those who headed home early on the shortest route to the highway and those who were in no hurry to miss the rolling hills through Yangan and Freestone before descending Cunningham's Gap.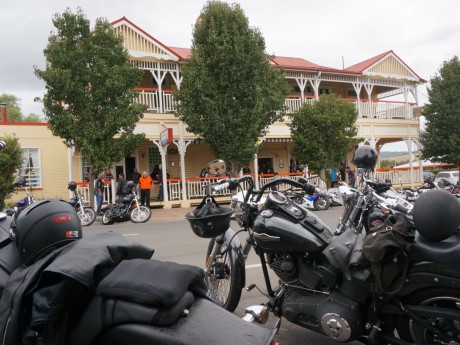 To get into the festive and social mood of the event, we gave away a 12-month dose of nitrogen for your tyres, courtesy of Heavy Duty Motorcycles.
The winner is Julie Pegg and she gets a year's free Nitrotyre nitrogen in her bike tyres, valued at $49.50. That includes free top-ups and replacements at the shop if you get a puncture or you ever need to top up the tyres elsewhere with normal air.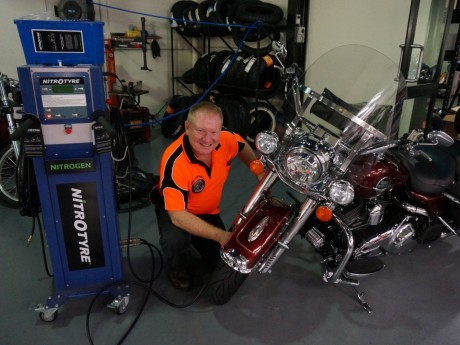 While a motorcycle tyre filled with regular air loses 1psi a month, a tyre filled with Nitrotyre loses 1psi in six months, Simon Yates of HDMC claims.
Because your tyres are always at the correct pressure, the nitrogen ensures you have optimum handling, braking and safety, he says. "It also means your tyres will last longer and you'll get better fuel economy from your bike," says Simon.
Nitrotyre is high-purity nitrogen gas, free of any oxygen and moisture with a molecular size four times larger than the oxygen molecules in regular air.