RICKMAN MOTORCYCLES – THE RICKMAN BROTHERS
Don & Derek Rickman raced scrambles and motocross throughout England in the 1950s and were quite good, and had achieved great renown. By the late 50s however, they were growing increasingly disgusted with the motorcycle offerings of the major British manufacturers. Most were essentially street bikes that had been stripped of their lights.
THE FIRST RICKMAN MOTORCYCLE
During the winter of 1958/59, the Rickman Brothers toiled away, building what they felt, through their wealth of racing experience, would be the ultimate racing frame. It was finished and introduced by March 1959, and it took the world by storm. No one had seen anything like it before! And they used it to their great success on the track. Before long, others wanted one, and limited production was set up to built more frames.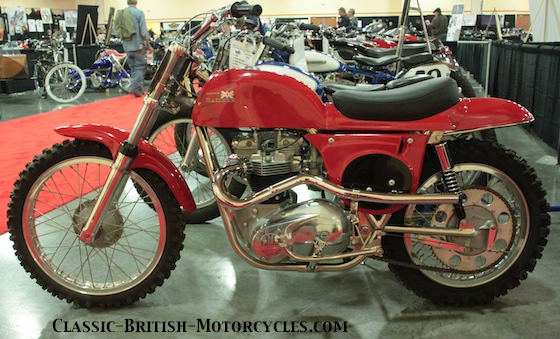 A very typical Rickman Metisse setup with Triumph TR6 650 twin engine.
RICKMAN MOTORCYCLES – THE RICKMAN METISSE
Their success as frame builders led to a desire to build entire motorcycles. It wasn't in the cards (or the budget) to design & build their own engines, so they simply built their incredible frames around other peoples' engines, typically Triumph twins, BSA and Matchless singles. When they later began producing road racers and street-legal Cafe Racers they also used Triumph triples and even Japanese 4-cylinders. With this sort of 'cross-bred' approach, the Rickman Boys decided to name their first bike "the Mongrel". It just didn't sound very nice, so they chose instead "Metisse", which is French for the female of a crossbred species. It sounded good. All Rickman Motorcycles were called Metisse until the MX series and the road bikes came out.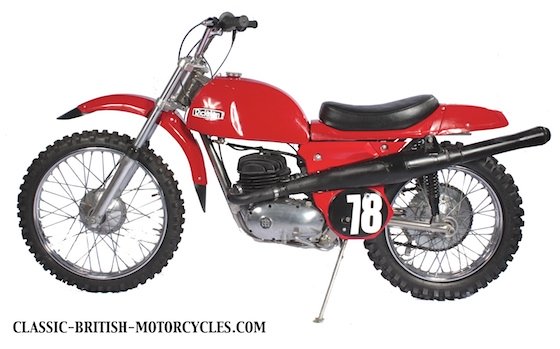 ABOVE: I owned this lovely '73 Rickman-Montessa 250 for a brief time. I bought it to fix up and resell. All it needed was a good detail, then I sold it at the MidAmerica Auction in Vegas.
RICKMAN MOTORCYCLES – THE MX SERIES
As the off-road market gravitated away from heavy, underpowered 4-stroke engines and toward 2-stroke singles, so to did Rickman Motorcycles. Never abandoning the trusty old British iron, they did however venture into new territory with their new, lighter "MX" series of bikes. The Brits had nothing to compete in the smaller classes, so the Rickman Brothers went abroad in search of engines for their intended 125s and 250s. The German firm Zundapp supplied 125cc 2-stroke engine for the new Rickman 125MX, and Montessa from Spain supplied the 250cc engines. Like all Rickman Motorcycles, these bikes are gorgeous to look at & exceptionally well-made. They handled fantastic for the day (pre-MonoShock) & held up well. They had the Rickman trademark nickel-plated frames, Betor shocks & forks and high-quality components throughout.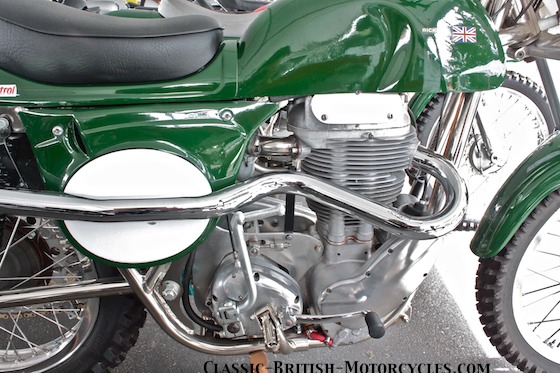 This Rickman Metisse sports a Matchless 500 single engine.
RICKMAN MOTORCYCLES – THE LEGEND LIVES ON
As their business & their notoriety grew they were awarded the prestigious Queen's Award to Industry in 1973, just as the entire British Motorcycle Industry was imploding. By 1980, the Rickman Brothers ceased producing motorcycles & sold all their tooling & remaining stock. Then in 1982 Pat French, a talented engineer, purchased the company's remaining assets, including the name, and began producing Rickman Mk IV (Mark 4) framed machines. When pre-1965 scrambles became popular, the Mk IV frame was ineligible, having been originally manufactured after the cutoff date. So, French went back to producing the MkIII Metisse, which fit into the rules. But, by the mid-1990s, the economy forced a cutback in production to just a trickle. In an effort to save this legendary marque, Metisse enthusiast Gerry Lisi formed a partnership to take stewardship of the ailing company, then built a new factory in Carswell, Oxfordshire, England. The partnership lasted until French's retirement, but Rickman Motorcycle production continues to this day at their Carswell plant, and thrives. In fact, Rickman Motorcycles is due to release its new model, the Metisse 997 Cafe Racer, later this year.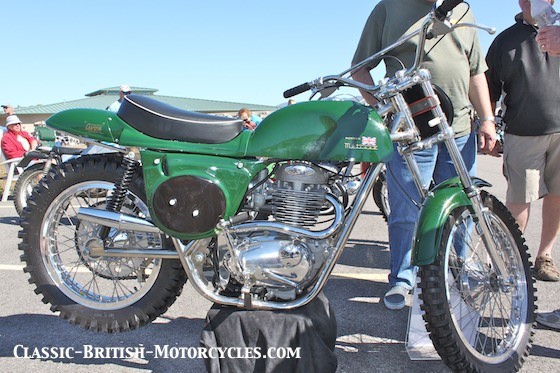 ABOVE: A more typical Rickman Metisse engine installation is this BSA 441 Victor single. This one had the fins on the barrel & head machined to give it that waffle-head look.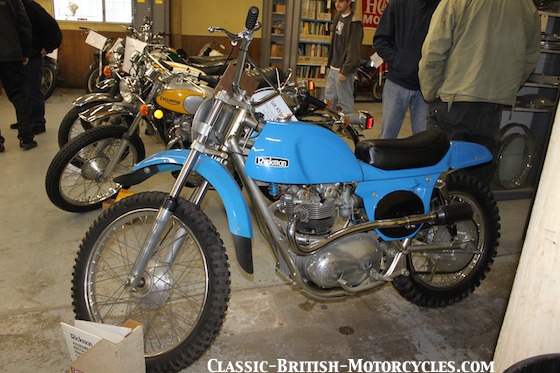 ABOVE: This lovely 1974 Rickman Metisse with a Triumph 500 twin engine sold at the recent Brooks Cycles auction in San Jose CA for $7,500.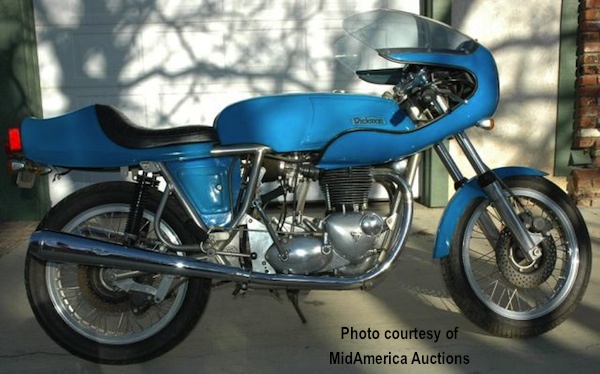 ABOVE: 1968 Rickman-Triumph 650 Cafe Racer
RICKMAN MOVES INTO STREET BIKES
Building on their successes with their off-road bikes, Rickman Motorcycles expanded first into Road Racing bikes, usually powered by Triumph twins, but also Triumph Trident engines, and later Japanese engines as well. From there they expanded further into street-legal versions of their road racers, more or less Cafe Racers, the precursors to today's sport bikes.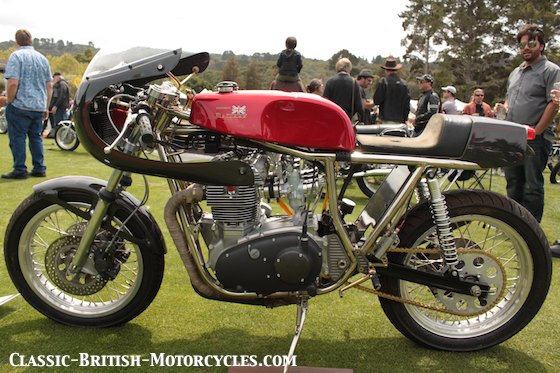 ABOVE: This eye-popping cafe racer is a 1971 Rickman road race frame built for a Triumph T150 Trident engine. This one is of course, highly modified, typical of most Cafe Racers.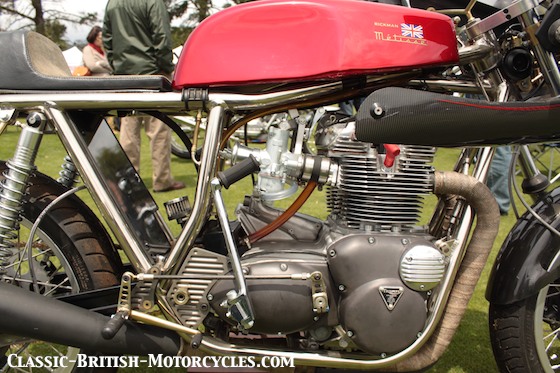 ABOVE: The trademark of all Rickman Motorcycles is that gorgeous nickel-plated frame with perfect welds. While highly-customized, this Rickman cafe racer shows off its hand-built frame.
---
Rickman Motorcycles YEAR-BY-YEAR
---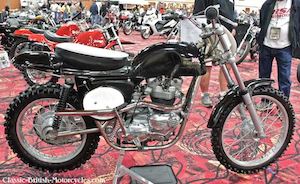 Triumph 650 power, this MX-er has won races from Tennessee to Australia!
---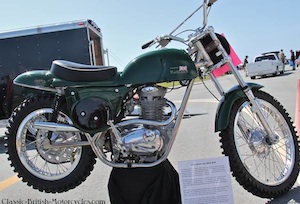 This lucious British Racing Green Metisse has a BSA 441 Victor engine with waffle-head treatment.
---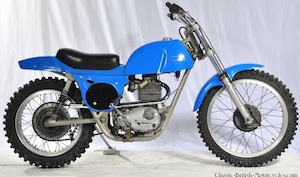 Classic Rickman Metisse with BSA 441 Victor engine.
---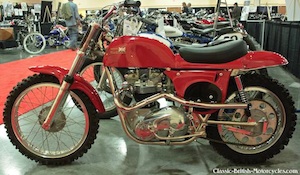 ' This sweet red Metisse looked like new when it ran through the MidAmerica Auction in Vegas in 2011.
---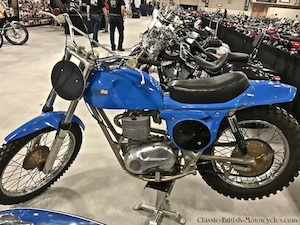 This Rickman Metisse sports a BSA 441 Victor engine with a Weslake 500cc top end conversion.
---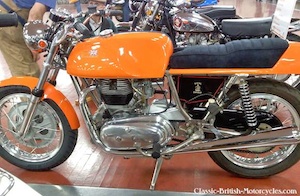 Said to be the last Rickman cafe racer built with a Royal Enfield 750 Interceptor engine.
---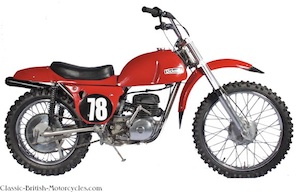 I bought this bike in 2011 to resell at a profit, but that's another story. Gorgeous bike! 250 Montessa power. Probably THE best MX bike in 1973.
---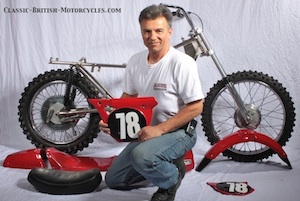 Follow my exploits as I buy it, clean it up, then take it to the Vegas auction with dollar-signs in my eyes. Will it sell? Will I make money? Will it be filet, or cat food?
---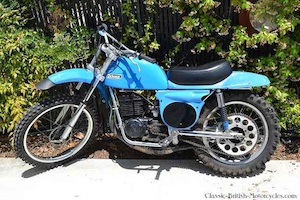 The last year for Rickman 250MX production. The final 22 bikes didn't have Montessa engines, they had Yamaha 250 engines in them. Our feature bike is one of these ultra-rare Rickman-Yamaha 250s.
---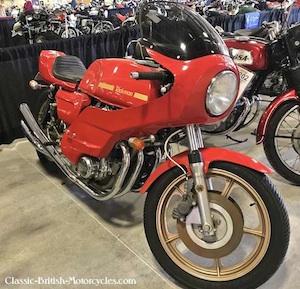 1981 Rickman-Kawaski CR900
Rickman's classic Cafe Racer frame with an '81 Kawasaki CR900 DOHC 4-cylinder. Power & grace, what a combination!

---