R-Tech Jacket Review Summary
R-Tech Jacket Image Gallery
The REV'IT! R-Tech jacket has some unique features. It employs a selection of high-quality materials that make it stand out from the crowd. It's obvious that the jacket was designed by someone who knows about riding in cold, damp climates. I know what I'll be wearing this winter!
A lot of thought must have gone in to designing and manufacturing this REV'IT! ensemble by someone whose mission is is to conquer the elements. The way I figure it, if it's too cold or damp for the R-Tech jacket/X-Vent pants combo, then I definitely don't want to be on a motorcycle! REV'IT! (yep, that's the way they spell it) is new to the U.S.A., but has been providing motorcycle clothing in Europe for about 8 years.
The company is based in the Netherlands, so they know a thing or two about cold and damp winters. REV'IT! offers an extensive line of nicely styled jackets, pants and gloves in both textile and leather in various styles and for riding in all sorts of weather. I recommend checking out the REV'IT! website to see some of their unique clothing. By the way, REV'IT! is also looking to increase their U.S. dealer base, so you may want to have your dealer contact them for more information.
The REV'IT! design philosophy is called "Engineered Skin". REV'IT! says that this concept translates into the use of high quality and high-tech fabrics, ergonomic design, fashionable styling and CE-approved protection to create good-looking, safe and comfortable garments.
REV'IT! designers  also wear what they make, which helps ensure very functional products. Most of the materials for REV'IT! apparel is sourced from the U.S.A., Germany or Italy, and the majority of pattern cutting is done in Holland. The products are then sent out for assembly, and the final details are completed in Holland. This control over materials, patterns and assembly helps maintain high quality and ensures the end product meets design specifications.
"High-End" Apparel?
There are probably three different market types for motorcycle apparel.
There's a market for price-sensitive apparel, and the quality and choices in that arena have improved dramatically over the last several years.
Then there's a middle market, where the prices are a bit higher and the manufacturers offer some unique features at a reasonable but higher price point.
In the "high end" category, the apparel is often more expensive, but the products usually offer very unique and leading-edge features, the best or "highest tech" materials and strong styling.
The first category includes many companies that are not manufacturers, but are more like distributors who basically re-label generic clothing made in offshore factories, usually located in the Indo/Asia region.
The middle tier sometimes develop their clothing line in-house, then have an offshore contract manufacturer produce it to their specifications.
Then there's the "high-end", which includes only a handful of manufacturers worldwide who spend lots of effort on the design of their clothing and the choice of materials and fuss over the details of the manufacture of their products.
Based on the samples I've seen, it's my opinion that REV'IT! apparel ranks right up there with the highest echelon, although the prices are more reasonable than their competition.
REV'IT! Fit and Sizing
An interesting feature of REV'IT! clothing is the available size range that is offered for all of their clothing, which is broader than most competitors.
Jackets are available in sizes ranging from XS all the way up to XXXL, and the pants are offered in both short and long leg lengths.
This is part of the REV'IT! design philosophy; the customer has a better chance of finding the correct fit if there are more sizes to choose from, and a correct fit will provide better safety and comfort.
Through years of experience, I've determined that I like my cold weather riding clothing to fit a bit tighter than normal.
A tighter fit offers fewer places for cold air or drafts to intrude, and clothing insulation works better when it's closer to the skin.
I normally take a U.S. size 36 or 37 waist street pant with a 30 length, and a size 43 or 44 jacket, which in most cases translates to a size large in motorcycle jacket and pant sizing.
R-Tech Jacket Fit
The REV'IT! R-Tech jacket in size large has the snug fit that I like, but it may be a bit too snug for some.
The size large X-Vent pants were fine everywhere except in the waist, which was definitely too tight; I'd estimate the REV'IT! size large as equivalent to a U.S. size 34/35 waist.
The replacement size XL pants are a bit snug, but fit comfortably.
REV'IT! claims to have spent a lot of time figuring out how to cut and sew the material patterns to "mold" to a rider's body, and I found that both the jacket and the pants do feel very comfortable in use.
The bottom line is that the REV'IT! sizes seem to run at least one numeric size smaller than typical U.S. sizing, so plan accordingly.
REV'IT! R-Tech Jacket Details
Wrapping yourself up in the R-Tech jacket is a bit like getting ready for a trip into outer space.
I feel confident that this jacket can be used in the most severe riding conditions one is likely to encounter.
It has the most unique "storm proof" zipper and flap arrangement I've seen on any jacket, with a total of five separate and overlapping flaps in the front to seal out the elements.
The engineering that went into the design of these flaps is pretty amazing — each one overlaps the other, and the stitching of the outermost flap is offset from the center so that no water can penetrate.
I've actually laid the jacket on a table several times just to experiment with the linings and flaps and admire the way that this system was designed.
Someone really thought about this, because the design offers outstanding protection from the elements, yet after you're all buttoned up, there's no bulkiness at all.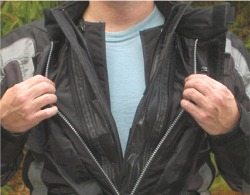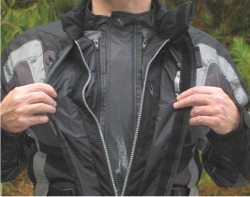 Lining and Insulation
The R-Tech jacket has two separate zip-out liners which allow a three-way choice of layering for any type of weather.
Starting from the outside in, the jacket has an attached perforated liner that makes it comfortable to wear in warmer conditions when the other liners are removed.
Next is an "MML-Hydratex" breathable, waterproof and windproof liner that is attached between the jacket and the insulating layer.
It connects with two zippers, one on either side of the jacket front, and it held at the bottom of the sleeves by two snaps in each arm.
The MML-Hydratex liner has a very unique feel — it's a gossamer-thin textile that feels unlike any other fabric I've touched.
It's claimed to allow water vapor to escape while also being waterproof and windproof from the outside, and so far I believe it works better than GORE-TEX (a product that has never met my expectations).
The MML-Hydratex liner adds about zero thickness and weight to the overall garment, yet seems to work well.
The innermost liner of the R-Tech jacket is a quilted thermo type that is also attached with two zippers, one on either side of the jacket flaps and by two more snaps at the cuffs.
Zipping Up (Or In)
Here's the drill for entering the jacket: zip up the MML-Hydratex liner, which then secures the internal quilted lining (flap #1), and which covers the quilted liner's zippers with flap #2.
After that's done, there are two wide MML-Hydratex flaps whose sole purpose is to seal up the inner liner.
These close over each other and seal via a "hook and loop" series of fasteners (flap #3). Now zip up the main jacket zipper, which forms flap #4.
The outer shell is secured by two very wide flaps (flap #5) that use "hook and loop" fastener for the entire length. The stitching of these flaps is offset from all other zippers to prevent water ingress.
Five flaps on each side of the jacket equals a total of 10 levels of protection!  If water gets through this, you better be grabbing for your life vest!
Pockets
About the only things I carry in my jacket pockets are spare earplugs and my wallet.
My feeling is that it's best to avoid carrying anything that could hurt you if you take a tumble, so cell phones, cameras, etc. are out.
The R-Tech jacket has more pockets than I need, but not as many as some of the "Enduro" style jackets offer.
Starting from the inside out, the internal quilted liner has a left-hand chest pocket of 140mm (5-1/2″) wide by 190mm (7-1/2″) deep.
There's also an inside zippered chest pocket in the R-Tech's shell, accessible by unzipping the MML-Hydratex liner or immediately accessible when the liners are removed.
This pocket is 150 mm wide by 180 mm (7-1/8″) deep.
There's a zippered pocket just inside the left-hand outer flap that covers the jacket's main zipper closure.
This pocket has a 150 mm (5-7/8″) opening, and is about 150 mm deep — the perfect place for stowing a wallet.
There are two outside hand pockets, one on either side of the R-Tech jacket and below the waist cinch. Each has a roughly 100 mm (4″) zippered opening and each is about 100 mm deep.
These pockets are sort of hidden underneath a "hook and loop" flap whose edge is part of the contrasting color trim.
There's also an outer zippered pocket below the left shoulder.
The zipper on this pocket is covered by two flaps, and the pocket is 130 mm (5-1/8″) wide by about 130mm deep. This pocket is sewn so that it points to the left. This allows you to slide your right hand in to remove the contents.
Finally, there's a small, 100 mm (~4″) wide by 60 mm (2-3/8″) deep zippered pocket on the outside of the left sleeve. This pocket can be used to stow an ID card to enter a gated business or parking garage.
Outer Shell Features
The R-Tech jacket has a very comfortable collar neck fabric. It's a very soft "moleskin" type fabric that extends up the inside of the collar and over to the outside to prevent any chafing.
The collar is also insulated, and it closes with a "hook and loop" fastener to keep your neck warm and cozy.
The flap is a bit short, which means that the collar can be a bit tight, depending upon how many layers of clothing are worn underneath.
I usually wear a cotton turtleneck to help keep my neck warm, and there's just enough room to close the collar without getting choked. Although I guess I also have a pretty thick neck at 17.5″.
The MML-Hydratex liner, when inserted, also has a separate 60 mm (2-3/8″) high waterproof collar that sits inside of the jacket's outer collar.
I'm usually carrying a two-day beard growth, and I hate it when a jacket's collar pulls the hairs on my neck while I'm riding. The R-Tech is nice and soft, doesn't pull and is more comfortable than any other collar in my experience.
Protection
The R-Tech's shell is made of the ubiquitous DuPont Cordura material, and it includes Pro-Life (made in Italy) CE-approved hard elbow protectors.
The protectors are inconspicuous and a bit longer than most, extending from just above the elbow to down along the forearm. The back of the jacket has a basic soft foam spine protector.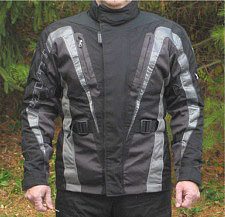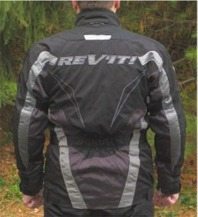 Adjusters
The R-Tech also has several external straps to ensure that no fabric will flap around in the breeze.
There are two adjustable straps on the arm, one on the upper arm and one on the lower forearm. There are also two adjustable upper waist straps located right under the armpits, and two wide waist cinching straps.
The waist cinches are designed so that the loose ends will tuck underneath the contrasting fabric piping, which is a nice touch.
entire jacket slides off and on easily. Both liners stay securely in place when the jacket is removed, unlike many other lined jackets where you end up fighting the sleeves as they try to pull out with your arm.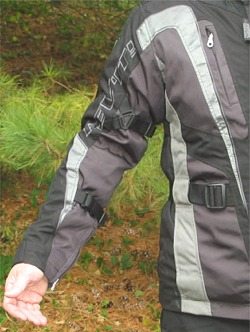 Sleeves
The sleeve cuffs have zippers that can be opened to make it easier to enter. There's a hook-and-loop closure at the bottom of each cuff to help cinch it up and make it easier to slide into a gauntlet type glove.
The unprotected zipper end is exposed after it's closed, but you'll probably be wearing gauntlet style gloves with this jacket, which should keep the zipper from scratching any painted surfaces.
Finally, the R-Tech has a nice, modern style that isn't overdone, yet offers a sleek appearance.
The contrasting colored fabric is tapered down from the top to the bottom, which makes the jacket (and you!) look thin.
The contrasting fabric also has sections of Lumidex reflective material which are unobtrusive during the day but reflect light when light is shined on it at night.
Vents?
The only thing missing from the R-Tech jacket is a venting system. There are no external vents in the front or back of the jacket.
The breathable liner must be doing it's job, as I haven't yet been uncomfortable because of a lack of venting, but I'll report back as the weather gets colder.
Our local weather has been very variable this year, and I haven't been able to experience the jacket in a wide variety of conditions.
I'm also planning on wearing the REV'IT! outfit during our next big rainstorm to test its ability to keep out water, and I'll report back on that also.
Conclusion
The REV'IT! R-Tech jacket has some unique features and uses a selection of high quality materials that make it stand out from the crowd.
It's obvious that the jacket was designed by someone who knows about riding in cold, damp climates.
REV'IT! offers many other styles and designs of jackets and pants to fit a variety of riding conditions, but the R-Tech is a definite choice for winter riding.
Note: Be sure to read our review of the matching REV'IT! X-Vent pants and the REV'IT! Ultra gloves.
w

BW

 Review: REV'IT! R-Tech Jacket
Manufacturer: REV'IT!
List Price (2004): $439.99
Colors: Black
Made In: Unknown
Sizes: S-3XL
Review Date: July 2004(?)
Note: Item provided by a retailer, distributor or manufacturer with these Terms and Conditions.
Note:
 For informational use only. All material and photographs are Copyright © webWorld International, LLC since 2000. All rights reserved. See the webBikeWorld® 
Site Info page
. Product specifications, features and details may change or differ from our descriptions. Always check before purchasing. Read the
Terms and Conditions
!
Owner Comments and Feedback