Madison 2 Jeans Review Summary
Review Summary
The REV'IT Madison 2 jeans are stylish and comfortable, but most importantly they have excellent protective features. At $189 they are also reasonably priced, especially for riding jeans with this list of features.
Pros
Reasonably priced
stylish and comfortable
dry and comfortable
Cons
Could be a little more comfortable
Madison 2 Jeans Image Gallery
If you've been following the webBikeWorld clothing reviews for the last year or so you will have noticed a major shift in motorcycle jackets. With the explosion of scrambler, café racer, and retro inspired bikes there has been a corresponding surge in matching retro and Urban style gear.
Last fall I was lucky enough to review two such jackets in the very sexy Spidi Ace Jacket and the very versatile Spidi Stormy jacket. But what do you wear them with? They look pretty silly with most types of textile riding pants and leather pants would look equally out of place.
So you're left with jeans, but 6 years working on a trauma unit has convinced me that regular jeans have no place on a moving bike of any kind, so I let my fingers do the surfing to try and find a reasonably safe and comfortable pair of riding jeans.
Thankfully gear providers have kept pace with this growing trend and nearly every major manufacturer, and quite a few minor ones, offer riding jeans. Usually with a couple of styles to choose from. And with the increase in demand the technology has also taken a leap forward with several companies creating their own versions of the original Kevlar lining while others cleverly use tough, tear-resistant fibers interwoven into the jean material itself.
With all the different varieties out there to choose from I prioritized my criteria for protection, style, fit and price and decided on the REV'IT Madison 2 jeans.
REV'IT is based in the Netherlands and has been around for over 20 years. I first became acquainted with them last spring when I reviewed the Airwave 2 jacket and pants. I came away quite impressed with the quality and fit so I was pretty excited to try out the Madison 2 jeans.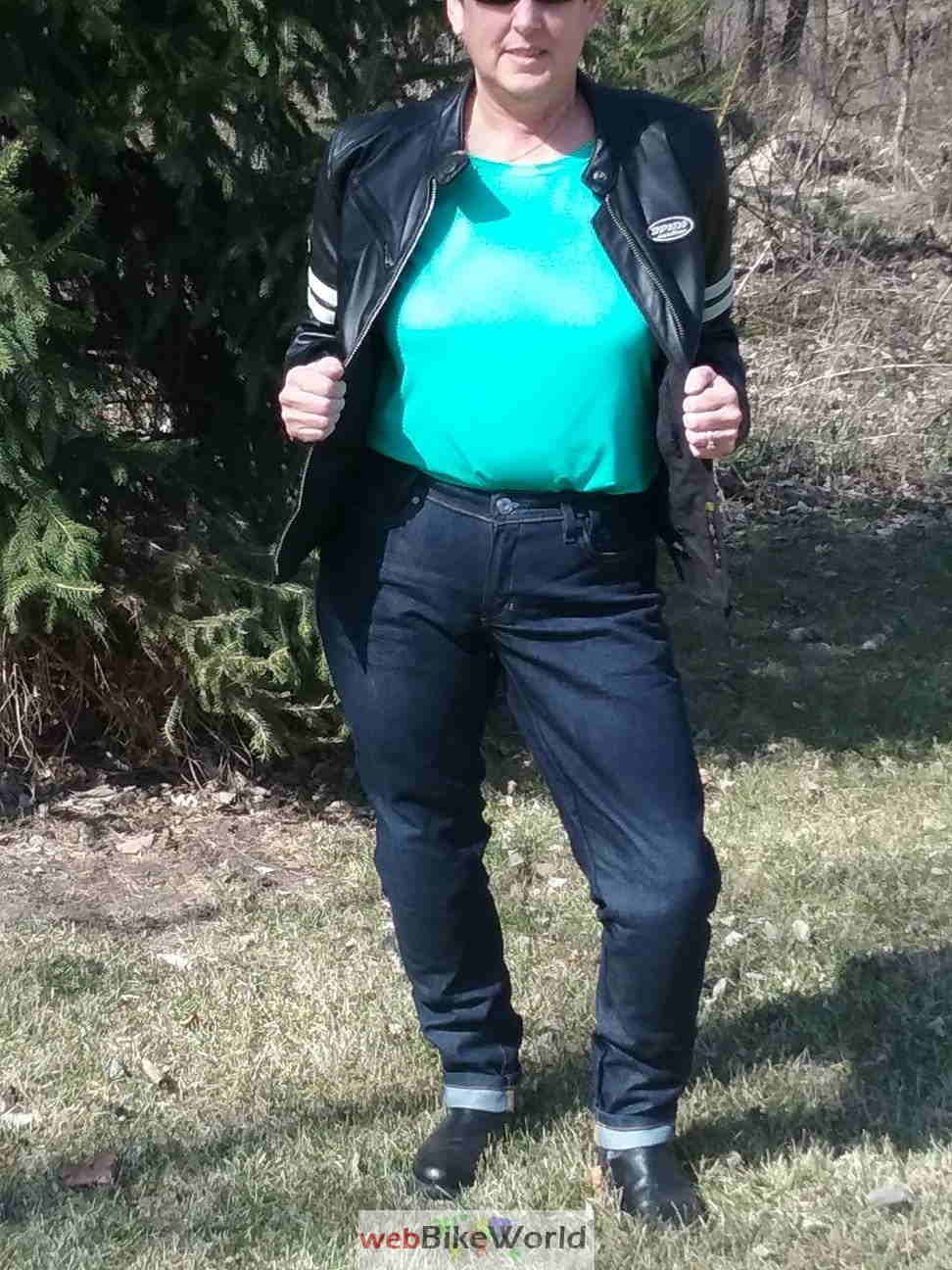 Style
Quite a few of the riding jeans out there right now are low-rise skinny jeans. Back in the 70's we called these low-rise jeans 'hip huggers'. I was a svelte 103 pounds back then and they still weren't a flattering style on me.
I shudder to think what they would look like on me now, but even if they made me look like I did in high school they wouldn't be my first choice for riding jeans because they just aren't very comfortable and they lack the coverage that riding pants should provide.
Unfortunately it's difficult to tell when ordering on-line how high the rise is and customer reviews aren't always helpful so before ordering I consulted one of the female gear geeks at Revzilla (a webBikeWorld affiliate) and she helped guide me to the REV'IT jeans.
I would categorize these pants as mid-rise since they come up to about ½ inch below my navel. The back of the waist does come up higher than the front so they provide good coverage when seated on the bike without looking weird when you're standing.
Even in a full tuck position there is enough coverage to keep your modesty intact but I did notice the waist gaps a bit in the back when I lean over that far.
So it turns out the Madison 2 jeans are a comfortable compromise between the current low cut style and the old lady jeans that I normally wear. And they don't look half bad.
The leg construction also strikes a balance between the relaxed fit I usually wear and true skinny jeans. They fit more closely than relaxed fit jeans but they don't look like they've been painted on by any means. With riding jeans it's important that the legs fit snug enough to keep the knee armor in place and these jeans certainly do that.
The bottom cuffs are loose enough to fit over the top of my leather cruiser boots but they do not fit over the more technical Icon Reign boots. They are too thick to fit inside either boot and in my opinion if you're boots are loose enough to stuff jeans in them then they're too loose to protect your ankles.
Unlike a lot of over-the-top riding jean styles the Madison 2's are very normal looking 5 pocket jeans. There are no seams visible for the armor pockets, no unnecessary bling, and no overt branding. Really the only styling difference between these and regular Levi's is the higher back and the diagonal belt loops on the side that are designed to accommodate a REV'IT Safeway belt.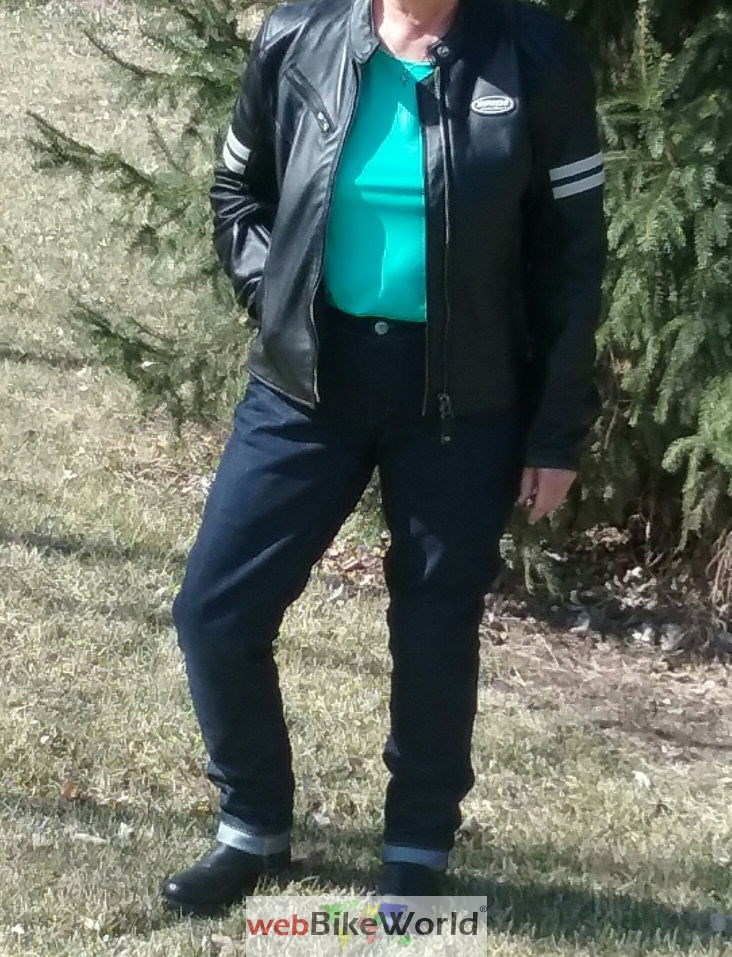 Sizing and Fit
I'm convinced that women are much harder to fit pants on than men. We have so much more going on, what with pear shapes and apple shapes and everything in between. It's a wonder any of them fit at all.
Then there is the difference between US sizing and European sizing. I've always been a bit bewildered by US sizing in particular. What is the difference between junior sizing and women's sizing and why do sizes vary so much from store to store?
But all of that is quite irrelevant as the REV'IT Madison 2 jeans follow neither the US nor European sizing formulas. Instead they are more like men's pants with just a waist and length measurement.
I ordered the size 32 waist and it measures exactly that so don't fudge on the waist measurement hoping to lose that last 5 pounds or they'll be too tight! Also make sure you're measuring at navel height and not your true waist.
Unfortunately they only come in a 32" length, which is a good 4" too long for me. In fact, in all my Internet research very few brands come in different lengths, and only one (AGV) come in an actual short length, which they were out of. According to Google the average height of women world-wide is 5'2" so it would be nice for them to cater to us vertically challenged.
So in order to see my feet, I rolled them up. I don't usually like to turn the cuffs of my pants up but these pants are actually designed to do just that. They have a reflective strip sewn on the inside that is only visible when you roll them up. And I guess that does fit into the retro style as I recall seeing photos of James Dean sitting on a motorcycle with his cuffs turned up.
I had to roll them over twice which is a little bulky. I left them as they are for spring riding but I may have a friend hem them for me at some future point.
The Madison 2 pants come in two colors, the dark blue shown here and a black version. The black jeans look like they're slightly faded and are reported to be a little softer when new. They do not have the contrasting gold stitching that the blue ones have, going with an all black look.
Sizes range from 24 to 34 inch waist with just the 32 inch length available. Since I only weigh 135 pounds and am near the top of the size range these are apparently made for taller, thinner type women. It would be nice to see some larger sizes.
REV'IT also makes several styles of men's jeans with the 'Austin' jeans being the closest match in looks and features to the Madison 2's. They retail for $239.99 and come in medium blue.
Construction
The REV'IT Madison 2 jeans are made out of 12.5 oz. Cordura denim which consists of a blend of cotton, T420 nylon and COOLMAX fibers. REV'IT claims that it is stronger and more abrasion resistant than cotton aramid blends. The material feels heavier and stiffer than my fashion jeans but it's pretty similar to new Levi's.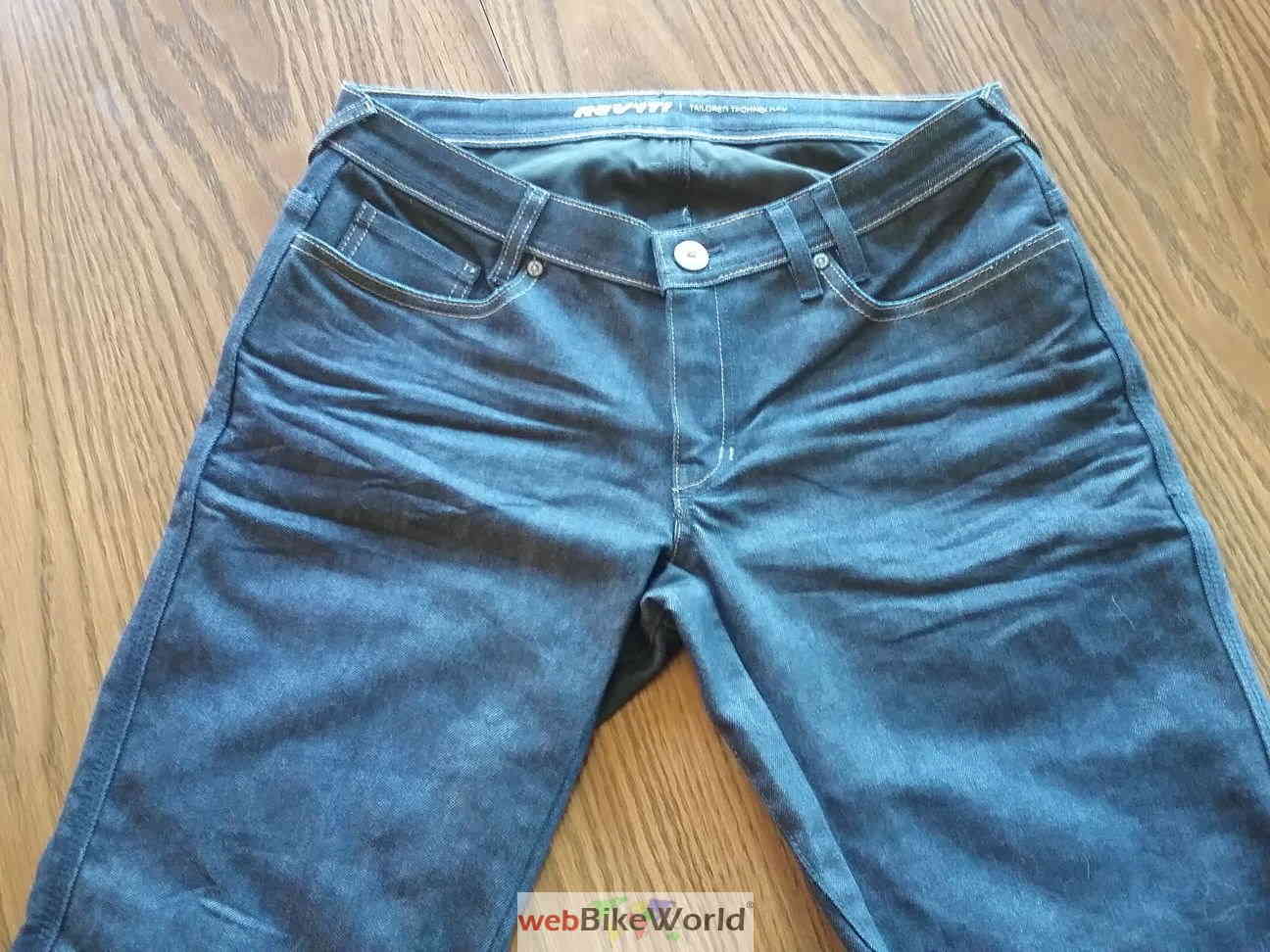 Cordura denim also has some mechanical stretch to it which of course adds additional comfort to the material. Mechanical stretch is the simple process of weaving the fabric wider and then shrinking it, creating a stretch when pulled. I can stretch it in all directions and it supposedly holds its shape better than other types of stretch material.
Closing the Madison jeans in front is a metal fly zipper that is branded YKK and feels pretty sturdy and durable. It also locks down which is a nice safety feature.
The top is fastened with a fly button that is silver colored and looks like metal but feels more like plastic, which would be less likely to scratch the tank on your bike. I had a very difficult time buttoning and unbuttoning it the first time. I broke a nail and thought I was going to have to break out the pliers. Of course you want it to be tight enough to stay put in a slide but I didn't want to be stuck in them. Thankfully it has loosened up with time and use.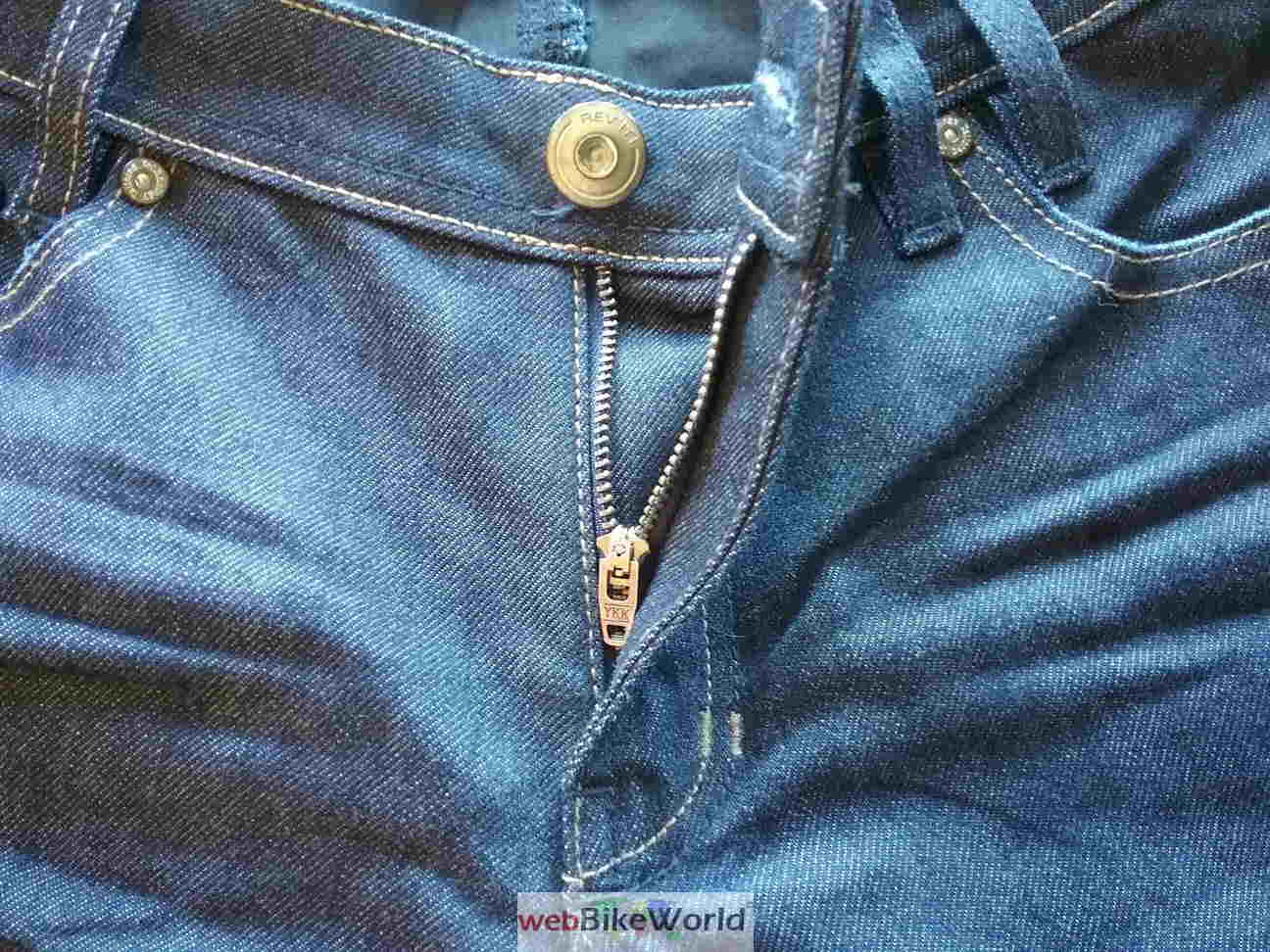 Stitching is even and neat with contrasting gold thread for the waistband, hem, and pockets. The back pockets have a single decorative line of gold stitching but they also have a seam across the lower half. I'm not sure if it serves a purpose (extra slide protection?) or if it's just decorative.
According to REV'IT the Madison jeans have a 'comfort seat'. Instead of a single seam on the inner legs that meet in the middle, the Madison jeans have an extra gusset in the crotch that results in a little more space for that area. They are quite comfortable when seated, which makes me wonder why more pants aren't made this way.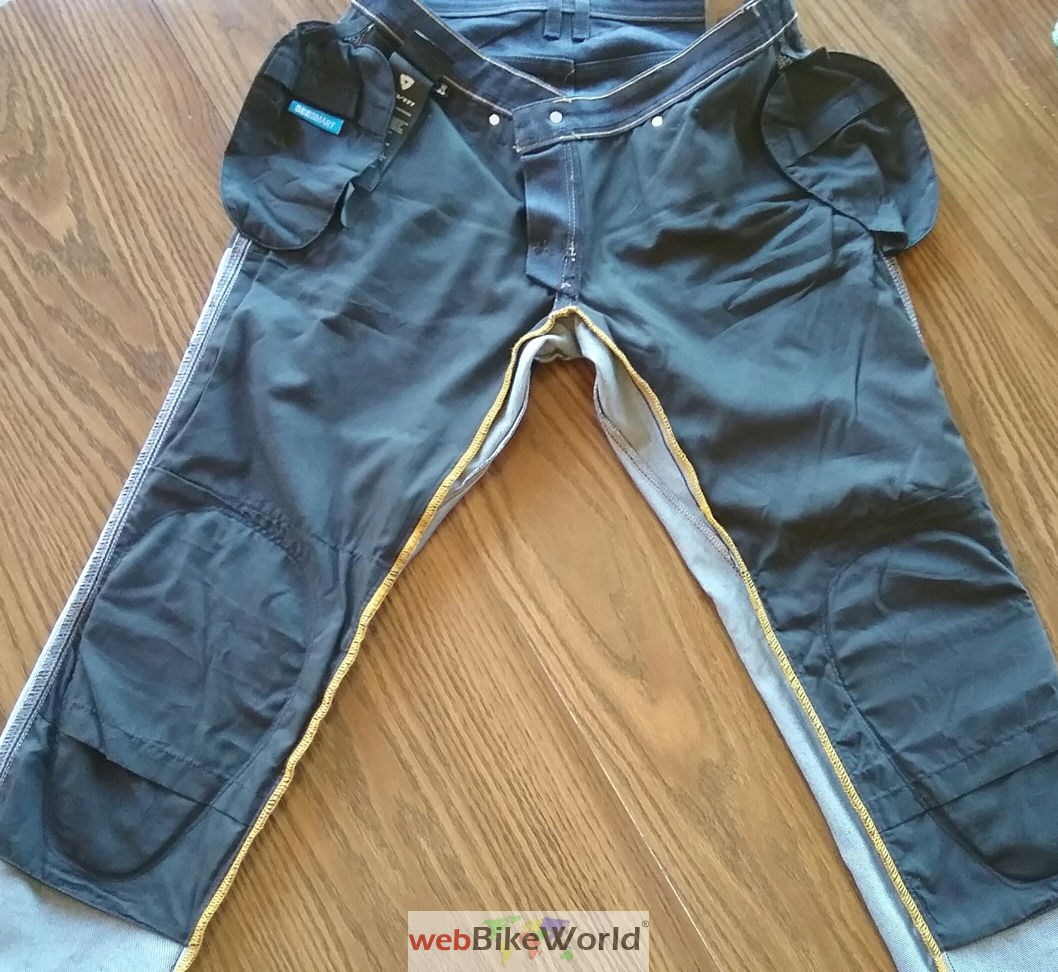 Inside there is a black liner made out of PWR Shield material. PWR Shield is a proprietary material unique to REV'IT that works in combination with the outer shell to enhance the abrasion resistance.
REV'IT wouldn't tell me what it's made of but it has a slight metallic sheen to it and it's lighter and thinner than the Kevlar linings I've come in contact with. The liner covers nearly 12" in the back, enough to protect your back side, and covers the front of the legs down past the knee to 10" above the hem.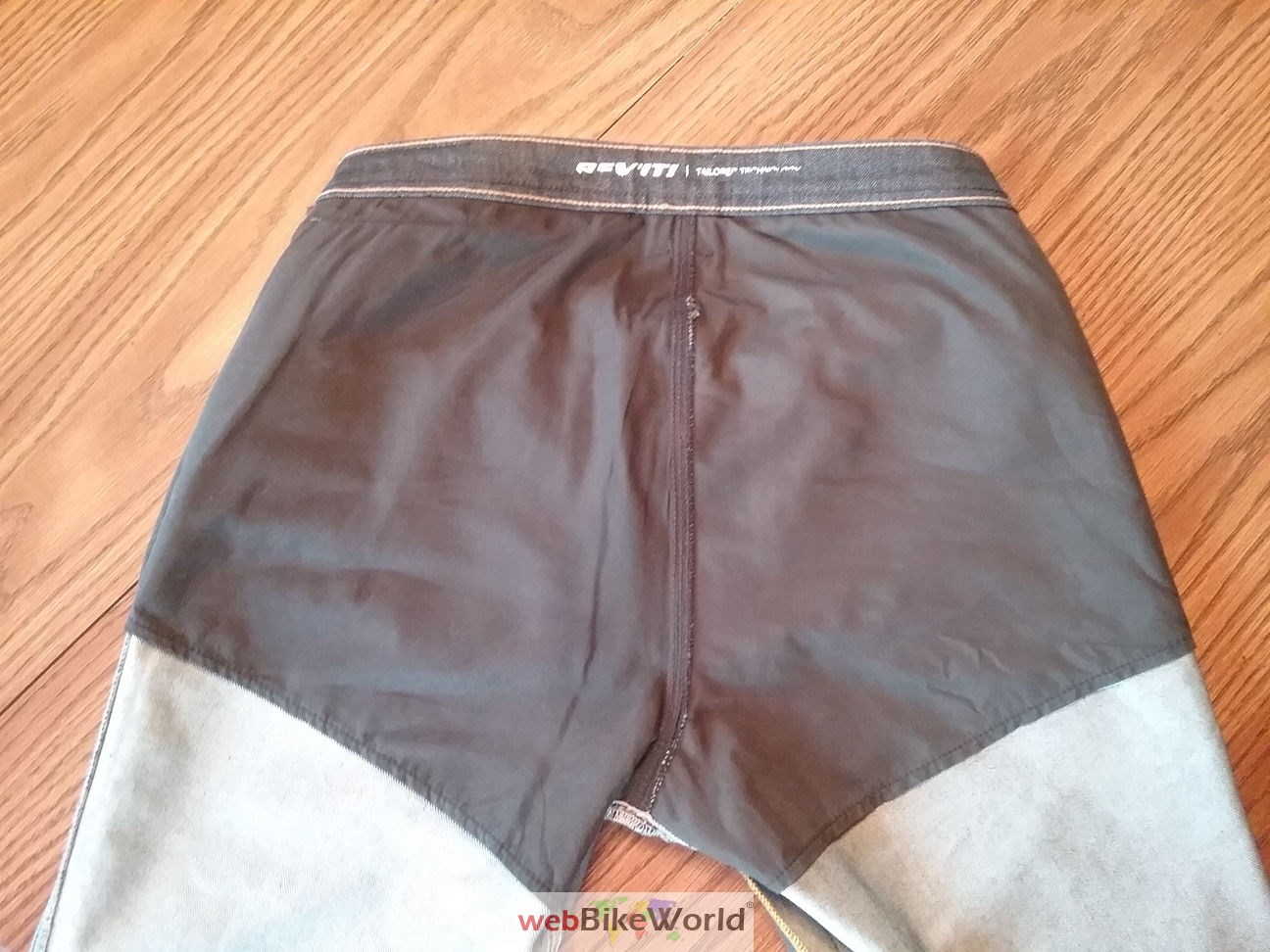 There are pockets for both hip and knee armor although only the knee armor is included with the pants. The pockets are very form fitting to the REV'IT brand armor so you can't mix or match with other brands, but I don't think you'll want to as the included armor is so comfortable.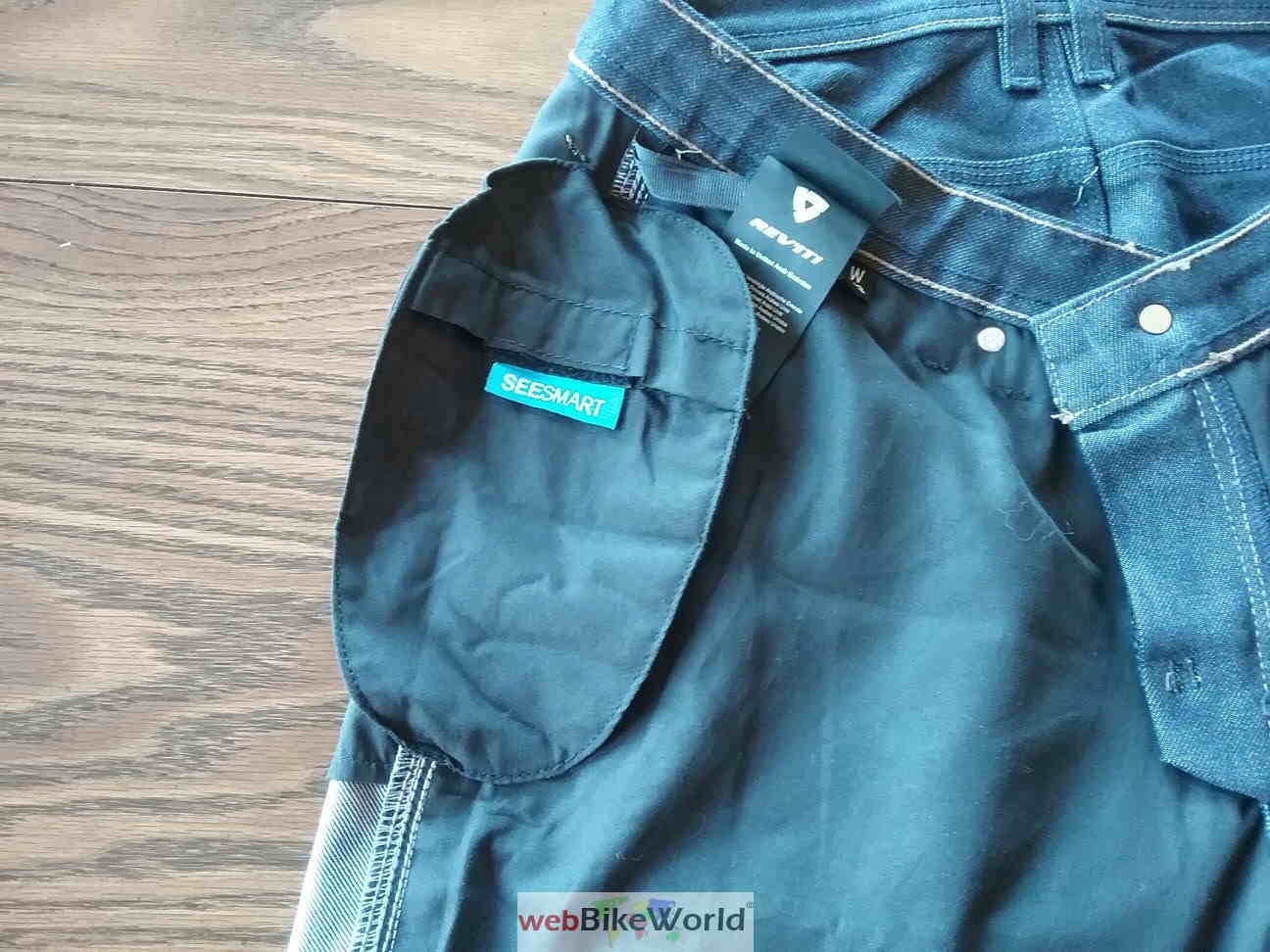 The other problem with the snug pockets is they don't allow for any adjustment. On me the top of the knee armor hits right in the center of my knee cap, a little too low, when standing. When seated however it comes up over my knee, so I'll just have to keep my legs bent in the event of a fall. It is 10" long so it covers my shins down almost to my boot tops.
The knee armor is removable and slides in and out from the bottom of the pocket with a fold over flap. There is no hook and loop to fuss with and the bottom-load design makes it easy to slide the pants on without catching a toe on the pocket.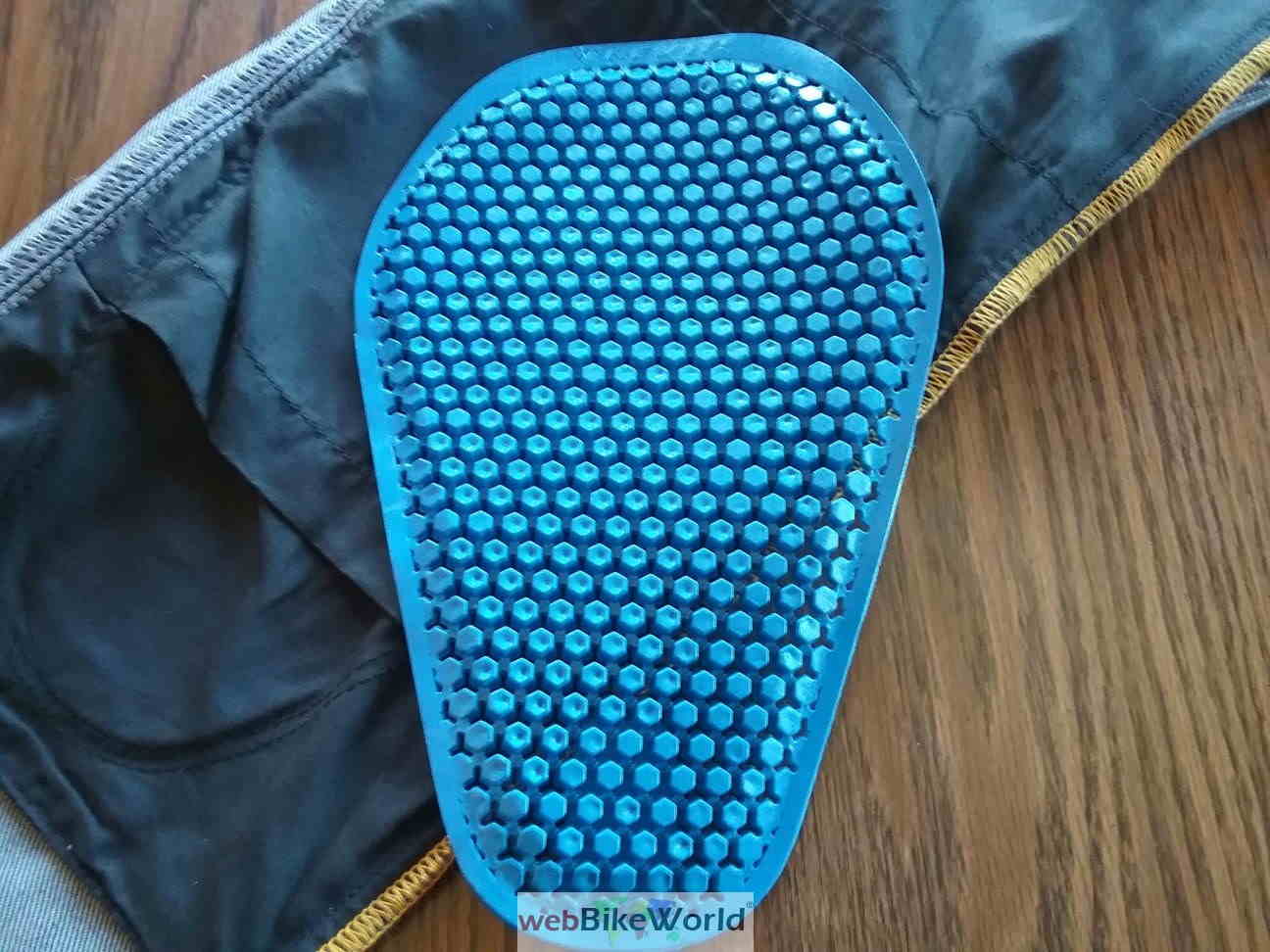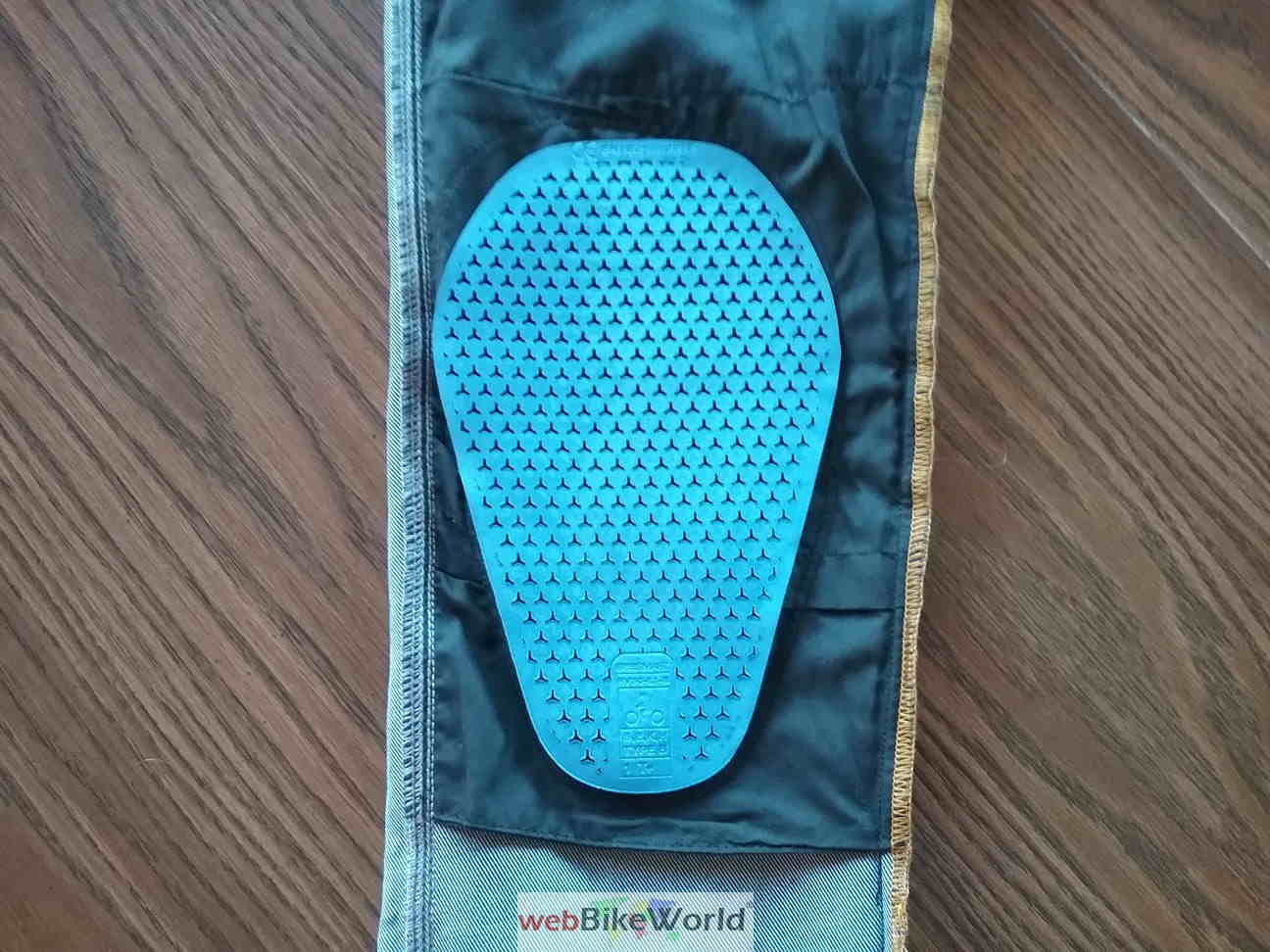 REV'IT uses the tag line 'tailored technology' and it appears several times on the Madison jeans: on the inside of the waist band, in tiny letters on the front pocket rivets and on the back leather patch. For a little pizazz the front belt loops are asymmetrical with double loops on the left side and a single one on the right which seems to be a signature REV'IT styling detail.
Storage
The Madison jeans have 5 pockets for storing all your keys, change and whatnot, just like regular jeans. Unlike my fashion jeans however the pockets are actually big enough to fit your hands into.
The two front pockets are quite deep at nearly 6", deep enough to easily fit my entire smart phone. Even the coin pocket is as deep as I would want since I can just touch the bottom with the tip of my index finger.
Both rear pockets also measure 6" deep with a width of 5". I don't know many women that use their rear pockets (we prefer to keep that area free of lumpy encumbrances) but there is plenty of room for a wallet or small purse if you choose to take advantage of the extra storage.
Protection
One of my main criteria for riding jeans is that they are at least as protective as mesh riding pants-my minimum threshold for protective gear-which means they have to be made of abrasion resistant material and have armor.
Two things that attracted me to the Madison 2 jeans were their mix of Cordura into the outside material and the inclusion of the SEESMART knee armor. I first came in contact with the SEEFLEX material (don't you love how REV'IT capitalizes everything) in the hip pads of the Airwave 2 pants and was really impressed with how light and flexible it is.
SEEFLEX is a rubber type material in a matrix pattern that is quite thin but still meets the CE EN1621-1 level 1 impact criteria. It is so comfortable that I was wearing the pants for several minutes before I remembered that knee armor was supposed to be included. Wearing them I couldn't feel it – I had to reach down to make sure it was there.
It's also very comfortable on the bike, probably the most comfortable I've ever worn, and is nearly invisible. I've worn them all day at work and the only comment on the pants was "cute jeans".
Pockets for hip armor are also included, although the hip armor itself is extra, however the hip armor from the Airwave 2 pants fit perfectly so I borrowed them for the Madison jeans. I took several of the photos with the hip armor in and several without and I'm betting you can't tell the difference.
According to the product video on Revzilla, the combination of Cordura denim and PWR Shield liner is touted to last 6 seconds in a 60 mile per hour slide. I couldn't find that data anywhere on the REV'IT site so I contacted the person that handles product testing for REV'IT USA.
I thought it sounded high since leather typically doesn't make it past 5 seconds but they confirmed it's true and sent a comparison graph of their test results for good measure. According to REV'IT, regular denim jeans last for just .44 seconds (this is comparable to other tests I've seen) so going by their test results this is a huge improvement!
Several of the seams are also triple stitched, including the outside seams, the center seam and the seam across the back below the waistband. All seams that would take the brunt of the stress in a fall. This is an important detail to note, and one manufacturers often overlook, since it does no good to have mega strong material if the seams fail as soon as you hit the pavement.
As an added bonus the Madison 2 jeans have a double belt loop in back to attach your jacket to so it's nice and secure in the event of a fall. The double loops (and the diagonal side loops) are also there to anchor the REV'IT Safeway belt but they don't appear to make one specifically for women. It looks a bit too heavy and thick to match these feminine pants but it would add an additional safety factor.
And as we touched on earlier they have a 6" stripe of 3M Scotchlite reflective material sewn on the inside of the cuff along the outside seam, visible when you roll them up.
With the combination of materials and the included knee armor it looks like the Madison 2 jeans pass my protection criteria with flying colors.
On The Bike
The last test for any riding gear is how it performs on the bike. Gear can look good and have all the protective features in the world but if it's ill-fitting, uncomfortable, or impractical you're not going to wear it and protective gear left in the closet doesn't do you much good in a fall.
I purchased these jeans in early spring and have been wearing them pretty much exclusively ever since, so I've had plenty of opportunities to evaluate the Madison 2 jeans.
When seated on the bike I can feel the front of the waistband pushing on my abdomen, this is where another inch or two of height in the front would have helped, but it wasn't annoying and by the time we hit the open road I had forgotten about it. A few less French fries would probably help the situation also.
Other than that they are quite comfy. I've had some problems with the knee armor on other pants sliding to the side when I ride but both the hip armor (that I borrowed from the Airwave pants) and the knee armor stayed put. Again I had to reach down to be sure though since I really couldn't feel either the hip or knee pads all that well.
The back of the waistband comes up high enough for good coverage, I didn't feel any breeze touching bare skin coming up under my short jacket. The pants were also warm enough for me to wear down to 40 degrees (F) with nothing but the bare essentials underneath.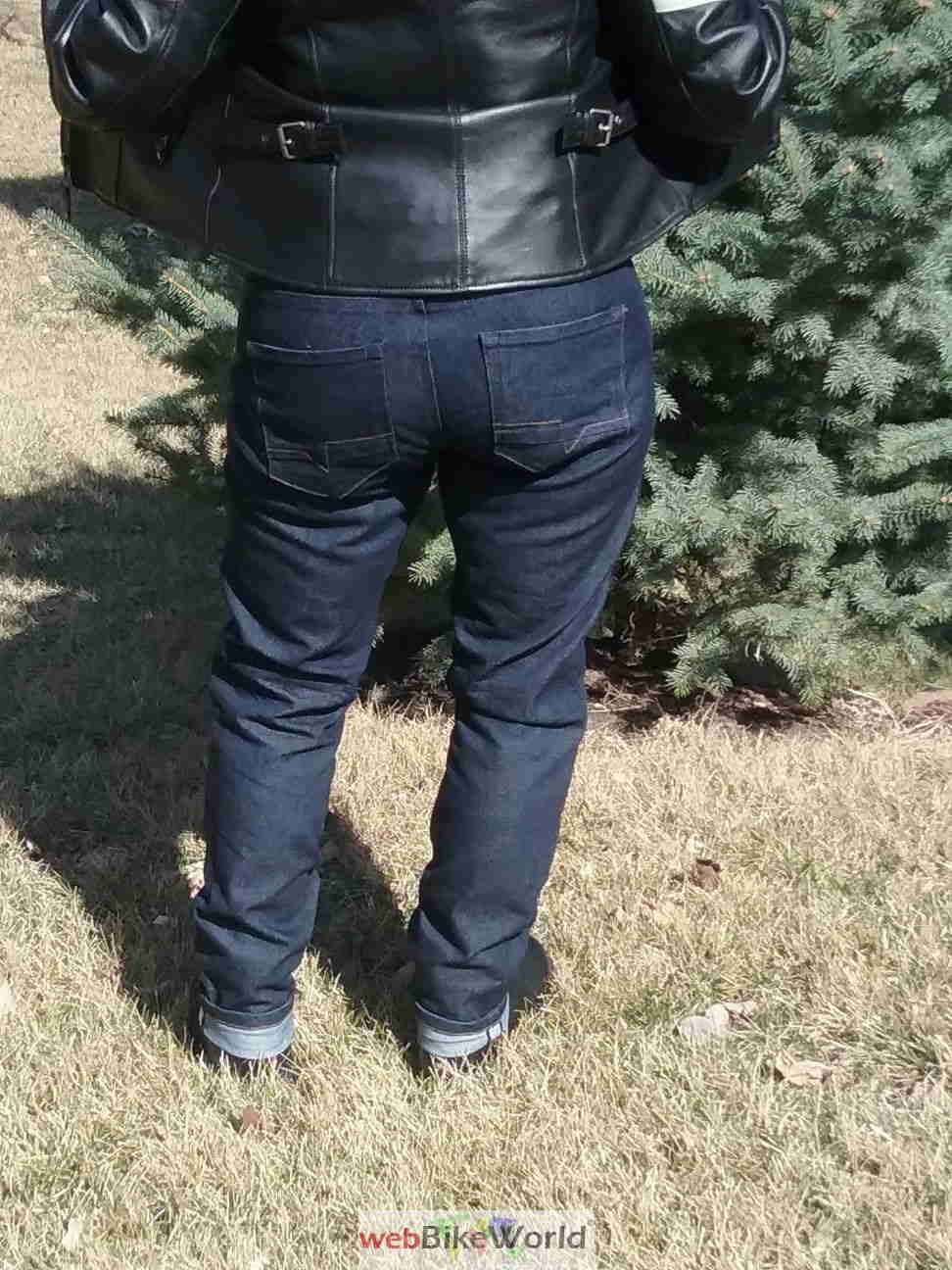 Care and Maintenance
Most of the time I ignore the care instructions that come with my clothes. Especially if the tag says 'dry clean only'. I figure if a garment is too wimpy to stand up to the delicate cycle of my washing machine then it's probably not going to last long in my rotation.
But since my skin might depend on the integrity of the material in these pants I thought perhaps I should follow the manufacturers recommendations this one time.
So REV'IT recommends that you remove the armor and wash the pants separately and inside out in cold water. In fact they give very specific temperatures for the water which would be great if I knew what temperature the water is in my washing machine. I just set it on cold and hoped for the best.
There is a tag in the jeans warning that the color may bleed onto cloth furniture so I took the 'wash separately' thing very seriously. Next I made sure I used 'mild detergent' (probably the only kind they sell in the grocery store) and did not use fabric softener.
Once washed they recommend that you line dry them. I'm pretty sure that violates a covenant in this neighborhood so I laid them out flat to dry instead and then fluffed them on low heat before I put them on.
Following this regime I did not detect any shrinkage with washing. The pants also became softer after a few washes. They aren't noticeably fading yet but I expect they will with time. By the way, I've sat on cloth furniture and I've never noticed any color transfer.
Conclusion
The REV'IT Madison 2 jeans are stylish and comfortable, but most importantly they have excellent protective features. They have quickly become my go-to riding pants. I thought perhaps I would have to hang them up once the summer temperatures and humidity arrived but I've found the Coolmax fibers must be doing their job as my legs remain dry and comfortable well into the 90 degree (F) range.
At $189 they are also reasonably priced, especially for riding jeans with this list of features. In my search I found prices ranging from $89 to well over $400 and a large percentage of them didn't include knee armor. Furthermore, I suspect these jeans will last through a number of riding seasons, probably until they're out of style.
I'm also hoping that these jeans will help win over my cruiser friends that insist on wearing regular jeans when they ride. With jeans that look this normal and feel this good there is no reason not to be protected when you ride.
w

BW

 Review: REV'IT! Madison 2 Women's Jeans

List Price (2017): $189.99

Colors: Medium Blue, Dark Grey

Sizes: 24W to 34W. 32 lengths.

Review Date: October 2017