Airwave 2 Jacket Review Summary
Airwave 2 Jacket Image Gallery
This is a review of the REV'IT! Airwave 2 jacket for men and women.
The Airwave 2 jacket is a high-quality product with a superior fit.
It's cool, comfortable and reasonably safe, which checks all my boxes for a hot weather jacket!
Over the years I have whittled my motorcycle jacket collection down to mesh jackets exclusively.
I've found that with a combination of various types of liners and layers, a mesh jacket is useable down into the 40 degree F range, which is as cold as I can ride and not freeze my hands off.
So I was pretty excited when the Editor asked me to review the new-for-2016 REV'IT Airwave 2 mesh jacket.
REV'IT! has a very extensive product line.
Everything from urban street gear and vintage leather to sport and racing gear, for women and men.
Right out of the box I was impressed with the materials and build quality of the Airwave 2 jacket, so let's take a closer look.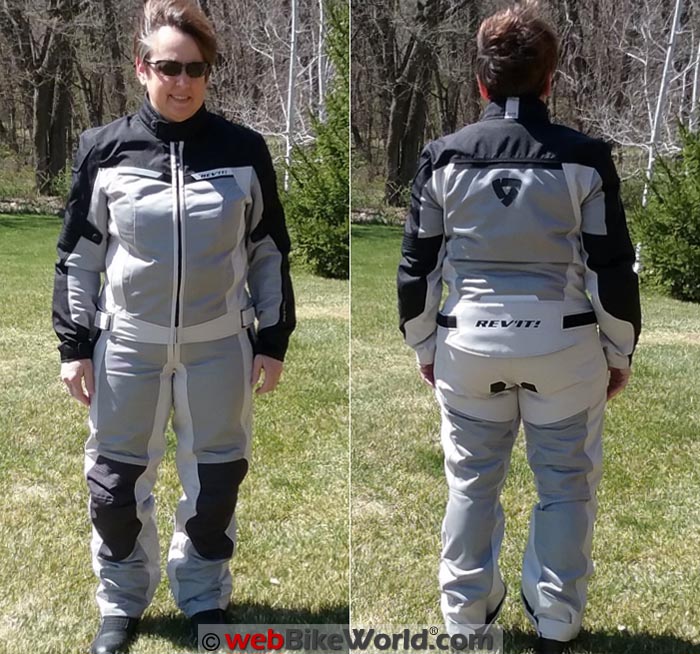 Fit and Sizing
The Airwave 2 is a mesh jacket of the short variety and it's available in both women's and men's specifically tailored versions. It comes down past my waist to about halfway down my hips.
The back comes down further than the front, so it should keep your backside covered even in a sportbike crouch.
The Airwave 2 comes in women's sizes 34 to 46, which equates to US sizes 4-16 (men's sizes are S to 4XL) and that allows you to fine tune the fit a little better than the typical unisex small-med-large sizing.
The size chart on the REV'IT! website conveniently lists the corresponding US sizes, so when the jacket arrived it fit perfectly.
Right away I noticed this jacket has more curve to it than a lot of other women's motorcycle jackets I've tried on. I suspect sometimes they just cut down men's jackets and stick a women's label on them, but this fits my waist snugly and still has ample room for my, uh, chest area.
It also fits my arms a lot better. Usually there is so much extra room in the sleeves I fear the armor wouldn't be in the right place if I should ever need it.
But the Airwave 2 sleeves fit so well, I don't feel the need to tighten the adjustment straps provided on the upper arm.
On the jacket sleeve the REV'IT! trademark "Engineered Skin" is imprinted and it does seem to fit more like skin than my other jackets.
There is also an adjustment strap on both sides for the waist with quite a bit of adjustment range; you'd have to be Scarlett O'Hara to take advantage of the whole range.
The cuffs close with a hook-and-loop strap and fit closely to my wrist and there is enough space to go over my summer glove cuff. Alternatively, the sleeve cuffs can be made snug enough to wear a glove gauntlet over the top.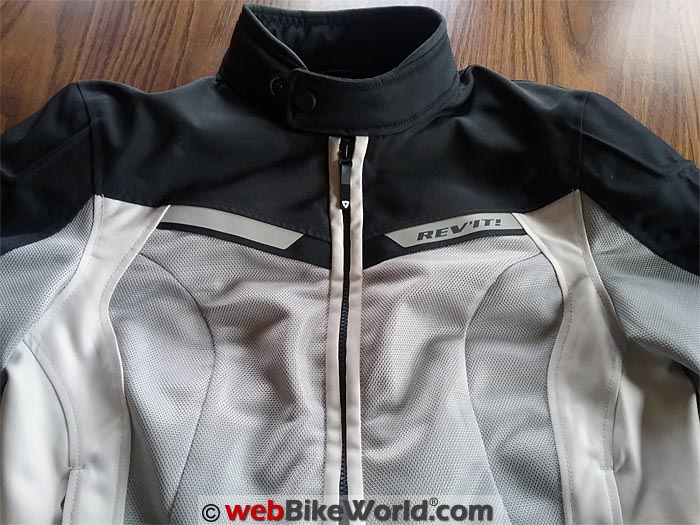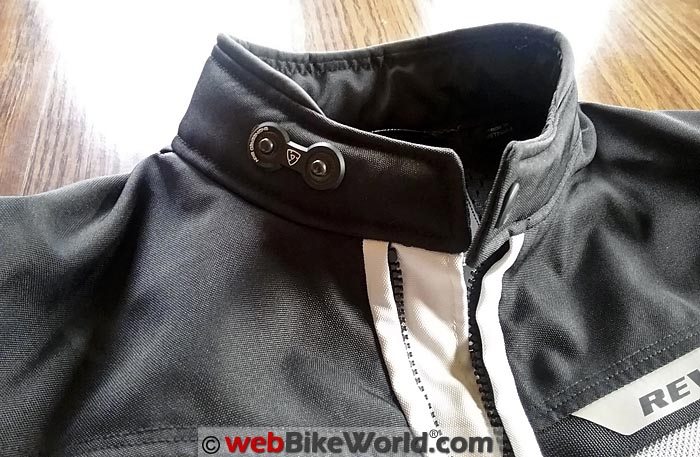 A Little Style
REV'IT! has the Airwave 2 designated as a sport touring style jacket. I'm not sure what that encompasses, but the styling is pretty conservative and the branding is discreet, so it feels right at home on my Harley.
The women's version of the Airwave 2 jacket comes in 5 colors: the black/silver you see here; a black/white version that I thought looked very nice; an obligatory all-black model and two dark grey/light grey versions that have a splash of either red or fuchsia on the sleeves and collar.
It's nice to have choices for women other than the pink and powder blue that the local stores primarily stock…
There are also some nice little styling touches, like piping around the shoulder area and a slash of accordion-pleated material on the sleeves.
On the outer part of the shoulders and upper back there are REV'IT! logos made from some type of synthetic leather that look pretty classy.
The interior mesh lining has red accents which is a nice touch as well.
It looks like the women's version of the Airwave 2 jacket is identical in appearance to the men's version, so if you like to be all "matchy" with your significant other, here's your chance!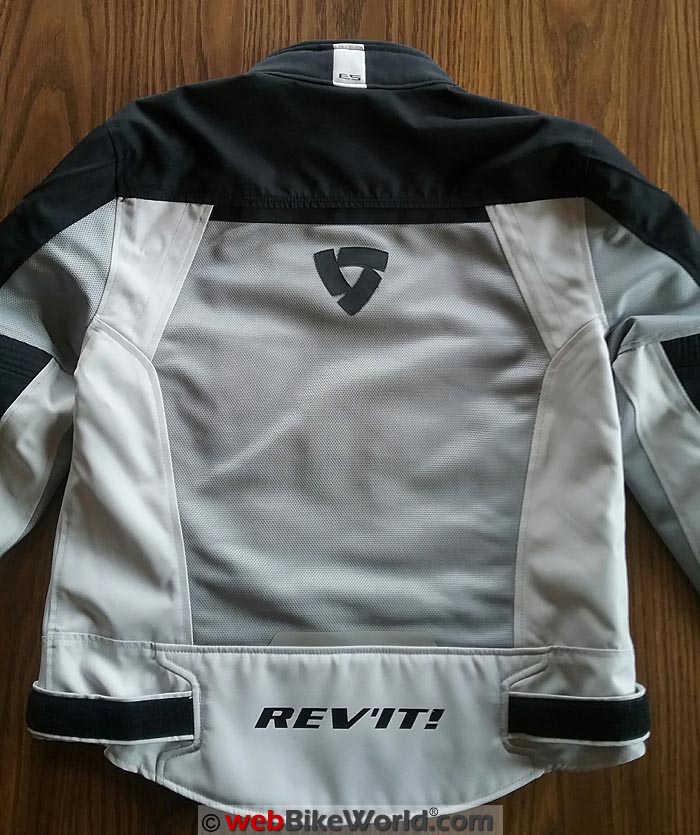 Construction
The jacket shell is made from 600 denier polyester in the impact zones along the upper chest, shoulders, side panels and the outside of the arms. It feels pretty thick and substantial.
The rest of the jacket is a very tightly woven mesh material called "Power Mesh".
All of the panels are doubled-stitched with flat felled seams and all of the stitching is even and straight. In fact, I went over everything with a fine-toothed comb and didn't find a single loose thread or missed stitch.
Pockets and strap insertion sites also have bar tacks placed to help prevent tearing.
The zippers are all branded YKK and are very beefy with large teeth and a smooth pull. Also, the zipper pulls are the locking type, so they stay where you put them.
The main zipper has a rubberized pull attached with a tiny little REV'IT! logo on it. The exterior pocket zippers don't have the zipper pulls (although from pictures on the website it looks like maybe they should?), so they're somewhat difficult to operate when wearing gloves.
Snaps on the collar and upper sleeve adjusters are also very burly and they close with an authoritative metal-to-metal snap and stay put.
The collar is rather thick and it has a rubberized edge around the top. It's also black inside, so it gets a little warm when the heat and humidity rise. It has a two-position snap for about an inch of adjustment.
I'm not used to a snap collar, so it took me a while to get the hang of closing it with my gloves on. I do wish there was a hook-and-loop patch or some way to hold the collar open when it gets really hot.
This particular jacket does not come with a liner, which limits its usefulness in this climate. The weather here in the Heartland can change at a moment's notice and it's usually too cool on the morning commute for full mesh gear.
I have wind shirts I can wear underneath to extend the temperature range and a rain liner from another jacket for wet weather, but I think it would be more compact and comfortable to have a zip-in liner.
REV'IT! does have other jackets in the lineup that have thermal or waterproof liners, so if that's your preference you may want to look at those models.
Of course, those of you fortunate to live in warmer climes will get plenty of use out of the jacket it as it is.
Also, there is a short zipper in the back that connects to any pair of pants in the REV'IT! line, as well as a belt loop if you want to connect to a pair of Kevlar jeans.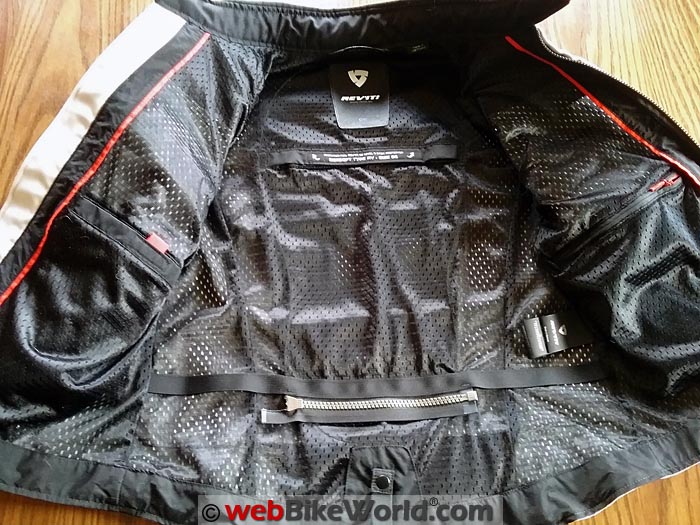 Safety and Protection
The jacket comes with CE EN1621-1 Knox brand protectors in the shoulders and elbows.
It doesn't look much different than the protectors in my other jackets, but somehow REV'IT! has managed to incorporate the protection into the jacket so you hardly know it's there.
It's very unobtrusive and conforms well to your body, which makes the jacket feel very comfortable. The protectors rest in pockets within the mesh liner with hook-and-loop closures, so they are easily removable.
There is a pocket in the back of the Airwave 2 for an optional SEESOFT back protector (type RV). I think a jacket in this price range should come with some type of back protector (even if it's not a top-of-the-line version), although I've noticed that most jackets don't.
I hope that people don't just throw this jacket on and ride without spending the extra $50 for the added protection.
Visibility
For visibility, reflective strips are located along the upper chest seams and above the lightly padded tail flap on the back of the jacket.
The REV'IT! logos on the sleeves also have a reflective outline and these are shiny even in daylight and they really pop at night.
So there isn't a ton of reflectivity, but they've managed to get some on all four sides of the jacket to help make you visible from any angle.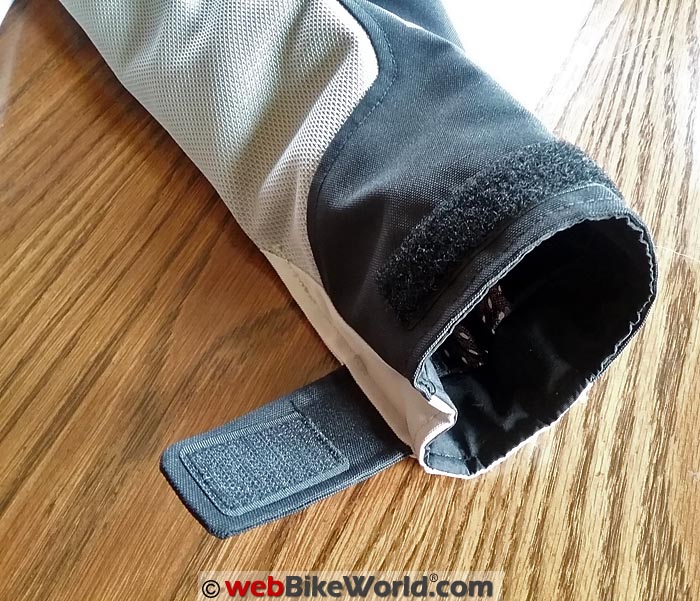 Ventilation
Well, this is easy; there's a lot of it! The mesh panels, though tightly woven, flow a lot of air. It's an "always on" system but that's what most people buy a mesh jacket for.
In addition, the lighter color helps the jacket feel cooler. Once moving, air flows up from the mesh panels on the chest and cools the neck and shoulder area.
It hasn't been really hot here yet but I think it will work great this summer when the temperatures soar.
Storage and Pockets
There are two exterior hand warmer pockets in the Airwave 2. They aren't extraordinarily large but my hands fit in them with no problems. The pockets are unlined mesh, so they don't impede air flow at all.
On the inside, the mesh liner has two large pockets (7"×8"). The pocket on the left side closes with a smaller-toothed YKK zipper that's red and has a metal zipper pull, which makes it easy to find and use.
The pocket on the right side closes with a section of hook-and-loop fabric and it has a red fabric pull that is also easy to see against the black mesh.
Both of these pockets are entirely mesh, so they won't keep anything dry but this also allows air to flow freely through these sections of the jacket.
Side-by-Side Comparison
I value quality in the products I buy, but occasionally I get sucked in by a really low price. Last year I bought a sub-$100 mesh jacket because it was at the motorcycle shop across the street and it was, well…cheap.
I wanted to catalog the differences between the two jackets so I could answer the question — at least for myself — if it's worth it to spend the extra money for quality protective gear.
The biggest noticeable differences are in the mesh and the protectors; two important areas of concern if I should crash test the jacket.
As you can see from the photo, the mesh on the less expensive jacket is a much more open weave. There is already a safety compromise when you choose a mesh jacket but the thicker, tighter weave of the Airwave 2 jacket inspires a lot more confidence.
The REV'IT! Airwave 2 jacket also has areas of solid fabric in the high-impact areas, while the other jacket is entirely mesh.
The protectors in the sub-$100 jacket are also inferior. They're thinner, they cover less area and they are not CE rated. The jacket does come with a thin foam back pad, but I'm not sure it would offer much protection.
The other difference between the two is harder to quantify.
The REV'IT! jacket just feels nicer. It's heavier and more substantial and it feels like it would last longer, from the outer shell material down to the snaps.
There are two things about the less expensive jacket that I like, however.
It has zippers on the side, so you can expand the waist as well as narrow it (important for women of a certain age) and it has a very thin, but surprisingly effective, liner.
But for the extra money you'll be spending on the Airwave 2, you're getting a much safer, better fitting jacket.
Deciding between price and quality is personal, of course, (and if all you can manage is $100 then it's a lot better than wearing nothing).
But when it comes to my skin, I'm willing to spend a few extra bucks and get the good stuff. At a retail price of $229.00, you won't exactly be breaking the bank if you choose the Airwave 2.
Conclusion
This is the first REV'IT! jacket I've had the pleasure to wear but at least from this example I can conclude that they make a high quality product with a superior fit.
It's cool, comfortable and reasonably safe, which checks all my boxes for a hot weather jacket!
w

BW

 Review: REV'IT! Airwave 2 Women's Jacket
Manufacturer: REV'IT!
List Price (2016): $229.99
Colors: Black, black w/silver, white and colors.
Made In: Vietnam
Review Date: April 2016
Note: Item provided by a retailer, distributor or manufacturer with these Terms and Conditions.
Note:
 For informational use only. All material and photographs are Copyright © webWorld International, LLC since 2000. All rights reserved. See the webBikeWorld® 
Site Info page
. Product specifications, features and details may change or differ from our descriptions. Always check before purchasing. Read the
Terms and Conditions
!
Owner Comments and Feedback
---
From "G.N." (May 2016): "Yet another influential moto-writer agrees with me that all-mesh riding gear is the best!
Here in Southeast Asia the weather is either hot and humid or cold and wet, – 5°C to 35°C depending on elevation, and the heavy waterproof jackets are a real PITA to wear.
A mesh jacket combined with a thermal liner for the early dawn starts and a rain suit is surprisingly easy to pack and to live with. In fact, I've sometimes worn the rain suit over my mesh one while touring the colder areas for added windblocking.
Yes the heavy RTW suits look really badass but they come with a price: your wallet suffers when paying for them and your body suffers when you're wearing them while it's smokin' hot outside. And smoking hot weather is actually ideal for riding, which kind of defeats the purpose.
I own the first generation Airwave and I can attest that it is more water resistant than I thought it'd be. It can easily withstand light drizzles for more than 30 minutes without making me feel too cold, which is in line with what the 3D mesh promises. I expect the Airwave 2 will also perform similarly.
On that note, the new Ventouring 2 and Crossover 3 from Clover (Italy) piqued my interest since they designed the inner rain liner to be easily wearable over the mesh shell and also styled it so you can also wear it off the bike.
Bonus: the rain liner also has light thermal padding! Perhaps you can try doing a review of it?"
---
From "D.G." (May 2016): "This is a really good review. I'm going to check out this product."
---
From "B.A." (May 2016): "I too like all mesh riding gear. Layering underneath for different weather works well for me.
I've taken it a bit further by purchasing a rain suit (Frog Togs) large enough to go over the mesh. Not only does this work well in the rain but has taken me well into 30 degree weather.
If you go down your rain suit is toast but you still have the protection of the mesh and padding. On a long trip with varying elevations this is a light and easily adaptive system."
---
From "B.P." (April 2016): "Ah, nice to read that Donna S. agrees with my mesh-only — with appropriate underlayers — approach to riding and packing: "Over the years I have whittled my motorcycle jacket collection down to mesh jackets exclusively."
See my All-Season Riding Outfit review.
I sometimes find myself riding in the upper 30s (F) on out-of-town trips. Adding a heated liner, windbreaker, and heated grips or gloves, renders this to be not much of an issue.
Colder than that, and I'd probably park the bike, as I don't want to encounter ice on the road."