Review Summary
Despite a few gaps in build quality, the Viking Bags backpack is pretty good value. It's affordable, big enough for most riders, and comfortable to wear. Gaps in its build quality are superficial, but still disappointing to see. Note: these gaps in quality would have qualified for manufacturer warranty replacement (that I chose not to pursue).
Pros
Light
Waterproof enough
Lots of storage
Comfortable to wear/ride with
Cons
Construction could be better
Not completely waterproof
If you've got $75 burning a hole in your pocket, and you're tired of wearing "regular" backpacks to cart your laptop around while you're riding, it's hard not to look at this affordable backpack from Viking Bags and not feel tempted. After all, the spec sheet showcases all the right stuff: a lightweight bag (just 4lbs) that is also weather-resistant and has plenty of storage (488 cubic inches).
Not bad, right?
Given that I did not yet have a dedicated riding bag, and that I was one of the poor sods slugging it out with a generic "non-motorcycle" backpack, I decided to say "yes" when Viking Bags reached out asking if we'd review one of their units.
And here it is. After a few rides with it, including a spirited ride through a light drizzle, I have formed an opinion I can stand behind.
Specifications
From VikingBags.com:
| | |
| --- | --- |
| Lockable: | Yes |
| Mounting Hardware: | Not Included |
| Material: | Cordura |
| Dimensions: | 20″ x 5″ x 11.5″ |
| Storage Capacity: | 488 Cubic Inches |
| Lid Opening: | 12″ x 9″ |
| Weight: | 4 lbs |
| Expandable: | No |
| Weather Resistant: | Yes |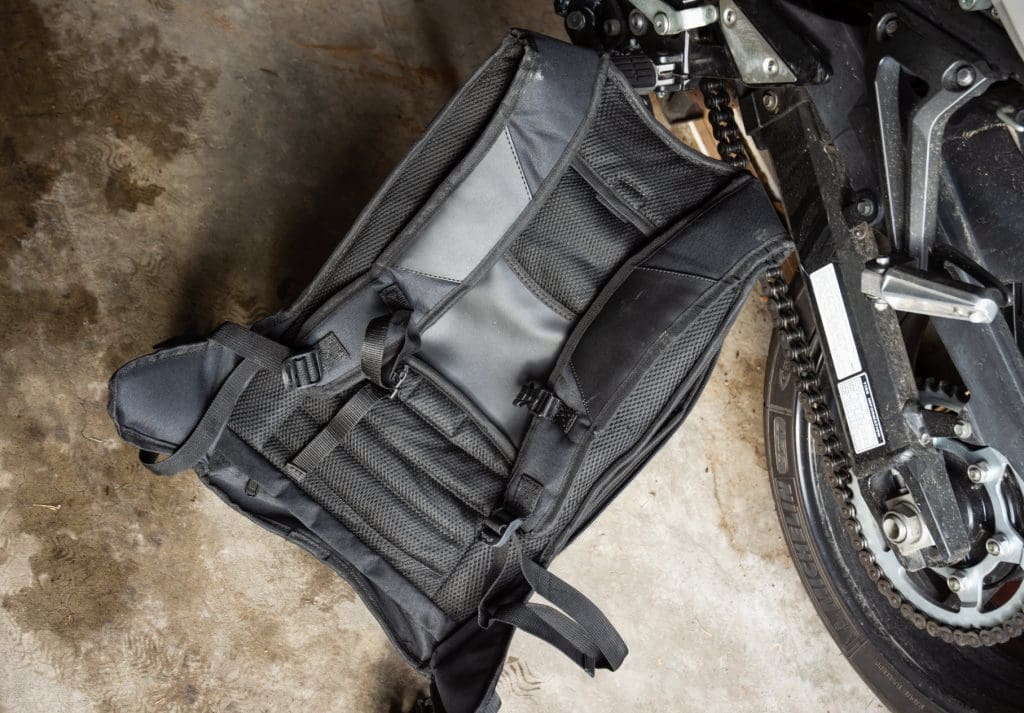 Note: at the bottom of the bag, tucked behind a zipper (on the rear side that sits against your back) is a compartment that, when opened, reveals a helmet holder that connects with the bag. I felt other videos do a better job showcasing this compared to my review, so I've included a vid in the review that shows how this works.
Am I the Only One That's Worn This Thing?
One of the first things I do, after I have spent some time assessing a product, is to have a look at what other reviewers have noted. Let's be real: it can be hard to notice everything and I sometimes find features or speaking-points from other reviews that I overlooked myself.
A Google search for reviews on this bag turns up practically bupkiss. Almost entirely nothing. All I found were a few "reviews" that were more feature overviews vs. actual riding reviews. Even then, most of those were for a different version of the bag.
But I did find a couple worth watching. This video, hosted on the Viking Bags YouTube channel, is a decent overview of what the bag is all about:
Also: that guy has the biggest arms I've ever seen on a moto reviewer. Fair to say he doesn't review jackets (or at least not comfortably).
Okay, so if no one else wants to beat it up a bit, I guess that means I'll have to do it.
Initial Impressions
The bag looks and feels pretty good. It's got a decent amount of storage that a day-to-day rider will find valuable, including:
2 small side pockets on the bottom left/right of the front of the bag
The big pouch, with 488 cubic inches of storage
Two velcro-sealed pockets on the rear of the bag (think: on the underside between your back and the backpack).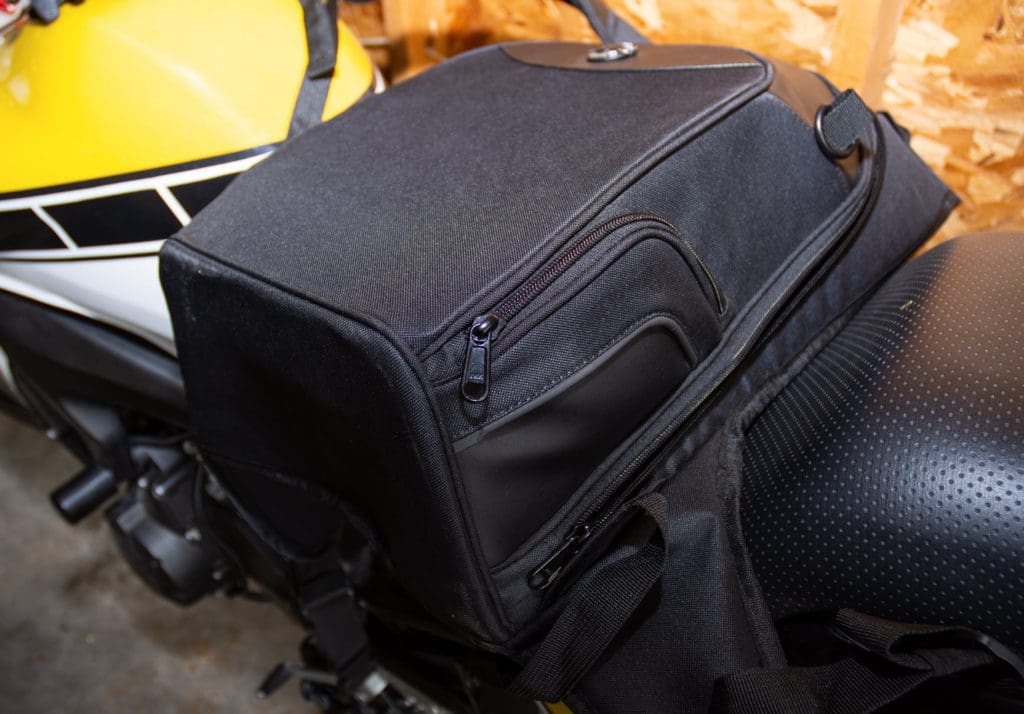 Other models come with additional pockets/storage, but they also come with a small price premium compared to the $75 bag I'm wearing right now.
Worth noting: the bag is clearly made for a rider. The straps are extra-large, to easily accommodate putting it on/taking it off while wearing riding gear, and the middle "seatbelt" that wraps around your waist does a good job keeping the bag secured to your body.
The shape of the bag is also more streamlined than others, using a stiff material to shape the bag and keep it in the aerodynamic shape riders want. Should this material wear out/get damaged, you can pull it out via a pouch on the inside shell and simply replace it. Nice.
What About Storage?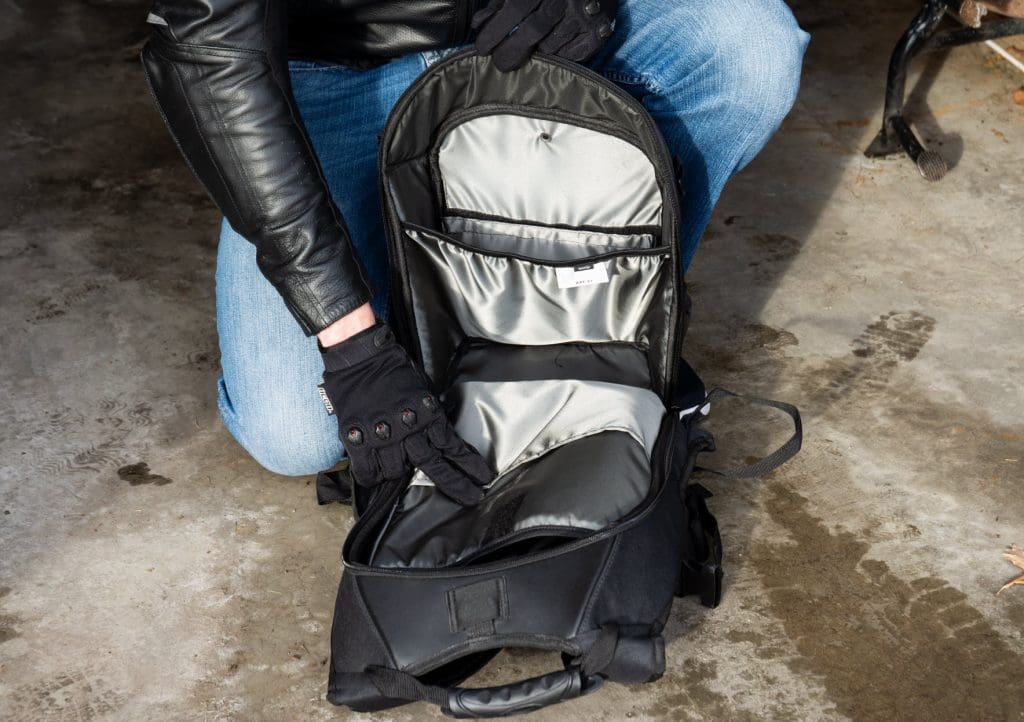 There's no point in buying a riding backpack if the bag can't actually carry the stuff you want to transport. Viking Bags has included a lot of storage given the relatively small size of the bag. For a day-to-day rider like myself, it's more than capable of carrying what I need: a laptop (mine is 15″, which fits just fine), charging cables, my lunch, toiletries, and a pair of shoes. It all fits easily, and there's room for more.
All of the storage is internal, save for the two pouches on the rear of the bag and the two side zips. (shown above).
Construction
Given the value price-point, I was concerned that the bag would come chock-full of defects and manufacturing errors. There are some, but not at the level I was expecting and, frankly, fewer than I had anticipated given its price… but it was not without a few worth talking about.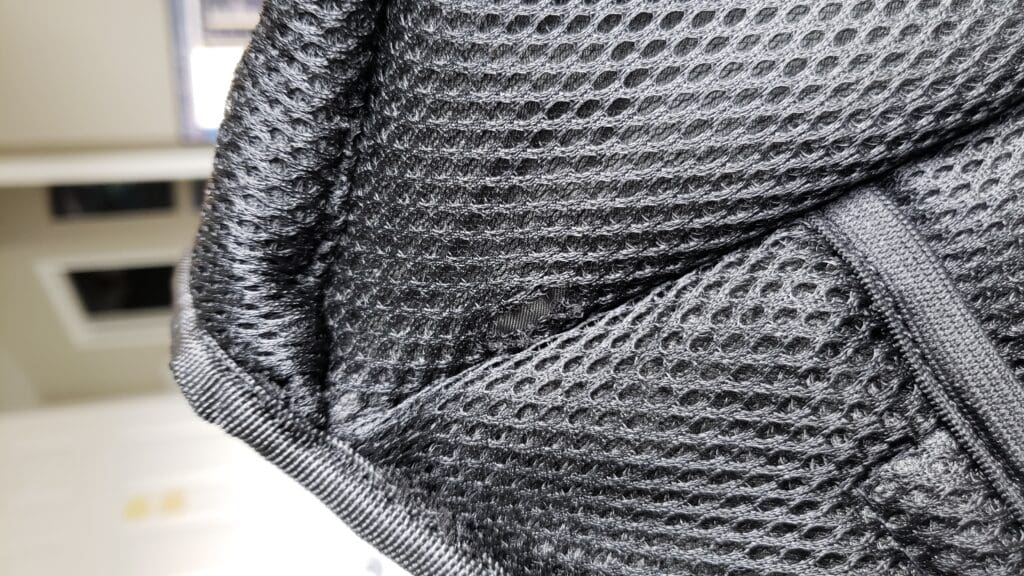 The above tear in the mesh is unfortunate but nonstructural. Still, annoying to see it on a brand new bag that had a "passed QC" sticker on it.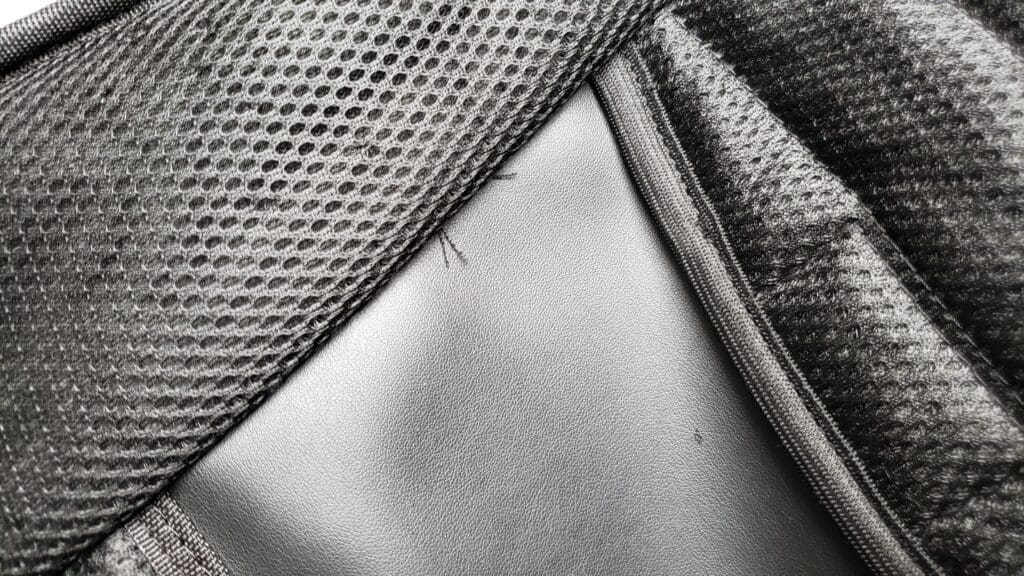 There are numerous areas where excess stitching (as shown above) is present. I tugged each of them (somewhat gently) and none gave way, and so I simply trimmed them with a pair of scissors. While not exactly appreciated, this is also not unexpected given the entry-level price of the bag.
Overall construction is "mostly good", with a notable exception. You can tell this bag was mass-manufactured overseas somewhere.
Comfort
I'm not a motorcycle backpack expert, so I'm not going to claim to know the ins and outs of what makes a backpack "comfortable". It's subjective, and what Jim found comfortable about the Velomacchi Speedway he reviewed a while back may not be the same things I would find. Everyone, and their posture, is a little different after all.
I will say that I haven't had any issues while wearing it. Compared to the backpack I was riding with, the Viking also has a few perks that I quite like:
It does a good job distributing the weight of the backpack; there's no singular "pressure point" that's obvious when riding
The aerodynamic shell slips through the air nicer than other backpacks I've worn, and with noticeably less drag
With the shoulder straps appropriately sized, and the waist strap sized and buckled, the bag does a good job of keeping the weight secure against your back- surprisingly minimal movement during cornering (which is very appreciated)
On Your Back
The slimmer profile of the backpack definitely works in its favor. Unless you load it up full of goodies, the bag itself is lightweight and doesn't feel like an encumbrance. Its slim profile is less than that of a typical backpack but noticeably larger than other motorcycle backpacks that are pushing that ultra-slim profile.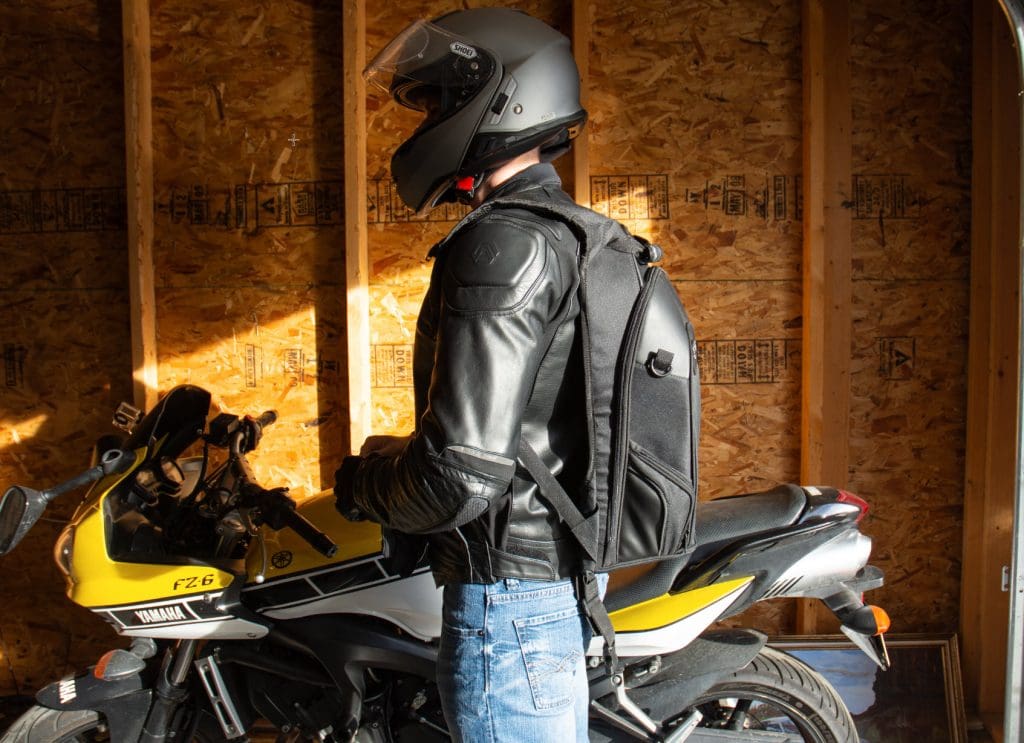 In the above photo I don't have the waist strap buckled up, but once done, the bag hugs you quite nicely.
It's comfortable wear and ride with.
Water Resistance
If you read my SIDI Aria Gore-Tex review, you may recall that testing water resistance is one of my favorite things to do in the tub (ha). It seemed only fitting that I test the Viking backpack in a similar way. Yes, it was destined for a shower, but before it went there I put three pieces of tissue paper in each of the pouches within the bag.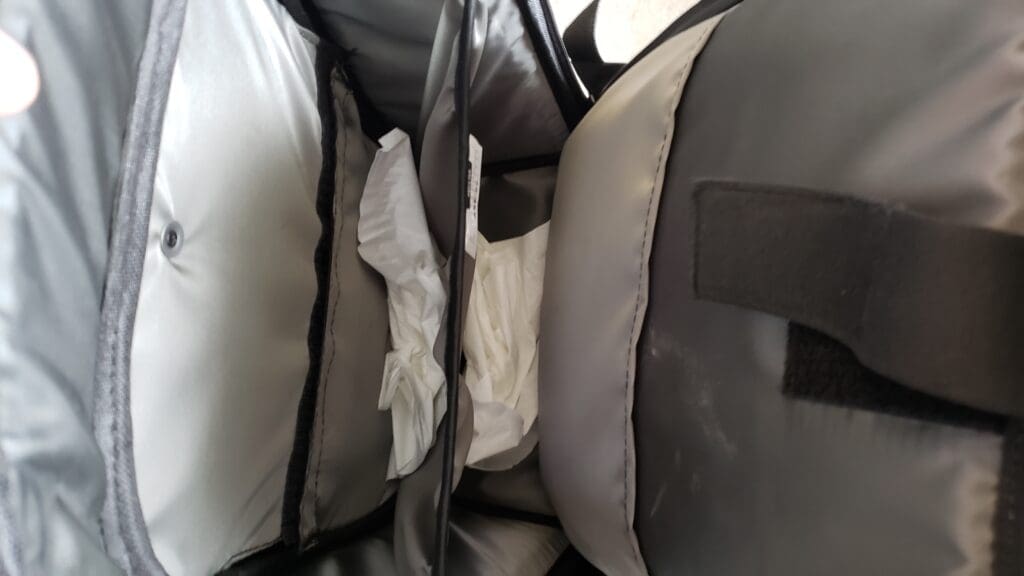 With the tissue secure, I sealed it up and let the waterworks happen.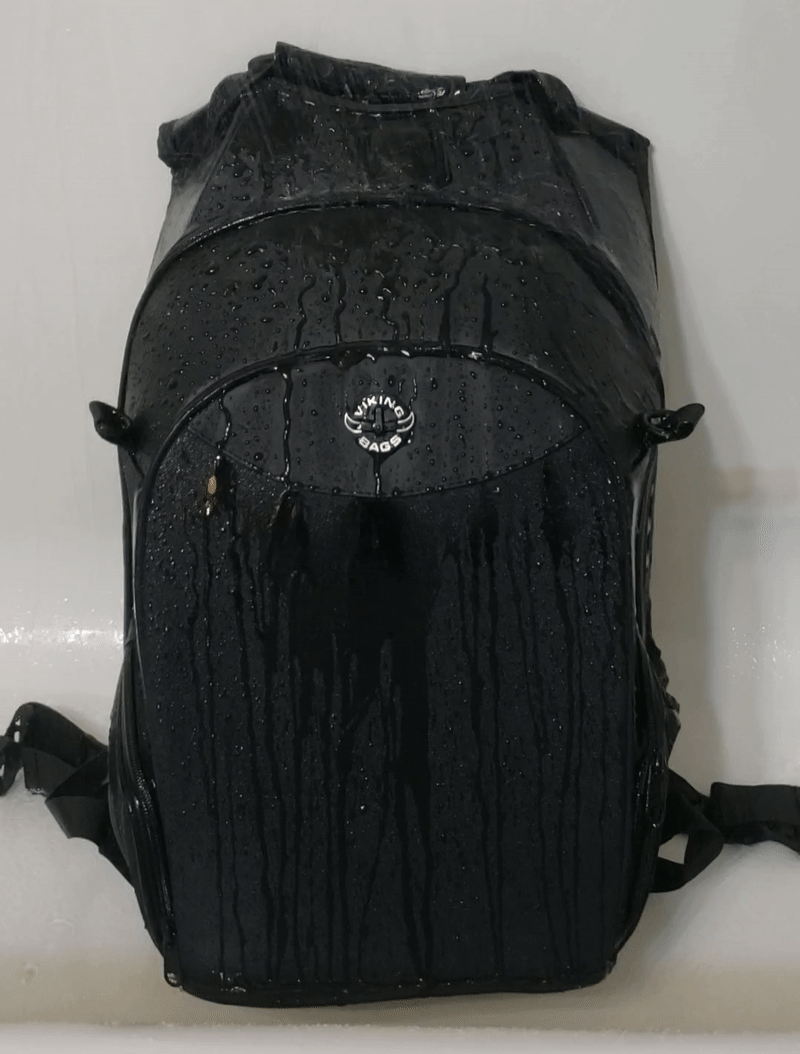 And so for a full five minutes, it rained on the Viking Bag. The end result was quite surprising:
Water did seep into the bottom of the bag – At first I was disappointed until I realized that I had neglected to remove the drain plug from the shower. So the bag was literally sitting in a pool of water. The tissue was half-wet, and there was about 1/8″ of water in the bottom of the pouch. Subsequent tests have shown that if the bag isn't literally sitting in a pool of water that water does not seep into the bottom compartment.
The tissues in the front and rear inner pouches were both completely dry.
So, the bag's not totally waterproof, but for situations you're likely to encounter, waterproof enough. Unless you're riding through a torrential downpour, your gear will be just fine inside.
For Under $100, The Viking Bags Backpack Isn't Perfect… But It's Quite Good
It's made of codura, not leather, and it's pretty utilitarian in terms of its construction and materials. It isn't premium, and it's obvious. However, what isn't obvious is its sub-$100 price tag. Even considering the construction gaps I identified, the bag is still priced pretty well considering the value it offers.
I like how it sits when everything is tightened down, and it's a tangible improvement compared to a typical backpack when riding. That it sacrifices basically no storage to achieve its slimmer and somewhat more rigid profile is also nice, as you can really pack this thing full and keep on riding comfortably. Off the bike, the integrated helmet holder is an imperfect but still welcome solution to the common "what do I do with my helmet" problem.
The bag is currently listed for $75, and at that price it's a good buy. I'd even feel good going slightly over the $100 mark, but at that price, I'd have warrantied the bag I received due to the manufacturing defects in the material.
Pros
Light
Waterproof enough
Lots of storage
Comfortable to wear/ride with
Cons
Construction could be better
Not completely waterproof
Details
Manufacturer: Viking Bags
Where to Buy: Manufacturer Website
Price When Tested: $75
Made In: Pakistan
Sizes: One size fits all
Review Date: November 2019