Thin-profile, retro-styled helmets like this from Isle of Man helmet manufacturer Veldt are the latest fashion accessory, but are they comfortable and safe?
Veldt recently sent us a limited-edition helmet to review. It was made especially to celebrate the launch of the American Vanguard Roadster motorcycle.
Prices on their website are €390 (about $A600) for an open-face, €450 ($A680) with visor, €510 ($A775) with chin guard, or €590 ($A890) for a full face.
Retro design
The design is similar to other retro helmets such as the Bell Bullit and Biltwell Gringo which also feature narrow chin bars.
But the Veldt is different because it can be adapted to four different helmet types: full-face with and without a visor and open face with or without a visor.
The chin bar and visor are fitted by high-quality allen bolts for a very firm and secure fit.
Fit and finish
The first thing we noticed about the Veldt helmet was how many extra sintra lamb leather foam-filled liner inserts came with the packaging.
To obtain a thin profile, the helmet is made in several different shell sizes.
That makes it difficult to exactly match your head size, so they have added thinner and thicker foam inserts so you can achieve the perfect fit.
The thin foam padding makes it very tight to put on and pull off and, while it may not be plush, it doesn't become tiring or uncomfortable, even when worn all day.
The two silver disc visor hinges sit proud of the shell and make it look like a spaceman's helmet from a 1950s sci-fi movie.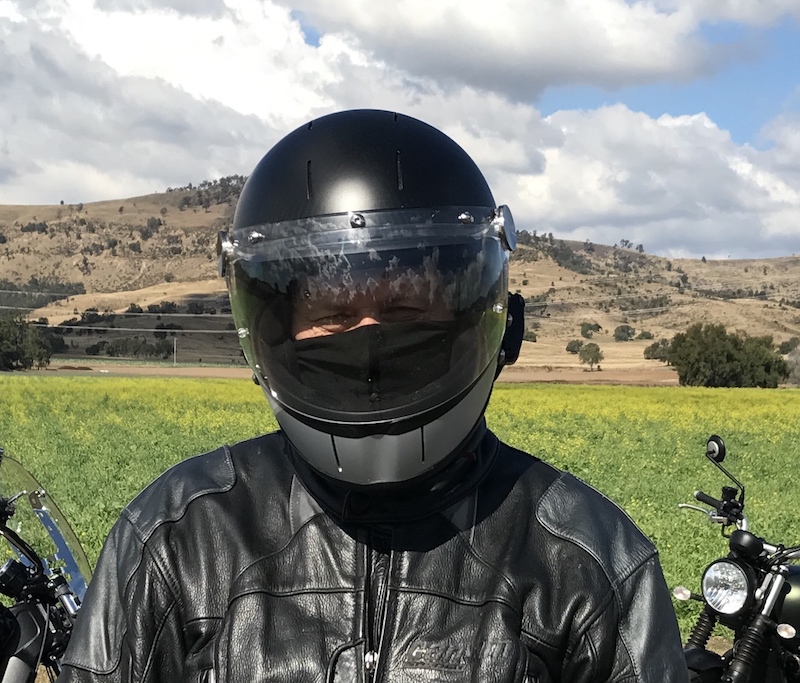 They also leave a 1cm gap between the shell and visor from the hinges down to the chin bar which makes the helmet very noisy and allows air to blow into your eyes causing them to dry out and get sore.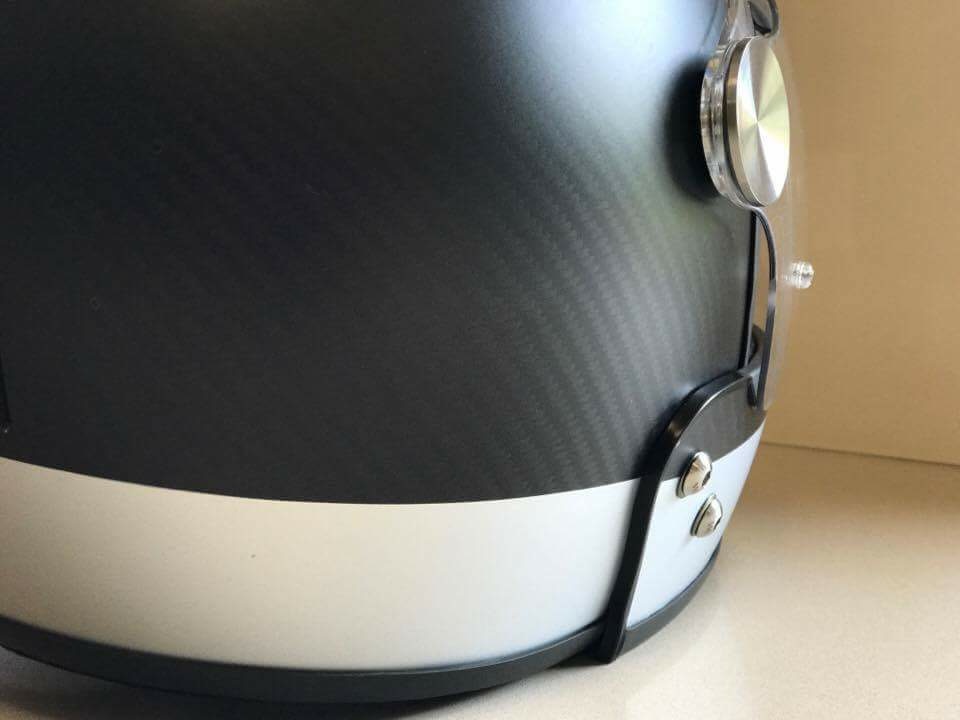 Safety
The helmet has not yet been rated by the UK SHARP helmet safety rating scheme and we haven't crash-tested it!
I'm a bit concerned about the integrity of the removable chin bar and the thin and lightweight carbon fibre shell.
The helmet weighs less than 1kg which means it is not fatiguing to wear all day long which is a safety feature.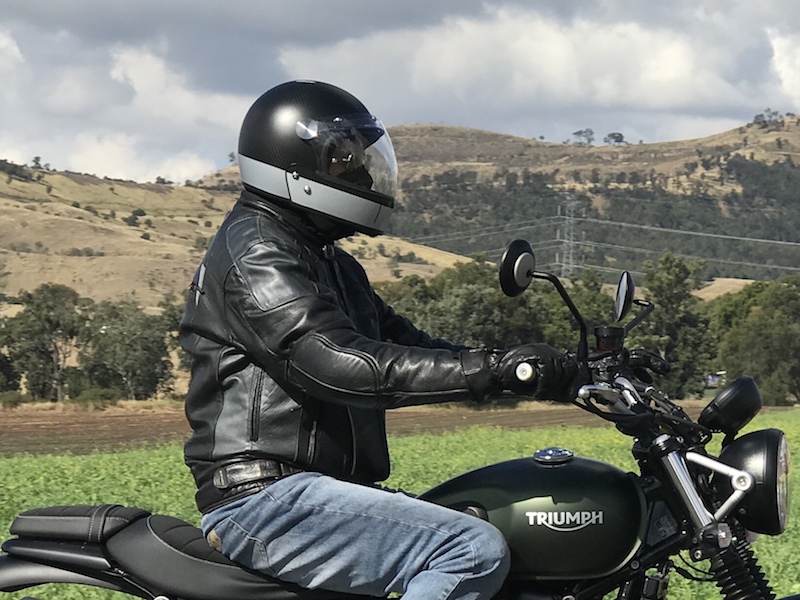 Veldt also included a Pinlock visa insert in the helmet box which is strange as the visor is claimed to be anti-fog. We tested it on some cold mornings and found it works just fine without a Pinlock.
The visor is not ratchet operated and can't be propped open at highway speeds as it just blows shut. With the visor open, it whistles loudly and pulls your head back when you go over 80km/h.
The wide aperture visor opening allows plenty of vision in all directions which is a good safety feature, especially in traffic when checking blind spots.
I also like the fact that if you look down to check whether you have zipped up your jacket pocket, the chin bar doesn't get in the way.
The high visor aperture might be ok for sports bike riders who peer up through their eyebrows, but when sitting upright it allows too much sun into your eyes with no brow overhang to offer any shade.
It also leaves much of your face exposed to UV rays and sunburn, hence the face mask in this photo.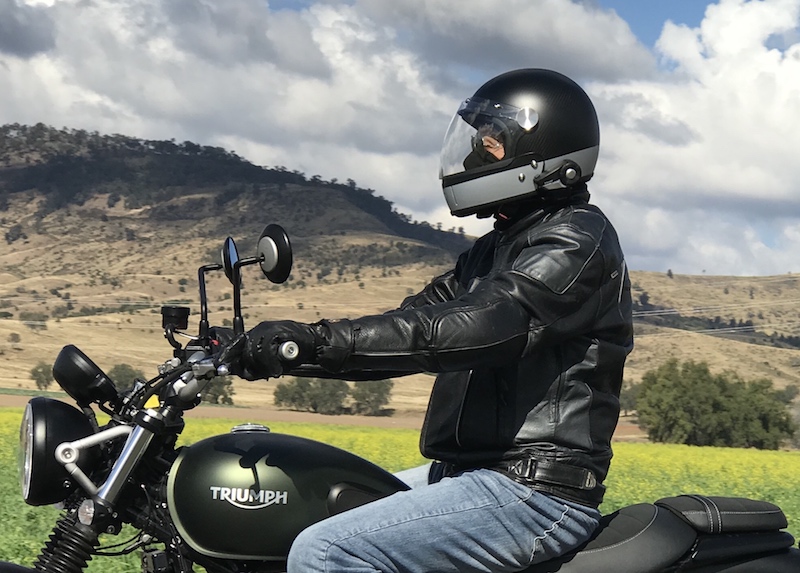 Fitting speakers from a Bluetooth headset into the ear recesses was easy and, unlike many other helmets, the recesses are in exactly the right place for my ears.
There are six vents across the top of the helmet and two in the chin bar which provide plenty of cooling air. However, they are permanently open so it gets quite cold in winter.
Custom Veldt helmets
If you want to design your own Veldt helmet, you can visit their website and use their "configurator" where you select paint, liner colours, trim and styles.
In the wake of Veldt making limited-edition helmets in collaboration with boutique motorcycle manufacturer Vanguard, the company is now making Mark 1 builders edition helmets.
The first is the Clutch helmet with a visor peak made in collaboration with Clutch Motorcycles of Paris.