Innovative helmet company Reevu is not only a presenting sponsor of tomorrow's InsureMyRide Le Minz 24-Hour Scooterthon, it has also entered two teams.
Distributor Cary Murphy says he was so impressed by the event last year as a spectator that he had to return this year as a sponsor and competitor.
"It was one of the best, most well-run motorcycle events I've been to," he says.
"I was bowled over by the super-competitiveness of the elite riders, even on the 50cc scooters."
This year's race features three-time World Superbike Champion Troy Bayliss, three-time Speedway World
Champion Jason Crump and Moto2 rider Ant West as well as many national and state riders competing with amateurs and motorcycle enthusiasts. Read my story here.
The 24-hour 50cc scooter endurance race begins tomorrow at 11am at the Xtreme Karting track, 540 Pimpama-Jacobs Well Rd, Pimpama, near Dreamworld.
Cary praised the elite riders, particularly Troy, for giving this and other grass-roots special racing events some star quality to attract spectators through the gates.
"To me it is obvious that Bayliss and the other champions are genuinely trying to kickstart motorcycle racing by beginning at the bottom and building the industry up," Cary says.
"It's certainly bringing people through the gates and allowing the next generation of bike racing enthusiasts to get up close and personal with the legends of the game.
"To be involved with guys like Bayliss, Crump and now Ant West and other big names is an honour."
So Cary decided Reevu would be one of the sponsors and that he would buy two Aprilia SR50 SBK scooters and run two teams with respectable riders such as Top Rider coach Bernie Hatton who has helped coach Ant West.
Others on the R1 Reevu Motortsport team are former stunt biker Mark Boxer who owns Hoon Media and Hoon TV,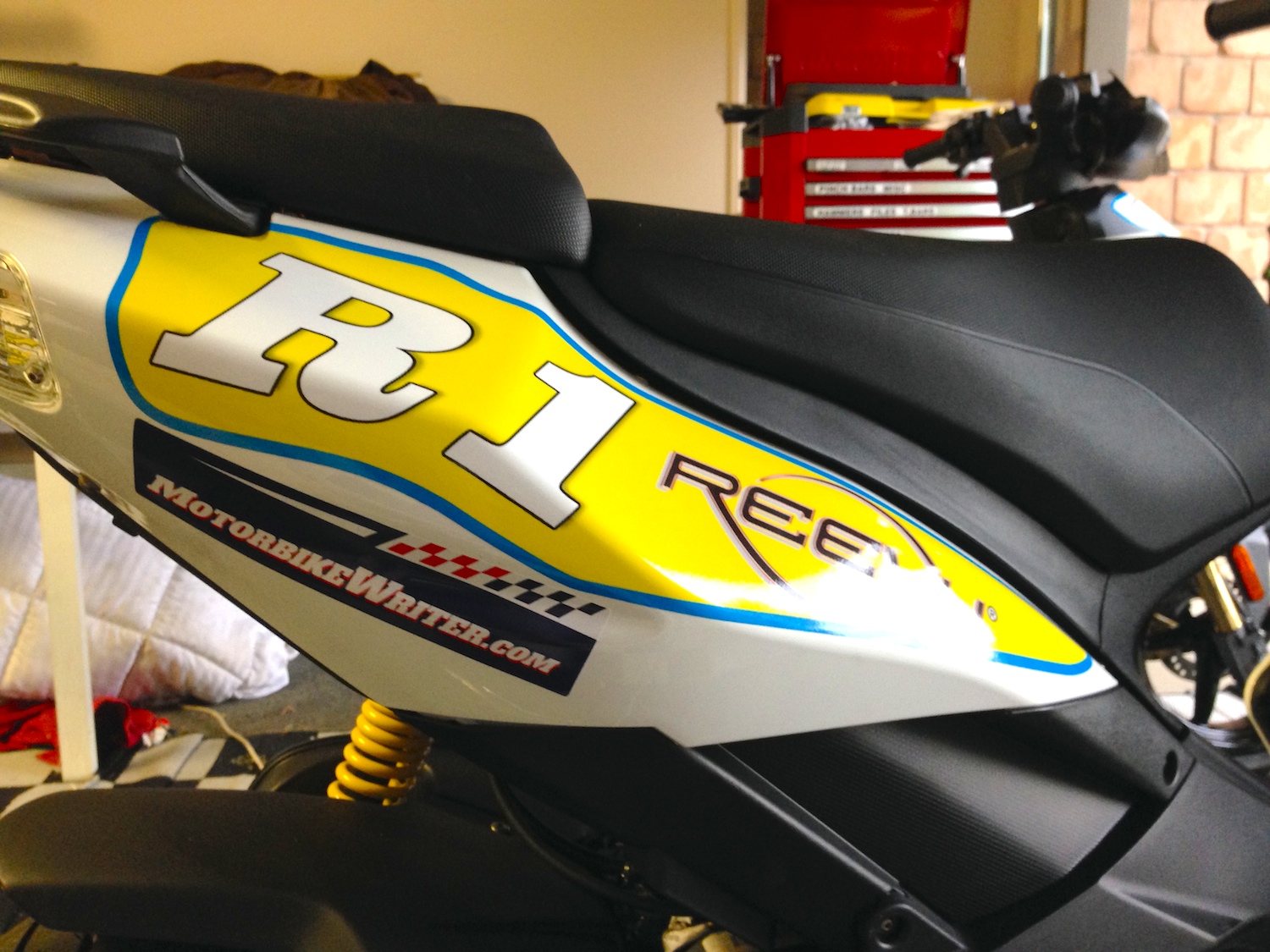 Twin Sprint champion and Australian endurance podium finisher Marcus Simpson and Mark "Wilko" Wilkinson, who raced in the Supersport class of the 2013 British Superbikes series.
R2 Reevu 2 team is comprised of Kane Kelso, father of national 70cc champ Joel and a handy dirt bike racer as well; successful businessman and motorcycle industry supporter Tony Corbet; accomplished junior rider Phil Redmond; and Paul McKinnon, one of the most successful junior go-karters in Australian history and now owner of Evolution Motorsport in Sydney.
Cary says they are definitely in with a chance of two top 10 finishes and even one top five result.
More importantly, Cary says the event raises much-needed funds for many worthwhile charities.
"One of the main reasons we chose to sponsor and enter the Scooterthon is that it is racing for a good cause," he says.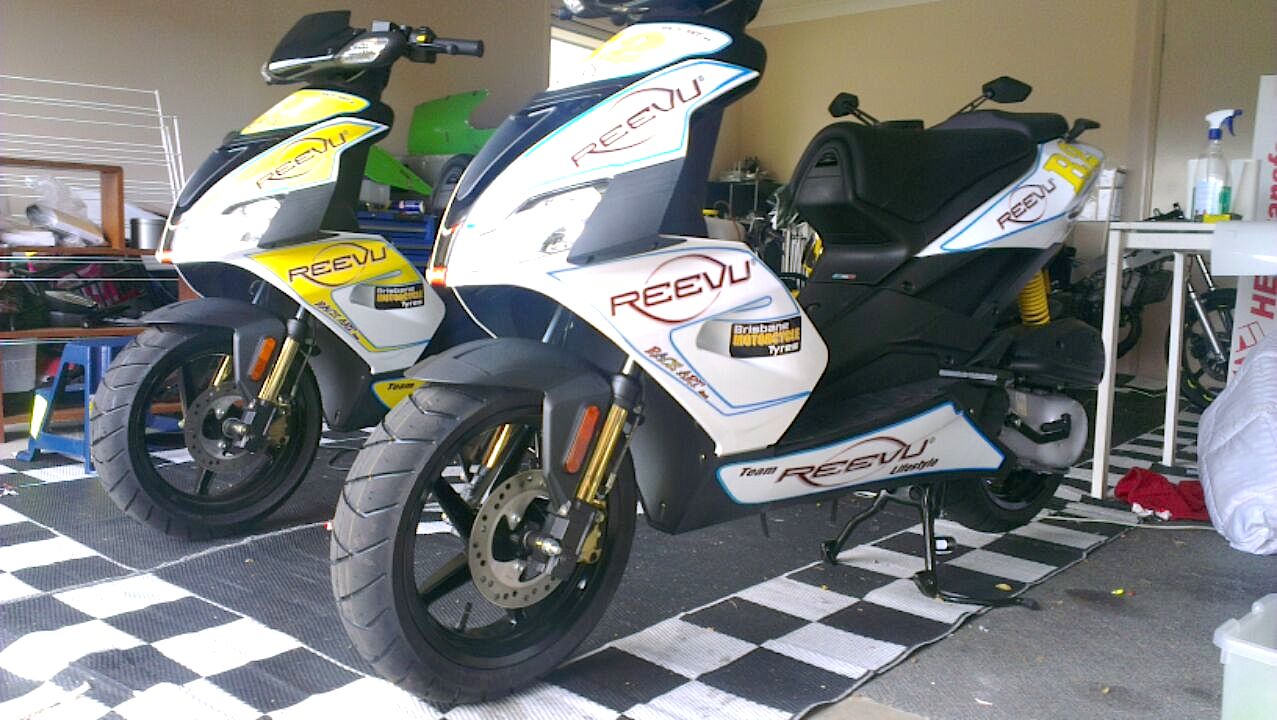 "Most teams are affiliated with some charity cause.
"As an organ donation recipient myself, we have donated Reevu helmets to all the riders of the Plan B team which is raising money for Organs for Life. We have also donated a spare helmet for them to raffle off.
"Our teams are also rallying behind the young Inglis family of Melbourne which is struggling with the emotional strain and financial burden from their daughter, Leah, who is fighting B type-ALL leukaemia.
"We're hoping to raise enough to support them over the Christmas break with household bills, blood donations for Leah's many transfusions and so on."
From a business perspective, Cary says the professionally run event gives his company an excellent platform to promote the virtues of the innovative helmet to racers and commuters, alike.
"Our helmet with the rear vision system is really safe and handy for commuters and that's an area we want to promote next year.
"It also has great motorsport capabilities, providing a level of vision that no other helmet can.
"Reevu allows racers to keep their eyes dead ahead but – when the opportunity presents itself – still see where their proposition is behind them in a safe manner."
He says the proof is in the 17 Australian A Grade road racing championships won by Reevu-sponsored riders this year.
"I'm also proud to say that this year Reevu gave the global company it's first national title with Joel Kelso." Cary says.
Reevu is also giving away a signed helmet to the rider who sets the fastest lap of the scooterthon.
It will be signed by many of the special guests, but if one of the signatories scores the fastest lap, the helmet will be auctioned off and funds donated to the RaceSafe Medical team.