Triumph Australia has issued a recall on its new Rocket 3 R, Rocket 3 GT and Rocket 3 TFC bikes launched just last year.
The official notice issued through the Australian Competition and Consumer Commission says the issue involves air becoming trapped in the rear brake system.
"This may result in increased rear brake pedal travel before rear braking is experienced, increasing the risk of an accident resulting in injury or death to vehicle occupants and/or other road users," it says.
The vehicle identification numbers of the 355 bikes affected are listed at the end of this article. (With that many sold since launch in July, they are obviously a popular tourer!)
Owners of affected motorcycles will be asked to contact an Australian Triumph dealer to make an appointment to have repairs carried out, free of charge.
Click here to find a Triumph dealer.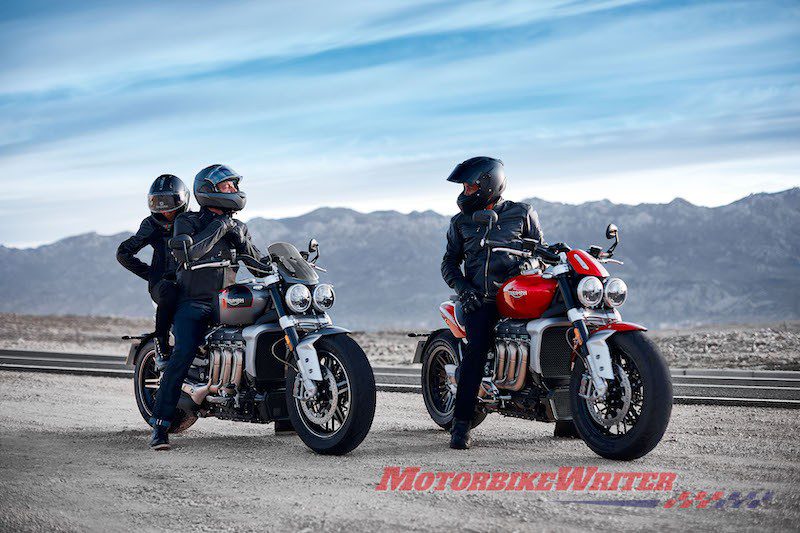 Even though manufacturers and importers usually contact owners when a recall is issued, the bike may have been sold privately to a rider unknown to the company.
Therefore, Motorbike Writer publishes all motorcycle and scooter recalls as a service to all riders.
If you believe there is an endemic problem with your bike that should be recalled, contact the ACCC on 1300 302 502.
To check whether your motorcycle has been recalled, click on these sites:
VINs of affected bikes
SMTYBG10J5LAA2817

 

20200204

SMTYBG10J5LAA2844

 

20200204

SMTYBG10J5LAA3073

 

20200207

SMTYBG10J5LAA3095

 

20200205

SMTYBG10J5LAA3132

 

20200205

SMTYBG11J5LAA3350

 

20200205

SMTYBG11J5LAA3381

 

20200206

SMTYBG11J5LAA3403

 

20200206

SMTYBG11J5LAA3449

 

20200206

SMTYBG11J5LAA3486

 

20200209

SMTYBG11J5LAA3595

 

20200211

SMTYBG10J5LAA4006

 

20200210

SMTYBG10J5MAB9938

 

20200425

SMTYBG10J5MAB9969

 

20200427

SMTYBG10J5MAB9971

 

20200427

SMTYBG10J5MAB9972

 

20200427

SMTYBG10J5MAC2548

 

20200523

SMTYBG10J5MAC2557

 

20200525

SMTYBG10J5MAC2561

 

20200525

SMTYBG11J5MAC2565

 

20200525

SMTYBG11J5MAC2593

 

20200525

SMTYBG11J5MAC2657

 

20200526

SMTYBG10J5MAC2667

 

20200526

SMTYBG10J5MAC2673

 

20200526

SMTYBG10J5MAC2702

 

20200526

SMTYBG11J5MAC2710

 

20200526

SMTYBG11J5MAC2718

 

20200526

SMTYBG11J5MAC2721

 

20200526

SMTYBG11J5MAC2725

 

20200526

SMTYBG10J5MAC2733

 

20200526

SMTYBG10J5MAC2742

 

20200526

SMTYBG10J5MAC2746

 

20200526

SMTYBG10J5MAC2757

 

20200527

SMTYBG10J5MAC2828

 

20200527

SMTYBG10J5MAC2836

 

20200527

SMTYBG11J5MAC2842

 

20200527

SMTYBG10J5MAC2851

 

20200527

SMTYBG10J5MAC2857

 

20200527

SMTYBG10J5MAC2867

 

20200527

SMTYBG10J5MAC2872

 

20200528

SMTYBG10J5MAC2875

 

20200528

SMTYBG11J5MAC2887

 

20200528

SMTYBG11J5MAC2895

 

20200528

SMTYBG11J5MAC2900

 

20200528

SMTYBG11J5MAC2906

 

20200528

SMTYBG10J5MAC2943

 

20200528

SMTYBG10J5MAC3017

 

20200529

SMTYBG10J5MAC3025

 

20200529

SMTYBG10J5MAC3047

 

20200529

SMTYBG10J5MAC3059

 

20200529

SMTYBG10J5MAC3065

 

20200529

SMTYBG10J5MAC3078

 

20200601

SMTYBG10J5MAC3113

 

20200601

SMTYBG10J5MAC3118

 

20200601

Affected Aust VINs

 

-Recall SRAN 587
SMTYBG10J5MAC3123

 

20200601

SMTYBG10J5MAC3130

 

20200601

SMTYBG10J5MAC3135

 

20200601

SMTYBG10J5MAC3139

 

20200601

SMTYBG10J5MAC3163

 

20200601

SMTYBG10J5MAC3169

 

20200601

SMTYBG10J5MAC3200

 

20200602

SMTYBG10J5MAC3278

 

20200602

SMTYBG10J5MAC3287

 

20200602

SMTYBG10J5MAC3294

 

20200602

SMTYBG10J5MAC3326

 

20200602

SMTYBG10J5MAC3332

 

20200604

SMTYBG10J5MAC3341

 

20200604

SMTYBG10J5MAC3347

 

20200604

SMTYBG10J5MAC3354

 

20200604

SMTYBG10J5MAC3358

 

20200604

SMTYBG10J5MAC3364

 

20200604

SMTYBG10J5MAC3372

 

20200604

SMTYBG10J5MAC3377

 

20200604

SMTYBG10J5MAC3474

 

20200604

SMTYBG10J5MAC3499

 

20200605

SMTYBG10J5MAC3566

 

20200605

SMTYBG10J5MAC3569

 

20200605

SMTYBG10J5MAC3572

 

20200605

SMTYBG10J5MAC3574

 

20200606

SMTYBG10J5MAC3578

 

20200606

SMTYBG10J5MAC3581

 

20200606

SMTYBG10J5MAC3584

 

20200606

SMTYBG10J5MAC3587

 

20200606

SMTYBG10J5MAC3590

 

20200606

SMTYBG10J5MAC3595

 

20200606

SMTYBG10J5MAC3600

 

20200606

SMTYBG10J5MAC3616

 

20200606

SMTYBG10J5MAC3621

 

20200606

SMTYBG10J5MAC3625

 

20200606

SMTYBG10J5MAC3629

 

20200606

SMTYBG10J5MAC3661

 

20200606

SMTYBG10J5MAC3664

 

20200606

SMTYBG11J5MAC4378

 

20200615

SMTYBG11J5MAC4382

 

20200615

SMTYBG11J5MAC4384

 

20200615

SMTYBG11J5MAC4388

 

20200615

SMTYBG11J5MAC4390

 

20200615

SMTYBG11J5MAC4394

 

20200615

SMTYBG11J5MAC4396

 

20200615

SMTYBG11J5MAC4400

 

20200615

SMTYBG10J5MAC4402

 

20200615

SMTYBG11J5MAC4406

 

20200615

SMTYBG10J5MAC4408

 

20200615

SMTYBG10J5MAC4412

 

20200615

SMTYBG10J5MAC4414

 

20200615

SMTYBG10J5MAC4418

 

20200615

SMTYBG11J5MAC4432

 

20200616

SMTYBG11J5MAC4436

 

20200616

SMTYBG11J5MAC4438

 

20200616

SMTYBG10J5MAC4442

 

20200616

SMTYBG10J5MAC4446

 

20200616

SMTYBG10J5MAC4511

 

20200616

SMTYBG10J5MAC4515

 

20200616

SMTYBG10J5MAC4517

 

20200616

SMTYBG11J5MAC4521

 

20200616

SMTYBG11J5MAC4523

 

20200616

SMTYBG11J5MAC4527

 

20200617

SMTYBG11J5MAC4529

 

20200617

SMTYBG11J5MAC4533

 

20200617

SMTYBG11J5MAC4535

 

20200617

SMTYBG10J5MAC5271

 

20200709

SMTYBG10J5MAC5318

 

20200709

SMTYBG10J5MAC5322

 

20200709

SMTYBG10J5MAC5331

 

20200709

SMTYBG10J5MAC5334

 

20200709

SMTYBG10J5MAC5340

 

20200710

SMTYBG10J5MAC5385

 

20200710

SMTYBG10J5MAC5411

 

20200710

SMTYBG10J5MAC5414

 

20200710

SMTYBG10J5MAC5418

 

20200710

SMTYBG10J5MAC5419

 

20200710

SMTYBG10J5MAC5424

 

20200710

SMTYBG10J5MAC5428

 

20200710

SMTYBG11J5MAC5683

 

20200713

SMTYBG10J5MAC5685

 

20200713

SMTYBG10J5MAC5858

 

20200715

SMTYBG11J5MAC5866

 

20200715

SMTYBG10J5MAC5874

 

20200715

SMTYBG11J5MAC5880

 

20200715

SMTYBG11J5MAC5882

 

20200715

SMTYBG11J5MAC5892

 

20200715

SMTYBG10J5MAC5902

 

20200715

SMTYBG10J5MAC5909

 

20200715

SMTYBG10J5MAC5920

 

20200715

SMTYBG10J5MAC5924

 

20200715

SMTYBG10J5MAC5932

 

20200715

SMTYBG10J5MAC5939

 

20200715

SMTYBG10J5MAC5944

 

20200715

SMTYBG11J5MAC5965

 

20200715

SMTYBG11J5MAC5970

 

20200715

SMTYBG11J5MAC5991

 

20200716

SMTYBG10J5MAC6015

 

20200716

SMTYBG10J5MAC6041

 

20200716

SMTYBG10J5MAC6396

 

20200718

SMTYBG10J5MAC6398

 

20200718

SMTYBG10J5MAC6401

 

20200718

SMTYBG10J5MAC6402

 

20200718

SMTYBG10J5MAC6404

 

20200718

SMTYBG10J5MAC6405

 

20200718

SMTYBG11J5MAC6407

 

20200718

SMTYBG11J5MAC6409

 

20200718

SMTYBG11J5MAC6410

 

20200718

SMTYBG11J5MAC6412

 

20200718

SMTYBG11J5MAC6413

 

20200718

SMTYBG11J5MAC6415

 

20200718

SMTYBG11J5MAC6441

 

20200720

SMTYBG10J5MAC6456

 

20200720

SMTYBG10J5MAC6458

 

20200720

SMTYBG10J5MAC6459

 

20200720

SMTYBG11J5MAC6461

 

20200720

SMTYBG11J5MAC6462

 

20200720

SMTYBG11J5MAC6464

 

20200720

SMTYBG11J5MAC6465

 

20200720

SMTYBG11J5MAC6466

 

20200720

SMTYBG10J5MAC6478

 

20200720

SMTYBG10J5MAC8349

 

20200808

SMTYBG10J5MAC8353

 

20200808

SMTYBG10J5MAC8354

 

20200808

SMTYBG10J5MAC8444

 

20200810

SMTYBG10J5MAC8486

 

20200811

SMTYBG10J5MAC8490

 

20200811

SMTYBG10J5MAC8493

 

20200811

SMTYBG10J5MAC8496

 

20200811

SMTYBG11J5MAC8498

 

20200811

SMTYBG10J5MAC8502

 

20200811

SMTYBG10J5MAC8504

 

20200811

SMTYBG10J5MAC8506

 

20200811

SMTYBG10J5MAC8509

 

20200811

SMTYBG10J5MAC8514

 

20200811

SMTYBG11J5MAC8518

 

20200811

SMTYBG11J5MAC8521

 

20200811

SMTYBG11J5MAC8523

 

20200811

SMTYBG11J5MAC8530

 

20200811

SMTYBG11J5MAC8533

 

20200811

SMTYBG11J5MAC8538

 

20200813

SMTYBG11J5MAC8546

 

20200811

SMTYBG10J5MAC8863

 

20200813

SMTYBG10J5MAC8903

 

20200814

SMTYBG11J5MAC9007

 

20200814

SMTYBG11J5MAC9014

 

20200815

SMTYBG10J5MAC9168

 

20200817

SMTYBG10J5MAC9219

 

20200818

SMTYBG10J5MAC9224

 

20200818

SMTYBG10J5MAC9357

 

20200819

SMTYBG10J5MAC9423

 

20200819

SMTYBG10J5MAC9573

 

20200820

SMTYBG10J5MAC9650

 

20200820

SMTYBG10J5MAC9667

 

20200820

SMTYBG10J5MAC9672

 

20200820

SMTYBG10J5MAC9675

 

20200821

SMTYBG10J5MAC9676

 

20200821

SMTYBG10J5MAC9680

 

20200821

SMTYBG10J5MAC9805

 

20200821

SMTYBG10J5MAC9807

 

20200821

SMTYBG10J5MAC9810

 

20200821

SMTYBG10J5MAC9814

 

20200821

SMTYBG10J5MAC9816

 

20200821

SMTYBG10J5MAC9820

 

20200821

SMTYBG10J5MAC9823

 

20200821

SMTYBG10J5MAC9825

 

20200822

SMTYBG12J5L978615

 

20191016

SMTYBG11J5L978672

 

20200104

SMTYBG11J5L978675

 

20191009

SMTYBG11J5L978678

 

20191009

SMTYBG11J5L978680

 

20191009

SMTYBG11J5L978682

 

20191202

SMTYBG11J5L978688

 

20191009

SMTYBG11J5L978695

 

20191009

SMTYBG11J5L978702

 

20191009

SMTYBG11J5L978707

 

20191025

SMTYBG11J5L978712

 

20191010

SMTYBG11J5L978713

 

20191009

SMTYBG11J5L978716

 

20191010

SMTYBG11J5L978719

 

20191009

SMTYBG11J5L978724

 

20191009

SMTYBG11J5L978728

 

20191114

SMTYBG11J5L978735

 

20191023

SMTYBG11J5L978739

 

20191009

SMTYBG11J5L978749

 

20191203

SMTYBG11J5L978750

 

20191010

SMTYBG11J5L978751

 

20191010

SMTYBG11J5L978752

 

20191010

SMTYBG11J5L978753

 

20191010

SMTYBG11J5L978757

 

20191010

SMTYBG11J5L978758

 

20191010

SMTYBG11J5L978766

 

20191010

SMTYBG11J5L978941

 

20191011

SMTYBG11J5L978943

 

20191011

SMTYBG11J5L978993

 

20200126

SMTYBG11J5L978997

 

20191014

SMTYBG11J5L978999

 

20191011

SMTYBG11J5L979008

 

20191011

SMTYBG11J5L979013

 

20191107

SMTYBG11J5L979019

 

20191011

SMTYBG11J5L979021

 

20191011

SMTYBG11J5L979024

 

20191011

SMTYBG11J5L979025

 

20191016

SMTYBG11J5L979026

 

20191012

SMTYBG11J5L979027

 

20191123

SMTYBG11J5L979028

 

20191012

SMTYBG11J5L979029

 

20191011

SMTYBG11J5L979031

 

20191011

SMTYBG11J5L979032

 

20191011

SMTYBG11J5L979033

 

20191011

SMTYBG11J5L979035

 

20191011

SMTYBG11J5L979039

 

20191011

SMTYBG11J5L979049

 

20191011

SMTYBG11J5L979050

 

20191014

SMTYBG11J5L979053

 

20191111

SMTYBG11J5L979094

 

20191011

SMTYBG11J5L979099

 

20191011

SMTYBG11J5L980078

 

20191017

SMTYBG11J5L980088

 

20191106

SMTYBG11J5L980097

 

20191017

SMTYBG11J5L980101

 

20191028

SMTYBG11J5L980384

 

20191018

SMTYBG11J5L980435

 

20191019

SMTYBG11J5L980455

 

20191019

SMTYBG11J5L980463

 

20191019

SMTYBG11J5L980786

 

20191121

SMTYBG11J5L980906

 

20191124

SMTYBG11J5L980914

 

20191124

SMTYBG11J5L980973

 

20191023

SMTYBG11J5L981570

 

20191026

SMTYBG11J5L981574

 

20191026

SMTYBG11J5L981593

 

20191026

SMTYBG10J5L982610

 

20191031

SMTYBG11J5L982845

 

20191113

SMTYBG10J5L983187

 

20191102

SMTYBG11J5L983323

 

20191103

SMTYBG11J5L983326

 

20191103

SMTYBG11J5L983372

 

20191103

SMTYBG10J5L983701

 

20191105

SMTYBG10J5L983704

 

20191109

SMTYBG10J5L983710

 

20191105

SMTYBG10J5L983761

 

20191105

SMTYBG10J5L983766

 

20191105

SMTYBG10J5L983773

 

20191105

SMTYBG12J5L983923

 

20191111

SMTYBG11J5L983946

 

20191106

SMTYBG11J5L983985

 

20191106

SMTYBG10J5L983994

 

20191106

SMTYBG12J5L984075

 

20191106

SMTYBG12J5L984115

 

20191106

SMTYBG12J5L984131

 

20191106

SMTYBG12J5L984152

 

20191106

SMTYBG12J5L984220

 

20191107

SMTYBG12J5L984809

 

20191111

SMTYBG11J5L984815

 

20191111

SMTYBG12J5L984817

 

20191111

SMTYBG11J5L984819

 

20191111

SMTYBG12J5L984821

 

20191111

SMTYBG12J5L984830

 

20191111

SMTYBG12J5L984842

 

20191111

SMTYBG12J5L984876

 

20191111

SMTYBG12J5L984881

 

20191111

SMTYBG12J5L985065

 

20191112

SMTYBG12J5L985080

 

20191112

SMTYBG12J5L985115

 

20191112

SMTYBG12J5L985134

 

20191113

SMTYBG12J5L985191

 

20191112

SMTYBG12J5L985351

 

20191115

SMTYBG12J5L985359

 

20191116

SMTYBG12J5L985361

 

20191113

SMTYBG12J5L985369

 

20191113

SMTYBG12J5L985371

 

20191113

SMTYBG12J5L985373

 

20191113

SMTYBG10J5L985493

 

20191113

SMTYBG11J5L985720

 

20191114

SMTYBG11J5L985724

 

20191114

SMTYBG11J5L985732

 

20191114

SMTYBG10J5L985841

 

20191114

SMTYBG10J5L986065

 

20191115

SMTYBG10J5L986075

 

20191115

SMTYBG11J5L986405

 

20191116

SMTYBG10J5L986465

 

20191120

SMTYBG10J5L986485

 

20191117

SMTYBG10J5L986828

 

20191118

SMTYBG10J5L986834

 

20191120

SMTYBG11J5L986882

 

20191119

SMTYBG11J5L986885

 

20191119

SMTYBG10J5L988340

 

20191126

SMTYBG10J5L988346

 

20191126

SMTYBG10J5L988350

 

20191126

SMTYBG11J5L988386

 

20191126

SMTYBG11J5L988390

 

20191126

SMTYBG10J5L989327

 

20191129

SMTYBG11J5L989633

 

20191130

SMTYBG11J5L989638

 

20191130

SMTYBG11J5L990980

 

20191206

SMTYBG10J5L991384

 

20191207

SMTYBG11J5L991604

 

20191209

SMTYBG11J5L992325

 

20191211

SMTYBG11J5L995012

 

20191222

SMTYBG10J5L996230

 

20200107