Waterproof Gloves Hands Review Summary
Review Summary
The REAX Ridge glove is a gauntlet style, waterproof, 2-season glove with a lot of safety built in. Constructed mostly from cowhide leather, along with goatskin leather with a small spandex section at the wrist. They are well made and are a good value for the money.
Pros
Durable materials
built with an eye toward safety
Solid construction throughout
Waterproof
Good value for the money
Cons
Two season use glove
no ventilation or insulation
Reflectivity is poor
Touch screen use difficult
Waterproof Gloves Hands Image Gallery
Introduction
The REAX Ridge waterproof gauntlet glove is part of the new, recently launched Comoto family of riding gear, that includes jackets, pants, and gloves. I recently reviewed the companion jacket to these gloves, by the same name – Ridge. You can read about that, and see what I learned about what goes into their creation.
Styling of the Ridge glove is very conservative, with a color palette that is the same as the Model T's once was – you can have any color you want, so long as it is black. Truth be told, even if I had a choice, this would be it. A black glove, even once well worn, or even quite dirty, still looks good!
Badging of the gloves is subdued, with a small "REAX" logo sewn into the arm closure, and a heat embossed logo in the panel above it, both done in black. The index fingers have a printed "REAX" logo on them, in gray, with matching small stripes on the middle and ring fingers. These three fingers also have small reflective stretch panels sewn in above the knuckles – more on those later.
The Ridge is a gauntlet style glove, that is said to be waterproof, by way of a bonded interior layer of a material called "McFit". No, really, "McFit". Go ahead and settle the "Fries with that?" question that readily comes to mind.
This material is very similar in feel to genuine Gore Tex, but presumably is costing less to manufacture. Provided it works as well, I'm pretty OK with this, as it would be helping hold the line on the cost of buying the gloves. I'll be putting that waterproof claim to the test below.
The balance of the glove is a mixture of materials, chosen I believe for both comfort and durability. Let's get a better look at how they are built.
Construction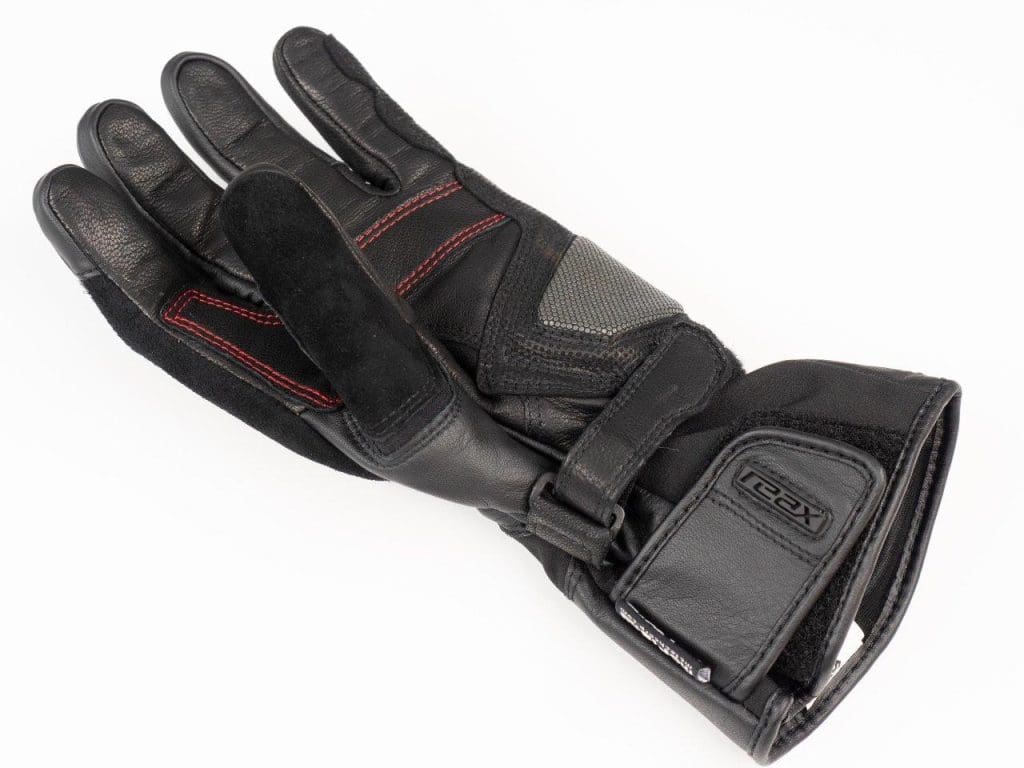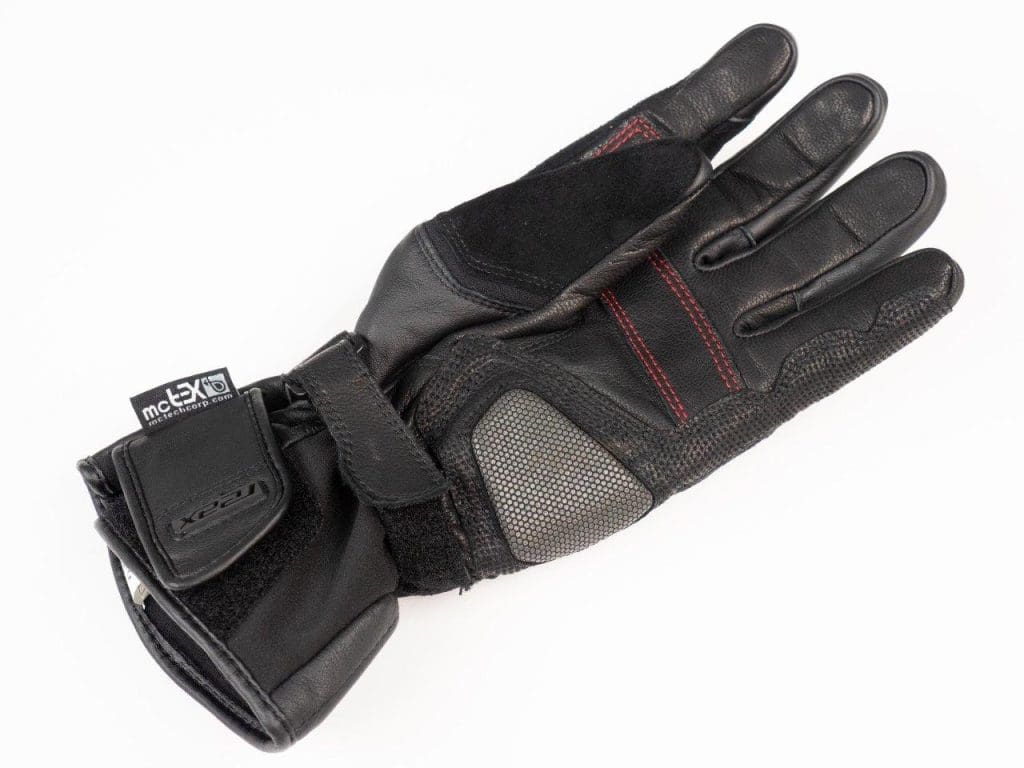 As mentioned above, the materials chosen for construction of these gloves is a mixture, and it is a good mix. These were obviously designed by folks who actually ride, and it shows.
The primary material the gloves are built from is cowhide leather, 0.8 – 0.9 mm, thick enough to be protective, without being too stiff. All seams in the gloves are double stitched, and the stitching in them is even throughout.
The fingers are precurved, and the finger leather panels are cut to avoid having seams between them. The leather on the top of the glove has a finer grain than what is on the bottom of the fingers and palm – possibly to make it more durable, possibly for appearance.
The leather is a natural finish that does not have a glossy appearance layer. That will preserve their appearance over time, with nothing to crack or peel.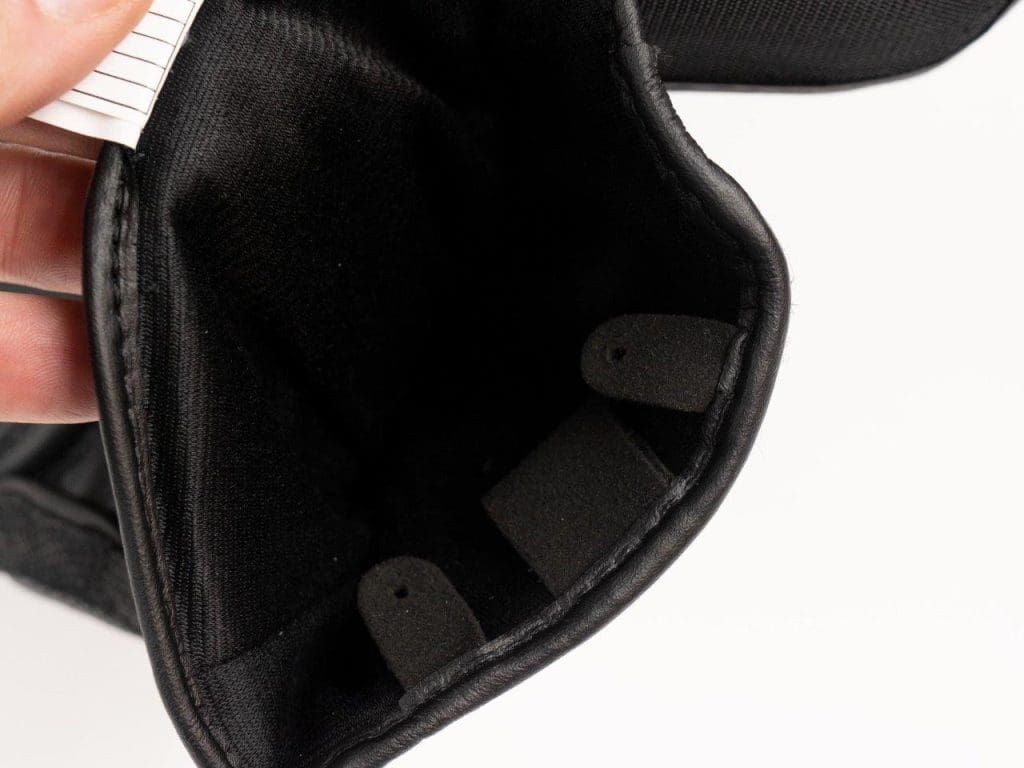 The glove features two leather closures that are well thought out on a couple of fronts. Both use hook and loop material for fastening.
First is a strong wrist strap, an important safety feature. No glove can protect your hands if it is able to fly off in an emergency, and I would not wear street gloves that don't have this feature.
Behind that is the arm strap, that both closes small enough to stay only on your arm, or large enough to easily fit over a jacket sleeve. It also has a foam pad sewn in on the outside of the wrist, helping to protect your wrist from impact injury.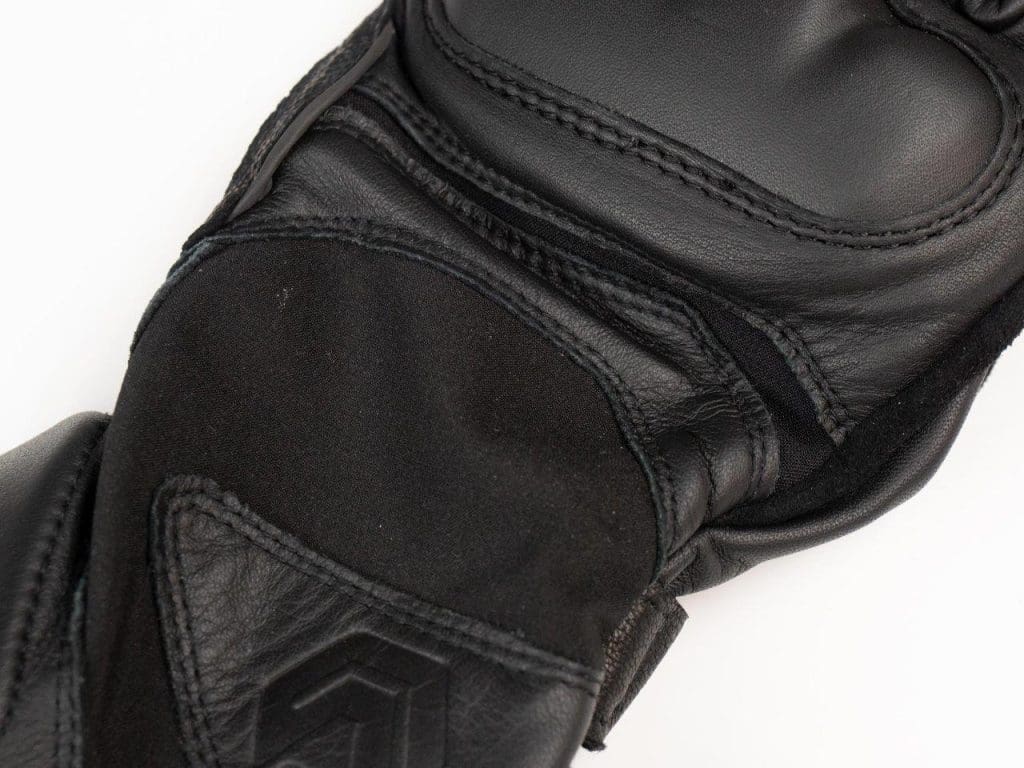 Moving down toward the wrist area, the glove features a spandex panel that is well placed above the wrist, for freedom of movement. One band of leather reinforcement is found here, above the knuckle panel.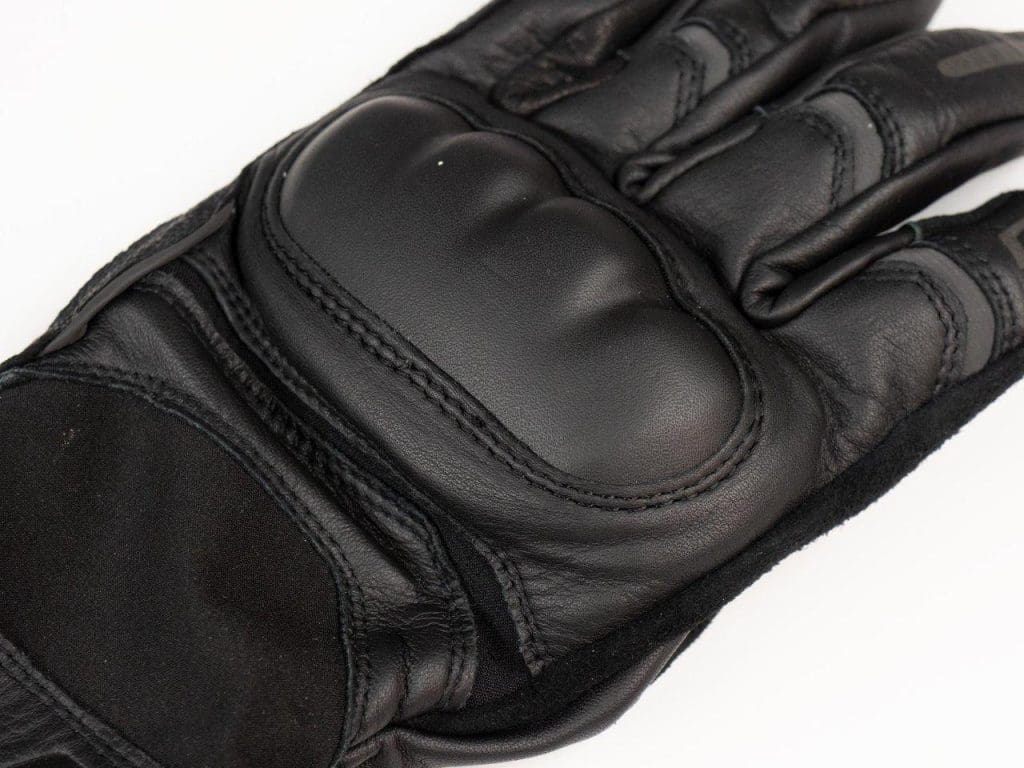 The top of the knuckle has what I believe is a TPU (thermoplastic polyurethane) plastic panel sewn in. Although it can be flexed, it is very stiff. Fortunately, it has thin foam pad sewn inside the glove to make it comfortable against your hand.
I was not able to verify that is what it is made of, and it is not removable.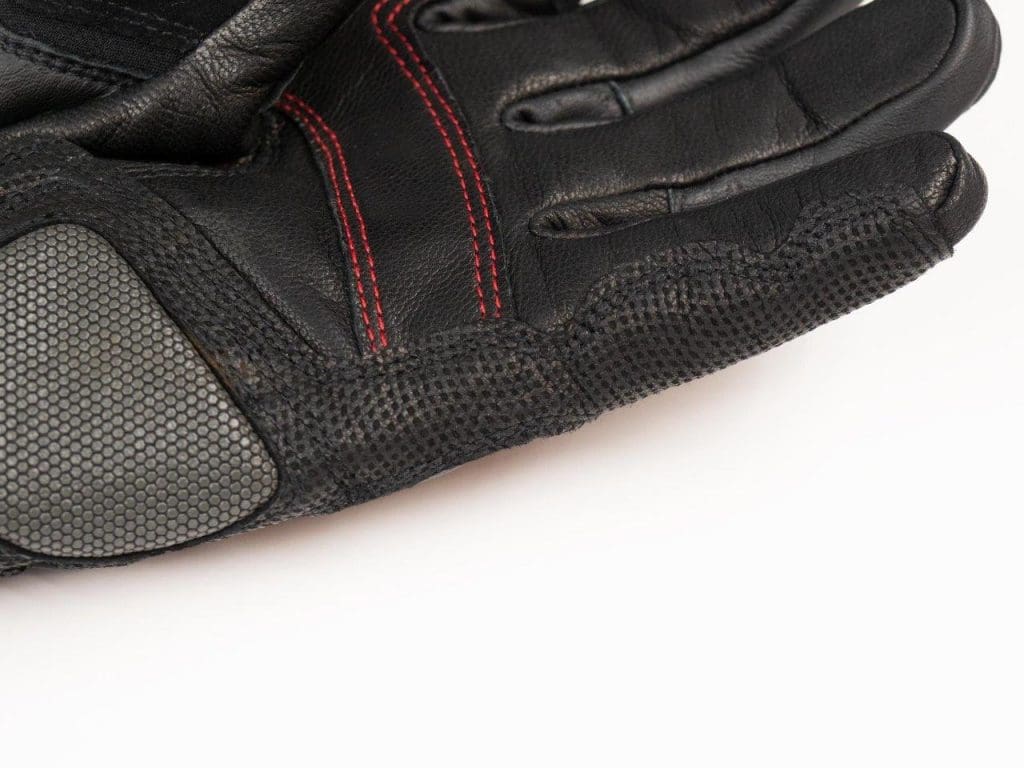 Moving over to the palm, the safety built into these gloves, along with riding utility, really shines. From the bottom ¾ of the thumb, extending and inch (2.5 cm) into the index finger, and across the palm below the knuckles to the pinky finger is a layer of goatskin leather, sewn in with red threading.
For this high wear point on the gloves, this is a good choice. Abrasion resistance is also better with the goatskin.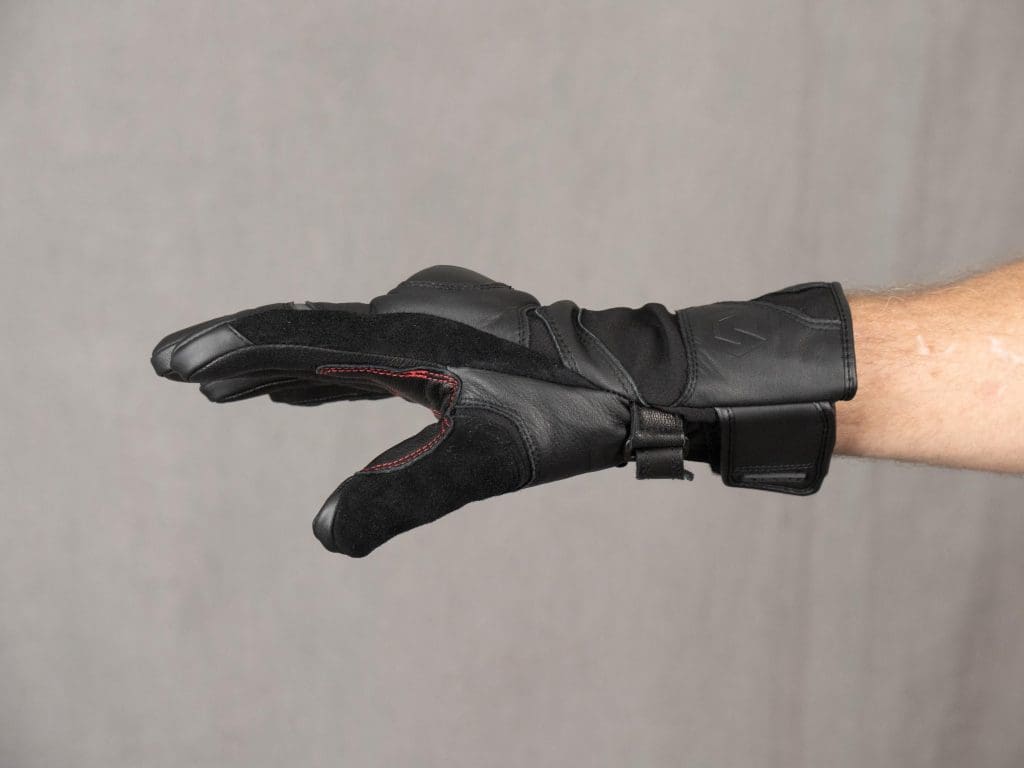 The outside of the thumb, along with the inside of the index finger, are covered in a layer of what feels like suede leather, useful for wiping a visor.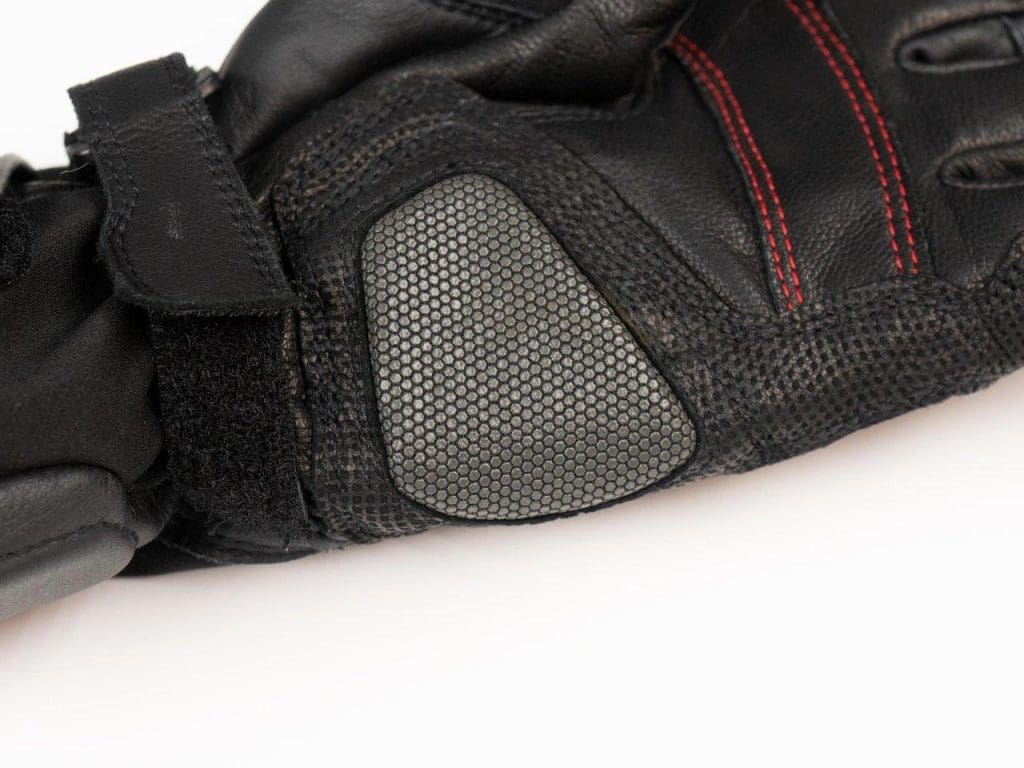 Saving the best for last, is the outer part of the palm. An additional layer of leather is sewn on, starting at the top outside of the pinky finger, and down into the palm beside the thumb. Into this panel is a sewn in, foam backed, Superfabric panel. This material is said to be pretty amazing stuff, in its ability to resist abrasion and tearing. Tiny laser welded ceramic plates go into it, and it still remains flexible.
The McFit interior lining is also well thought out, in that it is bonded to the glove, versus being sewn in. This prevents it from moving when taking the gloves off, or putting them on.
Both the index finger and thumb are made to be touch screen capable. Although they are in fact, I did not find this feature to be very useful. Unless I was using a rather large screen, such as a tablet, the dexterity needed escaped me. With a handlebar GPS or cell phone, I'm pulling them off.
Comfort / Sizing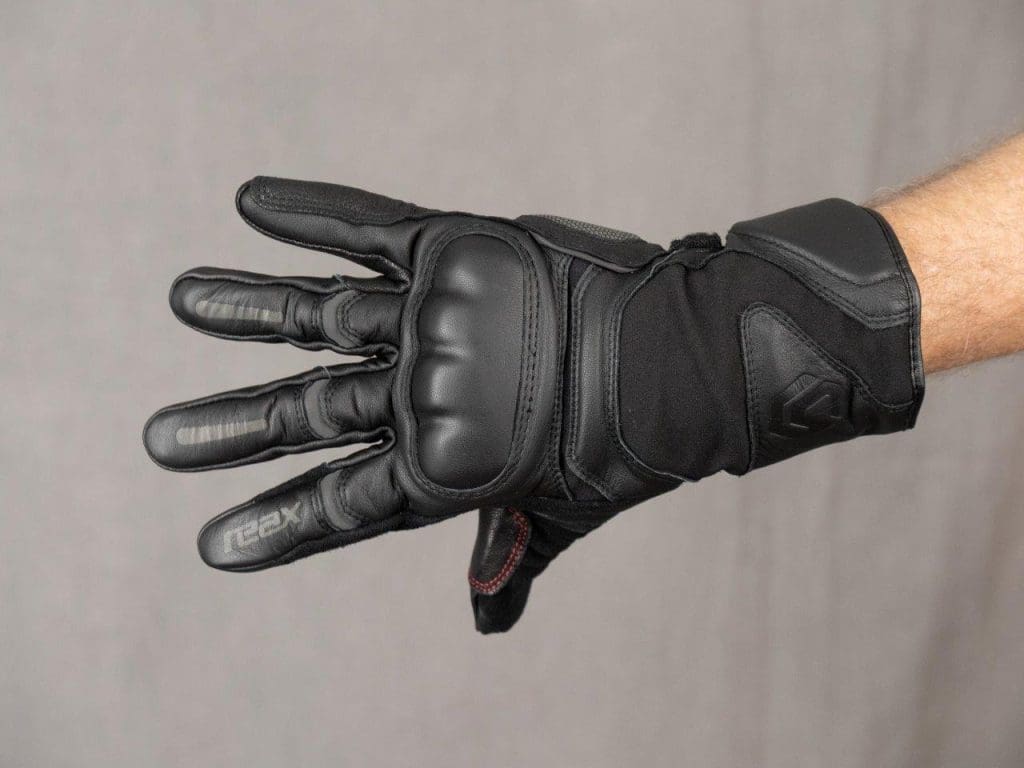 With no seams in the interior of the gloves, and padding placed where it needs to be, the Ridge is quite comfortable to wear.
Ventilation in these gloves is precisely none. I'm sure this was done in the interest of maintaining their waterproofing. The gloves also do not have any insulation.
With no ventilation to deal with summer heat, or insulation to deal with winter cold, the Ridge is really a two season glove. If your bike is equipped with heated grips, you might likely be able to comfortably extend their use into the colder months.
Unfortunately this is not something I was able to test, as I am doing it in the summer. I can say the lack of ventilation is quite noticeable now. They get pretty hot, pretty quickly.
Sizing in them in said to be American, and I found them to be true to size. My hands, measured below the knuckles and around, is 9.5 inches (24.13 cm). Using the Cycle Gear size chart, that puts me at the top of the Large glove range. Although a little snug at first, they broke in nicely.
Also of note here is that although the fingers are longer than some European sized gloves, they are not really any wider. If your fingers are especially wide, you may want the next size up.
The Ridge is available in sizes Small through 3 XL.
Protection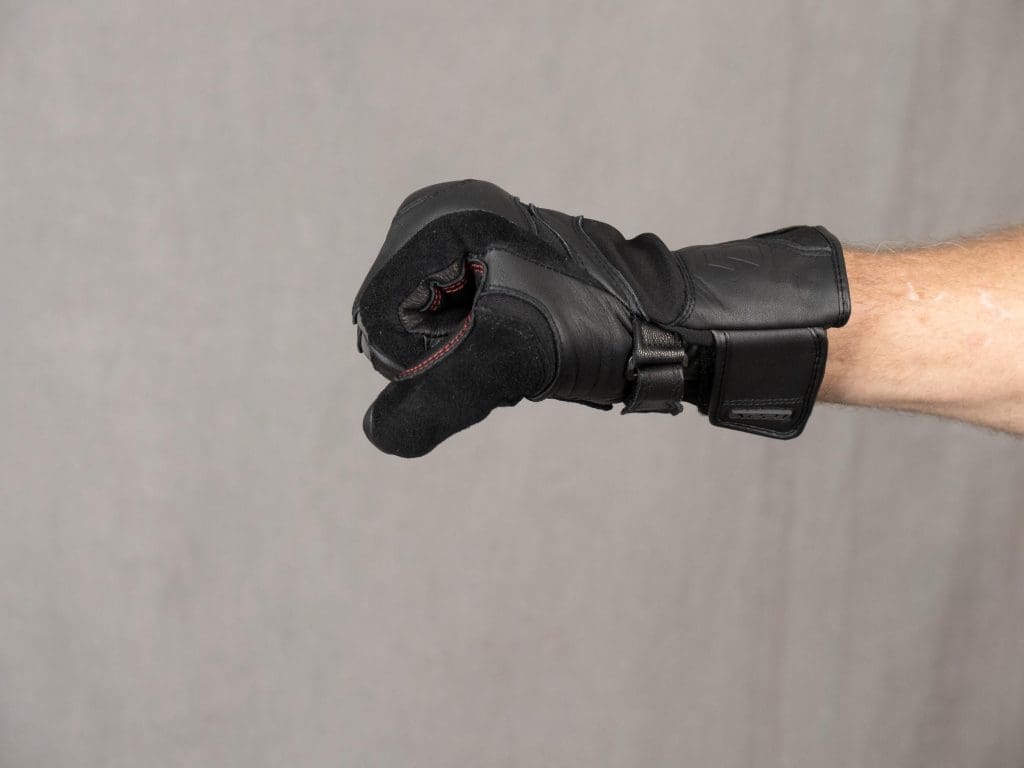 I am pretty impressed by the protection these gloves offer. The Ridge is aimed at the sport touring / commuter rider, and makes no pretense at being a race glove.
Outside of the TPU piece over the knuckles, it does not feature armor. Given the mission for this glove, I think more effort went into their construction with regard to abrasion resistance than many similar gloves do.
At city speeds, particularly for commuting, I think this is the most likely way I would be injured in a crash. The goatskin in the palm, combined with the Superfabric panel, will work to keep my hands protected while sliding.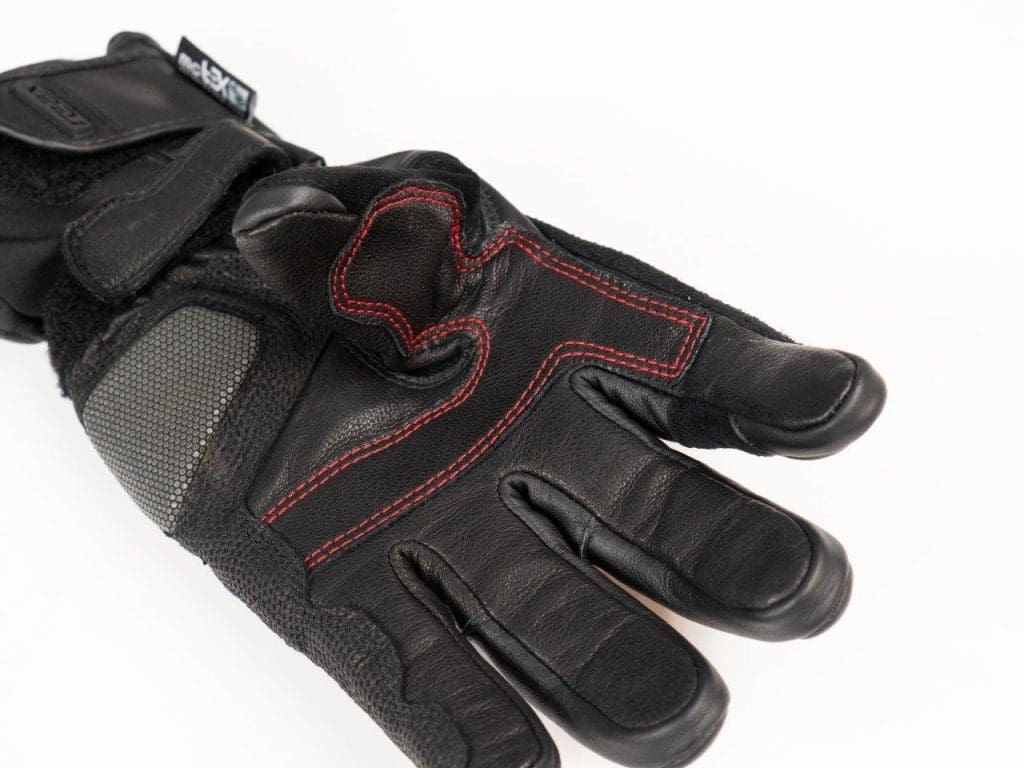 The gloves are said to feature "Subtle Reflective Highlights" in both the small stretch panels sewn in over the finger knuckles, and in a small strip on the outer part of the palm. They are definitely subtle, in that they do not work.
Even in a dark room, concentrating very bright light at them, they simply don't reflect any real light back. I ran into the same issue with the Ridge jacket, and would offer the same advice with the gloves: know that other motorists will not see this at night.
Waterproofing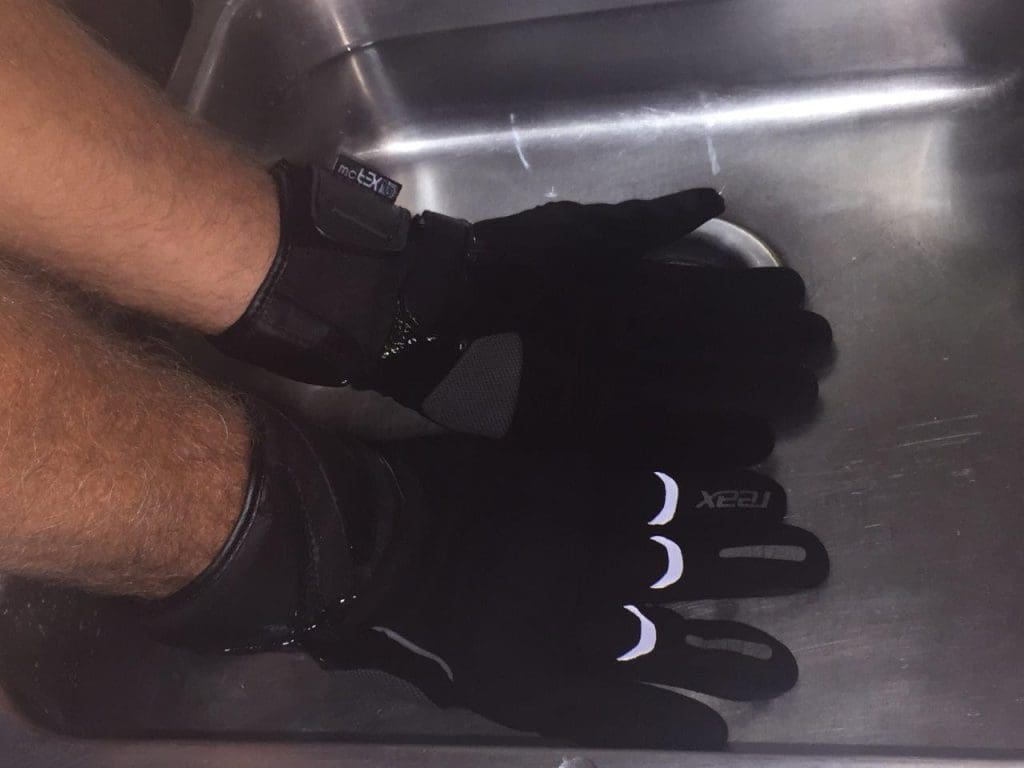 I tested the waterproof claim in the style familiar to readers of Web Bike World reviews over the years – filling a sink, putting them on, and immersing them for about five minutes.
I am pleased to report the Ridge glove is, in fact, waterproof! Although the water did begin leaking through the outer layers of the gloves, none got through to my hands inside the McFit liner. It works.
Conclusion
I like the Ridge glove for several reasons. First, is the safety I believe it offers. The wrist strap, goatskin leather, and Superfabric panel all speak to that.
Although wearing gloves that are really stylish makes you feel good about how they look, for me form takes a backseat to function every time. If the time comes that you need them to protect your hands, I want gloves that are up to the task.
It should be said that the conservative styling of the Ridge might be exactly what you after. There is something to be said for not showing up at the office in Buck Rogers gloves.
It is apparent considerable thought was put into their design with regard to utility and durability as well. Waterproofing that really is, suede for wiping a visor, and solid double stitching used throughout.
Misses are few. The "subtle reflective highlights" in them aren't. Having no insulation for winter use is a minus, but the lack of ventilation will actually make them better in that regard. For full on summer use, you will likely want something that is ventilated.
The value proposition here is very good, I think. As of the time of this writing, the Ridge sells for $129.00. The quality of the materials used and their construction would cause most to believe they are more expensive than they are.
I rate these gloves at four stars.
Pros
Durable materials, built with an eye toward safety
Solid construction throughout
Waterproof
Good value for the money
Cons
Two season use glove, no ventilation or insulation
Reflectivity is poor
Touch screen use difficult
Specs
Manufacturer: REAX
Price (When Tested): $129.00
Made In: Vietnam
Alternative models & colors: Black only
Sizes: S – 3XL
Review Date: August 2018