Raven Rova Raven Pants Review Summary
Review Summary
The Raven Rova Raven pants are nice looking, detailed, well constructed textile pants. They work wonderful on the bike for all day riding and become more comfortable the longer you wear them. In short: they're a versatile pair of pants that riders can comfortably wear in a wide variety of circumstances.
Materials & Build Quality
Pros
Not your mother's motorcycle pants
Lots of adjustment
Quality construction
Cons
Fit a little snug through hips and thighs
Only comes in one length
Raven Rova Raven Pants Image Gallery
Background
Not that many years ago we were getting ready to go on our first extended motorcycle trip and I decided I needed to buy myself some dedicated motorcycle pants. Up to that point, I had been riding in heavy jeans, mostly because that's all they had for women riders. I went down to my local motorcycle shop and found 3 pairs of pants. Not 3 different pairs in my size, but 3 total, and they were all the same. Trying them on I couldn't believe how bulky they were. They were not flattering, to put it mildly.
Well, that has certainly changed! In the last few years, there has been an explosion of women's gear. With new fabrics and designs, you can now buy anything from riding jeans, to jeggings, to race suits. The change has been spearheaded by young entrepreneurial female designers like the owner of Raven Rova. And this wave of new pants are not only safe but they look and feel good on and off the bike.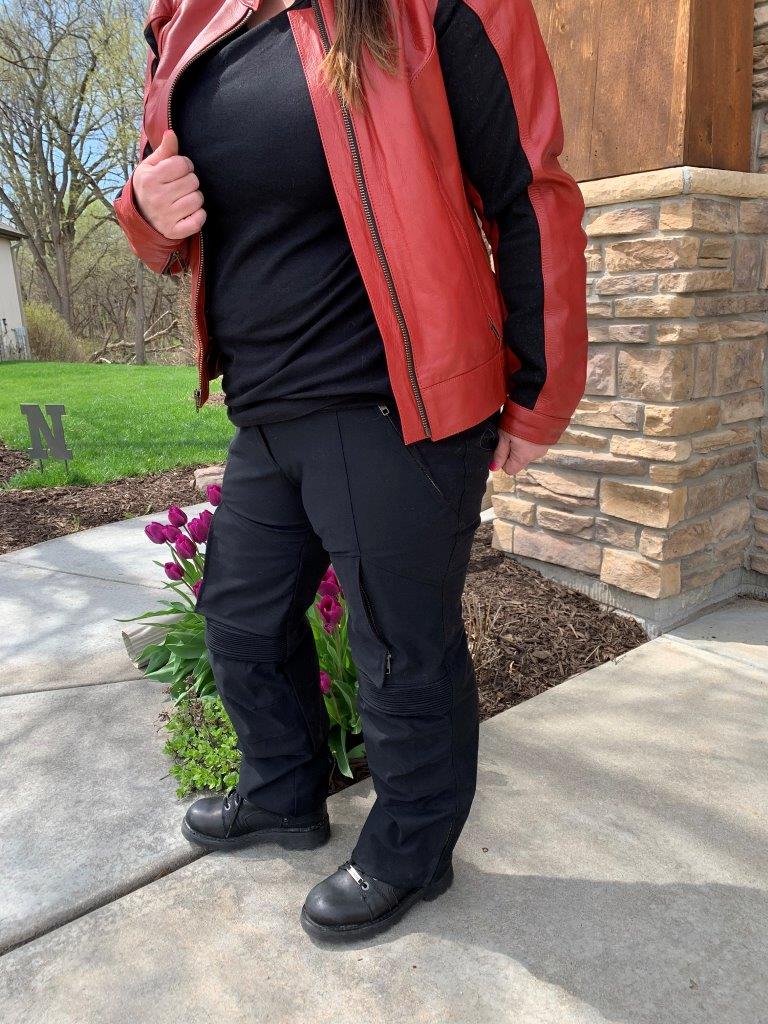 First Impression
Right out of the box the attention to detail on the Raven pants was obvious. There are a lot of small design features that add up to a practical, up-scale, modern-looking pair of textile motorcycle pants. As the name suggests these are black and pair well with the recently reviewed Raven Rova Phoenix jacket or about any jacket in your closet. The fabric feels substantial but is very flexible and lightweight. I couldn't wait to try them on.
Fit and Sizing
Raven Rova has a great website! They have models of all shapes and sizes modeling the clothes so you can see if they look good on an average woman (like me) instead of a 6' tall razor thin model (not like me).
There is also a video on how to take your measurements so you get a good fit. This is important. Women are a lot harder to fit than men. Especially pants. We have hips and cabooses and different waist heights so it's nice that they take all of those things into consideration when sizing.
As far as fit goes, both my model and I thought these pants were a little snug through the hips and thighs so be careful when you measure those areas. The fabric does have give in it and once we had them pulled up where they belong we didn't really notice it so much and it didn't interfere with movement. The website says they are designed to fit hourglass and pear shapes. I think I'm more of an apple/pear myself so that could be the problem.
You also have to take into consideration hip armor so you may want to add an inch to your hip measurement if you intend to wear hip protection Otherwise they fit as I expected. The waist has lots of adjustment and was quite comfortable.
​
The other problem is the length – they only come in one. For an average height woman, say 5'6 and up, they would fit great with their 30" inseam, but I'm definitely a petite with my 27" inseam. This problem isn't unique to these pants. I always have to hem my pants unless I buy a petite size, which are pretty hard to find in motorcycle pants. Even seated on the bike they are a couple inches past my heel. Motorcycle pants are hard to hem for someone with as little skill as me so it would be nice if they came in different lengths.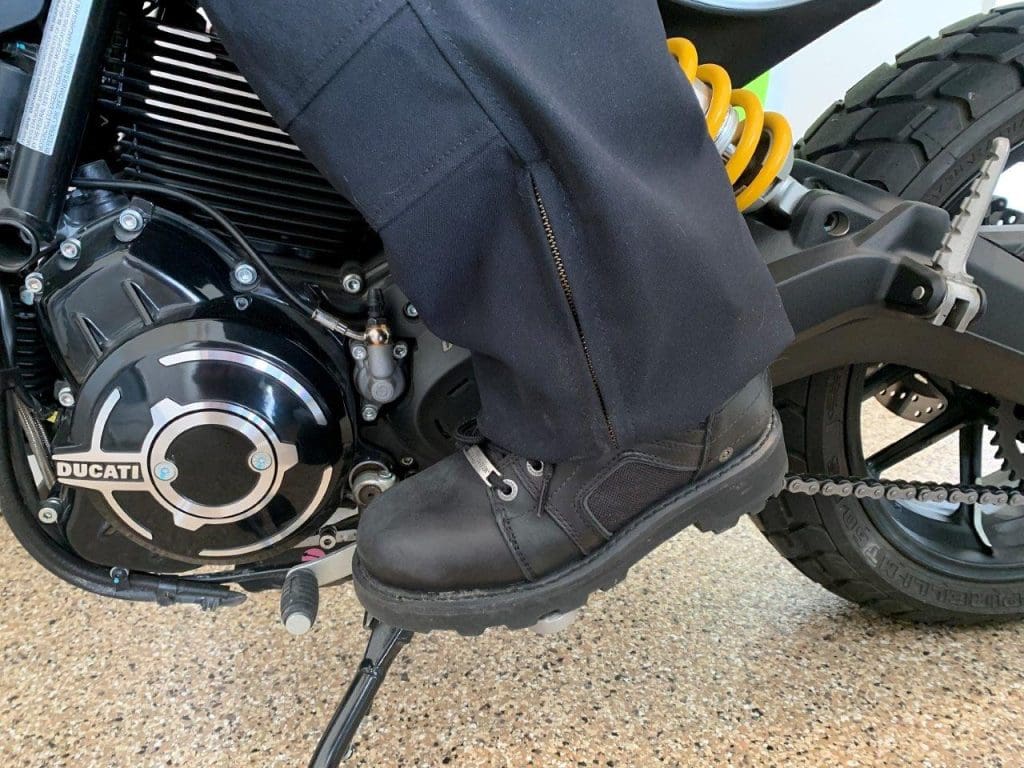 Construction and Design
The lightweight outer fabric is constructed of 500 Denier stretch Cordura with 2% Elastane for a little stretch (about halfway between regular jeans and yoga pants). That's just enough to be comfortable without clinging to every bulge. Cordura is used in a lot of textile motorcycle gear for its abrasion resistant qualities and feels like a thin canvas. Seams are all flat felt and stitching is straight and neat.
The outer fabric also appears to be water resistant as a cup of water poured directly on them beaded up and did not soak in. I did not find that information anywhere on the website so that was a nice surprise. Another nice surprise is how well it cleans up. I had a few close encounters with insects while out riding in them and a quick wipe with a damp cloth had them looking good as new.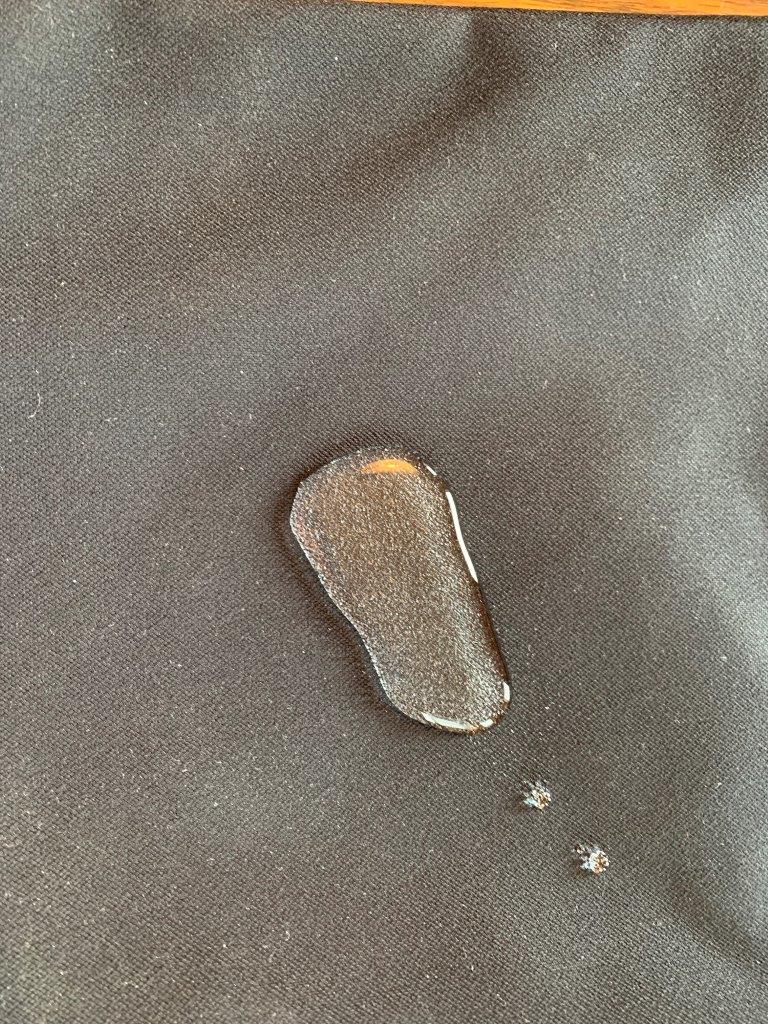 These pants are a medium rise – coming up to just below my belly button and are straight legged which leaves plenty of room at the bottom to go over your boots. They have lots of seam details to hide the pockets, vents, and protection pockets so they are unmistakably motorcycle pants but not in a glaring sort of way. Plus they're all black so everything blends in nicely.
Stretch and Adjustability
Starting at the top, the waist of the Raven pants have (2) 3.5" accordion panels on either side towards the back. Over the top of these panels are velcro adjustment straps that can tighten the waist girth about 3-4" total. That's a lot of adjustment!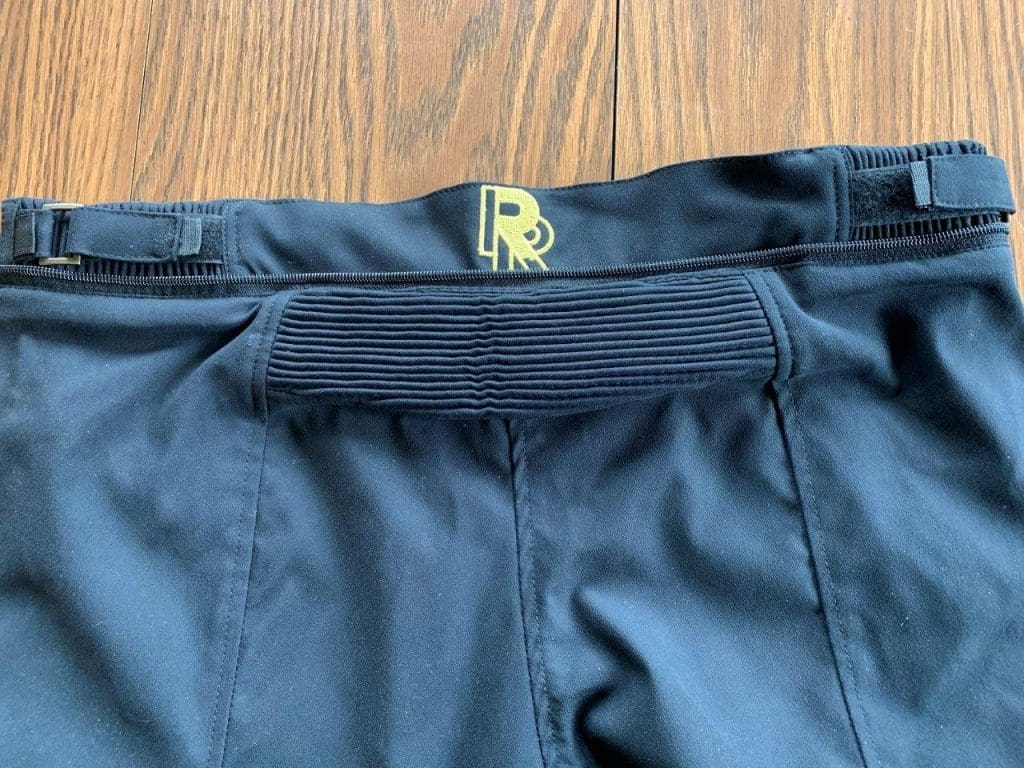 Just below the waist in the rear is another 3" x 9" accordion area that will help cover your backside when bending over or getting into a sport bike crouch. There are additional stretch panels just above the knees – an all important area for freedom of movement on a bike that should make them all day comfortable whether sitting or standing on your pegs enjoying a bit of off-road fun.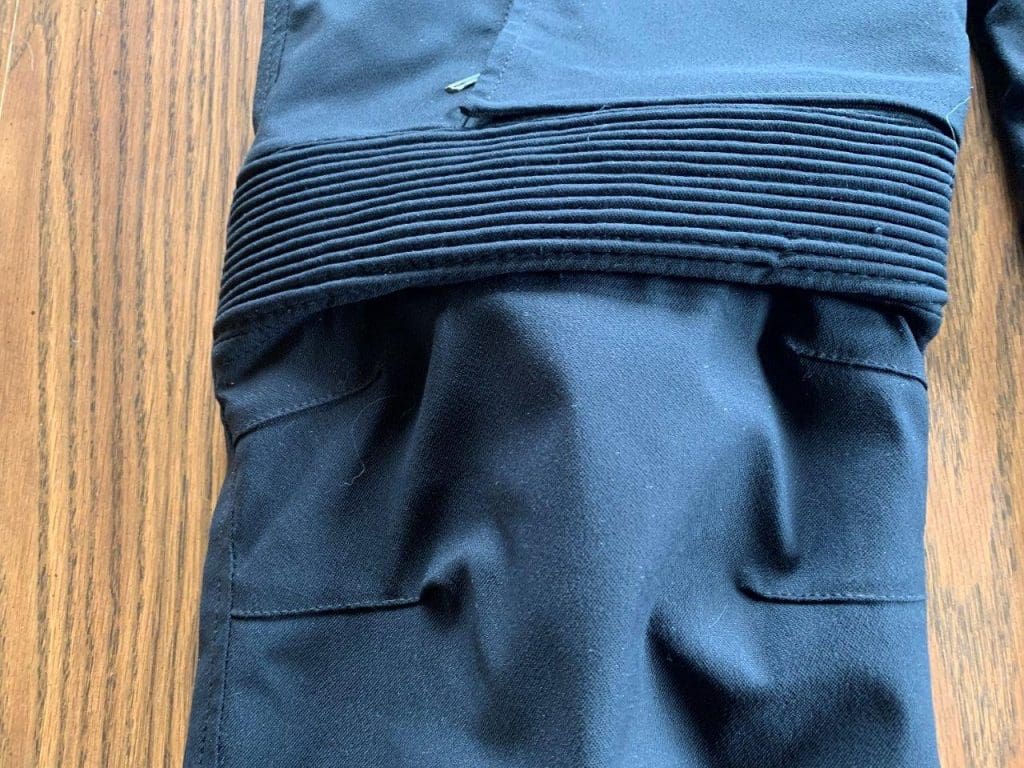 Closures
Just like the Phoenix jacket, all the zippers on the Raven pants are brass colored YKK brand – which is about as good as it gets for zippers. They're substantial and smooth and should outlast the pants.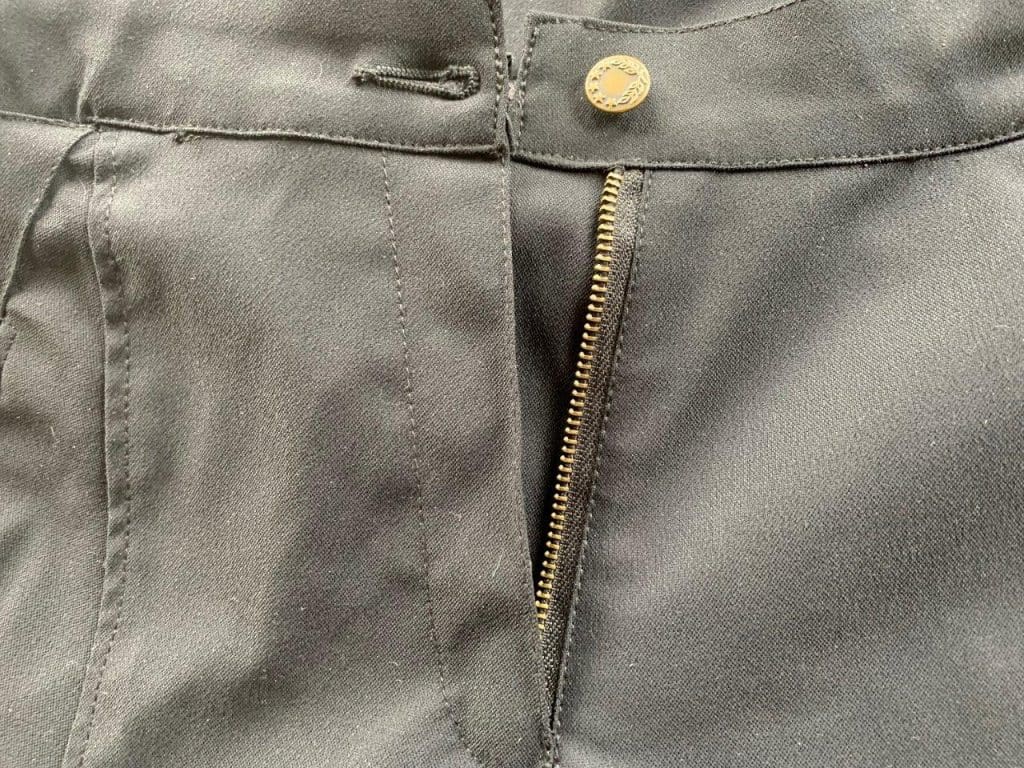 The front fly is closed with a 6" zipper and brass colored (unbranded) top button. Located on the side seams at the bottom of the pants are 10" boot zippers. The zippers should be long enough and the pant legs wide enough to accommodate fairly large boots. I had no trouble getting them over my rather porky Harley boots.
They also come complete with a black YKK attachment zipper with a matching piece for your jacket. Of course, if you also get the Phoenix jacket you won't have to stress about sowing on the other half. As I mentioned in that review it's a fairly long zipper at 25" so it's quite easy to manipulate while both jacket and pants are on.
Storage
There are no rear pockets on the Raven pants but I won't miss them. I can't say I've ever put anything in the back pocket of my motorcycle pants. I can't imagine that would be very comfortable. There are, however, 2 hand warmer pockets in the front. They open with 6" zippers and are plenty large enough to get my whole hand in.
They also appear to be waterproof. I unceremoniously dumped a glass of water in them and left them for several minutes. Nothing soaked through the membranous lining! I also poured water on the closed zipper and the pocket interior remained dry so I have to think your valuables would be safe in at least a brief shower. Another surprise!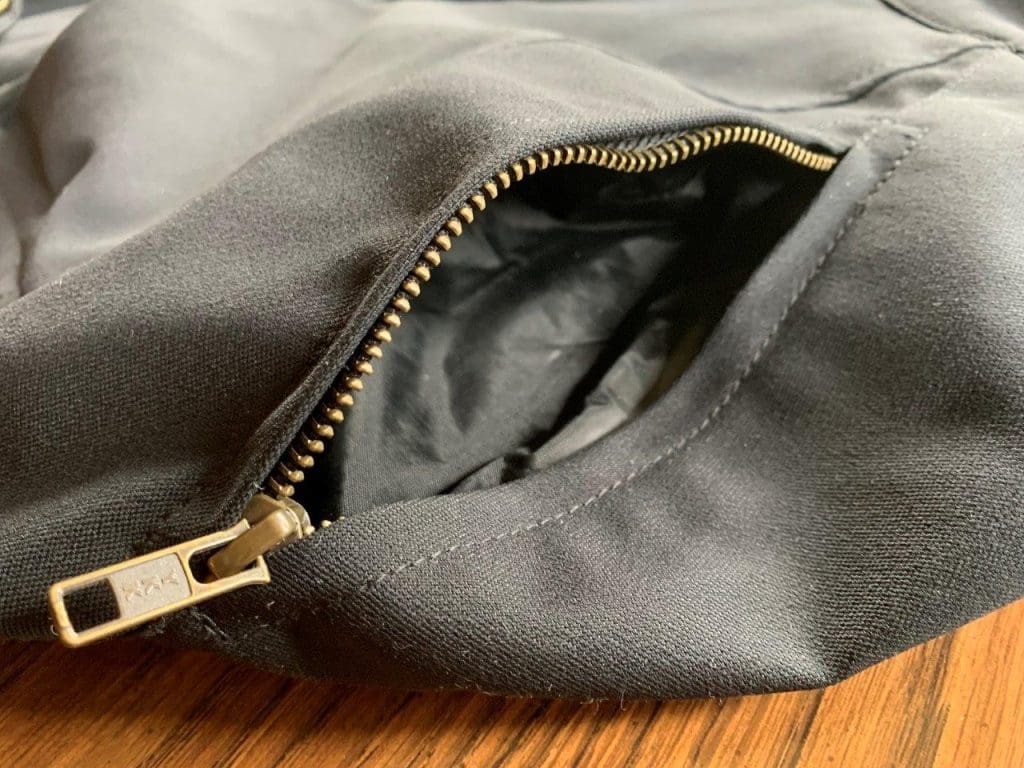 Ventilation
The women of Raven Rova have designed some rather ingenious vents on the front. They have both a zipper and magnetic closures so you can either batten down the hatches with the zipper or quickly open and close them with the magnets while at a stop sign. The vents measure 6 x 7", are hidden within the front seams, and have a mesh backing. The magnets seem quite sturdy at holding the vents both open and closed but we'll find out just how well they work in the ride section below.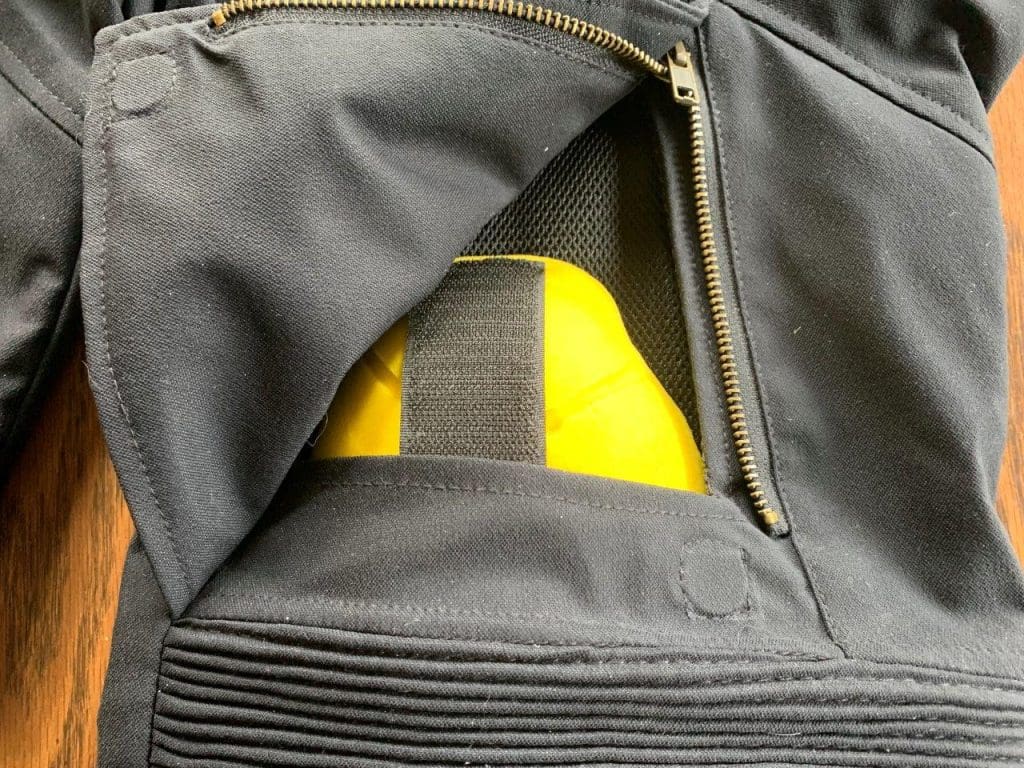 On the Inside
Like most motorcycle gear these days the Raven pants are lined with a black mesh material from the waist all the way down to the hems. This one is also described as a microbial athletic mesh. I felt more athletic and less stinky just wearing them so apparently they're working.
Worked into the lining are pockets for the hip (not included) and knee armor with velcro closures.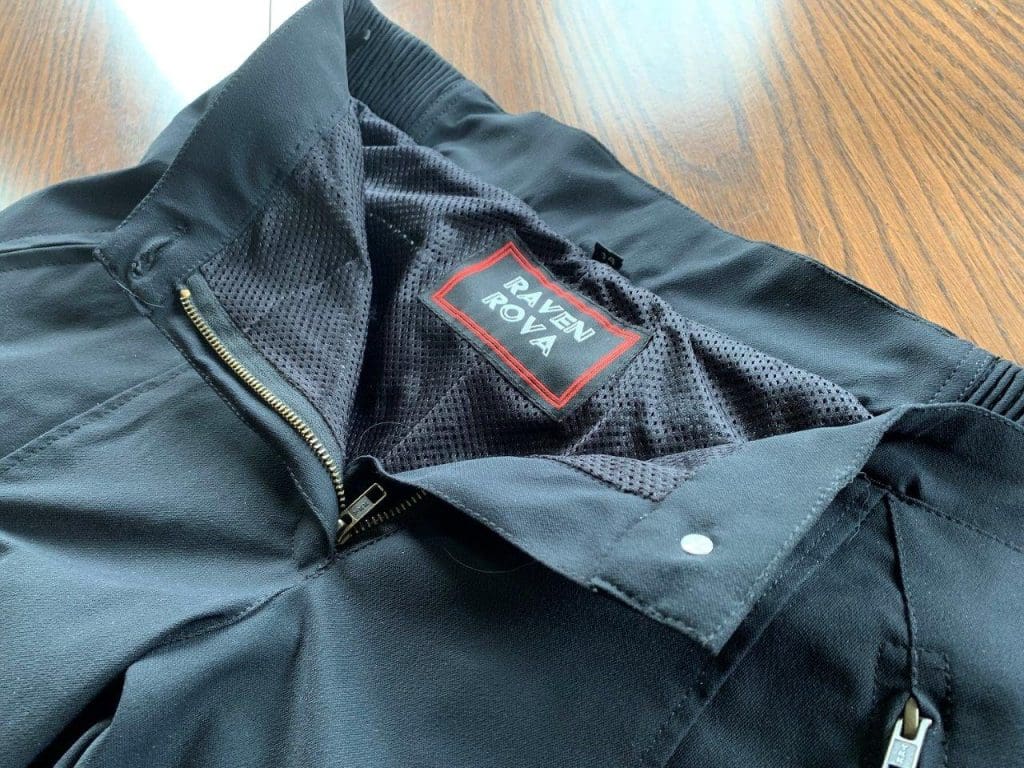 Branding
And last but not least the raven pants have a stamped 'Raven Rova' logo up a diagonal seam on the right front and their signature embroidered RR logo on the back waistband. I still haven't figured out if the bright yellow RR is actually reflective or just bright but it definitely sparkles in the light.
I'm not sure if I want to bring attention to that portion of my anatomy with a bright logo but it would be covered up if you zip them to the jacket plus it is pretty blingy which the girl in me kind of likes.
Safety
Women's textile pants typically have a 500 – 600 denier Cordura outer shell. With a 500d exterior the Raven pants are right in line with that, providing decent abrasion and tear resistance while still being fairly lightweight. The owner of Raven Rova actually tested them with a city speed get-off (unintentionally) and came away with skin and limbs intact which is a pretty good testimonial.
The knee armor is rated CE Level 2 and feels a lot like tough memory foam – soft but dense. I don't think I'd mind falling on it. And it's got the most adjustment capability that I've ever seen. The knee pad has a full length velcro strip on the front. It fits inside a mesh pocket accessed through the vent openings which contains a long attachment strip. So, you could adjust them up to 8 inches one way or the other. Finally, I can make sure my knee armor is actually covering my knees! The armor is also quite easy to access from the outside so you can adjust it after the pants are on and you're in a seated position.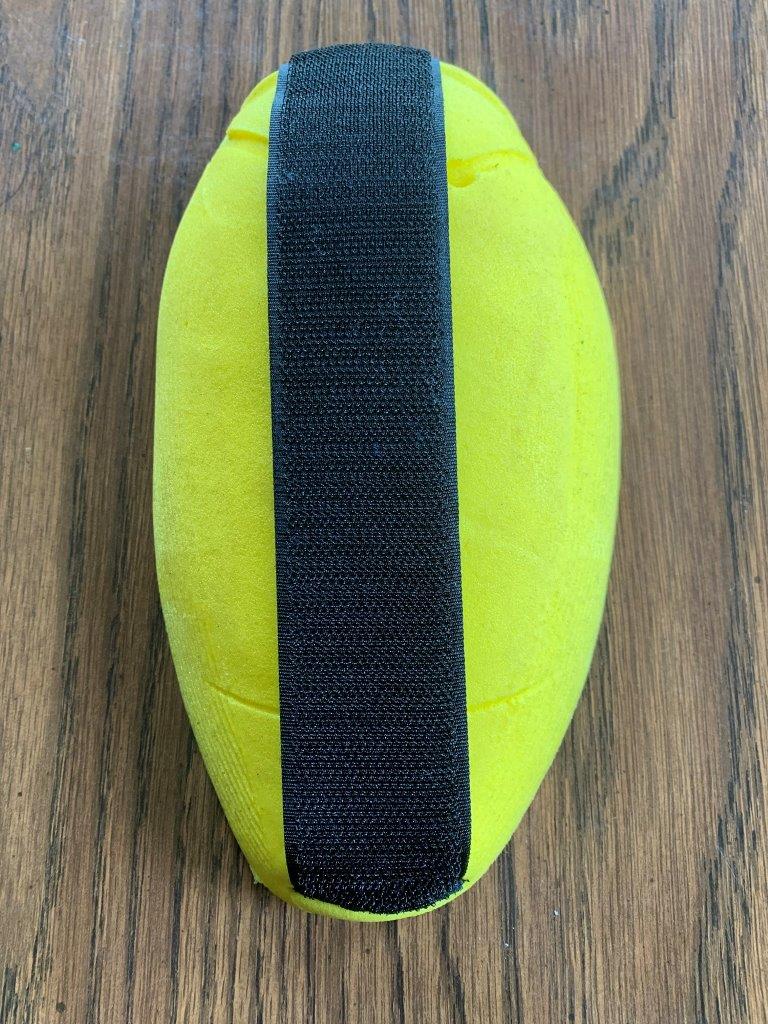 There are pockets for hip armor in the mesh lining but they are not included. That's ok. Hip armor is pretty easy to slip in and out and I have a pair that I really like to use. And of course the pants may or may not have a reflective RR logo in the back of the waistband (I'm pretty sure it is).
Value
Quality is always pretty subjective but it's one of those things that you know when you see it. From the nice neat stitching to the practical and stylish construction details these pants are very nicely put together. It is especially impressive since this has been a very challenging year for manufacturing. Somehow the Raven Rova team pulled through without losing a step, so kudos to them and their construction team.
At $259 these fit in well price-wise with other upper-end brands and come in sizes 6-18 with additional sizing in the works (sizes 20-24) which would make for a very extensive range.
Riding With the Raven Pants
We've had a fairly cool spring here so I wasn't able to test these under super high temps and humidity. I did wear them all day though in beautiful 60 degree (F) weather and I have to say they performed very well.
In my experience most motorcycle pants get less comfortable as the day goes on. They are either scratchy or heavy or the armor is rubbing somewhere or out of place, but I must say these pants continued to get more comfortable the longer I wore them. The stretch material seemed to break in and conform to my body shape as I was wearing them and by the end of the day I had forgotten I was wearing motorcycle pants.
I did test the vents on a slightly warmer mid 80's (F) day. The magnets don't snap in with real authority so I was worried they wouldn't stay connected. I rode quite a stretch at highway speeds though and they did stay in place. They also worked pretty well. The snapped back cover material works rather like a scoop to channel the air into the mesh area. I could feel the cool air coming in and over the top of my legs.
So, I was quite pleased with the way they performed on the bike. They are comfortable, will work in a variety of temperatures and they'll keep you safe.
Wrap Up
The Raven Rova Raven pants are nice looking, detailed, well constructed textile pants. They work wonderful on the bike for all day riding and become more comfortable the longer you wear them. They pair well with the Phoenix jacket or any of the jackets in the Raven Rova line-up. Plus they are easy to clean, are water resistant and have storage room for your phone or keys. These are all-around great pants that look just as good on a cruiser as a sport bike.
Pros
Not your mother's motorcycle pants
Lots of adjustment
Quality construction
Cons
Fit a little snug through hips and thighs
Only comes in one length
Important Links