Raven Rova Phoenix Jacket Review Summary
Review Summary
If you're in the market for a beautiful, sexy, comfortable, leather motorcycle jacket and you want to support some young entrepreneurial women in our sport you need take a look at the Phoenix Jacket by Raven Rova. It's a great 3 and a half season jacket that will make you feel safe and look good on and off the bike.
Materials and Build Quality
Pros
Beautiful design
Comfortable
Works in wide range of temps
Quality workmanship
Cons
Back protector is intrusive
Rova Phoenix Jacket Image Gallery
Specs
Manufacturer: Raven Rova
Made in: Pakistan
Price: $525
Available Colours: Ruby Red, Moonstone White, Turquoise
Sizes: 6-20 US
Review Date: April 2021
Important Links / Where to Buy
Overview
Here in the heartland spring has sprung, the snow has melted, and it's time to get the motorcycle out and ride! It's also time to check out new gear and what better way to start than the gorgeous red leather Phoenix Jacket from Raven Rova.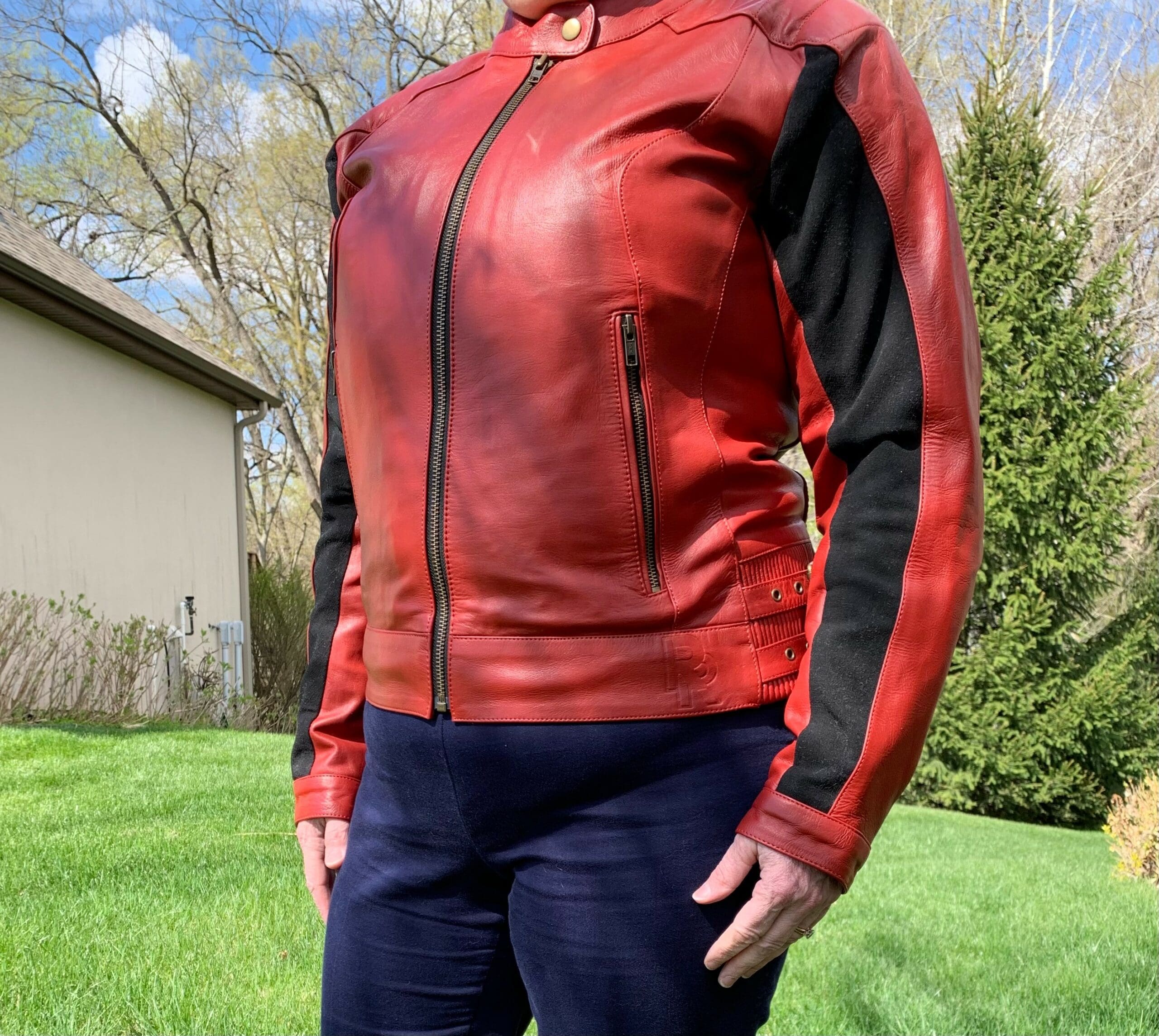 Background
It wasn't that many years ago that finding women's gear was like looking for a needle in a haystack. In fact, as few as 10 years ago all you could find were boxy men's jackets colored pink and pants that made you look like the Pillsbury dough boy.
Thankfully that has been changing and it's in no small part being driven by young entrepreneurial female designers that like to ride. Case in point is the woman owned and operated Raven Rova company.
A fashion designer by day the founder of the company decided to take the leap into designing motorcycle gear when the accident of a friend brought home the need for safe gear that women will wear. Crowdfunding provided the initial investment but the rest was a leap of faith.
They have a fairly small selection but everything is well thought out, mixes and matches, and is well constructed. And I love their website! They have real live women of all sizes and shapes modeling the clothes, all of them beautiful and natural.
Construction and Design
Out of the box
As I was taking this jacket out of the box my husband happened to walk by and said "Whoa, that's a nice jacket." To put this in context my husband has never said this about any type of motorcycle gear. I'm pretty sure he's ever said that about any article of clothing so that's high praise coming from him. And he's right, it's a very good looking jacket. It has just enough detail to make it interesting and functional without going over the top.
Exterior
This particular leather jacket is red with black accents. The red tint is a little darker with a hint of brown and looks really sharp. The bulk of the jacket is 3mm thick full grain cowhide with a semi-aniline coating which adds a thin protective topcoat to protect from wear and staining. This is important for a motorcycle jacket as I'm sure to have bugs trying to commit suicide on this beautiful butter soft leather every time I ride. The black accents on the inside of the arms and back of the neck is a Keprotec DuPont Kevlar material.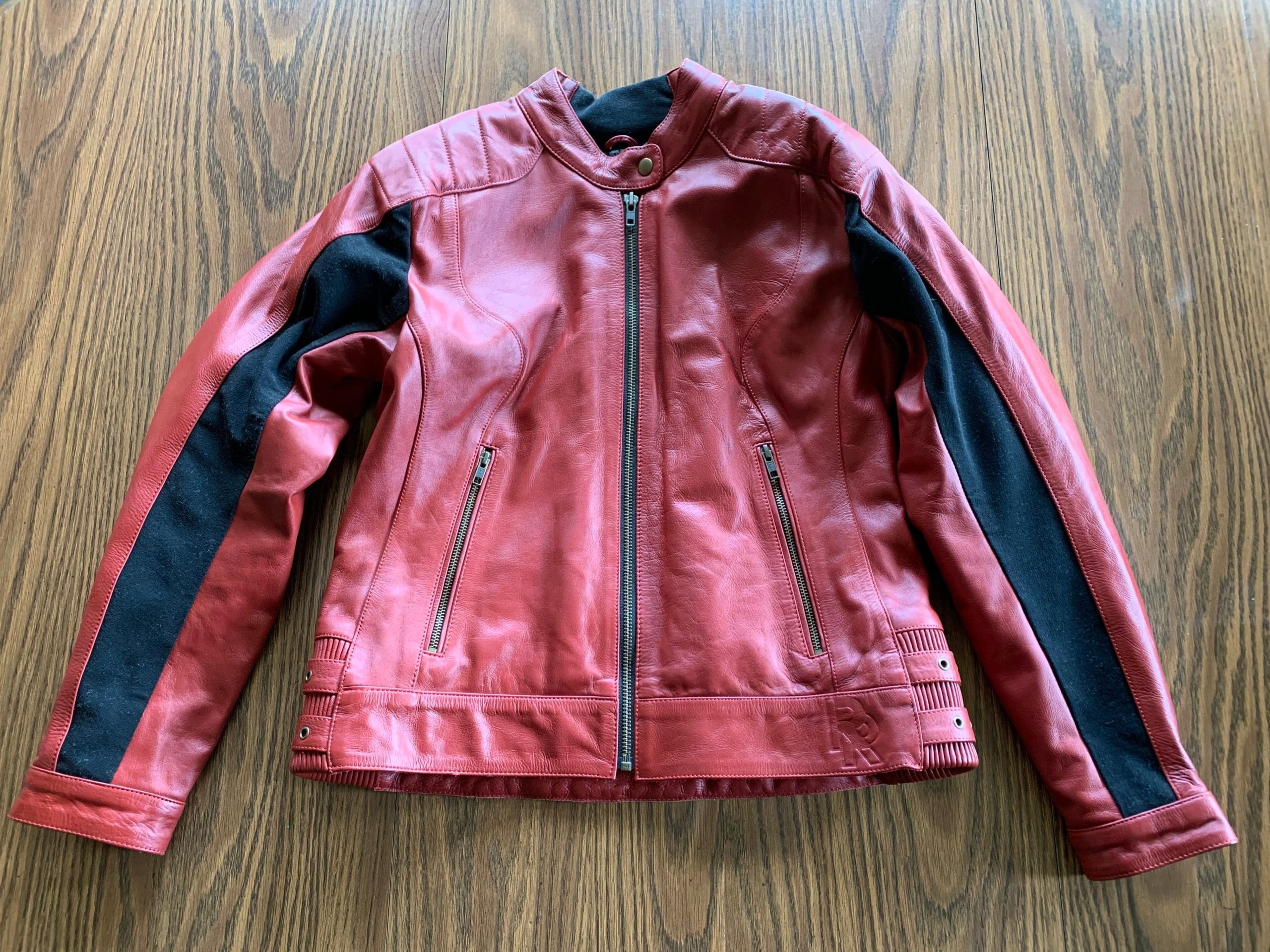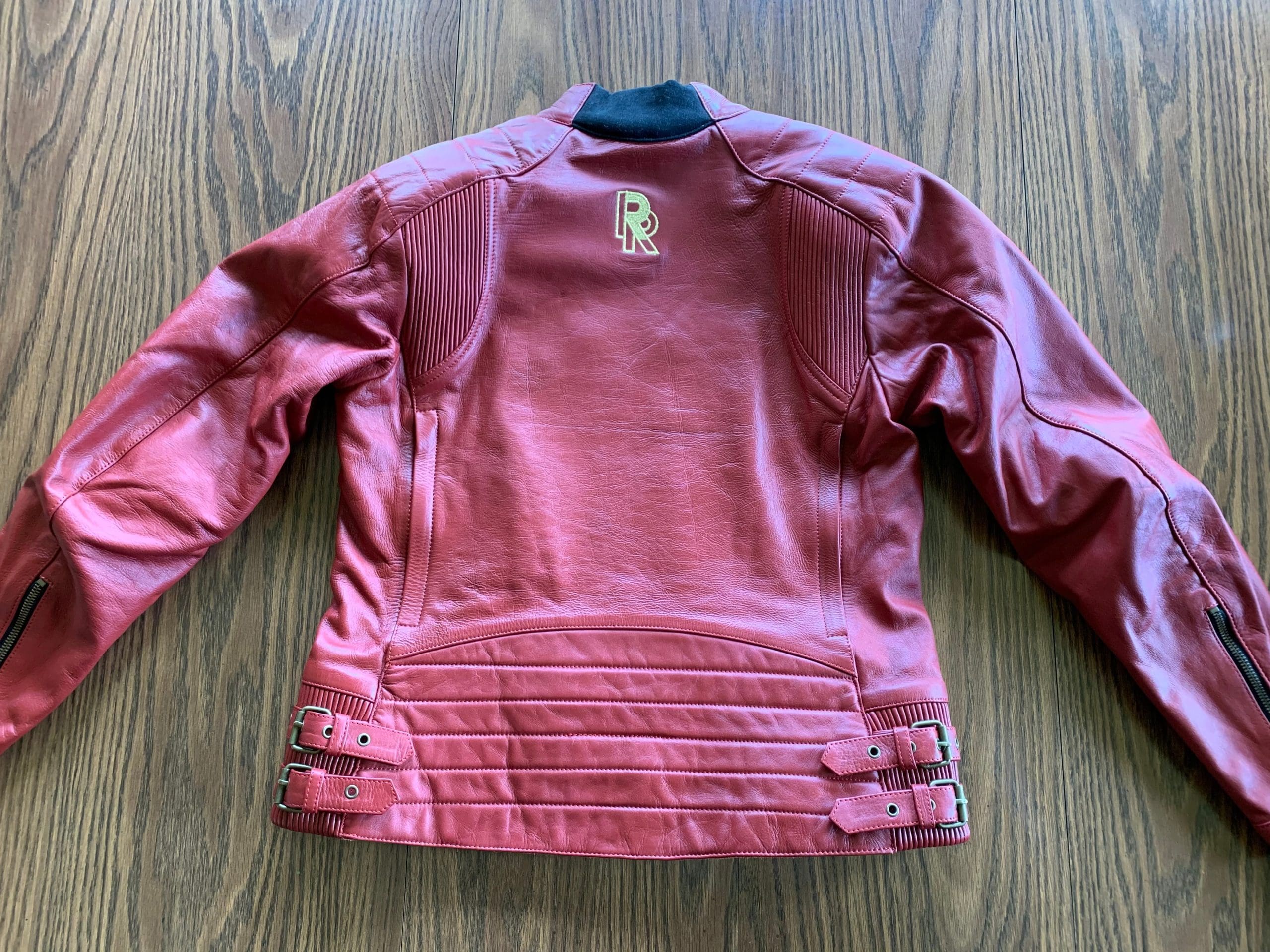 All the zippers are YKK, the gold standard in zippers, and are beefy and operate smoothly. Exterior zippers are brass colored as are the snaps and the side buckles. They go great with the red color.
Storage
Cuffs have a 6 inch zipper with a 2.5 inch gusset to allow for gauntlet gloves. Also Included are 2 exterior hand warmer pockets that measure 4 x 7 inches, a large interior 6.5 x 7.5″ waterproof cell phone pocket on the right side (this is mimicked in the quilted liner) and a good-sized zipper-closed interior pocket on the left.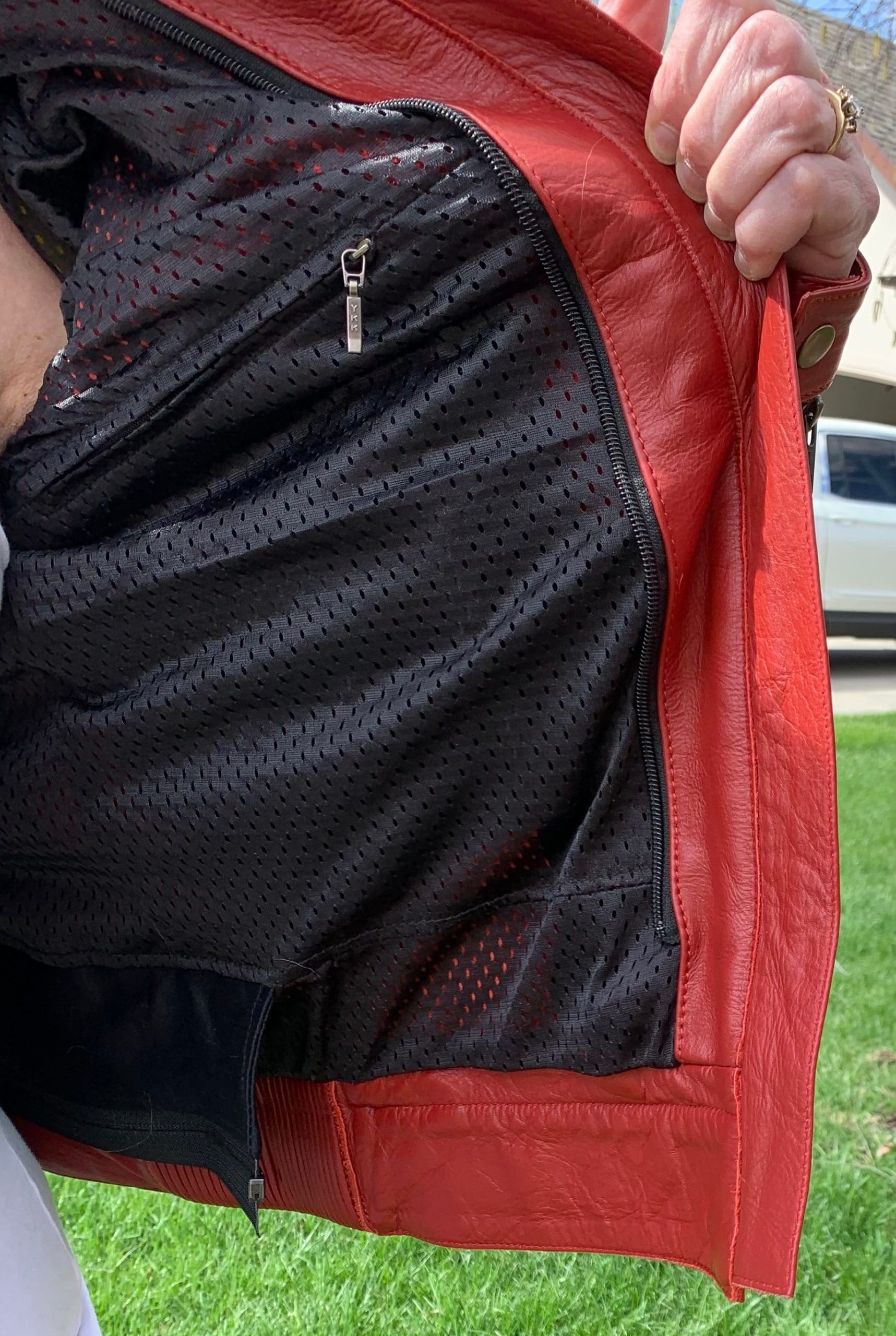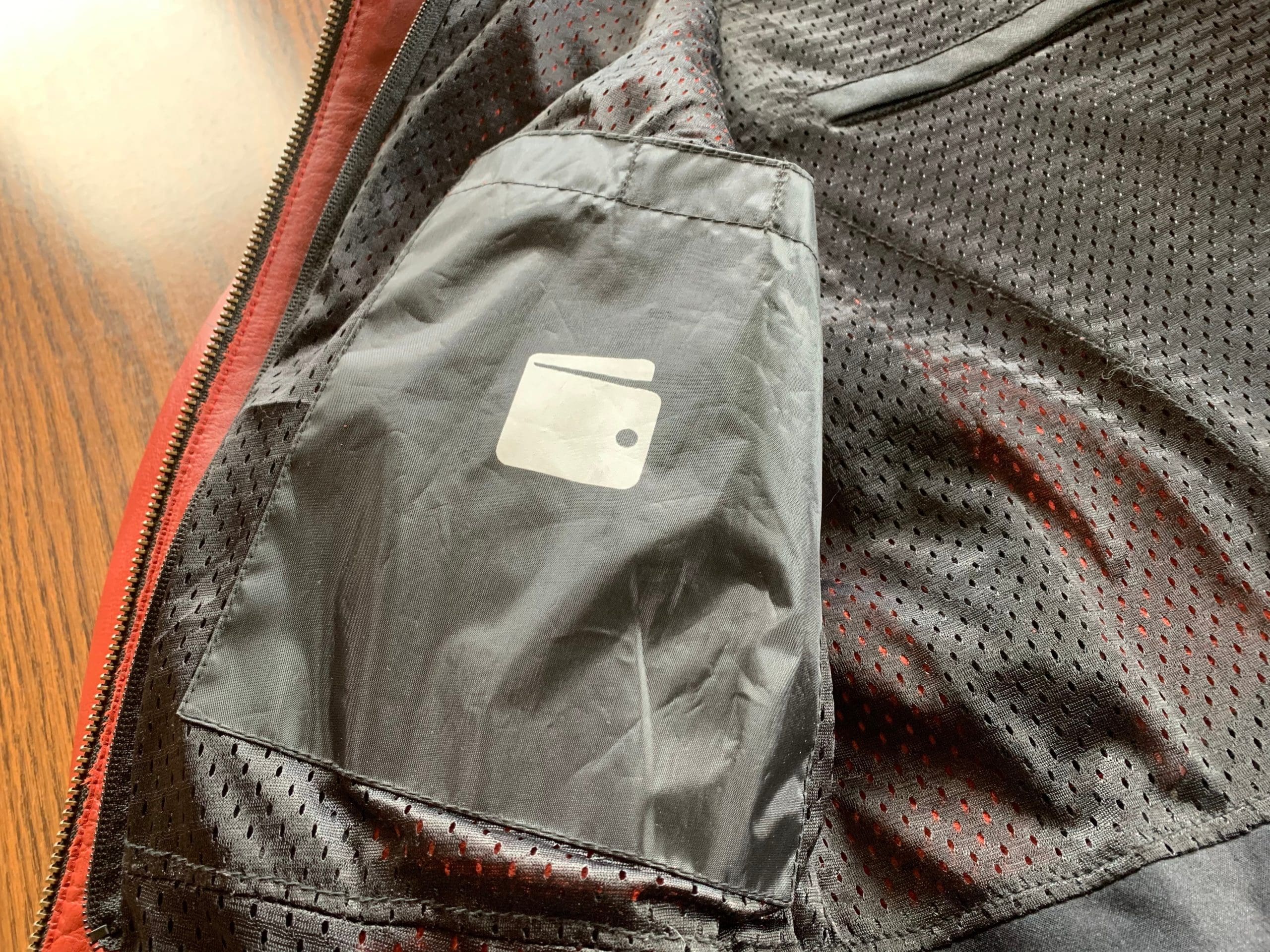 On the Inside
The interior is lined with a black anti-microbial athletic mesh but it also has a zip out full sleeve stitched quilted thermal liner. It attaches with a zipper on each side and snaps at the wrist and neck. The 4 wrist snaps are color coded so you don't get the sleeves twisted, but the black ones are a bit hard to find inside the dark bottomless hole of the sleeve.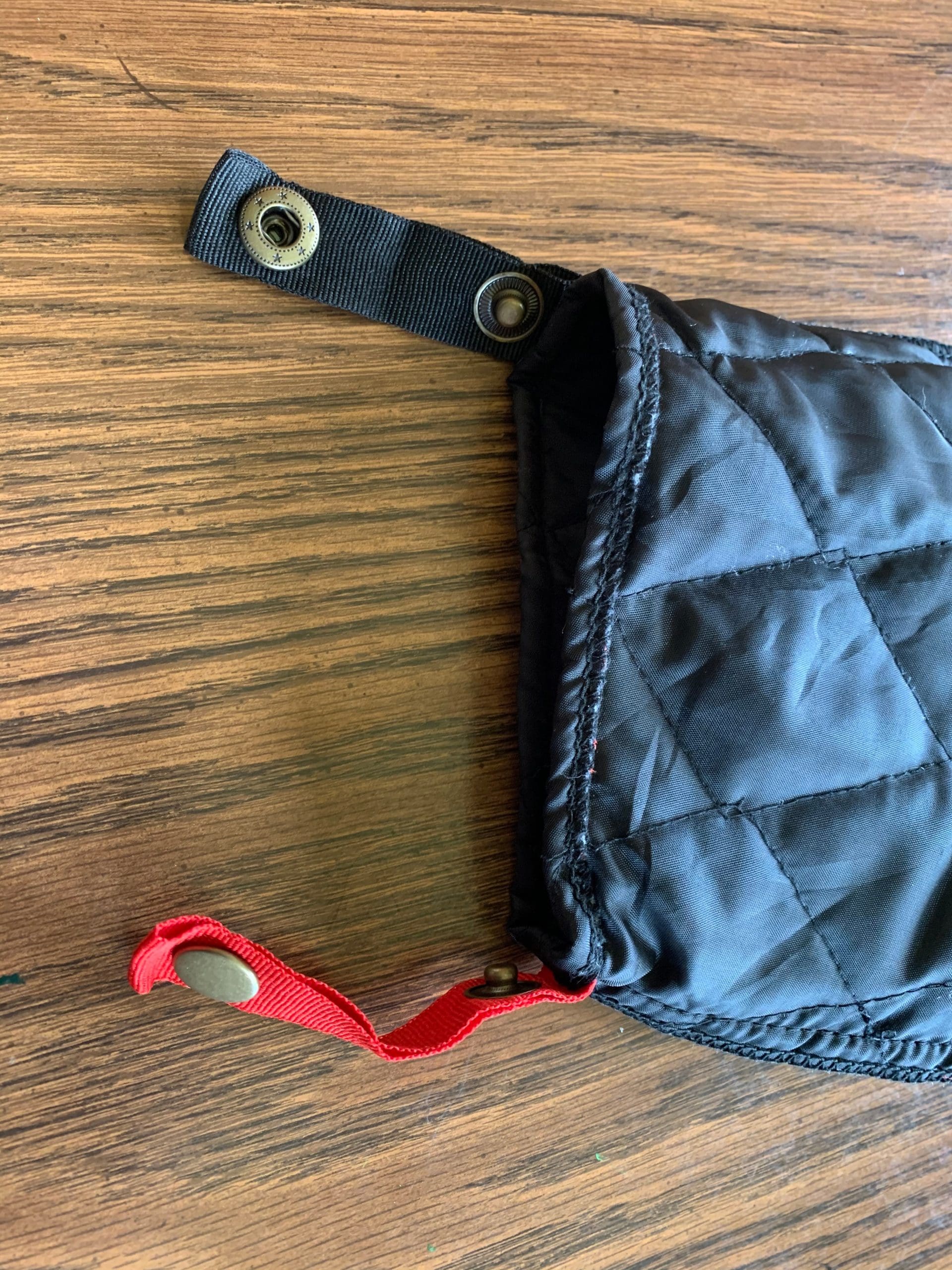 With 100 grams of fiber fill, the thermal liner is thin and light weight but combined with the thick leather it's quite warm. You'll see how warm in the 'riding' section below.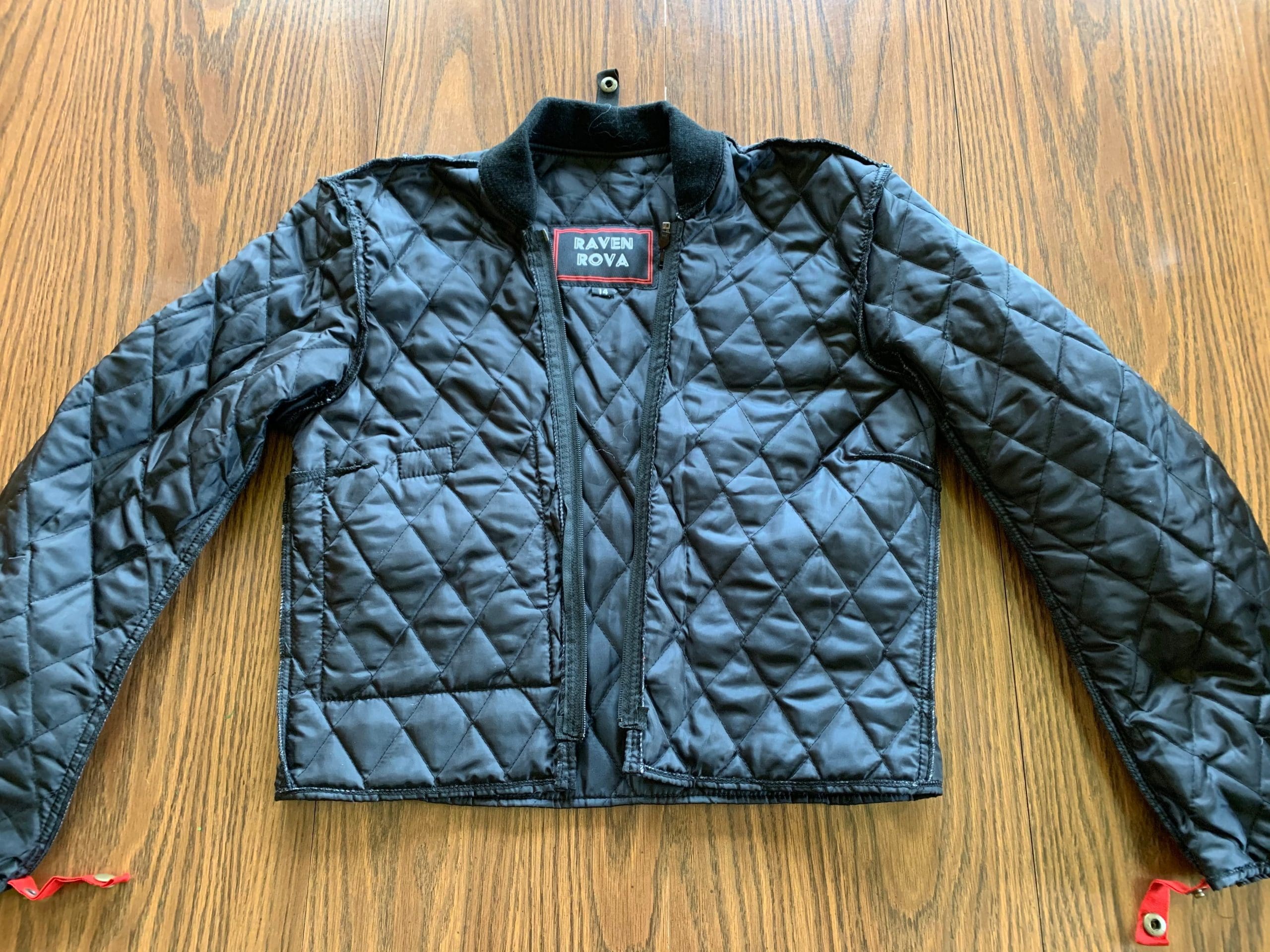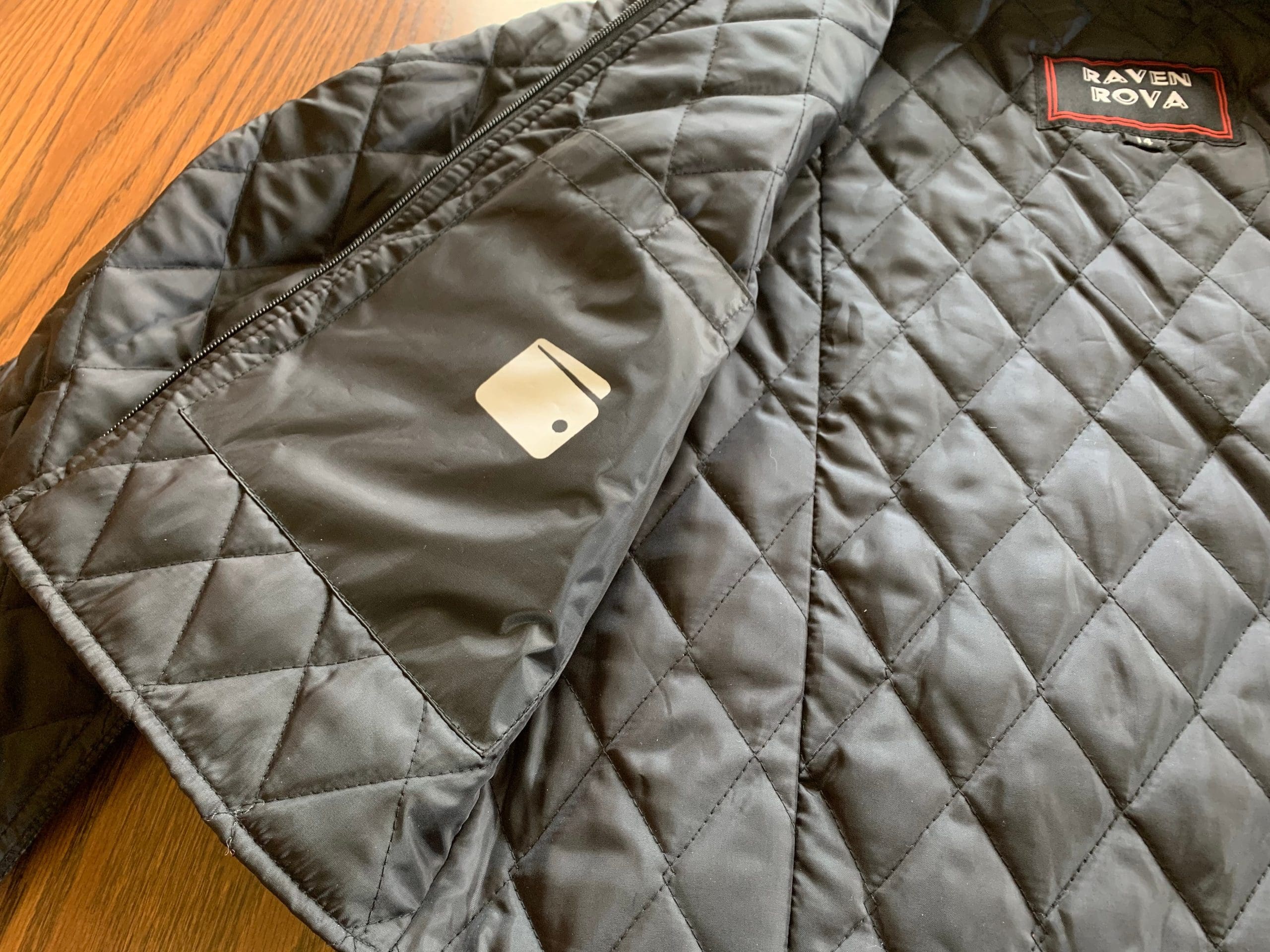 Venting
The Phoenix jacket is warm in cold weather but what about when the temperatures warm up? Well, you're covered up to a point with the two 6 inch zippered vents along the side seams in the back. Vent openings are covered with the mesh liner so you won't have to worry about any insects crawling in the back (eek!).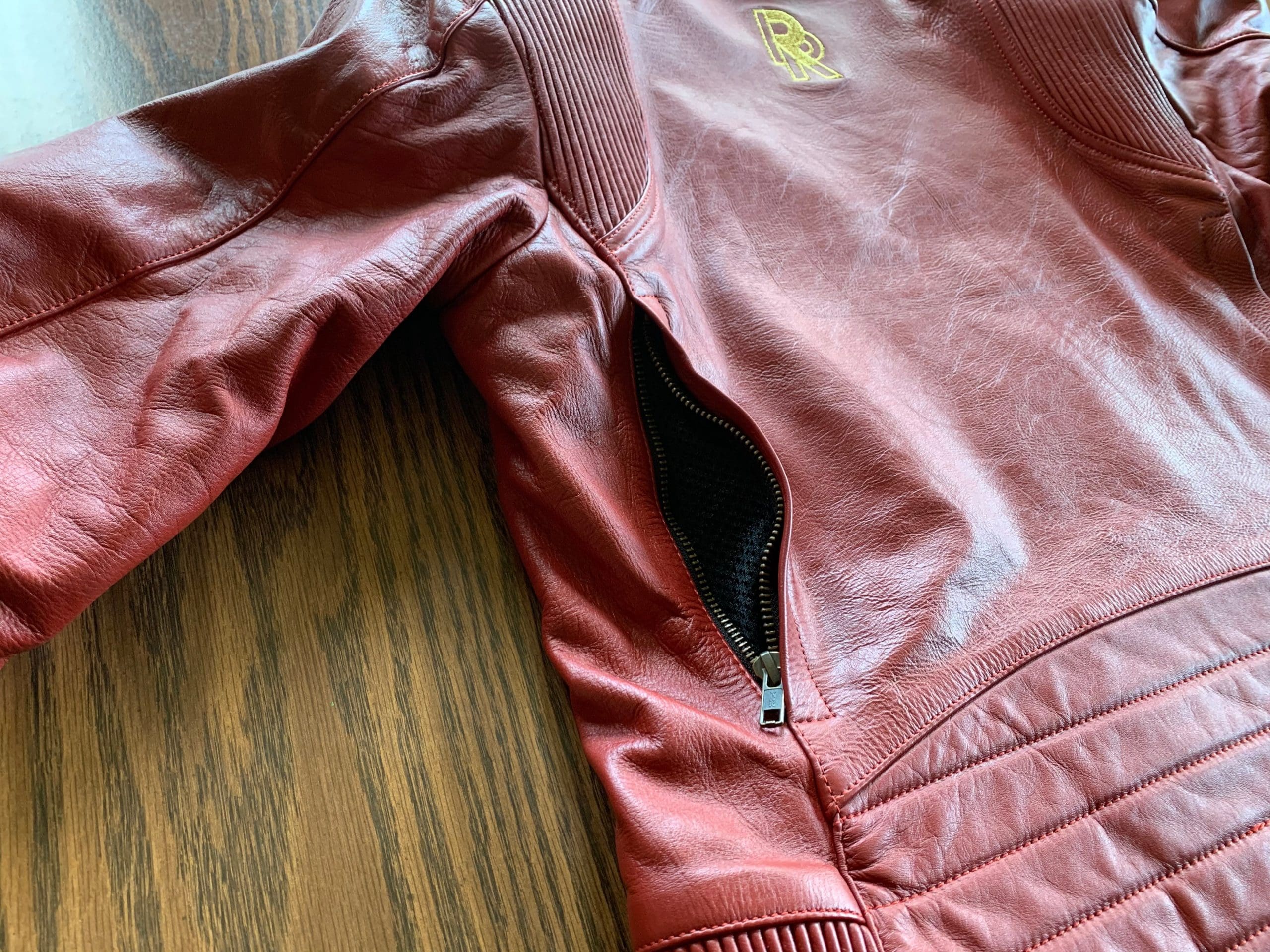 Fit and Finish
There are accordion stretch panels behind the shoulders that allow for a lot more flexibility with lifting or stretching your arms forward for the riding position. There are also leather accordion panels on either side at the waist/hip that provide quite a bit of stretch as well as 2 leather straps on each side that have 4 inches of adjustment.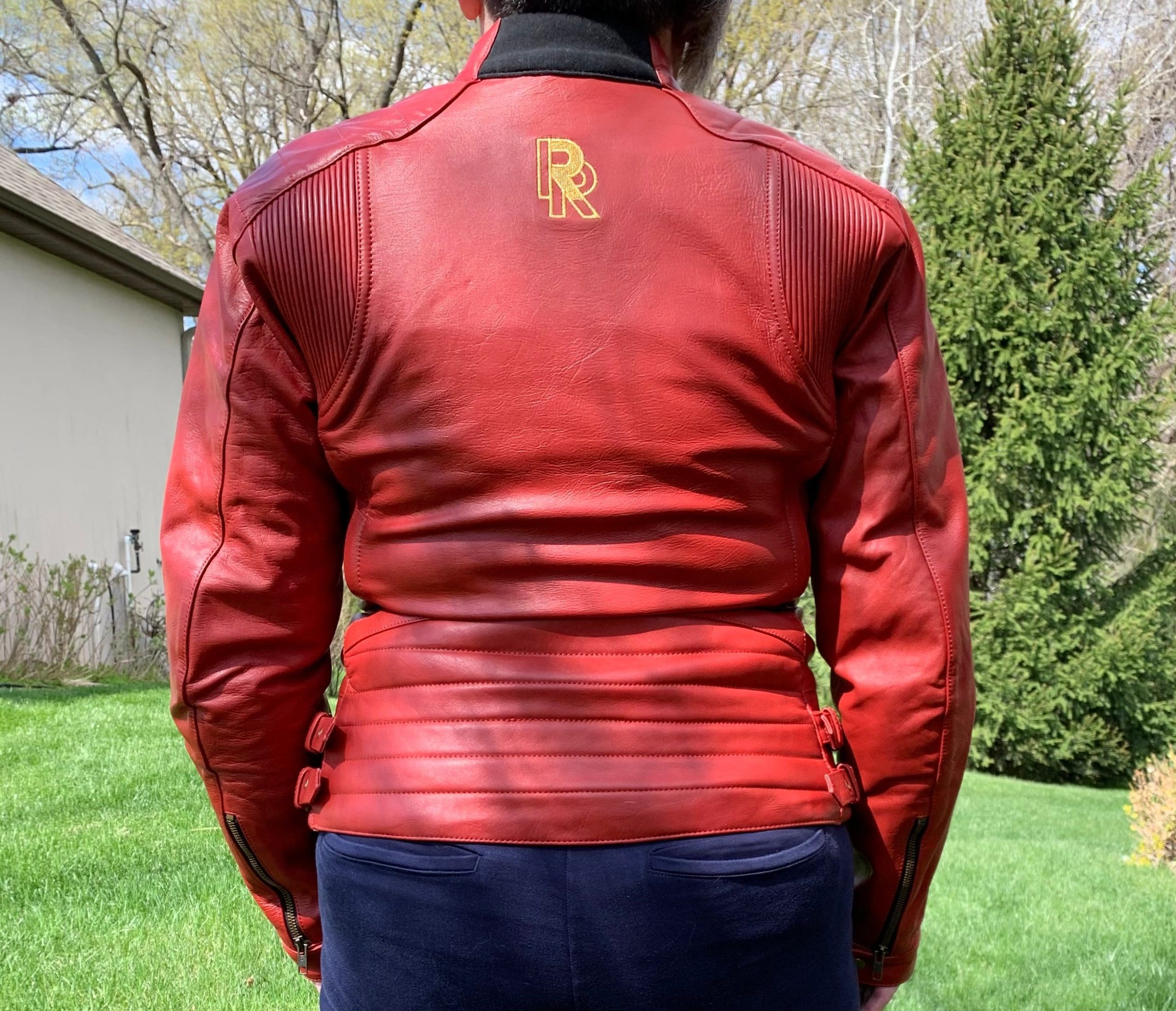 The front of the jacket has princess seams on either side that give a bit more room for your, uh, chest area, and makes this jacket a lot more comfortable than a boxy men's jacket would be. It also gives it a sleeker shape so there is no mistaking you're a woman rider. Even the Kevlar material is stretchy and soft unlike the stiff scratchy material I have on the inside of some of my motorcycle pants.
Branding is minimal with a bright yellow embroidered logo on the back and a stamped logo on the bottom left waistband. The logo is quite elegant and adds rather than detracts from the overall look. Overall quality is excellent with neat stitching, no loose threads, plus soft and flexible materials.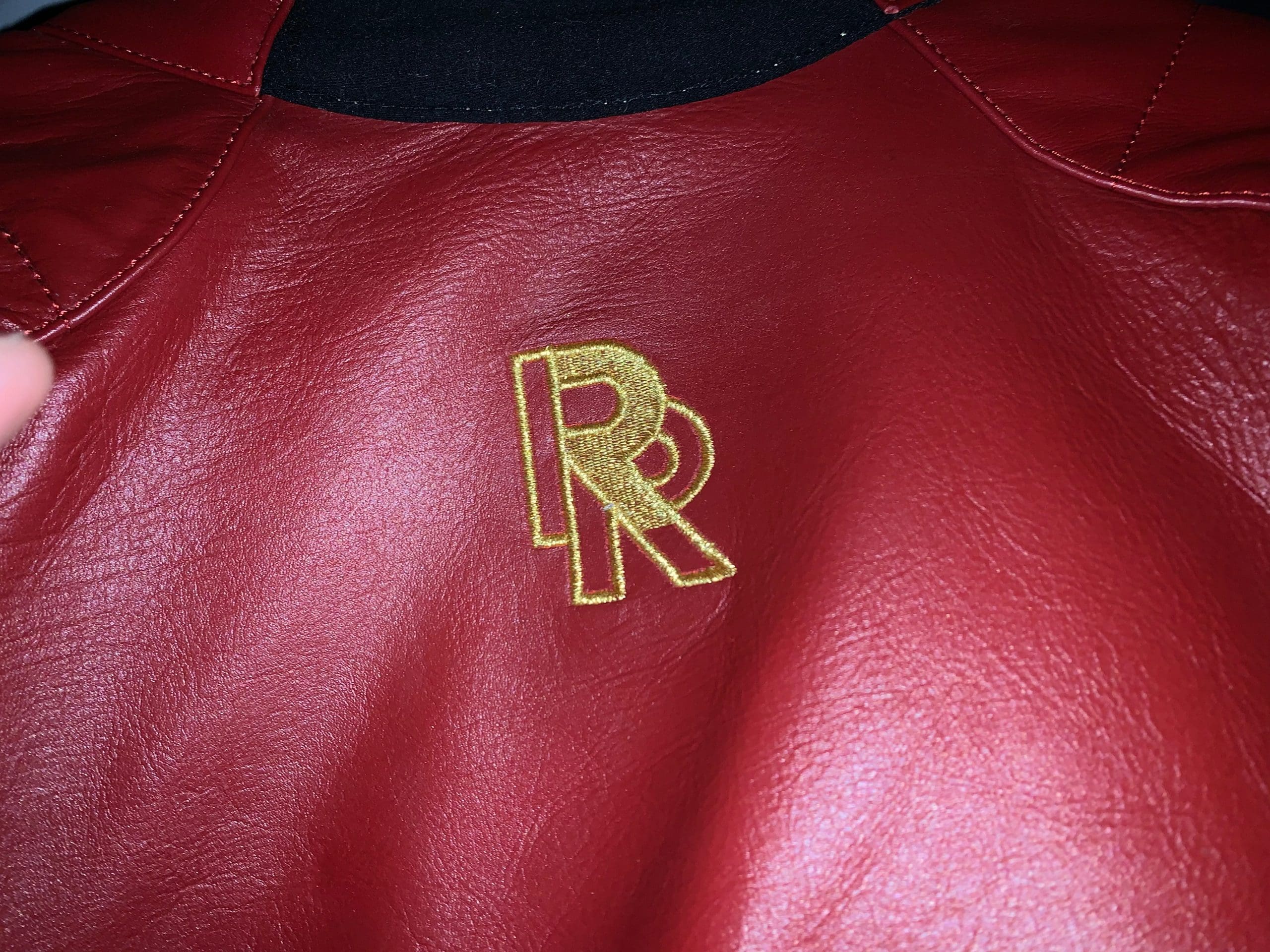 Fit
This jacket is definitely made to fit a woman. The princess seams do allow more room for my chest and are quite a bit more comfortable than my other jackets. It also has more adjustability and much more flexibility especially in the shoulder area.
The Raven Rova website does have measurements for all the sizes (and a video on how to take them) and if you stick with them you should not have any fitment issues. This jacket does fit snug as a motorcycle jacket should, especially with the thermal liner and back pad in so keep this in mind and don't fudge an inch or two on your measurements. I also applaud their wide range of sizes as they go up to a size 20 US.
Safety
The Phoenix jacket comes complete with CE level 2 armor in the shoulders and elbows. Enclosed in pockets in the liner with velcro closures they are comfortable and unobtrusive. The jacket also comes with a level 1 back protector which is quite unusual for a jacket in this price range, so kudos for including it. I did think it was really stiff though and took up a lot of interior space at 10" wide and 9/16" thick. I'm sure it would break in after riding with it for a while and you know what, it's easily interchangeable if you don't want to wait for it to mold to your contours.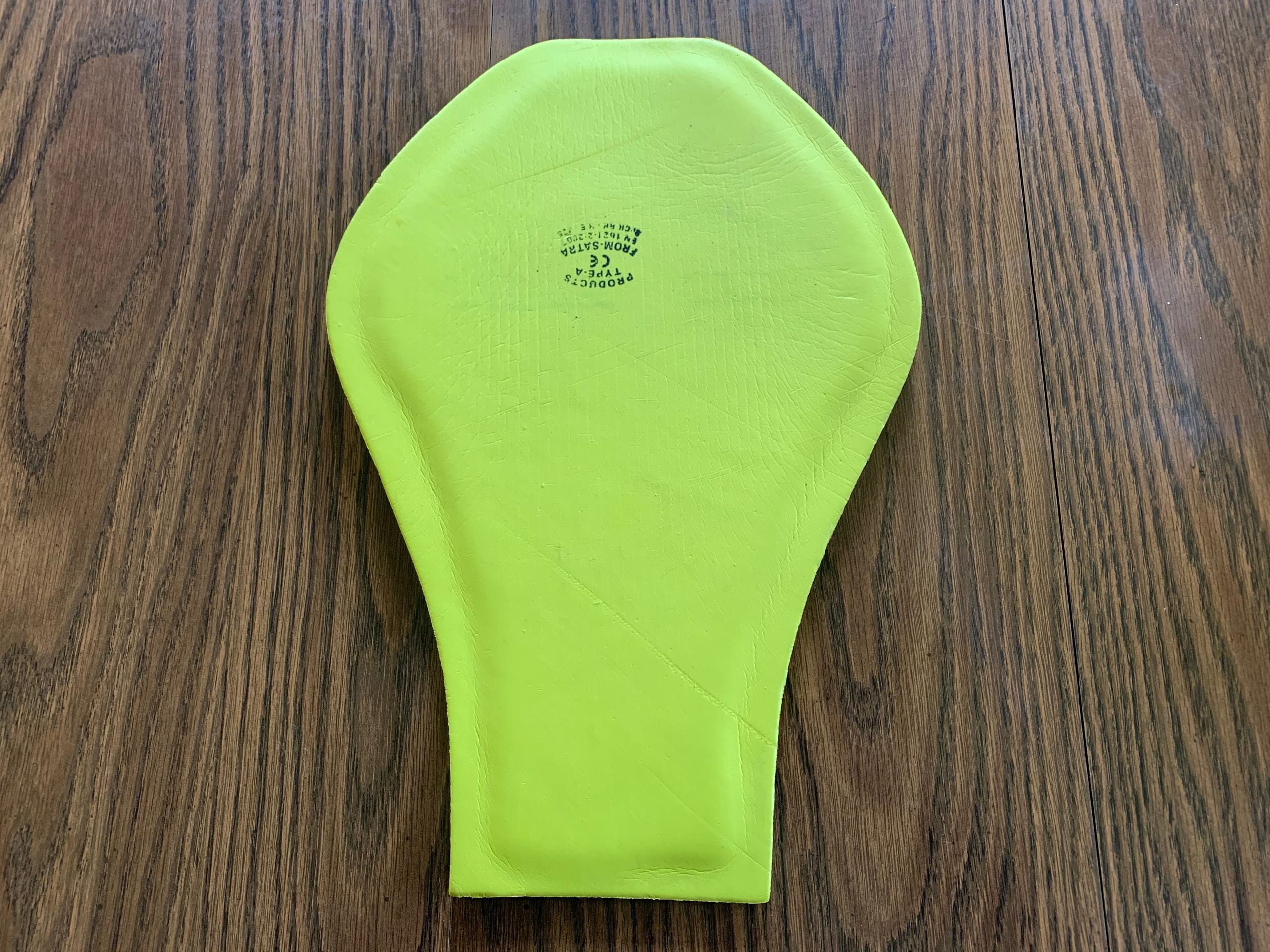 3mm thick leather provides quite a bit of slide protection just by itself (there is a reason they wear leathers when racing) but there are also quilted areas on the shoulders and lower back that give you a little more padding in those areas. The leather accordion panels also don't compromise safety while providing flexibility.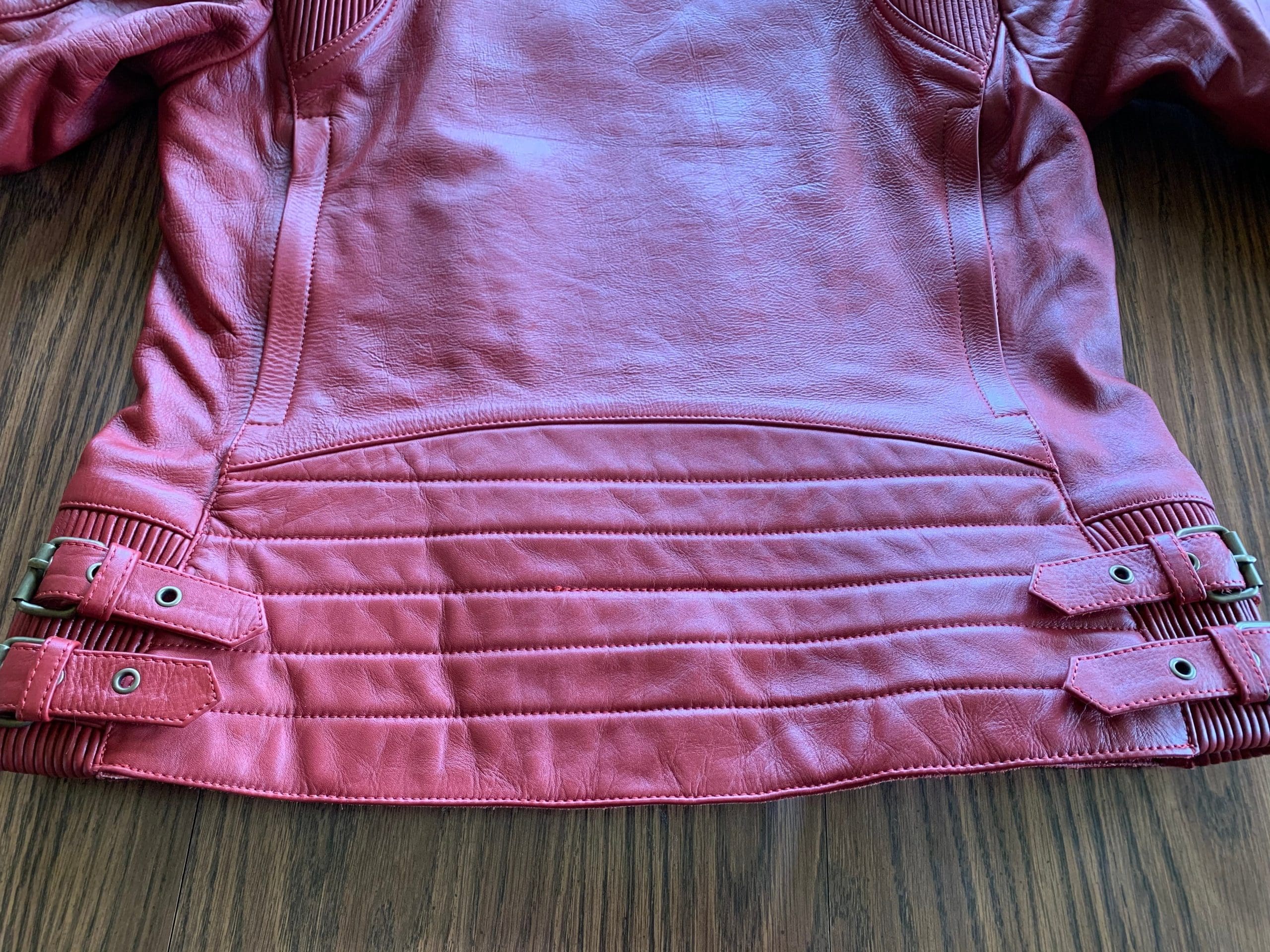 Like most jackets these days it comes with a zipper along the bottom (with the matching pants zipper included) to attach your jacket to your riding pants. I must admit I rarely use these because I can't reach the end with the jacket on. This one however is 25 inches long so it goes almost all the way around your waist making it a lot easier to reach so there is no excuse not to use it. And of course, it's undeniable that your gear provides much better protection when you're all zipped together.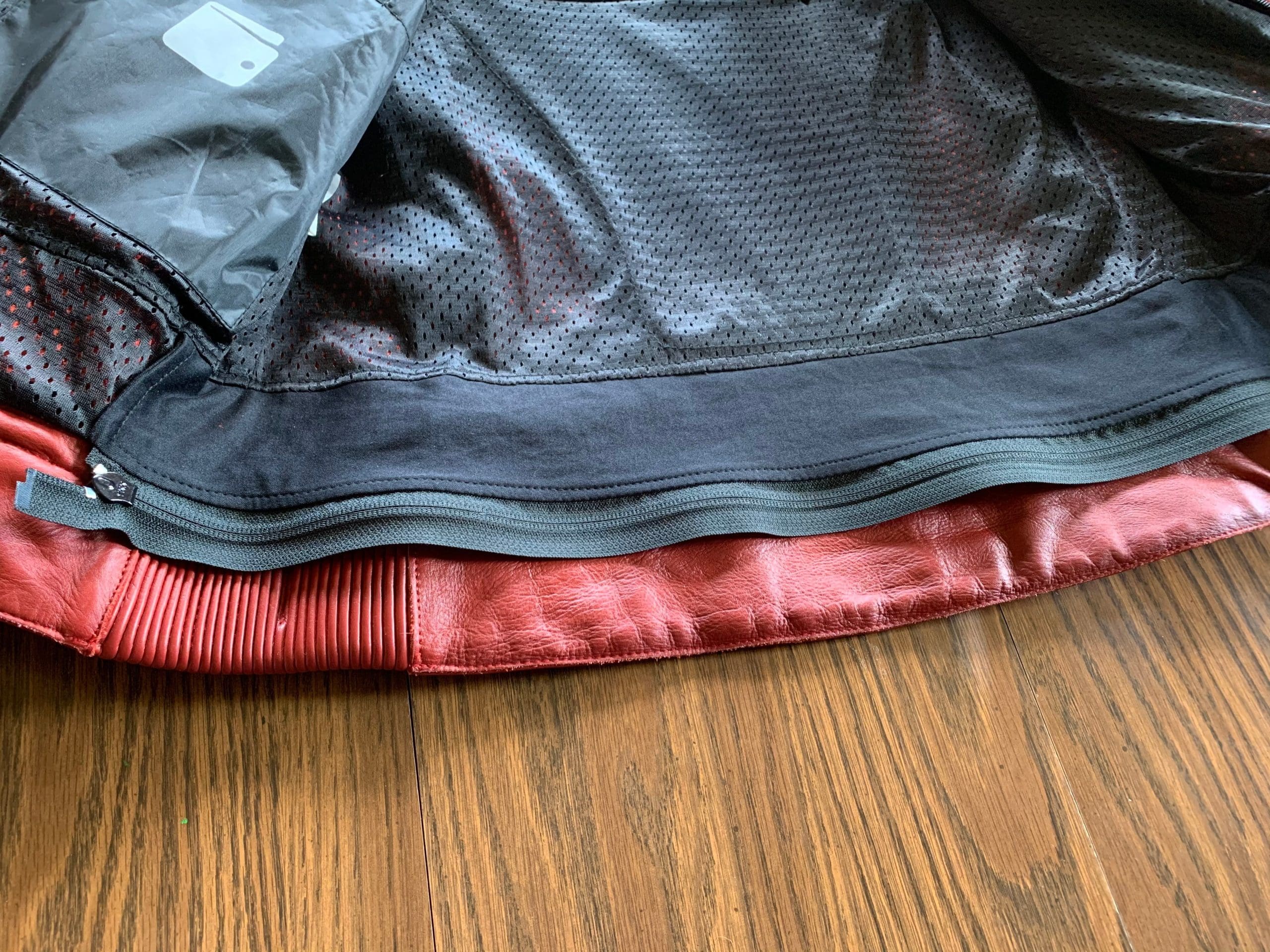 I'm not sure if the RR logo on the back is stitched with reflective thread or it's just the brightness of the yellow but it absolutely dazzles when you hit it with a beam of light at night. Whichever it is, it should give you some visibility in the dark.
Riding with the Phoenix Jacket
The most complimentary thing I can say about a piece of gear is that I didn't notice it when I was riding and the Phoenix jacket certainly fits this. With the increased flexibility in the shoulders making the reach to the handlebars a non-issue, and the wide range of stretch and adjustability everywhere this was seriously comfortable to ride in.
I did take this out in some weather extremes to see how it fared temperature wise. I was able to wear it down to 40 degrees (F) with the thermal liner in and just a t-shirt under it and was nice and warm. 40 degrees is about as cold as I ride since my hands tend to freeze easily but I think with a base layer you could go down probably another 10 degrees pretty easily.
On the other extreme, I rode on a sunny 82 degree day (that's as hot as it's been here so far this spring) and was still comfortable with the vents open. The red color helps as it doesn't heat up quite so much in the sun as a black leather jacket would. I'm not sure I would wear it much above 85 degrees as the leather is thick and it would get pretty hot at stop signs.
Value
The Phoenix jacket comes in the ruby red shown here, moonstone white and turquoise. At $525 I can't afford to buy all three but I would if I could because they're all beautiful. That price is not out of line with other quality leather jackets and with all the nice design features I think it's certainly worth it. It also doesn't scream motorcycle jacket so you could make use of it off the bike as well.
Conclusion
So if you're in the market for a beautiful, sexy, comfortable, leather motorcycle jacket and you want to support some young entrepreneurial women in our sport you need take a look at the Phoenix Jacket by Raven Rova. It's a great 3 and a half season jacket that will make you feel safe and look good on and off the bike.
Specs
Manufacturer: Raven Rova
Made in: Pakistan
Price: $525
Available Colours: Ruby Red, Moonstone White, Turquoise
Sizes: 6-20 US
Review Date: April 2021
Important Links / Where to Buy