A rare 1928 BMW R57 (pictured front right) is a highlight of a collection of classic BMW motorcycles being offered for the October auction at Barber Motorsports Museum, in Alabama.
The Bonhams auction consists of several highly sought-after examples, particularly pre-war models.
Each motorcycle in the collection is in running condition and is being offered without reserve.
R57
BMW produced the R57  for only a few years after BMW's first motorcycle, the R32 in 1923.
The R57 isn't just rare, it is also "superbly engineered, beautifully styled and a capable rider", says Mathieu Guyot-Sionnest, Bonhams Head of US Motorcycles.
It is estimated to fetch up to $US70,000 (almost A100,000).
"This will be our third year in partnership with the most prestigious motorcycle museum in the world and the largest vintage motorcycle celebration,"he says.
"With thousands of international motoring aficionados gathered together for the weekend event, there's just no better venue."
Other "no reserve" examples in the collection include a 1933 R4, a 1938 R35 and a 1940 R12 with sidecar.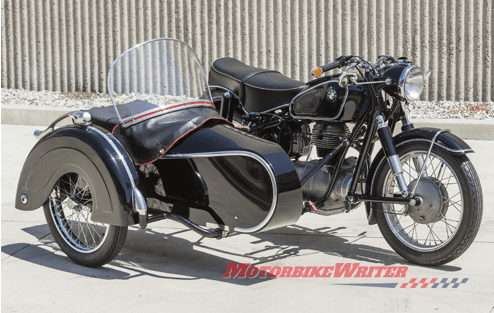 There is also a a 1957 R26 with sidecar that was the German army's famed war workhorse and was built with BMW's first hydraulically damped telescopic forks.