Ducati Australia has confirmed that a limited edition Diavel 1260 Lamborghini will be available here for a whopping $A48,600 ride away from February 2021.
What has Ducati got to do with Lambo, you may say.
Well, part from both being Italian automotive companies based in the Emilia-Romagna Motor Valley, they are also owned by the German VW Group.
This is first motorcycle born from a collaboration between Ducati and Lamborghini. 
And it could be the last with rumours still circulating that VW may sell off one or both of these companies.
The Diavel 1260 Lamborghini is inspired by the Lamborghini Siàn FKP 37 and is the fourth episode of the Ducati World Première web series.
These "virtual launches" have replaced their annual launches at the EICA motorcycle show in Milan which has this year been cancelled.
The Diavel 1260 Lamborghini features forged wheels, carbon fibre bodywork and green/gold livery similar to the Siàn FKP 37 car which looks like an old Countach.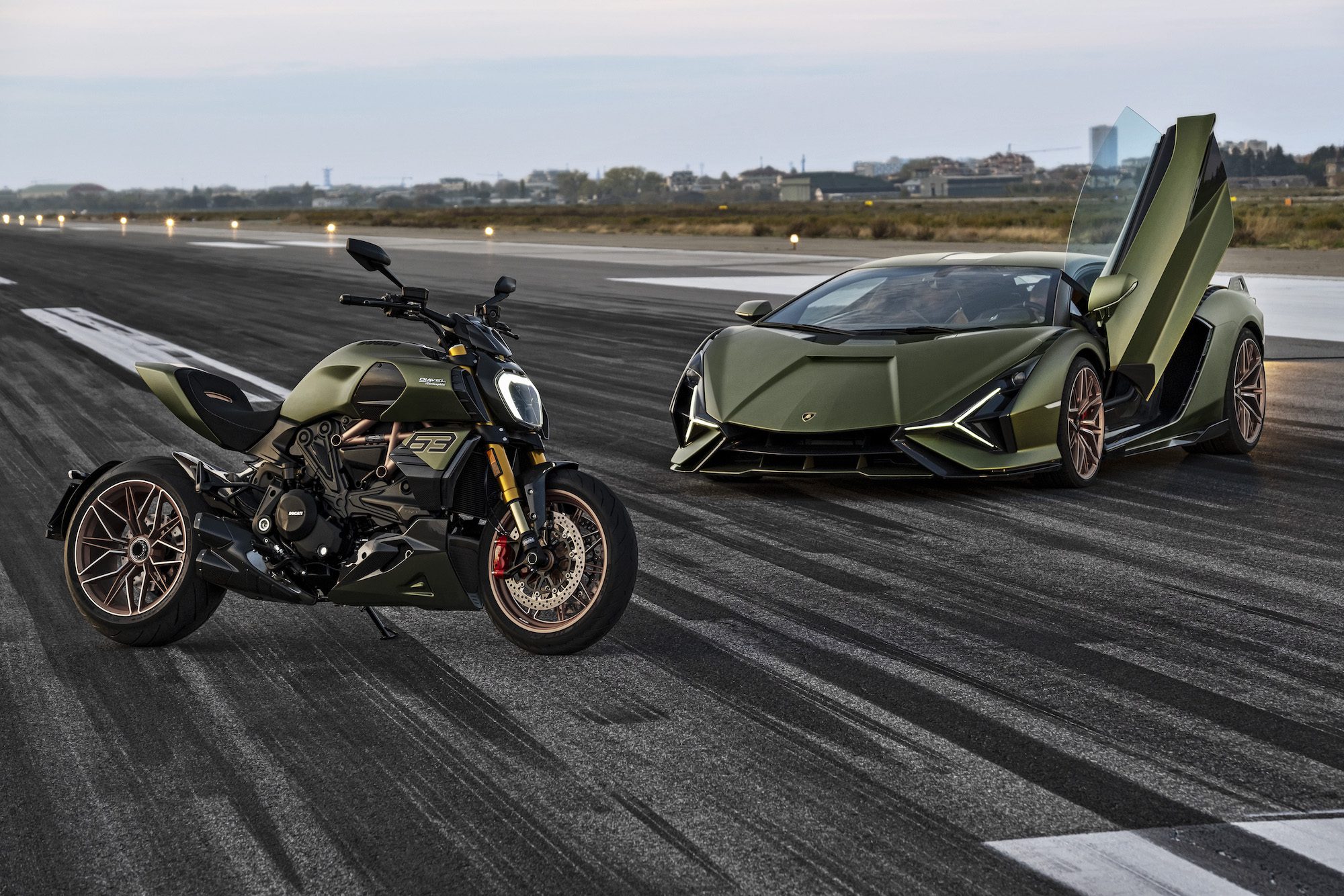 Only 630 numbered units will be available. There is no word on how many will be reserved for Australia.
Similarly the Siàn FKP 37 is the most prestigious car yet made by Lamborghini with only 63 being made.
"In creating a Diavel inspired by the Siàn, we are celebrating the values we share with Lamborghini: we are Italian, we are sporty, and design is a distinctive element for our creations," says Andrea Ferraresi, Director of the Centro Stile Ducati. 
"The Diavel 1260 Lamborghini was designed using the same stylistic language that distinguishes the super sports car, so we have redesigned the elements that most characterise the Diavel."
It was designed in a joint project between the Centro Stile Ducati and the Centro Stile Lamborghini. 
Lamborghini design is seen in the hexagon and the "Y" motif.
Centro Stile Ducati went crazy with the carbon fibre on the radiator covers, air intakes, muffler cover, spoiler, central tank cover, seat cover, front and rear mudguards, dashboard cover and headlight frame.