Two very rare classic motorcycles — an RC30 and a Walter Wolf special — are coming up for sale at the Shannons Sydney Spring Auction on 18 November 2019.
The 1989 Honda VFR750R RC30 'Homologation Special' and 1986 Suzuki RG500 'Walter Wolf Special Edition' come from the same private collector.
They are among 11 classic race bikes and on and off-road motorcycles dating from 1943 to 1989 on offer.
Meanwhile, check out our 10 tips for buying at auction.
Honda VFR750R RC30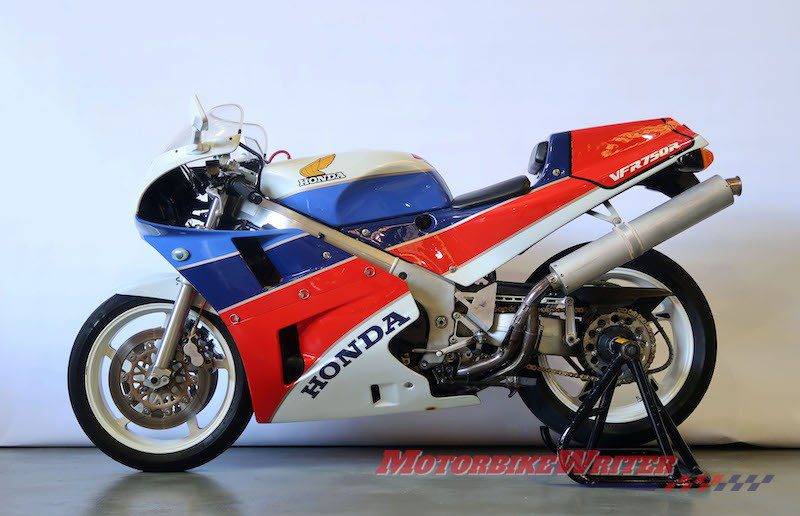 This 1989 Honda VFR750R RC30 was developed as a homologation special for the World Superbike Championship, using cutting edge technology.
It has had just two private owners and is believed to have covered just 17,100km from new.
The RC30's roots date back to the Honda's RVF factory racer of 1985 that Australian Wayne Gardner rode to victory in the Suzuka Eight-Hours races of 1985 and 1986 and later scored further Suzuka victories when paired with fellow Aussie legends Mick Doohan and Daryl Beattie respectively in 1991 and 1992.
Costing almost twice the price of a standard 750 sport bike at the time, the RC30 was the Formula 1 racer of motorcycles, with its 360-degree 748cc liquid-cooled four-stroke V4 engine featuring 16-valves, gear-driven double overhead camshafts, titanium conrods, forged alloy pistons and a close-ratio six-speed gearbox. 
The RC30's current Sydney owner purchased the bike two years ago with 16,350km on its odometer and it is now showing just 17,100km, making this incredibly original Honda RC30 a wonderful collector's bike at its estimated selling range of $40,000-$45,000.
Rare Walter Wolf Special Edition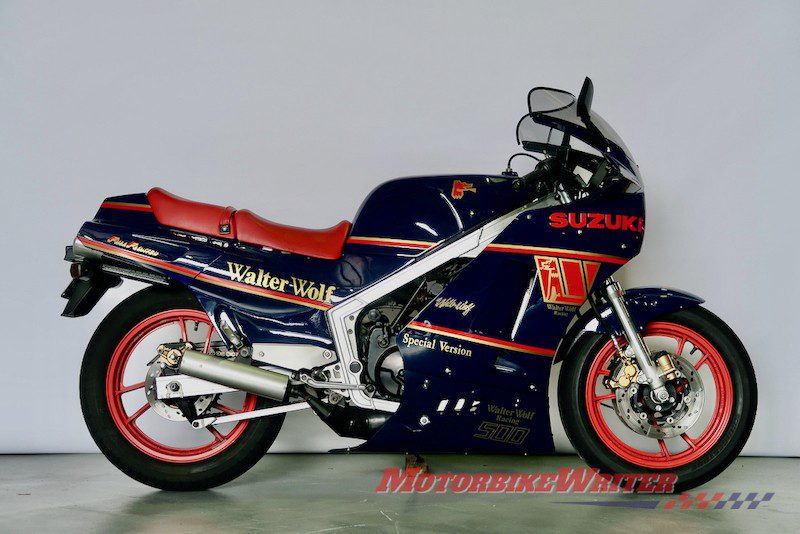 The 1986 Suzuki RG500 'Walter Wolf Special Edition' is an original example of the 99 built in the early 1980s to celebrate the  RG500's success in the Canadian National Pro & Amateur 600 Production Championship, when Walter Wolf was the principal sponsor.
Imported in 2012, the RG500 is one of very few to exist in Australia and is in very original condition.
Its current Sydney enthusiast owner has invested almost $9500 on its mechanical restoration between 2016 and 2018.
Because of its global rarity, Shannons believe the RG500 will be sought-after by international enthusiasts. They are quoting a guiding range of $30,000 – $35,000.
Sale highlights
Other motorcycles on offer at no reserve include:
A Pre-Unit Triumph T120R Bonneville fully restored to a high standard by a specialist workshop in Melbourne several years ago. It has 285 miles on the odometer and was recently serviced. It is expected to bring $25,000-$30,000;

Triumph T120 Bonneville

An unrestored early 'die-cast' 1969 Honda CB750 KO with no reserve is expected to fetch up to $20,000;

1972 Laverda 750SF bought by a Sydney fan in 2016 has been restored to a high standard and should fetch more than $15,000. It has matching frame and engine numbers and done just 920km since restoration. It is expected to sell in the $15,000-$20,000 range;

Laverda 750SF

1943 Malvern Star Autocycle formerly in a museum ($2000-$3000);

Malvern Star Autocycle

Rare British c1948 Excelsior Universal 125cc ($3000-$4000);

Circa 1959 BSA Bantam ($4000-$6000);

1949 Matchless G80 500cc ($6000-$8000); and

1961 Matchless G12 CSR ($8,000-$10,000).
Off-roaders on offer include a 1980 Yamaha DT175 Enduro (no reserve $1000-$2000) and two early three wheeler ATVs – 1980 Yamaha YT125G and 1982 Honda 185S. Both are unrestored and offered for sale with no reserve for $1000-$3000.