Three riders collided with a car in Central Queensland at the weekend in the latest of a spate of motorcycle crashes on Queensland roads.
RACQ CareFlight Rescue General Manager of Retrieval Medicine Peter Pearce says that since the start of July the community service has treated 43 injured riders – an average of more than one every three days.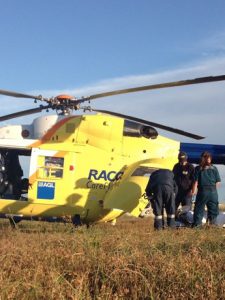 "We're absolutely shocked at how many jobs we're getting involving motorcyclists," he says. "While everyone on the road needs to be vigilant for unexpected road hazards, it's important motorcyclists remain mindful of their vulnerability."
It is worth noting that the RACQ has called on all road users to be vigilant.
In the latest crash, a group of eight motorcycles was rounding a bend south of Gladstone on Sunday when the lead motorcycle and an oncoming car collided. Two other motorcycles were subsequently involved in the crash. While no blame is yet apportioned, it highlights the need to ride safely in groups.
Meanwhile, RACQ Executive Manager Technical and Safety Policy Steve Spalding – himself an avid motorcycle rider – says there is a number of simple measures motorcyclists can take to be safer on the road.
"While it can be a great feeling to get out on the open road, especially when riding with mates, it's important to make sure your safety isn't compromised by taking risks," he says.
"Make sure you ride to the road conditions, stick to the speed limit and leave at least two seconds between you and the vehicle in front, even if it is another motorbike."
Riders should also ensure their bikes are roadworthy and well maintained, and should always wear protective clothing and gear, Steve says.
RACQ recently released the following video about safe travelling distances.
CareFlight's iconic blue and yellow helicopters rely on public funding to stay airborne, and are on standby 24 hours a day seven days a week.