Beach motorcycle racing, as depicted in The World's Fastest Indian, will return to South Australia's Sellicks Beach state on February 18-19, 2017.
The Levis Motorcycle Club will host a field of 110 motorcycles manufactured before 1963. There will be racing across five classes as well as sidecars.
The oldest motorcycle club in South Australia began beach racing in the 1920s and held annual Sellicks Beach Speed Trials in summer through to 1953. Re-enactments were held in 1986 and 1992 but regular races have not taken place on the beach for more than 60 years.
The Levis club, named after the English two-stroke motorcycle (pictured below), hopes a successful event will lead to it being held every two years in the future.
Publicity Officer Peter Hennekam says more than 2000 tickets have been sold and they expect about double that will be sold before the event.
The event is free for children under-16 but people looking to attend are being urged to pre-book online as tickets will not be on sale at the gate.
Hennekam said riders ranged in age from 16 to 84 and some of the bikes entered dated back to the 1920s.
"It'll be a spectacle that you just won't see anywhere else," he said.
"The 84-year-old bloke is racing his 1925 Velocette and we've got one family where dad owns the two bikes but his son and his grandson are going to be riding them.
"People have been dragging bikes out from behind uncles' sheds and doing them up – many of the bikes are being ridden for the first time in a number of years."
The two-day event will feature 46 races including heats and finals. Most will be scratch races but some handicap races will also be run.
Beach perfect for racing
The 1.6km (1 mile) track is the same length as the original track and takes riders 800m down the beach before rounding a hairpin for the 800m return journey.
Sellicks Beach (pictured below) is about a 45-minute drive south of the centre of the South Australian capital Adelaide.
Levis Motorcycle Club Publicity Officer Steven Matthews says Sellicks Beach is well suited to racing because it had a pebble foundation under the sand, which gave it a solid base and prevented it from becoming boggy.
"It's quite a unique beach as it provides a really good surface to ride on and that's why they started races there in the 1920s," he said.
"We are very keen for this event to be successful in terms of looking after the environment and the cultural aspects and proving to people that it is going to work and not have any negative impact on the area."
Racing state
South Australia is home to the National Motor Museum, the Bay to Birdwood classic car rally, and is home to more than 100 car clubs and 39 motorcycle clubs.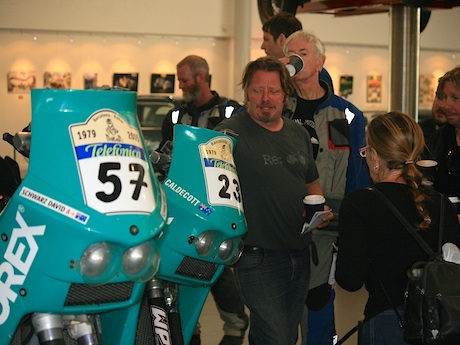 Adelaide hosted the Australian Grand Prix from 1985 to 1995, and is the home of the Clipsal 500, the only CBD street circuit on the V8 Supercar calendar.
(Story supplied by The Lead South Australia, a news service providing stories about innovation in South Australia.)