[REVIEW] Racer Multitop 2 Waterproof Gloves
The Racer Multitop 2 Gloves are effective waterproof gloves that offer a significant amount of all-around protection and are well-suited to most riding conditions. They're also extremely comfortable to wear. If you're in the market for three-season street/touring/adventure gloves, you should definitely give these some consideration.
Pros
Full leather construction offers great all-around protection
Comfortable to wear, even on long rides
Subtle style without obnoxious branding
Effective waterproof capabilities
CE Level 1 protection offers impact resistance for knuckles
Cons
Not touchscreen-compatible
Slight inner liner movement
Leather gains weight as it absorbs water
I usually carry extra gloves in case of changing weather during my ride. So when Racer Gloves USA asked us if we would like to try out some of their gloves, I asked for two pairs: the Pitlane for warmer weather and the Multitop 2 for all-around waterproof protection.
I received the Multitop 2 Gloves this spring and used them for most of a complete riding season. They have been my go-to gloves for trips and all-day rides when the temperature is moderate. However, if the temperature starts rising, I often switch to the Pitlane gloves.
After a season of riding, these are my thoughts on the Racer Gloves Multitop 2 Gloves.
About Racer Gloves USA
Racer Gloves USA is the exclusive US importer and distributor for the Austrian motorcycle apparel brand Racer Outdoor GmbH. Racer Austria has been creating premium street motorcycle apparel since the early 1990s and is well-recognized throughout Europe. Racer Gloves USA's mission is to bring you quality products that make your riding experience safer and more comfortable.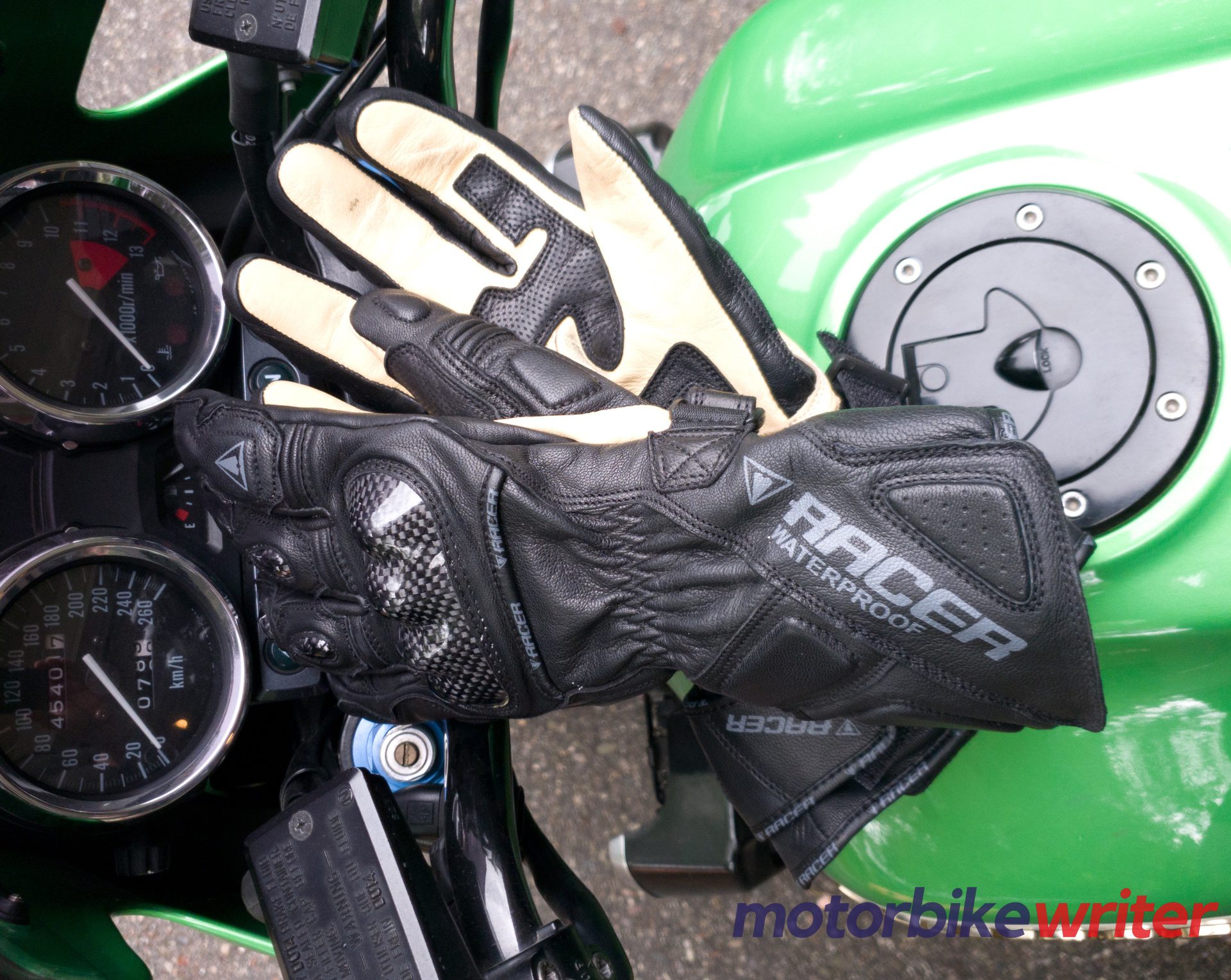 Features
Several features stand out on the Multitop 2 gloves. The critical element for me is the comfort level provided by the kangaroo leather palms.  Add to that the CE Level 1 protection and waterproof membrane, and you have an excellent pair of all-around three-season gloves.
Features:
Kangaroo leather palms
Padded palm protectors with Kevlar® underlining
Carbon fiber hard knuckle and finger protectors
Waterproof breathable liner
For a complete list of features, visit the Racer Gloves Multitop 2 product page.
Racer Multitop 2 Gloves Design
The Racer Multitop 2 Gloves definitely stand in the tradition of many other motorcycle gloves, with a streamlined profile and gauntleted wrists. But I was immediately drawn to the classic styling, which included an added pop of carbon fiber knuckle protection and a rugged-looking tan leather palm.
I was also pleased with the rest of the glove's minimalist black color scheme. These gloves are well constructed with a mix of materials, giving them a high-quality look and feel.
Racer Multitop 2 Gloves Comfort
Sizing
The Racer Multitop 2 Gloves fit true to their sizing chart. Depending on the manufacturer, I wear either a large or extra-large. Because of this, I always refer to the sizing charts. Using the directions in Racer's chart, my hand measures about 9.5″, so I ordered these gloves in large. I'm happy to report that they fit perfectly.
There are no women's specific sizes for this model.
Fit and Feel
These are some of the most comfortable gloves I have ever worn. This was one of the first things I noticed. It was like someone had taken the time to break them in before delivery; they felt awesome right out of the box.
The leather is soft and not stiff at all. The fingers are also pre-curved, with accordion knuckles for better articulation.
These gloves are also elastic at the wrists to make them easier to get on and off. Finally, the polyester liner makes for a very comfortable interior feel.
Retention
The Multitop 2 Gloves use a velcro wrist closure and gauntlet closure to keep things snug. Don't worry about these babies coming loose during a ride.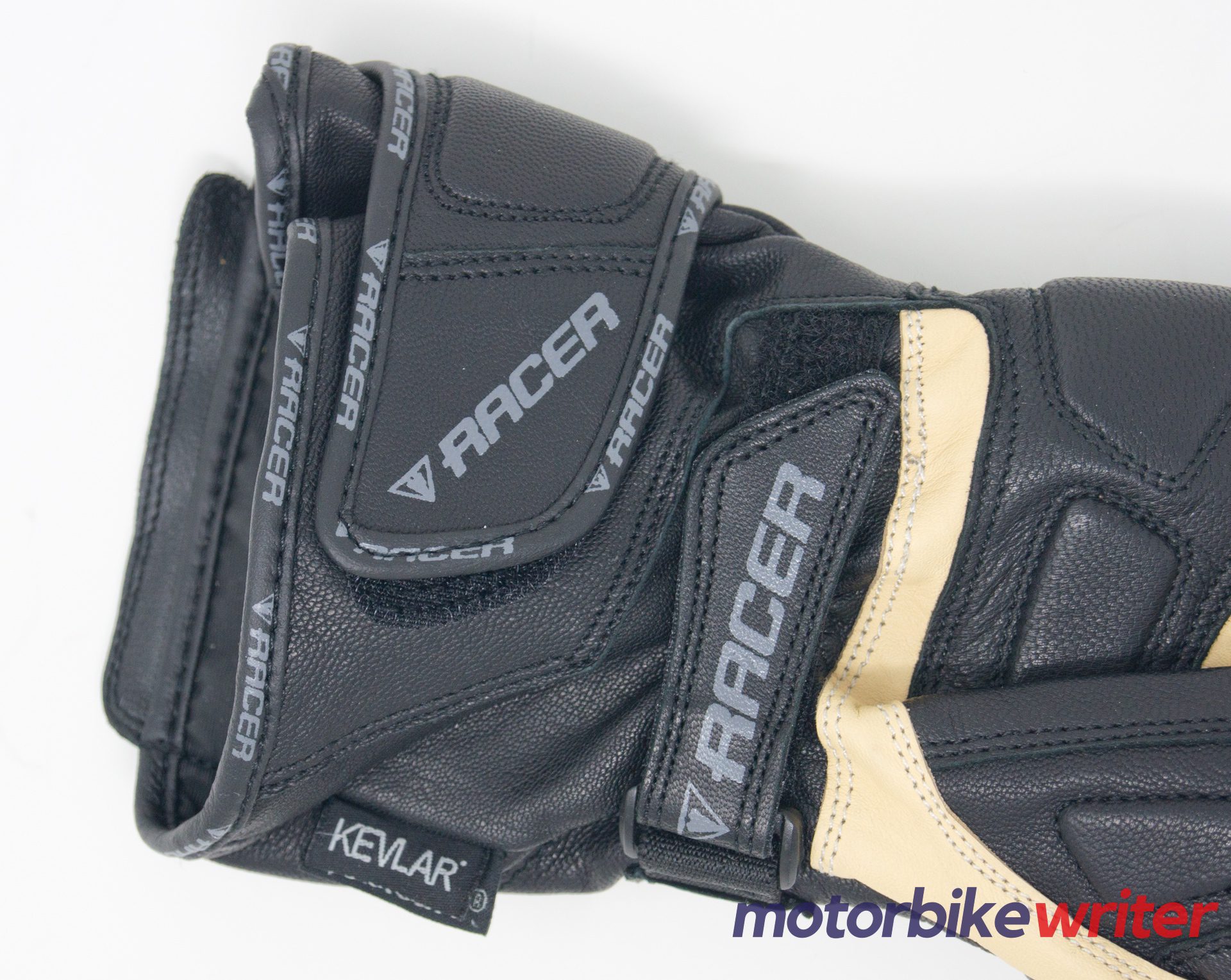 Racer Multitop 2 Gloves Build Quality
Outer Shell
Leather motorcycle gloves offer unparalleled protection in a slide, and these gloves are no exception. The outer shell is made of cowhide leather with kangaroo leather palms. The palm also has an additional layer of leather and Kevlar-lined palm padding, offering excellent abrasion resistance.
The back of each hand and gauntlet is constructed of leather with carbon fiber knuckle protection. The finger boxes are also made from leather with stretch panels at the knuckle for extra comfort.
Finally, all the protective padding and additional leather parts are double stitched. A nice touch!
Waterproofing
The Multitop 2 gloves use an unspecified waterproof membrane. As a result, the gloves offer excellent protection against wind and rain. I have used the gloves several times in rainy conditions with no leakage. However, the leather does absorb water, adding to the overall weight of the gloves.
Colorways
The Multitop 2 gloves are available in black (seen in this review) and a black/white combination. In either case, the palms are tan kangaroo leather.
Racer's branding is a subtle grey on black, which I like. This branding is on the back of the gauntlet, the wrist closures, and the piping. In addition, you can find the Racer logo on the gauntlet and index finger, and it is all surprisingly subtle.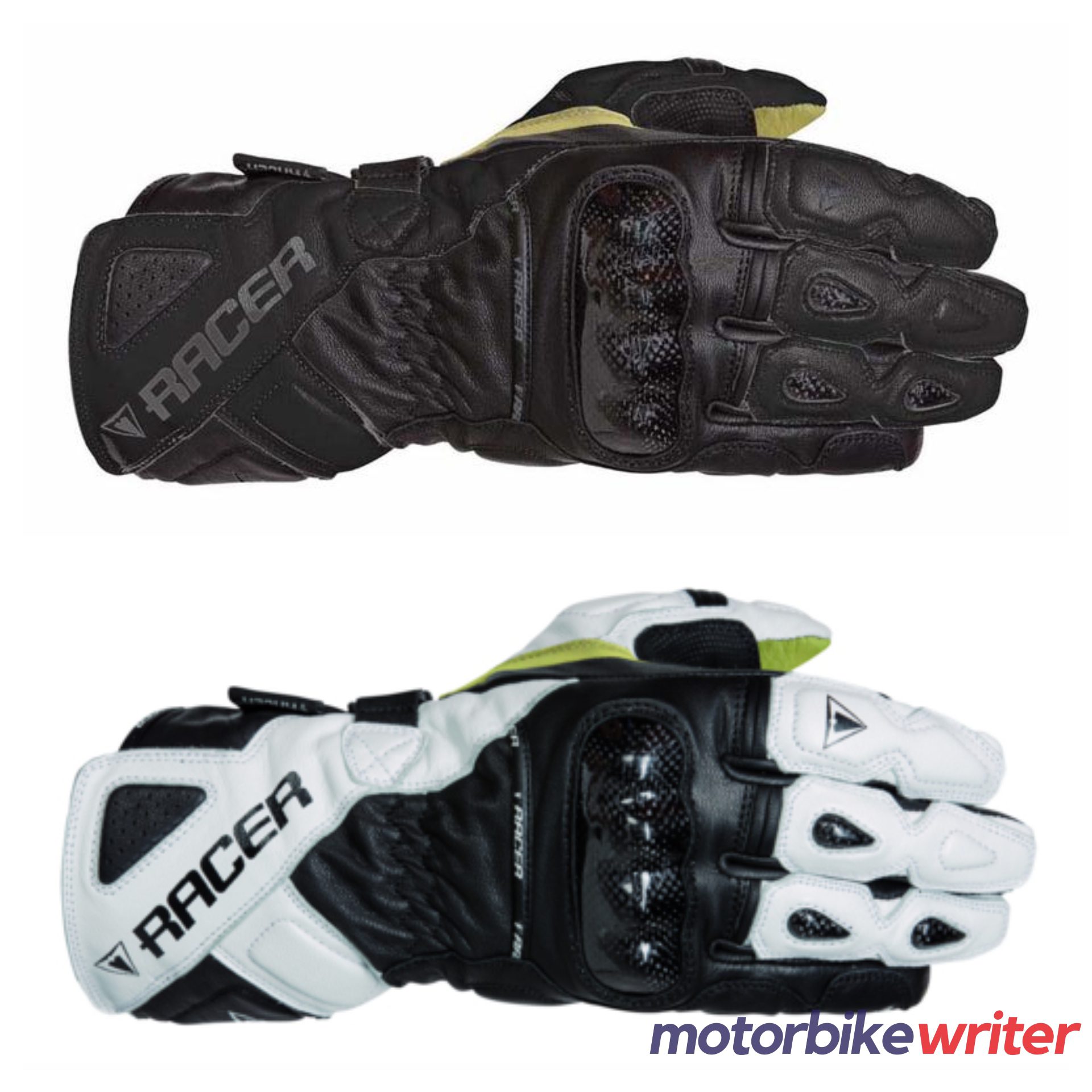 Racer Multitop 2 Gloves Protection
The Racer Multitop 2 Gloves feature multiple layers of protection:
Full leather construction with kangaroo leather palms
Palm padding with Kevlar for added skid resistance
Additional leather and padding up the outside of the palm to the end of each pinky finger
Double closure to ensure the gloves stay on
Carbon fiber knuckle and finger protection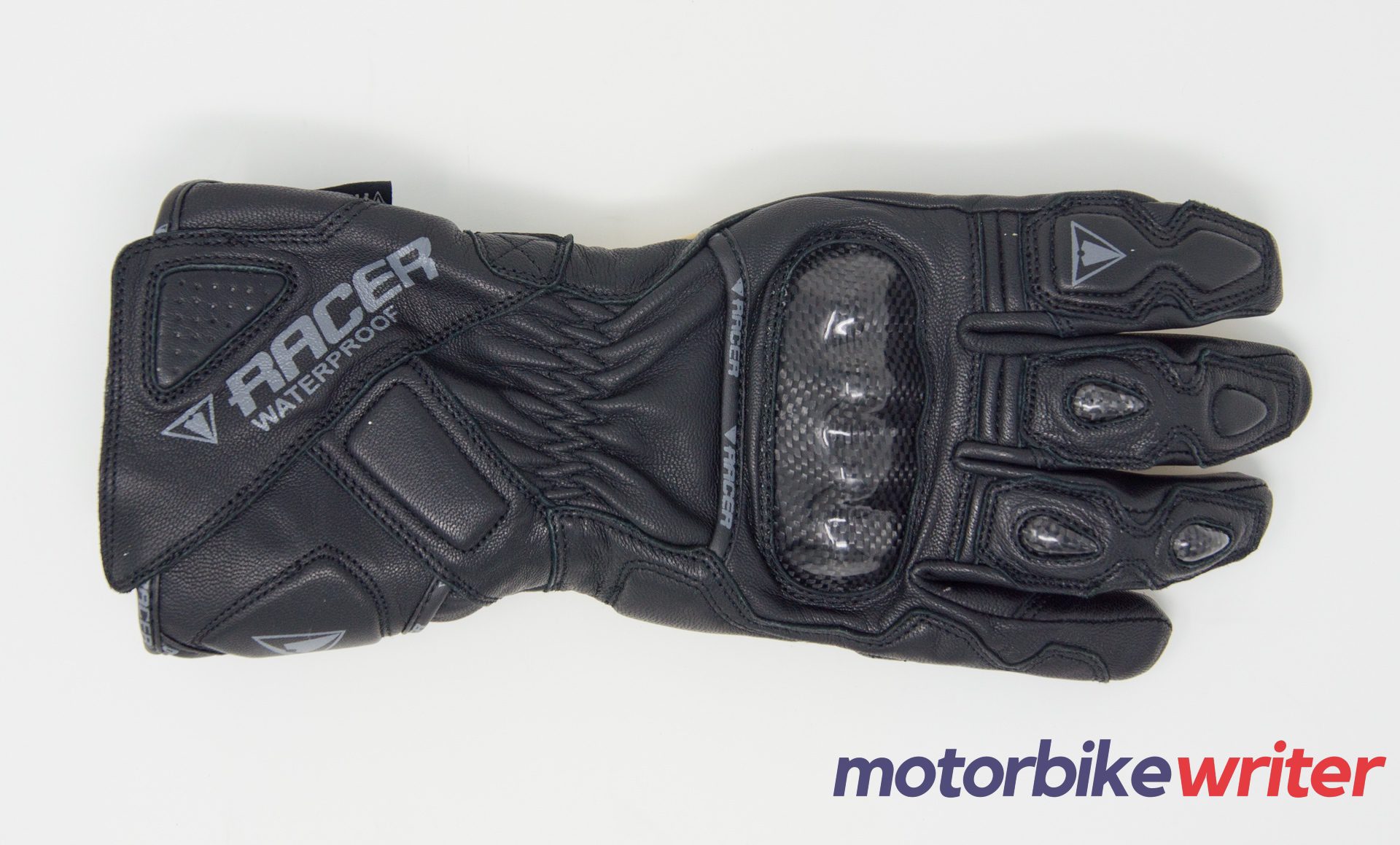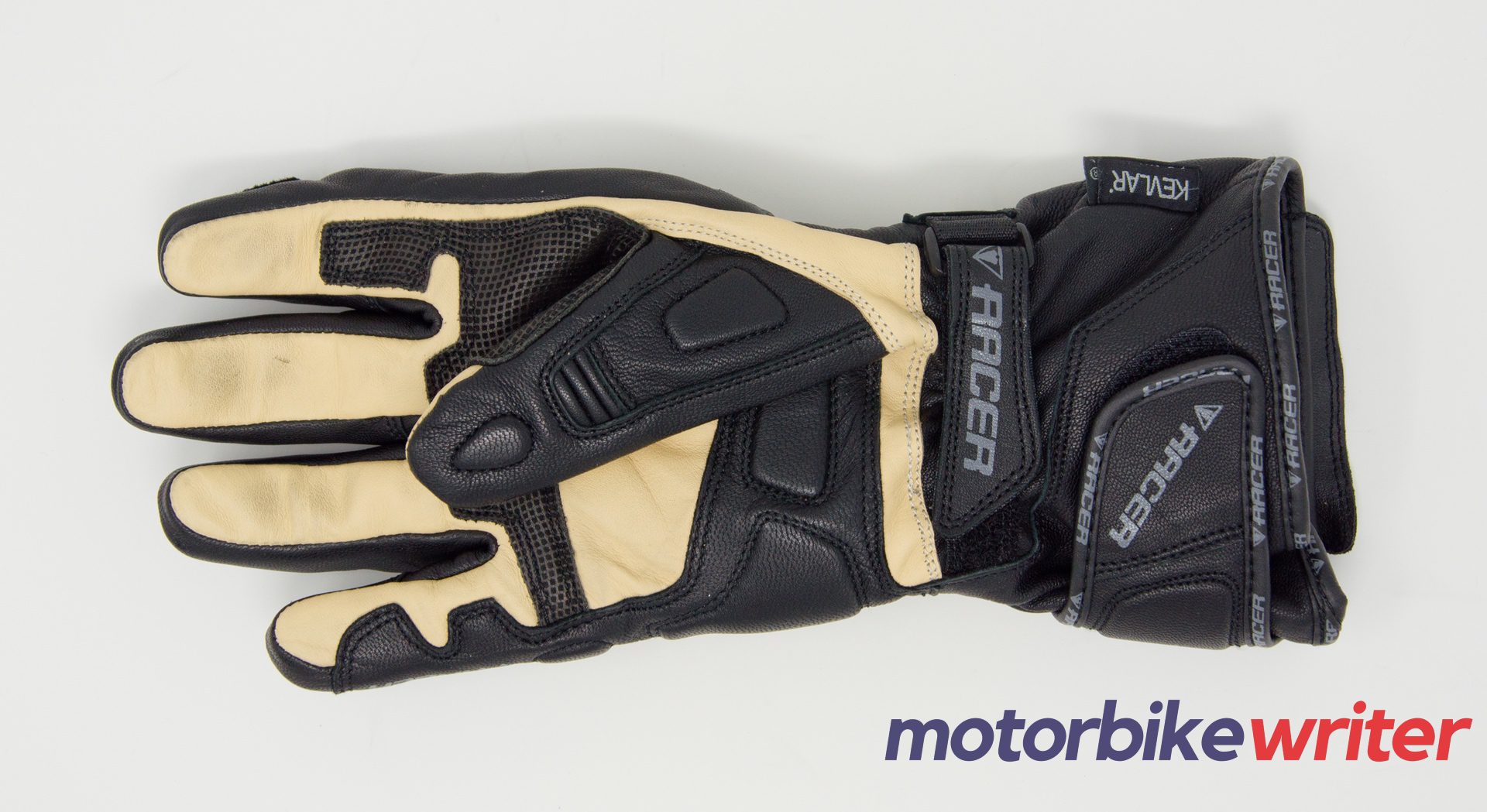 Although the gloves have a lot of protection built-in, many people feel that a hard palm slider is necessary. I believe that in this case, Racer Gloves has used Kevlar in the padding as a replacement for the slider. This addition helps improve the overall comfort and removes bulk.
Although the lower palm has additional padding, a hard skidpad would add better abrasion protection. That said, the knuckles have CE Level 1 Knuckle Protection (KP) rated armor. If you want that extra glove protection for spirited riding and track days, check out our review of the Racer Gloves High Racer Gloves as well as the High Speed gloves.
Racer Multitop 2 Gloves Value
For $150 USD, these aren't the most affordable motorcycle gloves you can buy—but they're also far from the most expensive. In fact, many high-quality motorcycle gloves cost over $250 USD, so you're getting a pretty good deal here when you consider the protection the Multitop 2's offer.
I can't see a lot of sacrifices made here when it comes to the important stuff. The Kevlar in the palms strikes me as an innovative and economical way to protect my hands in a skid, and the kangaroo leather construction feels very durable.
Most of my use was between 5 degrees Celsius (40 degrees Fahrenheit) and 30 degrees Celsius (85 degrees Fahrenheit). If the temperature stayed in the single-digit range all day, I would reach for insulated or heated gloves. But in most reasonable temperatures, the Multitop 2's met my needs—add in that waterproof liner and you've got a pair of gloves that will work well for most of your riding season.
If you're looking for a way to get great overall hand protection without breaking the bank, I'd say these gloves are a more-than-viable option.
What I'd Change About the Racer Multitop 2 Gloves
The Liner Loosens In the Heat
These gloves worked great from relatively low temperatures right up to 30 degrees Celsius. But when my hands got sweaty, the inner liner tended to shift slightly whenever I took them off. It wasn't an issue during my rides—just mildly annoying afterward.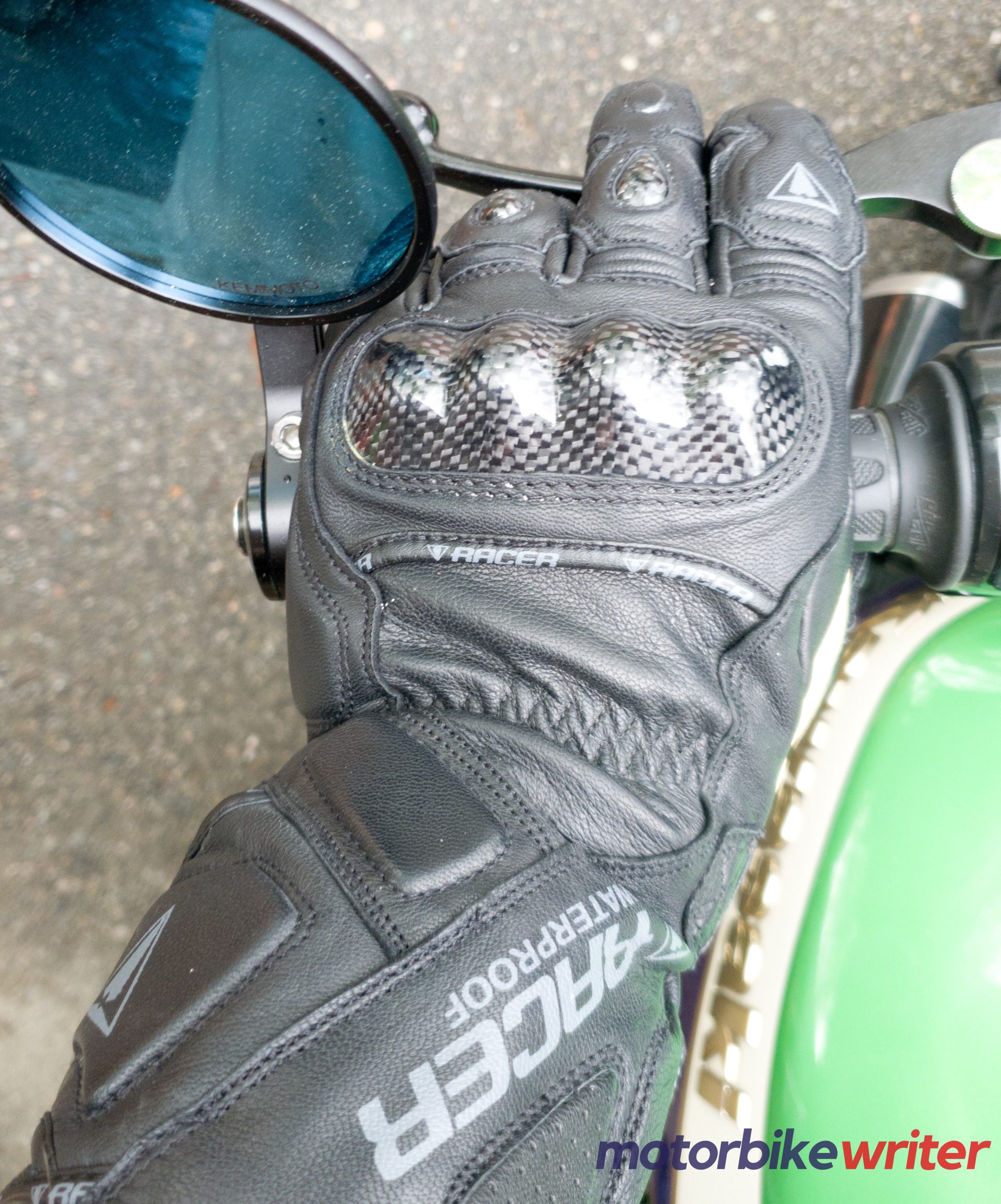 The Fingertips Aren't Touchscreen-Compatible
I often use my smartphone as a GPS for speed/speed limit and music. These gloves would work great for touring or adventure riding, so the lack of touchscreen-enabled fingertips surprised me. Touch-sensitive fingertips are now a common feature for modern motorcycle gloves. Maybe this will be available on the next version of the Multitop?
The Leather Absorbs Water
Over the season, I rode in the rain on several occasions. The rainfall included extended periods of light-to-moderate rain and a couple of short heavy downpours. The inner membrane kept the water out, but the leather did absorb a lot of water. Still, I'm not complaining about the ability of these gloves to resist water, and if you don't mind the weight it's not really an issue. At the end of the day, the Racer Gloves Multitop 2 Gloves passed the rain test easily.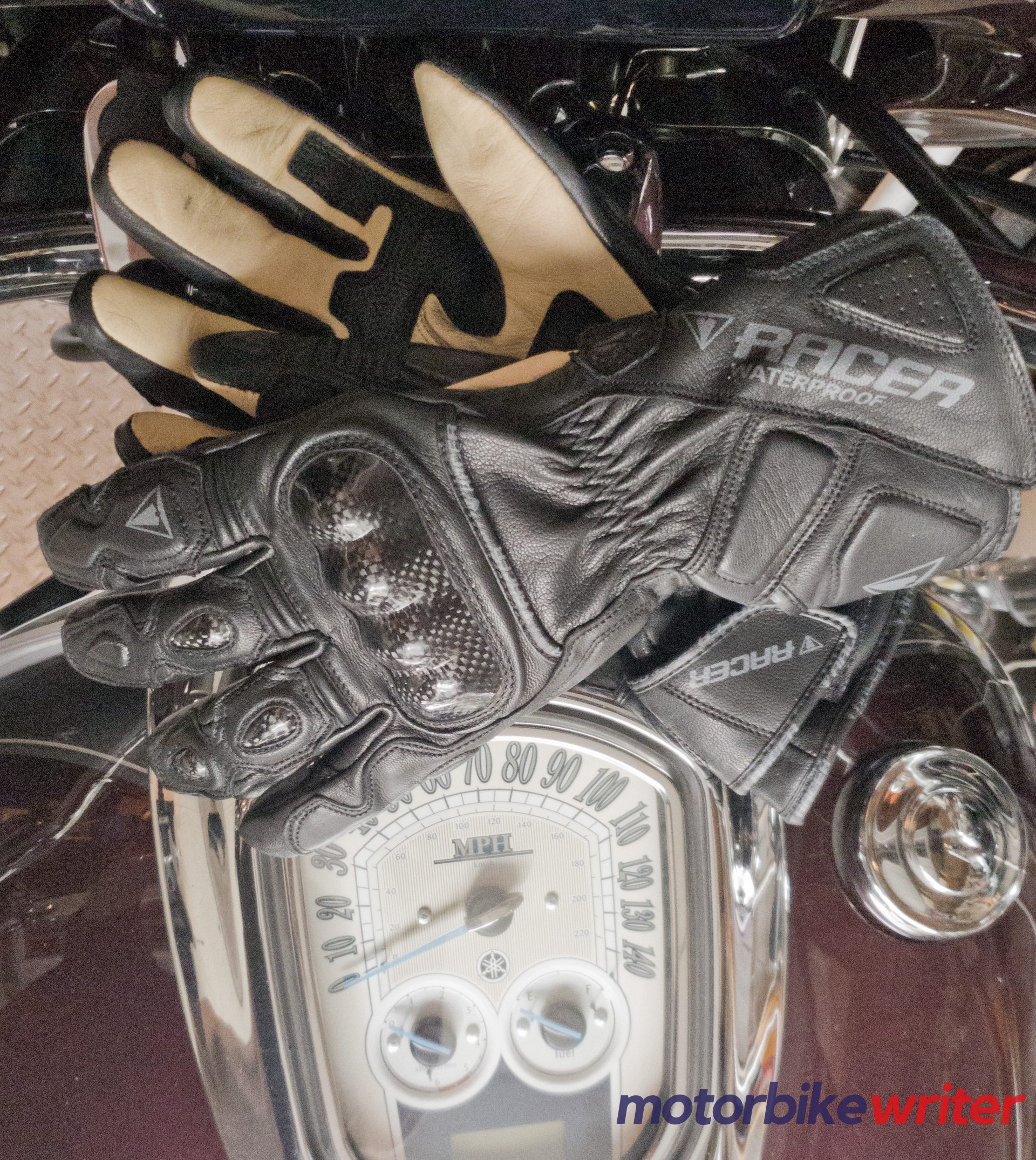 Conclusion
While I was on my bike, the gloves worked great. My hands were comfortable in all but the coldest or most sweltering conditions. I have used the gloves in various situations while riding around town, as well as on secondary and major highways. They have continued to perform very well.
The Racer Gloves Multitop 2 gloves offer outstanding styling, CE Level protection and are waterproof. But, the biggest thing for me was comfort, comfort, comfort! The Multitop 2 gloves feel great from new. If my protective gear is comfortable, I am more likely to wear it!
Pros
Full leather construction offers great all-around protection
Comfortable to wear, even on long rides
Subtle style without obnoxious branding
Effective waterproof capabilities
CE Level 1 protection offers impact resistance for knuckles
Cons
Not touchscreen-compatible
Slight inner liner movement
Leather gains weight as it absorbs water
Specifications
Manufacturer: Racer Gloves USA
Price (When Tested): $150 USD
Made In: Pakistan
Colors: Black or Black/White
Sizes: S, M, L, XL, 2XL, 3XL
Safety designations: CE1 KP EN 13594:2015
Review Date: Spring/Summer/Fall 2021
Important Links / Where to Buy
Racer Gloves Multitop 2 Gloves Image Gallery