A collection of motorcycles belonging to Giuseppe Visenzi, a former Italian Grand Prix racer and founder of Givi motorcycle accessories company, is being auctioned for charity. 
The collection of 14 motorcycles includes a c.1962 Honda 125cc CR93 racing motorcycle, estimated at $40,00-45,000AUD, the ex-Noboru 'Nobby' Ueda, Givi Racing, 1994 Honda RS125 NF4 Grand Prix racer, estimated at $20,000-27,000AUD, the ex-Katja Poensgen, 1994 Yamaha TZ125 racing bike, estimated at $14,000-20,000AUD, and the 1968 Motobi 175cc racer, estimated at $14,000-16,000AUD. 
The private collection will be sold to raise funds for the 'Fondazione della Comunità Bresciana' (The Community Foundation of Brescia), a charity that promotes social projects aimed at improving the quality of life within the local Brescia community.
It will be held at the Bonhams Stafford Sale on April 24, 2016, in Stafford, UK.
But first, you should read these top 10 tips for buying a motorcycle at auction.
Visenzi began racing motorcycles towards the end of the 1950s, entering a Laverda 100 in local races in his native Italy. In 1962 he switched to a Ducati 125 and gained his first World Championship points that year by finishing 6th at the Belgian round.
For 1963 he bought a Honda CR93 and added an Aermacchi Ala d'Oro to his stable. They were replaced in turn by a Montesa 125, a Bultaco TSS 250, and finally a brace of Yamahas. At national level his best results were 2nd place in the 125 championship (1964 and 1967) and 2nd place in the 250 and 350 championships (1970). His best year on the international stage was 1969 when he ended the season in 3rd place overall in the 350 World Championship behind Giacomo Agostini and Silvio Grassetti, having finished on the podium in Spain and Finland. He retired from racing at the end of the 1970 season.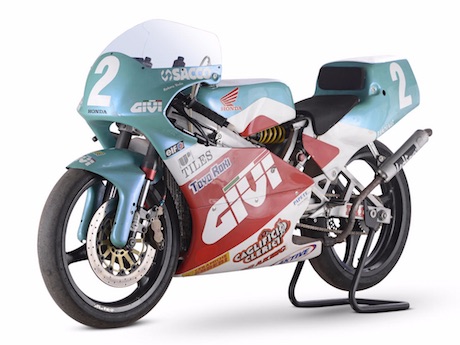 Bonhams Motorcycle Director Ben Walker Visenzi was a fantastic motorcycle racer, with a collection to match.
"He has been extremely generous in offering this wonderful selection of machines in aid of a great charity and we are delighted to have been selected to handle the sale."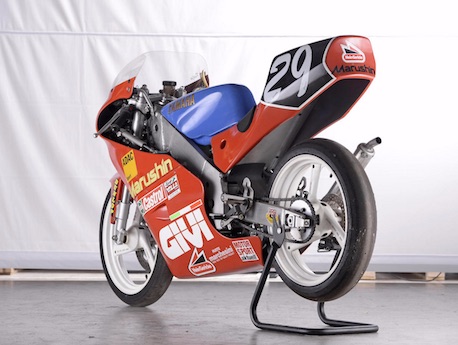 Highlights of the collection include: