If you've ever dreamed of buying your dream bike at a motorcycle auction, check out our tips to make sure you don't get caught out buying a dud or spending too much.
Auctions can be a fun experience and you can land yourself a real bargain. However, there are many pitfalls as well.
First there are many different types of auction such as salvage, estate, government, collector and default auctions. Find out what type of auction it is as that will give you an idea of the standard of motorcycle. For example, a salvage auction will feature wrecks, some of which may be restorable and re-registerable while others may be permanently written off and only of use for spares.

Motorcycles are almost always offered in the state they are presented. Some auction houses don't have time to even wash some of the items, let alone check their mechanicals. Some will let you start the vehicle, but most will not let you go for a test-ride. So you are buying a vehicle on sight-inspection only.
The best advice for beginners is to go to an auction or two with no plans to buy, only to watch and learn. Even for those who have bought at auction before, there are always things you can learn and we have sought expert advice from Bonhams, one of the leading auction houses in the world. Here are the top 10 tips from Bonhams UK vehicle boss Tim Schofield: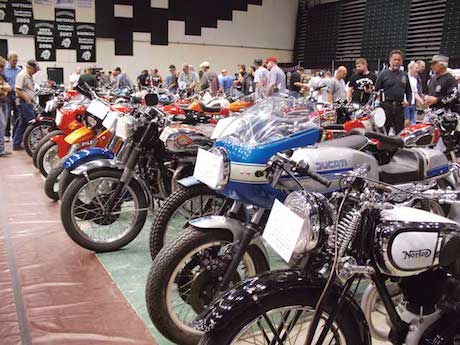 Research: Make sure you know the market. That means checking classifieds ads to get an indication of the price your target bike is selling for. Tim says that once you know what bike you are interested in, go and look at the best example you can – even if you can't afford it – and judge every other example you see against it.
Catalogue: Be sure to obtain a copy of the auction catalogue in advance, to research the lots offered and to make sure you understand the auction house's conditions of business and way of operating. Some require a substantial deposit on the spot and others may require the whole amount. You usually also have to register before the auction.
View: Always go and see the bike prior to the sale. If you are able to, turn up several days before the auction at the venue, where you may be able see and hear it run. On rare occasions, you may be able to take it for a short test ride.
Ask: Don't be afraid to ask questions. Talk to the auction house specialists in advance of the sale, and at the pre-sale viewings. Contact them by telephone or email if you cannot attend the sale in person.
Verify: Inspect the lot thoroughly before you bid, including any documentation and history file. All vehicles are offered on a 'sold as seen' basis. It is wise to bring a professional mechanic with you to fully inspect the vehicle, and it is wise to have it checked before riding it on the road. Make sure you view the saleroom notices to check that there are no updates or amendments to the information published in the auction catalogue. The auction house will offer its opinion as to the integrity of the vehicle but this is only an opinion. You should satisfy yourself as to the completeness, condition and integrity of any lot prior to bidding.
Budget: Set a limit of how much you can afford to spend. Tim says auctioneers want to achieve the highest price they can for their clients, and it can be very easy for bidders to get carried away. Remember to take into account that there will be a buyers' premium to pay on top of the hammer price, and that is may also be subject to government taxes such as GST or VAT In the UK.
Prepare: Arrange in advance the funds you will need to purchase the car. Arrange the necessary insurance and how you would transport/collect the bike as the successful bidder. Be aware that auction houses levy charges for collection and storage of lots that are not taken away by their new owners immediately after the sale.
Register: In order to bid at the auction you will need to register. Remember to bring photo ID and proof of address to the auction if you are going to bid in person. If you are not able to attend the sale you will need to arrange to leave an absentee bid, or to telephone bid.
Be aware: Auctions are frenetic places and the auctioneers work fast. Focus your attention on what is happening and don't wave at friends while the sale is in progress – it could be expensive.
Be sure: You cannot change your mind after you have purchased a lot. There is no 'cooling-off' period. Once the auctioneer drops the hammer, a contract is made.