Quad Lock is one of the latest devices to mount your phone to your motorcycle to use for GPS navigation, communication and music while you ride.
It has a simple and effective method of securely locking the phone into place, but also quick and easy removal when you stop.
The Quad Lock is available for motorcycles, scooters, cars, bicycles and runners.
The motorcycle fitting kit costs $US69.95 (about $A88), the case for your phone is $29.95 ($A38) and the optional waterproof "poncho" is $24.95 ($31). Postage is extra.
They have cases to fit most iOS and Android phones.
The motorcycle kit comes in two types, one which fits to the handlebars and another that fits to the smaller mirror stem.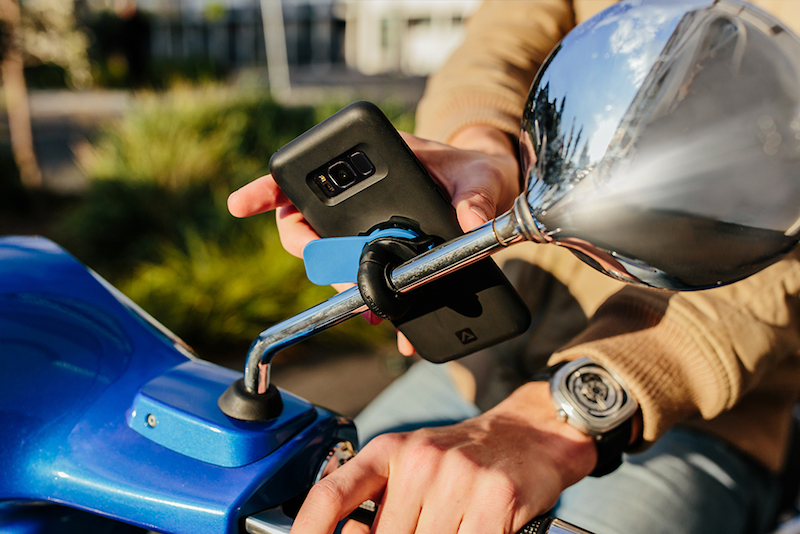 Quad Lock road-tested
Quad Lock sent us one of each to try on our bikes, together with an iPhone 7+ case and poncho.
However, the poncho isn't really needed as the iPhone 7 is waterproof.
They are very easy to fit with just a few allen bolts and they are very secure with the screws tightened.
To remove the phone you are supposed to push the blue tab and rotate anti-clockwise, but we found that if we just used a firm hand, you could easily remove it.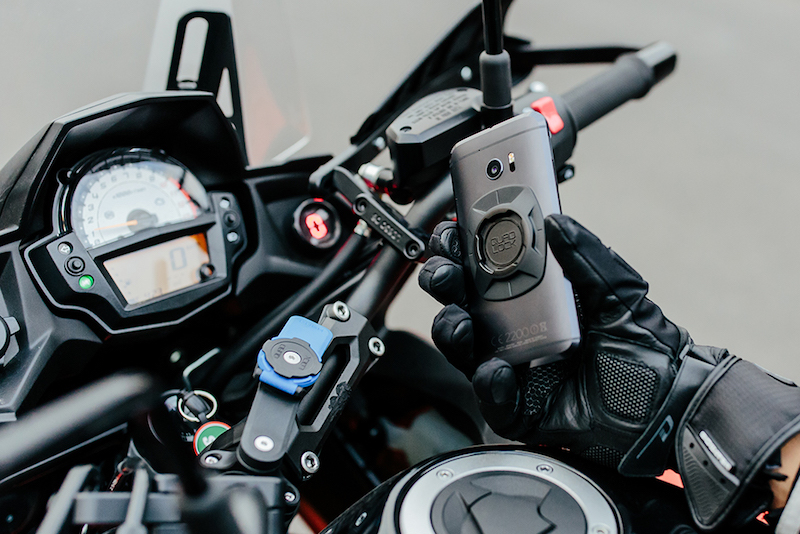 That makes it useful if you are riding along and see something worthy of a photo – no fumbling in your jacket for your phone, just grab it and take the shot, then re-attach it. (Obviously, stop first!)
Their patented ratchet locking system is easy to use and you can orient the phone in portrait or landscape mode. You can also switch from one to the other on the move in a second.
Although it is very secure, it does vibrate a fair amount which made it impossible to use the camera or video function on the move.
The mirror fitting is especially useful for scooters which often have conventional handlebars. It also puts the phone up nice and high so you don't have to divert your eyes far from the road ahead to see the screen.
There is also an extension arm that you can fit to raise the phone up even higher in your field of vision.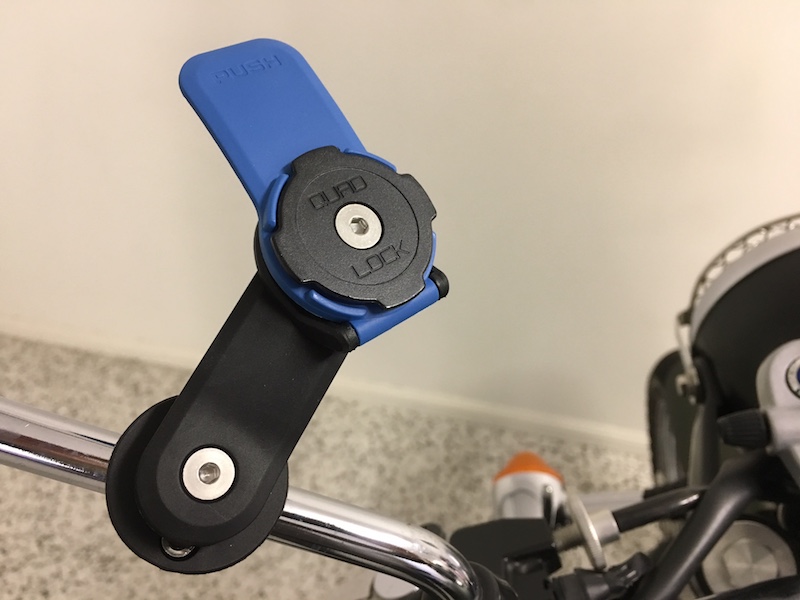 It is handy to have the phone in front of you for navigational purposes and being able to rotate it to a wide or vertical orientation is very useful.
However, if you just use your phone for calls and music, most Bluetooth devices allow you to operate the controls without touching your phone.
We also found it distracting when text messages flashed up on our phone while riding. There was a real temptation to read them!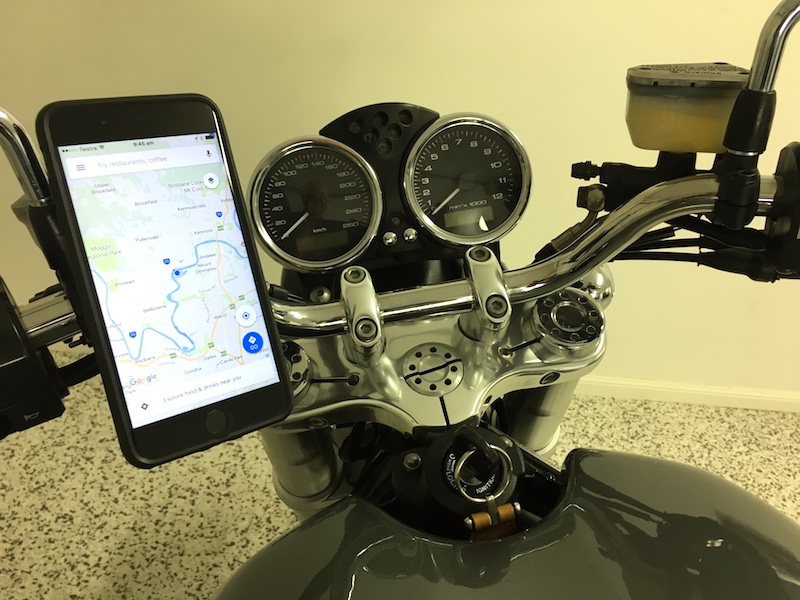 Riders often criticise car drivers for texting while driving, so we strongly advise against using it for texts unless you are stopped.
Aussie riders may also find that it is illegal to even touch the phone while riding, although the laws are a bit vague, says Australian Motorcycle Council representative Guy Stanford.
If you want to access any of the touchscreen facilities, you would need to have special gloves with touch-sensitive finger pads.