Someone sent me a picture of a pumpkin head helmet and I just couldn't help myself…
Pumpkin Motorcycle Helmets
Not for your everyday riding, carving up your little daughters Halloween pumpkin into a helmet that you can wear on your chubby face is something that we all must do once (once a year for some of us).
Here they are, in all the glory that is Pumpkin!

That is one proud dad if I ever saw one. The kid in the middle? Those college party pictures last a lifetime.
While a real pumpkin is cool, painting a real helmet to look like a pumpkin – now that is even cooler!

Is that bike on the left painted to look like a pumpkin? Yes – yes it is. While these might seem cool, you have not seen anything until you have checked out the coolest motorcycle helmets of 2014. There are a couple in there that will make you re-think your boring old black helmet. Go ahead and make it custom and make it yours.
Don't like pumpkins? Maybe a custom Skull Helmet is more your speed.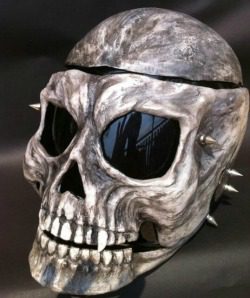 Just think of all the accessories that can go on that skull of yours (and that helmet). If you feel the urge to send me some more pics of your own pumpkin helmet (or skull helmet), please do.
Happy Halloween!