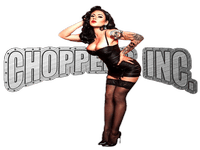 Billy Lane's "Psycho-Billy Cadillac" This is Billy's first ever Hubless chopper and the one that propelled him to the spotlight of the motorcycle media world. This bike was built approximately 2000. Notice that the bracketry on this bike is bigger and clumsier looking than on his more recent iterations.
Built In: U.S.A. Bike Style: Chopper
Image Gallery
---
Psycho-Billy Cadillac Bike Specifications – Choppers Inc.