All new bikes should come with headlight protectors as modern Xenon and LED headlights can be very expensive to replace, some more than $2000!
It only takes one errant rock to drain your hip pocket.
And don't be fooled into thinking it is only adventure bikes that are susceptible to copping a rock in the lamp. In fact, the two times I've broken a headlight have been on tar roads on a road bike.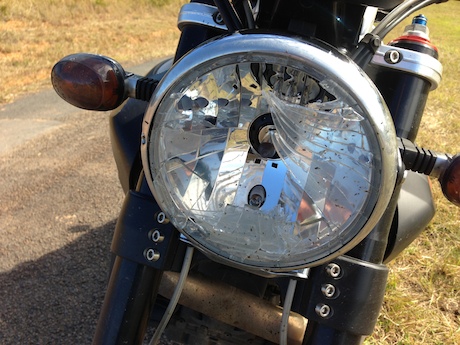 Most motorcycle companies don't fit them as standard because they know they can charge a small fortune for their factory protectors, even though they are just a simple piece of clear and hard plastic.
That's why there are many aftermarket companies supplying cheaper options that are by no means less protective. One is Australian Motorcycle Headlight Protectors, now situated in East Gosford on the Central Coast of NSW.
They are quality headlight protectors made from 3mm high-grade acrylic and they attach via a velcro fitting. An example of cost is $53, plus postage, for my 2010 Triumph Bonneville T100.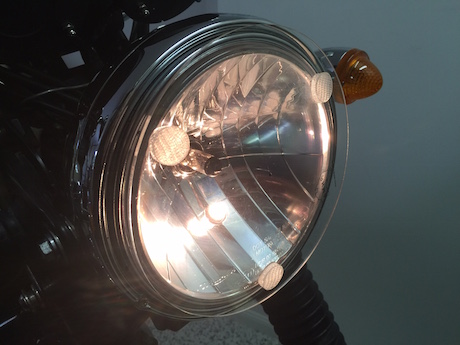 I ordered a seven-inch protector for my six-inch light to cover just outside the glass to ensure a stone doesn't chip the edge which could lead to an eventual crack right across the light.
They have headlight protectors and fittings for almost every manufacturer: Aprilia, Arqin, Benelli, Bimota, BMW, Buell, Cagiva, Ducati, Gilera, Harley Davidson, Honda, Husaberg, Husqvarna, Hyosung, Kawasaki, KTM, Laverda, Moto Guzzi, Moto Morini, MV Augusta, Porsche, Sachs, Suzuki, Triumph, Victory and Yamaha.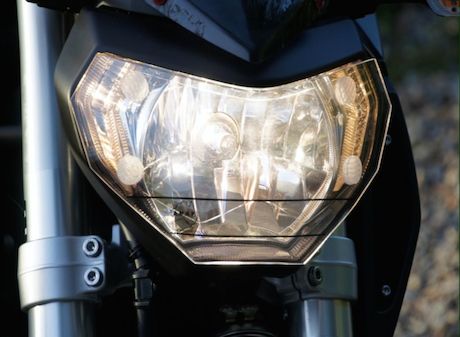 They keep adding protectors for the new models, too. They also have universal headlight protectors to fit older and less common models.
AMHP now stocks tinted headlight protectors in amber, red, green, dark smoky tint, smoky tint, dark blue and blue. You can pick the colour from their website, although there are some new colours – yellow transparent, black matte or shiny, and white matte or shiny.
AMHP points out that these are not for road use and may not be permitted in your jurisdiction, so check first before fitting.
Speaking of which, fitting is a simple and quick process using clear velcro dots so you can easily remove the cover for cleaning.
If you have any technical difficulties with ordering online, you contact them by email.