Progressive 412 Series Shocks Review Summary
Review Summary
Calling all Sportster riders; If you're tired of being left battered and bruised from your OEM suspension, it's time to upgrade to Progressive's 412 series. Progressive Suspension is dominating the suspension market and for good reason. Their 412 Series shocks offer a huge improvement over OEM setups and at a very attractive price point. Installation is fast & easy and can be done with minimal experience/tools required. The 412s are available in black or chrome, as well as standard & heavy-duty ratings.
Pros
An immense improvement over OEM shocks
5 Position Cam-Style preload adjuster
Available in standard and heavy-duty weight ratings
An extremely comfortable ride with added performance benefits
Held up to over 400 lbs combined weight
Black or Chrome finish to match your ride
Cons
Instructions don't provide meaningful install information
Raising/lowering ride height may require a new kickstand
Progressive 412 Series Shocks Image Gallery
Upgrade Your Ride With Progressive's 412 Series Shock
Anybody with a Sportster will know that the rear suspension is god awful. Not only is it harsh and unforgiving on bumps, but it makes the bike feel reluctant to maneuver and is all around a poor riding experience.
As one would, I took to the internet to research alternative suspension to the horrid stock setup and came across the Progressive 412 series. Plastered all over the web in forums and chat rooms are users raving about increased ride comfort from these shocks. To be honest, I had to do a deep dive just to find users talking about a different product.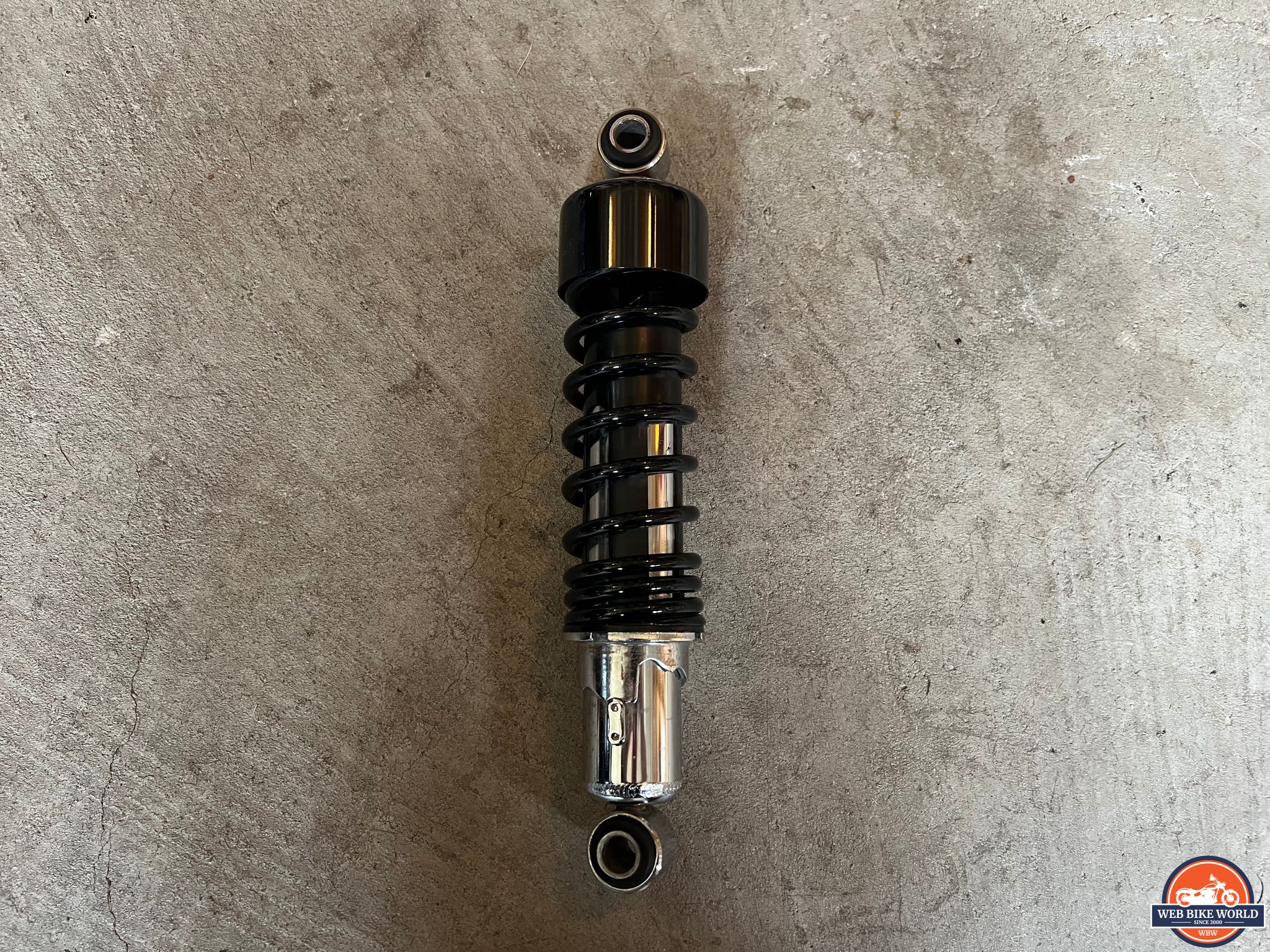 Needless to say, with so many users preaching about the 412s I had to get my hands on some to give them an honest review. Our friends over at RevZilla hooked me up, and I was soon off to the races (and by that, I mean driving the speed limit in the crowded streets of the GTA, Ontario).
Progressive 412 Series Rear Shocks
The 412 Series shocks are Progressive's entry-level rear suspension solution. They are a simple, yet durable design that is meant to last. They come outfitted with a five-position cam-style preload adjuster to customize your sag based on your weight.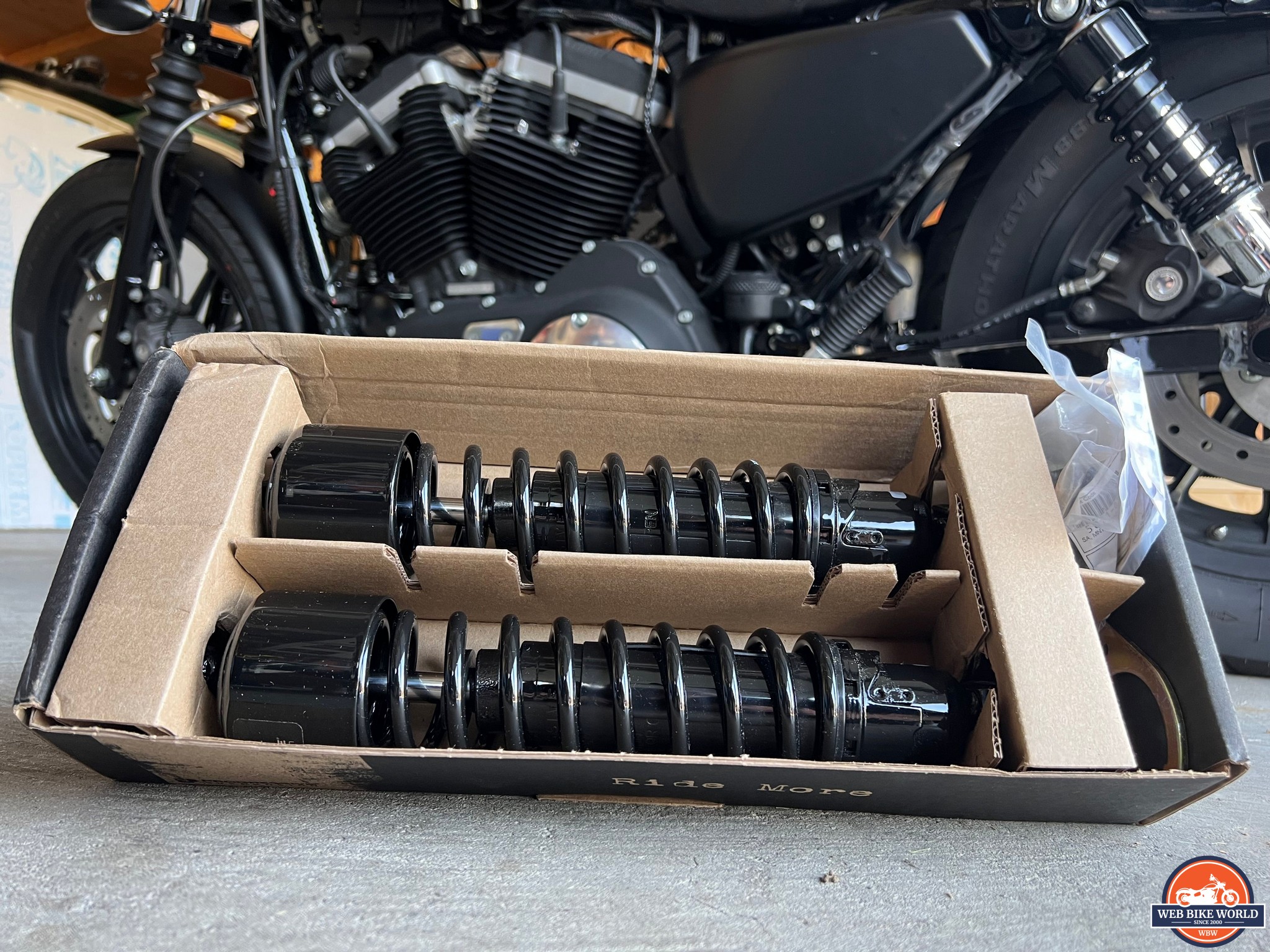 The shocks are made out of a double-wall steel body with nitrogen-charged, multi-staged velocity-sensitive valving that gives you smooth, consistent damping. If you're like me and don't know what that means, it means they feel great – or at least should feel great.
The 412 Series is available in either a standard or heavy-duty rating. They are available in full-show chrome or with black covers. I opted for the black as it matches my bike and they look fantastic.
Quality
There is nothing worse than buying new parts for your bike and being left disappointed the moment they arrive.
You know the feeling I'm talking about.
You eagerly open the package and begin unboxing your purchase only to be struck with an overwhelming feeling of how cheap they feel.
Rest assured, that wasn't the case with the Progressive 412s. In your hand, the suspension feels strong and of high-quality. The paint was free of any defects and the installation hardware looked sound.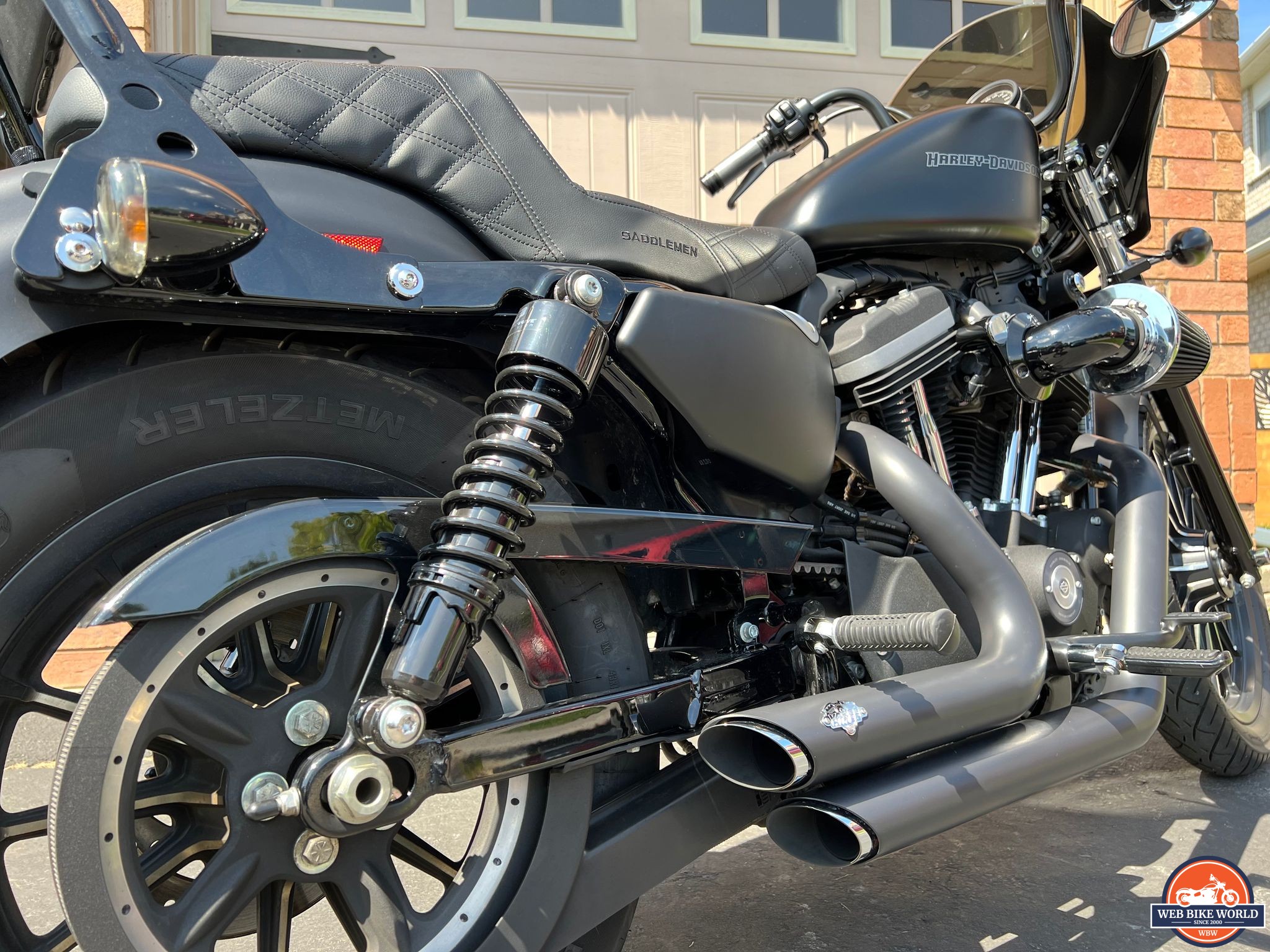 On the bike, the suspension looks great. I was amazed at how big of a difference the all-black look made compared to the half-black half-chrome look of the OEM shock. Overall, Progressive delivered in terms of quality and I was excited to hit the road.
I've put in a fair amount of miles over the last 2 months as I tested out my new 412s. I'm happy to report that over the course of the review, I did not experience a drop in performance. The suspension continued to dampen the same as it did on day 1.
Of course, 2 months is not a long stretch of time by any means. Should I notice any change to the 412s performance I will be sure to edit this review with my findings. Until then, it's safe to say that the Progressive 412s have held their own.
Build Design & Quality Rating: 90%
There is a reason that so many users and reviewers are preaching about the Progressive 412s. It's simple – they are the best value shock on the market. They are made out of high-quality, durable materials that are meant to last. Performance has not dropped over the course of my review. Each user's experience will be unique to how they ride, and the 412s have been designed to withstand it all.
On the bike, the suspension looks fantastic. It perfectly compliments the blacked-out look of my Iron 883. The only flaw I saw, which was minor at best, was a small amount of paint that was beginning to flake as I managed the pre-load. This was to be expected as the weight of the bike was resting on the suspension while I adjusted it.
Installation and Fitment
If you've read some of my previous parts reviews, you'll know that I'm somewhat mechanically challenged. While I'm not completely useless, I tend to turn easy projects into all-day events for one reason or another. However, even with that in mind, the installation of the 412 series shocks was quick and painless.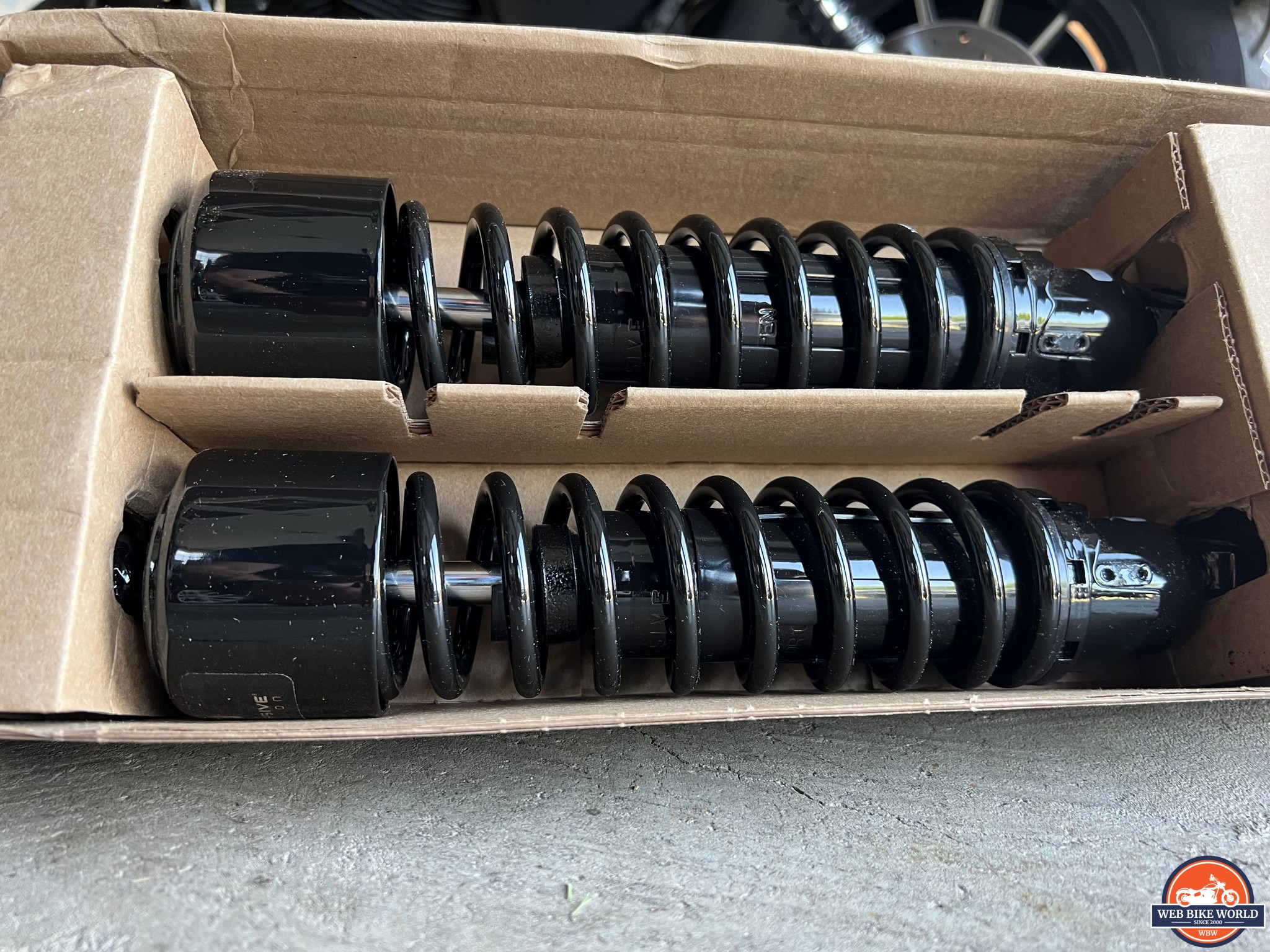 Fast and Simple Installation
On my Iron 883, installation of the Progressive 412s took 20 minutes – or at least it would've if I had the right tools ready to go.
Installing it was as easy as lifting the bike on a stand, securing it with a strap, removing 4 bolts to take off the existing suspension, and then using the same hardware to install the new shocks. Finally, lower the bike so that the springs are under load and torque to spec.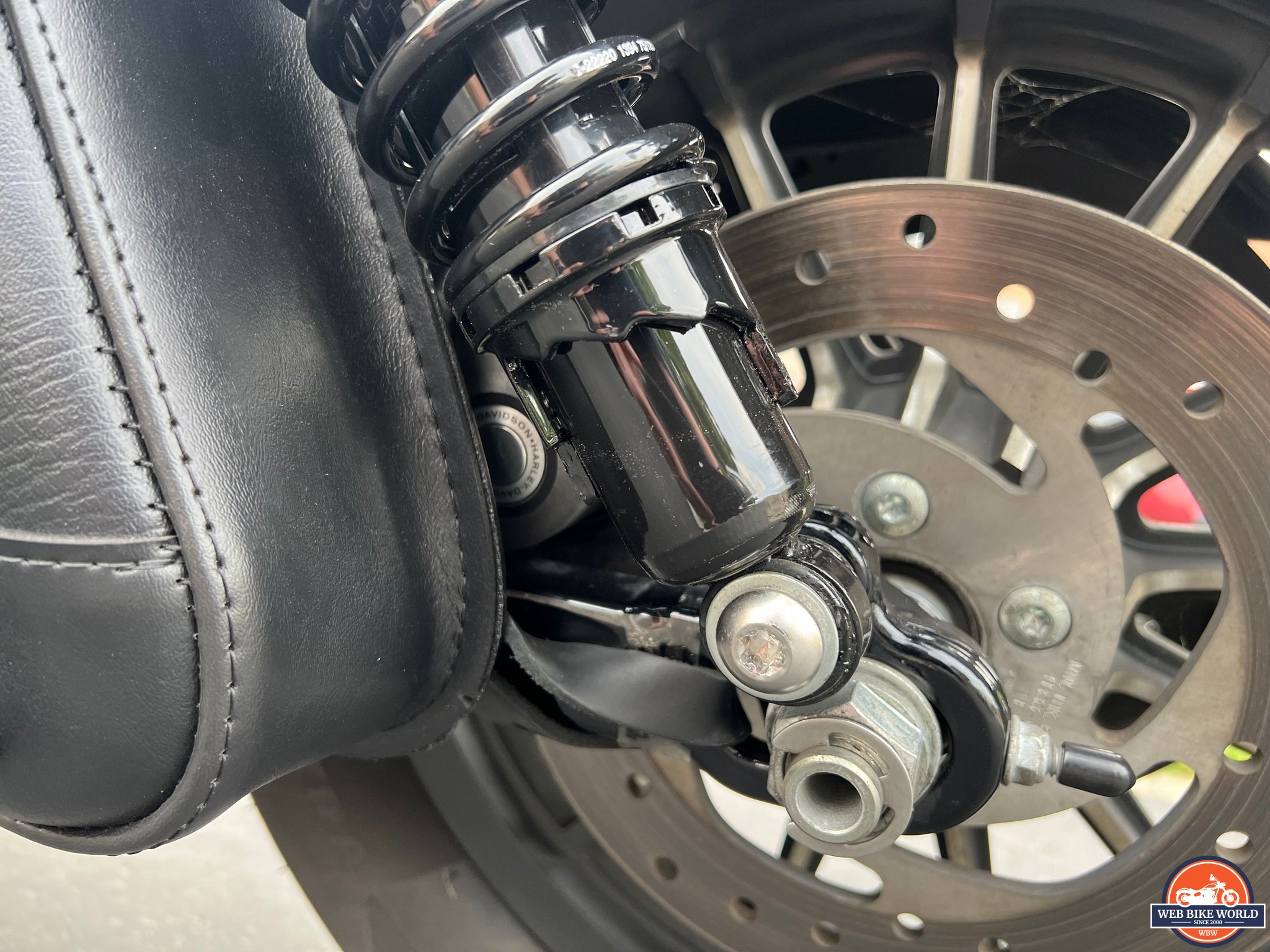 Included in your purchase are spacers & sleeves that are going to be unique to each model of bike. Be sure to read the included instructions for the correct combination to use.
Once installed, sit on the bike and measure the length of the suspension from eyelet to eyelet. Take that measurement and reference the correct length as indicated by the included spreadsheet in the box. If you're under, increase the preload. If you're over, decrease the preload. This ensures optimal ride performance and comfort.
Fitment
Before ordering, it's important to do a bit of research on your OEM set-up. Specifically, you want to determine the length of your stock shocks. For me, my 2011 Iron 883 came out of the factory with 11" shocks.
Since I already knew I was going with the standards, even though I occasionally ride two-up, I opted for a longer shock. I went with the 13" 412 Series to bring up my ride height which in turn gave the shock more distance before bottoming out.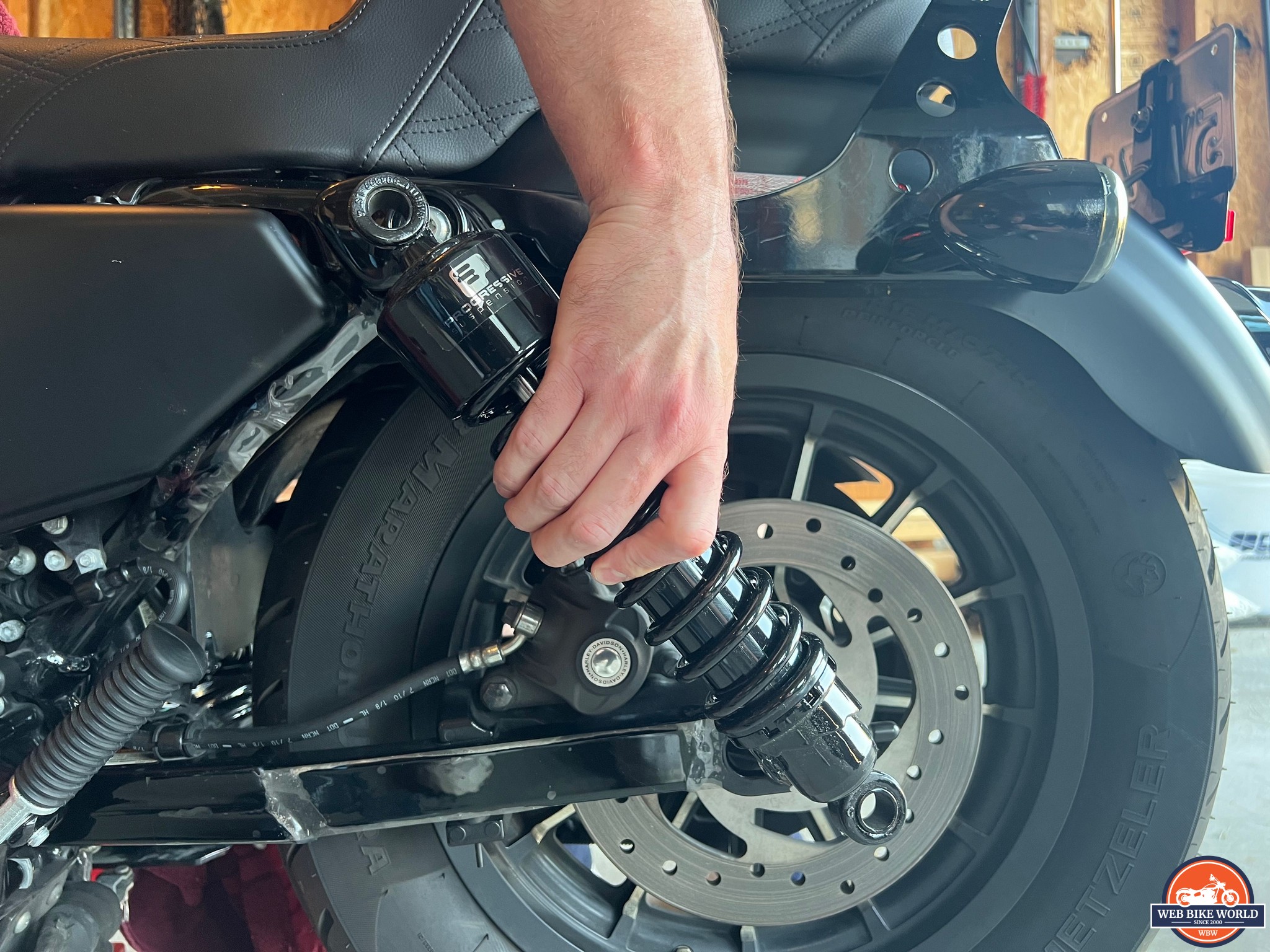 For those who want to lower their ride height, the reverse is available. One thing to always keep in mind is tire to fender clearance. Be sure to do your due diligence before ordering and ensure the size you're considering will fit.
Installation and Fitment Rating – 85%
As mentioned, the installation of the Progressive 412s was quick and painless. If I had all of my tools lined up and ready to go, I think I could've cut the installation time in half. The 13" length gave my bike a bit of ride height without any issues in terms of fitment.
For areas of improvement, I'd like to see Progressive include comprehensive instructions. The instructions included in my purchase were basic and didn't offer much help at all. If I hadn't done my research beforehand and watched how-to videos online, I would've been left clueless based on what they provide.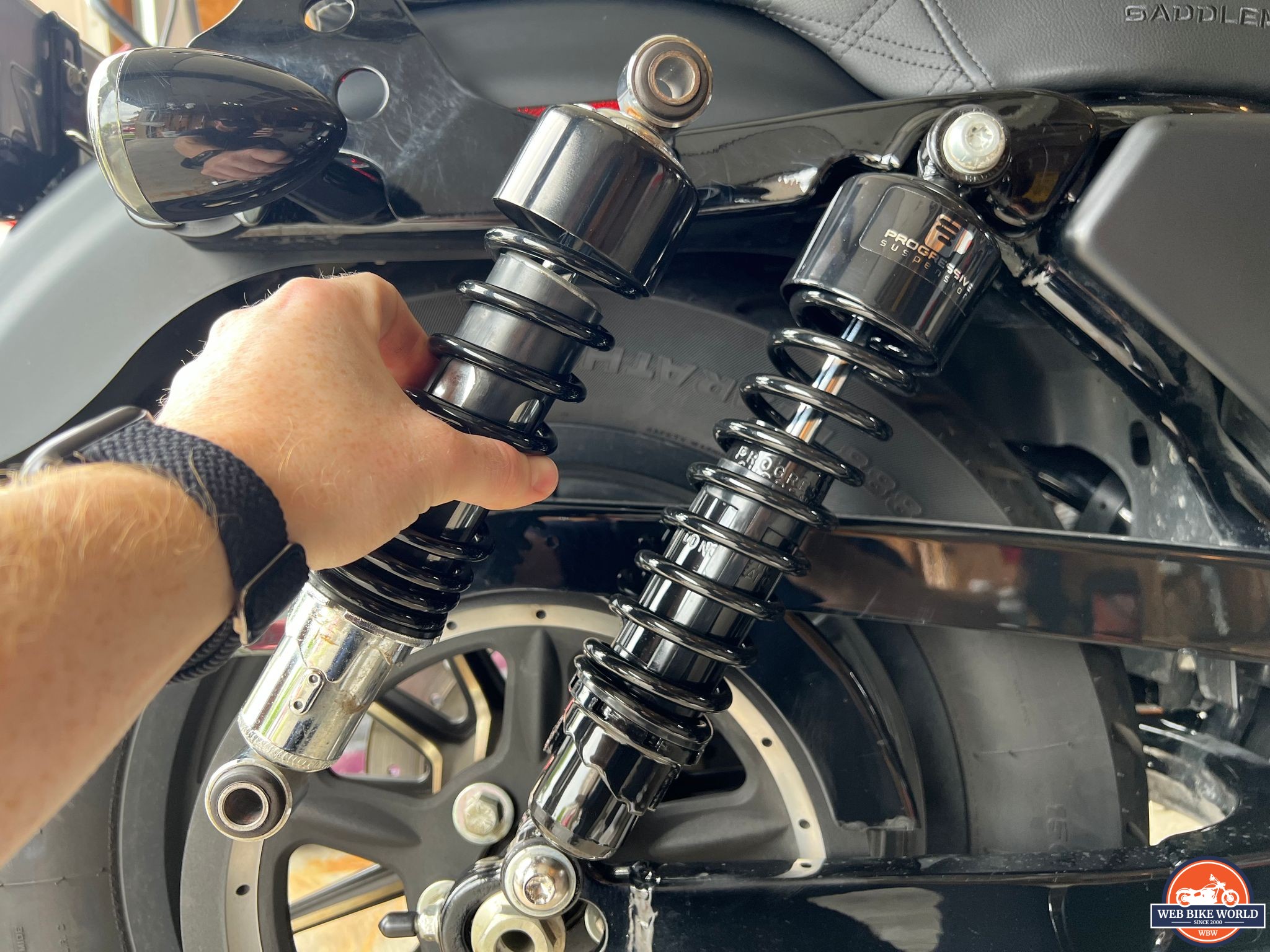 Wrenching on bikes isn't everybody's forte. If you're looking for an upgrade, but not looking to get down and dirty, we've got a list of the Best Cruisers under $15,000 that are sure to enhance your riding experience.
Ride Quality
Finally, the part you've all been waiting for. You didn't come to this article to listen to me ramble on about installation & sizing. You came here with one simple question in mind; Does the 412 Series improve your ride?
The short answer is yes!
I've tested these shocks with and without a passenger. Under both circumstances have I been left amazed with how much these shocks have changed the quality of my ride.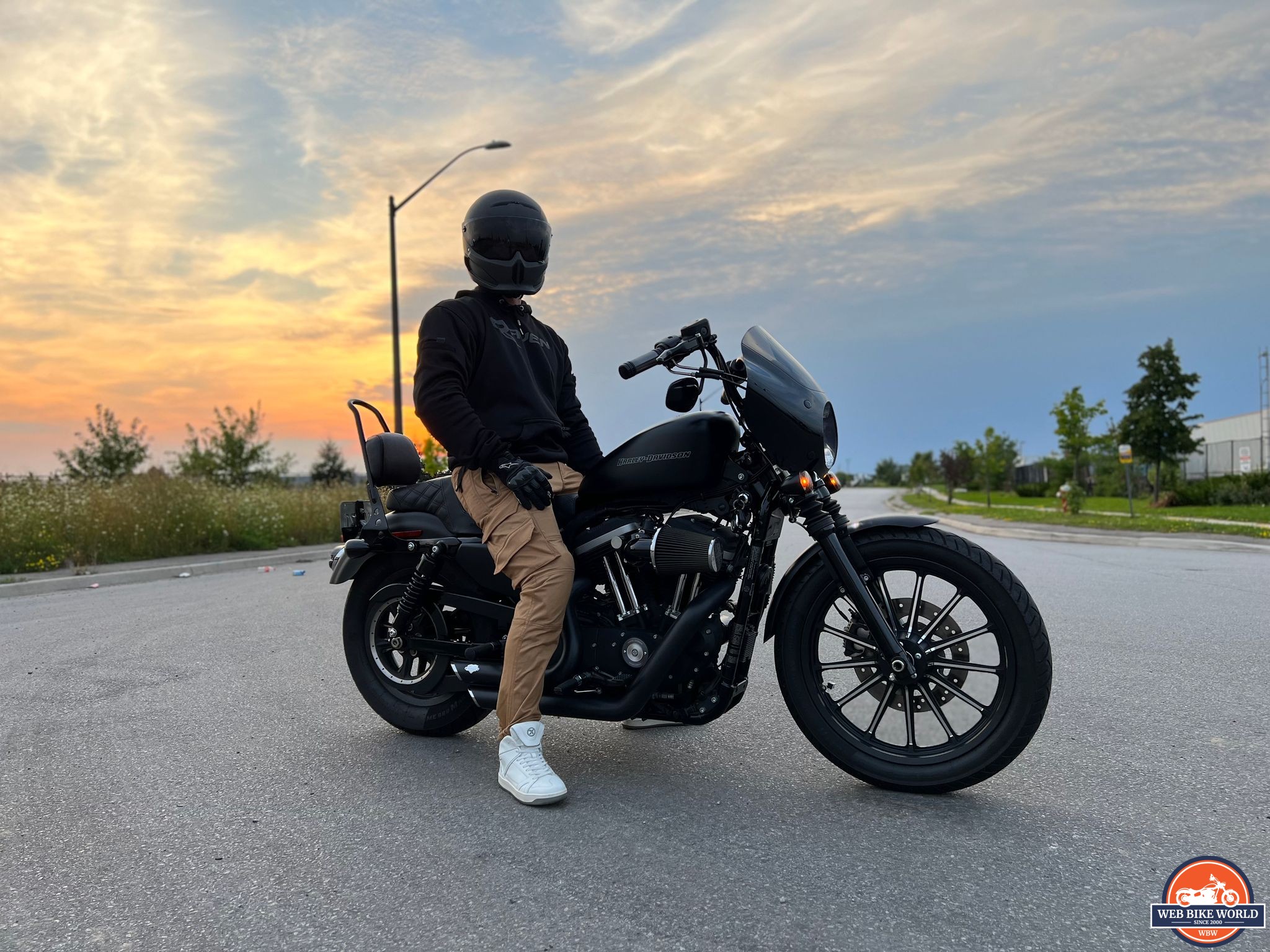 Riding Solo
As a relatively new rider, I only have experience with my 2011 Iron 883. To me, feeling every little bump in the road was all part of the joys of riding a bike. Earlier in the year, I upgraded my seat to a Saddlemen in hopes of a more comfortable ride. While it helped, it wasn't a perfect fix.
Enter the Progressive 412 series shocks. The difference between OEM and the 412's is night and day. Hell, it's more than that – The difference is almost indescribable.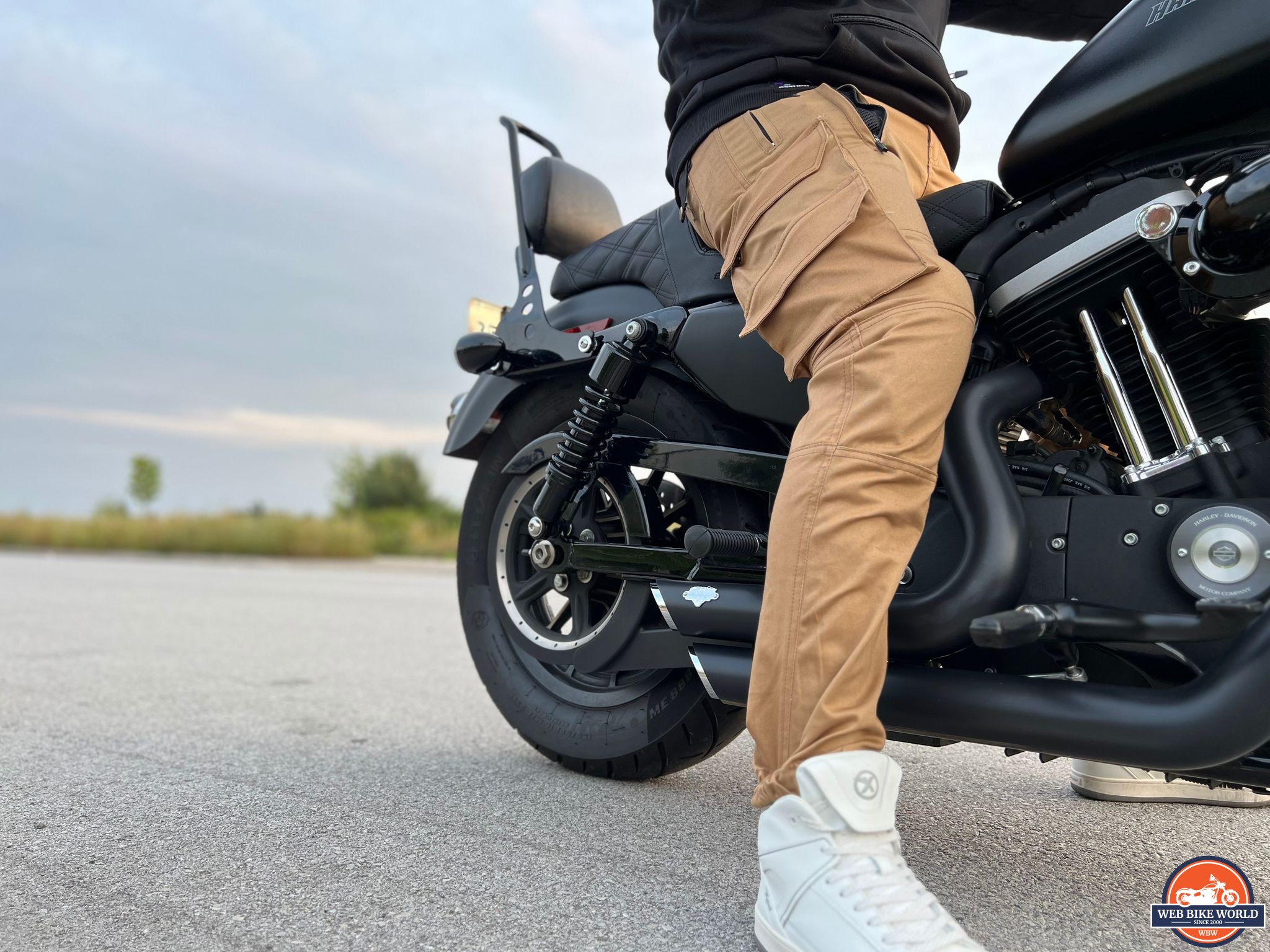 Bumps that used to buck my ass up and off the seat now feel like a gentle dip. Turning into parking lots is now smooth and seamless as the suspension seemingly absorbs all impact from the asphalt to concrete curb transition.
Regardless of the preload setting, I almost always experienced bottoming out with the stock suspension. It felt as though the rear shocks had less than a ½" of travel before sending all the force into my tailbone. With the 412's, I ride solo on the second-lowest preload and am yet to bottom out.
Aside from the smooth ride, I find my bike feels more playful. The bike feels better in turns which has boosted my confidence as a rider. I feel as though I have more control over it and could make emergency maneuvers much easier, and safer, at high speeds.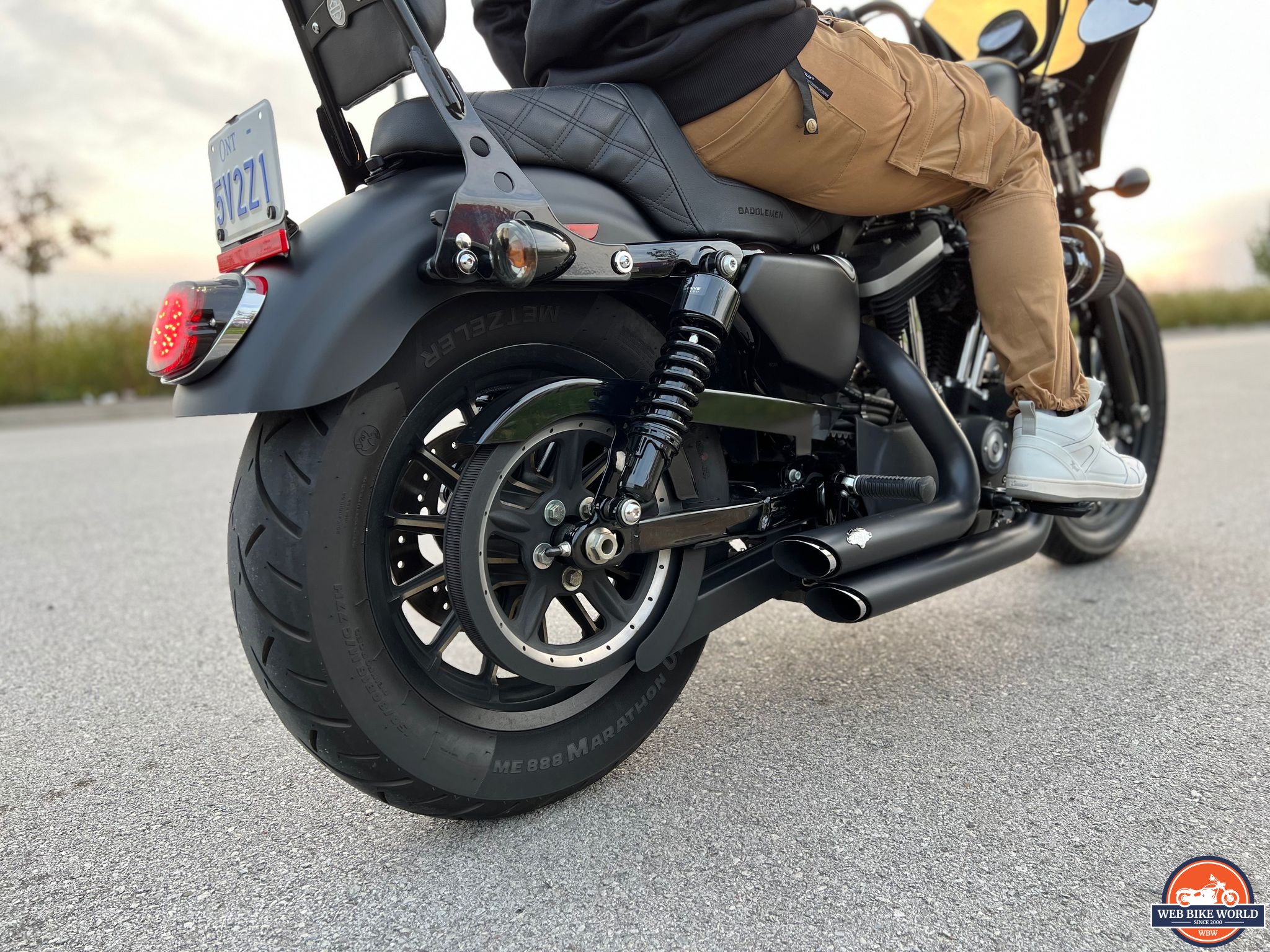 Riding With a Passenger
If you continue reading on, you'll soon find out that the 412 series suspension I purchased wasn't designed for loads over 250 lbs. Even still, the shocks held up extremely well.
On my stock set-up at the highest preload setting my suspension would bottom out at even the thought of a bump. It was harsh, uncomfortable, and at points had Ashley, my pillion princess, airborne.
With the 412's, Ashley has a newfound love for the bike. Bumps and jolts are dramatically reduced and the overall experience is far more enjoyable.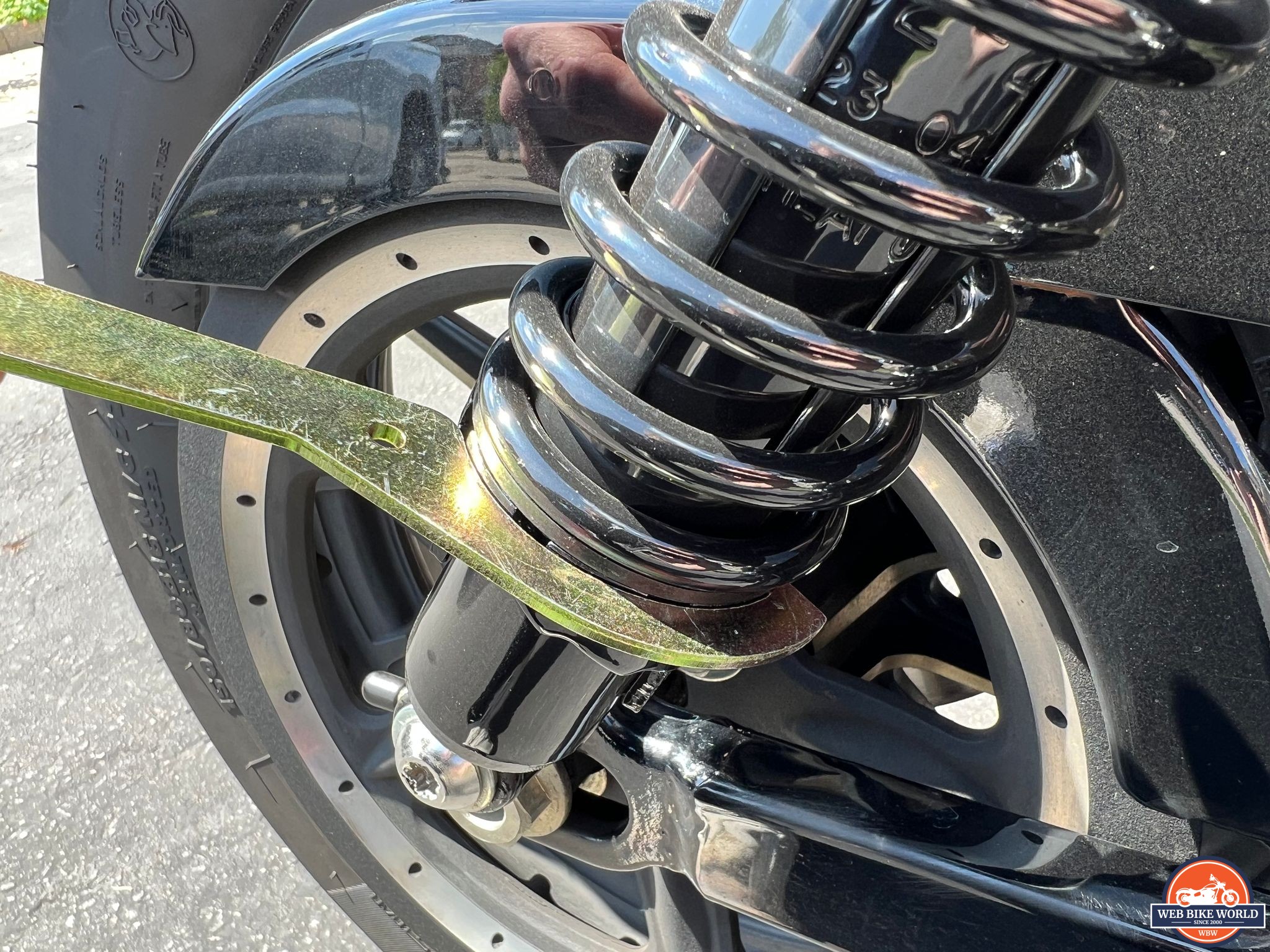 By adjusting the preload to the highest setting, I've had passengers on my bike with a total weight in excess of 400 lbs without any loss in performance. I've ridden over bumps, dips in the road, uneven pavement, and the occasional small pothole without bottoming out.
The steering is far more responsive with the new shocks than was before. It is capable of handling and distributing the additional weight far better than the OEM system thus allowing more weight to be on the front tire.
If you're new to the motorcycle scene, be sure to read through our Ultimate Guide to Riding Two-Up before hitting the streets with a passenger!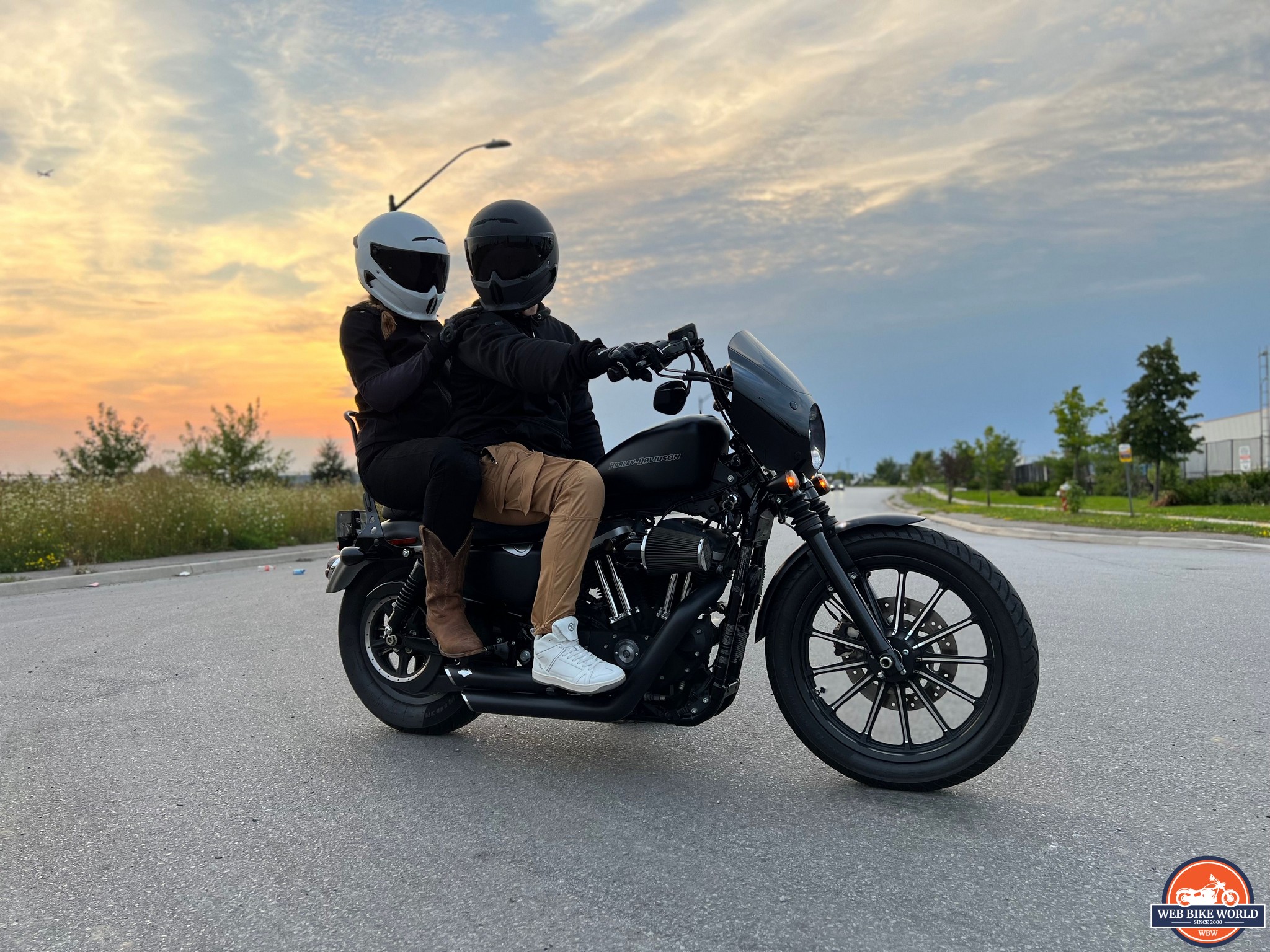 Ride Quality Rating – 90%
My OEM setup was bad – like really, really bad. Because of it, the switch to the Progressive 412s has likely been a more dramatic experience for me than it may be for you. Essentially it feels like I've upgraded from Fred Flintstone's car to something out of the 21st century.
As you read this review, you need to keep in mind that while I've upgraded my bike's suspension, I've also increased the length of the shock. If you are looking to lower your motorcycle's height, you may not experience the same level of performance gain.
You can further improve your ride quality with other meaningful modifications. For example, the addition of a fairing not only improves the look of your bike but minimizes wind battering as well. Protect your neck, and get a fairing!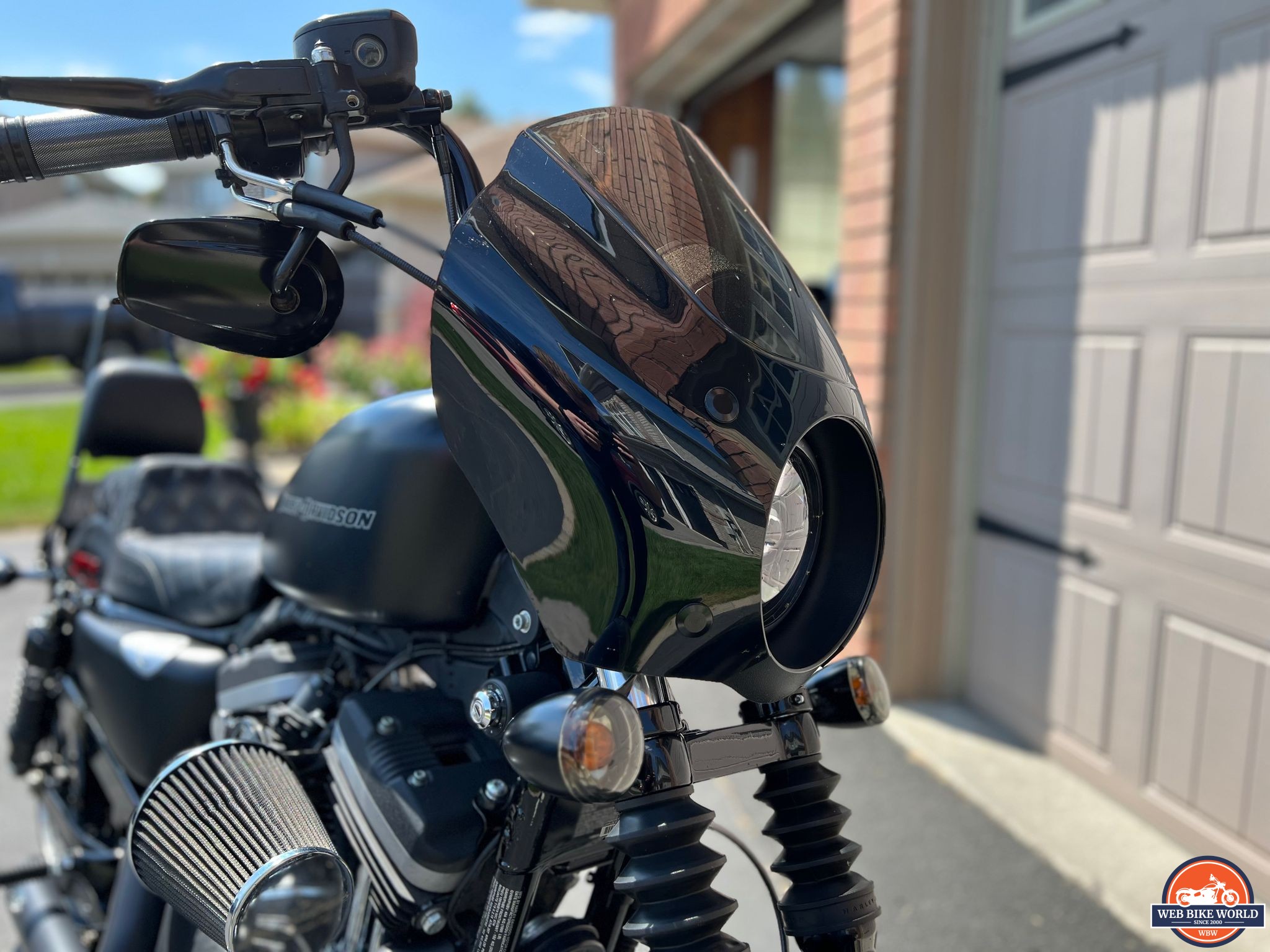 Choosing The Right Suspension
For peak performance, you will need to make a few considerations to ensure you've chosen the right suspension. For starters, are you planning on riding solo or with a passenger? Are you looking to alter your ride height? And if so, do you want to go higher or lower?
Choosing The Appropriate Length of Shock
The length of your shock is going to have a huge influence on the performance you can expect from your suspension. The length will affect how much distance the suspension has to travel, as well as the height of your motorcycle.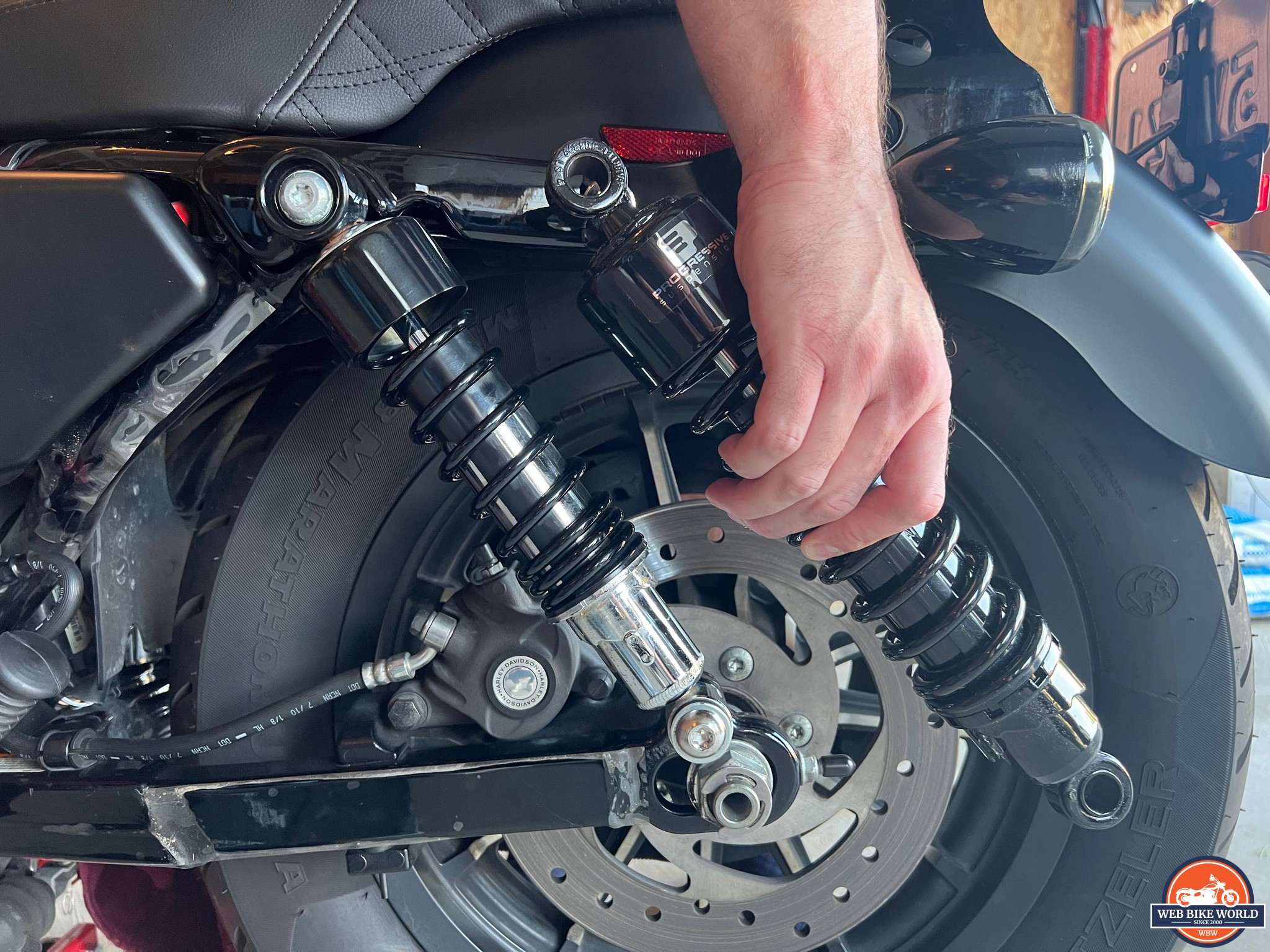 When I opted for a longer shock, I was looking to add travel to the suspension. I knew that I was going to be riding with a passenger and that the additional distance would be needed. By having more travel in the suspension, the shocks have more time to dampen or react to the terrain. This resulted in a smoother, more comfortable ride.
Preload and Sag
Aside from length, we want to keep the suspension sag and preload in mind. Sag is the percentage of suspension travel utilized while stationary. If you have too much sag at rest, your bike may bottom out easier while under load. On the other hand, too little sag can cause a stiff and harsh ride.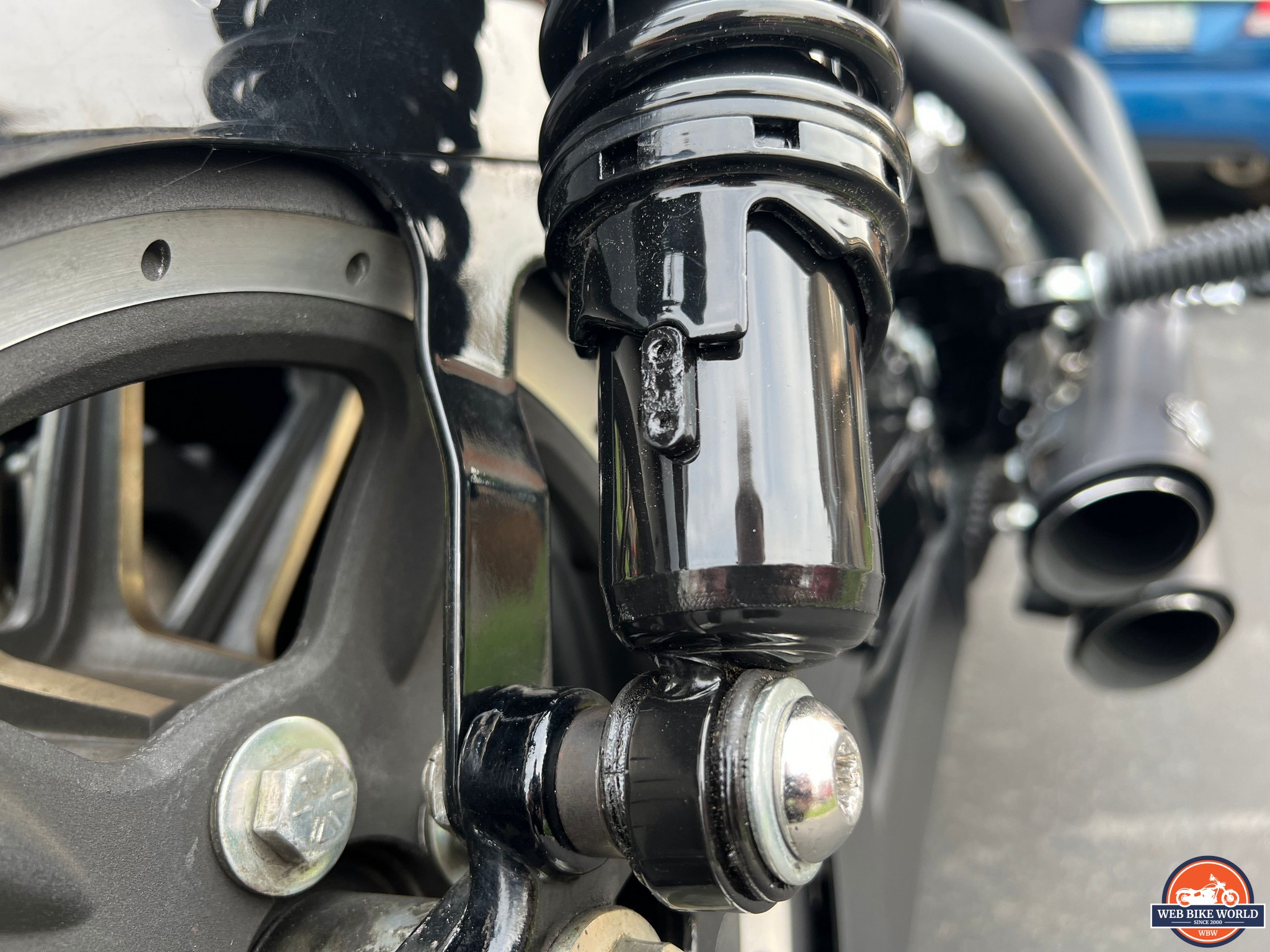 With preload, we are referring to an adjustment to the suspension to account for weight. That weight can be just yourself, cargo, or a passenger. Typically you can refer to the manufacturers' preload guidelines to ensure that it's been set to the correct value. For reference, the Progressive 412 series has 5 preload settings.
Setting your preload is simple and takes a matter of seconds. Insert the included spanner wrench into the notched cutouts on the bottom of the shock. Then, turn the shock until you've reached the desired level.
How to Decide Between Standard or Heavy Duty
When deciding between ordering standard or heavy duty, you need to consider your weight, the weight of a potential passenger, and how often you ride with said passenger.
The general rule of thumb is if you weigh over 250lbs, or spend more than 50% of your riding time with a passenger of which your combined weight exceeds 250lbs, you should choose the heavy duty option.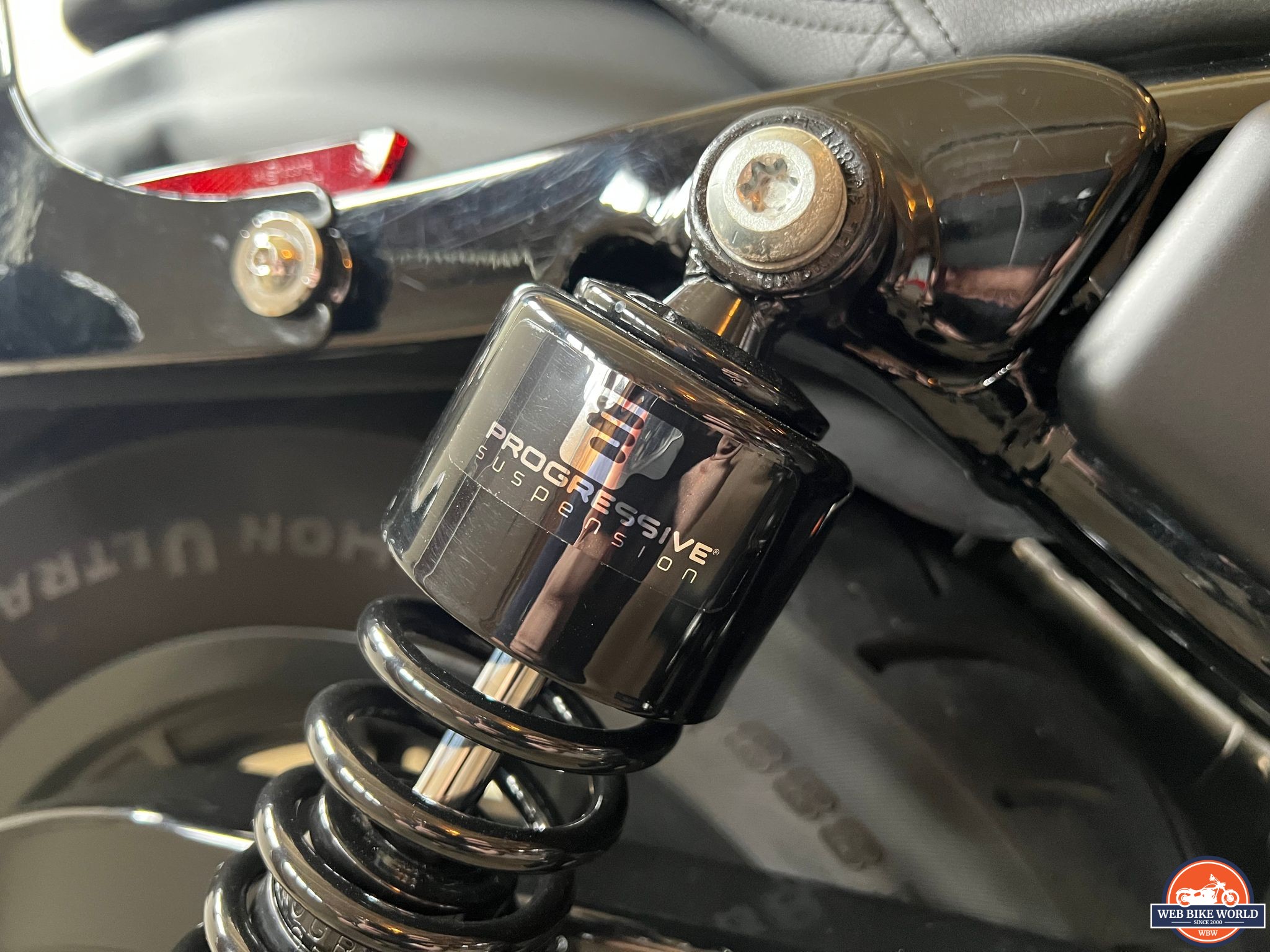 On the flipside, if you weigh under 250 lbs, or do the majority of your riding on your own, you should order the standard shocks from Progressive.
I found myself to be right in the middle of the two as I do a fair amount of riding with Ashley, but only weigh 180 lbs on my own. I called Progressive for some insight on the matter, and they recommended I go with the standard option.
Their advice was simple; Are you more concerned with occasionally bottoming out while riding two-up, or would you prefer a smoother ride while riding solo? At 180lbs, the heavy-duty suspension would've felt worse than my OEM set up leaving my cheeks battered and bruised after each ride.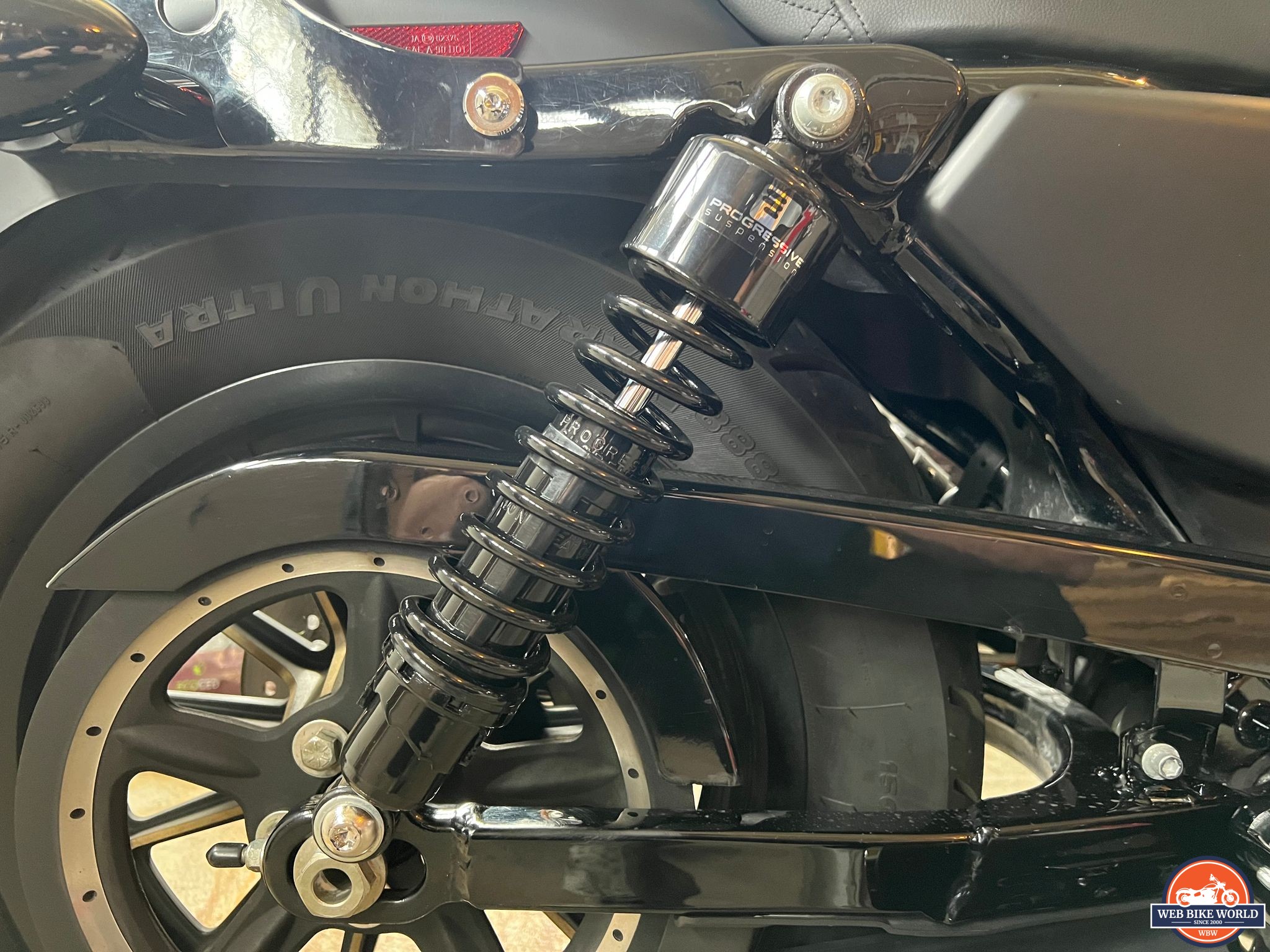 Caution: Mind Your Kickstand!
Little did I know how much impact lengthening my rear shocks would have on my motorcycles lean while on the kickstand. To be honest, when I first took it off of the jack I thought it was going over.
My motorcycle was leaning just under 20 degrees. This may not sound like much, but the greater lean angle left me uneasy so I decided to lengthen my kickstand. I found a +1" Drag Specialties kickstand on Revzilla and it fit perfectly. My bike now leans are a comfortable
$70 kickstand versus a repair bill from Harley? The choice was easy.
Would I have been okay with the OEM kickstand? More than likely. Was I willing to take that chance? Not at all. I can already picture myself pulling into a gas station or parking lot and having the bike tip over because of uneven pavement or from parking on a slight incline.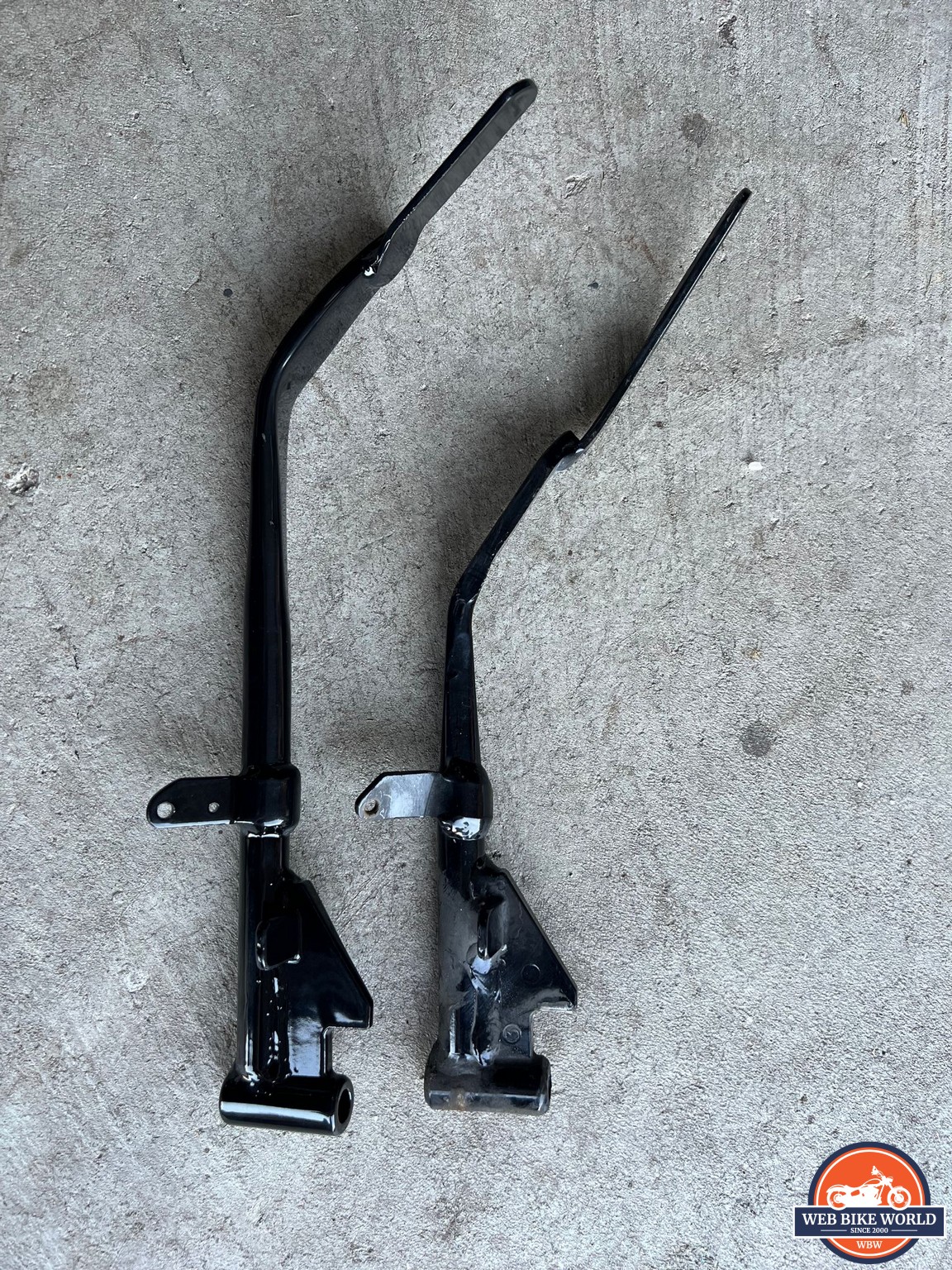 Final Verdict
My only regret is not getting the 412s sooner.
Since day 1 I've been contemplating upgrading the suspension on my Iron 883. The OEM setup is terrible and the 412s have transformed how my bike rides. To me, the difference in performance, ride quality, and comfort is unimaginable from such a simple modification.
With only 4 bolts I've gone from fighting for my life over bumps in the road to gliding over them without a care in the world. The Progressive 412s have given me more confidence as a rider to maneuver the bike in ways I would've previously avoided. Turning feels more responsive and the bike feels far more playful. What's more, I'm clearly not the only one enjoying the 412s as Ashley is always down to come with.
It would've been nice if Progressive had a bit more information on their website as far as stock suspension sizes, standard versus heavy-duty shocks, and comprehensive instructions. With that being said, these are small, trivial downsides with answers that can be found plastered across the web.
Don't make the mistake I did and continuously put it off. If you've been on the fence about the Progressive 412s, it's time to commit. Put in the time and ensure you've researched the ideal setup for your bike. I strongly believe that you will not regret your decision.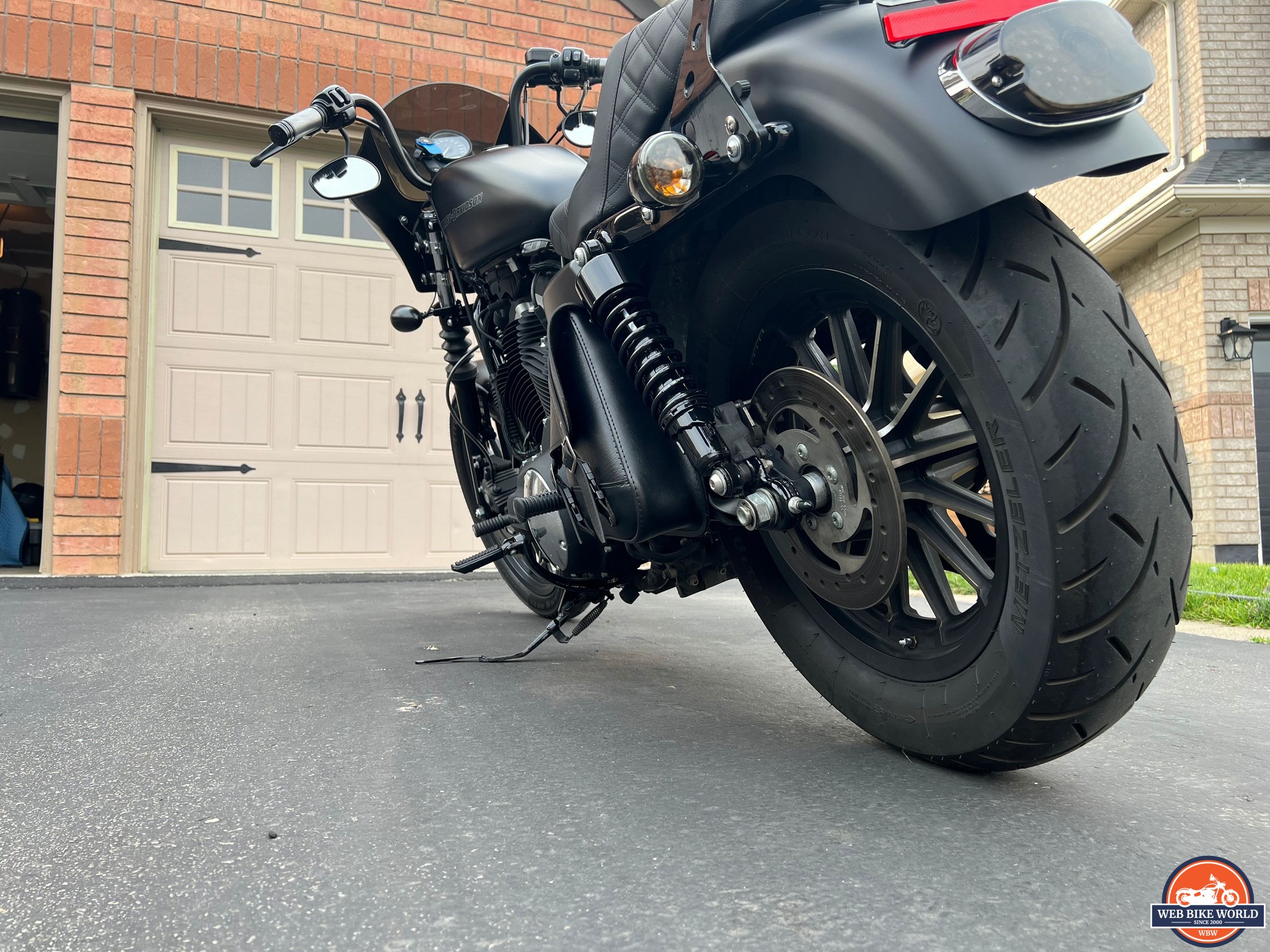 Pros
Huge improvement over OEM shocks
Simple installation
5 Position Cam-Style preload adjuster
Available in standard and heavy-duty weight ratings
An extremely comfortable ride with added performance benefits
Held up to over 400 lbs combined weight
Black or Chrome finish to match your ride
Cons
Instructions don't provide meaningful install information
Raising/lowering ride height may require a new kickstand
Specifications
Manufacturer: Progressive Suspension
Price: $299.95 USD – 412.95 USD
Colors: Black, Chrome
Sizes Available: Standard or Heavy Duty, 11" – 13"
Review Period: July – Sept 2023
Where to Buy