Saddlemen Step-Up Seat Review Summary
Review Summary
The Saddlemen Step-Up seat is a good investment for riders looking for improved comfort & support while riding. The seat fits directly into your OEM mounts without the need of additional hardware. The Gel-Core interior & Ultra-Foam cushion work together to enhance your riding experience, and hold up well to the elements. The seat is available in multiple styles & colours to better suit your style. Riders may still experience discomfort but after a far greater period of time when compared to the stock seat. Matching sissy bar cushions are available for those looking to ride two-up.
Build Materials & Quality
Pros
Increased comfort & support over stock Harley Davidson Seat
Ultra-Foam & Gel-Core construction mitigates pain points for longer rides
Step-Up configuration allows for two up riding
Multiple styles & colours available to suit your style
Cons
Seat increases the riders height which can have negative impacts
Break in period can be fairly extensive, especially for lighter riders
Doesn't eliminate riding discomfort entirely
Saddlemen Step-Up Seat Image Gallery
Review Summary
The Saddlemen Step-up Seat improves comfort & support while riding
Saddlemen's Gel-Core Interior & Ultra-Foam Cushion create a rigid, yet responsive set
Multiple styles & colours available depending on the year, make, model and gas tank configuration of your bike
Two Up riding compatible with matching sissy bar cushions available
Not a single source solution for eliminating discomfort – suspension may be required
If there's something we all can agree on, it's that back pain sucks.
Whether it's from heavy lifting, sleeping funny, or a one off "tweak", there is never a good time for back pain.
This couldn't be any more true for riding a bike.
Have you ever had to make an unplanned stop because you can't take the burning any longer?
How about canceling on a ride altogether? Back pain is more than a minor inconvenience – it can have a diminishing effect on your quality of life.
Many factors can contribute to back pain: your style of bike, your riding position, the handlebar height, suspension, and most definitely the seat. Stock seats don't have the best reputation for being comfortable, which is why companies like Saddlemen exist.
Upgraded Seats Increase Overall Enjoyment
It's not just back pain we are concerned about – it's the overall riding experience. Do you remember those scenes in cheesy Western movies where the cowboy gets off the horse and can't walk? That's what I'm talking about.
Increase comfort = increase enjoyment. Simple enough, right?
I've recently switched out my stock Iron 883 seat for Saddlemen's Step-Up 3.3gal tank seat. Not only does it look badass, it's changed my riding experience.
First Impressions Are Lasting Impressions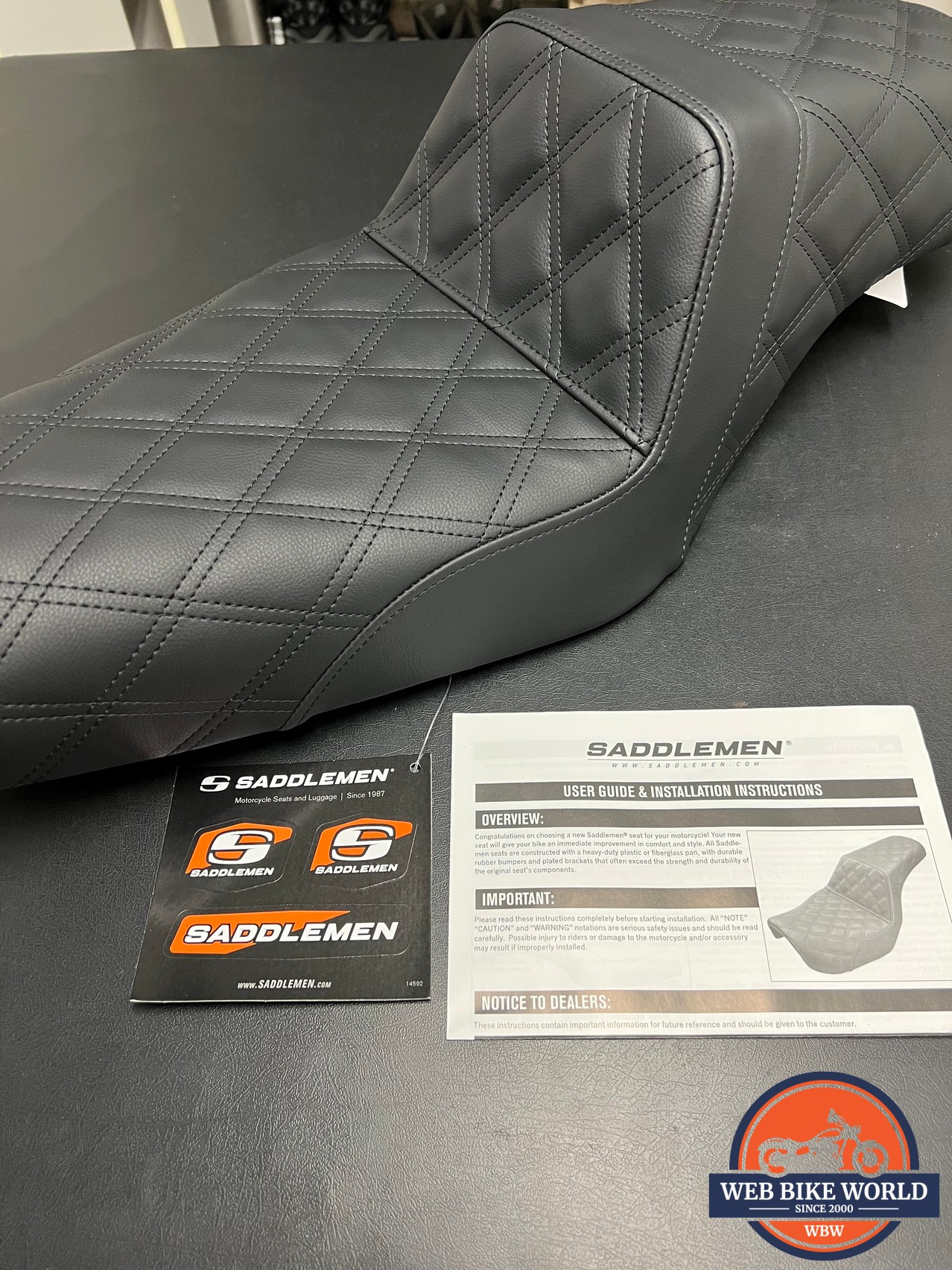 As I eagerly unboxed the seat and set it down my very first thought was "wow, this feels good".
Everything felt tight & secure – the cushion, the leather, the mounting hardware. The material was free of any defects, and the stitches were free of frays. The seat was packaged nicely and surrounded by protective wrapping to prevent any damage in transit.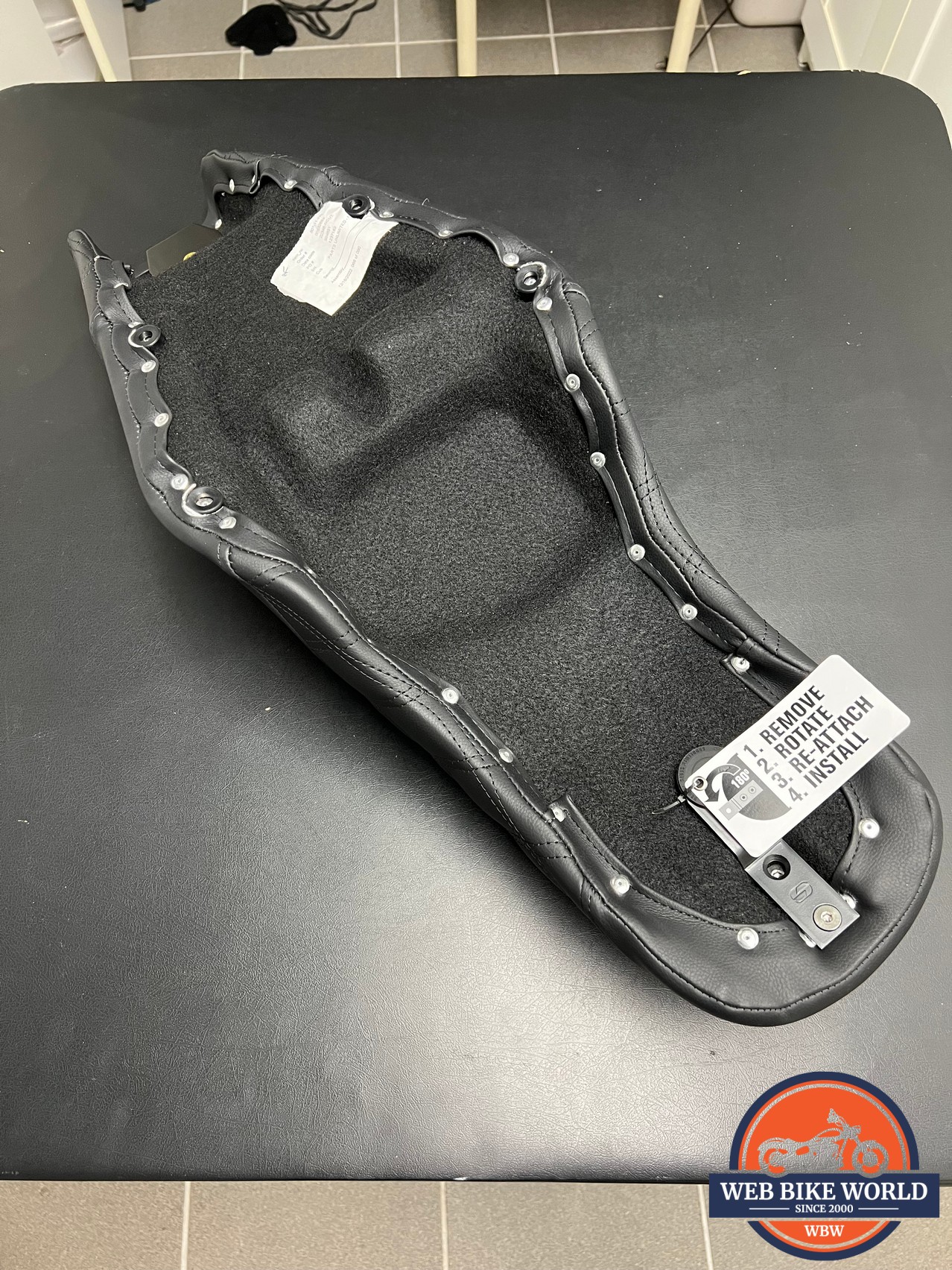 I was happy to see the underside of the seat was completely upholstered. I had some concern that any exposed wood would rub on painted surfaces and overtime cause damage, much like the stock seat has.
Upon removing the mounting hardware, I was again happy to see that Saddlemen had embedded metal anchors into the wood. This gave me a sense of security as the bolts have a metal-to-metal connection and aren't simply being threaded into a wooden plank.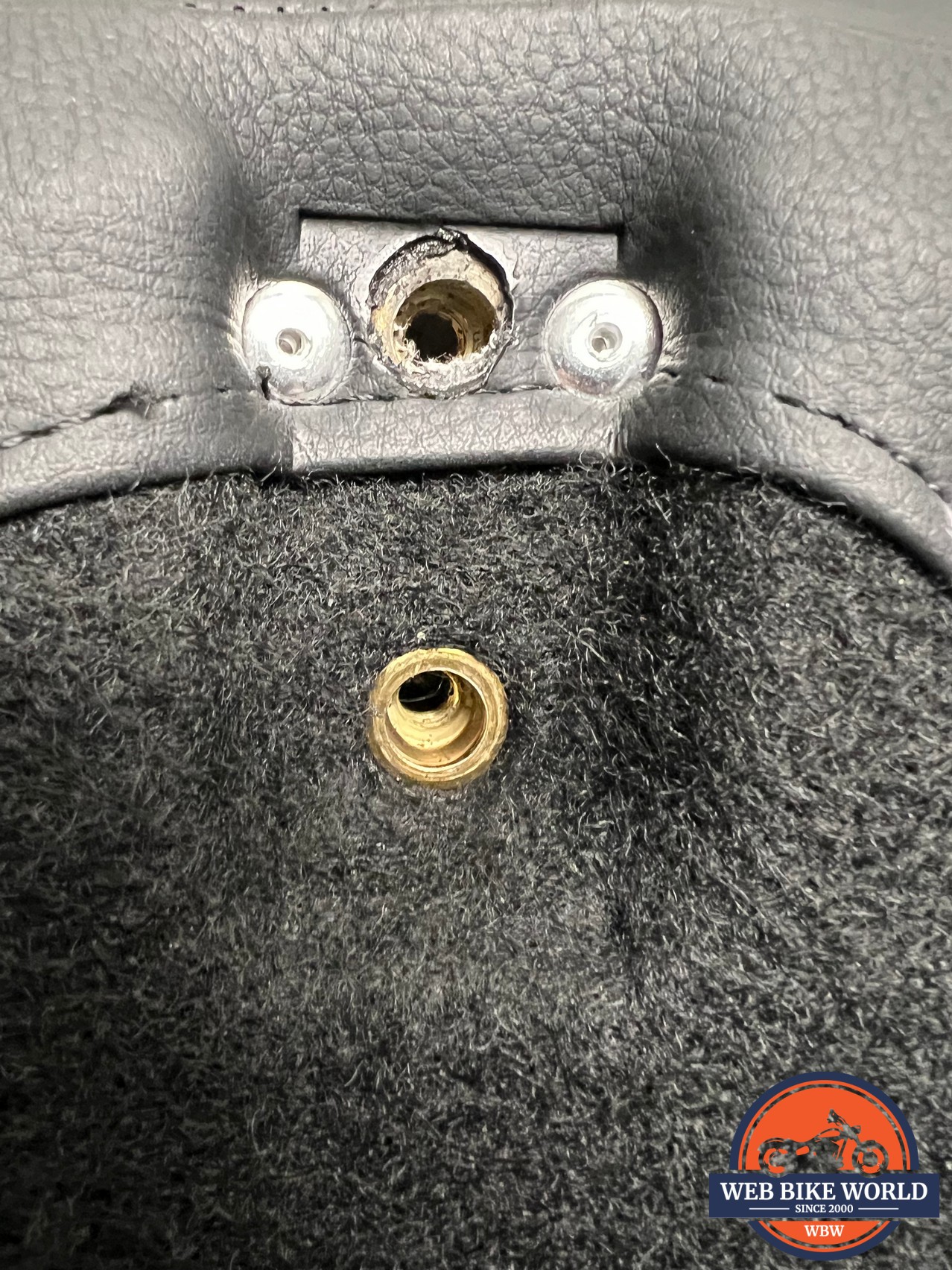 I did notice, however, that the seat did not have a spot for the metal knob on my bike to latch onto. While it hasn't been an issue to date, it would've been nice to be able to make use of the existing mounting points.
What Separates The Saddlemen Step-Up From Stock?
The Saddlemen seat combines a Gel-Core interior and Ultra-Foam to create a rigid, yet conforming seat.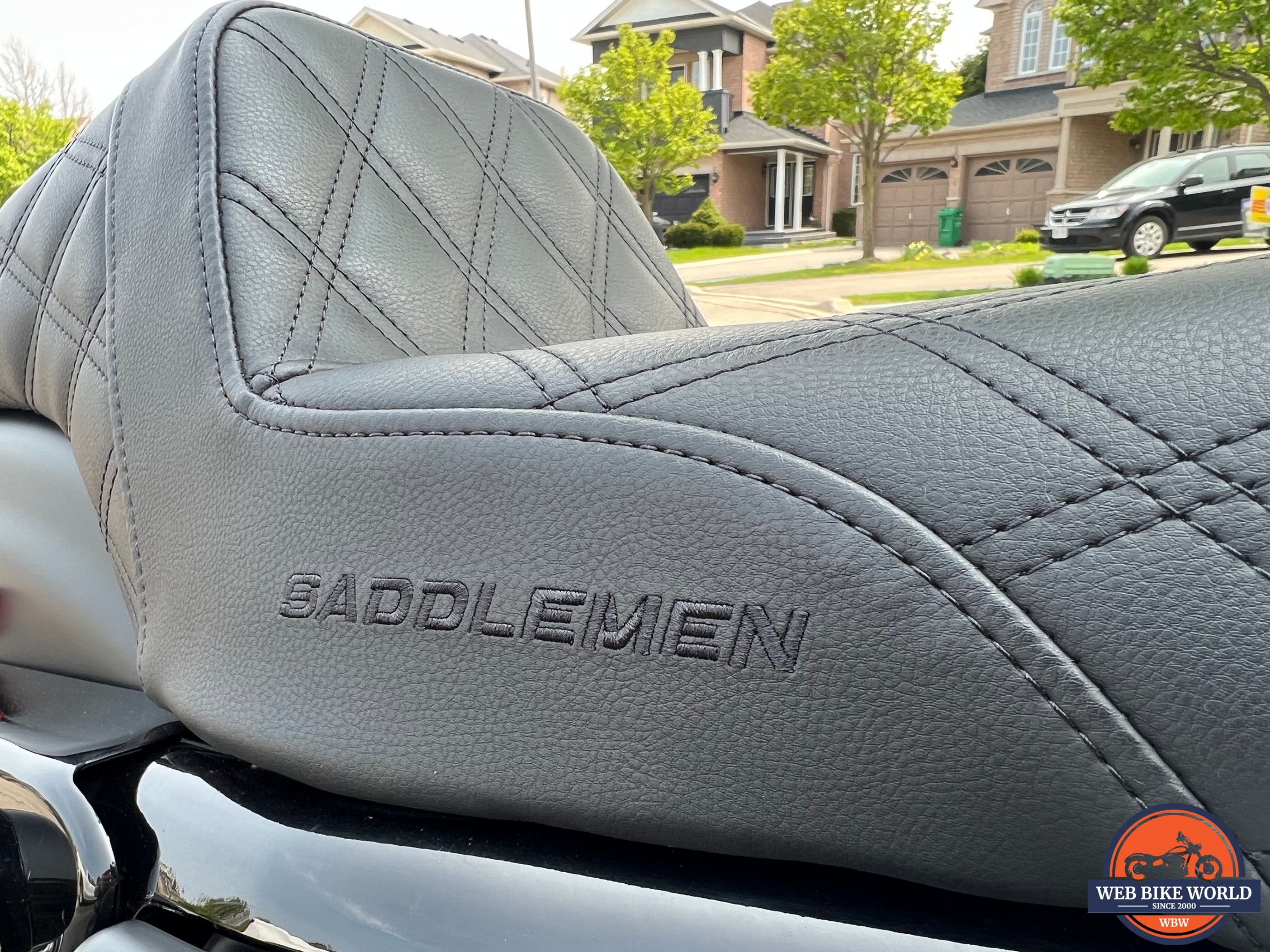 According to the manufacturer, Ultra-Foam is a unique molding process that creates an element-resistant exterior to protect the inner foam from water. This, in theory, extends the lifespan of the material.
Gel-Core, on the other hand, is the biggest comfort advancement in motorcycle seating since the creation of suspension. Again, this is in the words of the manufacturer, so take it with a grain of salt.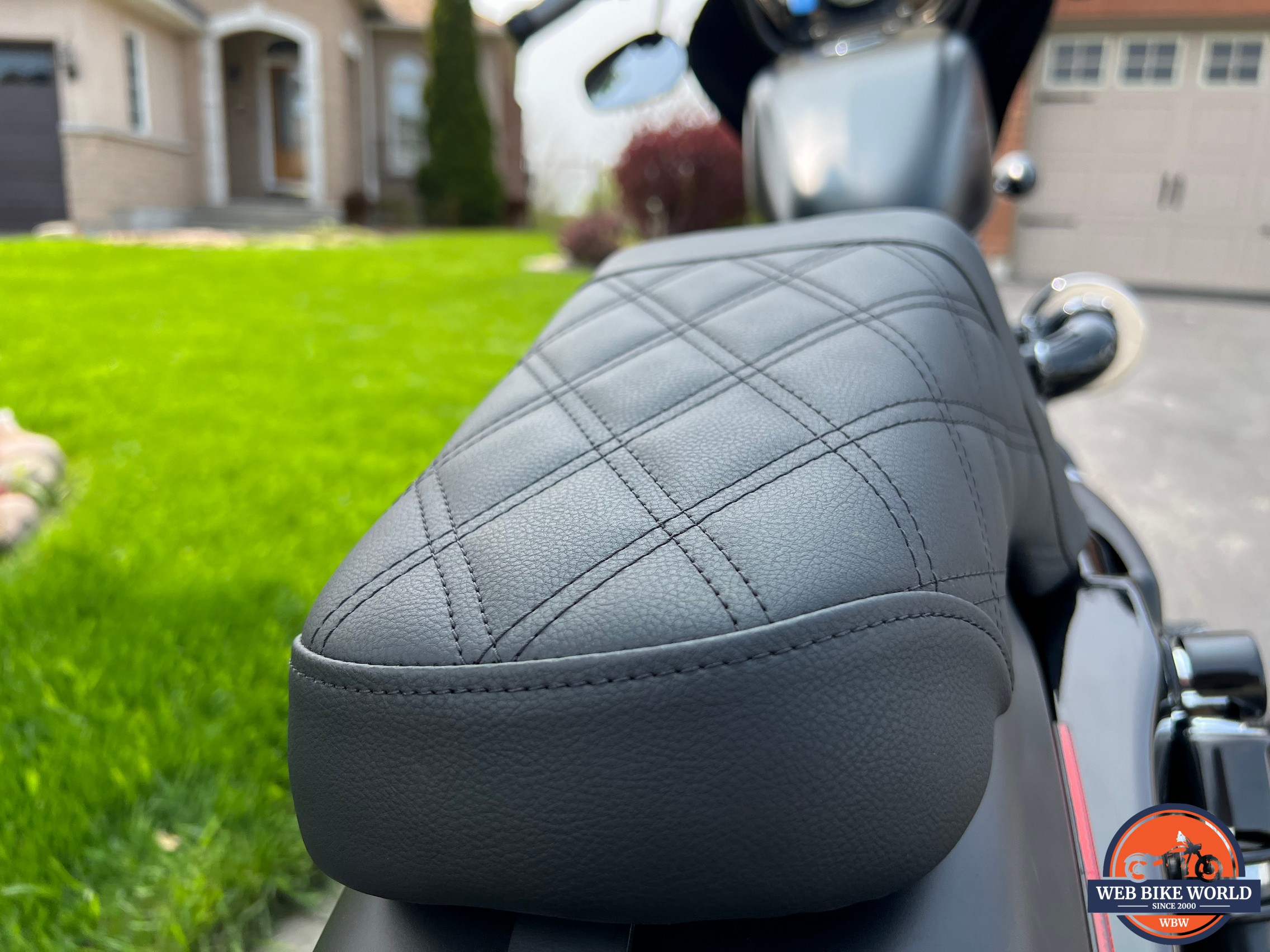 In addition, the Step-Up configuration provides a seat for a passenger, should you wish to ride with one. I've personally sat on the step-up portion of this seat and confirm that with the right sissy bar & footpegs, it can be quite comfortable.
The Voyage Ride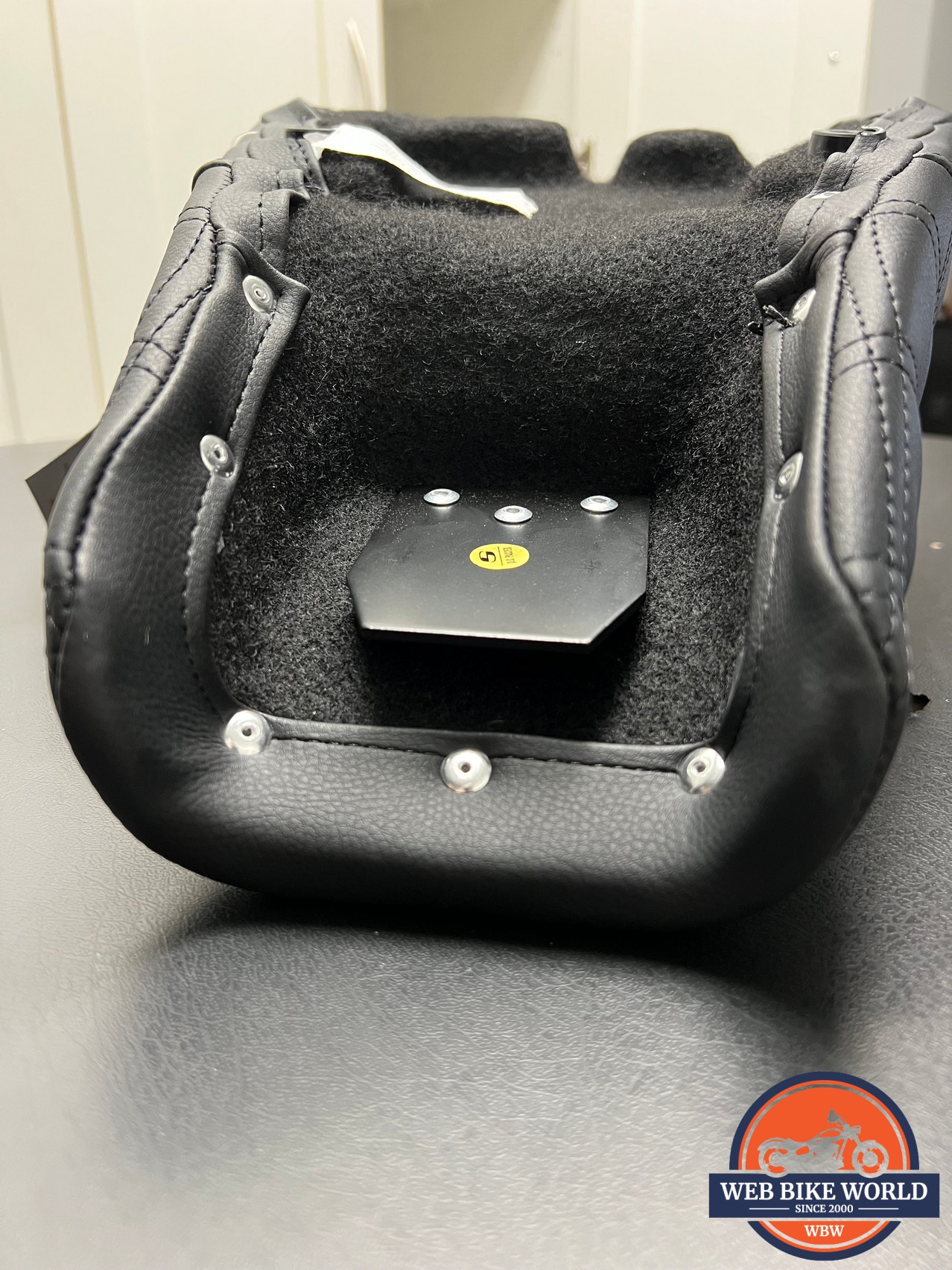 Installation was quick and easy. The front bracket slides into the existing mounting point under the gas tank, whereas the back bracket fastens to the fender. Fortunately, you will be able to make use of your existing seat fastener as Saddlemen does not provide another with the purchase of the seat.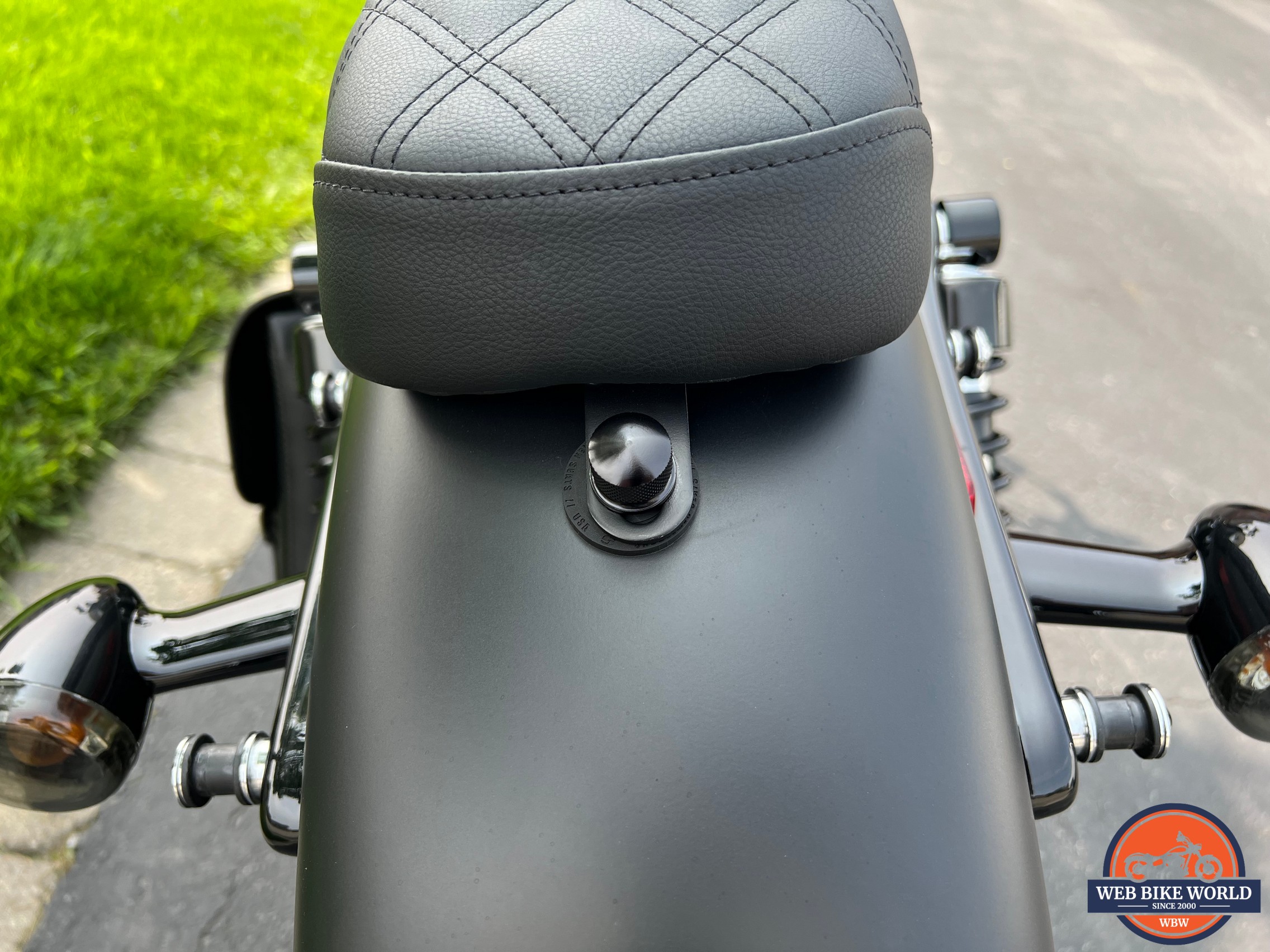 As I had expected, the seat felt a bit stiff on my first ride with it. Not to be misunderstood, I don't mean stiff in a bad way. My previous seat had been ridden for over 25,000km, and with it came a familiar feel.
The Saddlemen seat felt firm and secure, despite only being fastened in the front and back. I instantly noticed that I was sitting approximately 1-2 inches higher. At 5'11" and mid-controls, my legs came closer to a 90 degree bend than previously. This helped alleviate the feeling of being cramped.
On the other hand, I noticed that I was now slightly leaning forward to reach my controls. Last year I switched out my stock bars for Biltwell Chumps. On the stock Harley seat, the new bars were high enough to put me in an upright position. Now, after switching out the seat, the added ride height meant I was back into that forward reaching position.
Ride Quality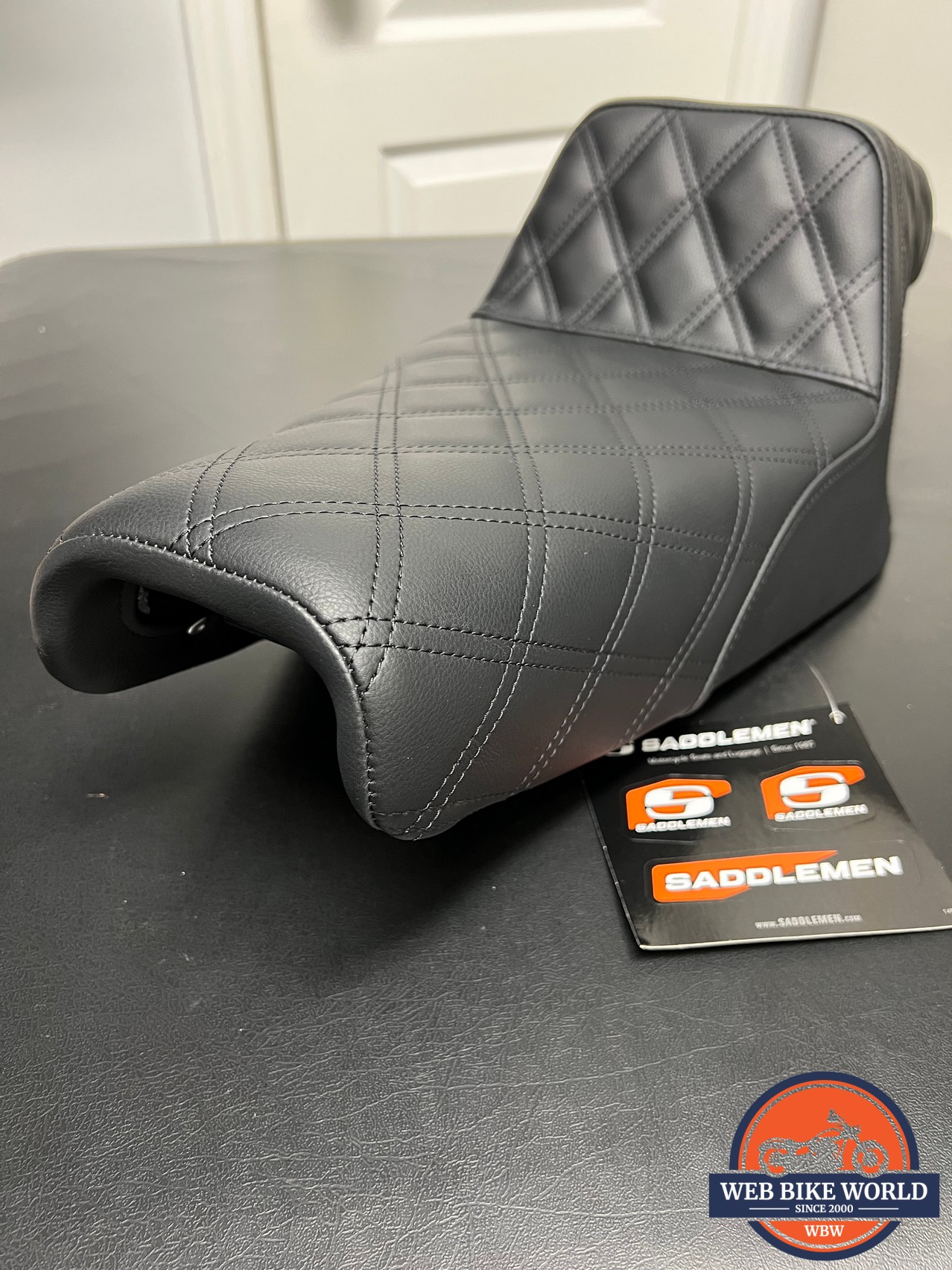 As I continued riding with the seat, the difference between stock and the Saddlemen seat became more and more apparent. Beforehand, I'd occasionally hit a bump in the road that would buck me forward, as if I was going to go over the handlebars.
With the Saddlemen seat, the impact feels more absorbed. The forward lurch isn't completely eliminated – I'd have to upgrade the suspension for that – but I'm not left feeling like I've been spanked by a canoe paddle
I've also grown quite fond of its narrow profile. While I'm not the biggest guy to ride a Harley, I don't skip leg day either. Previously, my upper to mid thigh would be in contact with the hard edge of the stock seat.
The Saddlemen seat sports a narrow profile with rounded edges. Now, my legs feel free and the only part of me in contact with the seat is my butt. Although this can create more pressure on the backside, the dense foam is able to mitigate any pain points.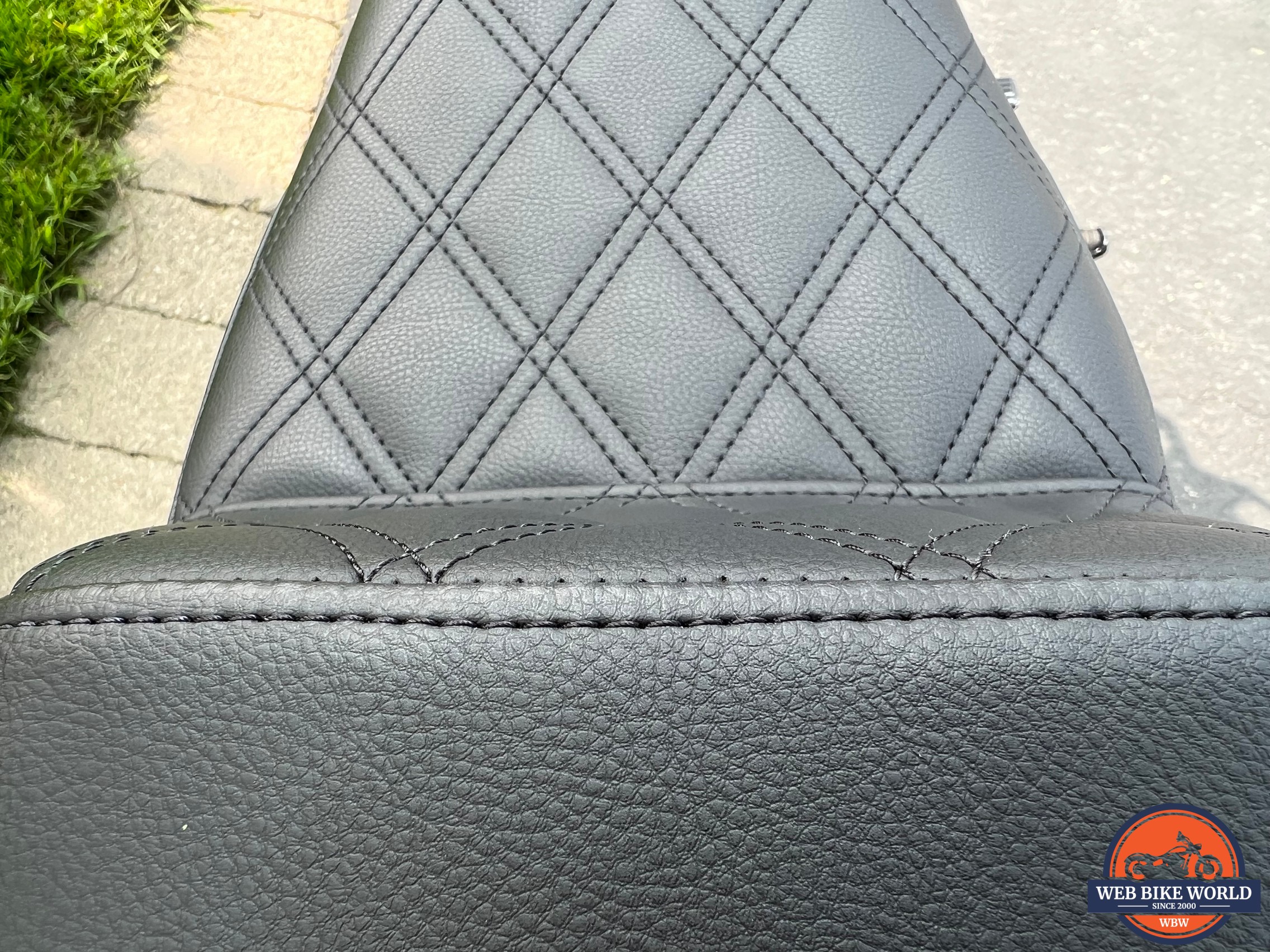 Moving to the rear, the Step-Up configuration provides the rider with a bit of a backrest if you will. Even though it is not exactly 90 degrees, I can definitely feel the support the ergonomic design provides in my lumbar over the stock Harley seat.
Perhaps the most important difference to some over the stock seat is being able to ride two-up. The Step-Up seat provides your passenger with a surprisingly comfortable seat over your rear fender. Like I had mentioned, I've personally sat on this seat and found it to be quite enjoyable.
An Improvement Over Stock but Not Perfect
In my opinion, the Saddlemen Step-Up Seat is more comfortable than the stock Harley Davidson seat. With that being said, it is not the end all when it comes to ride comfort.
The difference between the two is a few hours of ride time. By that, I mean you'll be able to put in more miles before you need to stop and take a break. But, let me be clear – you will still need to take a break.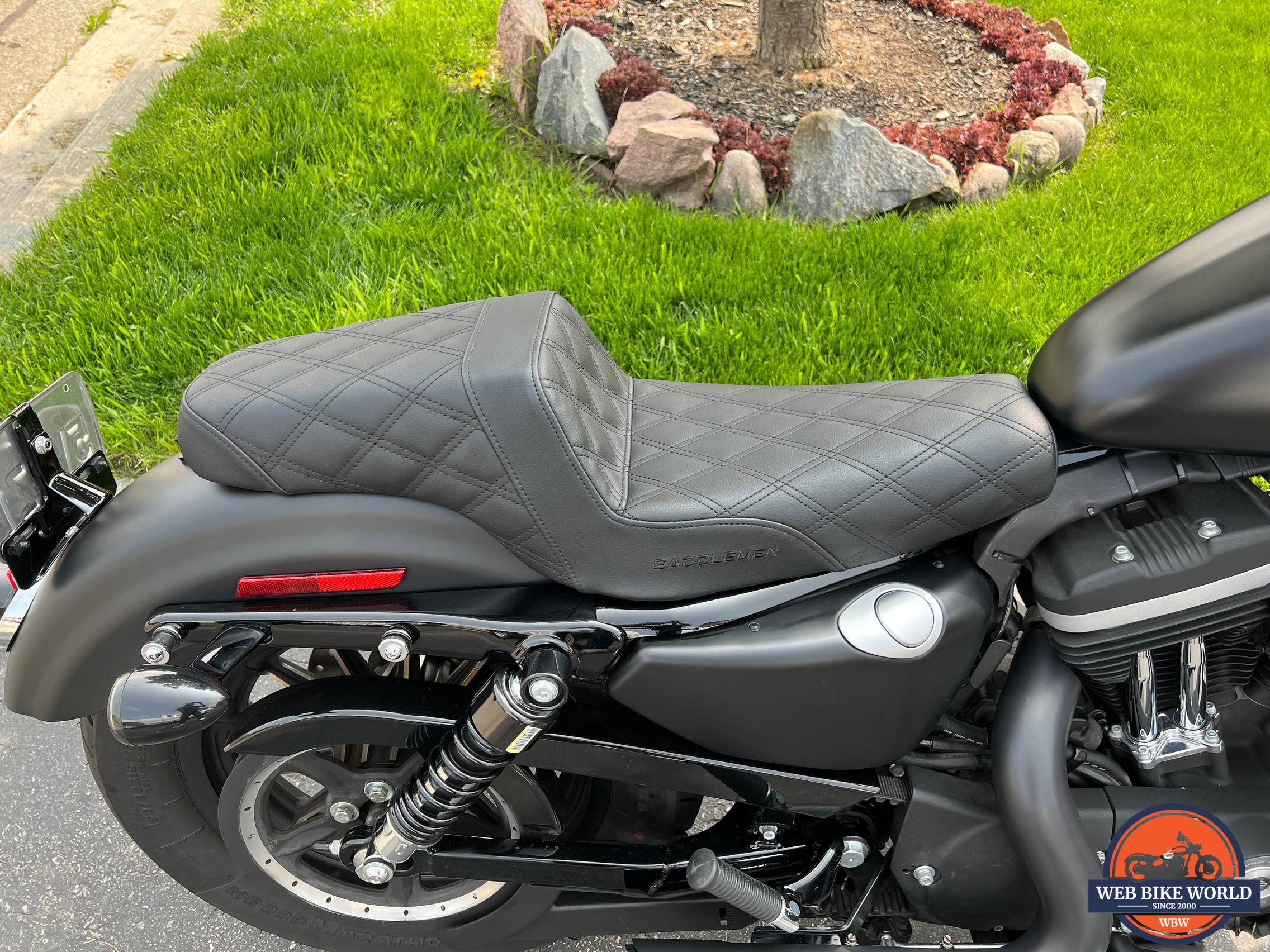 While the Saddlemen seat helps to mitigate pain points, it will not entirely eliminate them. For lighter riders specifically, the foam may not compress enough to provide a comfortable seat. It is likely you'll still experience some pain and/or discomfort on longer rides
There is a lot of buzz online relating to a "break in period", and whether or not one exists for Saddlemen seats. After roughly 500 miles, I have only noticed a slight softening. While that isn't a large amount of riding by any means, I had expected a larger change over those 6 weeks.
The Big Question: Is it Worth the Money?
I must admit, I am a happy customer.
If you're ready to make the first step towards rediscovering joy while riding, the Saddlemen Step-Up seat is a great place to start
The stock seat was hard and uncomfortable. It wasn't uncommon for me to experience discomfort and sometimes pain after only a short period of time. Now, I'm able to ride longer before that discomfort begins to set in.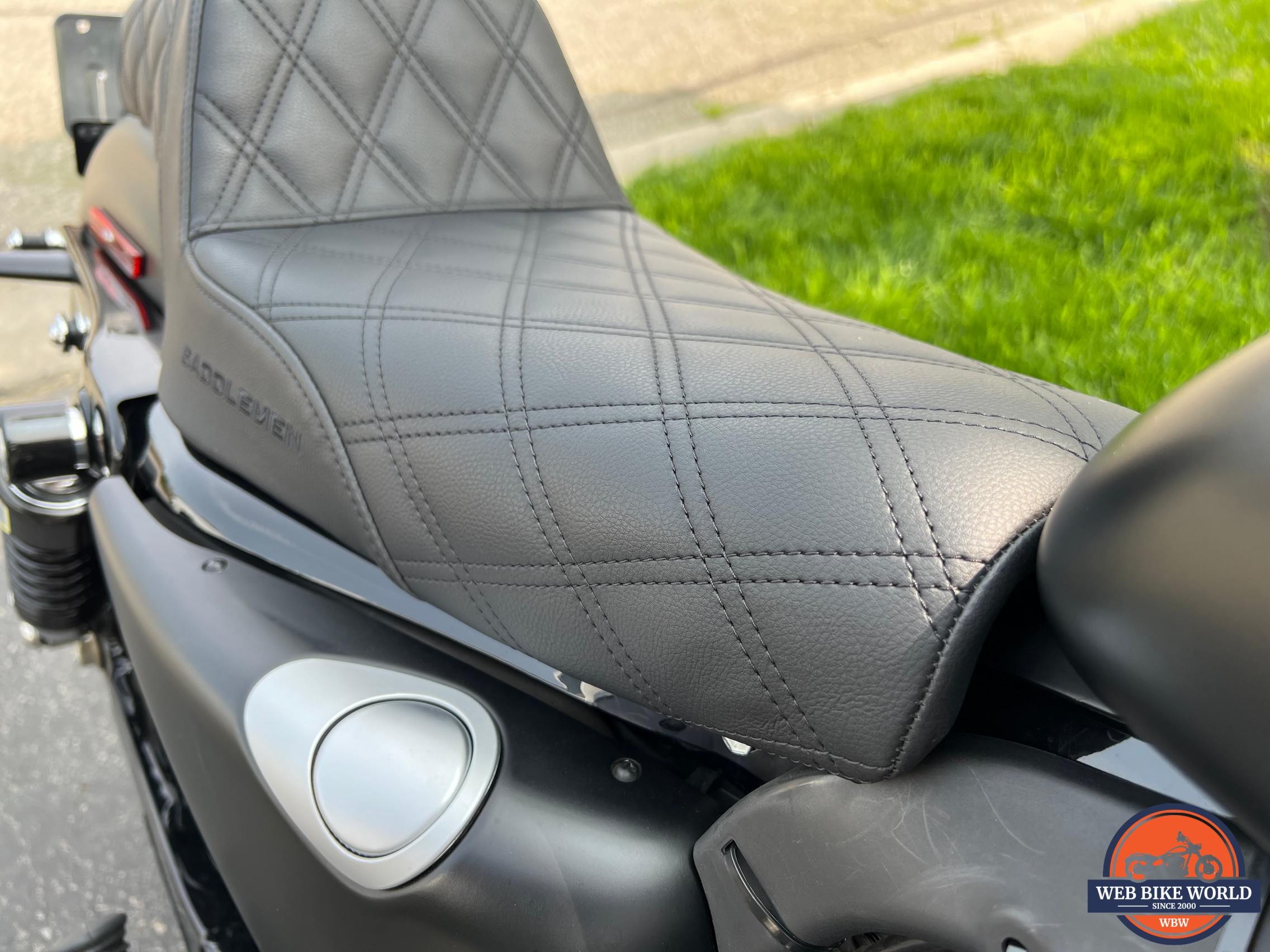 For me, that's a huge win. Comfort & enjoyment go hand in hand, and if you're not enjoying your time while riding, why go in the first place?
My Sportster is notorious for having a very harsh, bumpy ride quality, and I knew that upgrading my seat wouldn't be a one step solution to ultimate comfort. In order to achieve that, I'd need to make some additional performance upgrades such as the suspension.
All in all I'm happy with my purchase, and if the seat holds up like it has been through this testing phase, I'll be sure to get another on my next bike.
Pros
Increased comfort & support over stock Harley Davidson Seat
Ultra-Foam & Gel-Core construction mitigates pain points for longer rides
Step-Up configuration allows for two up riding
Multiple styles & colours available to suit your style
Cons
Seat increases the riders height which can have negative impacts
Break in period can be fairly extensive, especially for lighter riders
Doesn't eliminate riding discomfort entirely
Important Links / Where to Buy: