Princeton Tec Impact XL Flashlight Image Gallery
The Princeton Tec Impact XL LED flashlight is nearly perfect for the toolbox or EDC (Every Day Carry) on the motorcycle.
It's rugged, it's Level 3 waterproof to 100 meters and it's UL approved.
It's also made in the U.S.A and carries a lifetime warranty — one of the best reasons for buying a Princeton Tec flashlight in my opinion.
The only issue is the on/off switch isn't a button; the flashlight head must be twisted to turn the flashlight on or off, similar to the old benchmark, the Maglite flashlight.
This means that switching on the Impact XL takes two hands. But other than that, this is a near-perfect toolbox flashlight.
Somehow, flashlight reviews have become sort of a sideline and the tools — for that's what they are — have also an obsession with the local webBikeWorld "Review Crew".
We've reviewed many different flashlights over the years — including some rather silly units like the recent Fandyfire UV-S5 review.
That monster is more of a novelty than a useful toolbox flashlight, both because it's way too big for a toolbox and also because you'd need a pair of welding goggles if you pointed it at anything shiny and turned it on.
The Pocket Floodlight (review) has served pretty well in the toolbox, but it takes an odd number (3) of relatively hard-to-find AAAA (that's four A's) batteries, which only last a couple of hours.
But the Pocket Floodlight puts out a nice, wide and very even beam of light. Only problem? It could probably use a few dozen more lumens… Is there a "perfect" toolbox flashlight?
When there are questions like that, there are opportunities.
In this case, a note from the Editor with a request for me to go on the search for the best "toolbox" flashlight! Nothing better than being on the hunt once again, this time with a flashlight mission.
Did I tell you we were obsessed?

Why Princeton Tec?
There are a zillion and one flashlights out there of all shapes, sizes and costs. No doubt about that. But I didn't waste time with all the pretenders — I went straight to the Princeton Tec website for a look-see.
I have no connection with Princeton Tec whatsoever other than being a long-time satisfied customer.
But I have a couple of durn good reasons for that satisfaction: first of all, most of their products are made in the U.S.A.
Of course, some foreign components are used, but finding a product that's actually still manufactured in your home country is always both a thrill and something to support.
Second, most Princeton Tec flashlights carry a lifetime warranty.
That's pretty amazing and, I can say, I have taken advantage of this fact with one of the Princeton Tec Yukon HL headlights (review) purchased way back in 2002 or so.
Believe it or not, the Yukon HL is still in the Princeton Tec product lineup some ten years later, which is both a testament to its design and also its popularity.
There's a good reason for that. It's a rugged unit that still gets a lot of use in the webBikeWorld garage and — as a head lamp — it's perfect for working on a motorcycle, when you have two hands (or more) buried up to the elbows inside the frame.
In all those years, I think we only changed the batteries in the Yukon twice, but not long ago I discovered that the three Duracell brand AA batteries had leaked, ruining the inside of the battery holder.
I was all set to buy another, no questions asked, when I remembered the lifetime warranty.
I didn't expect much after all this time, but an email to Princeton Tec generated a quick response: send it back!
So the Yukon headlamp went back to Princeton Tec and a brand-spankin' new Yukon HL quickly arrived in return.
And remember — that was after 10 years of hard use and abuse in the garage!
Now that, my friends, is Class A customer service. It made me a customer for life, no questions about it.
Now you know why when it came time to look for a small, rugged flashlight for the toolbox, I turned once more to Princeton Tec.

The Princeton Tec Impact XL Flashlight – Details
Choosing a flashlight from the company's website isn't easy. Or rather, they make it easy, but there are too many good flashlights to choose from.
We had a few criteria, however: the flashlight had to be small enough to comfortably fit in one of the drawers of the carry-around Craftsman toolbox, not the big roll-around tool chest.
It had to be rugged, with a comfortable feel in the hand. It also had to have some level of water resistance; it had to be an LED and it had to use easy-to-find batteries.
We were also looking for something that gave a wide, even light with no hot spots and which put out somewhere between 50 and 100 lumens.
With those guidelines in mind, I stumbled upon the Impact XL flashlight. Having never tried one, I was "flying blind" — as usually happens when you're choosing a product from a website description only.
But it looked like it checked all the boxes and it was cheap enough at around 30 bucks with free shipping.
It has a narrow midsection that fits nicely in the hand and the top and bottom has a large rubberized gripping surface for good "feel".
Also, it is interesting to note that the Impact XL is listed in the "Scuba" dive category on the Princeton Tec website.
This fact was intriguing; the Impact XL flashlight carries a "Level 3", IPX8 rating which "provides waterproof integrity for continual submersion in water at depths down to 100 meters".
100 meters — that's 328 feet! Now that's what I call waterproof!
I was actually sort of surprised that the Impact XL is listed as a dive light, considering that it does not have a traditional on/off button or switch.
It turns on and off with a twist of the lens assembly, and I would have thought that this would compromise the waterproof integrity, but apparently not.
I'm not sure what the reasoning is for having it work this way, but that's the one "fly in the ointment" with this light.
It does take two hands to turn it on or off, but so did our previous toolbox flashlight, an old Gerber CMG Reactor (review).
By the way, the Gerber CMG flashlight developed a crack around the lens housing. When we contacted them about a warranty or repairing or replacing it, they said "Sorry, buy another one".
The Princeton Tec Impact XL is also UL rated as "Class I Division 2 Groups A, B, C" and "D Class II Division 2 Groups F and G".
I'm not 100% sure that that all means for a toolbox flashlight, but it sounds impressive and I know a UL rating means it's been tested by the independent Underwriter's Laboratory. Take that, cheap imports!
The Impact XL uses a "Maxbright" LED, which is in a module that sits on an O-ring on the thick polycarbonate case (available in blue, neon yellow, black or olive drab).
The flashlight opens from the lens end only and takes four AA batteries. The lens cap seals with an O-ring.
Princeton Tec rates the Impact XL as having 50 hours of battery life, which is enormous. I have no reason to doubt that but haven't gone through a set of batteries yet, even though this light gets extensive use in the garage.
The flashlight is rated at 65 lumens, which is enough to illuminate just about anything on a motorcycle but without overpowering the eyes.
The light pattern is smooth and broad and slightly focused, with no hotspots at all, as you can see in the photos.
The lens is an "Optic Collimator" type, which "gathers all available light from an LED in the form of scattered rays and re-emits the light as parallel rays, making it more optically efficient than a standard reflector" according to the manufacturer.
Our Impact XL weights 193 grams with the four AA batteries installed. Princeton Tec claims 197 grams, so this is in the ballpark.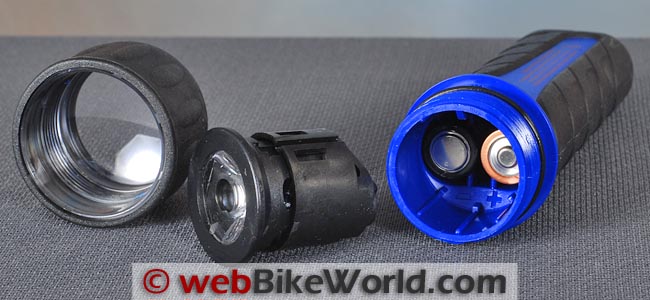 Princeton Tec Impact XL Flashlight Output Comparison
As always, it's difficult to illustrate the type and amount of light put out by a flashlight, but here are some example shots, comparing it with some of the other LED flashlights we have reviewed recently (see the wBW Flashlight Reviews page for a complete listing).
The background lighting and exposures were different, so this isn't a direct comparison but it gives you the general idea.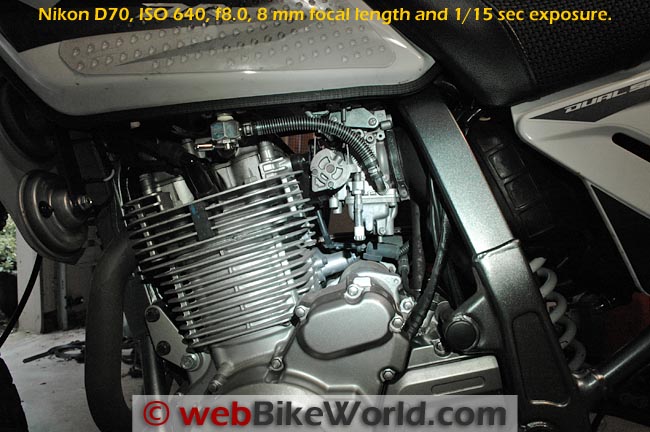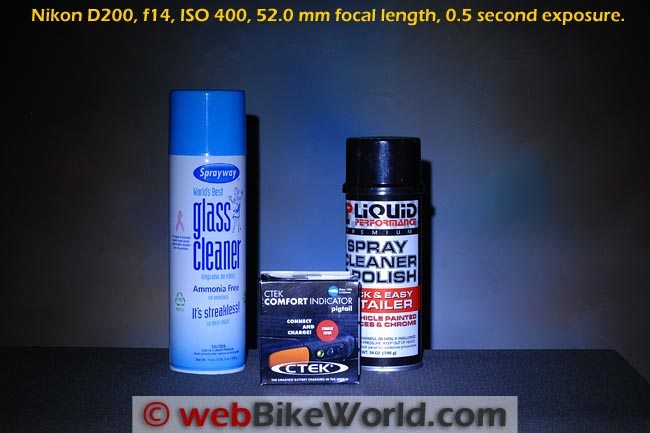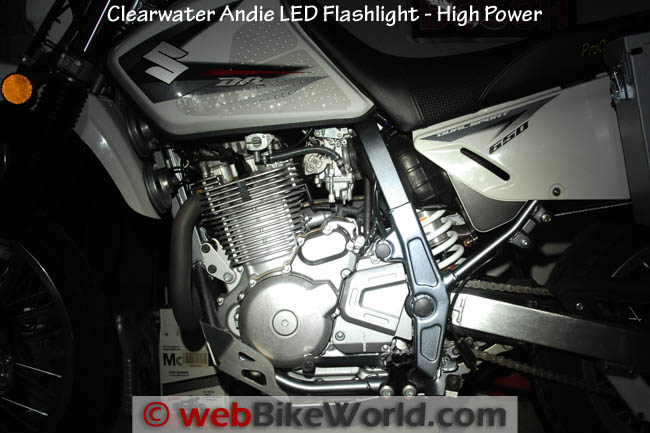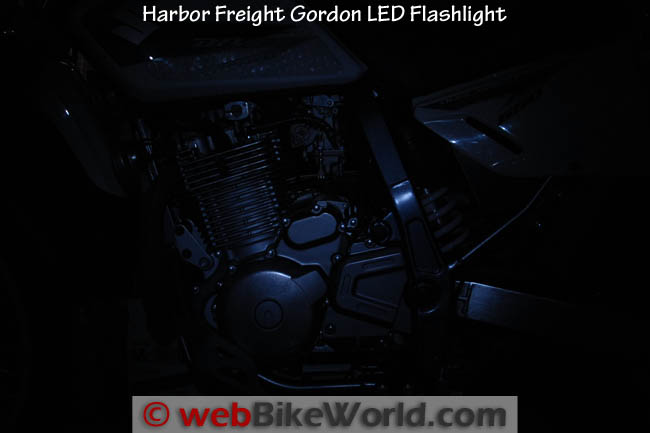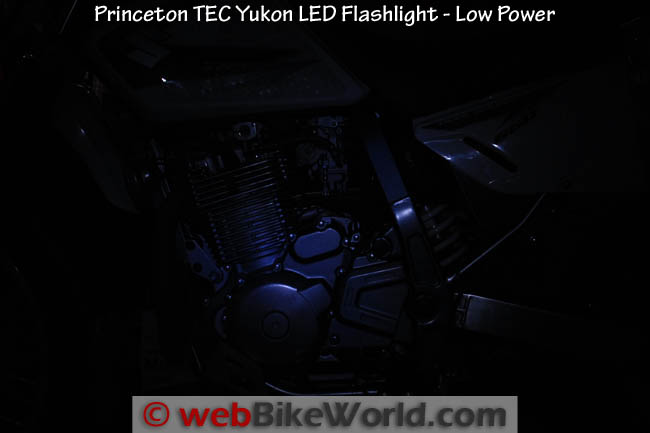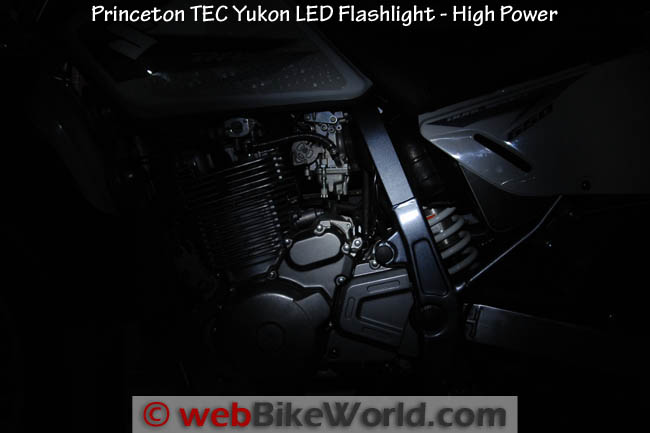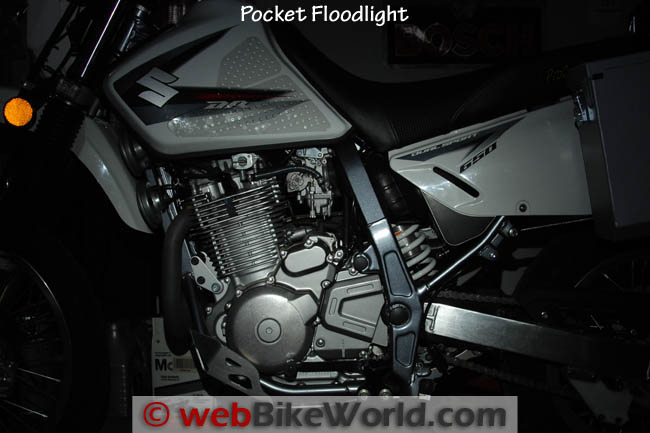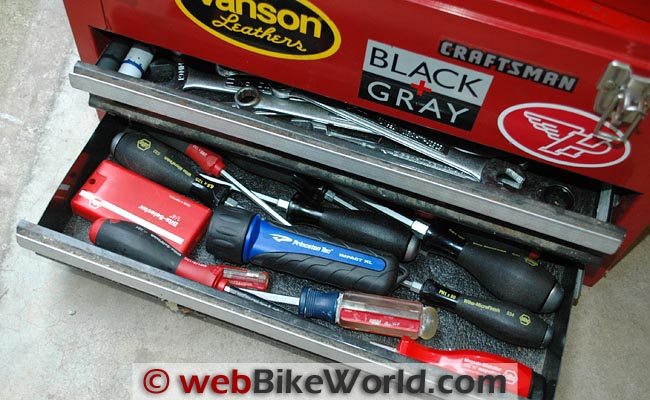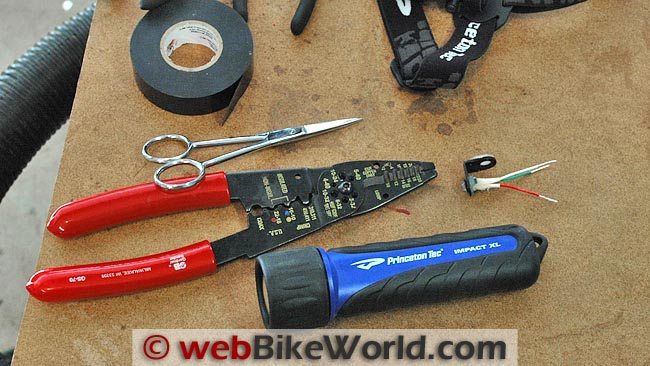 Conclusion
The Princeton Tec Impact XL flashlight is a near-perfect toolbox flashlight. It's rugged, reliable, ultra-waterproof and it puts out an even, smooth light that's perfect for working on a motorcycle.
It's also made in the U.S.A. — a big plus — and it has a lifetime warranty. It fits in a pocket or a toolbox and the batteries last for a long, long time.
The perfect toolbox flashlight? Let's just say it comes real close!
More wBW Flashlight Reviews  |  Motorcycle Tool Reviews
w

BW

 Review: Princeton Tec Impact XL Flashlight

Manufacturer: Princeton Tec
List Price (2012): $39.99
Colors: Black, Neon Yellow, Blue, Olive Drab
Made In: U.S.A.
Review Date: September 2012
Note:
 For informational use only. All material and photographs are Copyright © webWorld International, LLC since 2000. All rights reserved. See the webBikeWorld® 
Site Info page
. Product specifications, features and details may change or differ from our descriptions. Always check before purchasing. Read the
Terms and Conditions
!
Owner Comments and Feedback
---
From "S.S." (September 2012): "I noticed the Wiha screwdrivers in the picture of the toolbox drawer, and just wanted to mention how pleased I am with the Wiha tools I have purchased. Their online ordering is fast and easy, and their sales are great.
My toolbox has Snap On, Kobalt, SK, Proto and Gearwrench tools, as well as some Craftsman. I have always tried to buy the best quality tools I can afford, rationalizing that they are really a bargain compared to a shop's hourly rate.
Wiha are one of the best buys I have found, and they have some unique and excellent quality tools. If you have not already reviewed them, I thought I would mention them.
P.S. Please stop reviewing flashlights, as I am running out of places to store all the lights I have purchased after reading your reviews! (Okay, maybe just one more…)"
Editor's Reply: We have reviewed several Wiha tools, including the Wiha Bit Driver (review), theWiha "Magic Ring" Hex Wrench (review), and the excellent Wiha Micro Finish Screwdrivers (review).
More tool reviews can be found on the webBikeWorld Motorcycle Tool Reviews directory.
---
From "N.T." (September 2012): "Weird, I bought this exact light with same color last week, it works great and solid as a rock. The thing that convinced me was made in the U.S. but I didn't even think about the warranty, glad it's covered for life.
I also think it handles really well, you didn't mention it has narrower thickness than height and oval shape, so the handle fits in your hand perfect, it's easy to hold.
I bought it to use it to work on the bike also I also got sick of buying cheap flashlights that break.
This one has good output for the light also."