This four-minute video isn't a nanny-state instructional guide in being a woose, but is an informative guide to checking and maintaining your tyres for safe and long life.
It has been released by the American Motorcycle Industry Council, hence the spelling of "tires", but it's just as relevant no matter where you live.
One point I'd add is that your tyres shouldn't be more than five years old. Some people with a few bikes don't get to ride some of their bikes all that often and letting them sit in the garage without being ridden is not good for them. For a start, they can get a buckle or a warp from losing inflation and sitting in the one spot. Make sure you watch the inflation levels and move the bike occasionally, even if just spinning the wheels while it's on its centre stand.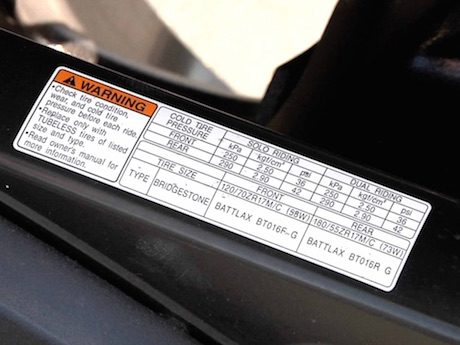 You can tell the age of some rubber via a small box on the side which has four numbers in it. The first two numbers represent which week the tyres were produced, obviously going up to 52 and the next two numbers are the year, so "2810" would indicate they were made in the 28th week of 2010.
If you would like to know more about your tyres and those strange hieroglyphics on the side, read this.
The above instructional video goes through the basics such as inflation, inspection, slippery surfaces, picking the right tyre and warming up.
If you would like to know how to warm-up or wear-in new tyres, please read this.
MIC boss Dennis McNeal says the dynamics and forces at play in motorcycle tyres are very different from cars, "making regular inspections and ongoing maintenance of motorcycle tires critical".
The MIC warns that under-inflation can cause faster tyre wear and poor fuel economy, while over-inflation can reduce traction and can make the ride harsh. Click here to read about the correct tyre pressures.
MIC also publishes a handy Tire Guide booklet and has produced a convenient pre-ride inspection video.