The 2016 Woolshed Classic Motorcycle Rally will go aead and show potential to become a major rally attraction, despite being almost washed out by killer storms on Friday, May 1, 2015.
A freak set of storms swept across South East Queensland on Friday forcing several motorcycle clubs to cancel their attendance at the rally today. More riders are expected for the second day tomorrow under sunnier skies.
Organiser Mark Morrissey says he received more than 100 emails from people cancelling their attendance. He says they expected at least 400 classic bikes to be displayed but fewer than 100 riders and pillions turned up, mostly BMW airhead members.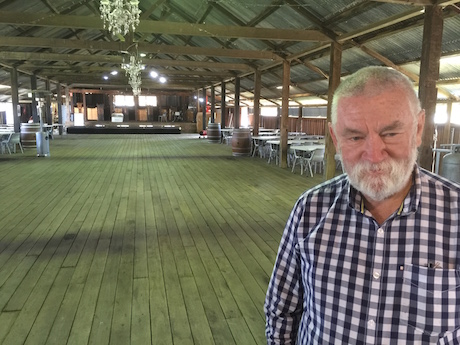 It's a shame as the event has great potential to become a major attraction on the rally calendar with its interesting blend of displays, attractions, magnificent venue, central location and scenic riding routes to get there.
Mark is convinced he will run the rally again next year with even more attractions promised, including a street sprint event in nearby Oakey. He's hoping it will become the Aussie version of the Goodwood Revival.
The event was staged in the historic Jondaryan Woolshed on Queensland's Darling Downs. It's a magnificent venue with plenty of indoor areas for displays, a food hall, movie "theatre" and bands, being the biggest surviving historic woodshed in Australia.
The woolshed sits just off the Warrego Highway, 40km west of Toowoomba and 160km west of Brisbane. there are plenty of great riding roads around including the Bunya Mountains.
The historic complex stands on 64 hectares (160 acres) and can cater for enormous numbers of day visitors and thousands of campers.
Today, it was almost isolated by the swollen Oakey Creek and riders had to detour around Jondaryan to get there.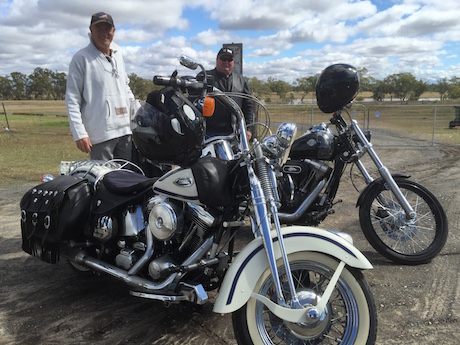 The event was still attended by historic motorcycle enthusiasts from as far south as Tasmania and from the Sunshine Coast, although others from further north were turned back by floods.
The rally displays are open to all makes and models of motorcycle from 1900 to 1985. Public entry is a gold coin donation with funds going to the Endeavour Foundation. Camping fees are $10 per person per day.
Riders are encouraged to show up today and help spread the word about the event so that it will return next year as a success.
Mark says he chose May because of its usually mild and dry climate and was blindsided by the freak weather conditions.
The inaugural event was to feature stalls, classic bike displays, a vintage motocross demo, trials and fast track displays, but they were cancelled as some of the areas were under water.
Mark says he wants to grow the rally into a "pageant rather than a rally".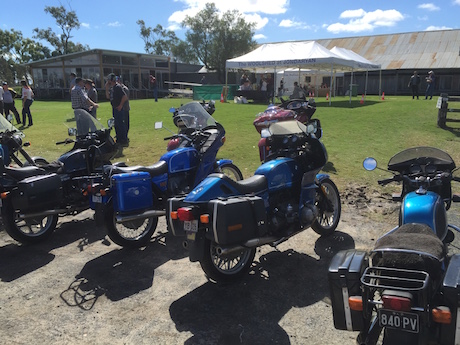 "Something along the lines of the Goowood Revival, but smaller just because of the audience available. The long term goal is for 'all things on wheels or wings'."
The licensed Jondaryan Woolshed complex includes the historic woolshed, village, museum, cafe, food hall, arenas and paddocks. There are also public toilets and showers, disabled facilities and a large vehicle park.
The Woolshed has hosted large outdoor events for more than 30 years including the nine-day Australian Heritage Festival run from about 1974 until 2010 and attracting crowds of more than 20,000.