Posi-Tap and Posi-Lock connectors are an absolute must for electrical work on motorcycles! The Posi-Lock and the new Posi-Tap connectors make life so much easier.They're waterproof, vibration proof and can be reused. Keep a selection in your bike's tool kit for emergency connections!
Posi-Products (Division of Swenco) has done it again!  Here's their latest must-have product: the Posi-Products Posi-Tap in-line connector!
If you've used the Posi-Products Posi-Lock, the Posi-Twist or other Posi-Products connectors, you'll probably agree that these products are incredibly great for use on motorcycles. They're shock proof, vibration proof, water-sand-dust resistant and reusable. They make any type of motorcycle electrical work so much easier and more professional looking.
Now the new Posi-Tap connector makes it so easy to tap into a motorcycle's "hot wire" in the electrical system.
The lower part of the Posi-Tap works like the normal Posi-Lock or Posi-Twist connectors. Strip the wire or wires and place them in the male threaded tube, like the green, yellow, white and black wires in the photo. Then screw on the center section.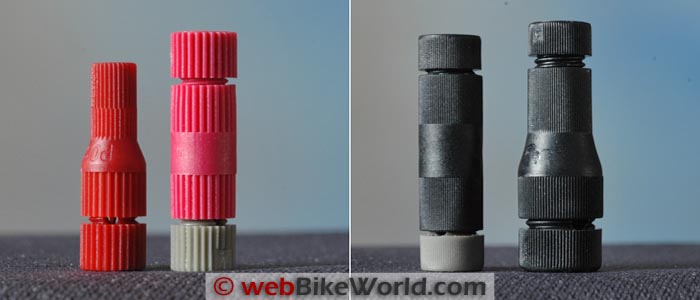 Using Posi-Tap Connectors
To tap into the "hot" wire, lay the wire in the Posi-Tap's cap, then simply screw the cap on to the center section. That's all there is to it — no crimping (which doesn't work anyway!), no soldering. The "needle" that's just visible in the photo at left will pierce the hot wire's sheath to provide power.
I used these recently to tap into my '86 BMW R65's brake light hot wire to add the transmitter for the RiderLight LED wireless helmet brake light and it made the job quick and easy. I never use any other type of connectors if I can help it.
The Posi-Tap can hold up to four 18-guage, three 16-guage, two 14-guage or one 12-guage wire. The Posi-Tap is made of Nylon 66, and the internal conductor material is tin plated brass. The connector is about 37.5mm (1.48″) long, and 13mm (.50″) in diameter. The Posi-Tap can fit just about anywhere on a motorcycle where you need to tap into a hot wire to power lighting, auxiliary switches, heated clothing leads or more.
The threaded ends hold tight — I've never had a Posi-Lock connector come loose, even with all the vibration that motorcycles can generate. These are really secure connections, and the best part is how quickly and neatly any electrical connecting work can be accomplished.
Order the Posi-Tap connectors through the Posi-Lock website. Unfortunately, they're currently only available in boxes of 40, but hopefully Posi-Products will add them to one of their assortment packages very soon!
Video: How to Use Posi-Lock Connectors
wBW Posi-Lock Connector Review
Owner Comments and Feedback
From "T.G." (September 2011):  "Thanks! I received them last week. I just want to let you know how impressed I am with them! I used one to add LED flashers to the stoplight wire on the taillight assembly on my Concours. It took more time to get to the wire than it did to put it on! It is a nice, secure fit!"