Queensland Police have been visiting social motorcycle clubs to explain the VLAD Act and placate riders in a statewide PR blitz.
We caught up with the police in Townsville on a recent ride to the HOG Rally in Cairns and they confirmed they had been visiting riding clubs. It's part of a statewide PR blitz and tomorrow night Detective Inspector Brendon Smith of anti-bikie task force Maxima will talk to the members of the Velocette Owners Club in Milton, Brisbane.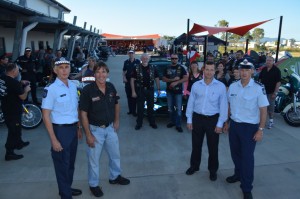 He is expected to discuss police operations targeting declared criminal motorcycle clubs, implementation of anti-association laws and coverage of the VLAD Act.
The police PR blitz follows several claims of over-zealous police harassing innocent riders.
Police in Townsville admitted that there was some early confusion among police and that they had since been better educated to identify members of motorcycle clubs that the state government arbitrarily declared to be criminal in the VLAD Act.
In an effort to determine whether riders are still being erroneously detained by police, Travis Windsor, founder of the Australian Motorcycle Business Chamber, has organised a "Behind the VLAD Laws" event. He says a venue has not yet been arranged, but it would be held in Logan or Brisbane South on June 25.
Speakers will include Travis, Motorcyclists Australia Party founder Paul Keyworth, a representative of the People Against Anti-Association Laws Facebook page, Smithy from the Yandina 5 and possibly independent MP Peter Wellington. An affected motorcycle business will also be invited.
"We are looking at the event being not so much a protest as a reflection on how people were affected by the laws and what they did," Travis says.
The event will also raise money for Motor Neurone Disease and tickets will cost $20. More details to come.